French Farmhouse Simplicity, Provence Interiors + Sunny Quotes will invite spirit and mind to relax and senses to fill with: timeless tranquility, South of France Country French beauty, and a little sunshine to boot.
This post contains affiliate links which I hope you will use since they won't cost you a penny extra yet may earn this blog a small commission.
French Farmhouse Simplicity, Provence Interiors + Sunny FEEL GOOD Vibes
Why venture to this Lovelyland? Plenty of excuses on hand in the 2020s, yes?
It's very blustery outside.
You only live once.
Travel is open again. Need another?
It's always the right time to dream a little.
Today's tour of French farmhouse beauty and inspiration whisks us to a family-owned South of France property with vineyards near the village of Cairanne.
In addition to a main house (not seen here), the property includes converted stables and a Provençal villa with two wings.
Let's tiptoe around and take a little virtual holiday.
Two Bedroom French Country Villa
Because times are not the easiest right now.
A bit of sunshine will do us good.
In this wing, we find a two-bedroom vacation spot which accommodates up to five guests.
Who will you bring with you?
Neutral, natural, undone and unfussy, the bedrooms do not compete with nature's splendor just outside. Let's get into that dappled Frenchy light through ancient trees…
While I can't afford to import a great big old antique pot from France, I can enjoy a wee little pot even after the candle melts away.
While I'm not yet ready to commit to a saturated color like this vivid lemony yellow on the skirted base cabinets for my own kitchen…
I am reminded that even exquisite South of France properties have plain ol' boring tile on the floor.
So maybe it wouldn't kill me to live with the kitchen tile I have inherited at the new place.
(These days, there is this tug of war going on daily where the sensible part of me says "there's nothing wrong with it just because the color is not your fav" while the dreamer in me says "imagine how the look could be elevated with a few tweaks!"
So I end the tug of war by welcoming all those competing feels into the mix. Somehow, things will work out in the end…I just can't see beauty's resolution while I'm betwixt and between.
South of France Beauty
Why do so many flock to this region anyway?
Beautiful coastal inlets, charming villages, markets, sunshine, hillsides to hike, friendly people, and obviously the inspiring landscape.
I just threw this basket set in my cart and can think of a hundred uses for them around the house. I am hoping to become more organized at the new place…
Hahahaha – don't we all think we will reform and develop new habits when we move into a new place. All I know is at this point, confronted with all my stuff and so much random (where in the world am I going to store THAT?), order sounds very very nice right now.
French Farmhouse Decor Idea: Bistro Set
Did I say confronted with all my stuff? Because there's also this anxiety about separation from it. Like my Fermob bistro chairs which my husband assures are buried somewhere at the new house.
But I have yet to see them, and I love them!
I do have a thing for Parisian style cafe sets like these, and I DO know where my white bistro set is since I hauled it myself.
It's not the same fine quality as the Fermob, but it is surprisingly sturdy and similar. I have white, but this color is just so charming:
I know I'm jumping around randomly today. Hope you'll stick with me. Back to France.
Beautiful French Country Vineyard
Ever visited a vineyard?
Light in the South of France
Culture Trip says this about the blue light: "Through a combination of the wind, the high temperatures and the mountains, the sky turns a special shade of blue during the blue hour. This light has been attracting artists for centuries, but even if you don't paint or draw, it's a magical time to have a coffee at dawn or a glass of wine at dusk and watch nature in all its glory. "
Reasons to Travel to Provence
If pleasant weather, countryside beauty and potential for relaxation don't sufficiently woo you, perhaps the gardens and architectural inspiration will.
The Palais des Papes in Avignon (built over the 16th century by consecutive popes), Notre-Dame de la Garde in Marseille, the MUCEM building and Fort Saint Jean are all promising sites to experience.
I have no clever segue from popes to coffee, just realizing caffeine is very very needed by my brain at this very moment. 🙂
I'm back. That's better.
300 Sunny Days in the South of France!
Sunny days sound swell right now to me, mama.
I'm dreaming of sunshine on my shoulders and warmer air as I shiver under a very Scandi throw like this at the moment:
What do you think about the modern feel of the stainless appliances and lighting?
Because I think the mix is tricky to get right. You don't want things to feel like they're competing. Harmony is the goal. I think if this were my place, I would like white pendants for a gentler look along with a white range hood. I would ditch the bright yellow and choose lower contrast.
Pieces like this are ones of which I would never tire:
Romantic Getaways in Provence
A romantic picnic, scenic drives, garden tours, and lounging on the beach are all dreamy possibilities that can happen on vacation here.
Dreaming of summer yet? Because I always forget spring has to come first!
Foodie Fantasyland in Southern France
Markets, a myriad of opportunities for fine wine, and memorable dining experiences are reason enough to save pennies for a someday trip!
What would you look forward to devouring most in Provence?
Even though I am petite, my appetite just never got the memo. My whole life has been a struggle to develop discipline to eat small human-sized portions.
Need Woven Pretties for This Spring or Summer?
Call me cuckoo, but thoughts of wicker and rattan and breezy summer living can be good medicine for a wintry weary soul…
Can you smell something delicious sizzling on the grill? Is the corn on the cob ready? And where's my gingham tablecloth?
French Blue Grey Paint Color
Like the French-inspired blue-grey background of the quote below?
It's a paint color you can use at home. Here is the sophisticated bluish gray paint color:
Find more inspiring quotes to repin from my Pinterest Board of quotes RIGHT HERE!
Anyone need a reminder that a bedroom need not be overly designed or thought out?
Is the bed comfy? Are the window coverings functional? Is there bedside lighting to read?
I'm going to try to remember this as I tackle another home that needs TLC.
French Coastal Blue Bedroom Ideas
I am crushing on the French blue bedding:
Not sure yet if coastal blue and my favored blue-greys will work at the new house.
It is always surprising to me how much light varies from home to home and region to region.
This variance plays an important role in how I choose a color story to decorate a room.
Simplicity in a French Bathroom
Can we talk simplicity for a sec? Because I'm aware that American decorators tend to favor complication and complexity, and I find I need to keep checking myself to see that I don't fall into that trap.
Case in point. Look at this vanity above. There's storage for towels, a basket of toiletries, and maybe some luxurious skin care products. And there's no doors or drawers or clunky factor.
But there's a luxurious amenity:
Meanwhile, someone in the USA is agonizing over a Shaker vs. Modern Slab door style for their vanity which is outfitted with soft close doors and built-in refrigerated drawers to keep mascara at an optimal cool temp.
And that's okay. But it sure aint simple. (Pssst. I am considering this Schumacher wallpaper for a bathroom at the new house – saw it in one of Sherry Hart's elegantly simple projects and can't stop dreaming of it.)
When a design grows over-wrought, it can come off as too contrived and busy when the goal was likely to evoke a peaceful mood that relaxes the mind.
Spare & White Bedroom
I do have a thing for white bedding, and I could care less if that makes me boring or always playing it safe. Frankly, I think those sorts of sentiments are fueled by marketers trying to convince us we need new everything (including taste in color).
And I never met a matelassé coverlet I didn't love! Especially when it's made by Annie Selke/Pine Cone Hill:
Let's face it. If the bed looks inviting and sumptuous, even sub-par furniture/lighting/room size won't matter too much.
And bedside tables need not look like a box with three drawers.
Sometimes an airier look is just the ticket.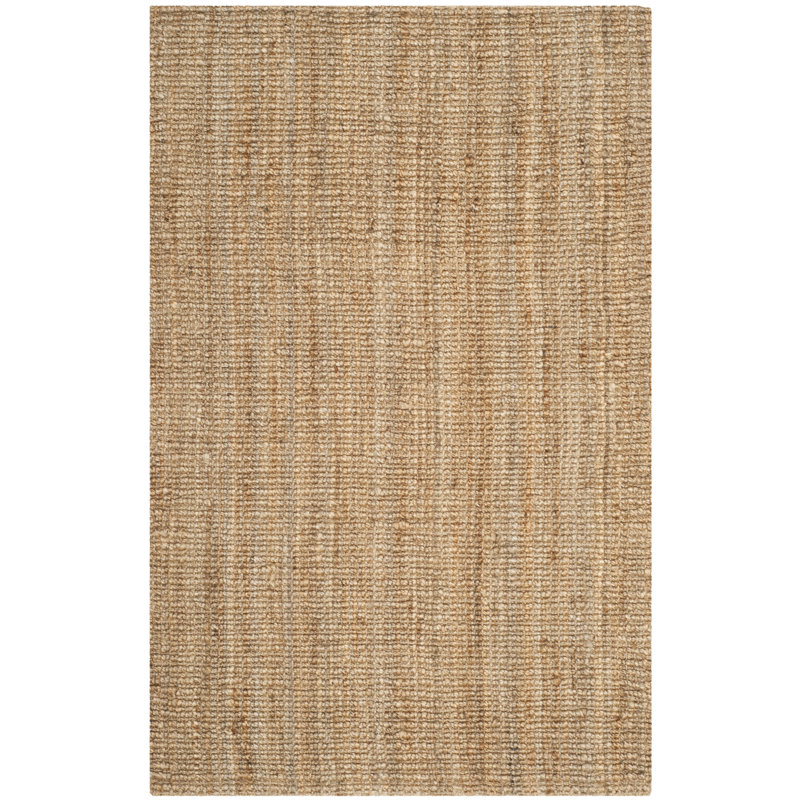 In other news, who has been spying on me?
Charming Architectural Features
If you find yourself one perfectly round bedroom window short at the moment, all is not lost.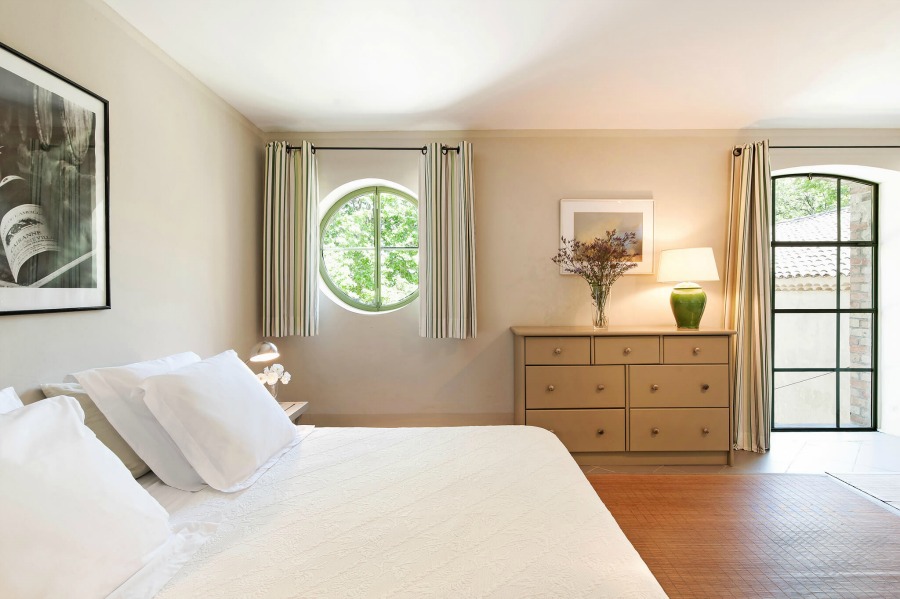 A round mirror to update that tired ol' rectangular one above the dresser may lift your mood. Also. Do you think an American decorator would dress that round window so simply (obviously the drapes are there for privacy) and effortlessly?
I'm guessing the dresser was initially placed under the round window (and hence the shorter length), and maybe a now absent chest was between the windows.
The thing is it seems like the French don't freak out like we do about such room evolution, about the wear that comes with using objects, about strict formulas or proportions.
They find joy WITHIN the evolution and even strangeness that develops as needs shift and finishes age.
Find more MATELASSE QUILT options RIGHT HERE.
Need a similar round wall mirror? SEE THESE.
Landscape, Culture & Climate
It's no wonder folks flock to the region of France inspiring painters like the "Master of Aix," Paul Cézanne.
I am itching to hop in the car and road trip to anywhere beyond this snow, beyond the bare trees.
And I know spring is just around the corner with its budding promise.
Hop in the Car for a Joy Ride!
On any given Sunday in spring and summer, my husband and I hop in the car or on his motorcycle and cruise to the country to soak in rural beauty. It's our time to dream and scheme.
I'm so happy smart youTubers do the same across the miles so we can experience their scenic route.
Listen & Let Yourself Taste Sweetness
I hope you are staying safe and cozy and even if you are not sneaking in as much home organization as you wanted, I hope you taking TIME to PLAY…to REST your bones…to DREAM A LITTLE…and to simply GOOF OFF, allowing your YOUness to BLOOM and SPARKLE.
I independently selected products in this post—if you buy from one of my links, I may earn a commission.
Peace to you right where you are.
-michele
Shop for items you already intended to buy on Amazon RIGHT HERE, and also find home decor here to keep decor inspiration flowing on Hello Lovely!
Hello Lovely is a participant in the Amazon Services LLC Associates Program, an affiliate advertising program designed to provide a means for sites to earn fees by linking to Amazon.com and affiliated sites.