How are you holding up as you move through 2022? I'm hanging in there as we move our last belongings from the former fixer and confront the challenges of the dawning renovation. You already know how much I adore white interiors, but what about black? The new house has been whispering it wants some, so I am listening. Today celebrates the lovely work of Arizona-based, Jaimee Rose Interiors in Black & White Modern Country Tudor Style. I hope you'll take away inspiring ideas from the interiors as well as smiles from whimsically wise quotes.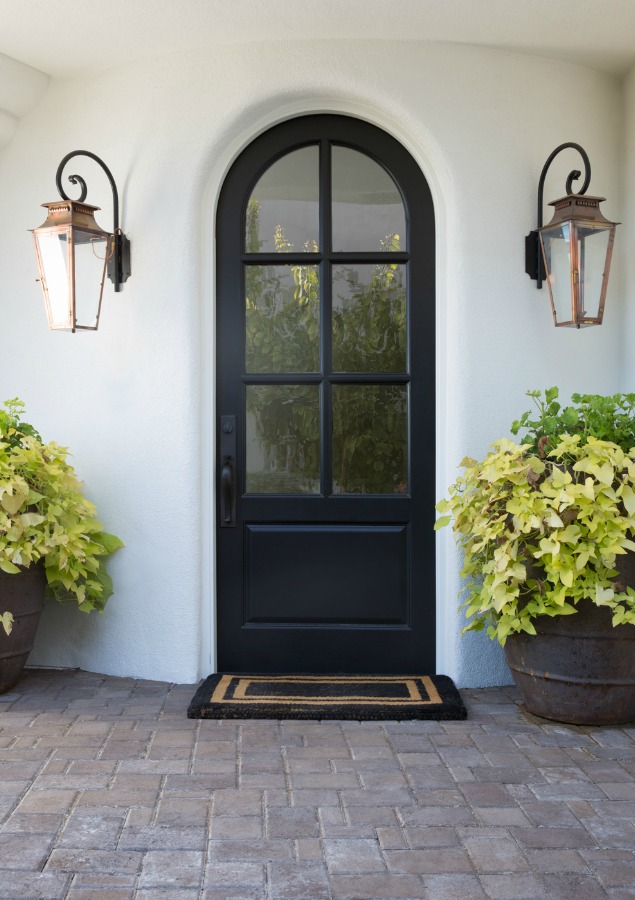 Black & White Modern Country Tudor Style
Classic Black & White Kitchen
I don't know why it has been hard for me to incorporate black into my interiors, but I am drawn to quieter, gentler hues. Then I see a range like this: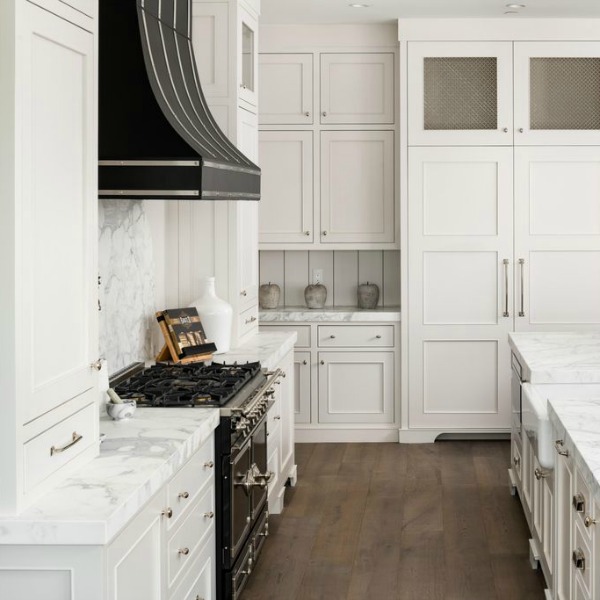 Ya know?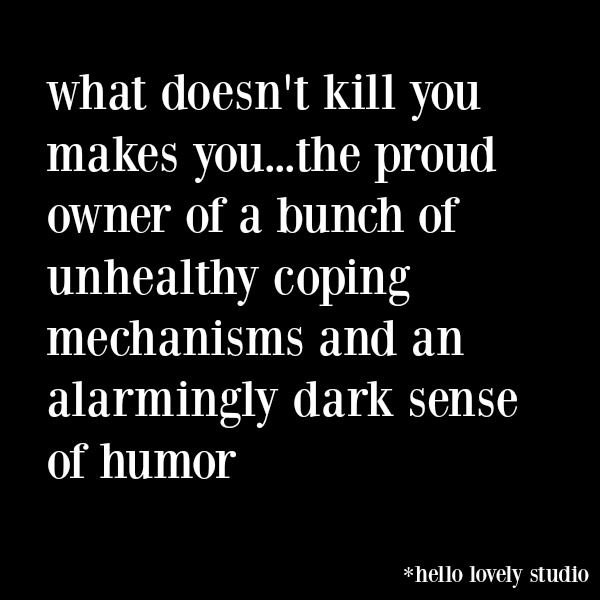 Black insists I turn my head and see what it is framing, covering, or highlighting.
Tudor Style Design Exterior Details
I have never been mad at black exterior details.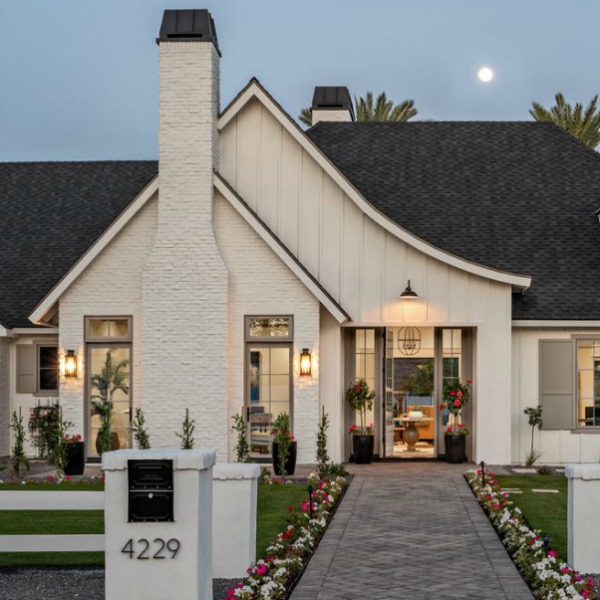 Or wrought iron. I mean it's gorgeous.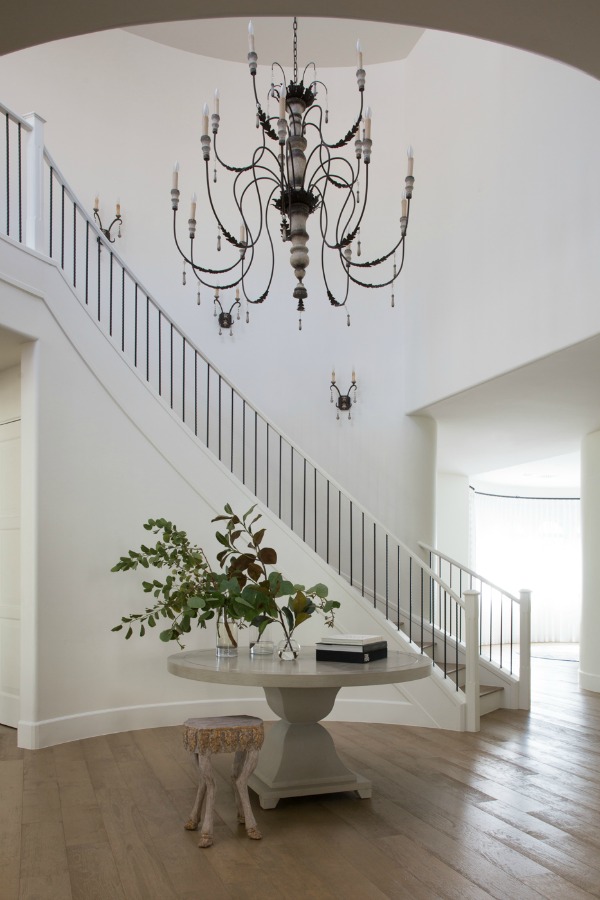 When you're after a paint color suggestive of iron, soft blacks and black-bronze shades can do the trick.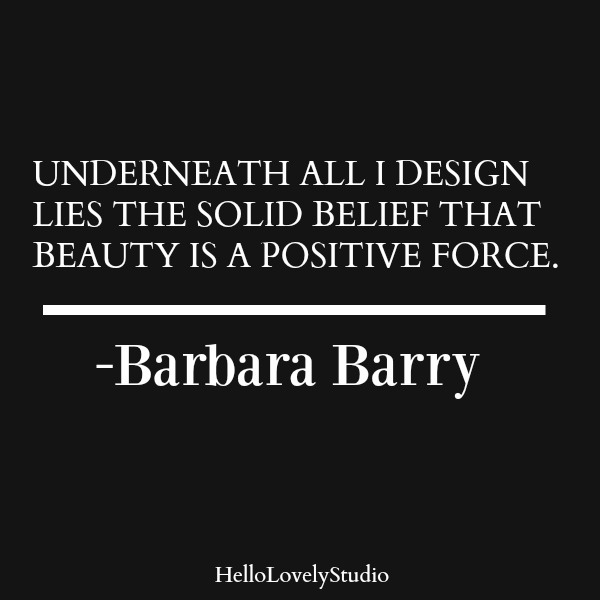 In my neck of the woods, lots of folks are opting for black appliances and range hoods.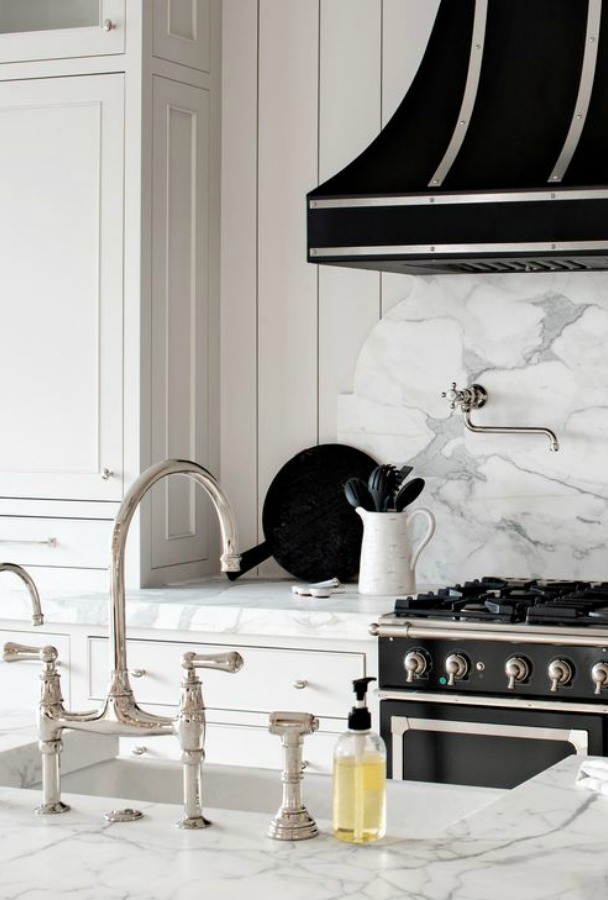 Isn't the black and white marble stunning here?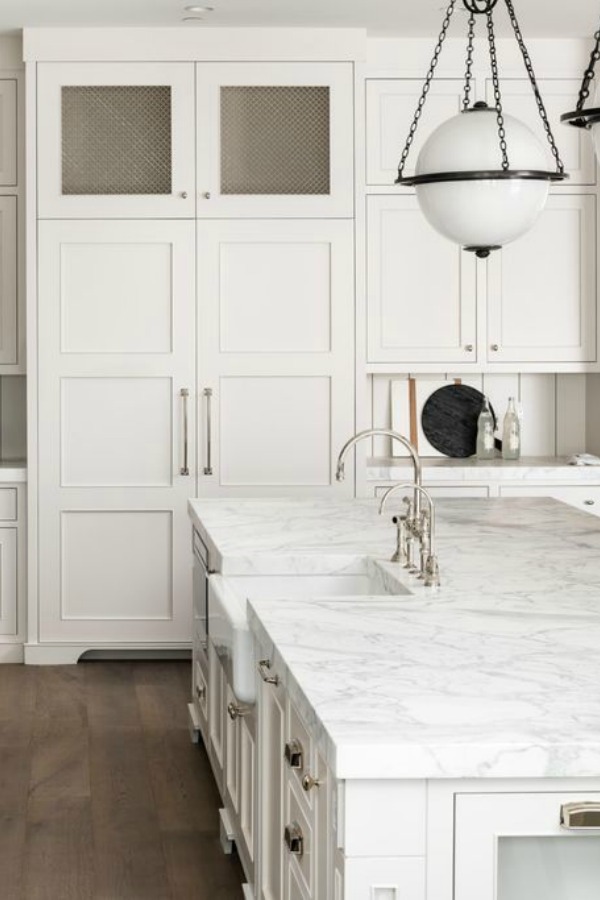 While black and cool metallics like polished nickel can be best friends, gold tones and brass are brilliant with black.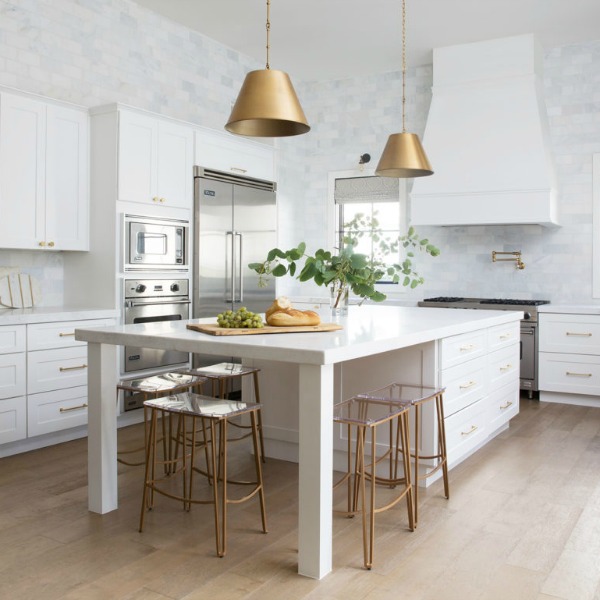 I'm also reminded of the fact that I live with more black than I even realize. Think of all the black on stainless appliances, TVs, and various hardware.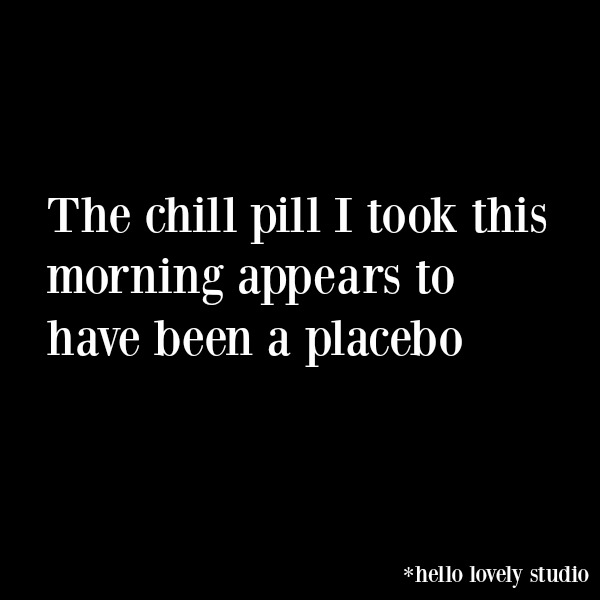 Matte black or oil rubbed bronze light fixtures can bring a pleasing strength to all white rooms.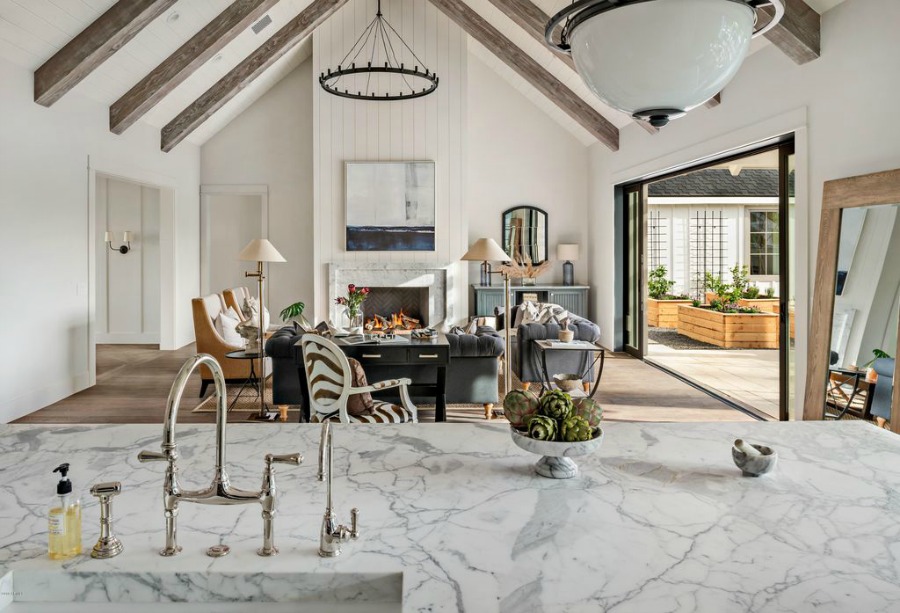 And black can keep a space from feeling frou frou or too precious.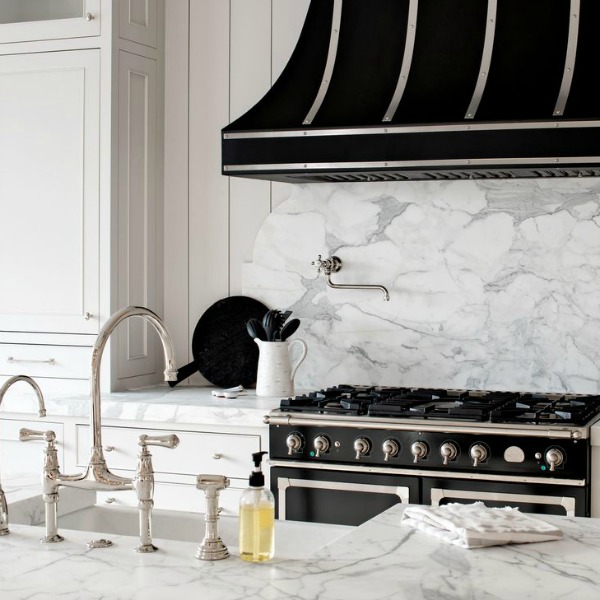 If you love this classic kitchen, you're sure to be inspired by THESE LOVELY BESPOKE ONES by L'Atelier Paris.
Black window mullions and trim are so much more common now than a decade ago!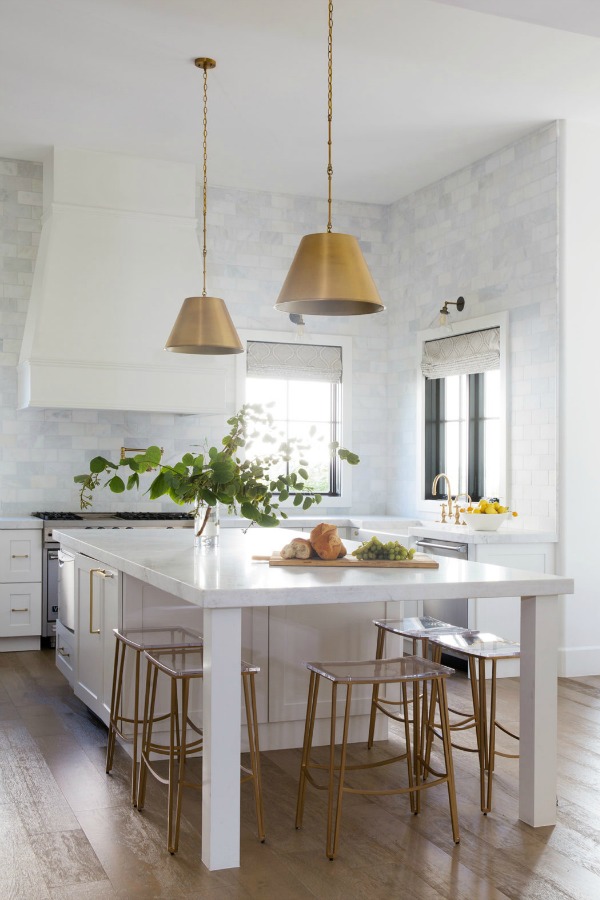 And black can be an important accent when you're after a modern country or modern farmhouse feel inside or out.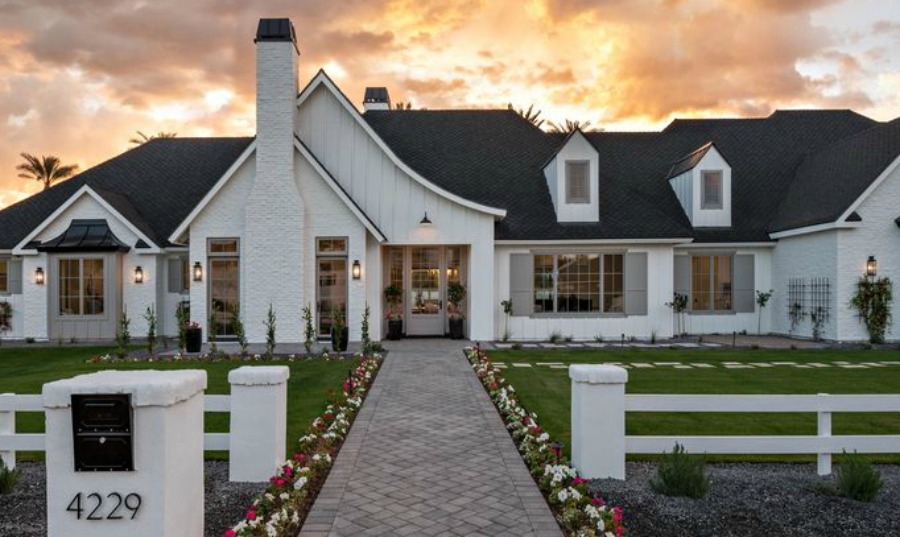 Weathered Beams & Neutral Unfussy Interiors
Just look at how the black painted windows draw your attention to the outdoors.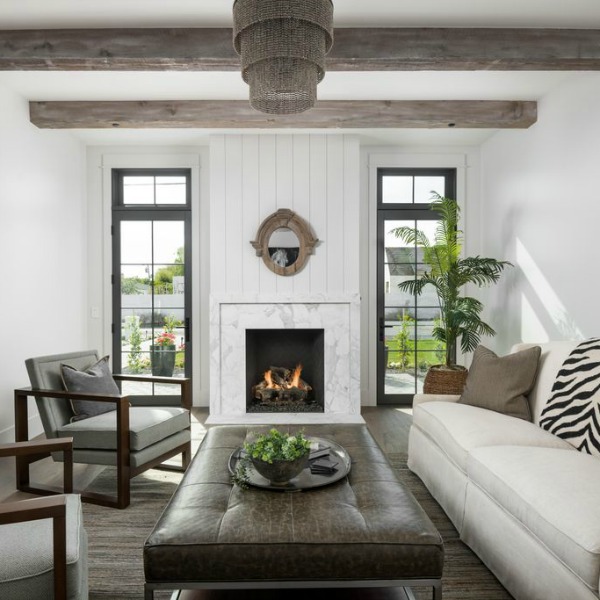 Oh, and I forgot about how many fireplace interiors are black!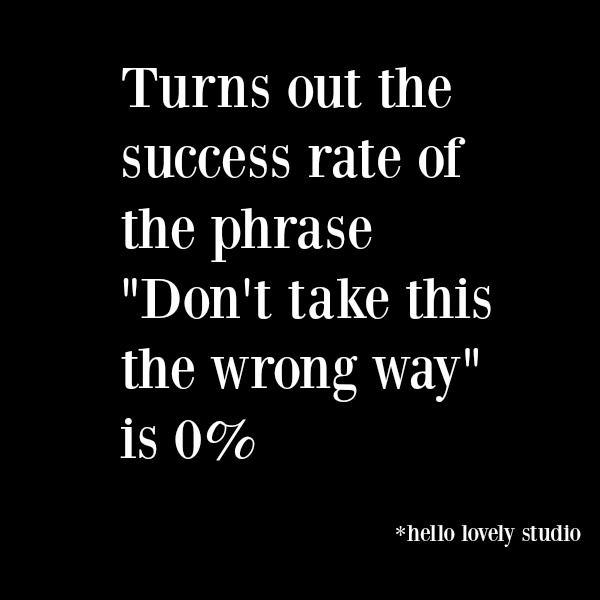 So we really do live with a lot of this neutral color whether we realize it or not.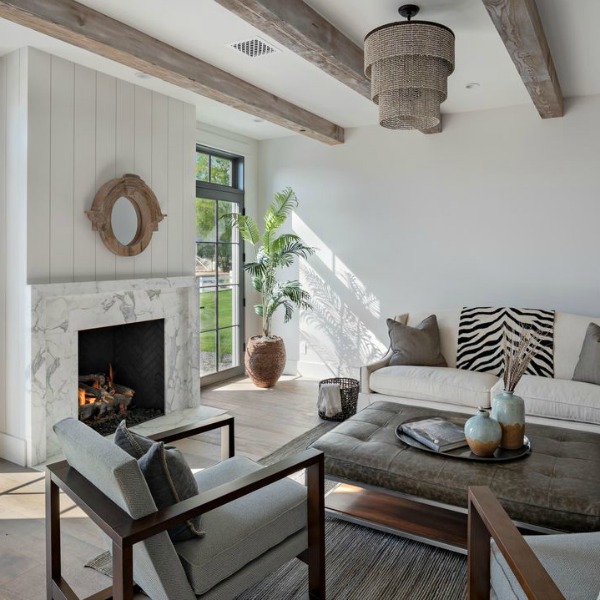 At the new house, I initially thought I would change out all of the light fixtures, but the black is growing on me.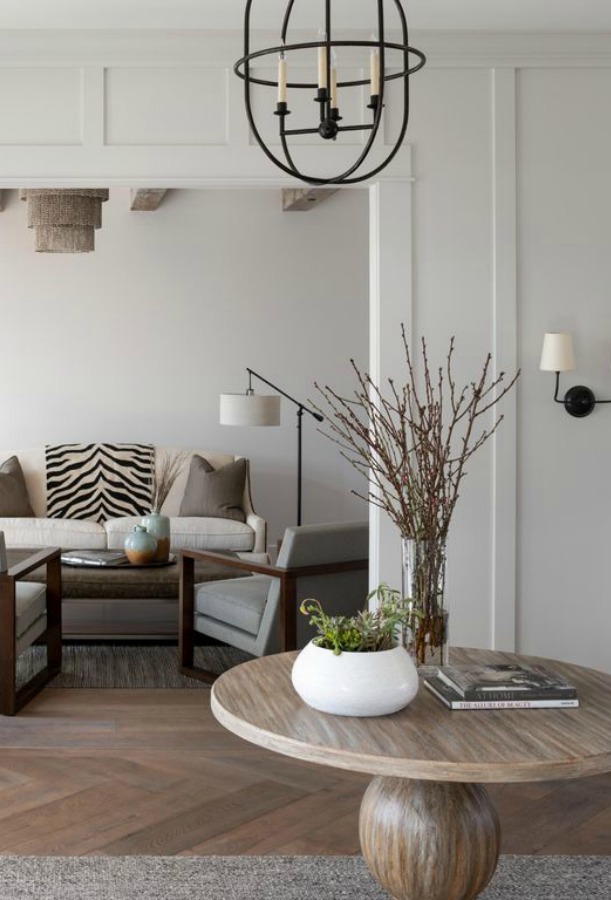 I like the simple fixture above for the unfussy, casual tone it sets in the entry.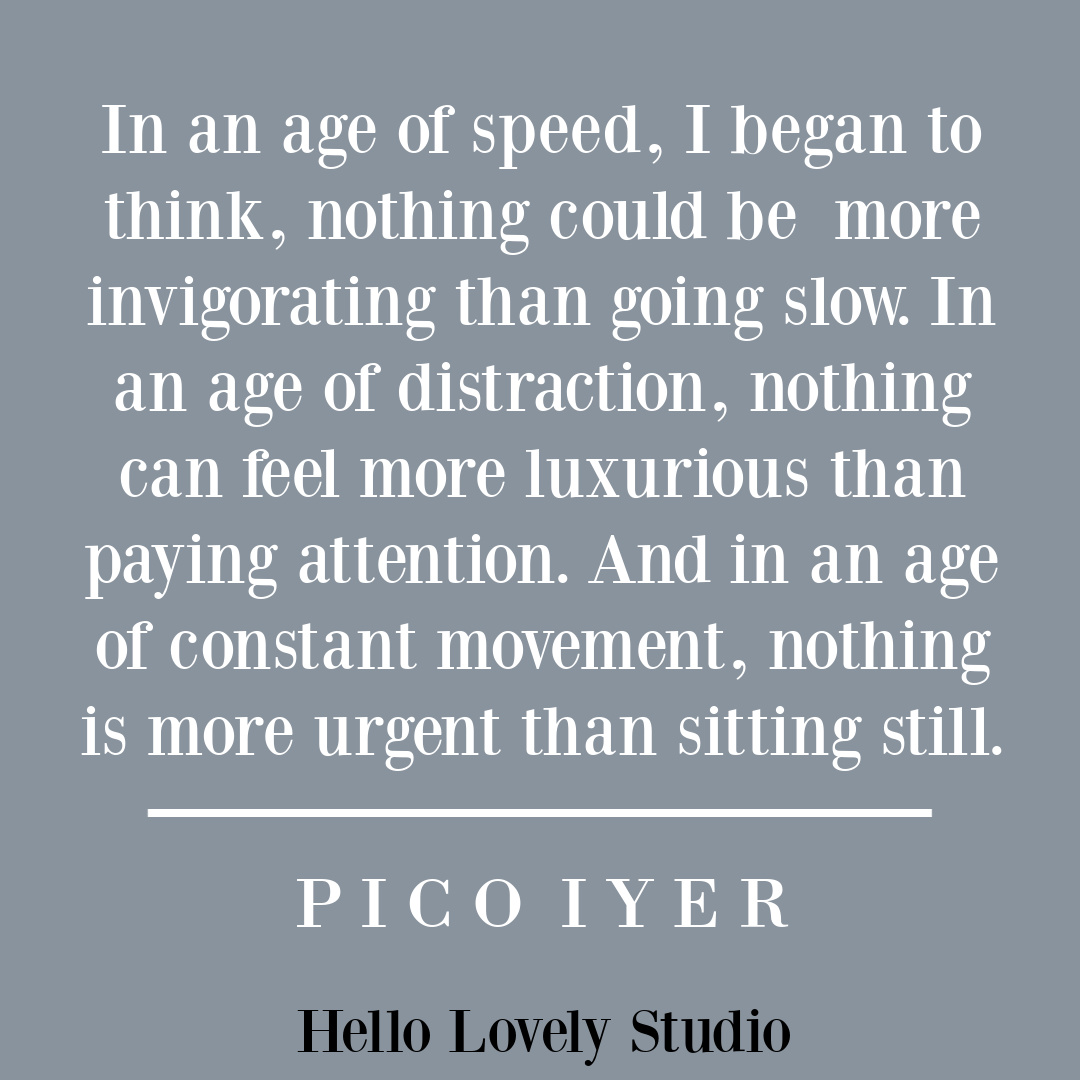 Luxurious White Marble Bathrooms
Couldn't resist sharing some of the other glorious moments in this project: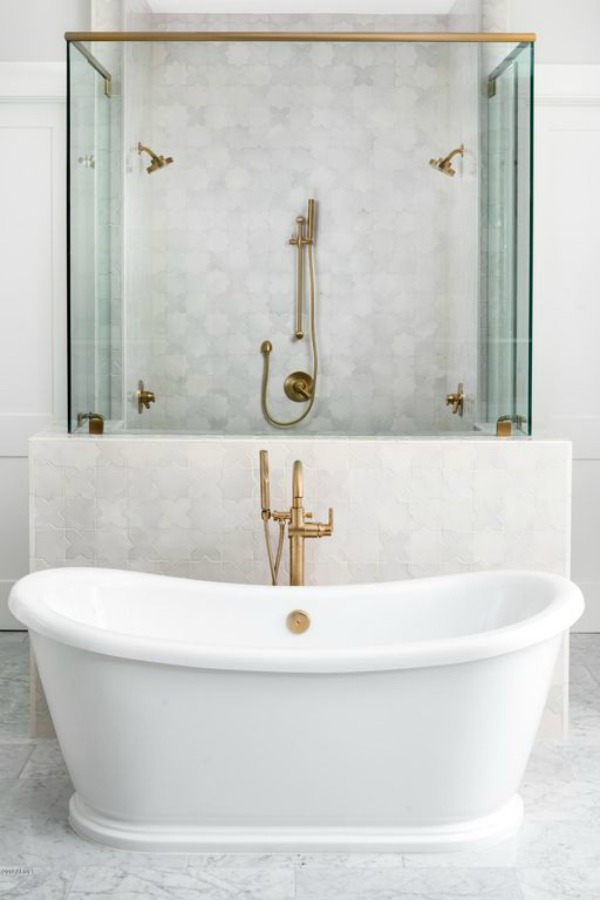 Would you, could you, embrace a black tile floor?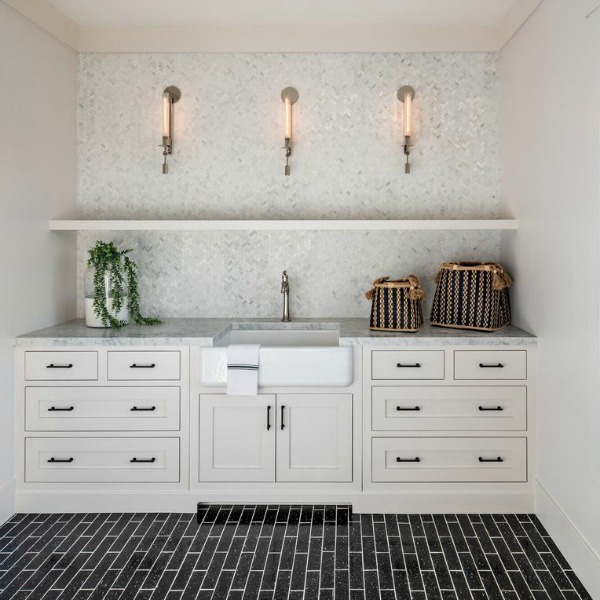 Because Jaimee Rose Interiors could definitely convince me!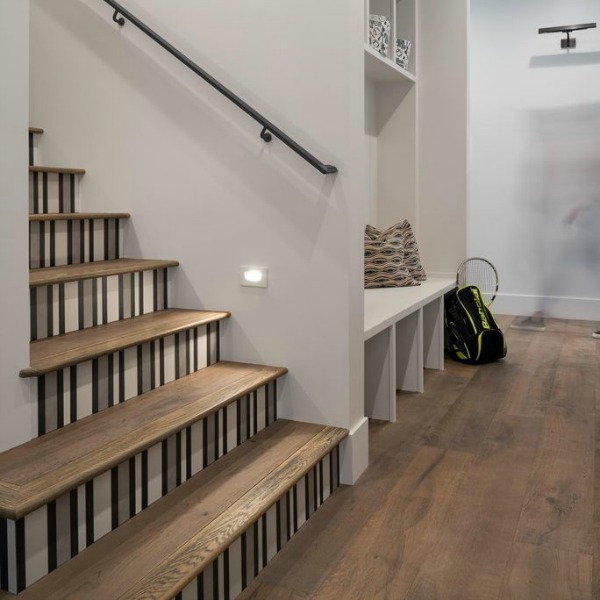 So many interesting, custom details to note.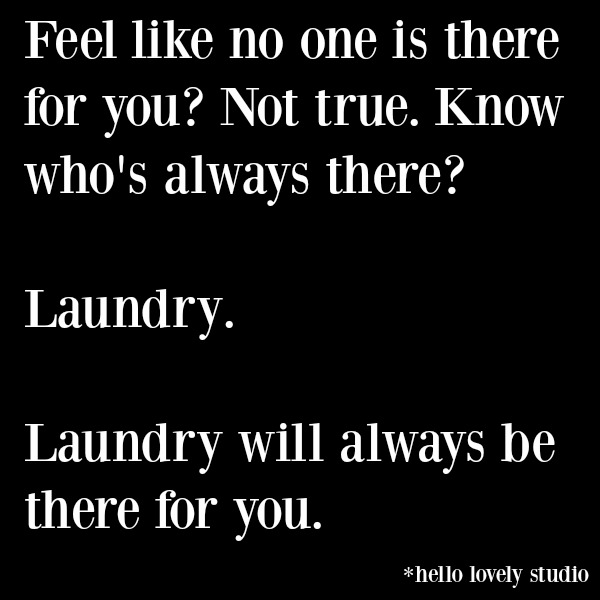 Looks like those closets are empty…when can I move my stuff in (which is in boxes and bags at the moment shoved into random corners!)?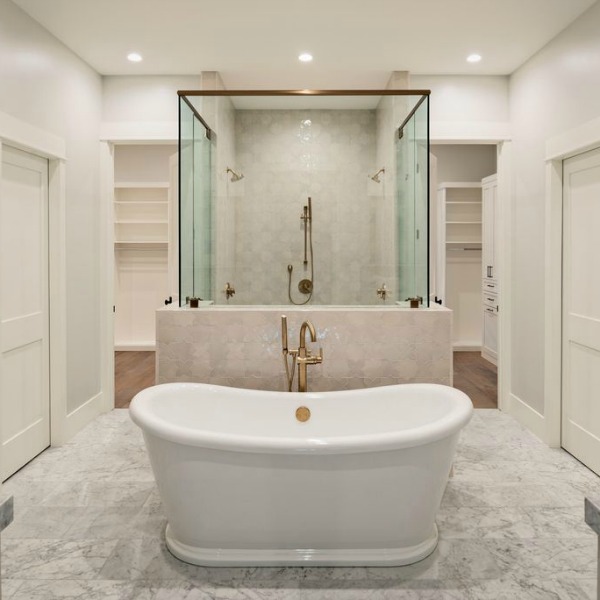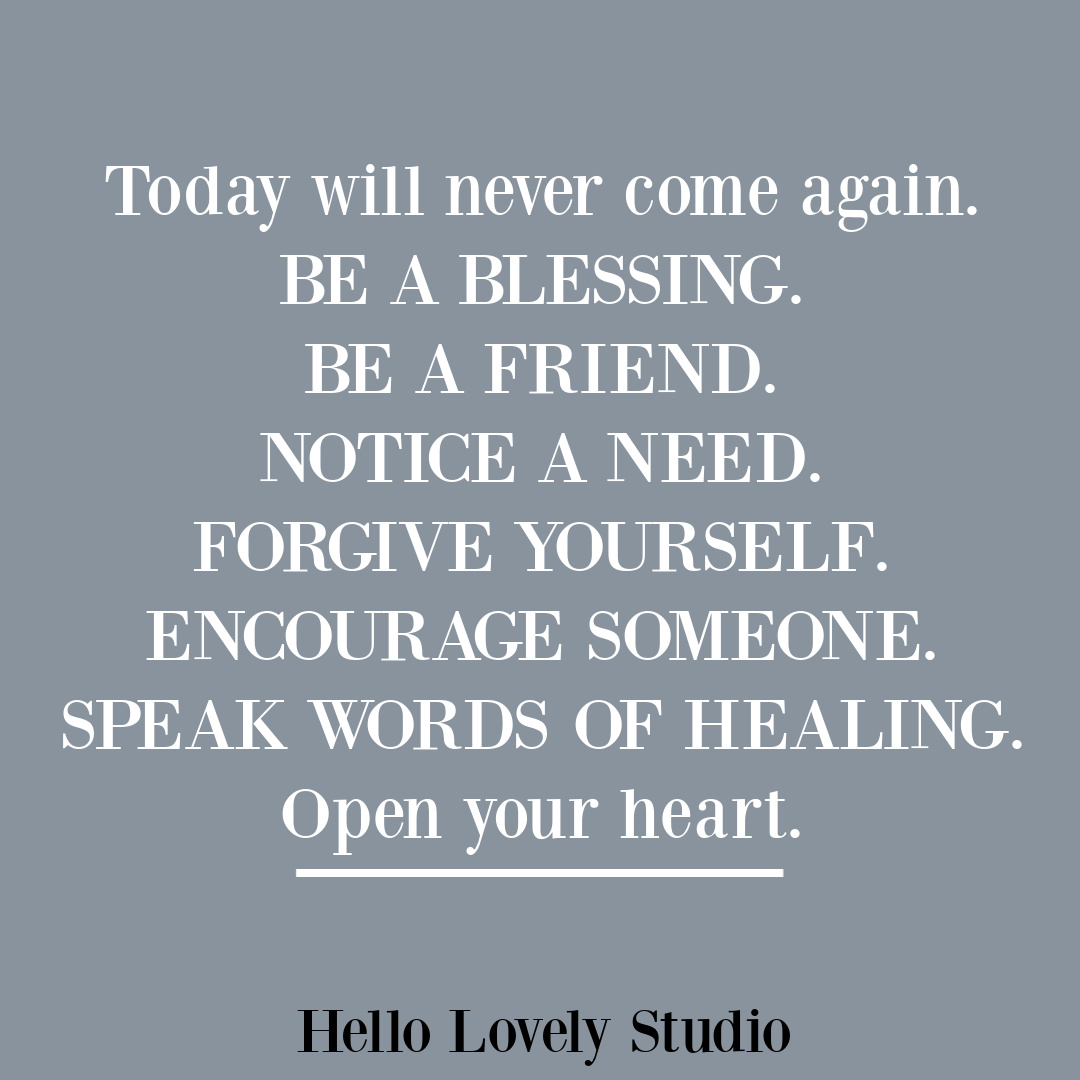 Black can add industrial edginess to a space as well as a more urban vibe.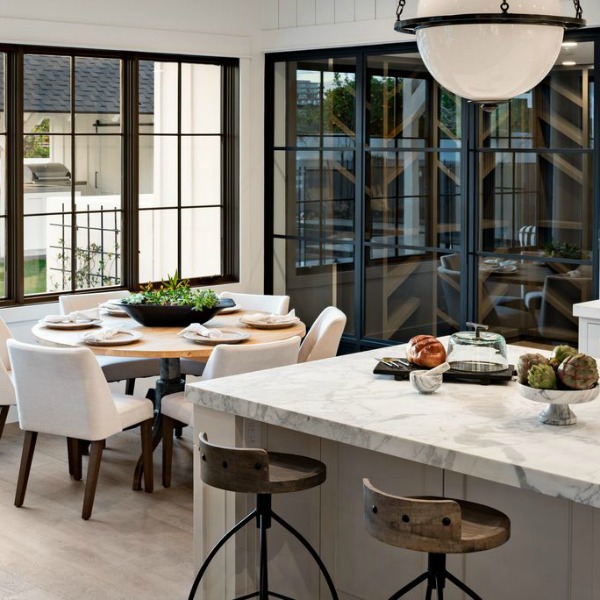 Also, I'm reminded how much I prefer round dining tables these days. They are so much friendlier for conversation, yes?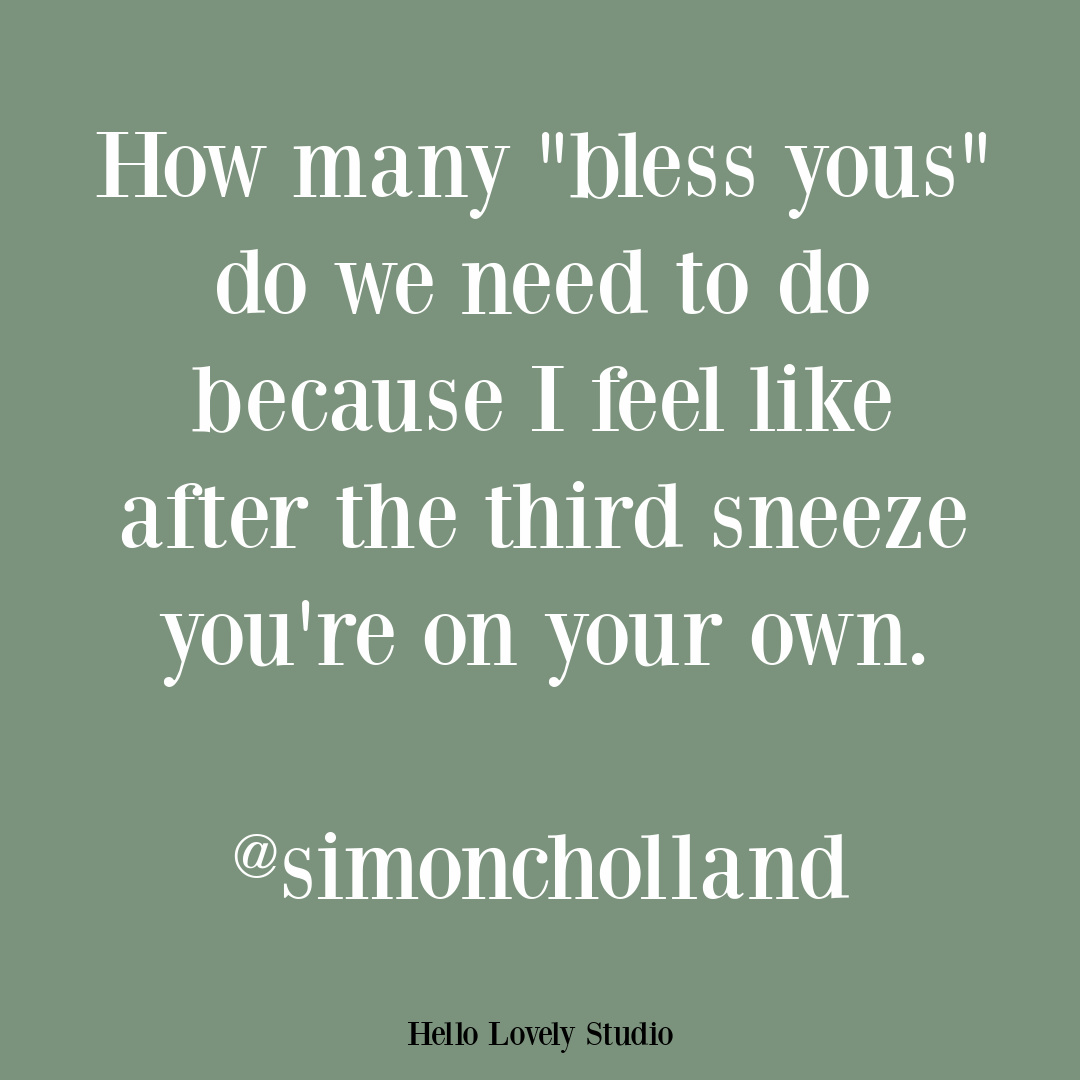 Romantic & Rustic Bedroom
While black feels strong against white, it can also feel classic and timeless.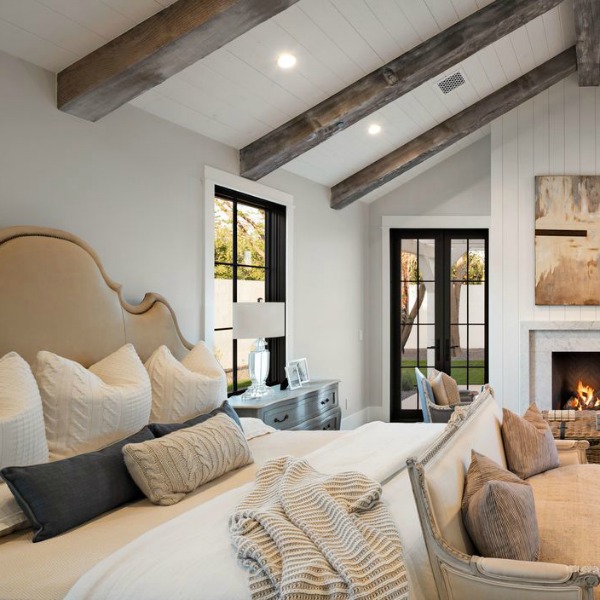 Let's face it. When you would love to install custom made black steel windows but don't have the budget, black paint can be your best friend.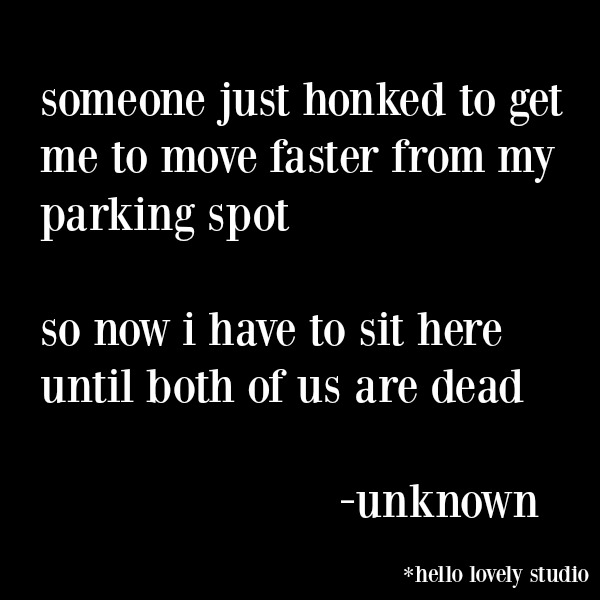 And you don't have to paint the door or window casing black as it can remain white: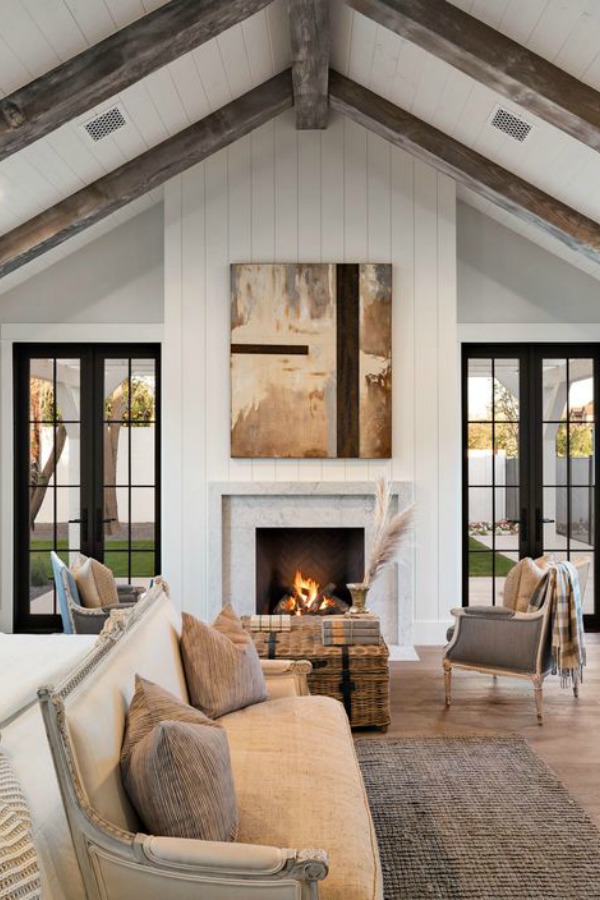 Are you warming up to this idea of high contrast in certain areas?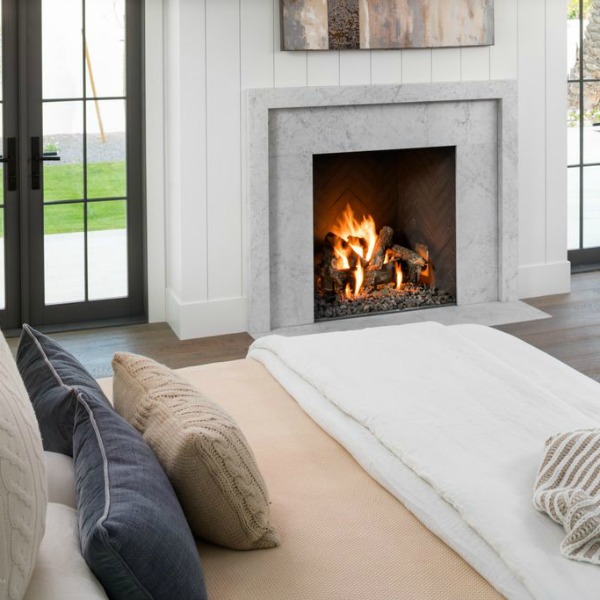 Or is your eye more at rest with low contrast?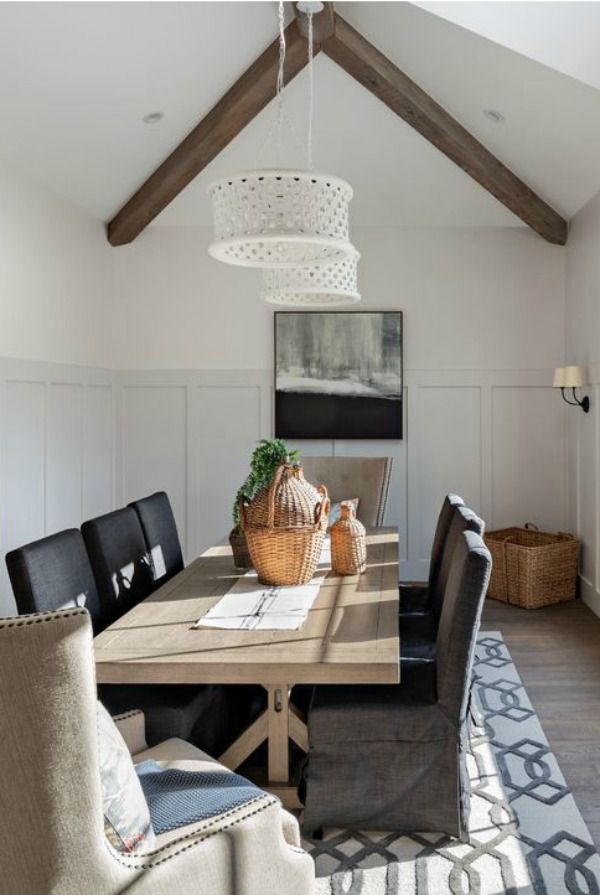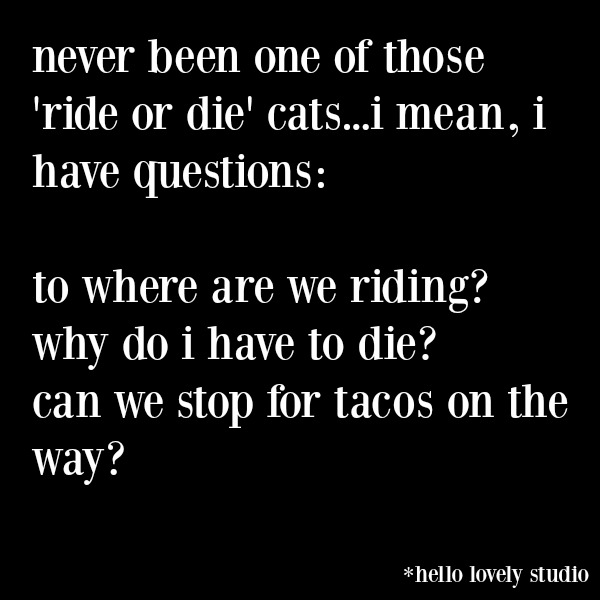 Black & White Gingham Tile Floor
I don't know if it is a passing trend, but gingham or checkered floor patterns just make me happy.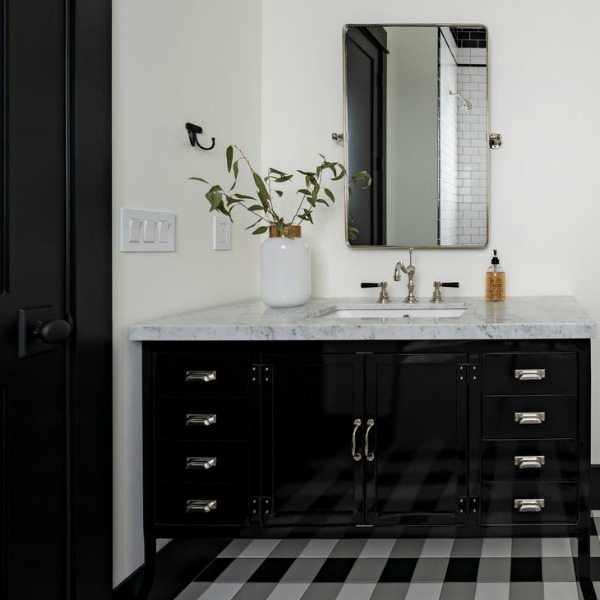 How about a moody, muted black or dark charcoal powder room?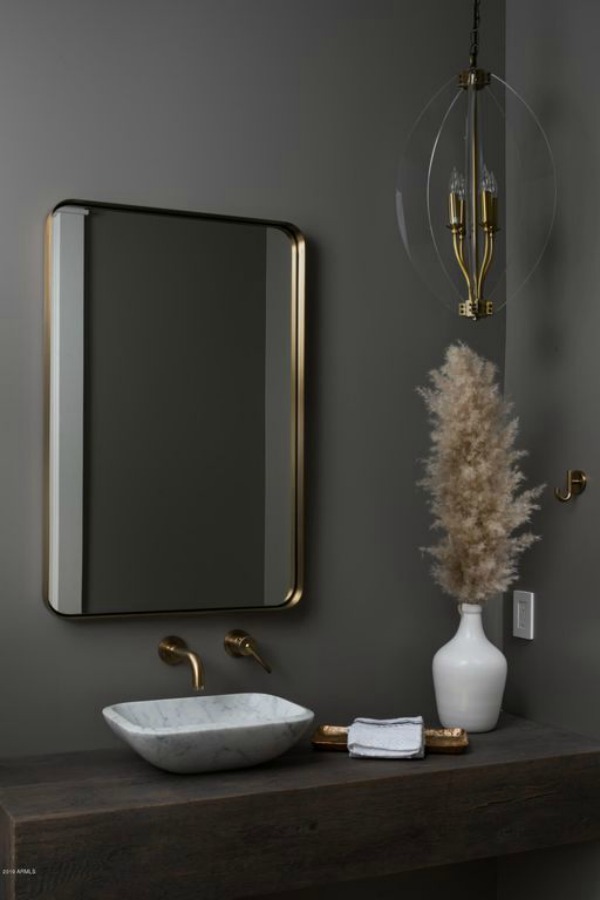 Quite a different mood than a white bath, yet luxurious just the same.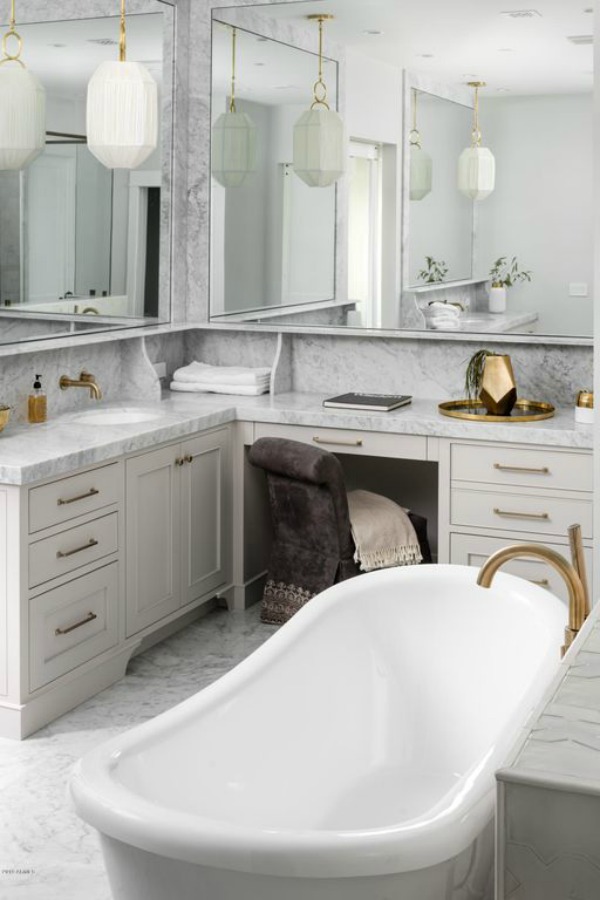 Here are my favorite light black/dark charcoal paint colors to use: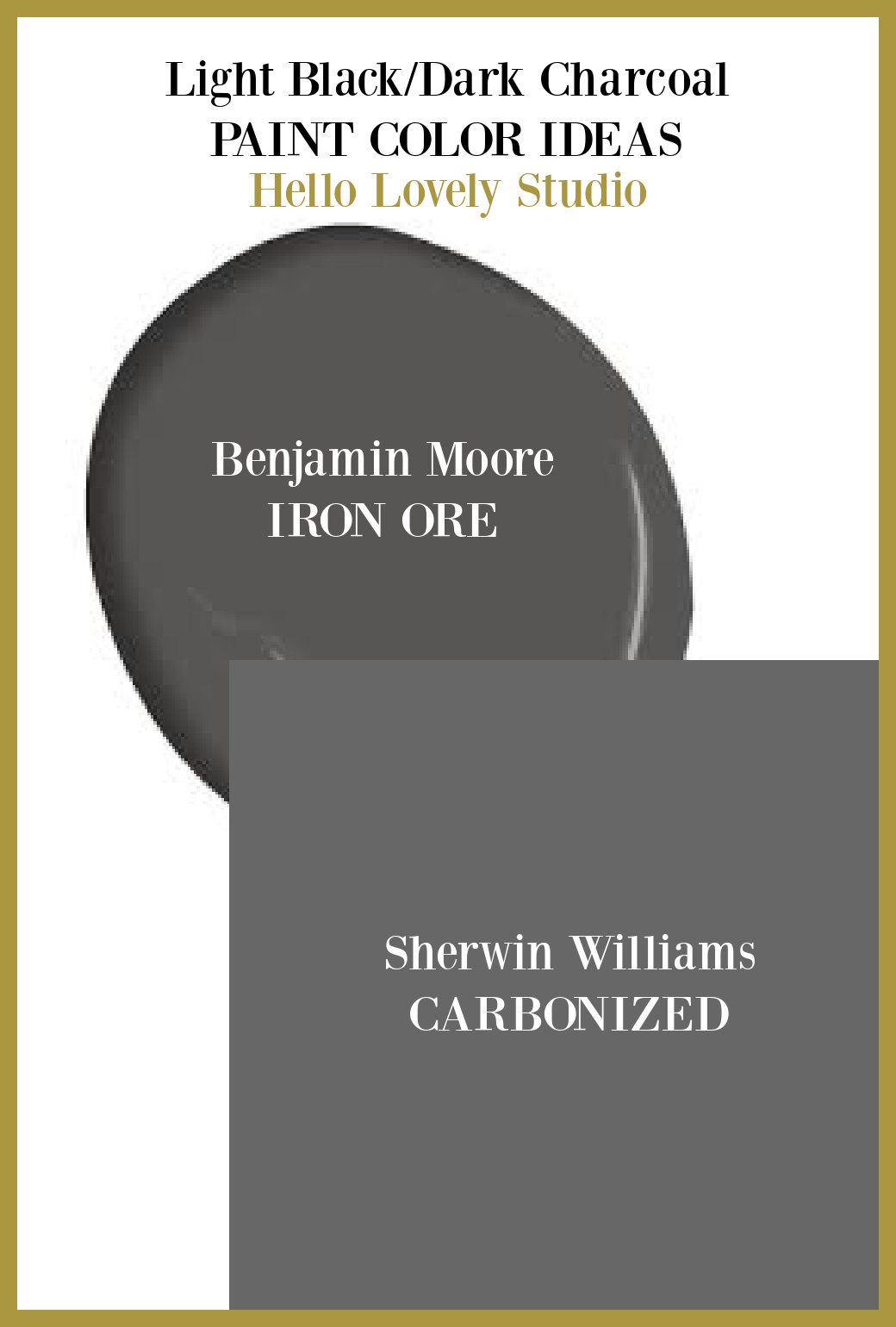 I love how black works with the warmth of light wood tones and neutrals like greige.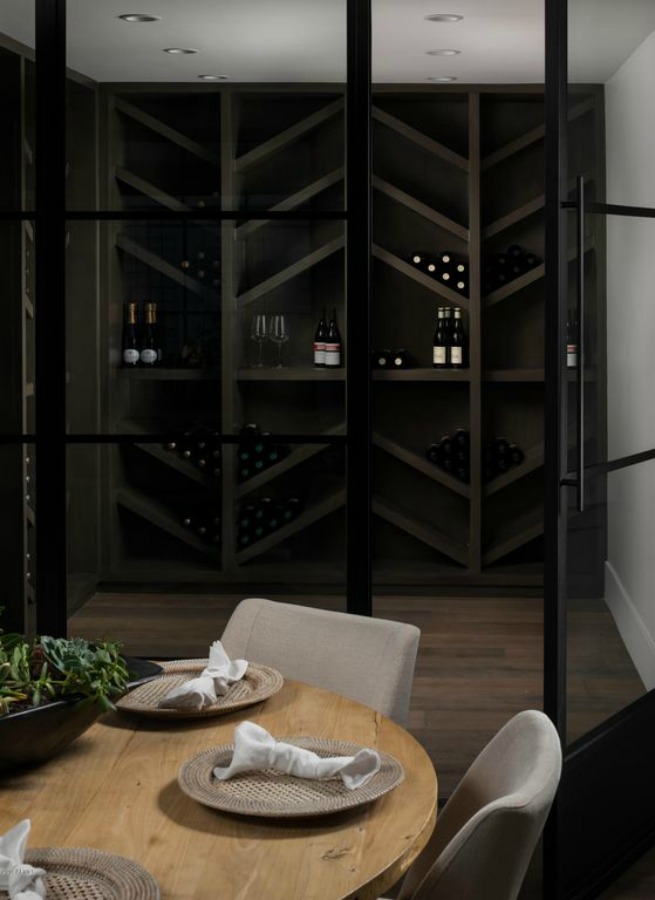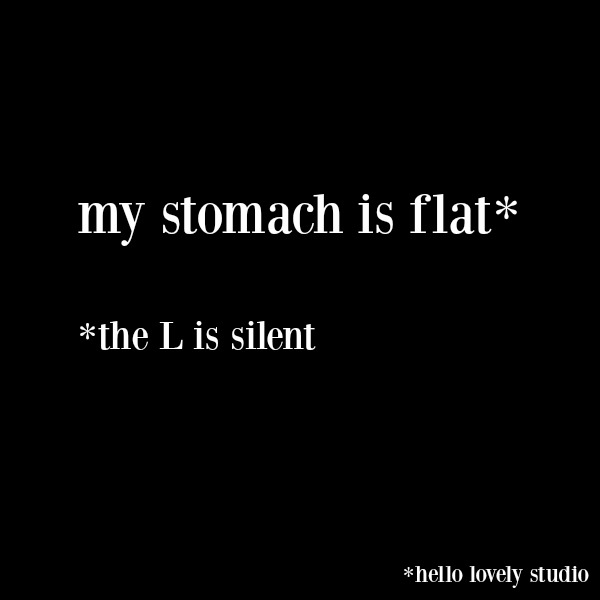 If you love black but also love blue, maybe you don't have to choose…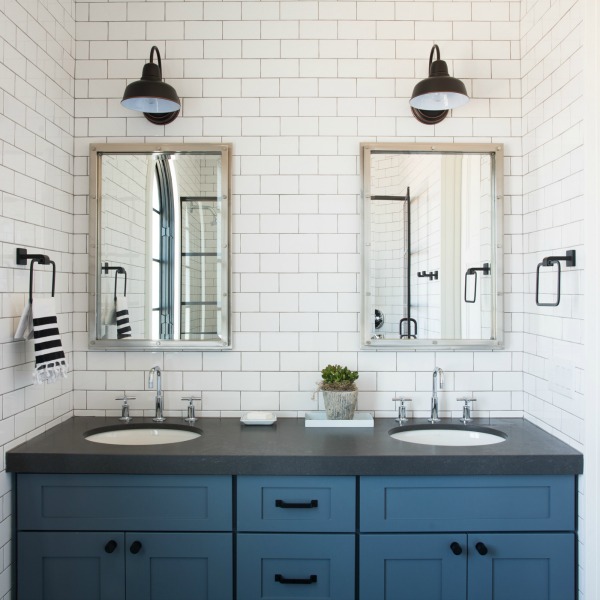 I mean it's a combination straight outta nature…just look:
Black and white are a winning sort of combo for geometric patterns!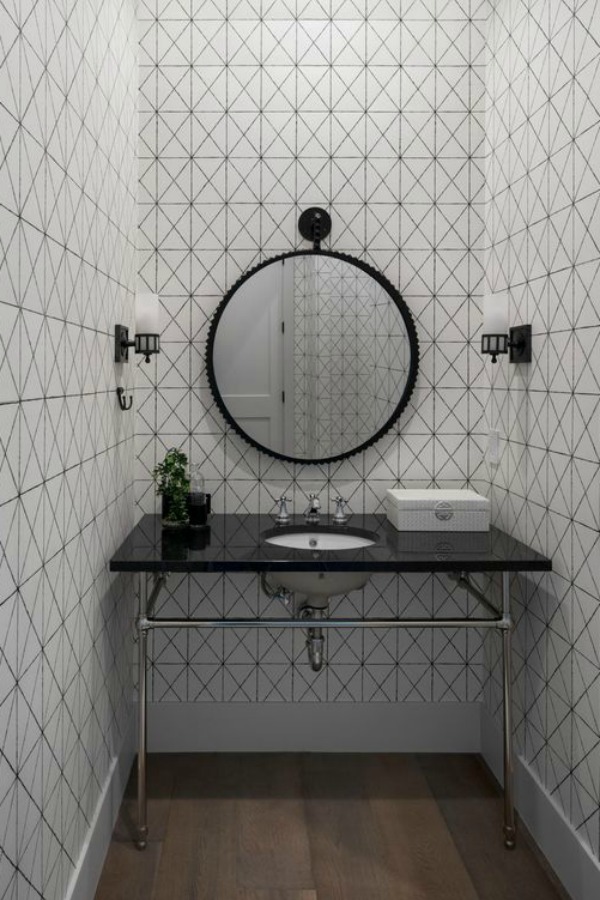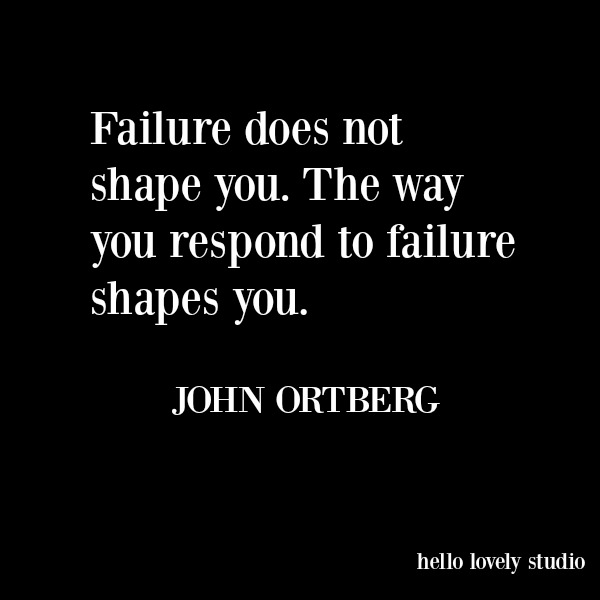 More Work from This Designer: Before & After
The amount of space is enviable, yes?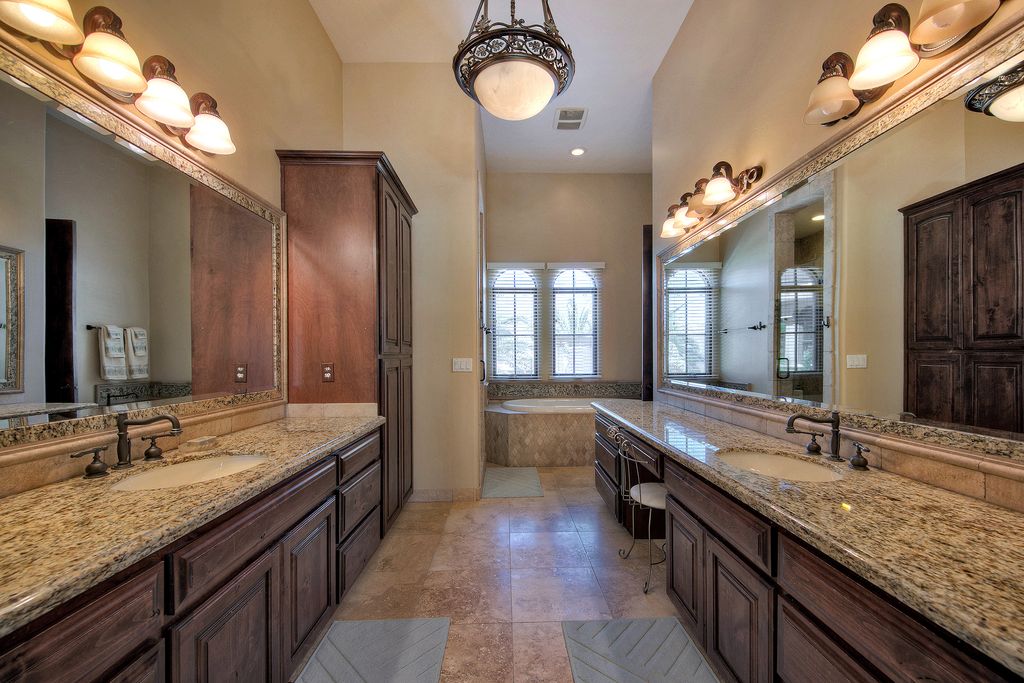 What a luxurious design transformation!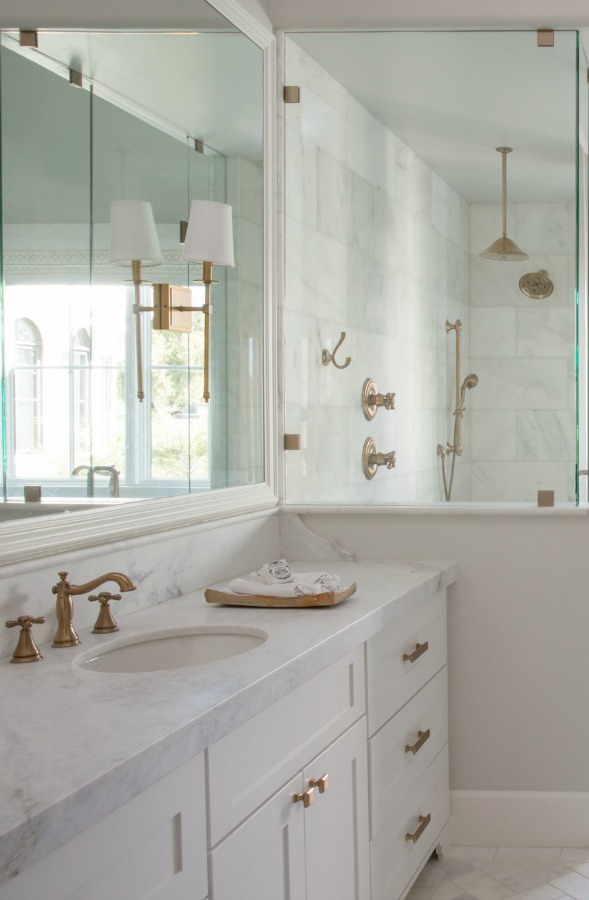 More of the after: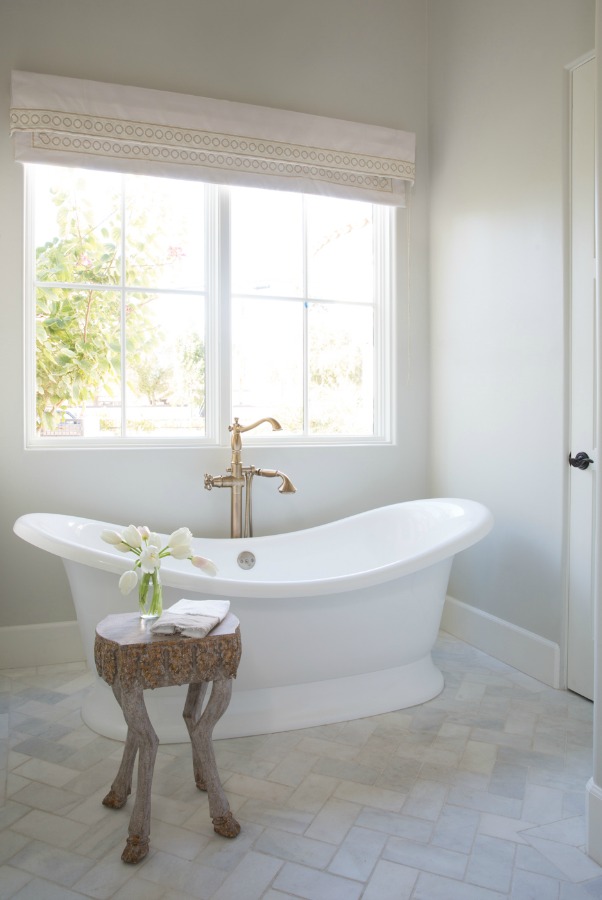 Pssst. This is my attitude du jour: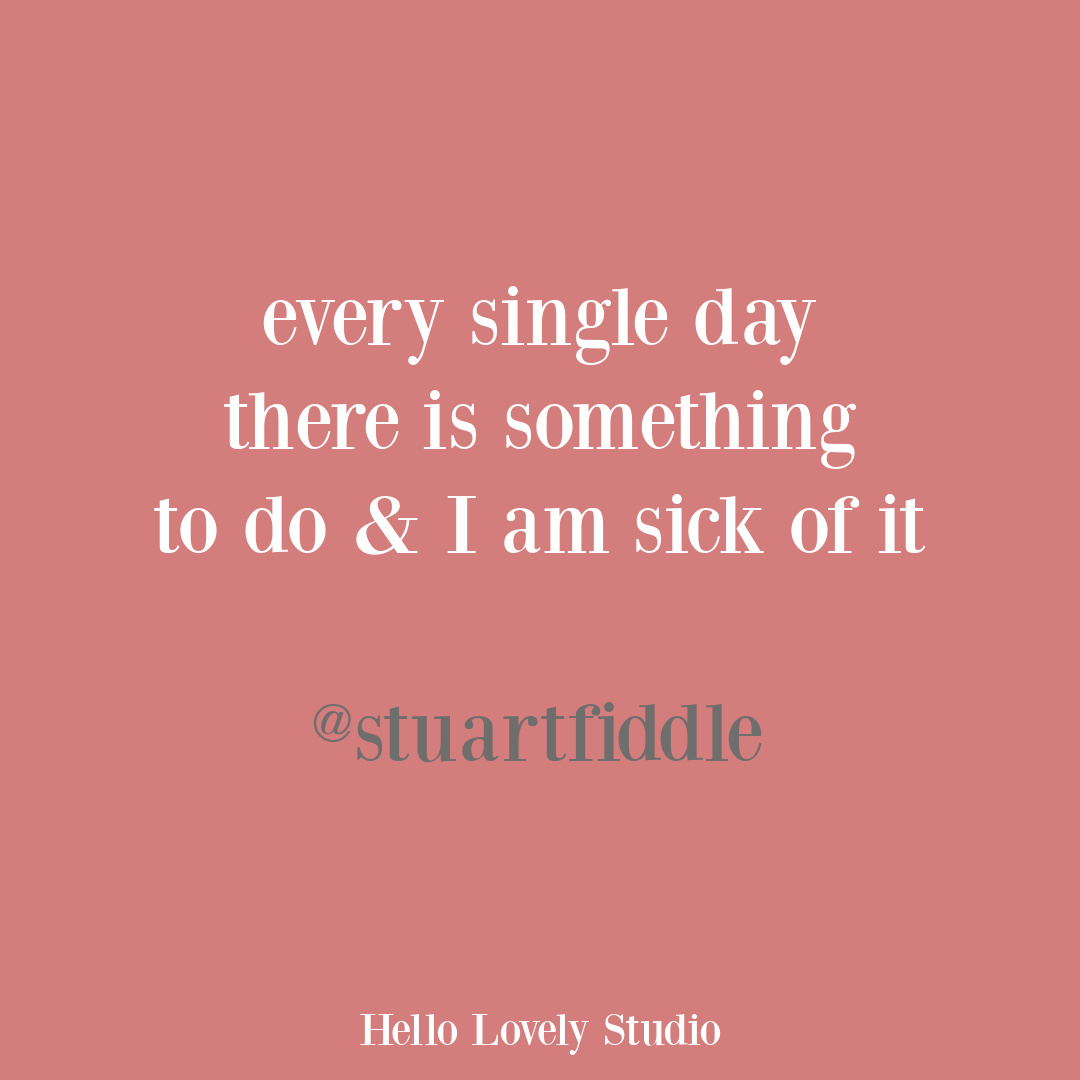 What a glorious light-filled bath!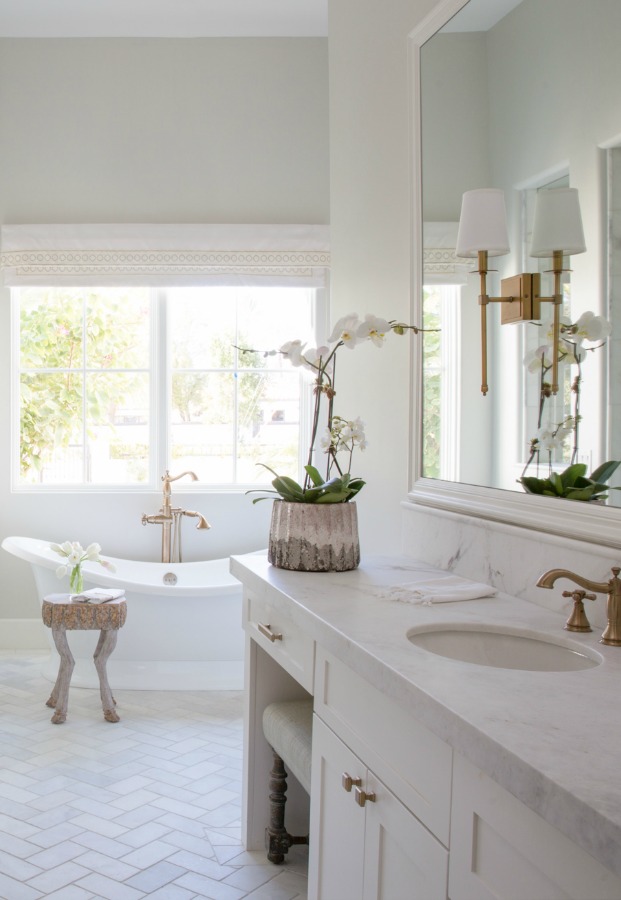 Here's another peek at that gorgeous tile pattern: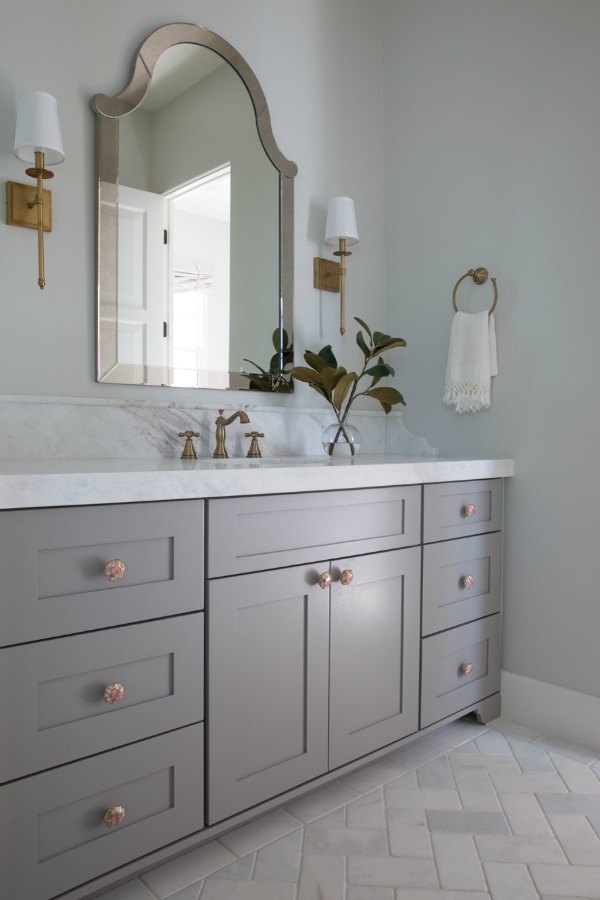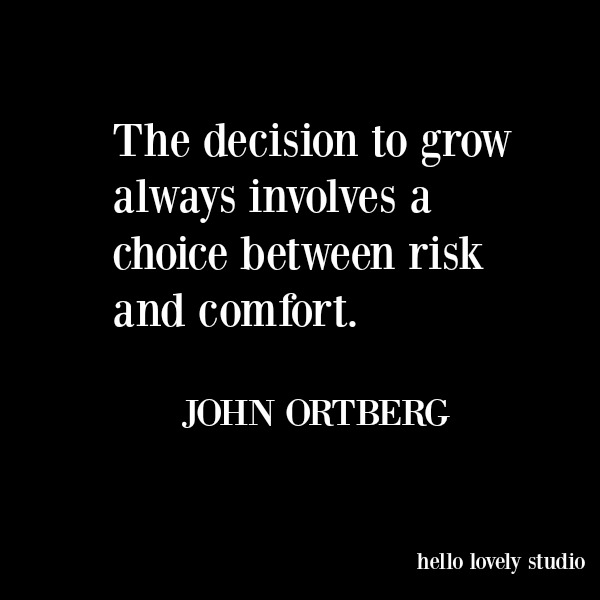 Do you love the look of black steel shower doors and enclosures?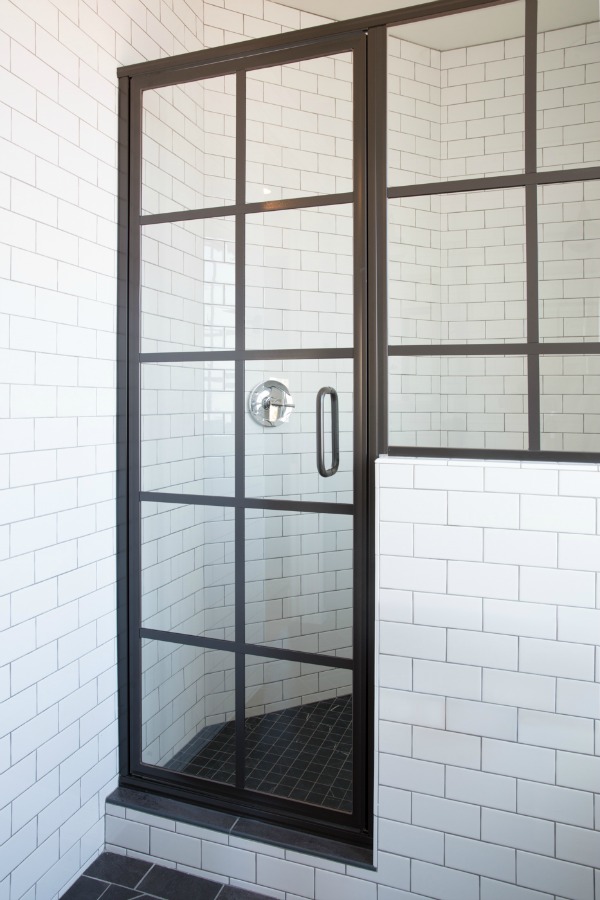 Because there are readymade examples now in the marketplace now so we don't have to take a second mortgage to have one built.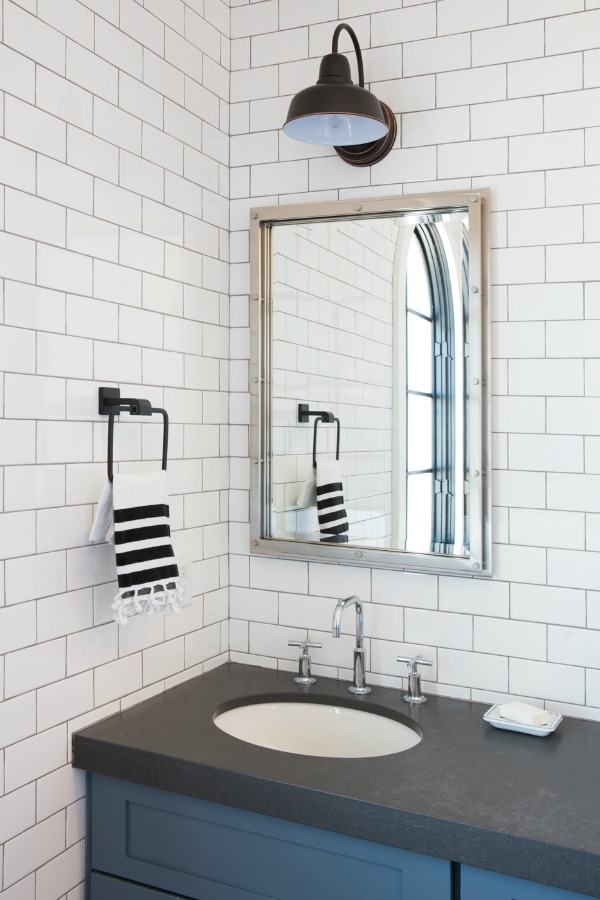 Laundry Room With Built-Ins
Oh to have this sort of laundry area!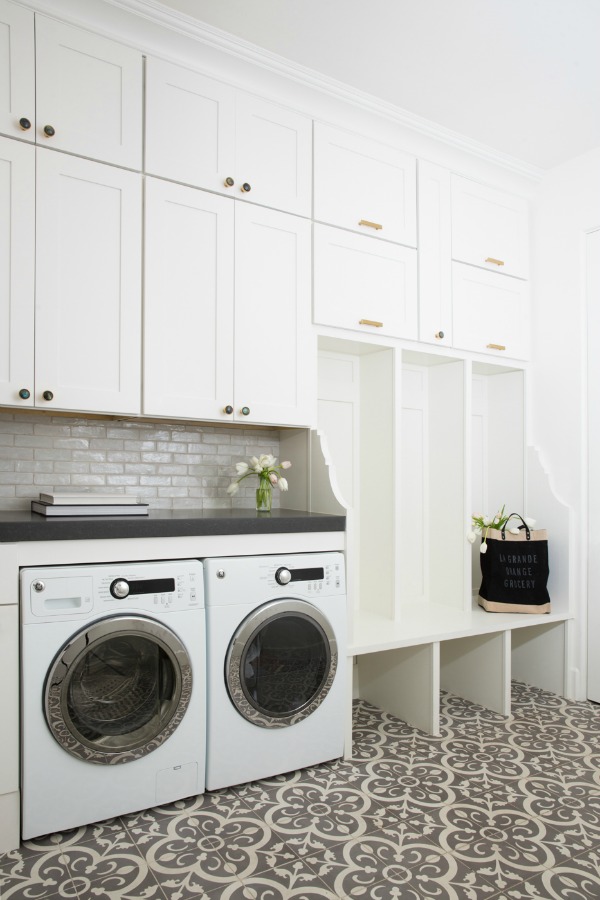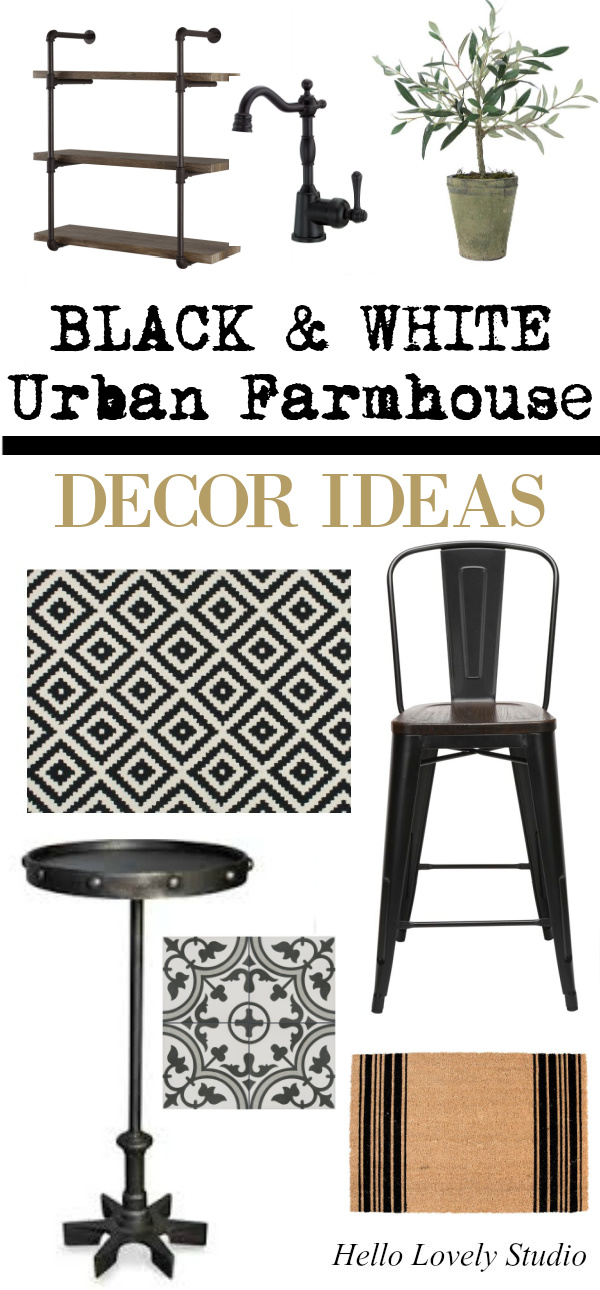 Tour More Work From Jaimee Rose Interiors
The Arcadia neighborhood of Phoenix boasts Southern inspired homes like this one with interiors by this talented designer.
Also SEE THIS In case you're in the mood for more BLACK AND WHITE inspiration.
I independently selected products in this post—if you buy from one of my links, I may earn a commission.
Peace to you right where you are.
-michele
Shop for items you already intended to buy on Amazon RIGHT HERE, and also find home decor here to keep decor inspiration flowing on Hello Lovely!
Hello Lovely is a participant in the Amazon Services LLC Associates Program, an affiliate advertising program designed to provide a means for sites to earn fees by linking to Amazon.com and affiliated sites.