Over 50 Beauty Finds & Winter Wardrobe I'm Reaching for Now shares grooming essentials, self-care goodies, and stuff I'm wearing or would like to wear. If you're a bit past middle age like moi, then you know mature skin has special needs in winter. I'm all for babying it, healing it, and keeping it healthily hydrated for reasons beyond vanity. And since I work from home, bring on the comfy cozy layering pieces.
I independently selected products in this post—if you buy from one of my links, I may earn a commission.
Over 50 Beauty Finds & Winter Wardrobe I'm Reaching for Now
Snapping selfies in casualwear is not my favorite thing to do, but it's also a way to celebrate that I have re-gained some much needed weight as a Crohn's disease warrior.
Comfy Fashion Ideas for 50 and 60-Somethings
Daily Essentials: Tunic, Turtleneck, Skinny Jeans
While I'm not heading out into the deep snow with ankle booties at the moment, I like a heel with a long tunic like this.
MADEWELL Tunic| Dark Skinny Jeans| J. CREW Tissue Turtleneck |Ankle Booties
Skinny Jeans, Assymetrical Cardigan & Chanel Flats
Skinny Jeans | Yoga Wrap | CHANEL Ballet Flats
Skinny Jeans Dressed Up With Vintage Gucci Pumps
Skinny Jeans | J. CREW Belt | Gucci Vintage Block Heel Pump (similar HERE)
Navy Stripes, Sweater & Converse
J. CREW Tissue Turtleneck | OLD NAVY Sweater | Jeans | Converse High Tops
Dress Up Comfy Leggings With Cashmere & Cute Shoes
ATHLETA Headlands Cargo Tights | Cashmere Cape/Wrap | Timo Weiland for TSUBO Chunky Heel (Similar HERE)
Flannel, Black Leggings, Statement Necklace
Flannel | ATHLETA Headlands Cargo Tights | J. CREW T-Shirt | J. CREW Statement Necklace
Over 50 Skin Care & Beauty Essentials
I have been pampering my skin for more than ten years now–at 40-something, I began noticing changes in the mirror and became more mindful about a routine.
What I happily discovered was the habit of caring for my skin became self-care and even a sacred self-kindness ritual. Here are the exact things (above) I'm reaching for these days.
More Winter Wardrobe Finds
New to Me Exfoliation Tool
A somewhat strange beauty discovery I found and will perhaps use forever now for serious exfoliation? If you use a retinol product or exfoliate regularly, this tool is extra peachy since it also removes fuzzy wuzzies!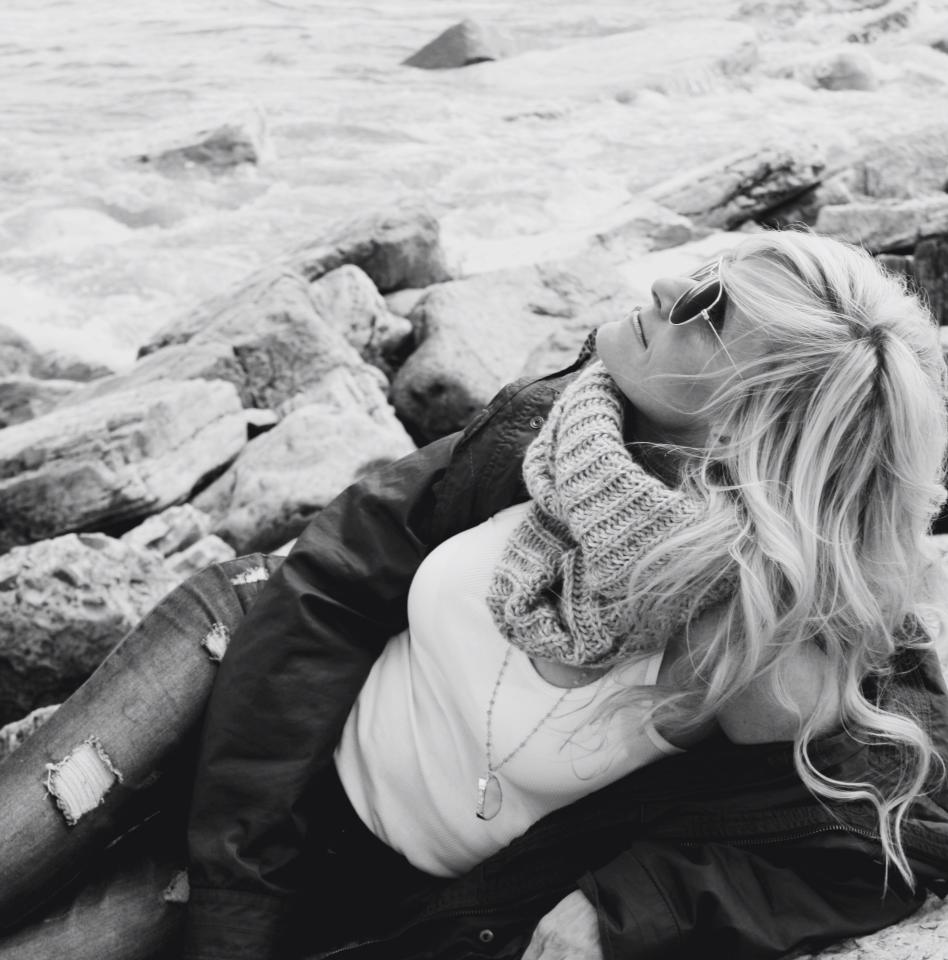 Curious about how celebrities and models baby their skin and enhance it with makeup? (Cindy Crawford and I both attended Northwestern, and we lived in the same dorm on campus!)
Cindy's Morning Routine
When I was diagnosed with BRCA2 genetic mutation in 2013, I began reading labels to understand ingredients I was massaging into my skin on my anti-cancer journey.
I also became more intentional about SPF since I am at risk for melanoma with the mutation.
Over 50 Beauty Advice: Dominique Sachs
I enjoy makeup lessons and skin care tips from Dominique, who has such a pleasant conversational style you may love too.
Makeup Tutorial for Soft Browns & Neutrals
Short Hair Tutorial
Ideas for Makeup Application
Winter Skin Care Products for Daytime
I keep a tube of Aveda Botanical Kinetics Radiant Skin Refiner in the shower and use an itty bitty amount to exfoliate.
Winter Moisturizing
According to The American Academy of Dermatology, to lock in the most moisture, the best time to apply a hydrating cream or balm is immediately after cleansing.
Nightime Skin Care
SkinCeuticals Retinol 1.0 is what I have used for years, and it is powerfully effective in terms of the many benefits. My skin's tone becomes more even, the texture is smoother, and lines are diminished…just like it was formulated to do. This is the fastest, non-laser, non-visit to a med spa, fantastic fix for my my sun-damaged summer skin to uncover a fresher look.
Winter is ideal to use retinol for me since I'm not getting all that summer sun. The tricky thing about introducing such a powerful product is easing into it slowly so my skin can tolerate it. If I overdo it, my skin lets me know to be more gentle (temporary irritation, redness, and dryness result). You also must be careful with sun exposure…for very good reason! The fresh skin this product uncovers (as the old sloughs off) is more yummy, tender and baby-like!
The price is totally worth it, and this tube lasts forever.
Moisture for the Body
AVEDA Stress-Fix is a spa-like creme with algae, shea butter, sunflower oil, and a natural yet complex fragrance which calms. I keep it in my nightstand drawer to massage into hands and feet before bed.
Concealer Friends
Here's a relatively new to me concealer that is a dream for dark undereye circles, rosacea, and blemishes I live with. It is like a crayon, and I love how it is just the right size for easy application.
I'm also partial to this velvety smooth mineral based concealer which glides on for beautiful powdery soft coverage.
For taking all the makeup off:
Hello, Lovely Pretty Palette
Ever tried these lovely tarte palettes? The color formulations are always spot on, soft, and oh so flattering!
Wanna know my go-to eyeliner after many years?
More Lovely Stuff in My Bathroom Vanity
1/Mask//2/Chanel Moisturizer//3/Stress Fix//4/Retinol//5/AVEDA Moisturizer//6/Cleanser//7/Supplements//8/Exfoliant//9/Mascara //10/Lip Color//11/Brow Pencil//12/Foundation//13/Eyeliner//14/Concealer// 15/Palette//16/Concealer//17/Lipstick//18/Eyeshadow
Le SPLURGE
p.s. January is a big month for birthdays in my family, and I'm snagging THIS LANTERN for a special someone.
I independently selected products in this post—if you buy from one of my links, I may earn a commission.
Peace to you right where you are.
-michele
Shop for items you already intended to buy on Amazon RIGHT HERE, and also find home decor here to keep decor inspiration flowing on Hello Lovely!
Hello Lovely is a participant in the Amazon Services LLC Associates Program, an affiliate advertising program designed to provide a means for sites to earn fees by linking to Amazon.com and affiliated sites.