OH MY LORD, I'm getting even more tender snowflaky as I age, and I hope you can put up with it. Christmastime is always tricky for such a sensitive soul. COZY and WHITE have been recurring themes on this site for more than 11 years, and just so ya know, I see oodles more cozy in our future. Did you read the post with cozy, mostly American country style interiors RIGHT HERE? Today's Vulnerable Christmasy Spiritual Reflections + Cozy White Winter Pieces offers ideas to consider for home and spiritual reflections right where I am.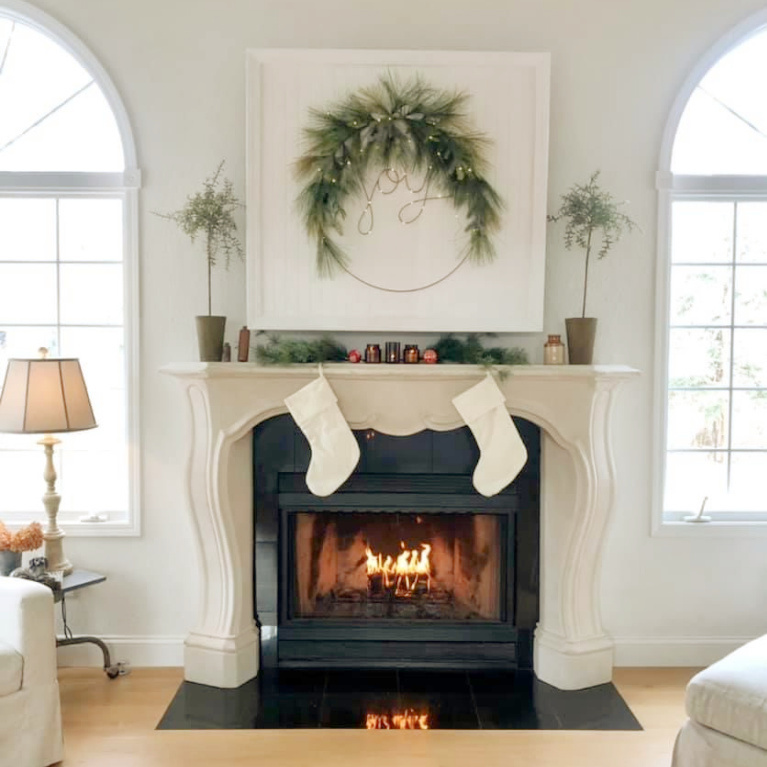 Vulnerable Christmasy Spiritual Reflections
I shared this stream of consciousness reflection on my FB page yesterday, but since 30 billion trillion of you probably missed it, I'll leave it here too:
My spiritual container is Christianity so you might think Christmastime would be my favorite.
Well, it isn't.
I'm extra tender, and all the feels get magnified when I see stockings and twinkling lights.
I imagine so many children who are not longing for Santa's sleigh or expensive electronic devices as much as an end to physical and psychological violence at home.
I ache for folks struggling with illness, grief, loneliness, and addiction who may self-loathe more than ever during the holidays.
And I reflect on Emmanuel (God with us) and what that means to me personally.
The thing is, WITH God, human dysfunction may be recycled into good. And Christmas is our reminder that God IS with us.
When I do the math, this recycling business adds up to very very good news. Yet I look around and see how much remains broken.
I see how slow going my own spiritual evolution is.
It's all a mystery…but what if it's precisely this deep ache and uncomfortable unknowing that God may use for good?
What if it keeps me very poor in spirit, and from a place of poverty, my gaze can be more like the radiant glance of mercy upon me?
What if the heavy despair is actually the weight of glory descending and WITH ME?
Every single Christmas, my heart is full and breaking.
It can be explained away with psychological analysis and numbed with comforts.
I don't know much at all. But maybe this ache is simply the blessing of Emmanuel…something precious coming near.
xox
I independently selected products in this post—if you buy from one of my links, I may earn a commission.
Last Minute Shopping & Game Changer
Want to know what saved the day for me this season? Groceries and essentials from a local source delivered to my door. It's called Walmart+ and it is like Amazon Prime only I can order fresh produce and mascara and watch them show up in two hours!
Not sure you'll need it in addition to Amazon Prime? Just sign up for the trial to see how it goes.
Cozy White Winter Pieces
Here's the most important element to my winter cozy days:
These little votives deliver big cozy. For the cost of a fancy Starbuck's coffee, you can enjoy cozy ambience around the house all week.
I'm all for a pared-down, casual country look, and Emily Henderson's entry welcomes family and friends with a gentle and humble: Hello Lovely.
Even though the skis in the corner are vintage, other items are available at Target where there are sweet sales going on as you'll see below.
You might find something well priced and cozy furniture-wise at World Market. For example, this good looking sofa…
has a pretty price tag along with the Brynn swivel feathered filled arm chair.
This Archer bed is also a great find…
Neutral Holiday Decor Finds
This LED joy wreath is gorgeous above a fireplace or anywhere at all.
Here's what I did with mine: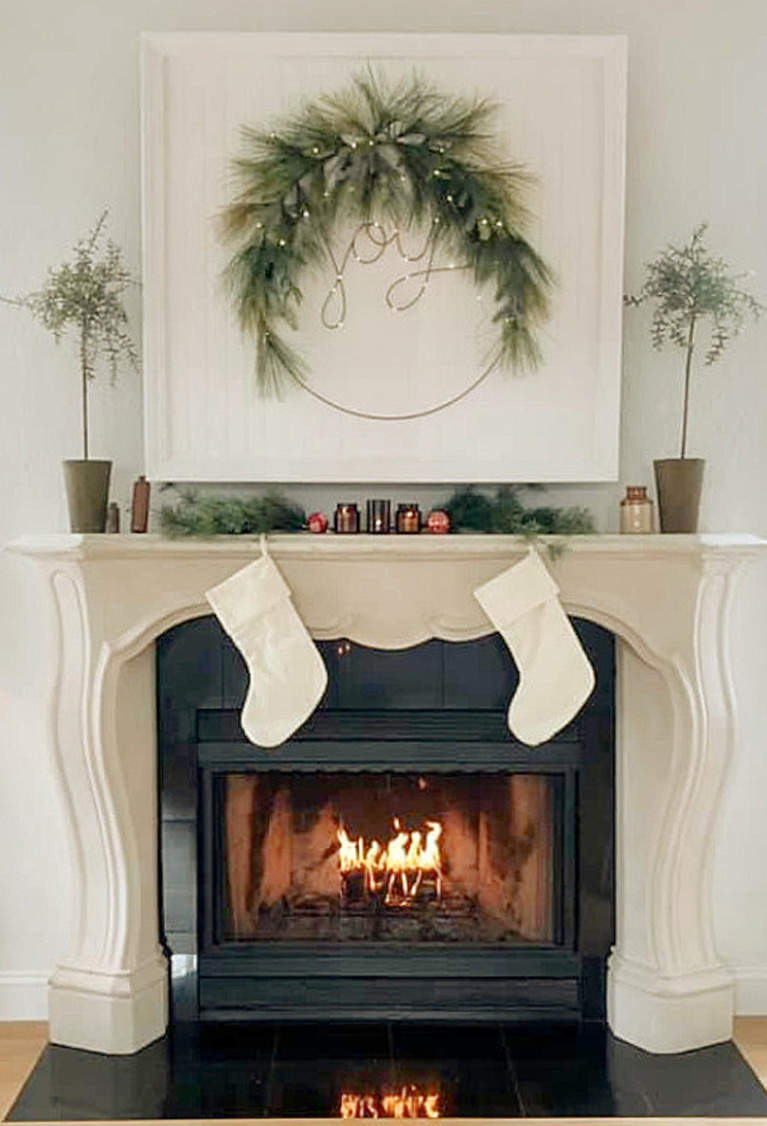 I designed this framed big screen TV cover (above) for my husband to build with beadboard and simple molding. It's huge! Now I can hide that darn black box and give the 3 foot lit wreath more importance.
Quiet, White & Natural Holiday Mantel
The bonus of keeping holiday decor quieter and neutral is that the decorations can go up early and linger longer!
Don't you love the simplicity of a mantel like this whether the garland is fresh or faux?
Black Accents for the Holidays
I couldn't resist including these candlesticks in the lineup because I think they are such a smart investment for year round decor.
Neutral and White Holiday Table Decor
Emily Henderson's dining nook is proof positive you need not deck the halls with red and bold to keep things feeling festive. Lots of white and a little green do the trick.
Cozy Finds for Living Room & Den
Target calls this live edge table a coffee table, but it is styled as a side table.
Mostly White, Warm and Cozy Low Cost Decor Finds
Sweet & Friendly Priced Wintry White Chair
Here is a versatile arm chair that works in small spaces and is the very same one Emily Henderson has in her own home.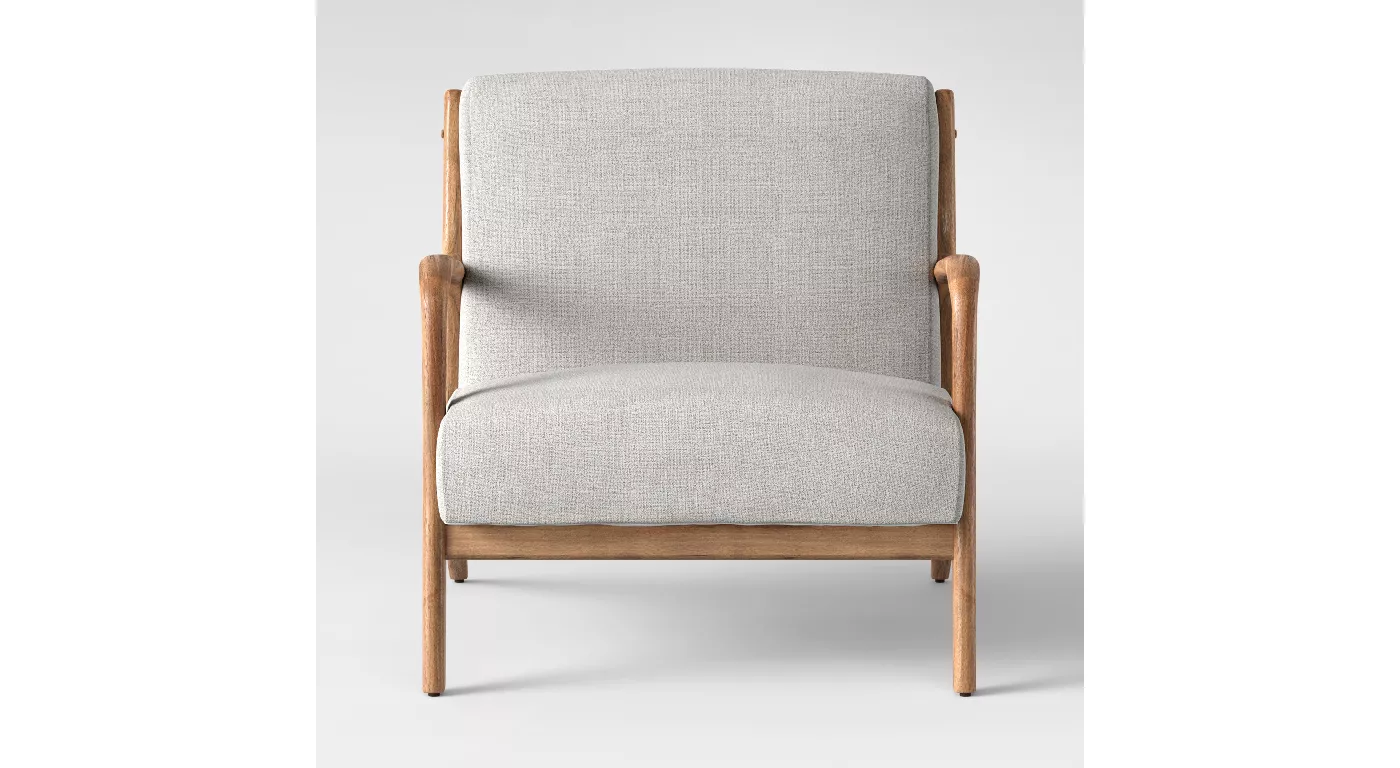 The rocking chair version with Sherpa is calling my name…
Hygge Cableknit & Nubby Textures to #CozyonDown
Winter & Kitchen Cozy Whites
The Power of Gold With White
I independently selected products in this post—if you buy from one of my links, I may earn a commission.
Peace to you right where you are.
-michele
Shop for items you already intended to buy on Amazon RIGHT HERE, and also find home decor here to keep decor inspiration flowing on Hello Lovely!
Hello Lovely is a participant in the Amazon Services LLC Associates Program, an affiliate advertising program designed to provide a means for sites to earn fees by linking to Amazon.com and affiliated sites.