Happy September, and good morning, good people! More white decor? What a shocker! Hahahaha. Since I never tire of beholding beautiful interior design, you might think I walk around snap happy and eager to share pictures of my own home like most good bloggers. But I'm easily bored with my own place and would rather place YOUR home in the spotlight. Let's revisit Hello Lovely White Decor At Home & Living Beautifully which welcomes you inside.
This post contains affiliate links which if used for purchases may earn me a small commission and won't cost you extra.
Hello Lovely White Decor At Home & Living Beautifully
I would quickly go nuts if day after day it was more and more of "refreshed" and seasonal decor in my home on this inspiration blog. Yet I have learned to listen to readers' needs…which is more personal glimpses of home.
BTW, make sure to SUBSCRIBE so you can simply hit "reply" to the email and ask questions or make suggestions!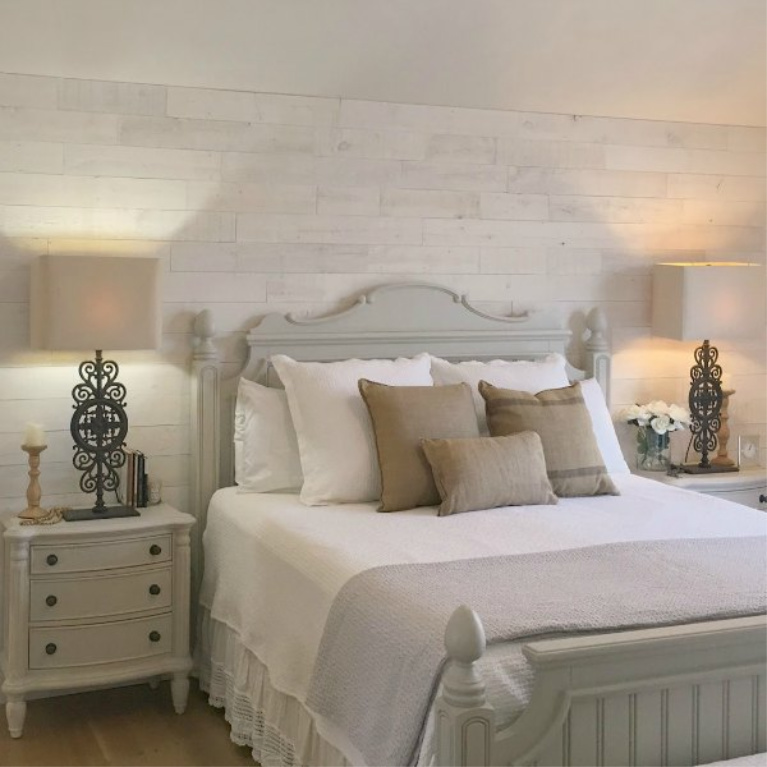 I'm also aware new followers arrive daily, so my home may be new to you. I'd love to get better acquainted.
I live with my husband, a Chicago attorney, in a home we have completely renovated DIY style.
Passion for White Decor
You can't miss my fondness for white paint and white decor! We live on a woodsy lot in Northern Illinois, and when the snow piles up, I enjoy my favorite color outdoors as well!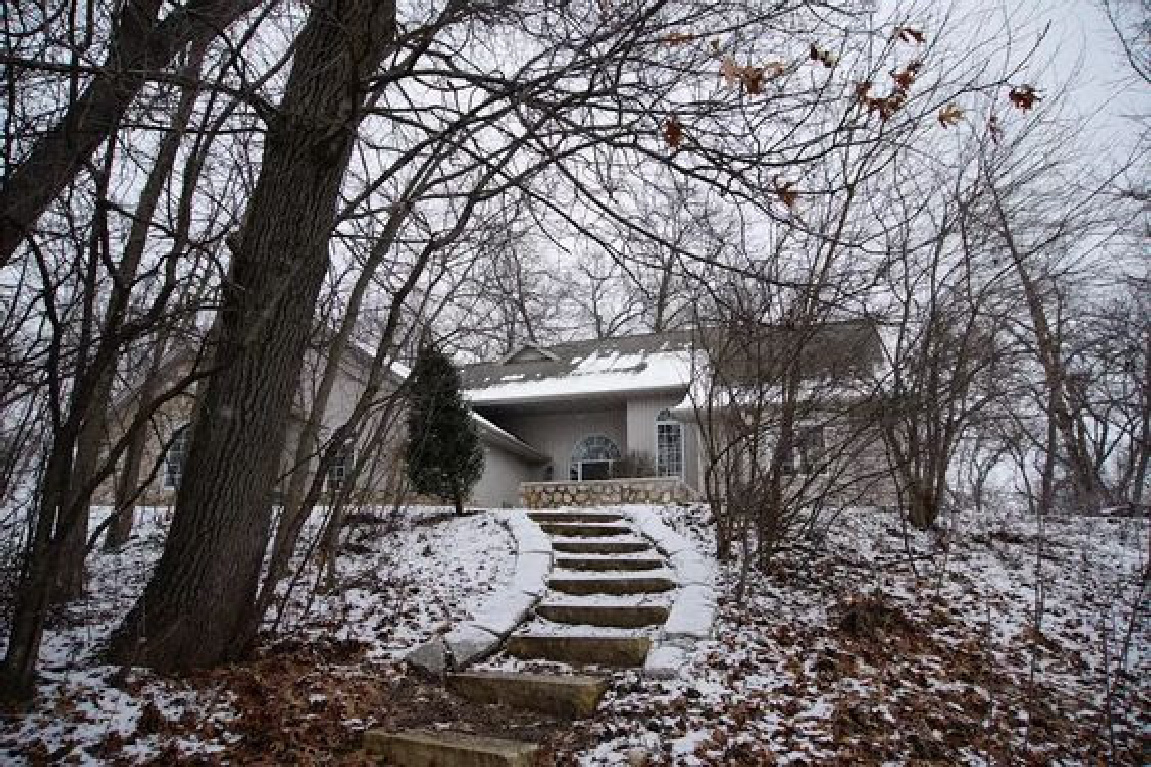 (Above) Here's the path to the front door.
As you can see, ours is a contemporary custom cottage built in the 90s.
Transforming a Fixer Upper
When we bought the home, it wasn't visible from the street since it had long been vacant so mature woods and the weeds completely swallowed it up!
We saw the potential, and the front courtyard was one of our favorite features. To freshen it, we simply extracted the weeds, demo'd the eroded top of its stone walls, brought in wheelbarrows of pea gravel, and planted a few boxwood.
The interiors were another matter!
A forlorn kitchen and poorly functioning bathrooms were gutted, all sorts of faulty wiring and plumbing were remedied, a few windows and the roof were replaced, and we required new heating and cooling. In our hands, it essentially became a brand new house.
What is living beautifully anyway?
While I have a passion for design and decor, what fuels my creativity is a love for home and ideas that inspire more beautiful living at home.
Oh, how I love home! The sights, the smells, and the comfort of a lovely nest.
Living beautifully at home is a topic near and dear to my heart.
A tour around our place reveals plenty of: white walls, Belgian linen, and unfussy European inspired modern country style. I was totally inspired by a design book before we got started at this home. Can you guess which one? I made this video with the answer:
When Home is Sanctuary
Living beautifully at home is more profound for me than ever these days. Maybe you feel it too. Decades ago, before increased globalization and the internet and advanced satellites, home felt more like a private sanctuary.
I am aware the sense of "lost security" I describe is a highly complex matter and frequently politicized. I'm not sure we are less safe within our four walls than we were in pre-internet days.
But before the world began to shrink and appear within our phones, life at home harbored a different sense of privacy, protection, and distance from threats near and far.
Our shelters felt more like…well, shelter.
The Shelter of Home
Modern culture, innovation, technology and "advances" continue to alter the shape of our shelters. With cameras outside and inside our homes, boundaries between the personal and the public indeed have blurred.
My own Millennial sons were relentless pediatric paparazzi as teens, whether they were capturing video of my Christmas Eve (private) dancing or their father's snoring!
Shop my Home!
Internet Life is Strange
As a blogger, I welcome thousands of visitors, whose eyes I will never meet, into my home online daily. If I'm honest, it's still strange. Social media means we're often peering into strangers' lives.
The thing is…it has all happened rather quickly.
The shelter of home is different now as our four walls continue to grow more permeable.
Cultural shifts change our regard for HOME at conscious and subconscious levels. Perhaps, the changing shape of shelter explains my growing desire at 50-something to become even more intentional about living beautifully at home.
Timeless and Tranquil
As these images reveal, my personal style embraces what I have always termed the timeless and the tranquil.
My spirit awakens with wonder in the presence of faded quiet hues, monochromatic color schemes, European inspired furniture, timeworn finishes, and elegant simplicity.
Living beautifully at home: creates warmth for connections with those we love most while it nourishes the body and spirit.
It may even transform a structure into a sacred pocket of interior quietude.
Beyond Pretty Decor
Living beautifully at home transcends decorating interiors with objects or art. For me, it involves gestures to create harmony, serenity, and balance so daily living is infused with more wonder and depth.
Modern life can quickly grow complicated, and when dark days come knocking with chaos, heartache, or illness, home can feel like a balm. Yet nature can claim that balm with fire and flood…which is why cultivating an inner landscape of home goodness matters so much.
Imperfection & Wabi Sabi Are Welcome
Living beautifully at home is not dependent upon a perfectly curated suite of rooms or keenly organized cupboards and closets. Beautiful living is the fruit of a soul set free. It's the comforting calm flowering when your personal space reflects the joys of your heart.
Ultimately, a lovely nest provides: a safe landing for relationships to thrive, a place to rest and recover, and a shelter to grow in wisdom and compassion.
If you have a minute to share your own thoughts about beautiful living, please do add to the beauty…
Video of Me at Home
Shop my Home!
Wishes for You
My heart is often tender and overflowing, and I occasionally get brave enough to allow the wonder and wishes to overflow a little bit right here.
I wish you the blessing of beautiful living in the shelter you call home.
I wish you sweetness, this very moment, to counter any bitterness within your being.
I wish you heartfulness to soften the beautiful edges of your soul.
I wish you loving kindness, lavishly overflowing from hidden wholeness within and…
I independently selected products in this post—if you buy from one of my links, I may earn a commission.
Peace to you right where you are.
-michele
Shop for items you already intended to buy on Amazon RIGHT HERE, and also find home decor here to keep decor inspiration flowing on Hello Lovely!
Hello Lovely is a participant in the Amazon Services LLC Associates Program, an affiliate advertising program designed to provide a means for sites to earn fees by linking to Amazon.com and affiliated sites.