There's something irresistibly timeless, classic, and friendly about blue and white kitchen design, so we're celebrating 36 Best Beautiful Blue and White Kitchens to Love + Paint Colors. Make yourself comfy and be prepared to soak up dozens of kitchen decor and color palette ideas!
Best Beautiful Blue and White Kitchens to Love!
Paint colors to pin!
Thinking About Painting Cabinets Something Other Than White?
For a dead-ringer shade of blue for no. 1, try Sherwin-Williams Anchors Aweigh and also SW Naval Interior.
Easiest way to see if a paint color will work? Order samples with Samplize and have them delivered straight to your door.
My Own History With Blue
Our very first Chicagoland bungalow came with a teeny kitchen we gutted and renovated ourselves. The color story was navy (like the kitchen above) and white, and the style was traditional. When we bought a vacation home in Arizona in 2016, I couldn't wait to make over the red kitchen we inherited. It bloomed into a serene, blue-grey, Nordic French style one. I hand-painted the cabinets blue-grey, and the kitchen turned out to be my favorite part of the transformation since the mood instantly quieted. Pale blue remains my favorite color after white.
For a gorgeous medium blue-grey resembling no. 2 and no. 3, try (tap swatch below) of Glidden Winter's Blue Grey Sky.
Best Beautiful Blue and White Kitchens: Photo Gallery
You'll find ideas for kitchen islands, kitchen pendants, beamed ceilings, tile flooring, and kitchen sinks as well as much more.
Meet me at the finish line and share the number of your favorite(s)!
Similar paint colors to no. 4: Benjamin Moore Van Deusen Blue and Behr December Eve.
Sometimes a gorgeous blue accent will work magic in a white kitchen…for example, a pretty roman blind or rug for a dining area:
To capture the soft velvety grey-blue of no. 6 and no. 7, stay in the gray section of options – for example, Behr French Silver (tap swatch below to snag a sample!).
Also, consider Behr Classic Silver if you happen to have strong sunlight or Southern exposure since it just may read blue with such yellow cast. (Additionally, see how I used this color on cabinetry in our Arizona kitchen makeover here)
Just a Bit o' Blue
Gorgeous blue luncheon napkins in a woven holder are a simple yet functional tabletop addition to also elevate the everyday.
Rich and Coastal Indigo
Similar navy blue color to no. 9: Sherwin-Williams Indigo Batik (tap sample below for buying info) and also SW Navy Seawall.
So many lovely blue tile options in case you're in the market…check out pretty kitchen backsplash tile possibilities here.
Similar paint color to no. 12: Sherwin Williams Navy Sea Wall (tap image below to buy sample) as well as SW Distance.
Blue Kitchen Accents
When you're after a slightly dusty, cheerful, nostalgic blue (like the ceilings in no. 13/15/16 and cabinets in no. 14), to avoid "baby's nursery factor," look for not-too-bright options; for example, Sherwin-Williams Ocean's Side.
Blue and white are best friends when it comes to
Pretty blue accents like china and porcelain planters are plentiful online.
Kitchen Design Inspiration
Similar paint color to no. 17: Sherwin–Williams Naval Interior
Pastel Blue Bespoke Kitchen
In case you are drawn to pretty pastels, there are some lovely options like Valspar Blue Whisper, which is reminiscent of no. 20.
Blue Cement Tiles
The gorgeous medium blue in no. 21 evokes such a calming mood, and Behr Durango Blue is also a possibility for achieving a similar look.
Sometimes a show-stopping range in your favorite color can supply the color in a tranquil, timeless kitchen.
For periwinkle blue fans, Sherwin-Williams Purple Thrush resembles the pretty paint color in 25.
Memorable Light Blue Kitchen
Valspar Silver Leaf is similar to F&B's gorgeous hue seen in 26-28…in case you'd like to try a sample.
Two-tone Blue Kitchen
Smoky and denim-like, Behr English Channel approaches the casual as well as welcoming look of the blue in no. 29.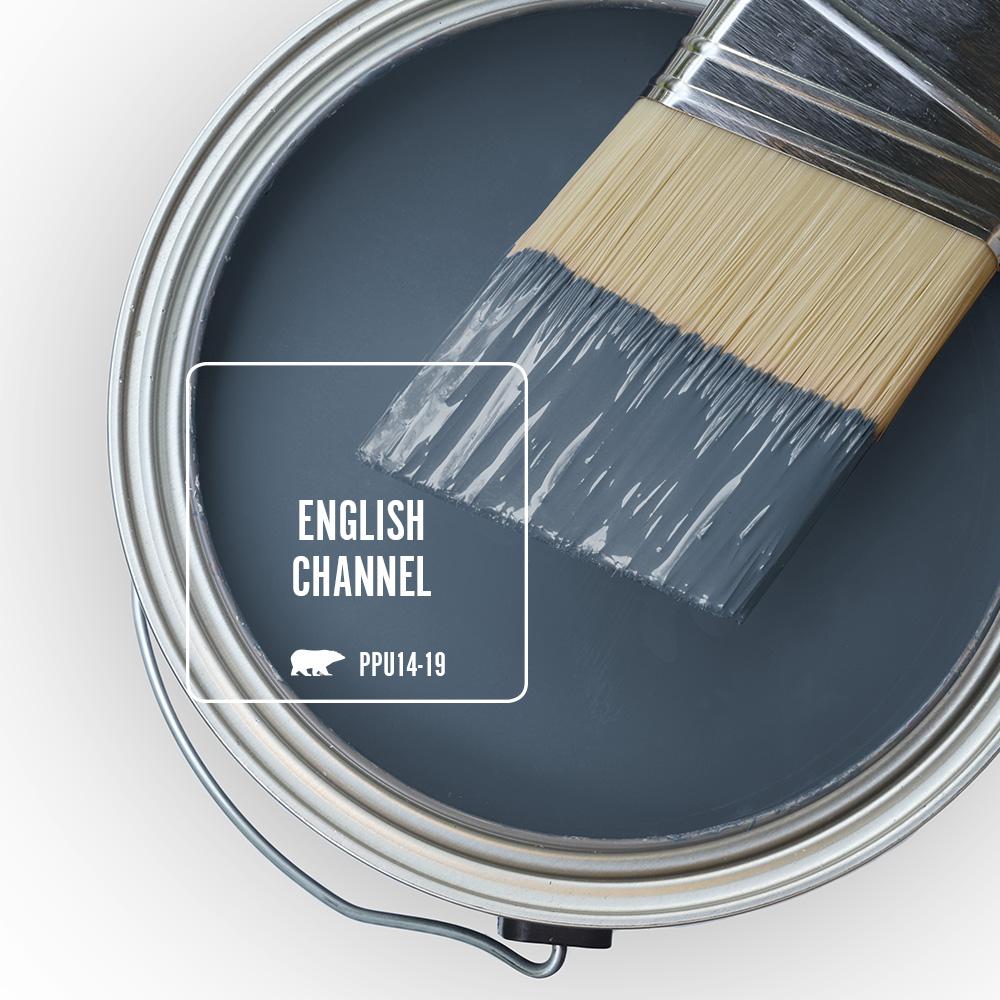 Frequently, a light gray will read blue-gray depending on your kitchen's exposure, Behr Light French Gray is a lovely possibility if you admire no. 30.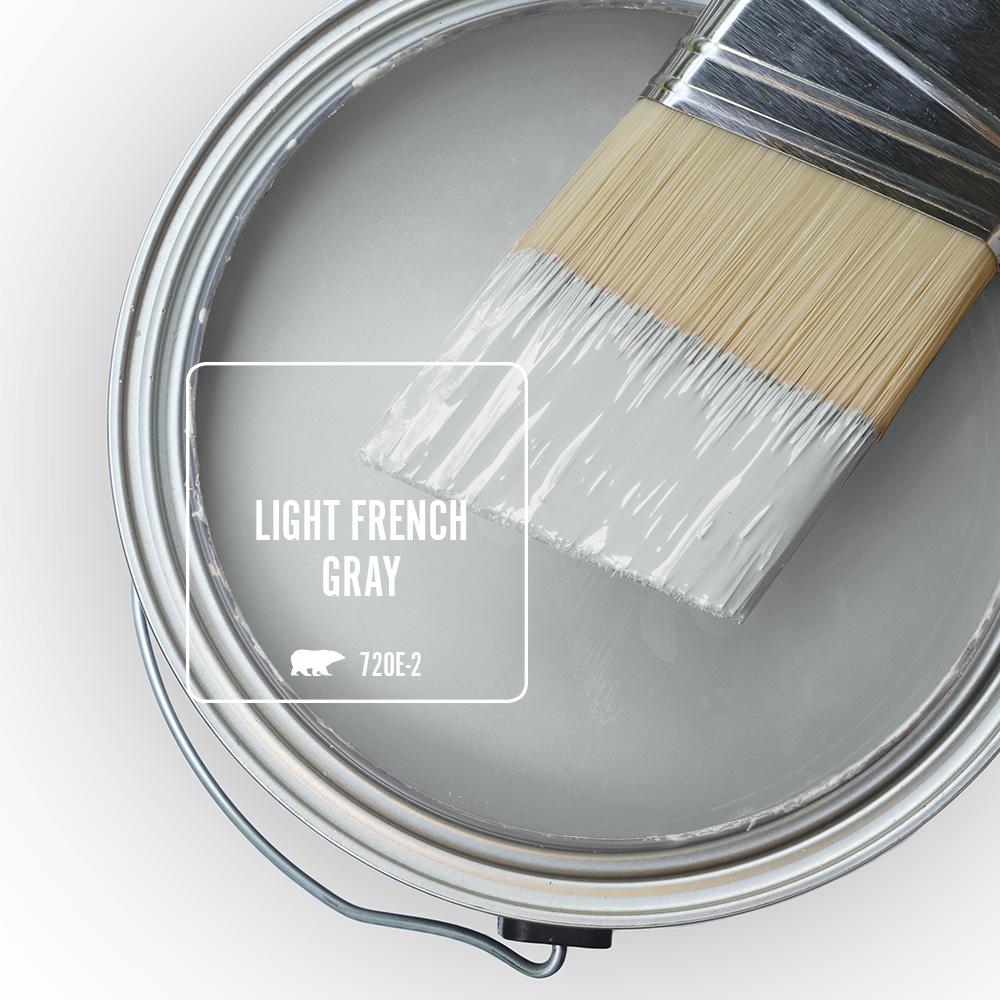 In case there are deep teal blue admirers gawking at no. 31, consider taking Behr Superior Blue for a spin.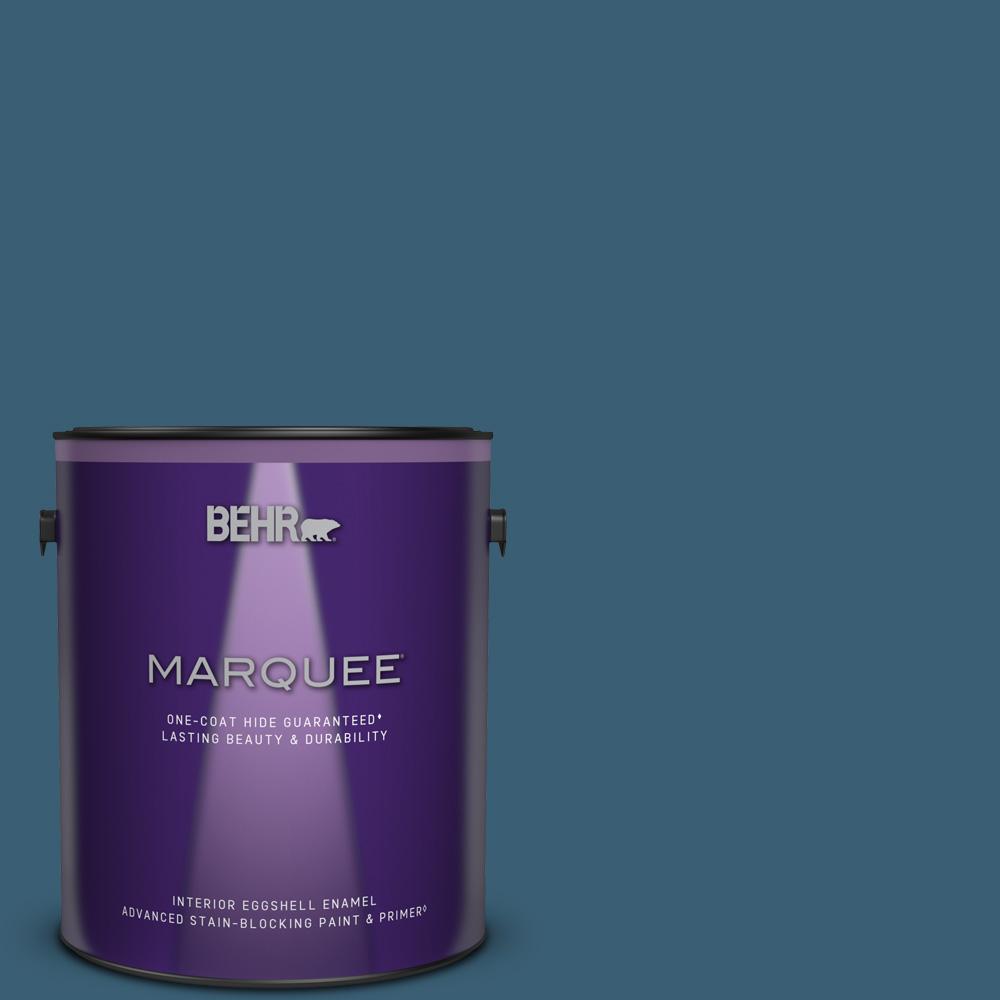 You could also go a bit more dramatic with Sherwin-Williams Dark Night (tap swatch below to buy sample).
Blue Grey Kitchens
Behr Teton Blue is a gorgeous greyish-blue if you're crushing on no. 32.
What Mood Does Blue Create?
According to color psychology, blue suggests peace. It's the color of sea and clear sky, both of which are linked to inner serenity, calm and clarity.
Behr French Colony reminds me of what you see in kitchen no. 33 so you may want to grab a sample (tap image below) if it tingles your jingles!
Blue slows heart rate and breathing, so it can be a good color to aid in meditation or relaxation. Additionally, blue is associated with intelligence, and its different shades can: improve concentration, stimulate thinking and provide mental clarity.
The color also improves productivity and is a wise choice for study and work as it offers relaxation and stimulation at the same time."
Try a sample (tap image below) of Behr Sky Light if no. 34 appeals to your senses.
How is blue different from red? "Blue is a color that is linked with confidence. Unlike red, which shows aggressive dominance, blue is related to a calm authority. Blue inspires trust, it is non-threatening and shows persistence."
Where Does Blue Fall on the Emotion Scale?
Ever considered the relationship of the color blue and emotion?
"Another characteristic of blue is that it is not a very emotional color. It can be described as aloof or snobbish. Just as it is associated with intelligence, it can be associated with being cold and rational to a point of showing little emotion."
Color psychology research also suggests blue is an unappetizing color (which is curious since so many folks love blue in the kitchen)! Is blue kitchen decor for people who are watching their portions or attractive to folks who don't do a lot of cooking? Food for thought.
Did you pick a favorite kitchen above? I'd love to hear about your preference!
You may find these stories with more kitchen inspiration helpful!
Blue Kitchen Cabinet Paint Colors
I independently selected products in this post—if you buy from one of my links, I may earn a commission.
Peace to you right where you are.
-michele
Shop for items you already intended to buy on Amazon RIGHT HERE, and also find home decor here to keep decor inspiration flowing on Hello Lovely!
Hello Lovely is a participant in the Amazon Services LLC Associates Program, an affiliate advertising program designed to provide a means for sites to earn fees by linking to Amazon.com and affiliated sites.