Once upon a time, the author of The Enchanted Home dreamed of creating a forever home to incorporate favorite architectural and timeless design styles and provide a breathtaking backdrop for memory making. As the dream unfolded, she brought a legion of blog readers like moi along for the ride, and that is how the lovely shop for homewares and site "The Enchanted Home" were born. I'm lucky to call her friend and had the pleasure of interviewing her. It's an oldie but goodie so let's revisit Enchanted Home Kitchen: French Country Kitchen Ideas to Inspire, which spotlights a special interior within this glorious home!
Tina's Enchanted Home: French Country Kitchen Ideas to Inspire
If you follow Tina's IG or blog, then you know she creates inspiring posts which weave together stories from her life, work, passions, and whims.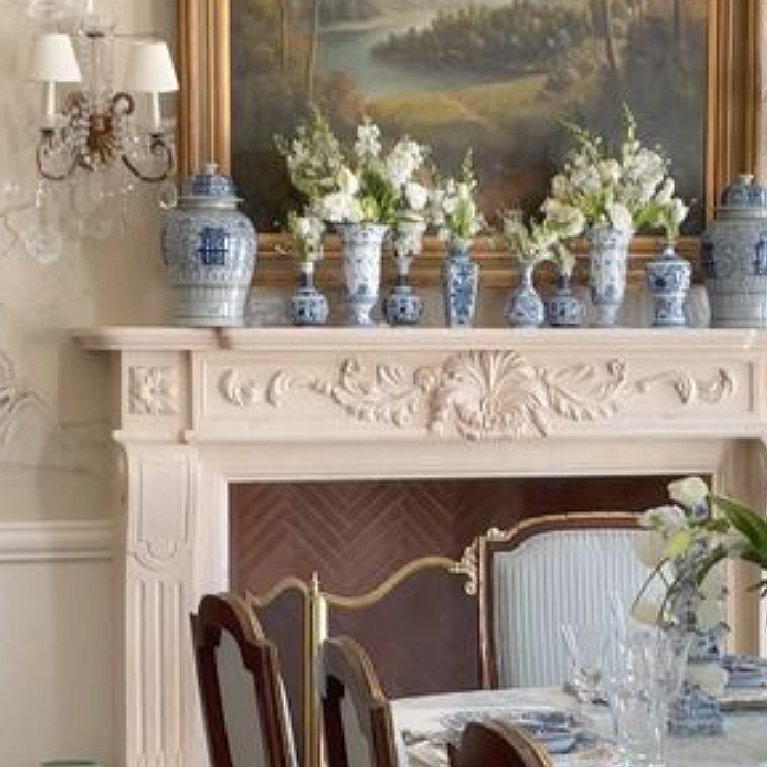 The Enchanted Home grew into a busy successful brand with a shop and E-design services, yet Tina's hospitality and blog continue to be a warm, engaging space on the internet. (Just before she moved from this home, she shared this peek!)
Isn't it charming with all of the contrast (rustic wood beams with pristine kitchen cabinets and elegant lighting!
So much fine craftsmanship and interior design planning went into this grand space with a French accent! Let's explore it in more detail.
Building a French Kitchen in Her Dream Home
Her inspiring French inspired home…I thought the long year it took to build our own French Country home in 2007 was a long time, but Tina's grand French chateau (above) took more than 3 years of patient, loving craftsmanship to bloom.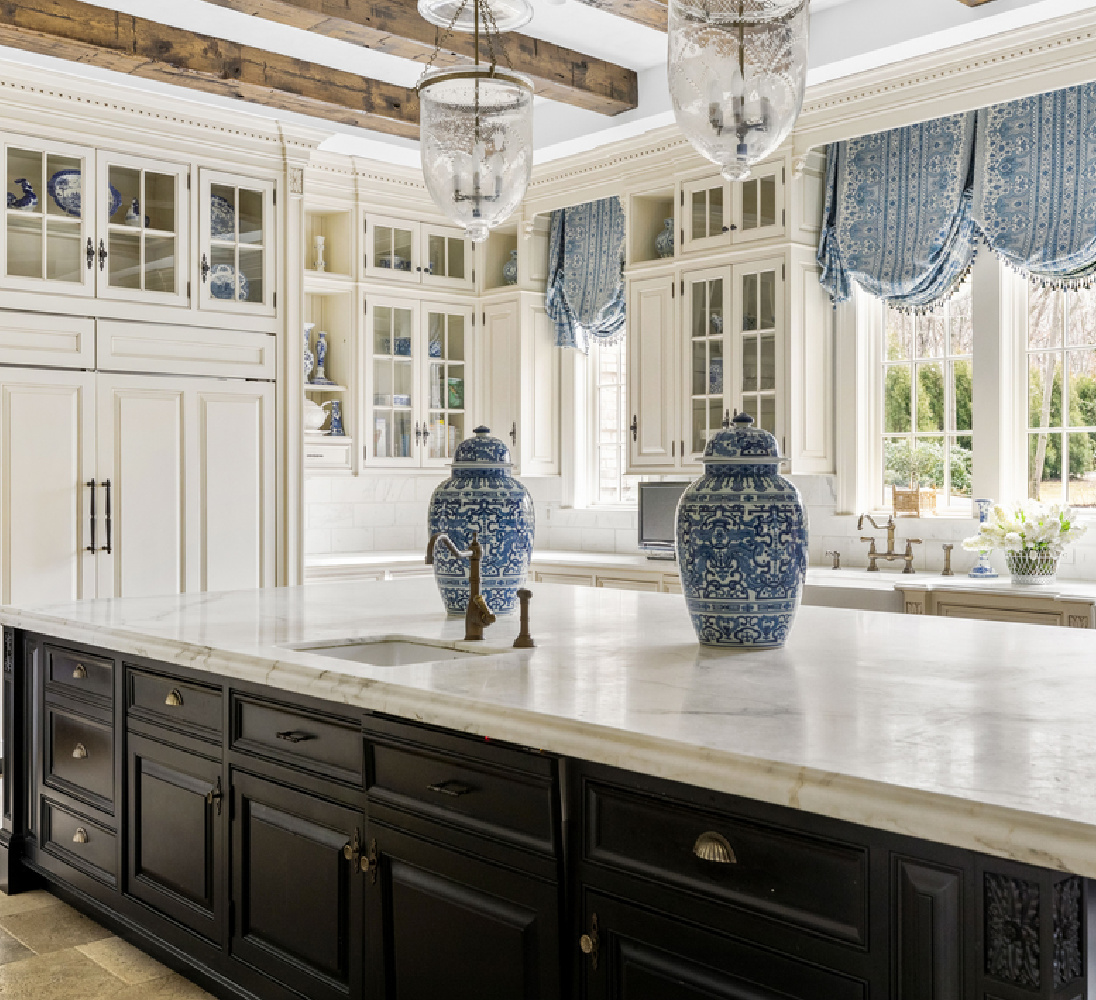 It has brought so many of us joy to watch Tina's home, blog, and business flourish, and because she loves to cook and entertain, she treats us to the smartest menu ideas and hospitality hints.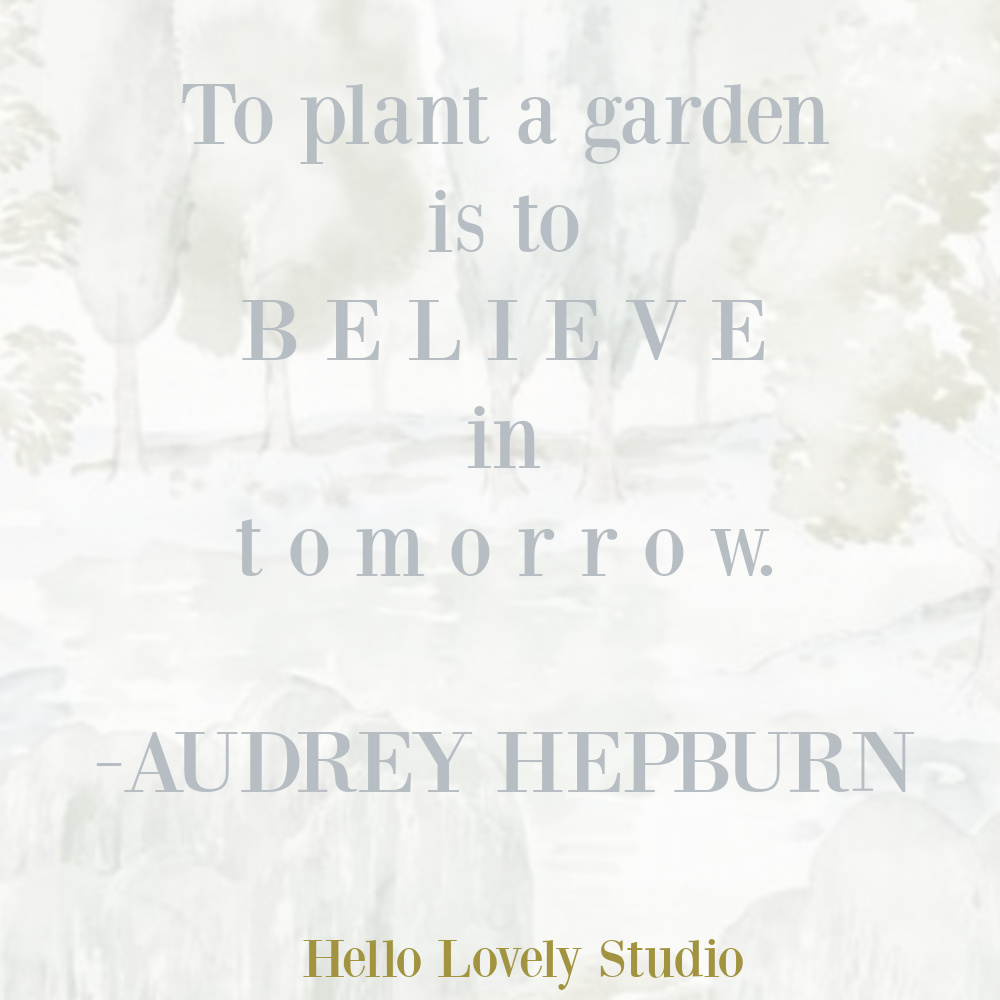 Design Details from an Unforgettable Kitchen
If hers isn't a Pinterest kitchen, I'm not sure what is! Do pin away to spread the love.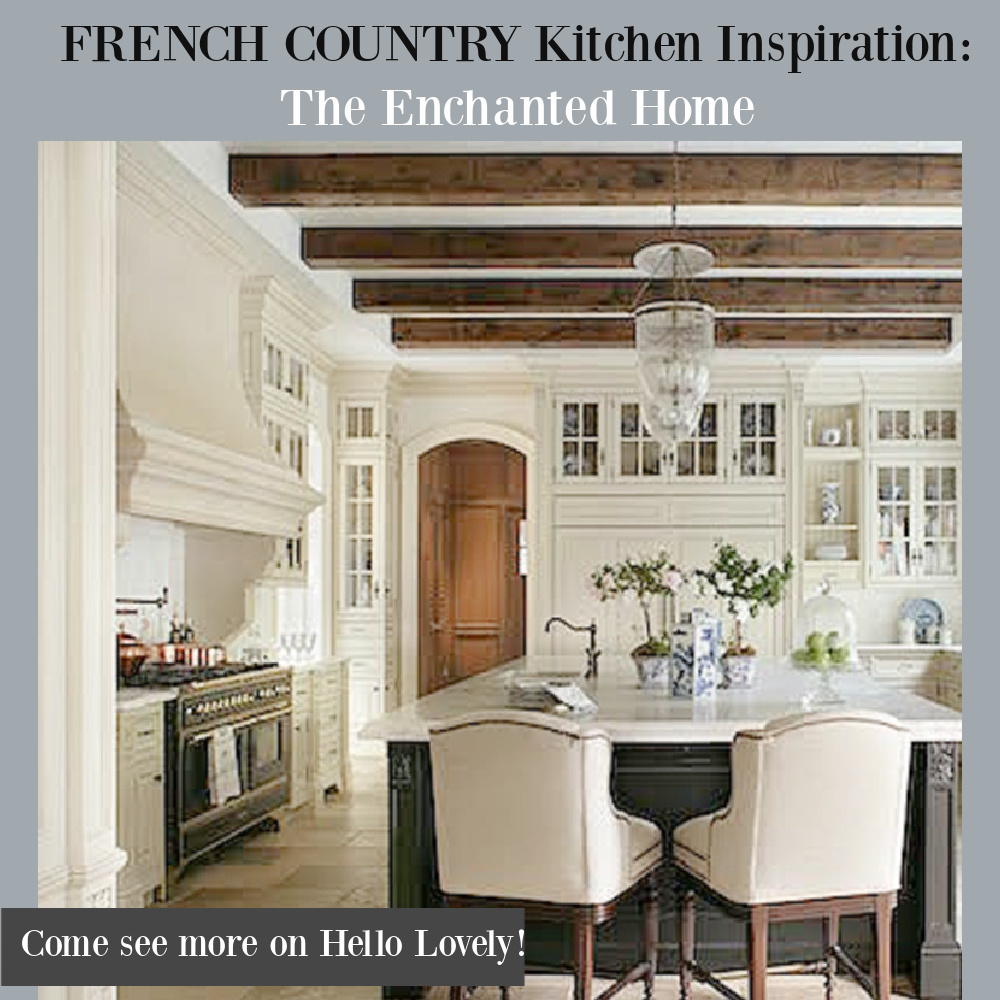 Why I just had to share lovely details within Tina's kitchen…Lately, the emails have been streaming in with questions about how Tina's exquisitely crafted kitchen came to be.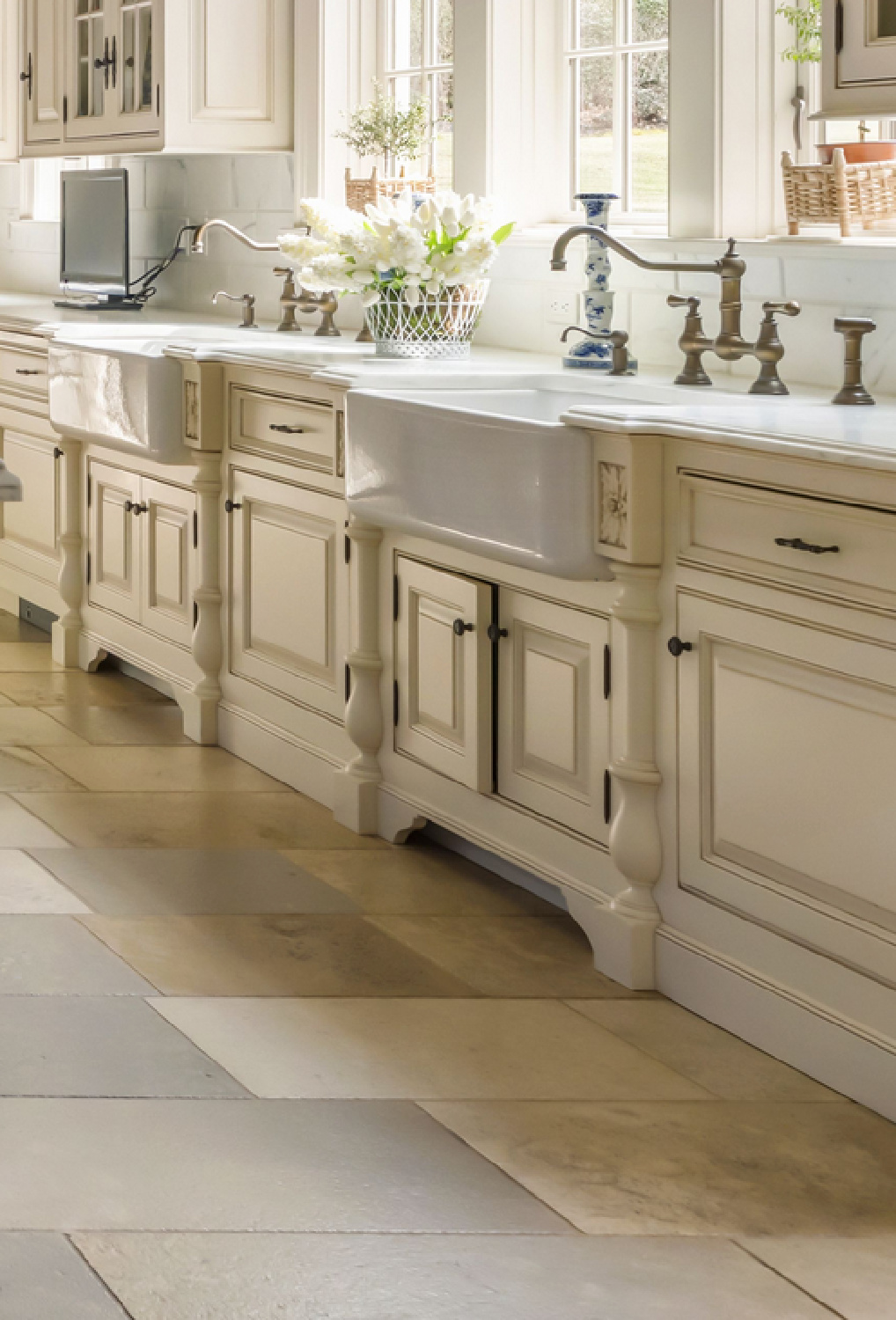 Hello Lovely's audience of interior design professionals and home decorators desire to have the veil lifted to reveal details and secrets behind the design. Who can blame you? I'm forever curious too!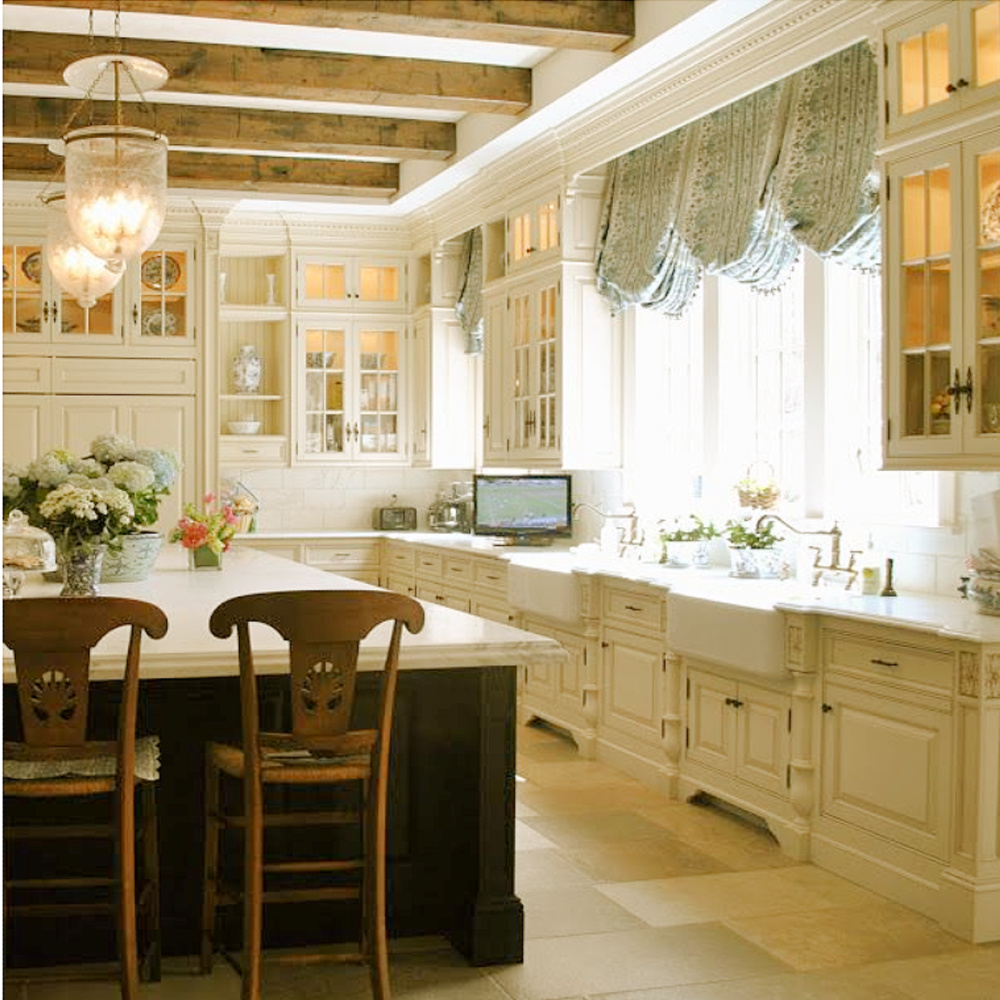 Interior Design Ingredients for a French-Country Look
What do we love about this European Country traditional kitchen besides its gracious owner who generously shares her recipes, floral tips, entertaining ideas, and French country decor inspiration?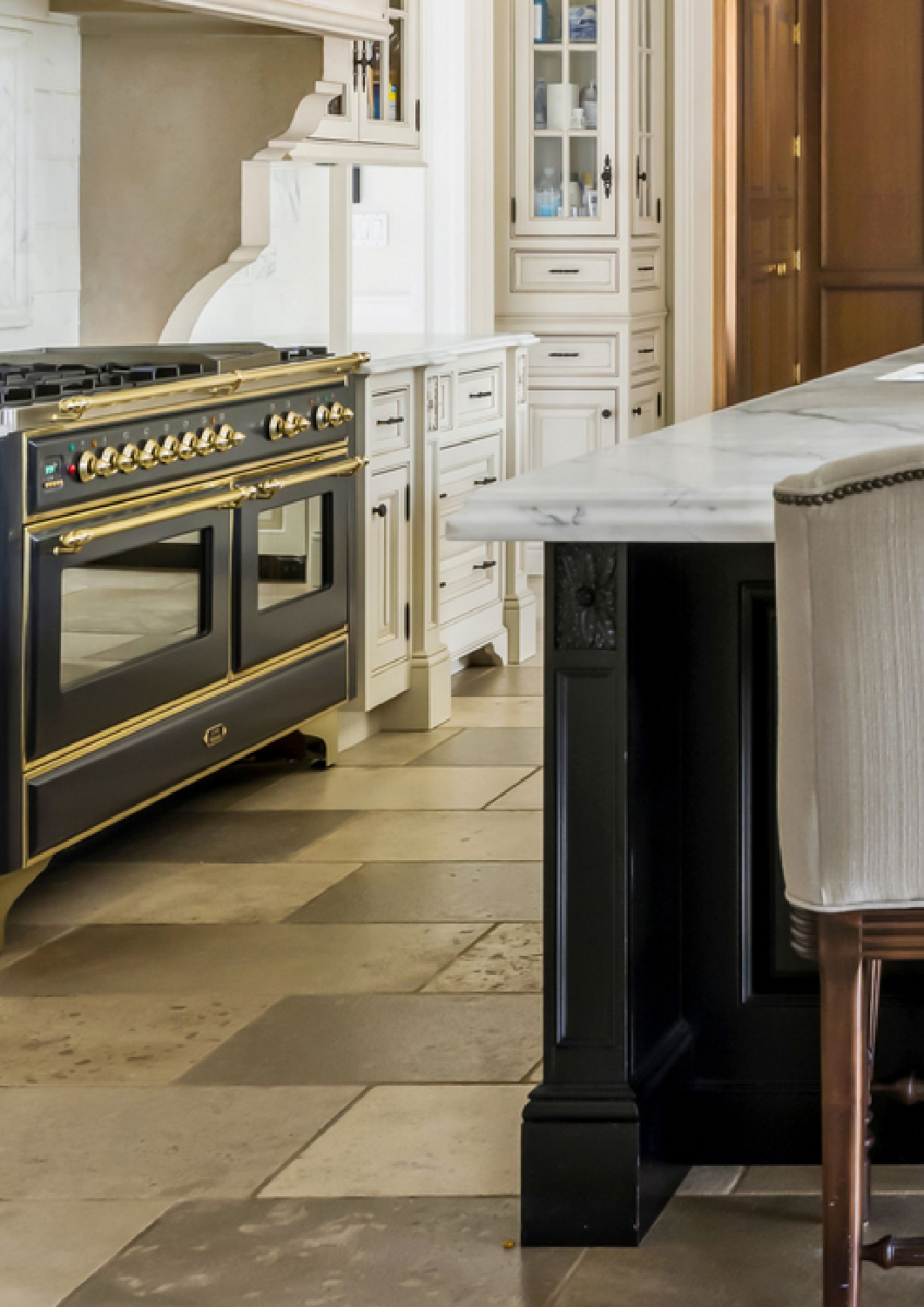 Creamy kitchen cabinetry with timeless style, rustic wood ceiling beams, bell jar pendant lights, a massive center island painted black, Calacatta marble counters, the dreamy range, reclaimed stone tile flooring, blue and white accents, duet of farm sinks, and so much more!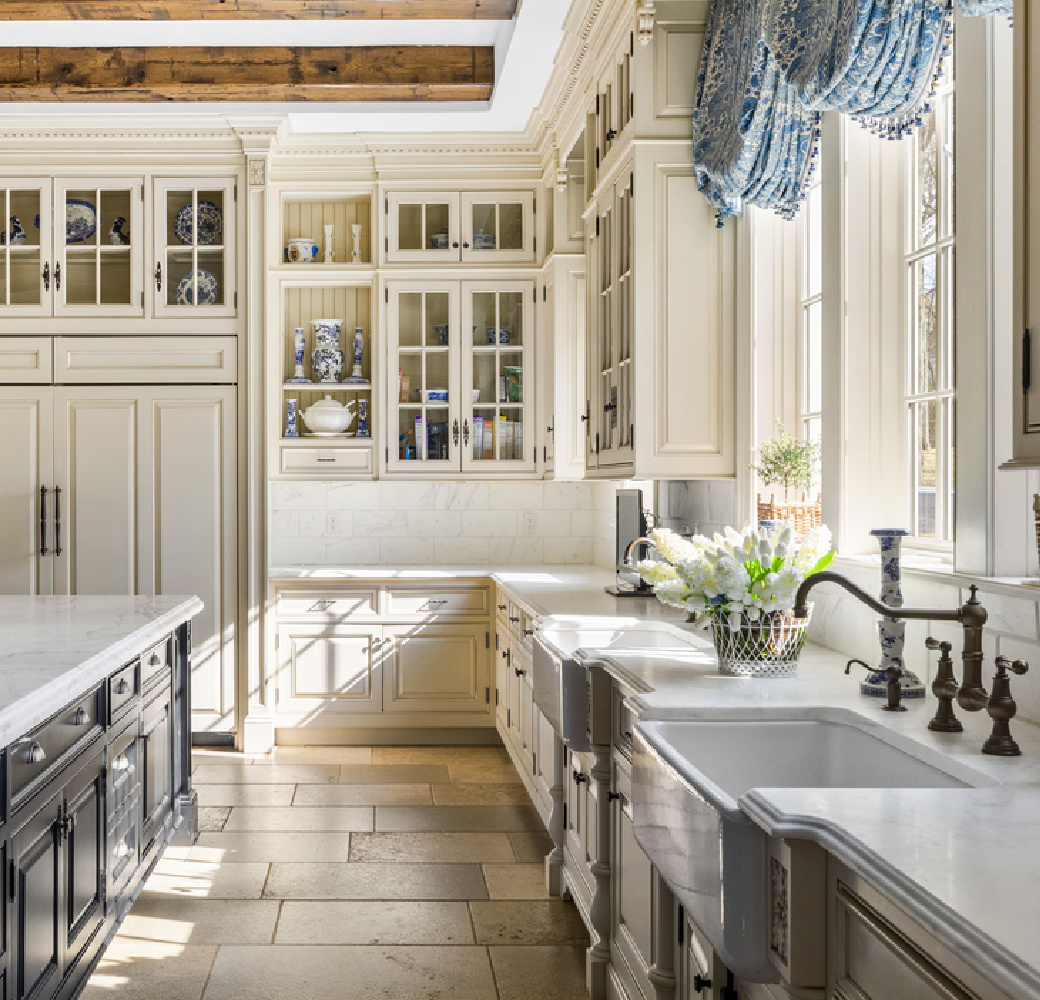 Isn't the natural light streaming in amazing?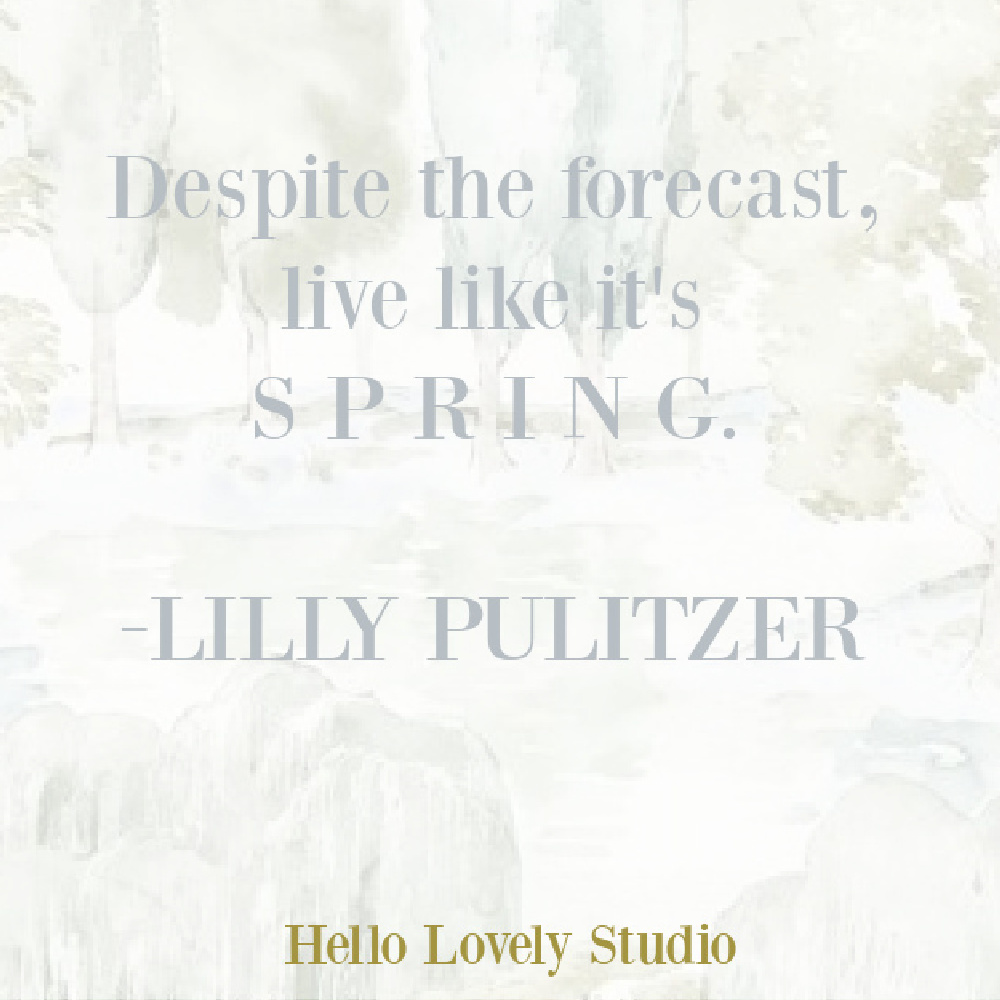 Visit The Enchanted Home for Design Advice
Let's ask our questions about the details and sources within Tina's French Country kitchen in the comments at the end of this post.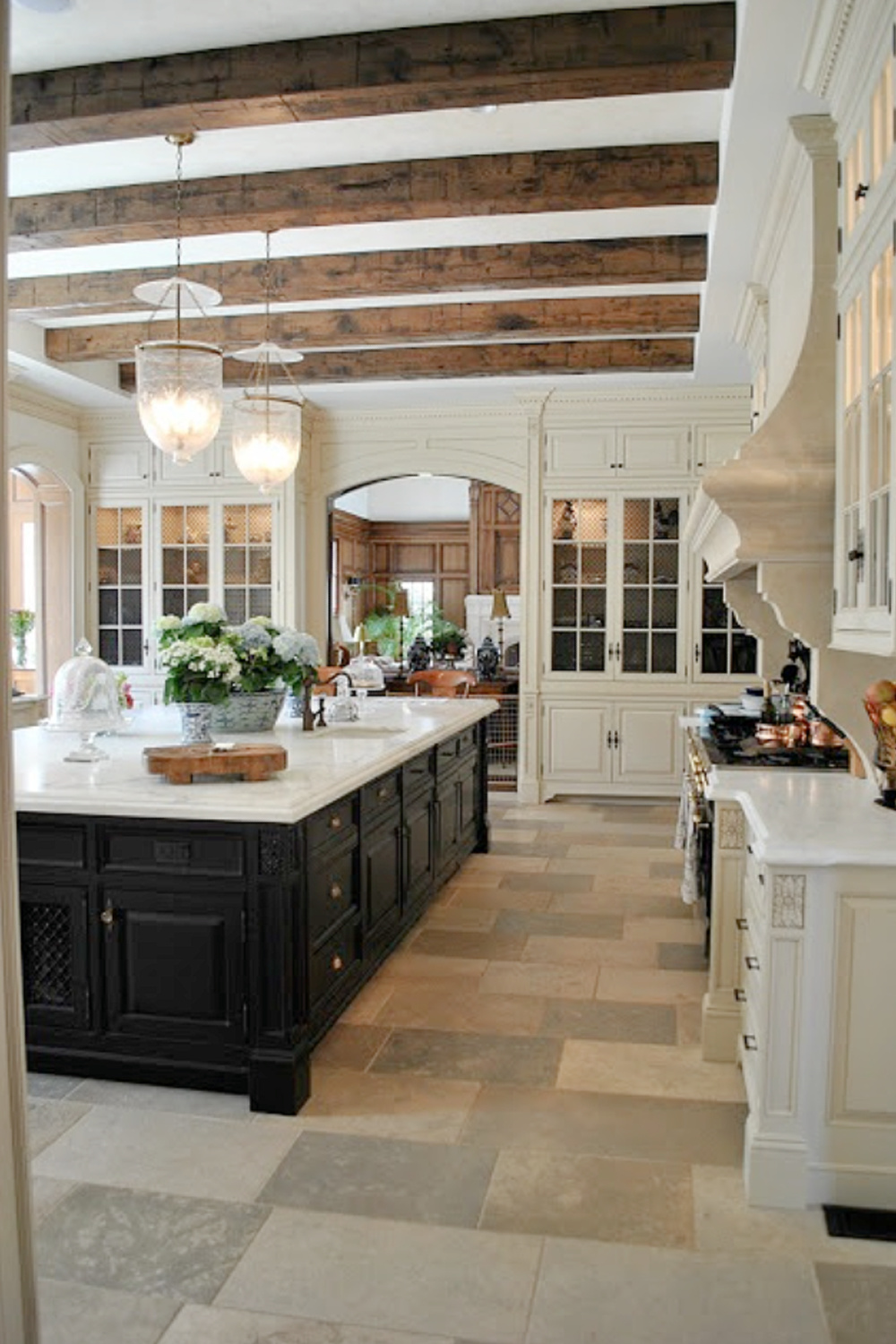 We will allow Tina to respond as she wishes to enlighten us about some of the key ingredients in the design of this amazing kitchen!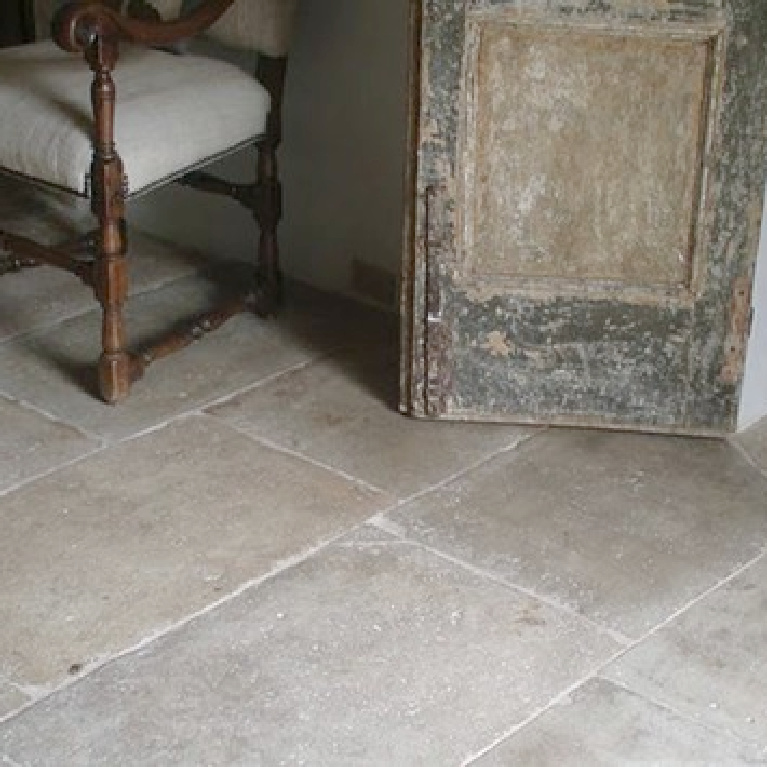 Before and After Construction
When this French Country kitchen was taking shape, Tina's readers were treated to a front row seat to the construction and progress. Let's peek at the before and afters to appreciate all of the hidden details and layers involved in the creation of the kitchen.
(Above) Wire from kitchen cabinets: Heathcast of the UK. Pattern: Diamond Regency grill in bronze finish. (This brand may not have a web presence at the moment.)
Notice how there is a charming mix of metals including brass, bronze, and more. Such details instantly suggest age. Hard to believe it's a new build!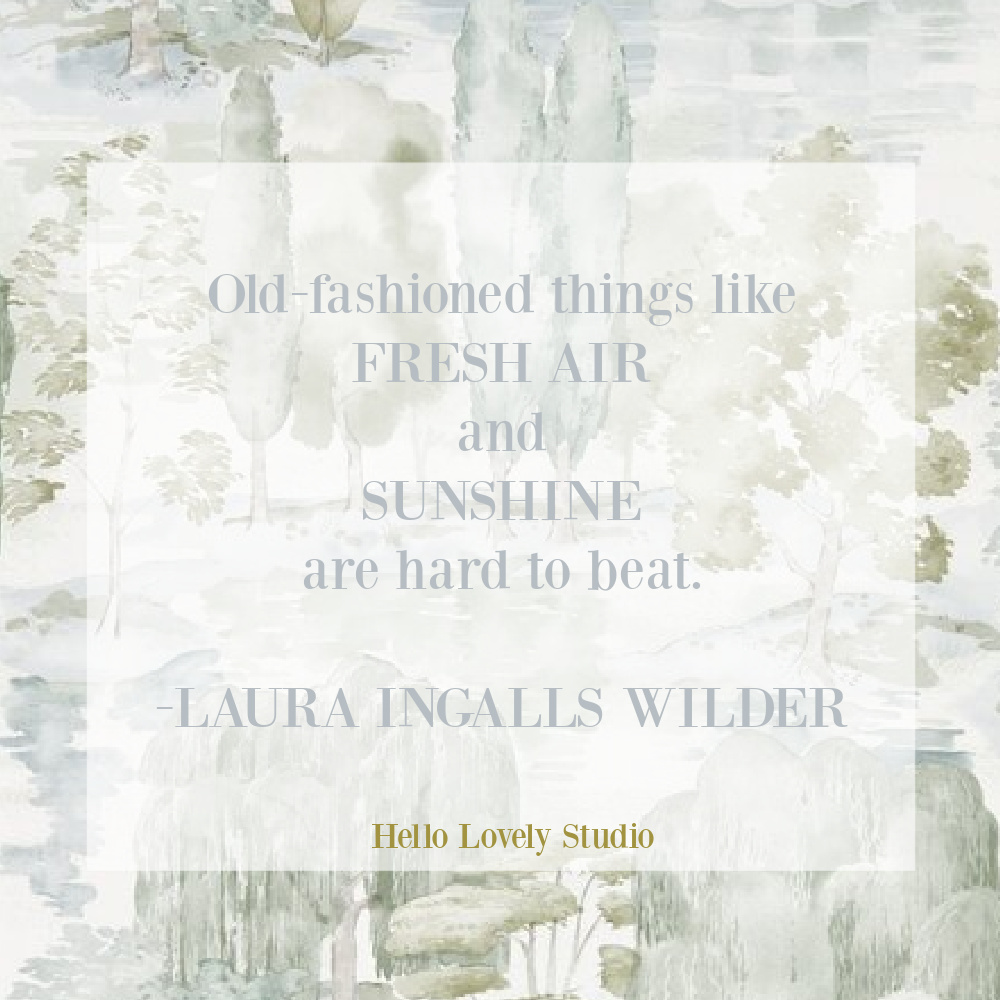 Blue and white is Tina's signature, and The Enchanted Home bloomed into a shop to spread love for it (plus a variety of lovely homewares!).
So beautiful even before the finishes were finished!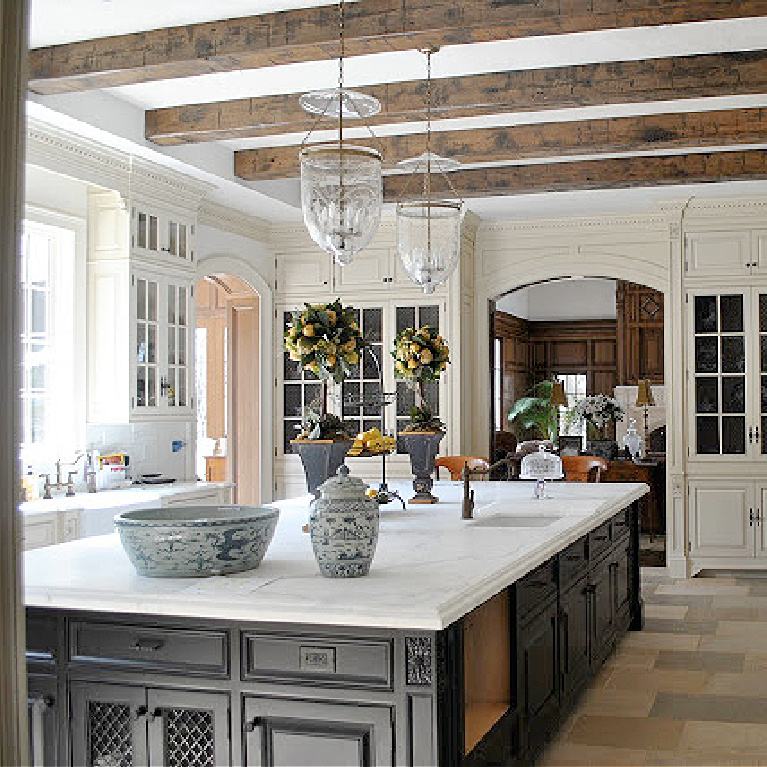 Do you love the oversized marble tiled backsplash. Our eyes get so accustomed to seeing the traditional 3×6 size!
Traditional and Timeless Kitchen Design
So much to admire here including the gorgeous balloon shades, floral arrangements, topiaries, and the natural materials which feel so authentically rich and full of character.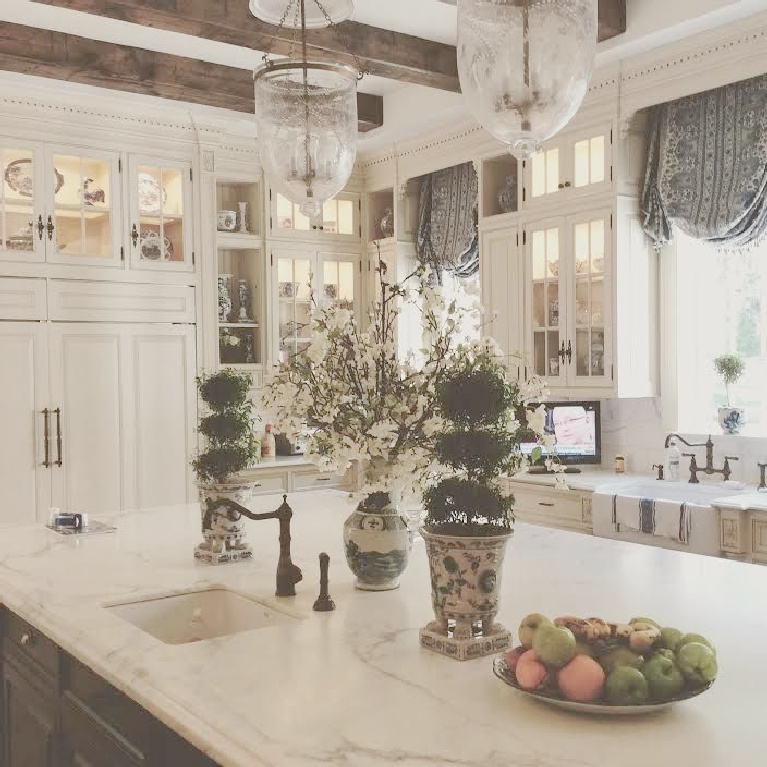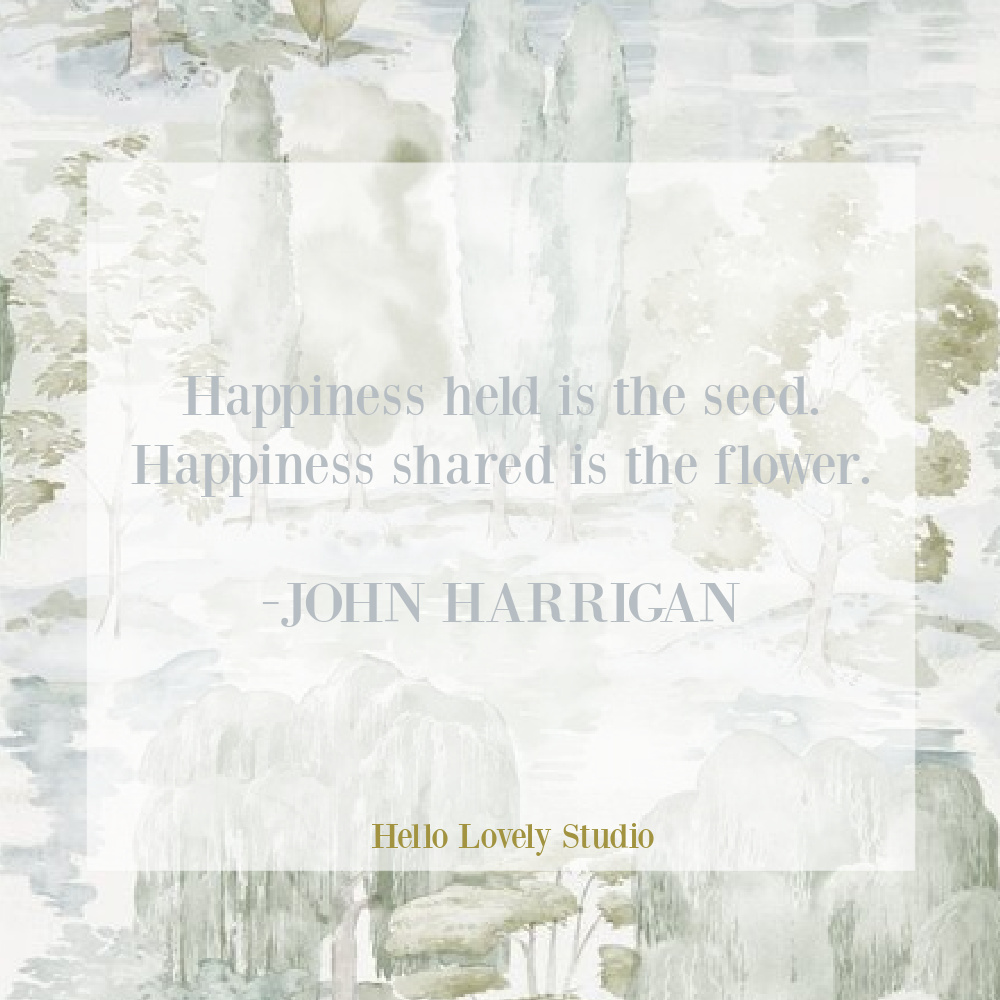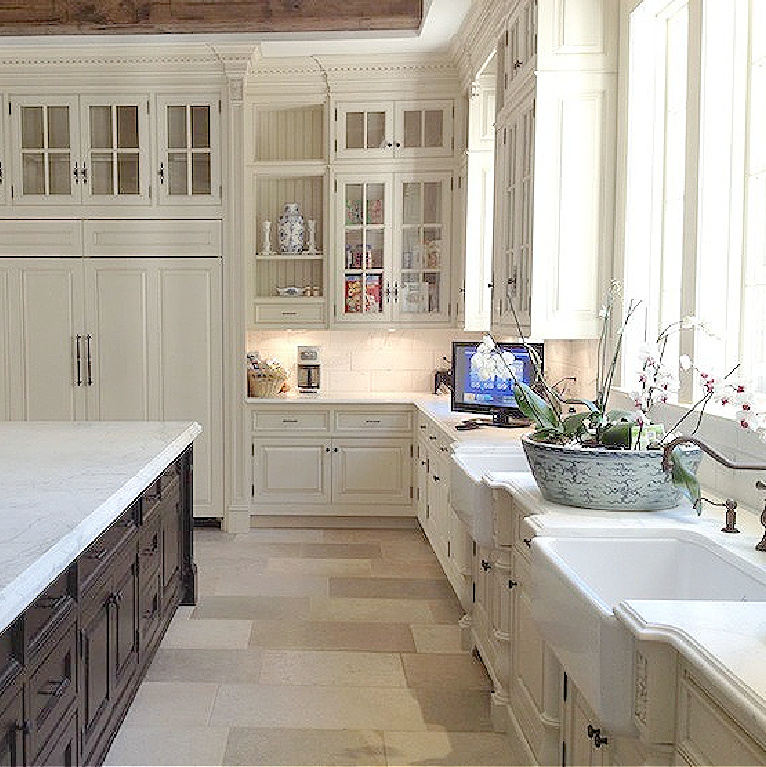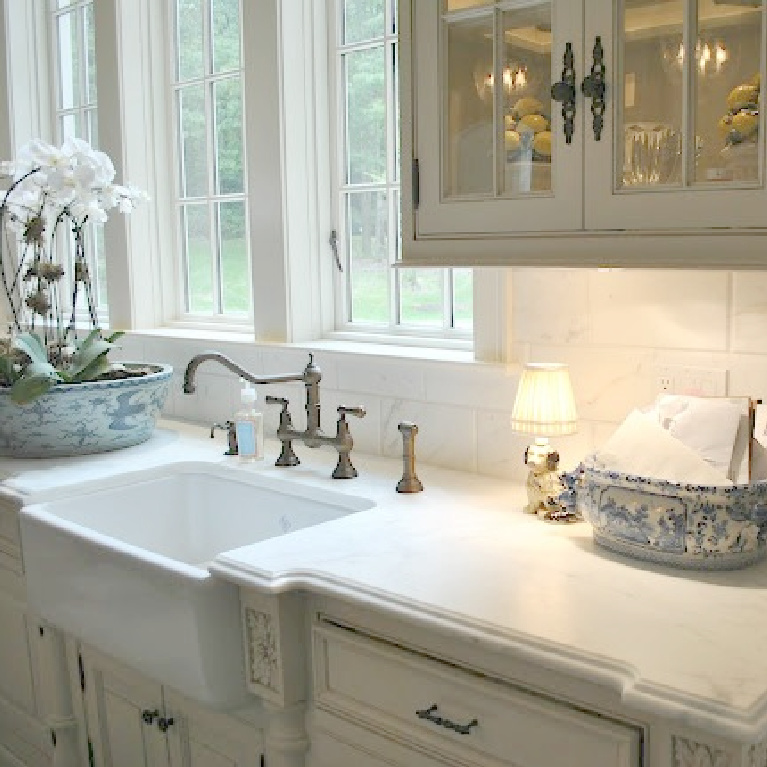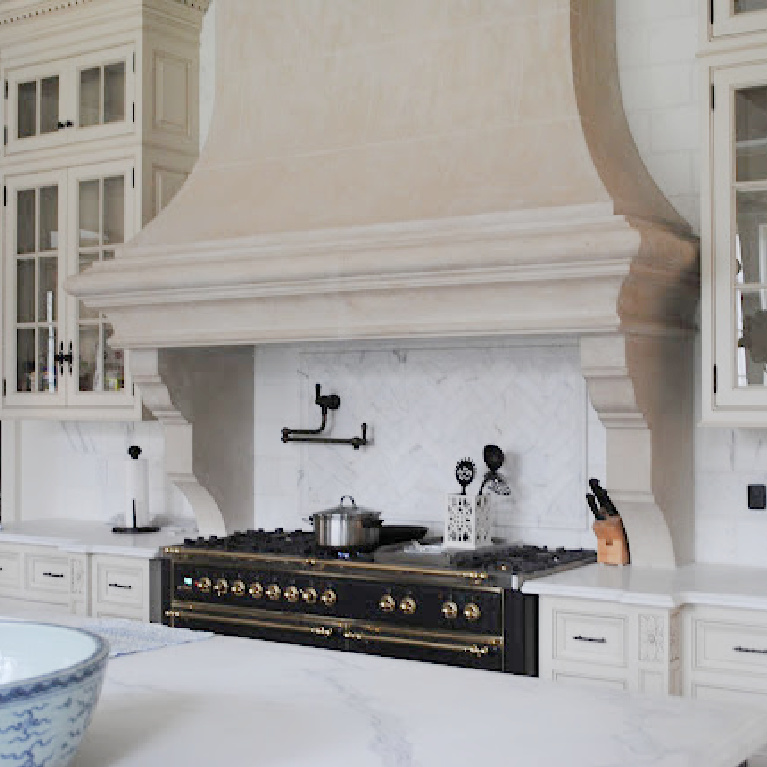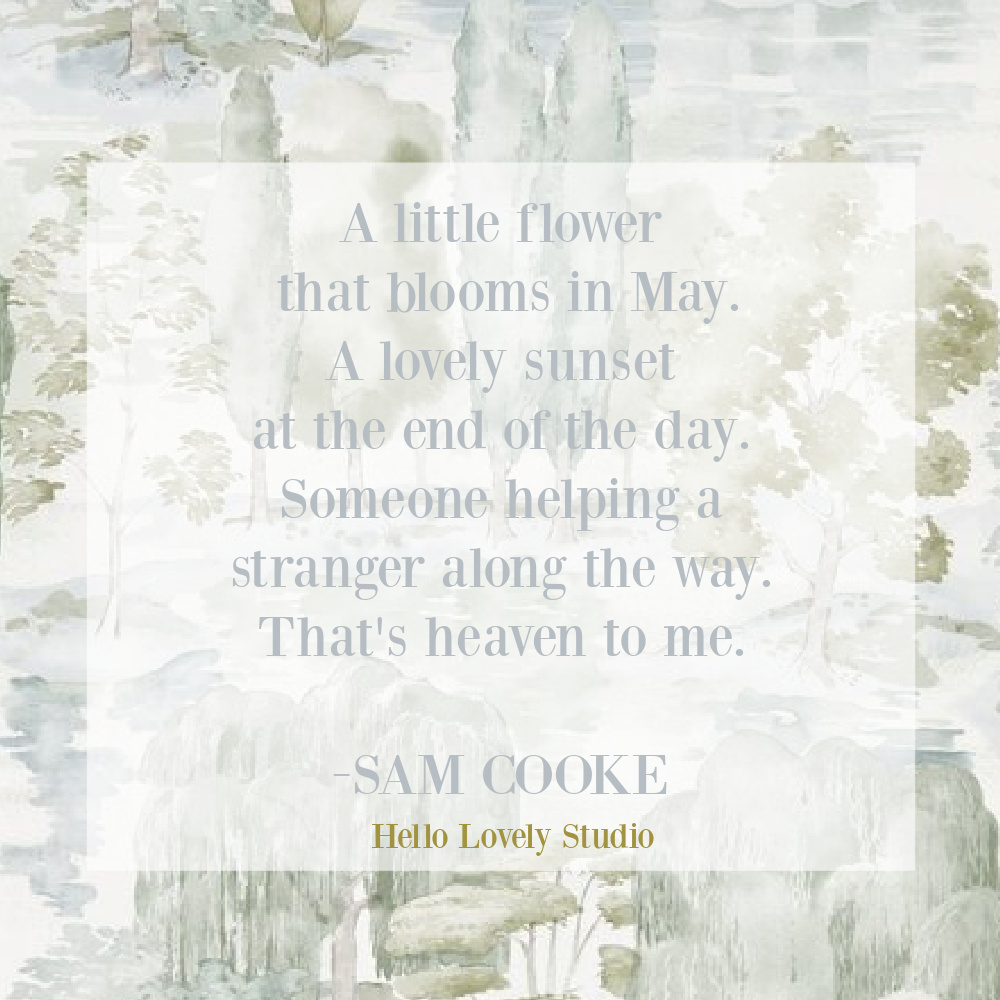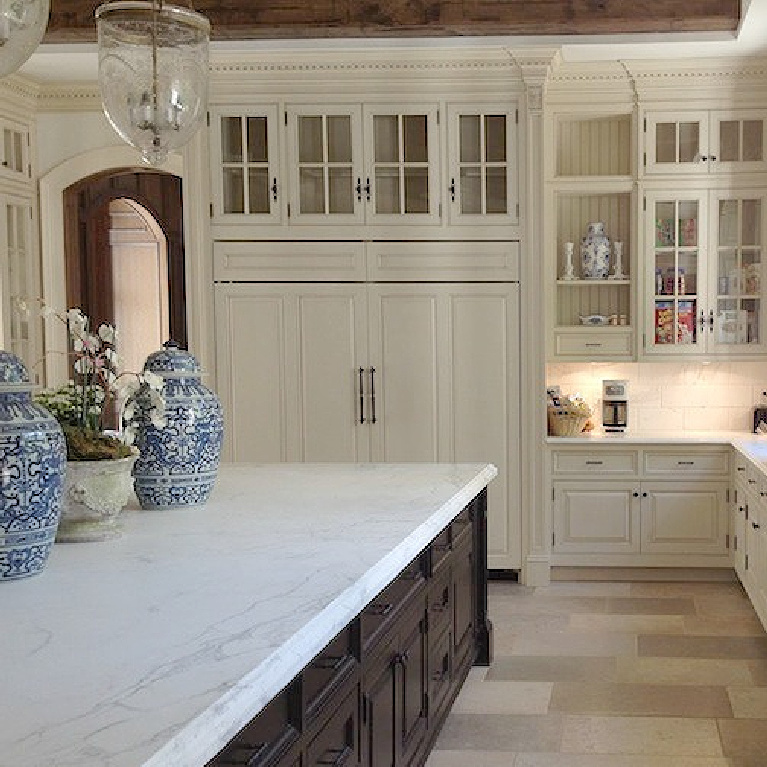 Ilve Range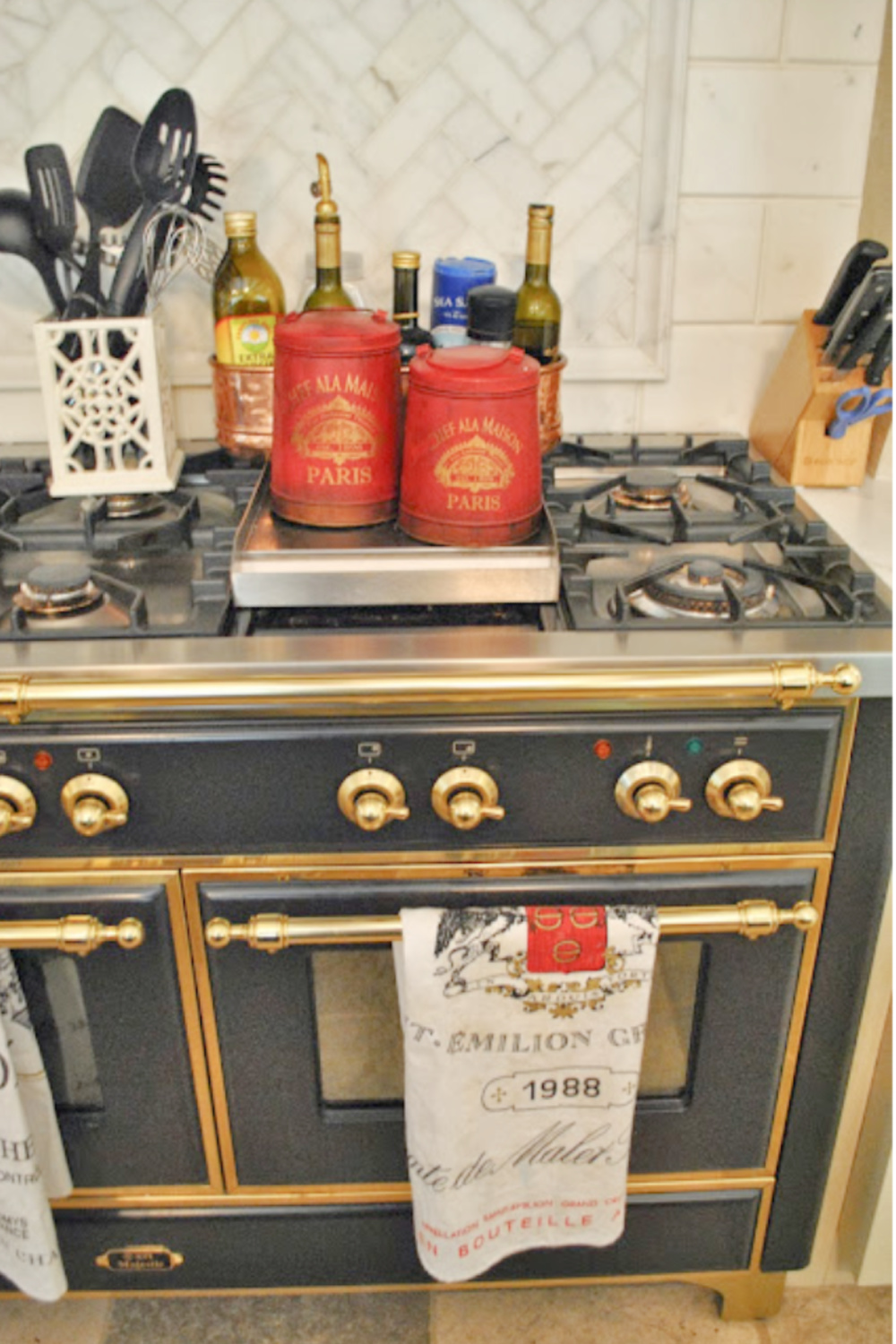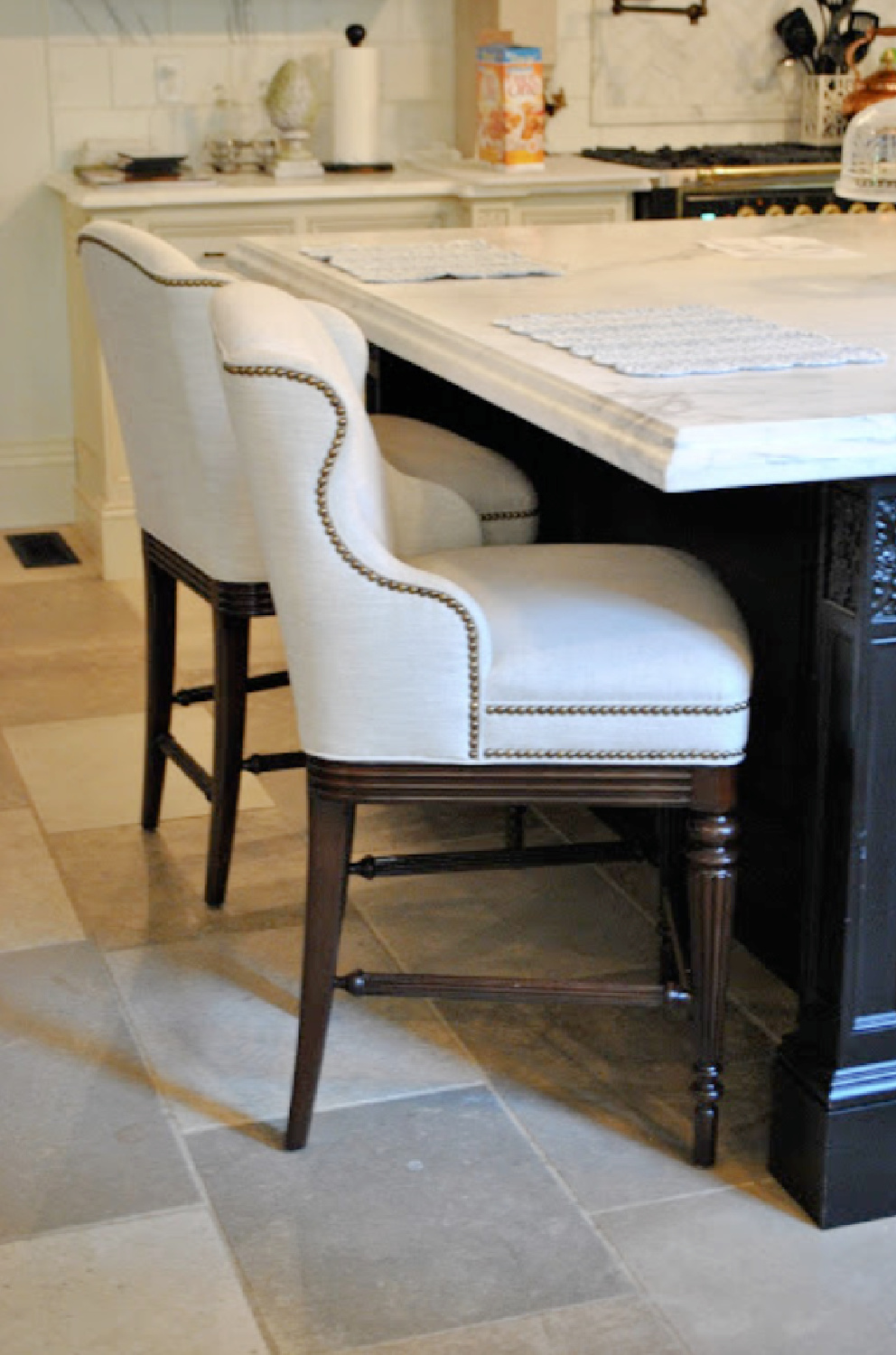 Ahhhhhh. It's such an inspiring space with so many exquisite finishes and romantic moments.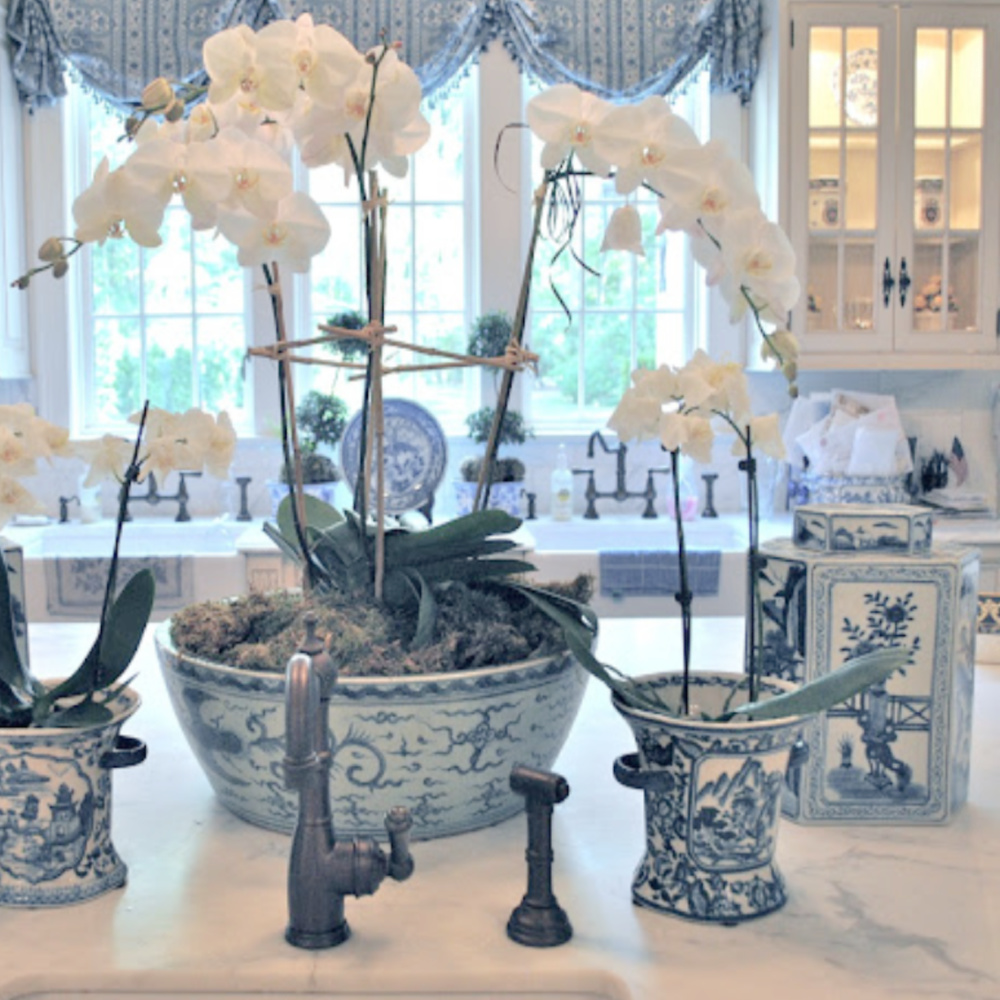 If you have a question about the design or details within her kitchen or need some decor advice, contact Tina on IG and SHOP for beautiful ware at the SHOP HERE!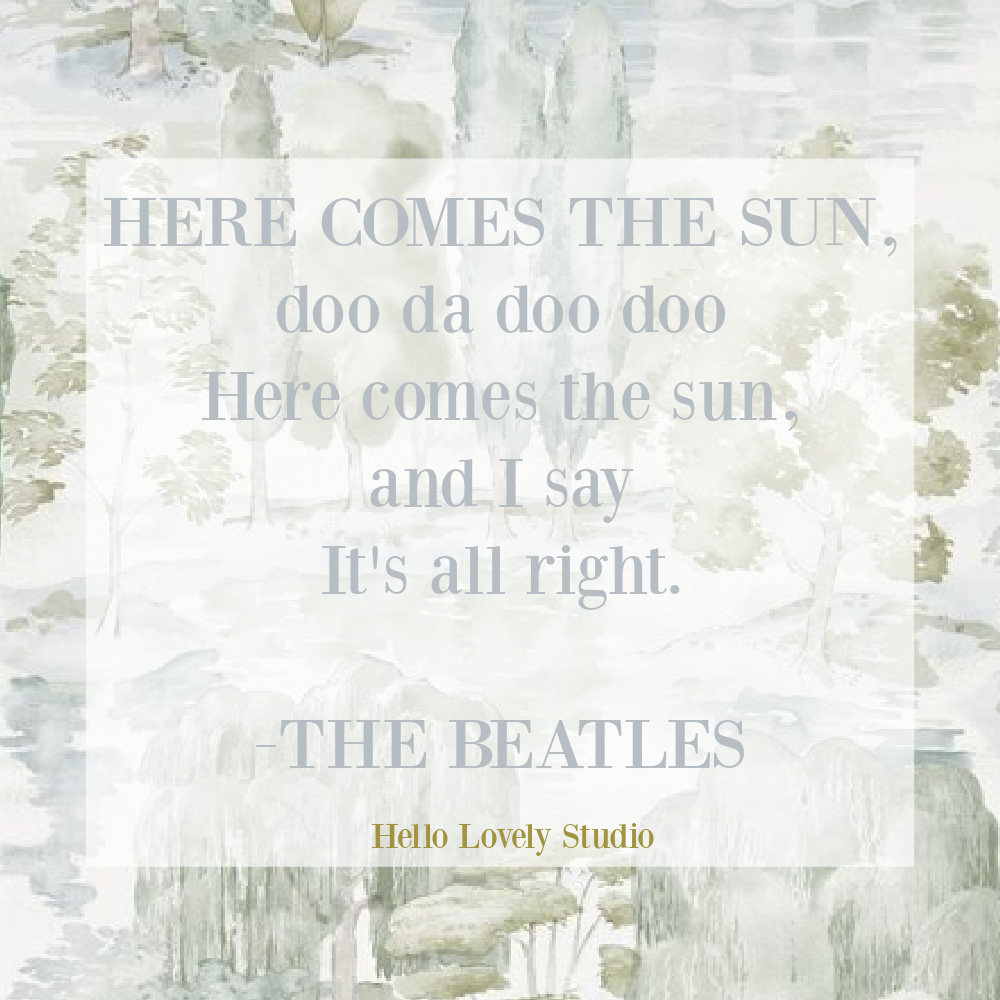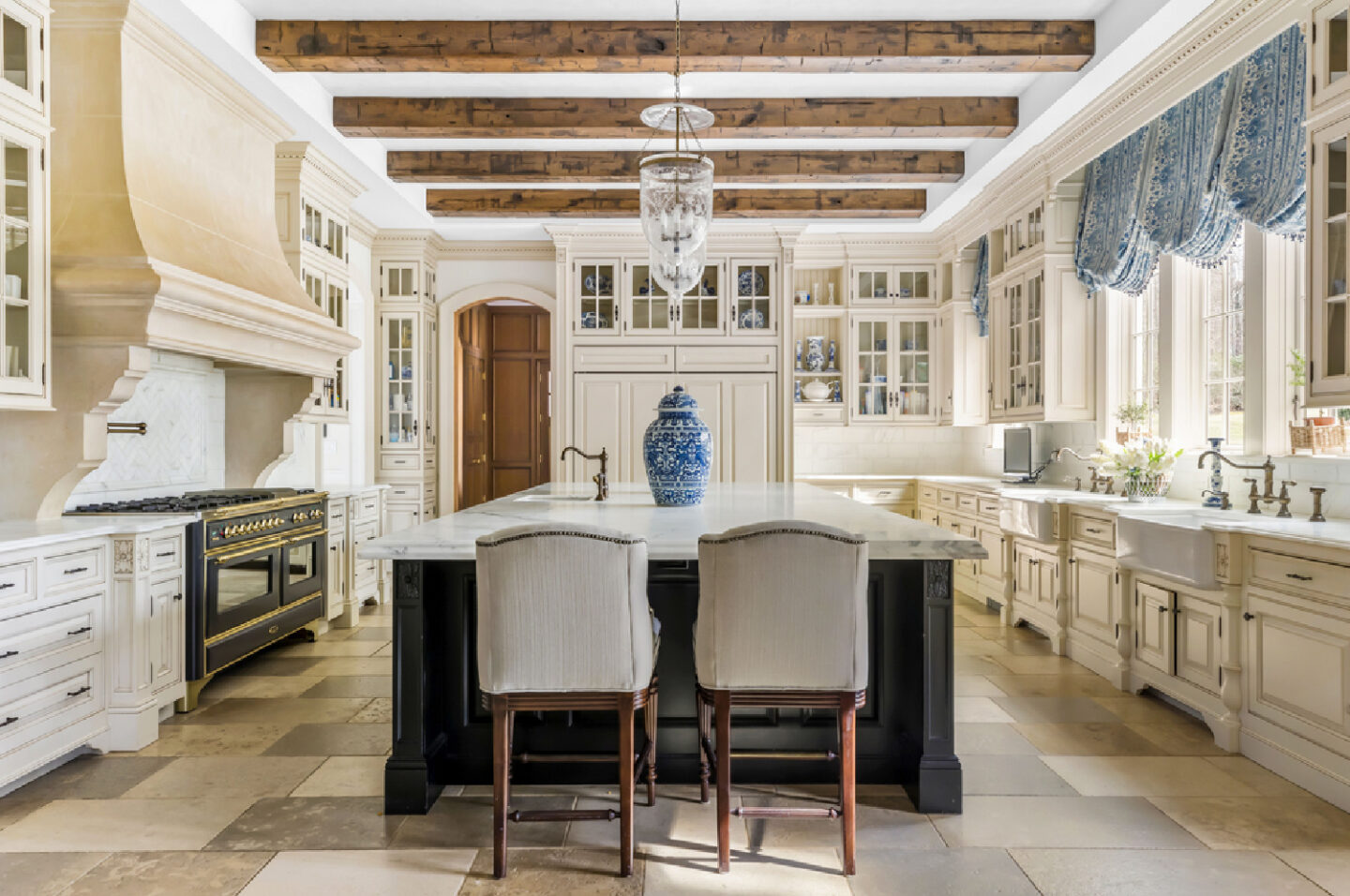 If you have a moment, do visit this story where I share a few ingredients for a French country style patio idea: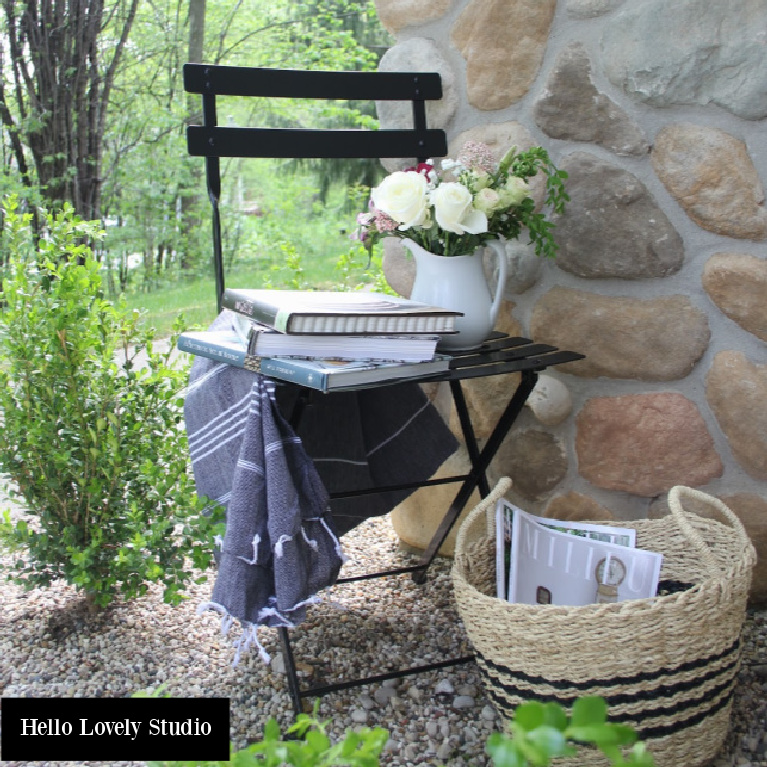 I independently selected products in this post—if you buy from one of my links, I may earn a commission.
Peace to you right where you are.
-michele
Shop for items you already intended to buy on Amazon RIGHT HERE, and also find home decor here to keep decor inspiration flowing on Hello Lovely!
Hello Lovely is a participant in the Amazon Services LLC Associates Program, an affiliate advertising program designed to provide a means for sites to earn fees by linking to Amazon.com and affiliated sites.