Will you be decorating cookies, making gingerbread, or creating a cute gingerbread house this year during the holidays? Darling Gingerbread House Inspiration & Smart Holiday DIY Ideas may just influence your answer. Because it doesn't have to be pastry torture time in the kitchen or an impossible feat requiring patience and quantities of wine. 🙂 I have fanciful examples decorated by creative geniuses BUT ALSO simple ideas anyone of any age can handle.
I independently selected products in this post—if you buy from one of my links, I may earn a commission.
Here's my preferred uniform for decorating gingerbread!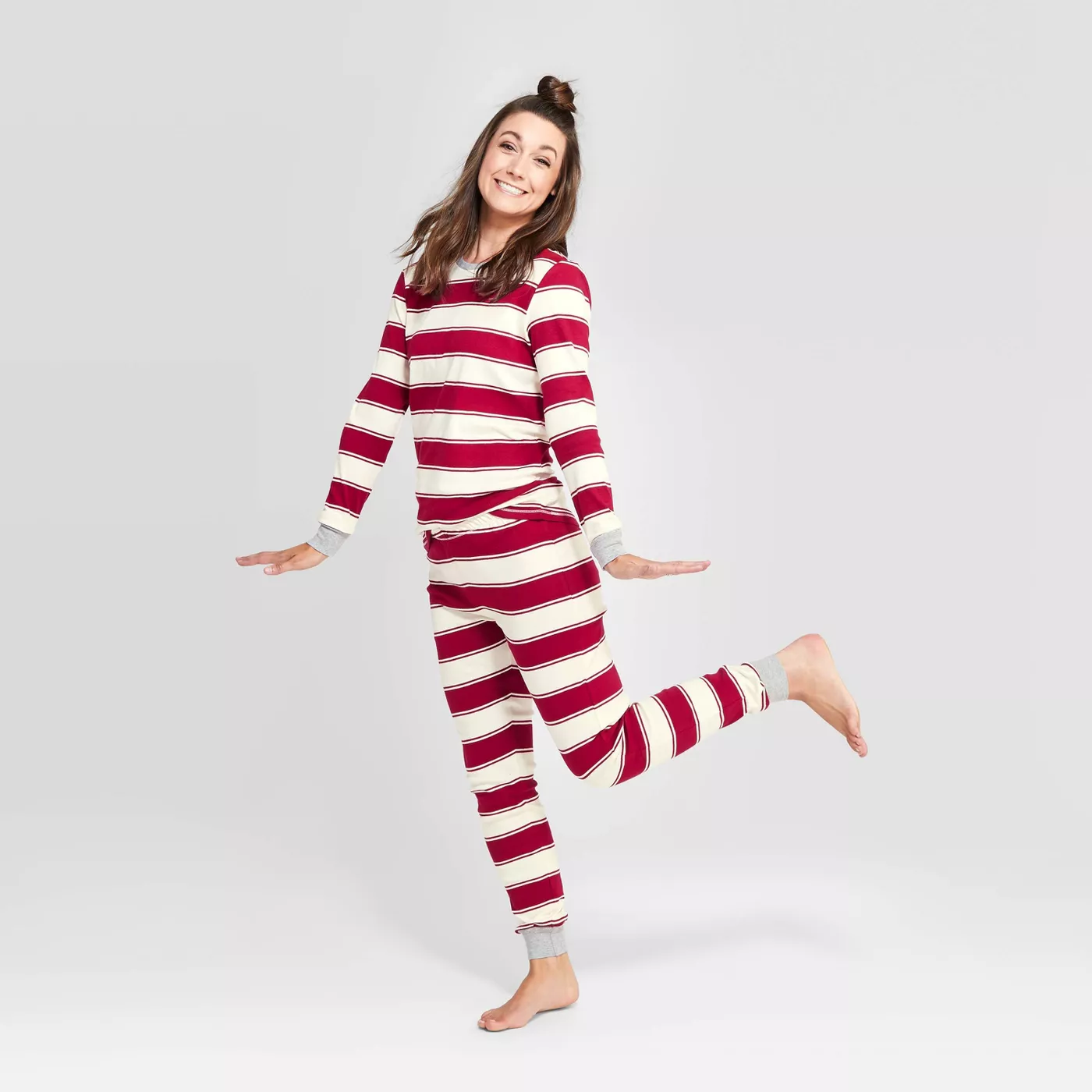 I have always loved the simplicity of the petite little gingerbread houses (above) Design Improvised chose for a kids party. A jadeite pedestal makes everything look sweeter and darling!
Darling Gingerbread House Inspiration & Smart Holiday DIY Ideas
1. Use Waffles in Lieu of Gingerbread
2. Hot Glue Graham Crackers
While they may not be edible, this is a smart and easy way to pre-assemble gingerbread houses for a decorating party. I have done this with homemade prebaked gingerbread for a December birthday party, and it was a hit!
3. Enjoy the look of gingerbread with boxes
Aren't these sweet? Continuing with that gingerbread decorating party theme, you could skip the traditional candy houses and decorate boxes. The template makes assembly a snap, and markers or paints will get the job done.
4. Cardboard Gingerbread Houses
A white chalk marker, some glue, and a cardboard box are about all you need for this easy craft.
5. Decorate Pre-made Gingerbread Cookies
When I was a room mom, it was a challenge coming up with a DIY for the annual class Christmas party mainly because time was always short! Since kids love decorating cookies, I found keeping it as simple as possible was the key. Some years, I opted for scallop edged Swedish ginger cookies since they easily transform into snowflakes with white icing. I would make a big batch of homemade buttercream, distribute it into baggies, and students simply snipped a corner of the baggie to pipe icing on cookies.
6. Get Creative Customizing a Kit
If you start with a gingerbread house kit, there will still be plenty of room for creativity!
Inspiration for Decorating Your Gingerbread Cottage
Fine. But the color palette may inspire you!
Alternatively, bake the gingerbread and just enjoy the aroma of it baking and its deliciousness without any construction work at all!
Here are some gingerbread recipe ideas.
Decorate Your Christmas House With Nuts & Cereal
When Gingerbread Decorating Looks Like Martha Was Here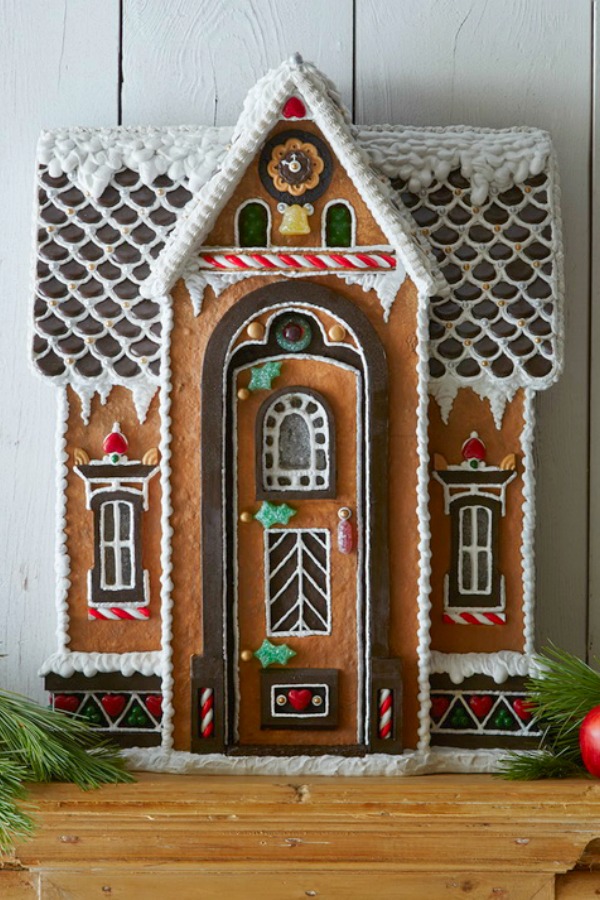 My Childlike Wonky Candy Cottage
I'm terrible at cake decorating and gingerbread everything! The only thing I can really handle is making the most delicious tasting gingerbread. So my imperfect attempts should encourage you to go for it.
Pink sticks of bubblegum are the main design element. Gingerbread people cookies can be left plain or decorated.
Old fashioned hard candy sticks in delicious stripes also work well – but definitely use something to precisely made clean cuts! Mine look ridiculous in these photos!
You can buy royal icing or find a recipe for it here.
Trees were formed with gumballs, pretzel sticks, and gumdrops.
Alphabet cookies can spell out any sentiment you like.
White cotton candy makes great snow – it starts out fluffy and cotton-like before evaporating within a few hours and lying flat.
Magnificent Gingerbread House Creations
Rock Candy Trees
No matter what the size of your gingerbread house, rock candy sticks work awesomely for trees since they glisten and look like magical psychedelic quartzy Christmas evergreens. (Also notice how effective a monochromatic color scheme works: in this case, slightly varying shades of pink boost the romance factor…sigh!).
Gumdrop Gabled Roof
Gumdrops are your best friend as a gingerbread house builder since they are easily sculpted into varying shapes, cut open to reveal sticky insides that can be pressed into place, beautiful on their own with their sugary frosted snow exteriors, and perfect for massing on a rooftop as magical, balloon-like roof tiles.
Isn't the tall gingerbread house below reminiscent of a Paris apartment building!?!
Heart Shaped Candies
Is it any wonder that a heart shaped anything pulls at our heartstrings? If you can find heart shaped chocolates for decorating your house…hurray! If you cannot, think about forming your own hearts from gumdrops or cutting heart shapes from Swedish Fish or fruit leathers.
Topiary Trees
In the gingerbread house below, topiary trees have been formed with pink lollipops, brown sugar (I think), and thimble-sized caps or plastic toys, but you can easily substitute gumdrops for the base by molding them to your taste.
Think Lollipops & Ice Cream Cones
Old fashioned swirly whirly vividly striped lollipops and suckers look so at home with homemade gingerbread houses and add to the nostalgia and romance so do try to find one or ten to enhance your gingerbread home's landscape. These turquoise blueberry beauties may inspire you!
How to make them stand in place? Styrofoam will work for a base, and in some cases, gumdrops!
Round and Round Candy House
The beautiful gingerbread house below incorporates round wafers which soften the home's overall design and presentation. Even the royal icing is piped in lacy, delicate patterns as opposed to strong straight lines.
Cupcake Chimney Smoke
Isn't this sweet white cupcake adorned with a single red candy perfect for simulating chimney smoke from a candy cane chimney? Notice too how the vanilla wafer cookies as roof tiles are not perfectly placed in uniformly straight lines but rather are staggered artfully to suggest an aged and interesting rooftop. (Pssst…need lemondrops for house landscaping like below?)
Move Over Gingerbread
Your magical Christmas candy house need not be made of gingerbread or any cookies at all should you choose to build walls of chocolate.
You'll want to adhere the chocolate to a cardboard base so the weight of your adornments do not collapse, and I predict this is one house that will be nibbled on throughout the season. How fun to research candy bars and undress them to reveal their shiplap, board and batten, and log cabin architectural textures.
Cheerful Skittles Embellishment
Maybe you will opt for happy hued Skittles, a few gumballs, red hots, and peppermints for your gingerbread house design which can be completed in just a short amount of time…so simple lovely.
Mini is Merry
This wee little gingerbread house looks adorable with its vivid and unexpected color palette and crisper look with royal icing only on the roof.
Frank Lloyd Wright Approved
Who says you have to stick to a gabled roofline for your gingerbread house? Go Midcentury Modern with a flat roof and minimal embellishments for a creative spin on holiday house splendor.
If you plan ahead in your gingerbread making, you can cut an arched door and position it to be open like the house below which adds to the warm hospitable flavor of the whole design.
Fairytale Turret
To create a tower or turret like the wondrous candy house below, you could incorporate a simple plastic kitchen funnel (with its base snipped off) for the roof atop a cylinder which only appears to be gingerbread. The addition of bright candy decorations and little fairy lights inside is pure magic.
Wafers & Old School
Don't forget the geometric lovely and sweet scale of candy wafers to construct your gingerbread houses. The chocolate bar candy house below is also illustrative of the power of limiting yourself to old fashioned candy only for a truly vintage-inspired gingerbread or candy house.
If You Decide to Make it a Party
Doesn't the beyond lovely tablescape below take your breath away and perhaps make you yearn to host a gingerbread house making party (which would float the boat of every girl or grandma)? Gold dotted gift wrap or kraft paper, chevron gift wrapped boards, plastic paint palettes to house candies (just 50 cents per palette and free shipping!)and partially constructed gingerbread houses await the creativity and imaginations of the lucky party guests.
For holiday decor interior design inspiration, jump over HERE!
Pin this post for future reference! And DO VISIT my Christmas Boards HERE and HERE to save even more lovely inspiration!
Peace to you right where you are.
-michele
Shopping for items you already intended to buy on Amazon RIGHT HERE (not just items mentioned in posts) or home decor keeps decor inspiration flowing on Hello Lovely!
Hello Lovely is a participant in the Amazon Services LLC Associates Program, an affiliate advertising program designed to provide a means for sites to earn fees by linking to Amazon.com and affiliated sites.