Are you lucky enough to be part of a tribe of friends who like to entertain? While dinner parties are truly dead in my neck of the woods (did social media completely obliterate them with intimidating images of instaperfection?), there is always a birthday, a blessing, or occasion calling for a celebration. Since I have never been the backyard bbq type, Easy Peasy Tipsy Tea Party [Extra Simple Entertaining] is an old fashioned excuse to gather, unplug, and check in…an un-tipsy tea party is equally as welcome and effective!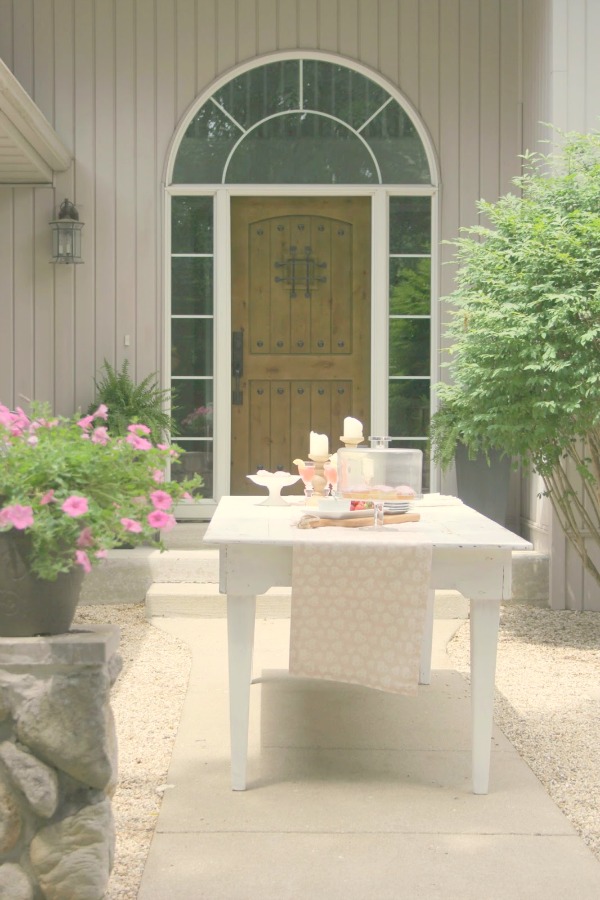 This post contains affiliate links which I hope you will use since they won't cost you a penny extra yet may earn this blog a small commission.
Easy Peasy Tipsy Tea Party [Extra Simple Entertaining]
Maybe these ideas for an easy to execute gathering are too old school and will remain daydreamy flutters of pink in Pinterest-land. But that would be a shame since getting together at home is not about rising to a particular level of perfection or killing yourself as the highest achieving hostess.
Cupcakes and cocktails with a few friends has nothing to do with channeling Martha and everything to do with being imperfectly present in the garden or around the kitchen island to: CONNECT, embrace, and laugh.
Here's a wonderful book from someone who knows her way around simple beautiful entertaining at home and whom I have chatted with a few times: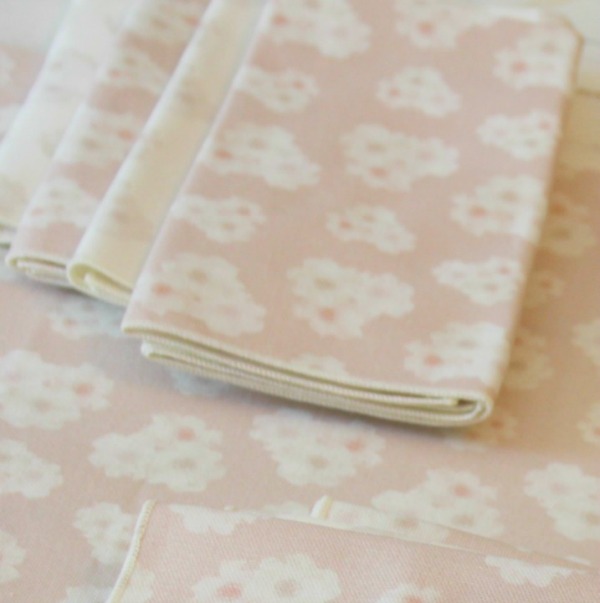 My pink peony table runner and napkins are from Minted, but a pretty tablecloth, quilt, or linen fabric scrap can easily do the trick.
My tea party here doesn't even feature tea – because it was spiked pink lemonade I craved this particular day.
Sweet tea, peach tea, mimosas, sangria, or whatever your poison…as long as it's simple and served at the right temperature, you're golden.
Here are more peeks at my DIY French country inspired courtyard.
These stackable metal chairs are perfect for entertaining inside and out. You can see one of mine on the porch below.
Upgrading the front door to a Mediterranean style rustic one with speakeasy made a significant difference.
Remember where we began out here?
The old front door had been painted a color that reminded me of a bruise. It matched the bruise-hued ceramic tile just beyond the door in the foyer. Bruised is essentially what this whole house was when we took on the project. And bruised is what we became in those months of work transforming it!
I love pinks and blues in the garden, and mine is always kept extra simple because I'm a low to no landscape maintenance type.
I sure hope our burning bush perks up to look like the photo below. Right now, it is struggling to bear any green at all. Let me know if you have ideas.
I dragged my enormous farm table out into our front courtyard, but any dining or cocktail table would do.
Similar goblets here, Crate & Barrel.
So my little tipsy tea party consisted of pink lemonade spiked with homemade amaretto, deliciously-doctored cupcakes, and fresh fruit with an easy peasy marshmallow dip.
The pale blush of the linens feels whimsically shabby chic and in harmony with the distressed top of our old table.
This has been our kitchen table for decades, and we designed it with a local family of artisans who create furniture from reclaimed barn wood.
Every day in Illinois, another barn is being demolished, and I'm so happy the wood doesn't have to end up in a landfill.
Our tabletop once sheltered farm animals from the elements – and now it's a place where we can become shelter for each other.
This morning, I sat in the courtyard and was amazed at the sheer volume of the birdsong! The birds totally own this grove and (lucky for us) seem not shy at all.
Pink Lemonade…Any hue will do, and find ideas for making it HERE. Mine is sweetly spiked with homemade almond liqueur.
Here's my idea of easy entertaining: 1. Minimal effort. 2. Minimal dishes to do. 3. Saying NO to all ice sculptures and sculpting napkins into swans. 4. ONE signature drink, cocktail, or mocktail as opposed to a full bar. 5. Can happen at a moment's notice. 6. Buffet, no fuss style so as a hostess I can be fully present and part of the fun.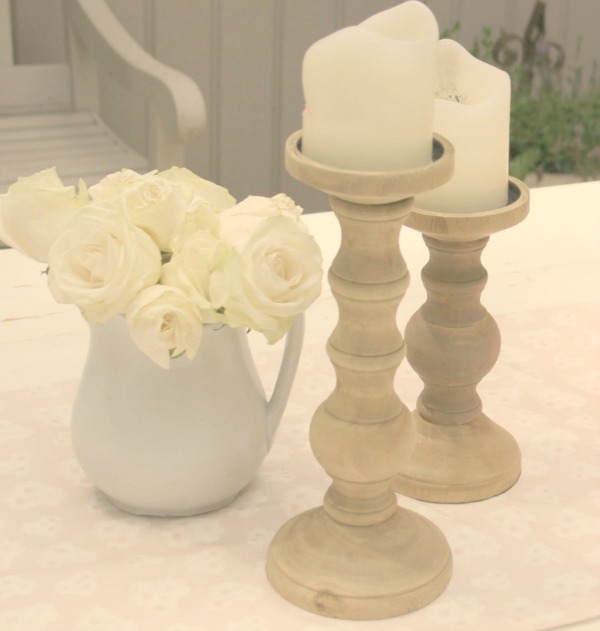 Cupcakes With Easy Peasy Cream Cheesy Frosting…Buy them from your favorite bakery or bake my doctored cake mix variety. I frost mine with homemade icing and occasionally serve them naked style, stripped of their paper wraps. (Recipe at end of post).
These sweet little appetizer plates are perfect for entertaining, and I have been bringing them into service for many years.
Homemade Amaretto…You can skip the amaretto in the lemonade or even substitute with plain vodka. I discovered homemade amaretto years ago, and it's super easy. Find the recipe below.
Recipes
Easy Fluffy Lovely Cupcakes
(makes 24)
1 white cake mix
1/2 cup vegetable oil (I like Mazola or Smart Balance)
1 1/4 cup buttermilk
4 egg whites
Preheat oven to 350. Line muffin tin with paper baking cups.
Blend cake mix, oil, buttermilk, and egg whites in bowl with mixer on medium speed, for 2 minutes.
Pour batter into cups and bake bake for 18-20 minutes.
Make buttercream icing while cupcakes cool.
Easy Peasy Cream Cheesy Icing: Whip together: 1/2 stick butter at room temp, 6 oz. cream cheese, 1.5 tsp. vanilla, 1 box powdered sugar, and a few Tbsp. milk or half & half.
Tint frosting if desired before frosting cupcakes. YUM.
Easy Homemade Amaretto
1 cup water
1 cup sugar
1/2 cup brown sugar
2 cups vodka
2 Tbsp almond extract
2 tsp vanilla extract
Combine water and sugars in saucepan over med heat. Heat until mixture is boiling and all sugar is dissolved. Remove pan from heat and let cool for 10 minutes. Stir vodka and extracts into mixture. Store in a sealed bottle.
Marshmallow Fruit Dip
8 oz. softened cream cheese + 8 oz. marshmallow fluff = heavenly dip
Thanks for reading, friends!
Did you catch the post with pretty summer fashion finds and plenty of sunny smiles HERE? If you are in the mood to see more of my home, go HERE.
I independently selected products in this post—if you buy from one of my links, I may earn a commission.
Peace to you right where you are.
-michele
Shop for items you already intended to buy on Amazon RIGHT HERE, and also find home decor here to keep decor inspiration flowing on Hello Lovely!
Hello Lovely is a participant in the Amazon Services LLC Associates Program, an affiliate advertising program designed to provide a means for sites to earn fees by linking to Amazon.com and affiliated sites.