I am a longtime admirer of shop owner and blogger, Tina, of The Enchanted Home, a beautiful blog and shop where classic, traditional, and timeless design are celebrated along with her signature blue and white porcelain.
Blue & White Christmas Enchantment
While Tina's enchanted home alone will take your breath away, I have always been a fan of how this creative dynamo shares her secrets for entertaining, cooking, and decking the halls.
That Front Door!
It's one thing to sell all the pretty things and chinoiserie that make your heart beat faster, but it's quite another to show customers how home decor items and holiday decorations can work beautifully in a REAL traditional environment.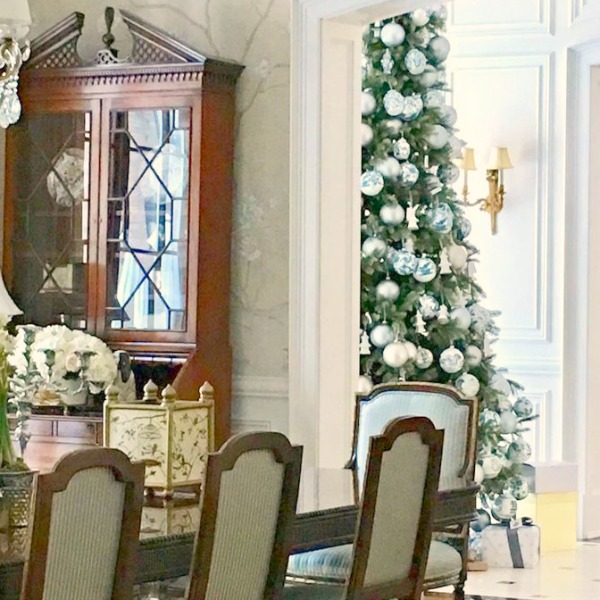 Just look at the adorable giftwrap Tina personally designed and offers at The Enchanted Home Shop!
Blue and White Giftwrap
French Country Kitchen Inspiration
I cannot think 'Enchanted Home' without remembering the timeless French inspired details in Tina's magnificent French country kitchen!
It is truly a work of art and a celebration of all she holds dear.
I'll never tire of seeing it on her instagram and blog!!!
If a blue Christmas is calling your name, The Enchanted Home is THE source for all you need!
Blue Christmas Decor Splendor
Elegant Holiday Tablescapes
And because Tina is the hostess wiht the mostess, we are often treated to dreamy glimpses of her tablescapes which incorporate her wares, floral arrangements, and special touches that make guests feel extra special.
Staffordshire Dog Ornaments!
If you are a lover of blue and Staffordshire dogs…ooh lala! I love how she embellishes beautifully wrapped gifts with these wonderful ornaments!
The blue and white ginger jar, dog, and pagoda ornaments look so incredible massed on her tree.
And here is another mantelscape (is mantelscape even a word!?!) with navy and white stockings.
Classic Blue and White
The colors in The Enchanted Home palette have such fresh appeal for the holidays with their sophisticated tones.
Oooh, I think this combo may be my favorite!
A Magical French Chateau
Tina calls this grand, enchanting French chateau home, and it was her journey creating it that captured my imagination years ago and kept me following her charming blog.)
Tina has created a gorgeous home for her loved ones, and she kindly extends the enchantment to her readers.
While we may not have the pleasure of visiting her enchanting abode in person, she essentially invites us to enter the gates and dine at a splendid table.
And isn't it a treat to gather at a thoughtfully decorated table?
Tina was kind enough to share 6 Tips for Holiday Decor & Hosting with us!
6 Tips for Holiday Decor & Hosting
Hello Lovely: What is your approach to decorating for the holidays..one fell swoop or gradually?
My planning falls into the category of several
"mini stages." I wish I could say I had a master plan
like some and did it all in one day with a formal list
of "to do's" and military-like precision, but my nature
is much more free spirited and pretty spontaneous
with changes often happening at a moments notice.
Somehow, it all comes together.
I normally start after Thanksgiving (in recent years)
and tweak until right before Christmas!
Hello Lovely: Does your holiday decor evolve from year to year?
My approach to decorating changes a bit year to year.
This year it's all about mostly blue and white,
white holiday flowers (amaryllis and paperwhites),
and touches of gold.
Hello Lovely: Walk me through an ideal evening of holiday entertaining…what is engaging my senses?
Oh boy, well we do hold an annual Christmas party
for our families so that's always a fun and festive night.
It starts with my waking up early and prepping
all throughout the day…with food, dishes,
flowers, and gifts ever present.
I take what I serve seriously, and my kitchen
island will be full of all kinds of things from
baked goods to cheeses, fruit and specialty items
from a local Italian specialty shop
so I can make one of my big antipasta platters
everyone looks forward to.
There will be dough for cookie baking
and plenty of ingredients for whatever I plan
to be making that night.
You will smell a baked brie in the oven along with specialty holiday cookies that I make every year.
There will be lots of other good things happening, a plethora of yummy sights and scents. And in my kitchen, it's unlimited "taste testing!"
I will be sure to have Christmas music playing and a beautifully scented candle burning to add to the holiday magic.
I always set a time "to be done by" and allow myself an hour or so of total rest, normally that means a bubble bath around 3 pm and a chance to rest my feet.
By 5 p.m., the lights come on, the music gets turned up, and the kitchen becomes holiday party central…there is a fun buzz in the air, and it's a sure sign the holidays have arrived!
Hello Lovely: We usually have one or two trees, but my sister will sometimes have nine. How about you?
I normally only have one tree. I used to put a tree in my son's room (per his request) since he loved colored lights and I only wanted white…
this way he got his wish!
I think one day when I have grand kids, I will put up a second tree and allow them to decorate it to their hearts' content.
I think it will be a fun tradition so with every year they can add on ornaments of their choosing. But for now it's one big one right in my foyer.

Hello Lovely: In terms of a special holiday meal, can you describe your dream menu?
Call me sentimental, a creature of habit, or plain lazy but, I do love the traditional turkey dinner we always have on Christmas day.
It's been that way for so long it would feel sacrilegious to have anything else. However if I wanted to change it up and as long as I am dreaming….
It would have to start with a champagne toast! Then we would move onto a caviar crostini (yum) followed by a cold crabmeat cocktail.
For dinner I am thinking something really decadent like a rich seafood casserole, a petite filet mignon with a side of grilled asparagus.
For dessert a delicious moist fudgy chocolate torte cake with cream fraiche and berries would do just fine with a well prepared cappuccino (sounds like stretchy pants would be a prerequisite to indulging in this decadent meal).
Sounds good to me, especially if there are leftovers for the next day!
The last tip is actually a little holiday treat I dreamed up for my friend Tina because she is such a treasure.
I re-visited one of holiday posts and noted she had crafted a brilliant holiday checklist.
I organized that brainstormed list into a simple graphic to share with everyone who hopes to "be a little more organized next year."
Oh that I could adhere to this list! Maybe I'd feel more like this:
Thanks so much for the Enchanting Holiday Tips, Tina!
If you don't already follow Tina's blog – do visit her HERE and be sure to discover her amazing SHOP!
Peace to you right where you are.
-michele
Shop for items you already intended to buy on Amazon RIGHT HERE, and also find home decor here to keep decor inspiration flowing on Hello Lovely!
Hello Lovely is a participant in the Amazon Services LLC Associates Program, an affiliate advertising program designed to provide a means for sites to earn fees by linking to Amazon.com and affiliated sites.