Laziest seasonal decorator award goes to me just about every fall and Christmas (I like to keep things decidedly simple, relaxed and undone). Yet I love the IDEA of decorating for fall. Somehow, too much time is spent admiring everyone else's efforts rather than executing all of the great possibilities to celebrate and savor the season. Today's Fall Inspiration: Decor, Table, Recipe & Craft is just what I need to begin addressing my entry decor, planning a fall tablescape, and getting pumped for creating yummy autumn things too.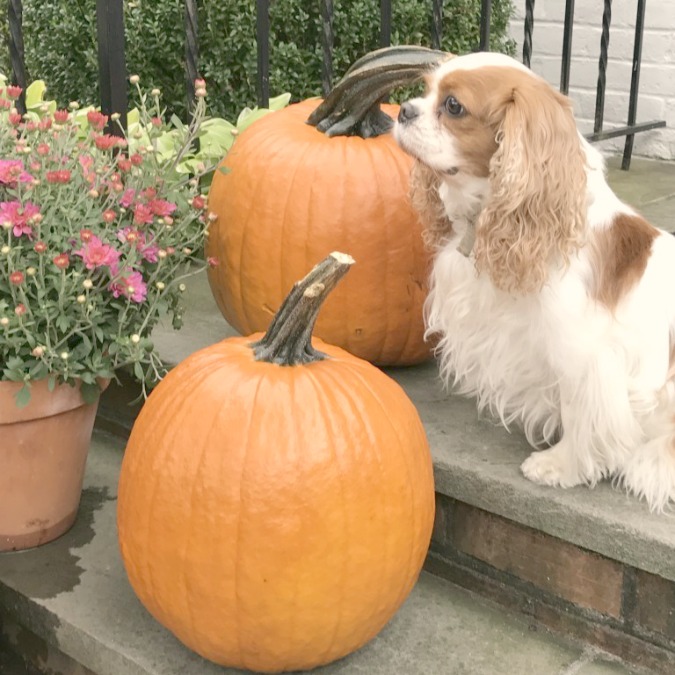 Fall Inspiration: Decor, Table, Recipe & Craft
Last fall, Elizabeth of the beautiful blog Pretty Pink Tulips, (living, giving and entertaining with style and grace) inspired us with decor ideas for autumn.
Remember her darling little King Charles Cavalier, Molly????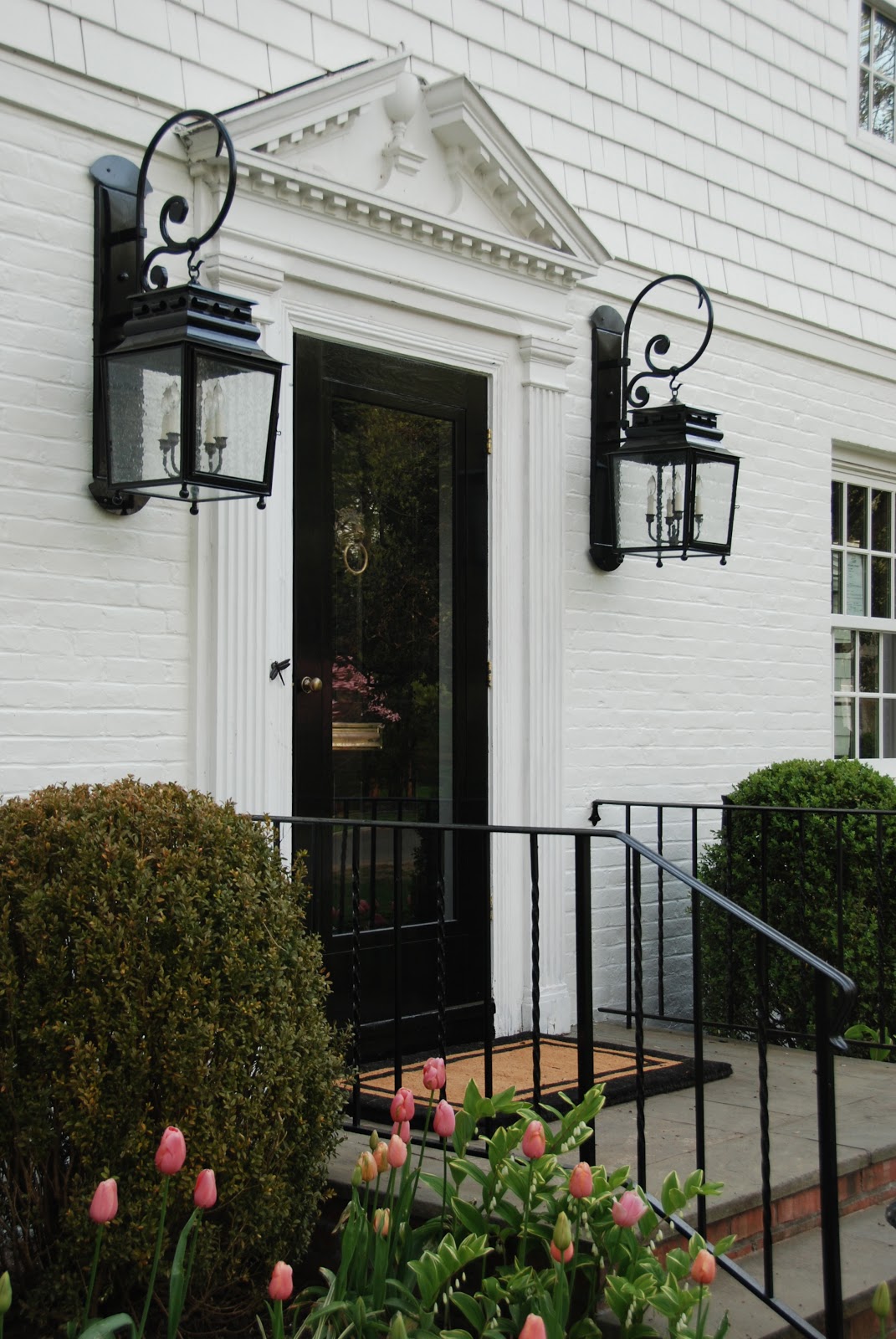 Fall Inspiration: Decor
Autumn Decor Inspiration From Elizabeth/PPT
Originally from Texas, Elizabeth lived in San Francisco, NYC, and Charlotte, before moving to a small town in New York. Elizabeth told us that moving around and living in other areas of the country contributed to her love of home.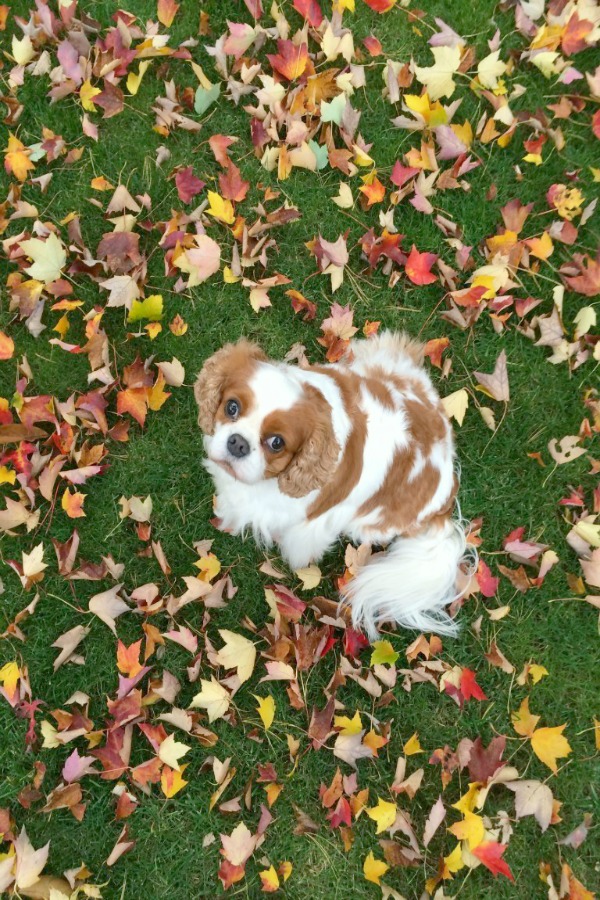 With each move, she sought to create a special and comforting place for her family. So many of us can relate, and indeed, if you are someone who has lived in many different homes, I bet you too are skilled at decorating from all the practice!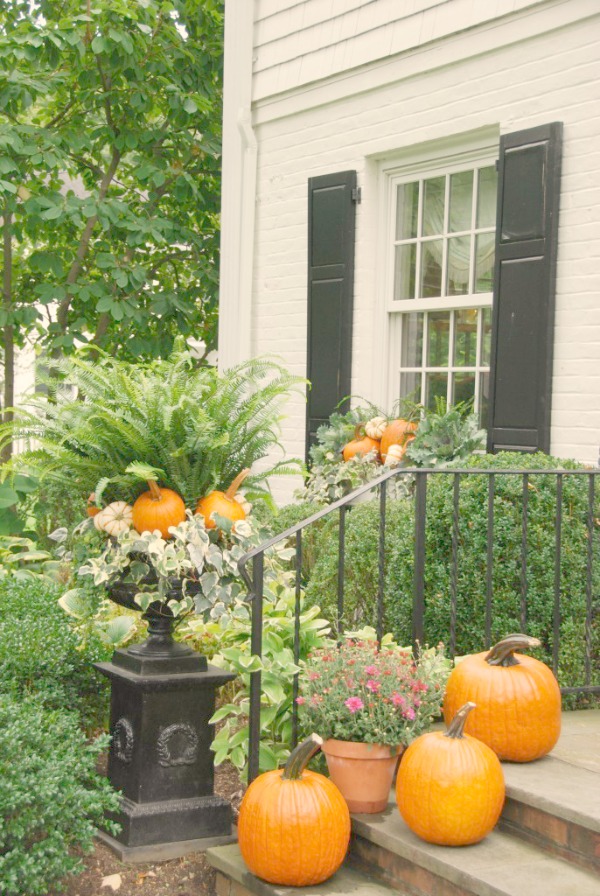 When I think of Elizabeth's blog PPT, I do think of spring and her pink tulips, but when the tulips are asleep in their bulbs, this blogger knows her way around fall's splendor. She adores the season with its vibrant colors and opportunity to deck out her window boxes.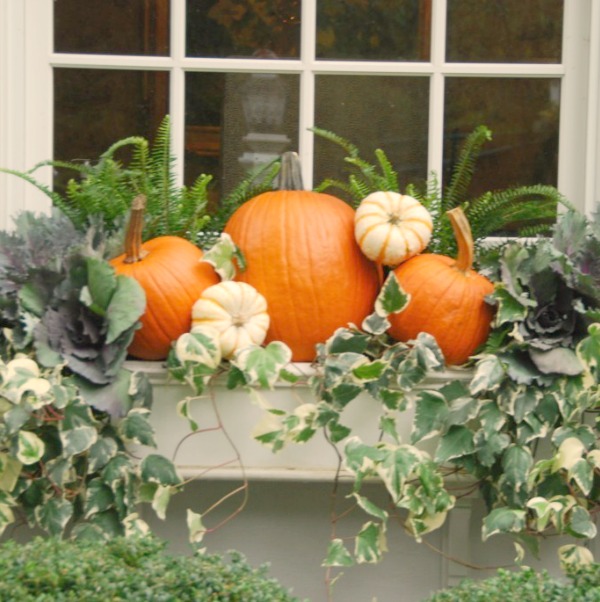 Let's revisit Elizabeth's home and the autumn decor inspiration she shared with us last year at this time!
Fall Planter With Fern – Elizabeth of PPT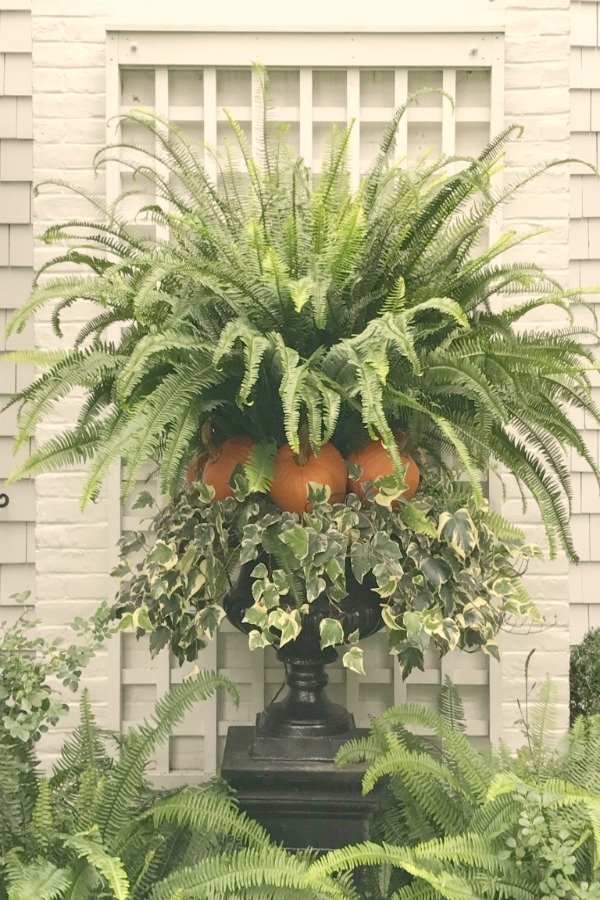 Fall Inspiration: Tablescape
Lovely Fall Tablescape – Elizabeth of PPT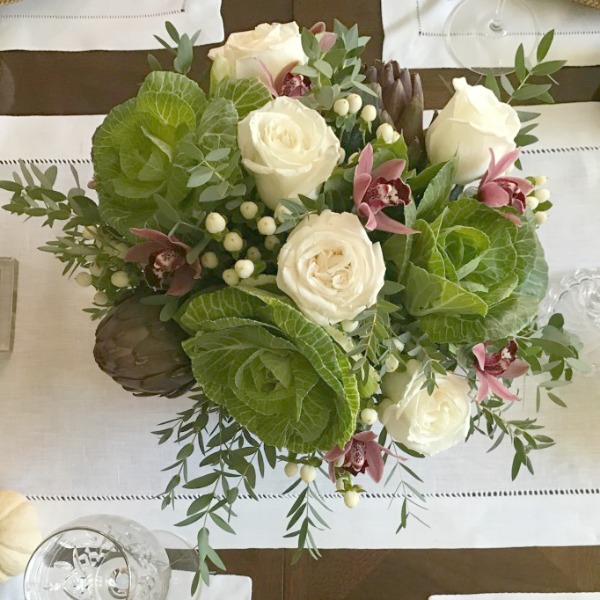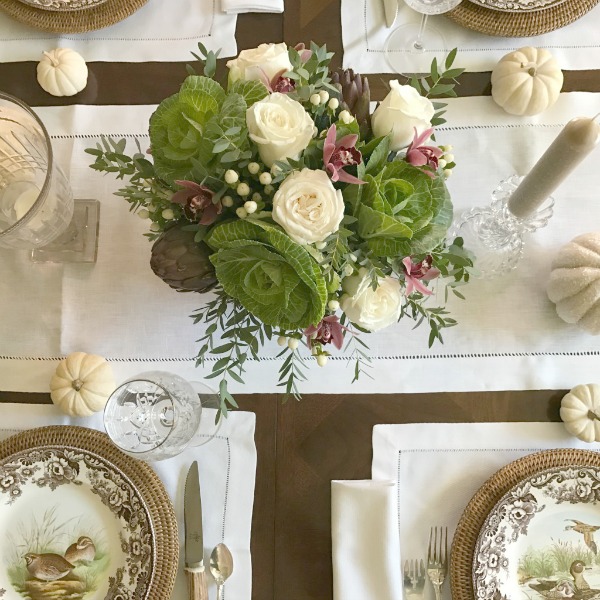 Pretty Fall Placesetting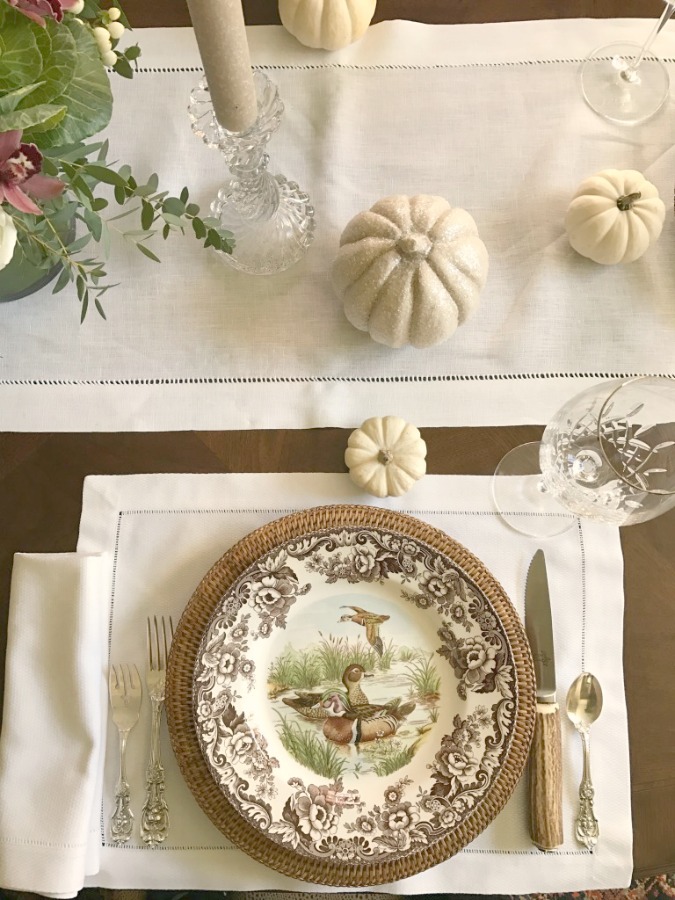 Detail of Fall Floral Centerpiece
I love the willow berries!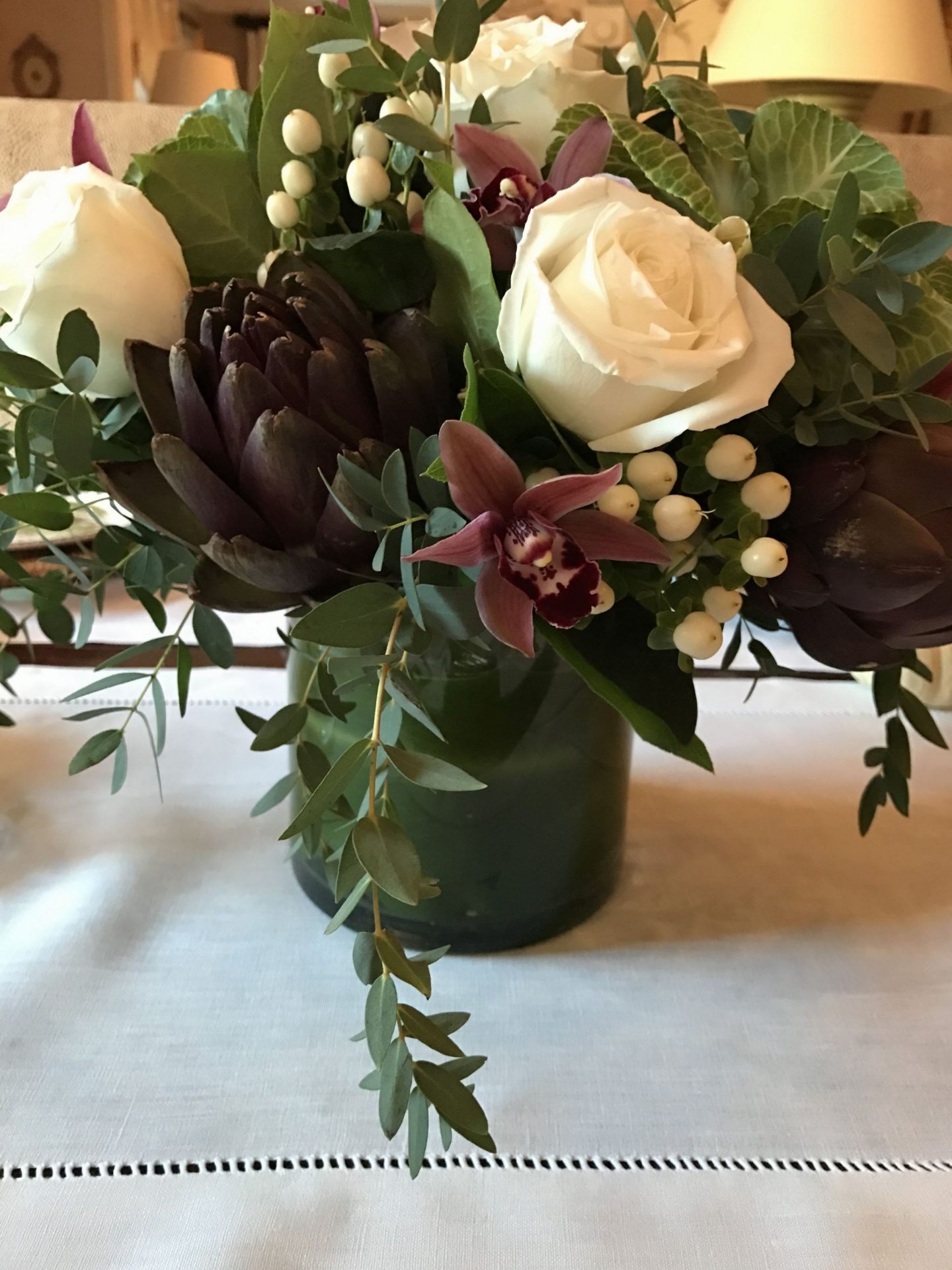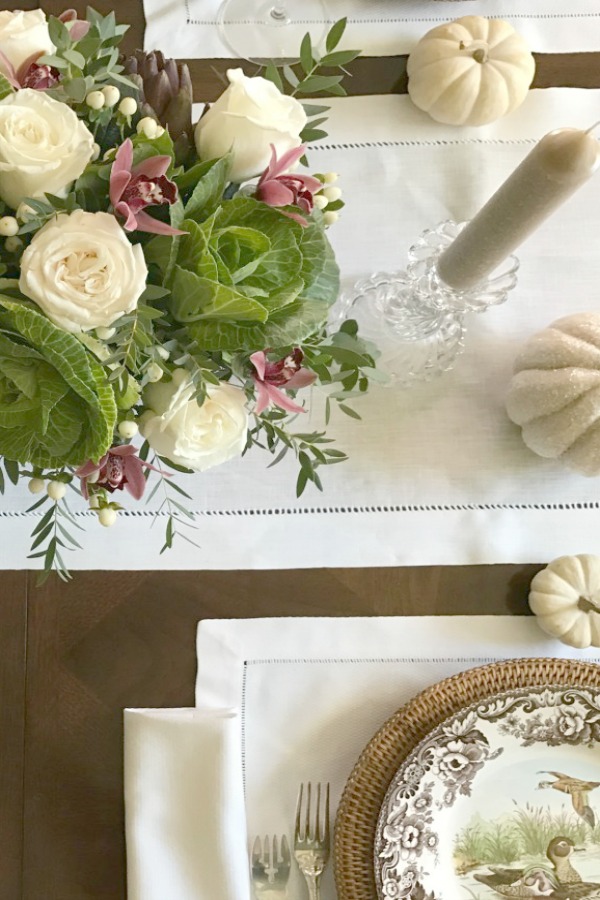 Fall Inspiration: More Decor
Lovely Fall Topiary on Porch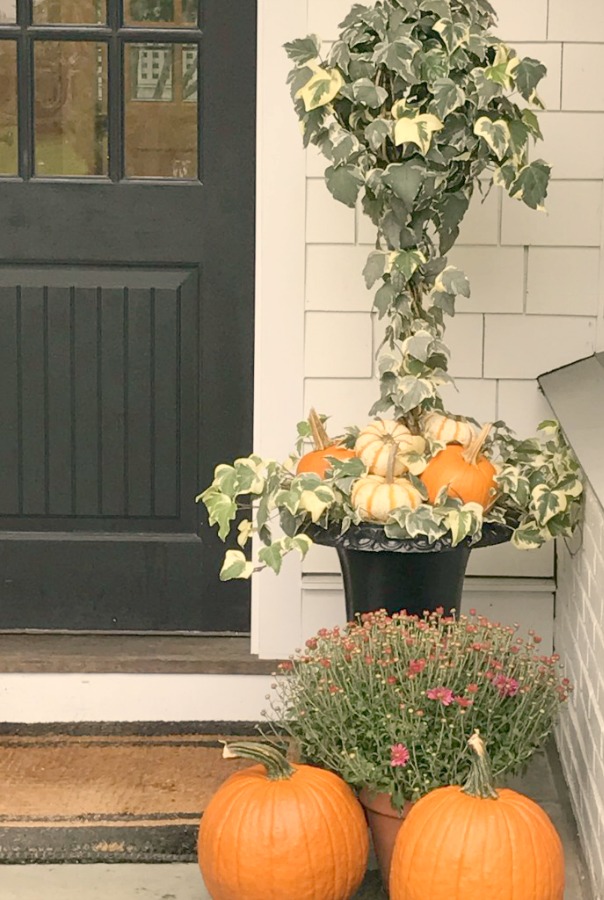 Autumn Decor Inspiration From Elizabeth/PPT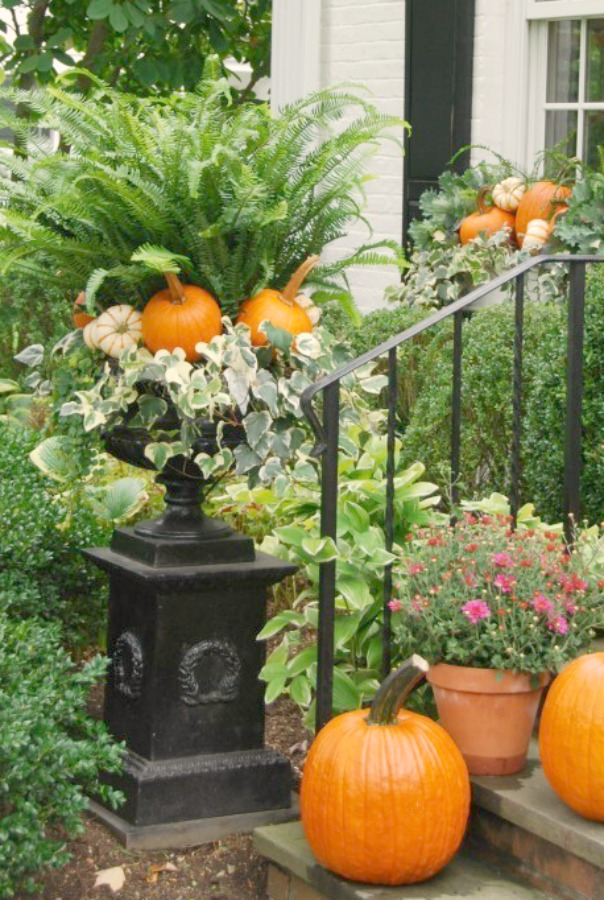 Pooch With Pumpkin-Hued Accents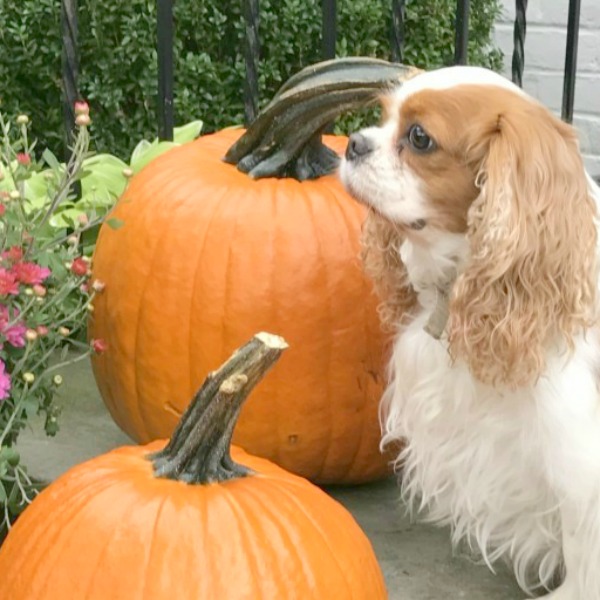 Lovely Fall Window Boxes With Pumpkins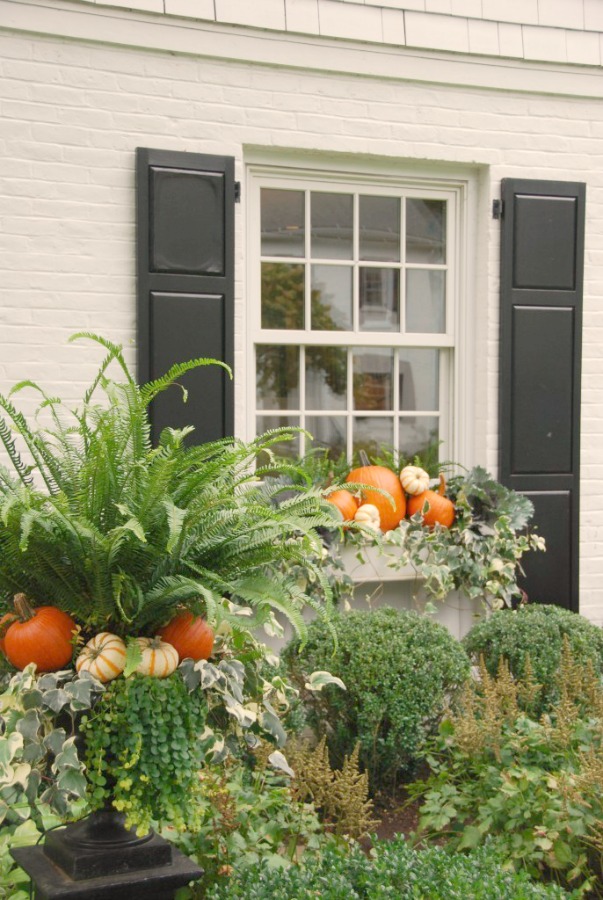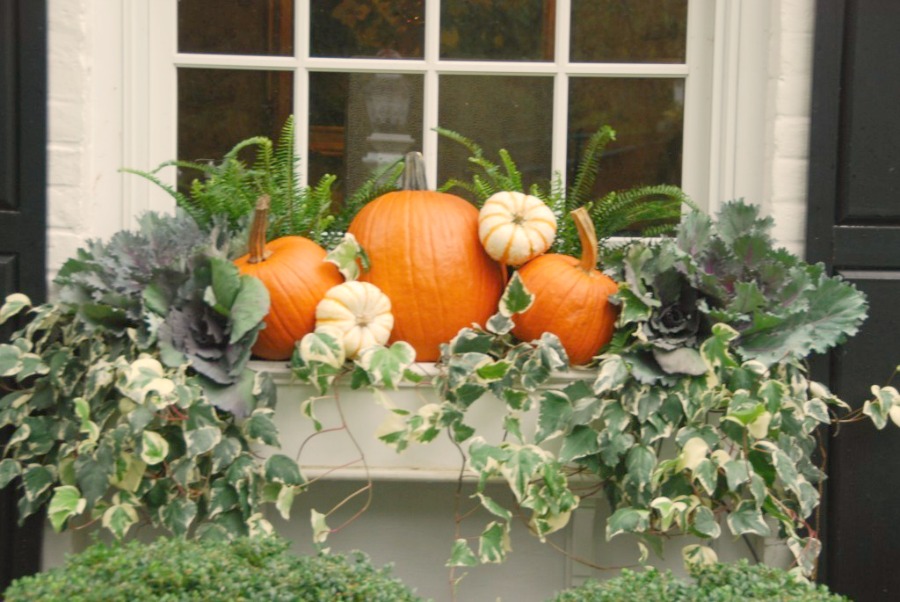 Autumn Outdoor Decor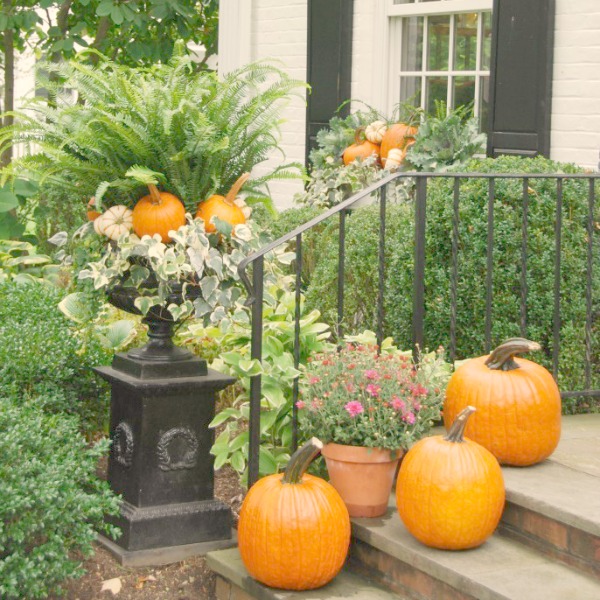 I am taking a cue from Elizabeth and layering simple fall vegetation in my own planters flanking the front door.
How about you?
Have you added touches of autumnal goodness to your entrance or garden?
Be sure to check in with Elizabeth at her site PPT and give her a high five!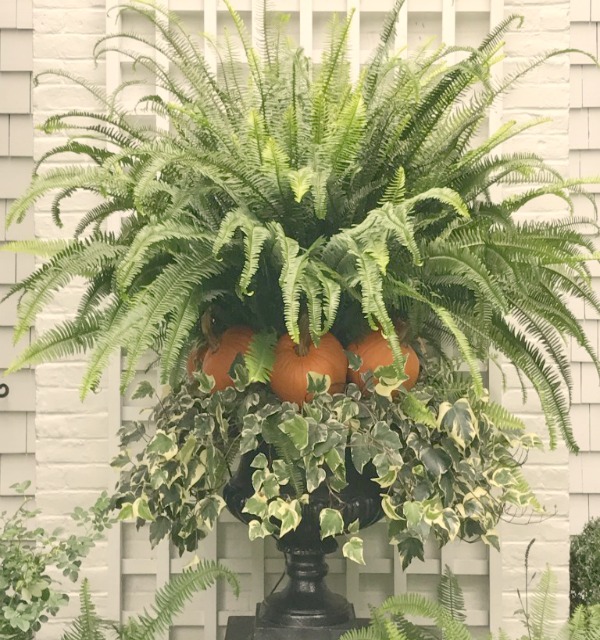 Lovely Fall Inspiration: Recipe
Cinnamon Raisin Bread Pudding in BH&G
I was leafing through a magazine at the doctor's office yesterday and glimpsed what I thought was a beautiful spice cake (Oui, I'm hopeless and cake eating is still far from reality as I continue to jump through hoops to get the GB surgery I need so I can eat food without pain…this experience has been a test of endurance and I am dreaming of a yummy Thanksgiving.)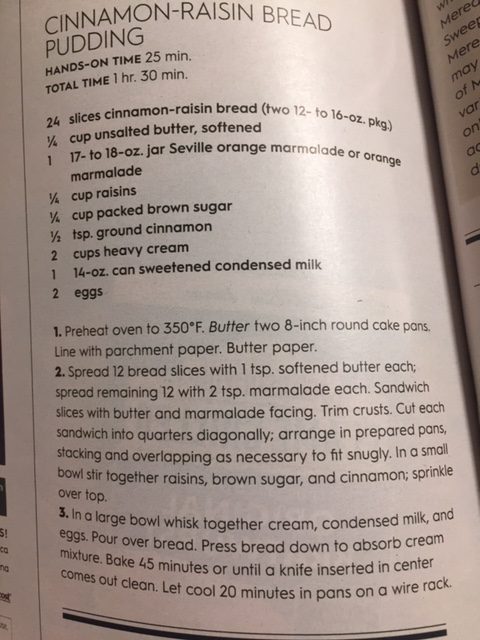 BACK TO SWEETER MATTERS…The layer cake I saw was actually a cinnamon raisin bread pudding (see this recipe in BH&G's October 2018 issue) baked in two round cake pans and stacked. Doesn't this look amazing!?!
Fall Inspiration: DIY Velvet Pumpkins
Anyone else feeling crafty and also ready to create something lovely for fall?
Here's a great tutorial I found for making a velvet pumpkin…if you have a pumpkin patch nearby, a helpful tip from the video is to collect stray pumpkin stems lying on the ground to use for this project.
I plan to get my craft on too and will let you know how it goes. The stems need to dry before you use them for your pumpkin making.
I'm not crazy about using stretchy velvet even though I understand why this type of fabric is suitable for the craft. I want to experiment with some natural fabrics or cotton velvet.
Hope this finds you well and joyfully expectant of the season's change.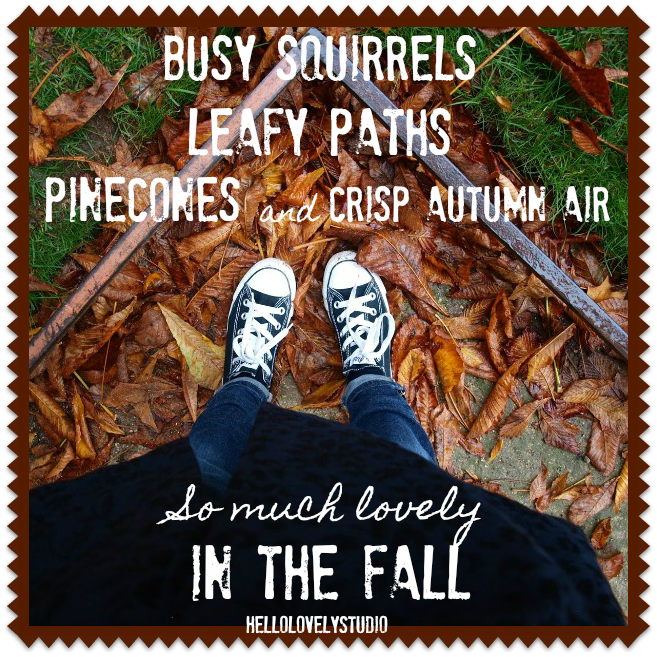 Peace to you right where you are.
-michele
This post contains affiliate links which I hope you will use since they won't cost you a penny extra yet may earn this blog a small commission.
Support Hello Lovely by shopping Amazon RIGHT HERE for anything (not just products mentioned here) to keep the inspiration flowing!
I'm a participant in the Amazon Services LLC Associates Program, an affiliate advertising program designed to provide a means for me to earn fees by linking to Amazon.com and affiliated sites.
Click HERE to find cost conscious furniture and decor for your home too!