A friend's historical 1875 renovated farmhouse in Barrington, Illinois, has so many architecturally magnificent design details to inspire! I'm reviewing a few of them today in case the modern farmhouse look is one you admire or one for which you enjoy collecting or pinning ideas for future reference.
Psst! Please vote for Hello Lovely in the Best Written category – it's the last day of voting HERE!
14 Awesome Modern Farmhouse Design Details
1. Gallery of Windows
This row of windows in an upstairs hall add so much architectural interest, natural light, and beauty to enhance everyday living.
2. Vintage or Deconstructed Furniture
The most pleasing room designs tend to sport a mix of old and new, and sometimes it is simply the suggestion of old that can effectively enliven such a mix. This newly constructed chair (RH) with a deconstructed style is suggestive of a vintage one which has been stripped.
Have you ever dragged home a vintage chair and removed upholstery for a similar look? I have always wanted to try that!
3. Family Photos in the Stairway
It's such a nostalgic gesture, and to modernize a very traditional home decor practice, consider calming the mood with black and white photos to unify them and framing them in a singular style.
4. Black Painted or Stained Stairs
All of the black flooring in this modern farmhouse contribute to its more contemporary style.
5. Think Beyond an Overstuffed White Sofa
So many living rooms in modern farmhouses around the web seem to sport beachy white slipcovered sofas or more feminine designs. This farmhouse living room's masculine leather tufted Chesterfield sofa adds traditional style and a rugged handsomeness which can stand up to years of use and enjoyment.
6. Unexpected Colorful Accents
In an otherwise neutral space, a colorful stained glass window in the mud room serves as a work of art and a happy focal point.
7. Historical Color Nods
The light green custom pistachio paint color chosen for some of the kitchen and pantry cabinets is one which may have been found in an old Vermont farmhouse from another century.
8. Schoolhouse Style Lighting
For schoolhouse style lighting ideas, see THESE OPTIONS.
9. Lantern Style Lighting
For more lantern style lighting and inspiration, see THESE OPTIONS.
10. An Extended View
This home's renovation features a dramatically long hallway. Upon entering the front door, one can see straight through to the backyard.
11. Cedar Siding
The authenticity of real painted cedar siding (as opposed to a cement board or vinyl lookalike) exudes a high-end, built to last, aged appearance which is sure to age beautifully.
12. Substantial Woodwork and Trim
13. Tranquil Paint Colors
The homeowners used two different grays from Benjamin Moore for the first floor. In rooms where there is less natural light or no natural light, it is often preferable to use a lighter shade.
1.
Paint color: BENJAMIN MOORE Stonington Gray
2.
Paint color: BENJAMIN MOORE Platinum Gray
14. Transom Windows
I love the architecture and added light these transoms over the doors leading to the deck add.
This Modern Farmhouse Is For Sale
Location…609 South Grove in beautiful Barrington, IL, is surrounded by well-cared for historical homes. Each shines with a unique identity and point of view. I love how the restored farmhouse is within walking distance of charming downtown Barrington. Walk to wonderful schools, family restaurants, boutiques, and thriving businesses.
Get the Look! Modern Farmhouse Decor Finds & Furniture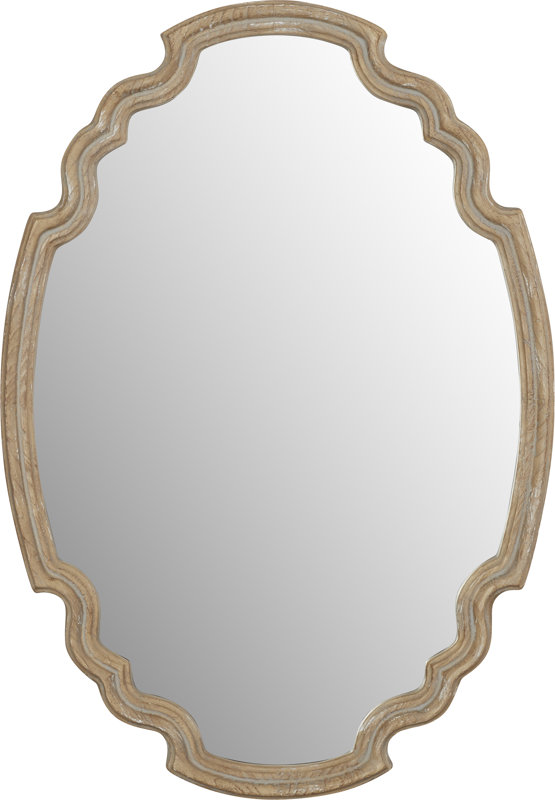 16. Wood Accent Mirror…Farmhouse Style Home Decor Inspiration
Peace to you right where you are.
~michele
I hope you'll vote for Hello Lovely in the Best Written category!
I'm a participant in the Amazon Services LLC Associates Program, an affiliate advertising program designed to provide a means for me to earn fees by linking to Amazon.com and affiliated sites. An easy way to support HELLO LOVELY? Start RIGHT HERE to SHOP for items on Amazon (anything at all – not just products mentioned in the post!) you already intended to buy…it won't cost a penny extra yet may earn this blog a few pennies when my link is the first you click! To see my favorite gorgeous furniture picks, GO HERE.
You'll also find a wealth of friendly priced furniture and decor for your home HERE.
I love helping you add style and function to your home with thoughtfully selected product recommendations. Thanks so much for your support as you use independently chosen links, many of which earn me a commission.