Thought I would update you on my BRCA2 journey
in a gorgeous setting far away…a fantasy destination
we stumbled on in Paris (must stay here someday).
my photo


In the heart of Le Marais stands the loveliest first-class hotel
Pavillon de la Reine.


my photo
| | | |
| --- | --- | --- |
| | | Learn more about a suite I love at this place right here. |
| | | |
Join me in the garden for a chat, won't you?
(i snapped the above shot at Carnavalet)
Let's whisper here about victory.
I made it through the bilateral mastectomy
and reconstruction (NOT a cakewalk).
I do not resemble Angeline Jolie in any sense
except I can now join her in the great relief
of decimating the significant risk of cancer
which has tortured our mothers.
Where is the Pavillon de la Reine?
my photo


Slightly set back from the Place des Vosges.
Just around the corner from the
Place de la Bastille,
Hotels Particulieurs (my fav museums!),
and the shops of the rue des Francs-Bourgeois
(no shopping on the planet like the Marais!).
It is Sunday evening, and I feel pretty dang fierce.
My surgeries were early morning on Thursday.
I went for a walk around the block today.
my photo


Surgical chit chat from my Paris balcony.
Some high drama. Not enough Alloderm (cadaver skin)
for reconstruction, and in case you were wondering, you can't
ask your nurse to make a 7-11 run for a lil' mo skin for a petite fairy
in the middle of surgery. A small miracle…more skin secured.
We are hoping and praying all of my skin survives.
I am so grateful for my surgeons and medical team.
Post-op, I had intense hallucinations, steroidal rage, freeeeeky
side effects of anesthesia, and no sleep until Friday afternoon.
On the upside, my view of the Chicago skyline was rad.
I left the hospital Friday at noon.
There has been no pain (believe it!)
except for migraines from the evil anesthesia.

I am sure I'll be working out and painting again in no time.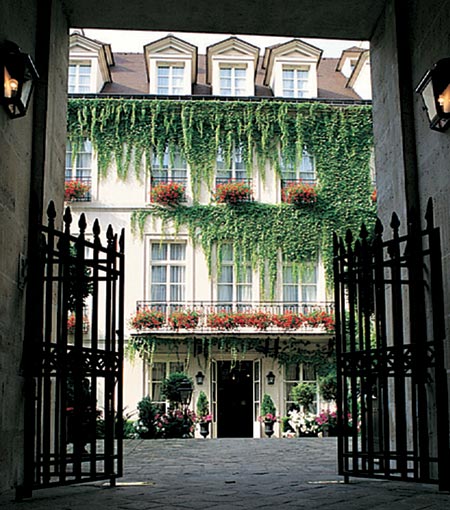 my photo


Ahhhhhhh, Pavillon de la Reine relaxes me.
The journey continues, but today was a
simple lovely day of rest and time with my family
after a challenging chapter…victorious is the mood du jour.
Thank you from the bottom of my heart
(which is serving me quite well)
for all the loving comments and concern.
8 Place des Vosges, 75003 Paris
Telephone: + 33 (0)1 40 29 19 19
Peace to you right where you are.
michele