If staying at a palace in Paris ever appears on your bucket list, the lovely Park Hyatt Paris Vendome will deliver.
My Trip to Paris 2012: Park Hyatt Paris Vendome
We knew it was exclusive. And posh. And fabulous. Yet I could not fully appreciate the Park Hyatt's 'luxury is personal' concept without experiencing it.
Designed by Ed Tuttle, Park Hyatt Paris Vendome is located in the heart of Paris, near the Opera and Place Vendome.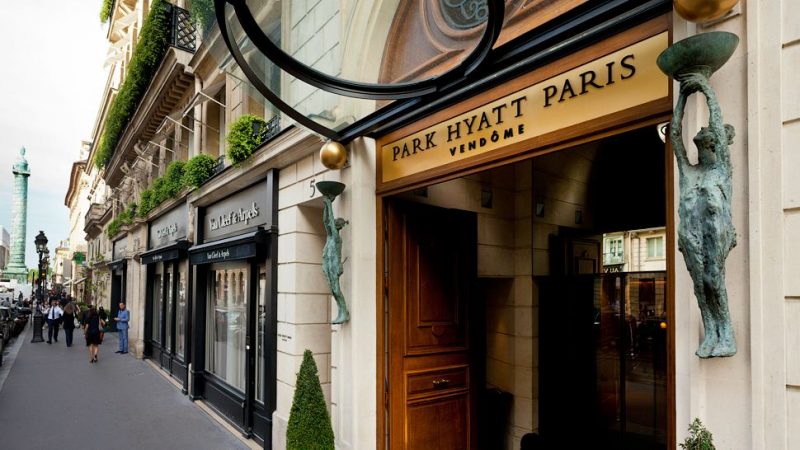 Rude de la Paix
Located on Rue de la Paix (Street of Peace), think truly peaceful comforting retreat awaits
with spa amenities, gourmet dining, and even complimentary bicycles.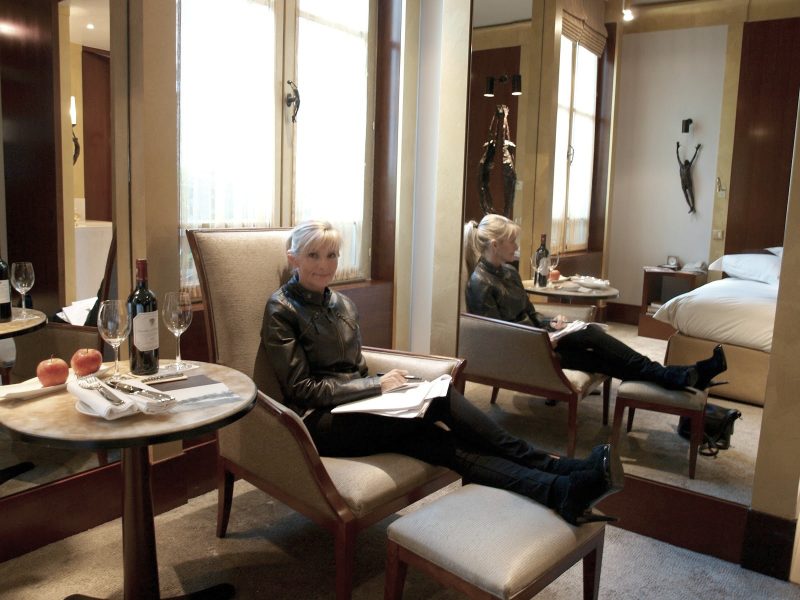 Oh, yes. And the rooms are to die for. All of the furniture is handmade, and the duvets are luxurious silk.
Exquisite Design Details at Park Hyatt Paris Vendome
Polished mahogany walls. Gilded trims. French windows (which we opened frequently to the glorious courtyard).
Bronze sculptures by Roseline Granet adorn sconces and door hardware.
The room was appointed beautifully with electric shades, a comfortable bed, beverage station, and large desk area.
I think it is true God is in the details.
Luxurious Paris Hotel Bathroom
The bathroom spoiled me forever. Heated limestone everywhere, two large sink areas, and a seriously spacious and powerful rain shower and soaking tub.
The Park Hyatt Vendome commissioned bespoke parfumeur Blaise Mautin to develop the signature fragrance of the hotel and toiletries, and I cannot say enough
about their transcendent beauty.
The scent is understated and mysterious. I may even term it the scent of well-being.
Vanilla, tabac, woods and magic combine with other top secret sexy ingredients.
There are lovely hotels in Paris which cost less. When planning our visit, we decided
to splurge on a shorter stay at the Park Hyatt rather than opt for more time at a lesser hotel.
We also knew this particular visit would not center on gastronomy or expensive dining so we put those dollars toward luxe accommodations and lived for a little while like royalty,
making memories for a lifetime.
Courtyard at Park Hyatt Paris Vendome
Each morning, I claimed this area of the bath, and must I even explain the splendor of applying makeup here in natural Paris light with open windows welcoming fresh air and birdsong?
I let my beloved sleep in and took my own sweet time.
Paris Secrets
Re: Secrets
It's Paris! Of course there are a few:
Le spa is one…very romantic spa, and I loved every bit of the complimentary luxuriating.
Blaise Mautin is another…these signature products are available only for a few hotels. If you care to take it home, you can purchase a room spray or candle from the front desk only.
Les Orchidees (which I will blog more about soon) is an incredible spot for an elegant breakfast
or lunch, allowing you to experience a measure of PH magic even if you are not a hotel guest.
If you google the hotel, you will see it is a favorite of many celebrities and lil' ol' not-ready-for-Hollywood-but-still-fabulous writers like your friend here.
Park Hyatt Vendome
5 Rue de la Paix
Paris 75002
+33 1 5871 1234
* * * * *
Peace to you right where you are.
~michele