It is clear London-based designer Beata Heuman enjoyed a rich childhood in Sweden since wonder is so alive and breathing within her colorful designs. After watching a YouTube tour of her lovely Swedish farmhouse, I was smitten with the work and was anxious to see more. What magic awaited! This is not one of those 'get the look' posts. Hahahaha. It's nearly impossible to duplicate her Studio's high end bespoke designs, though one can order furniture, fabric, wallpaper, hardware, lighting and rugs from her shop. Enjoy glimpses of Beata Heuman interiors which shimmer with quirky English style, poetic Swedish whimsy, and artful refinement with a wink. (Also don't miss my playful mood board at the finish line!)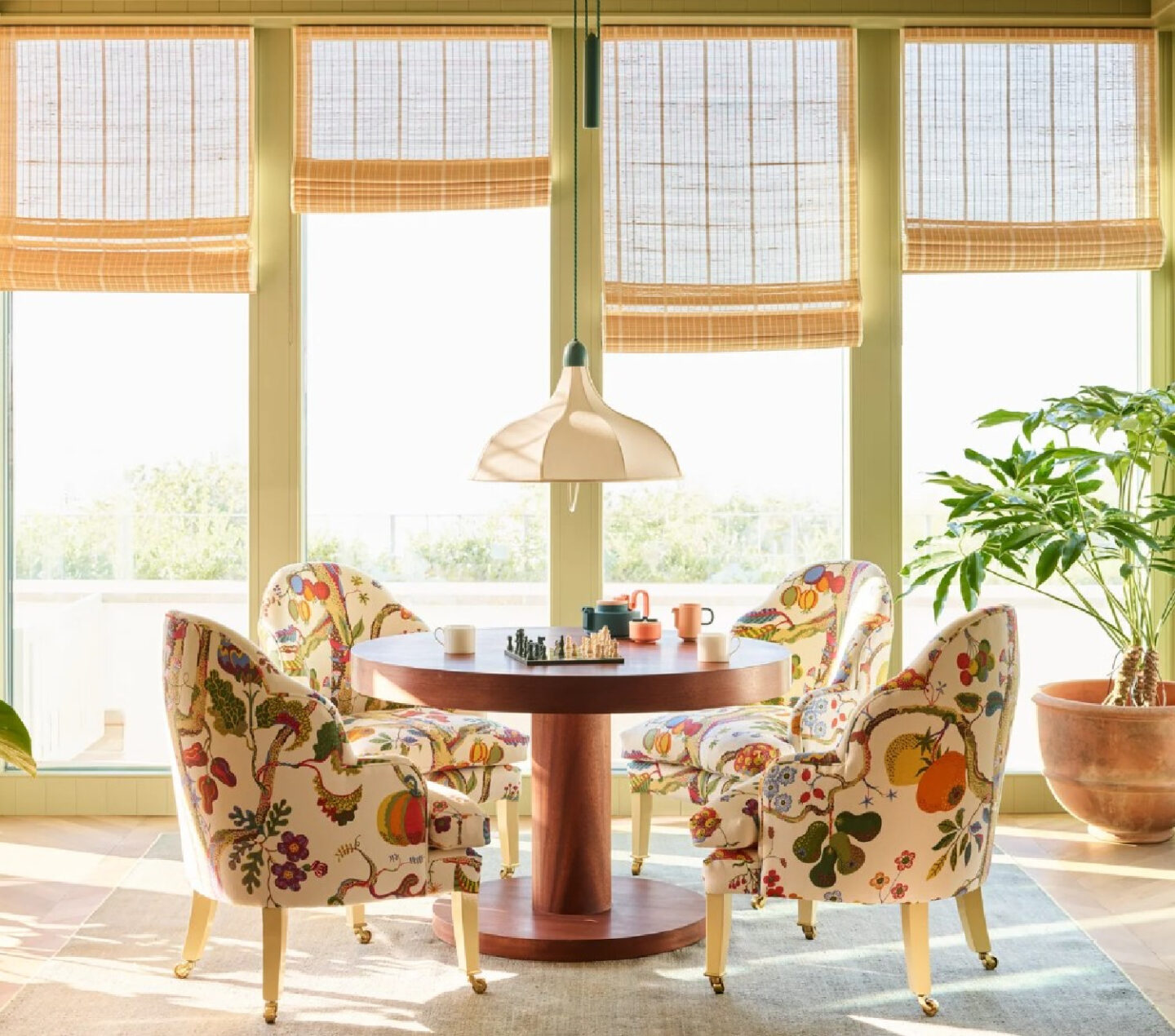 Beata Heuman Interiors
Photos: Simon Brown & Robert Rieger
Swedish Whimsy Meets Quirky English Style
Aren't the best colors and design styles the ones you can't possibly reduce to a couple of words? These beautiful custom interiors speak for themselves so my descriptive commentary is bound to fall short.
Beata says it best: EVERY ROOM SHOULD SING.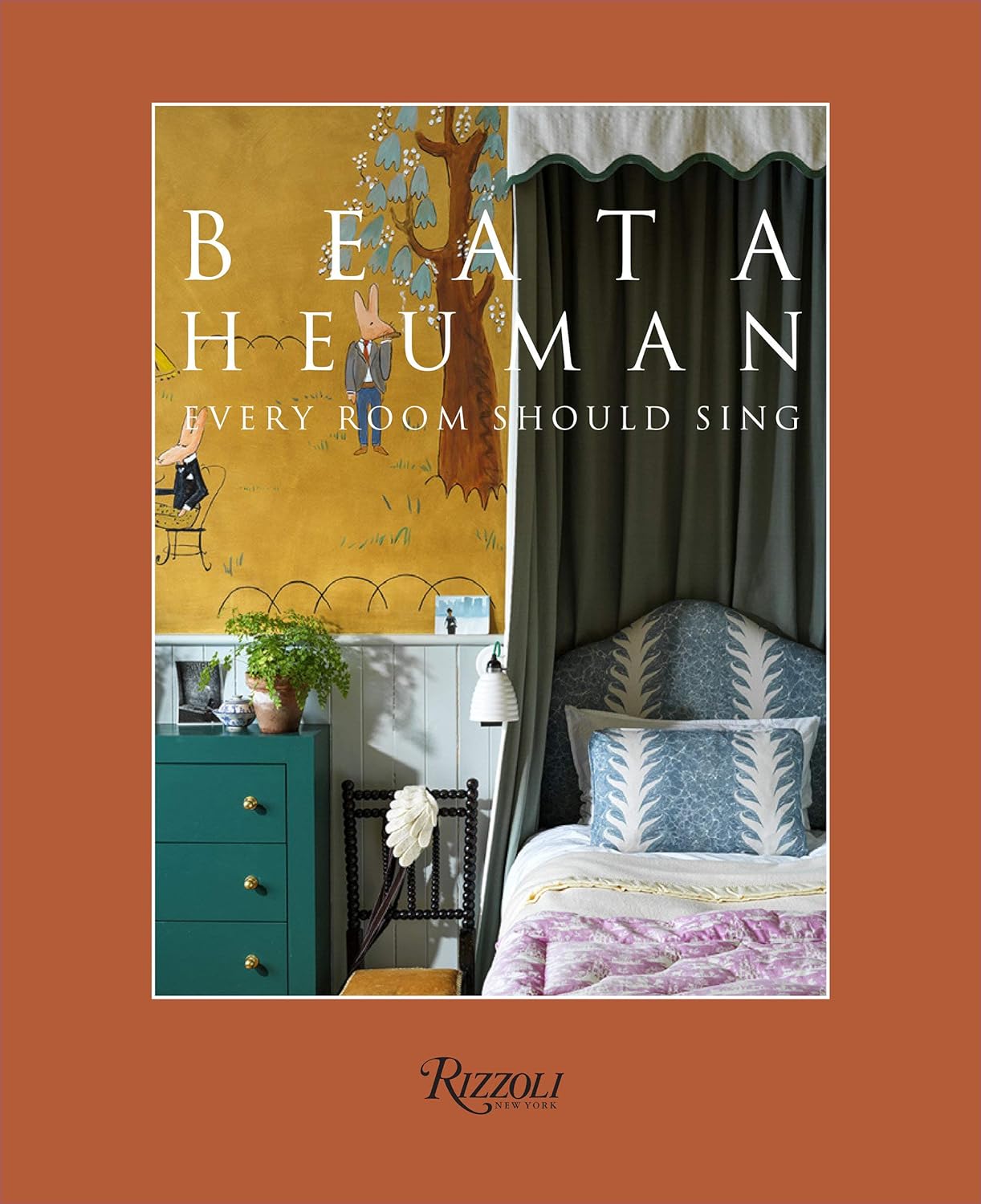 When you listen to the designer talk about the work, it suddenly becomes clear why it can't be pinned down…she's just not going to be limit the work to a set of design rules when a world of lyrical forms and melodic moods dance in her imagination.
Oh, my that ceiling!!!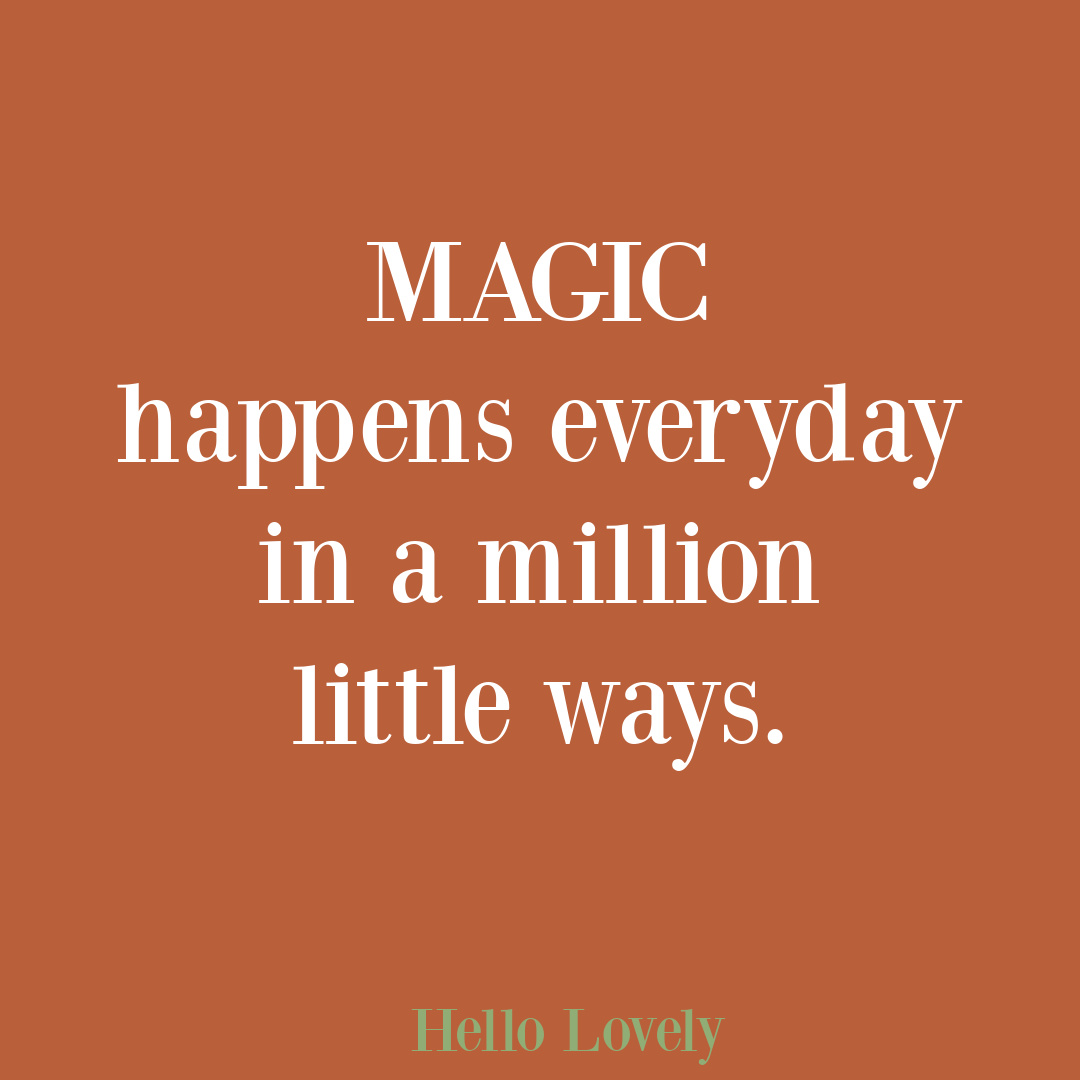 Beata Heuman Interiors
"People are too serious about interior design: You can have fun, or you follow all these rules that don't matter much.'' – Beata Heuman in AD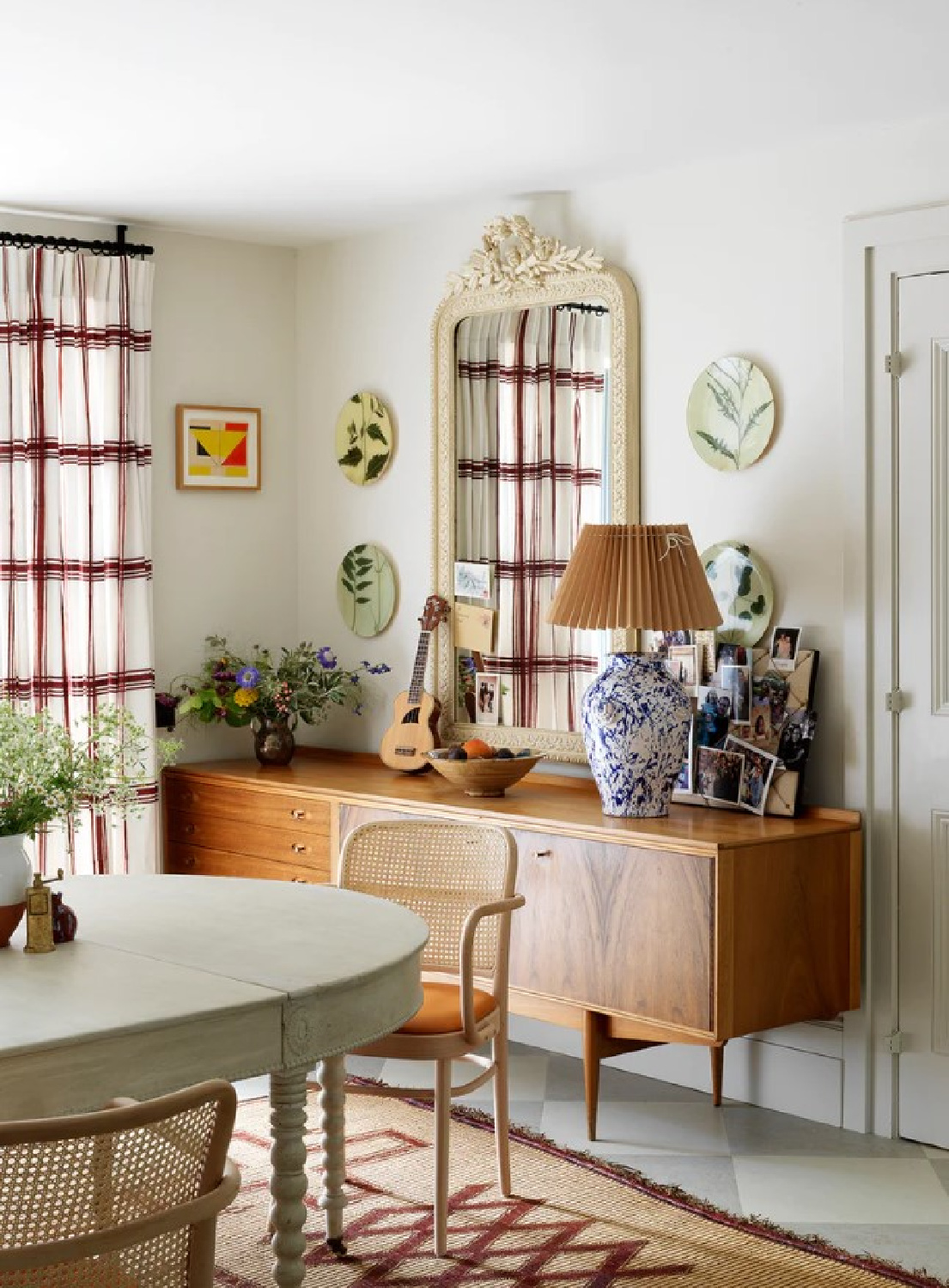 Above: The designer's love of traditional check patterned floors surfaces in multiple projects!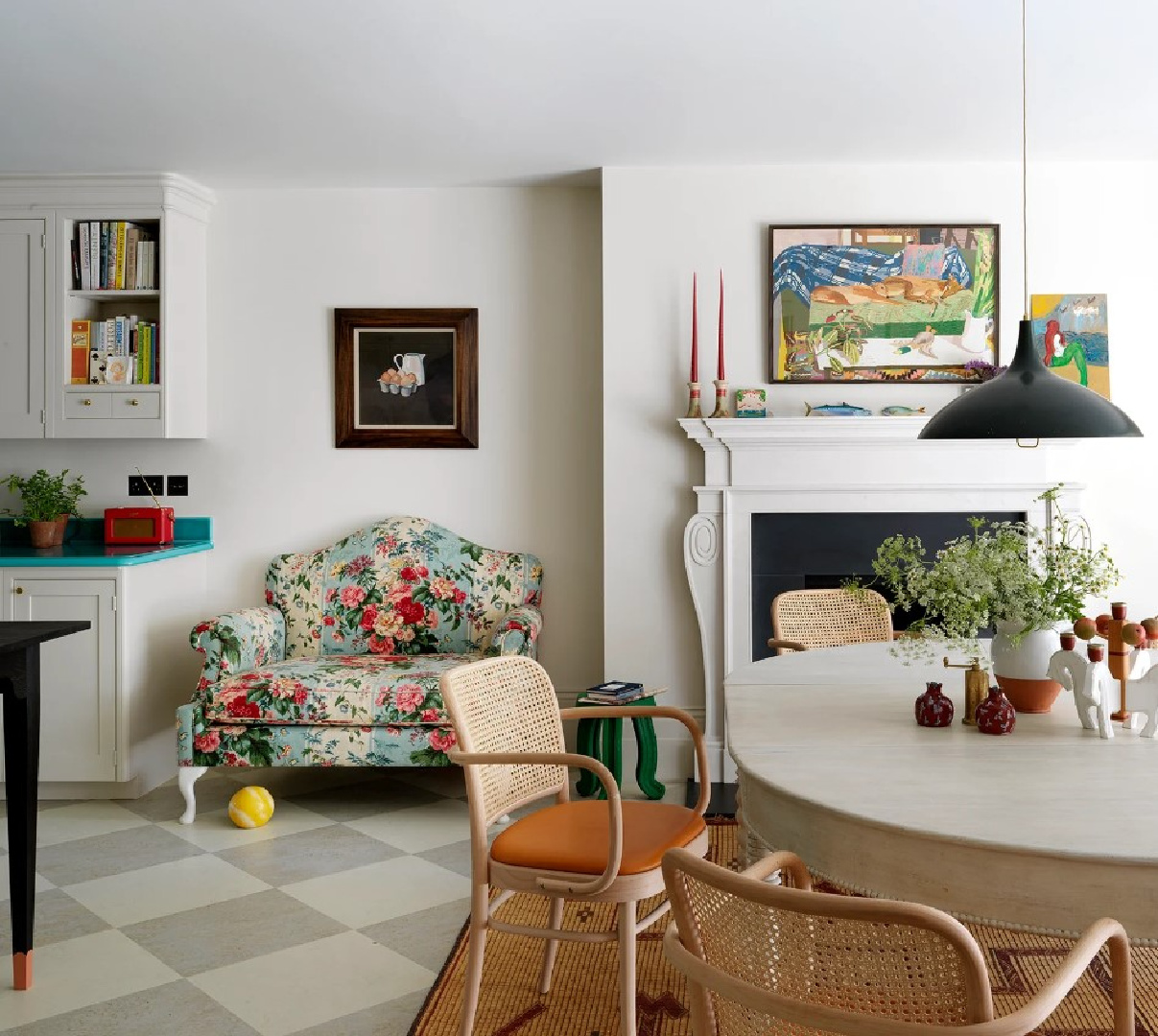 Isn't the little floral settee (above) designed by Heuman darling? Grown up forms with child-size proportions create a carefree energy that invite wonder…even her kitchens embrace such joy: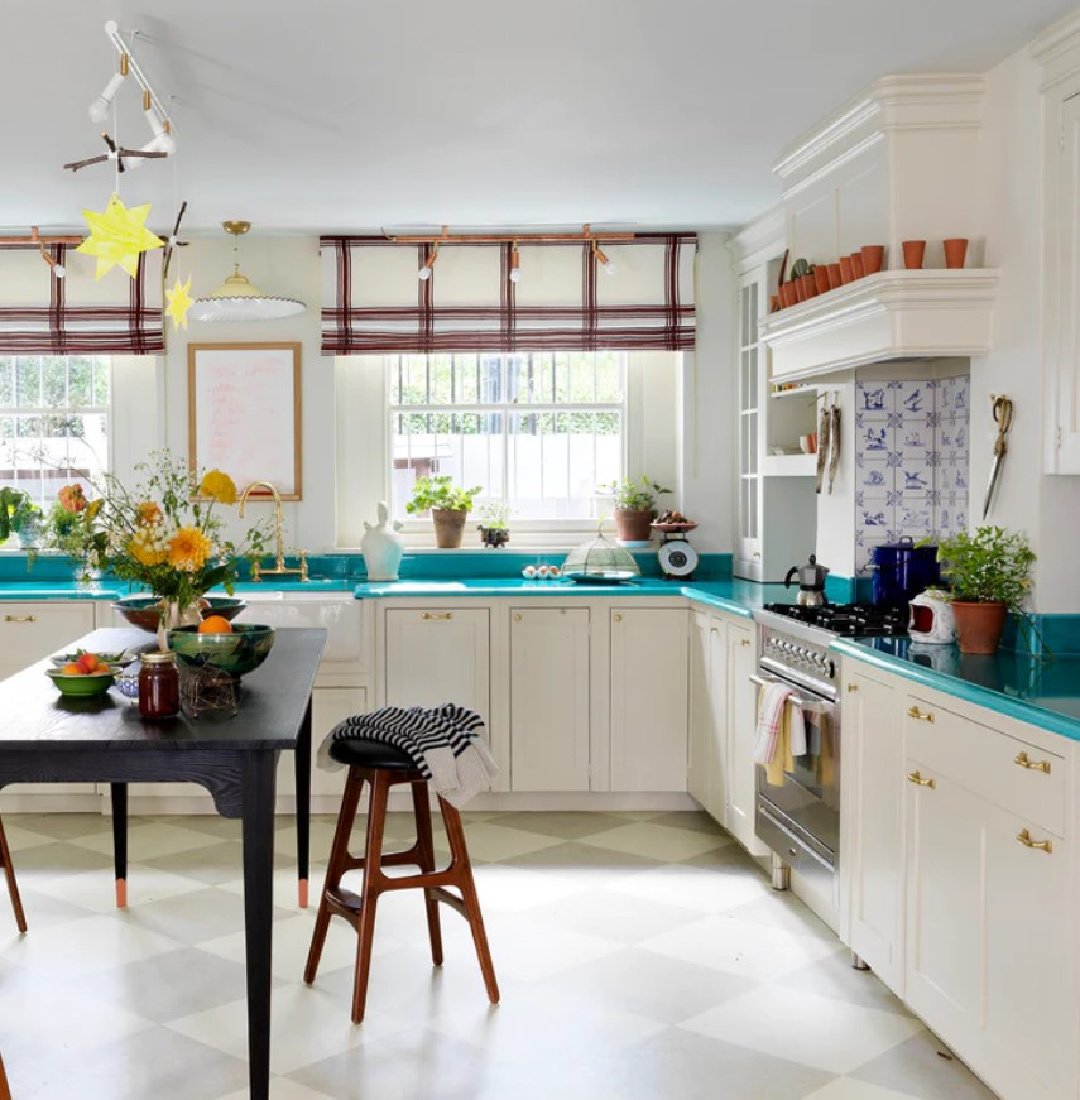 Above: It's a newly built kitchen, but doesn't it appear to have always been there?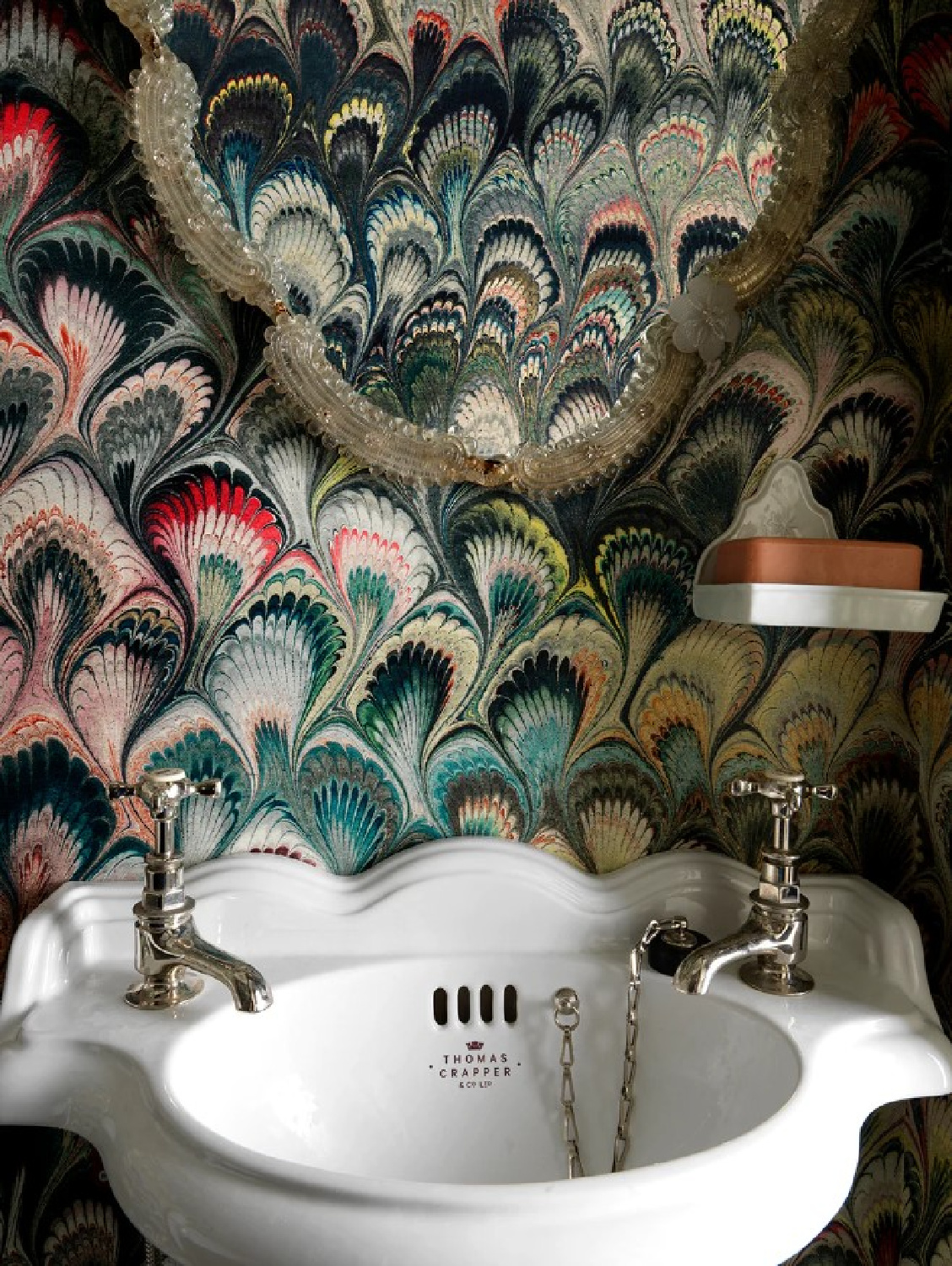 Playfully Decorated Bespoke Rooms
Believe it or not, this beautiful interior below with the boarded walls and chevron floor is in a newly built home!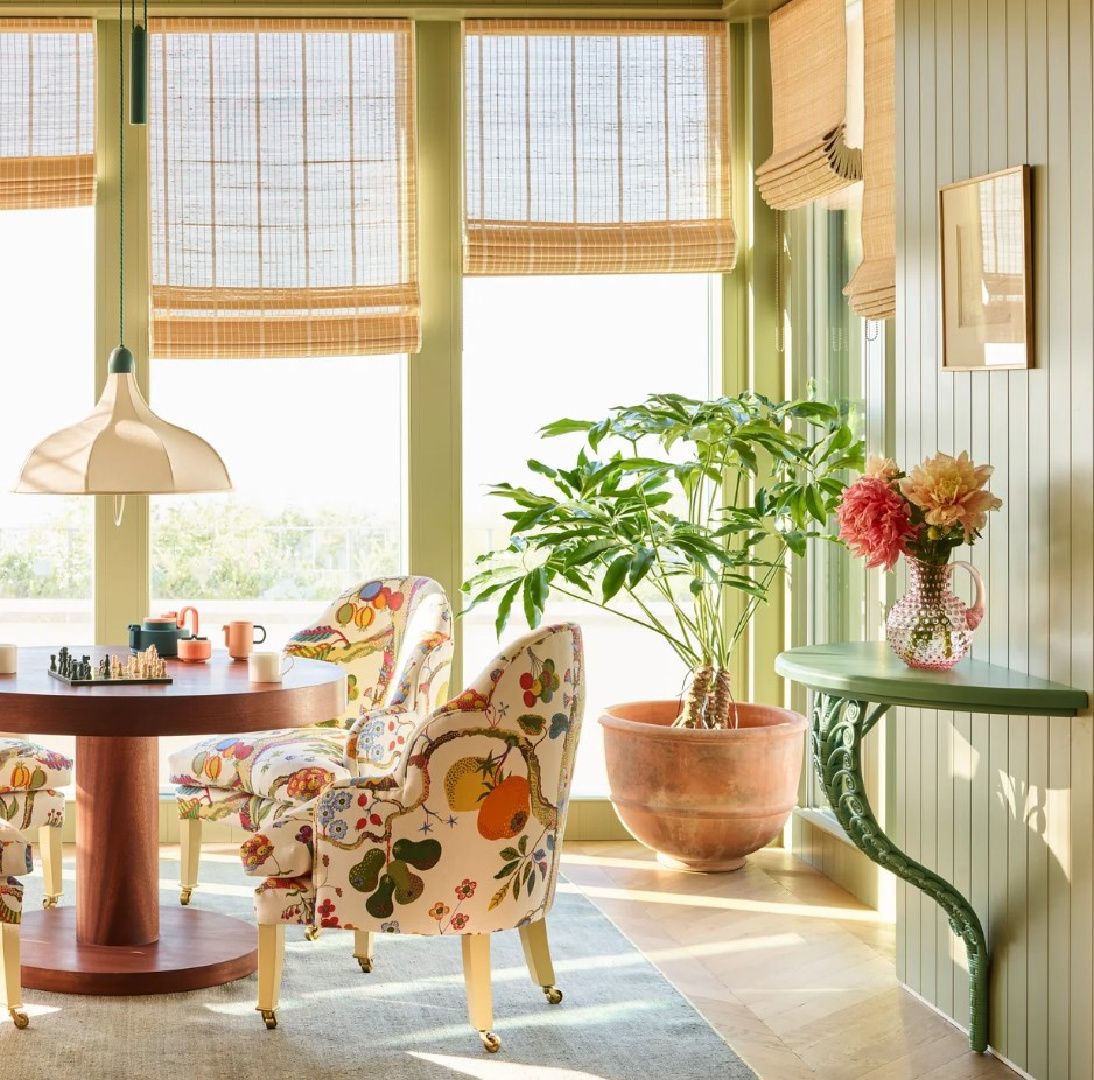 Below: So much whimsy…and even a bedroom's headboard can feel chic while also being an expression of playfulness.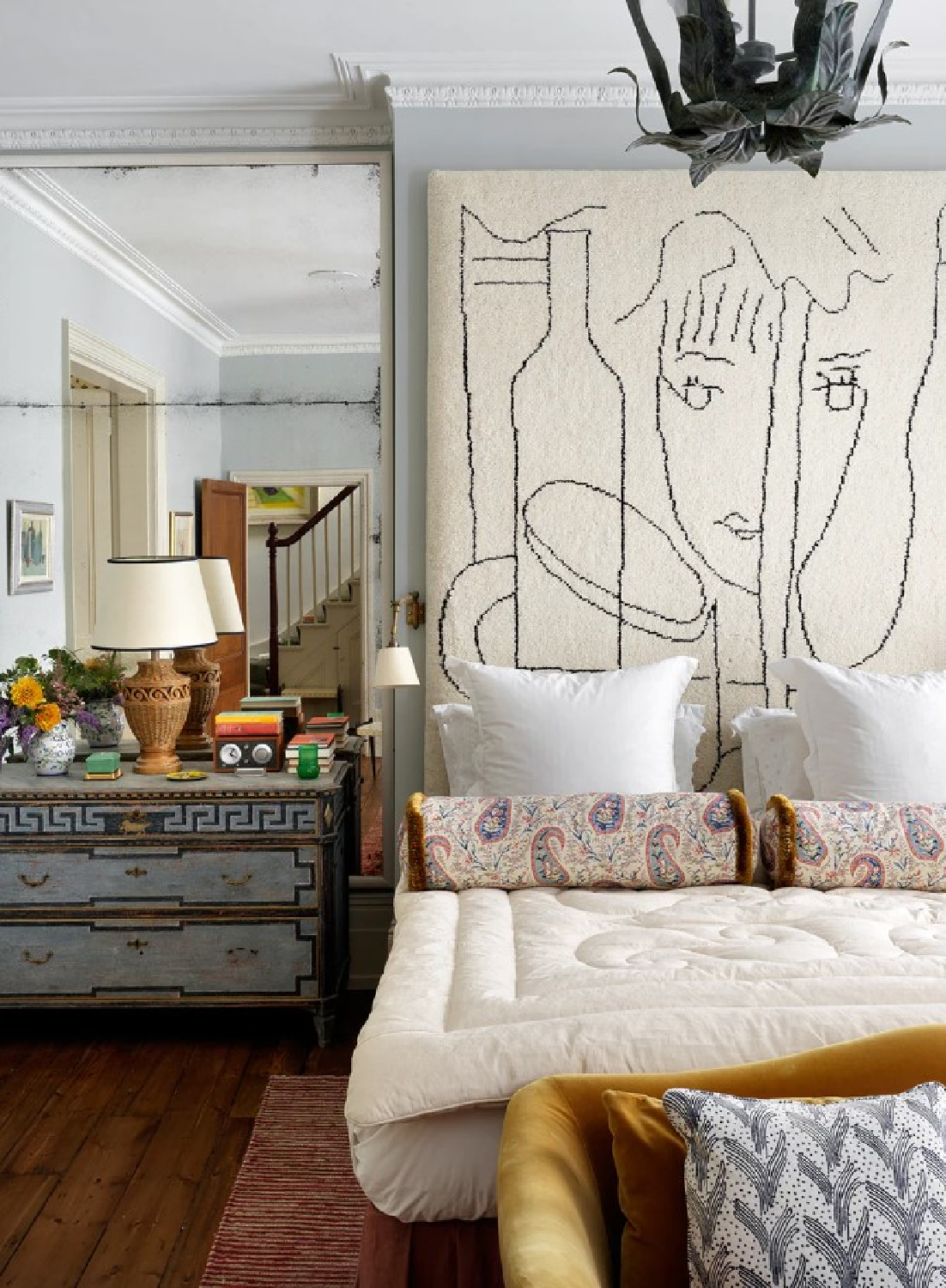 Tour Beata Heuman's Riverside Home
It's a colorful home full of surprises, collected treasures, pieces she designed, and a sense of free-spirited expression.
I bet you'll fall in love with the boldly hand-painted walls in the children's bedroom!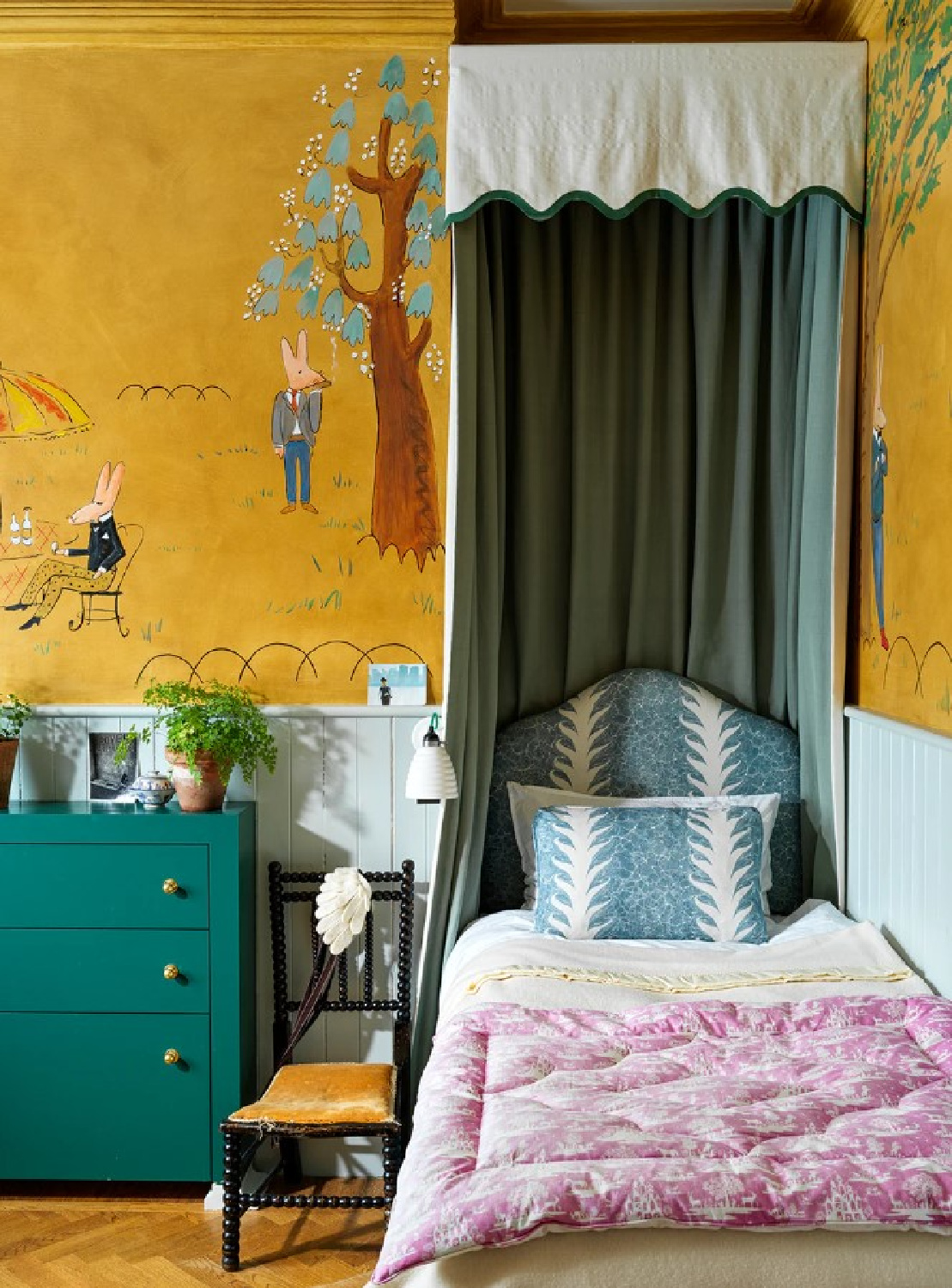 Beata was inspired by Bemelmans bar at the Carlyle in New York and Ludwig Bemelmans (author and illustrator of the Madeline book series) murals grazing the walls. It inspired the design for her children's room: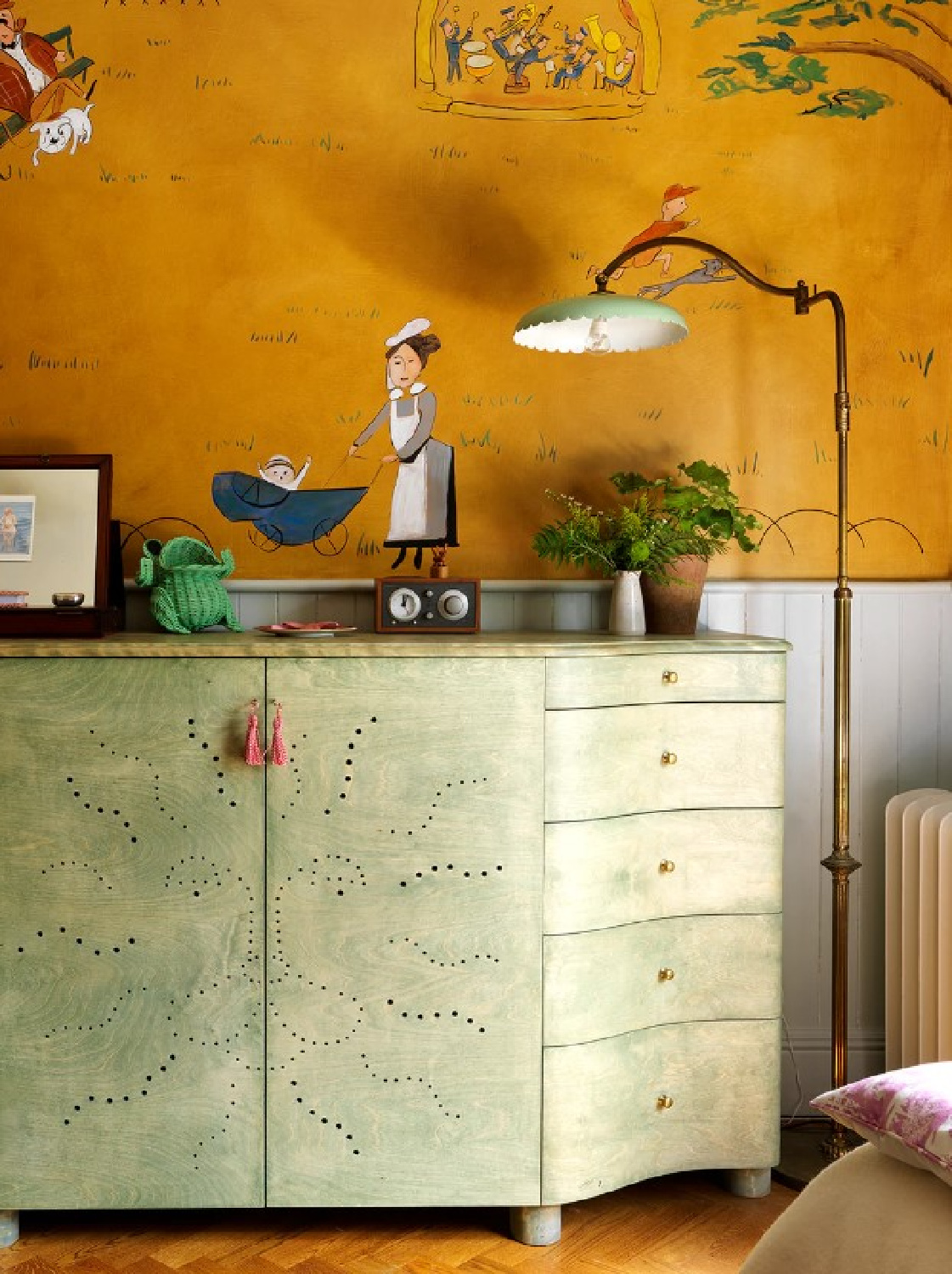 She loves how the seemingly childlike motif depicts very grown-up yet whimsical scenes of martini drinking. The meeting of these two different worlds inspired her.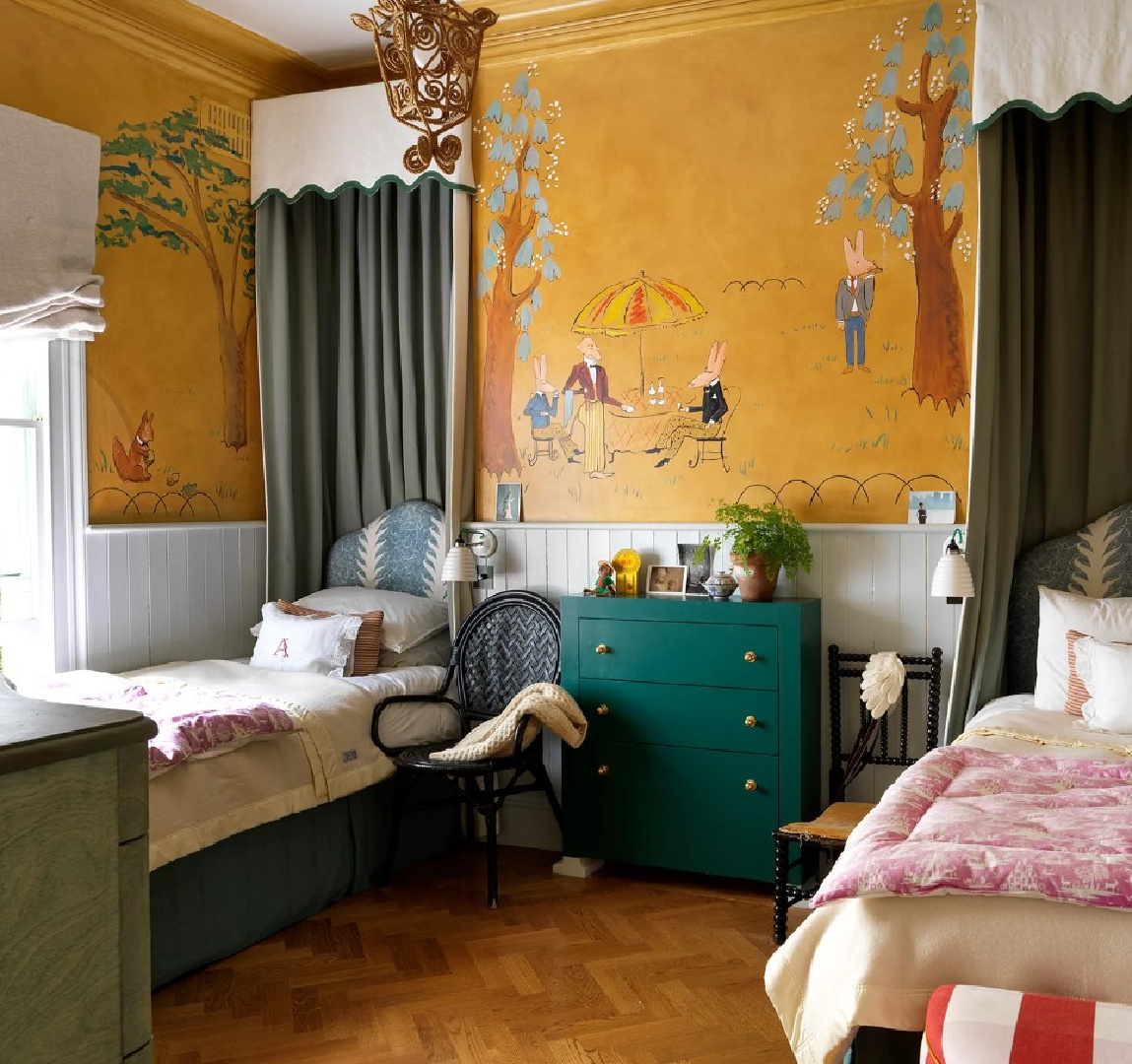 You'll notice such tension created by pieces she designs as well. The bespoke chest above appears somewhat traditional until you notice it has interesting surreal feet.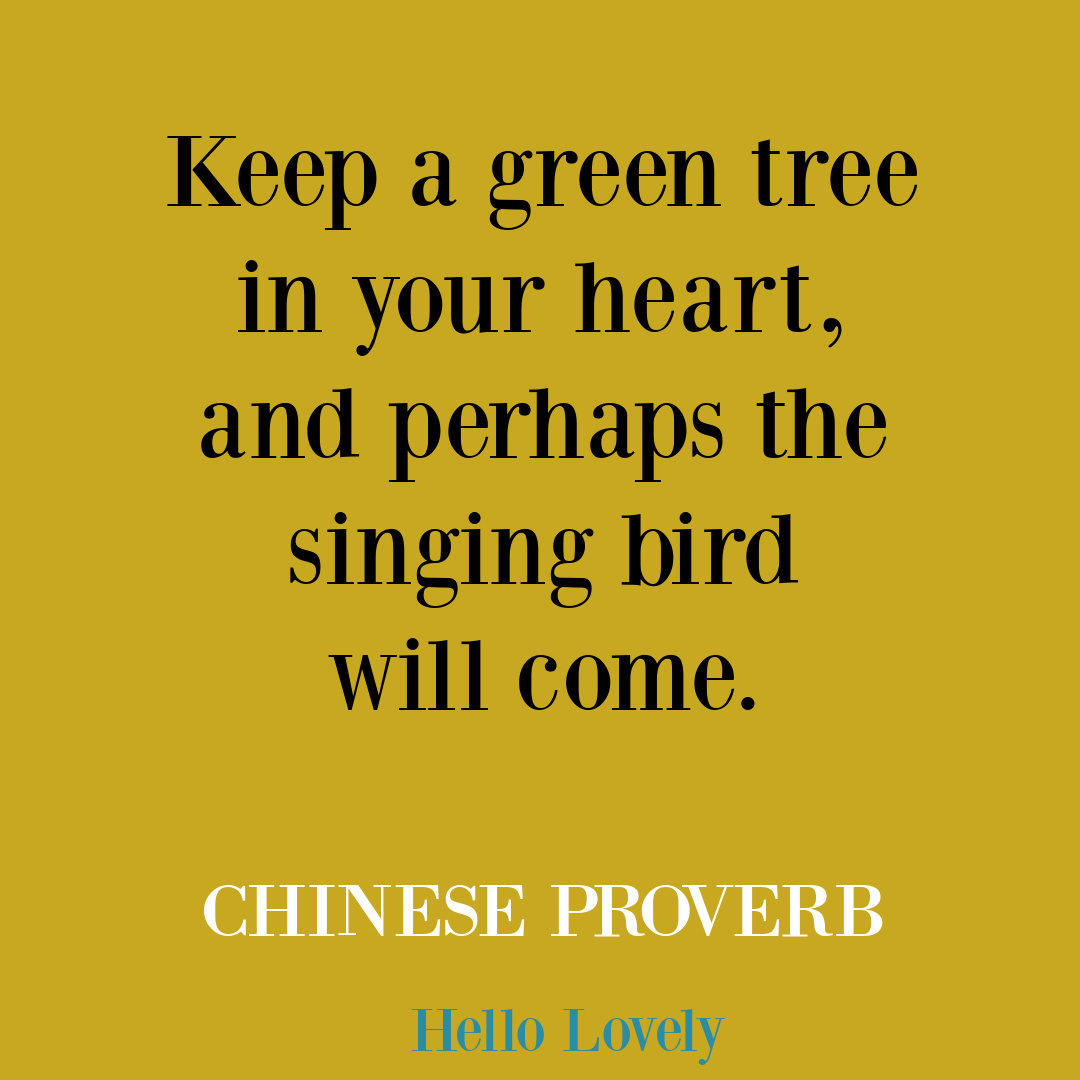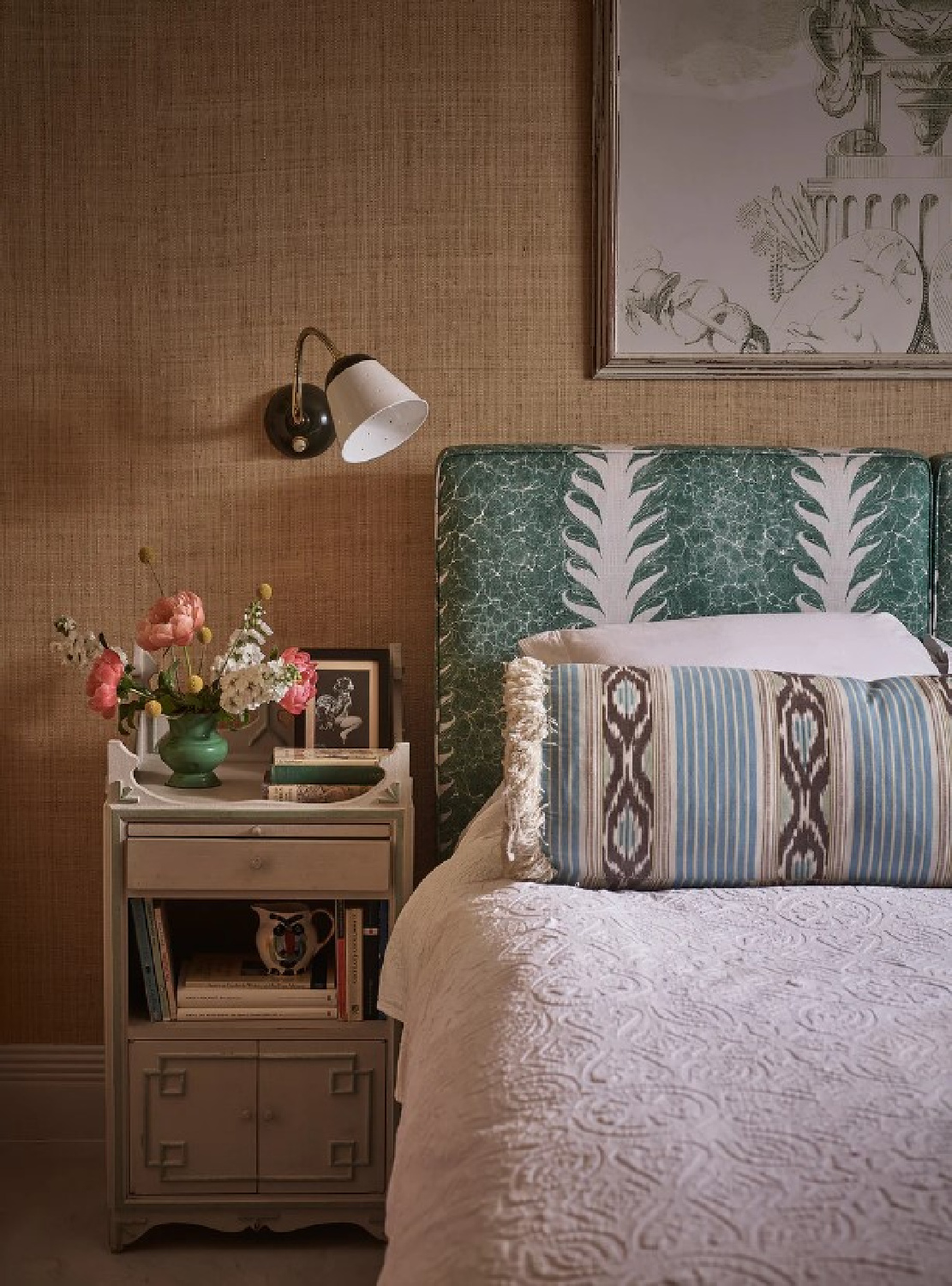 Just when you think you understand the zig in one of her designs, a zag comes into focus.
Isn't it interesting how the marble tile was stopped short of the ceiling? And do you love the Beata Heuman designed brass Dodo Egg Lantern in the space?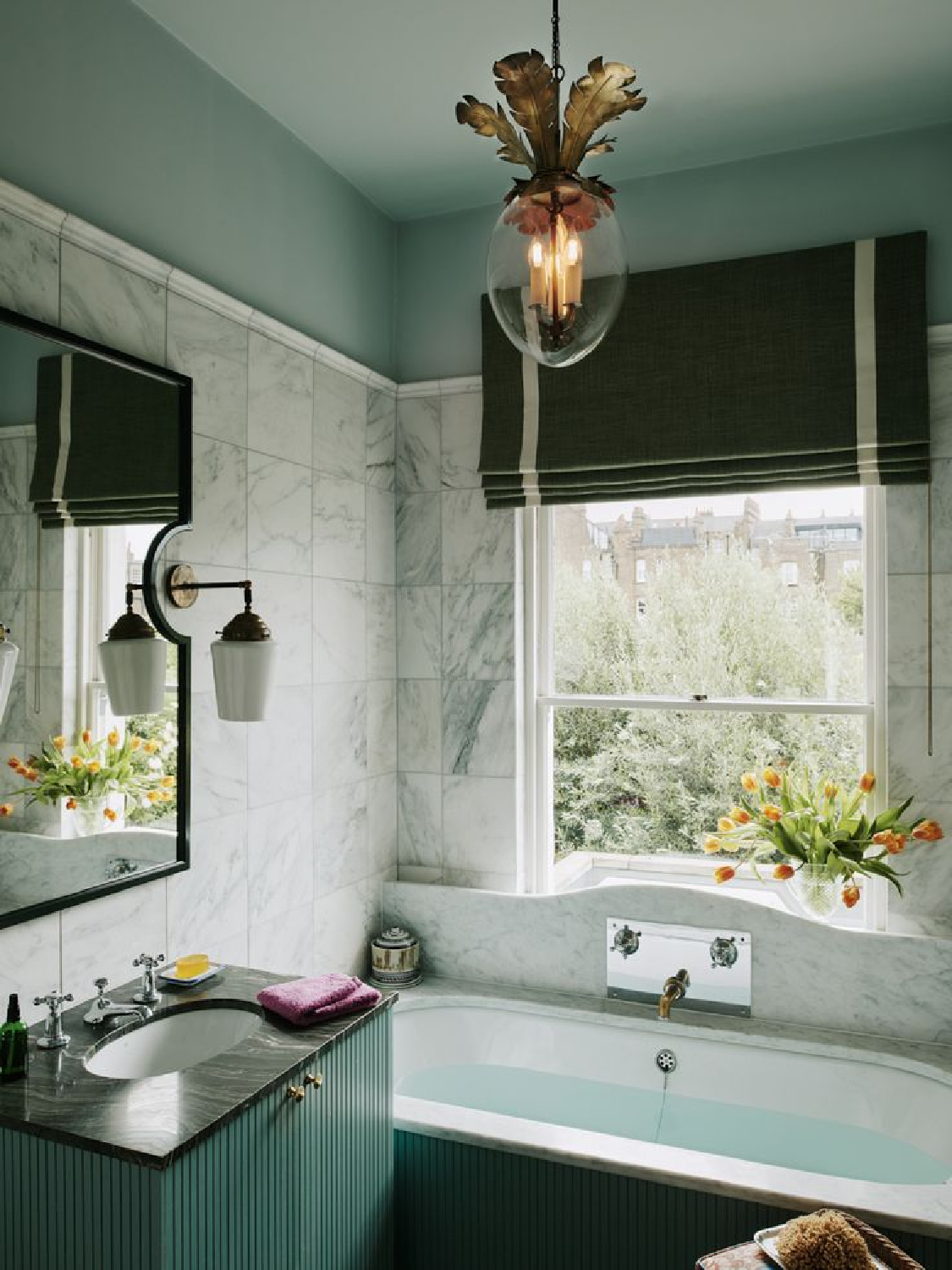 In another bath in her home, an amazing wallcovering (Willow Ink) inspired by a sugar bowl elevates what was once a not-so-pleasant room.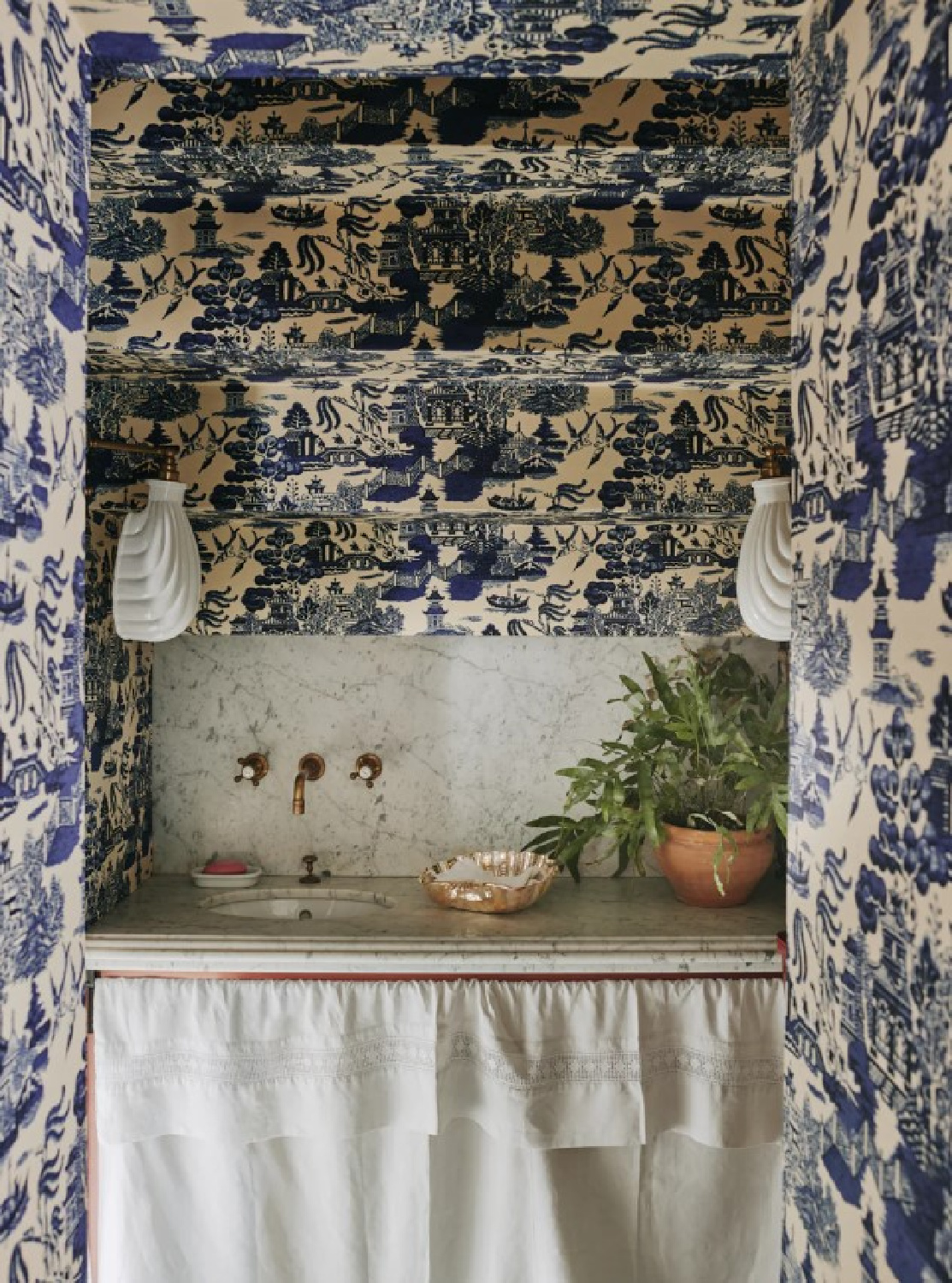 When Beata bought the house, the space under the front steps was cold, dark and damp. The only access was from the outside as an old coal storage.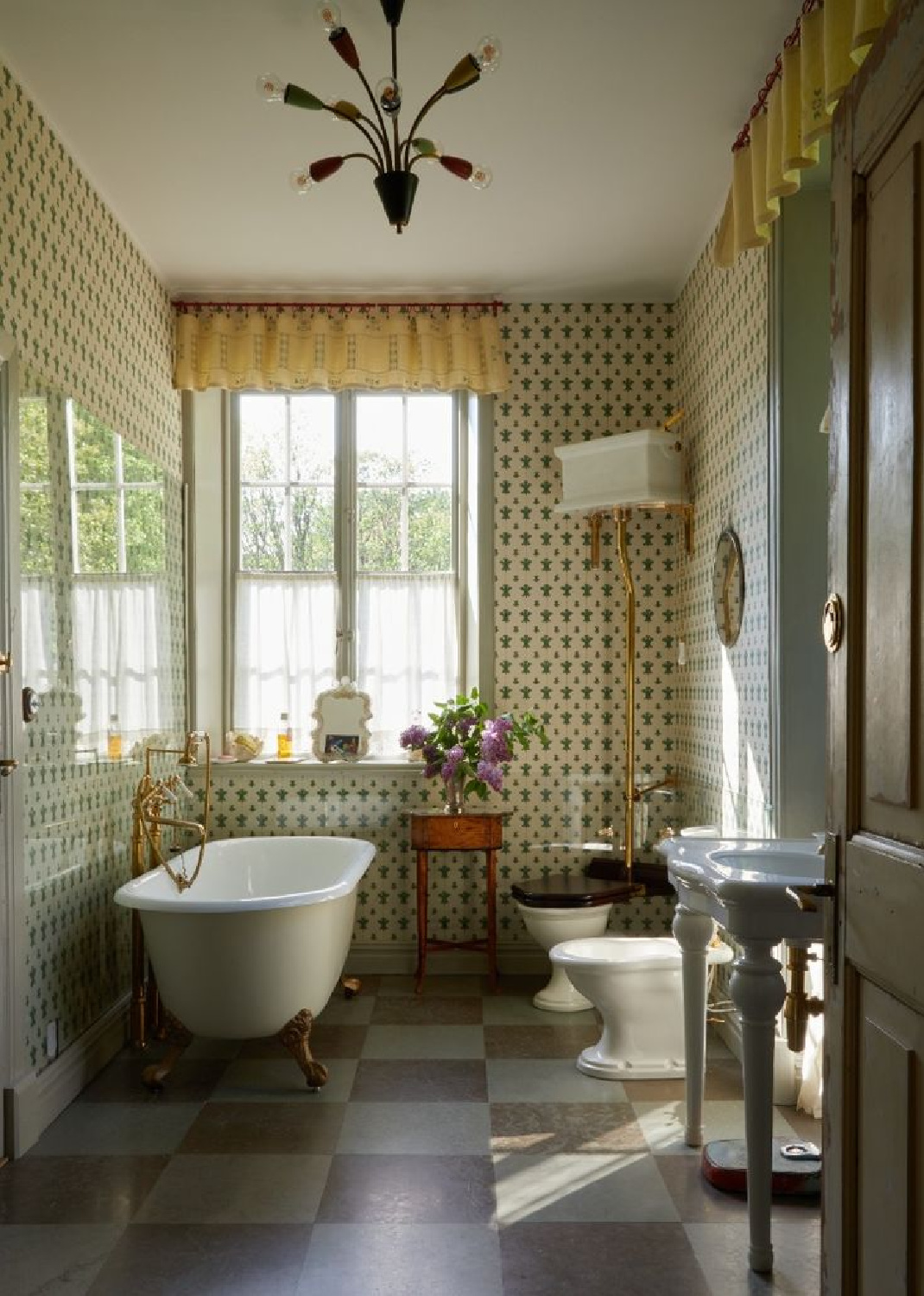 The house was built in the 1860s and is a stone's throw away from the river Thames. The bones of the house and many of its original features were retained.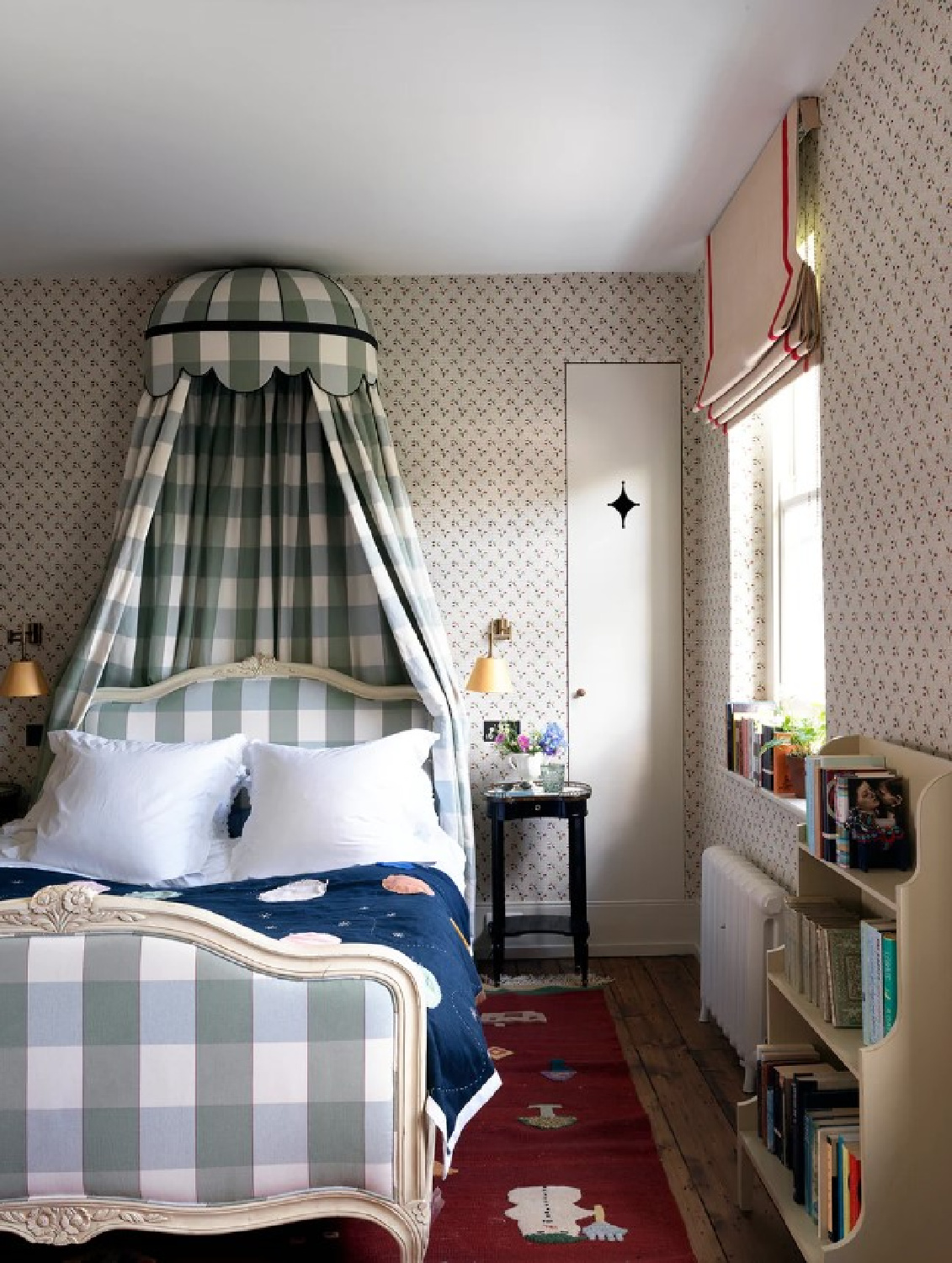 Swedish Farmhouse Tour
Beata grew up on this farm and now shares it with her young family as their vacation house.
I independently selected products in this post—if you buy from one of my links, I may earn a commission.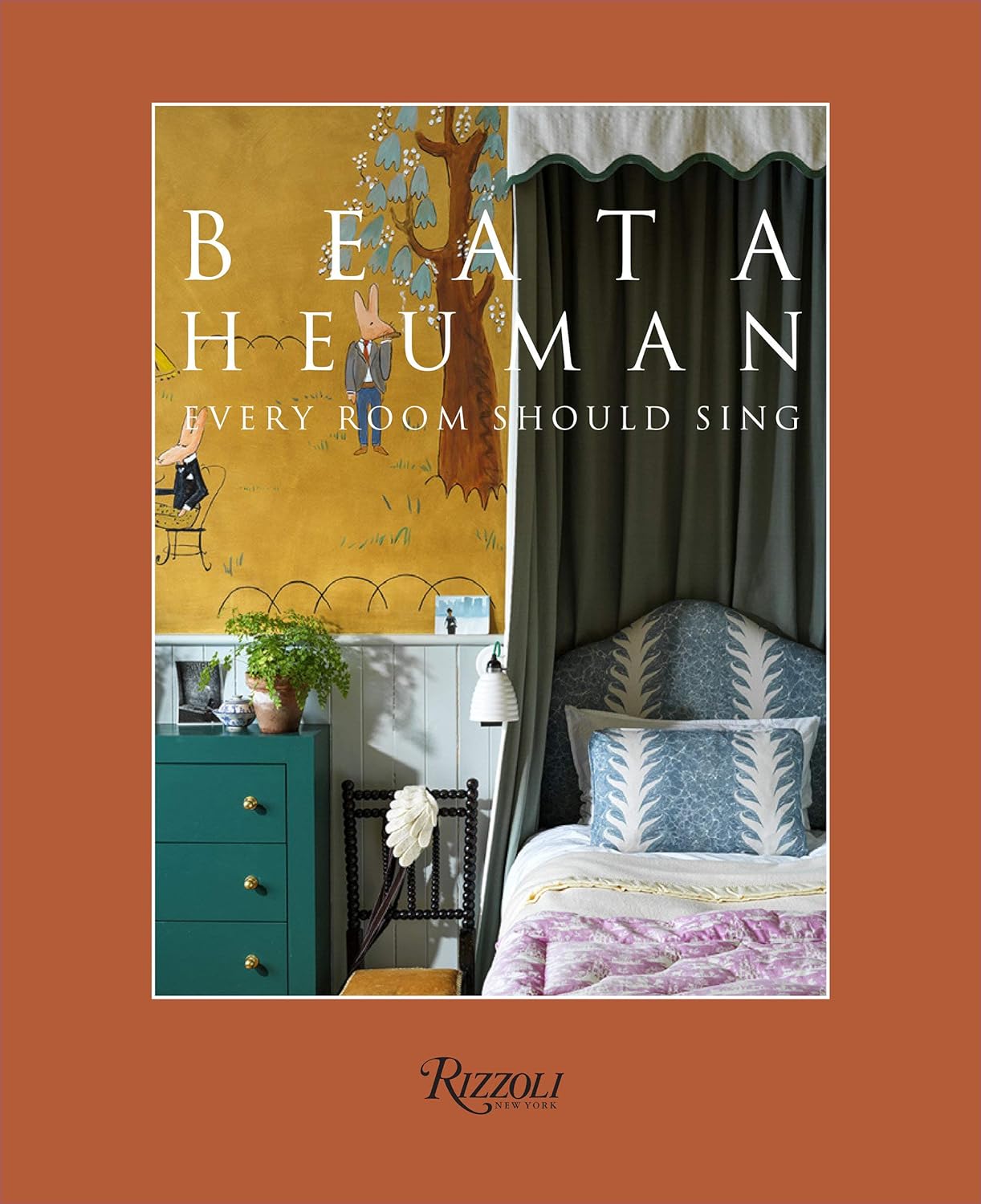 Pretty please do PIN this to spread the love!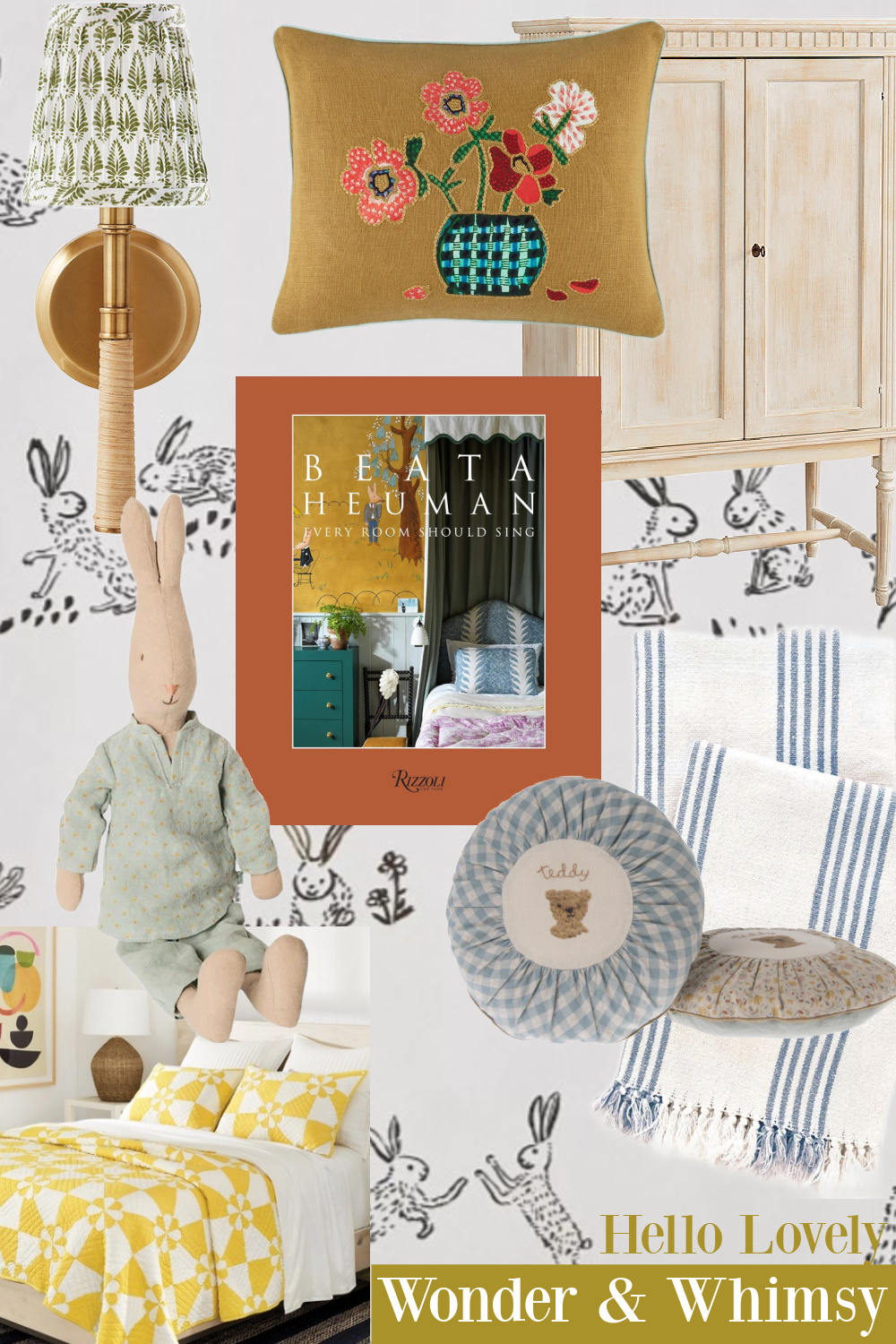 Oh, and by the way…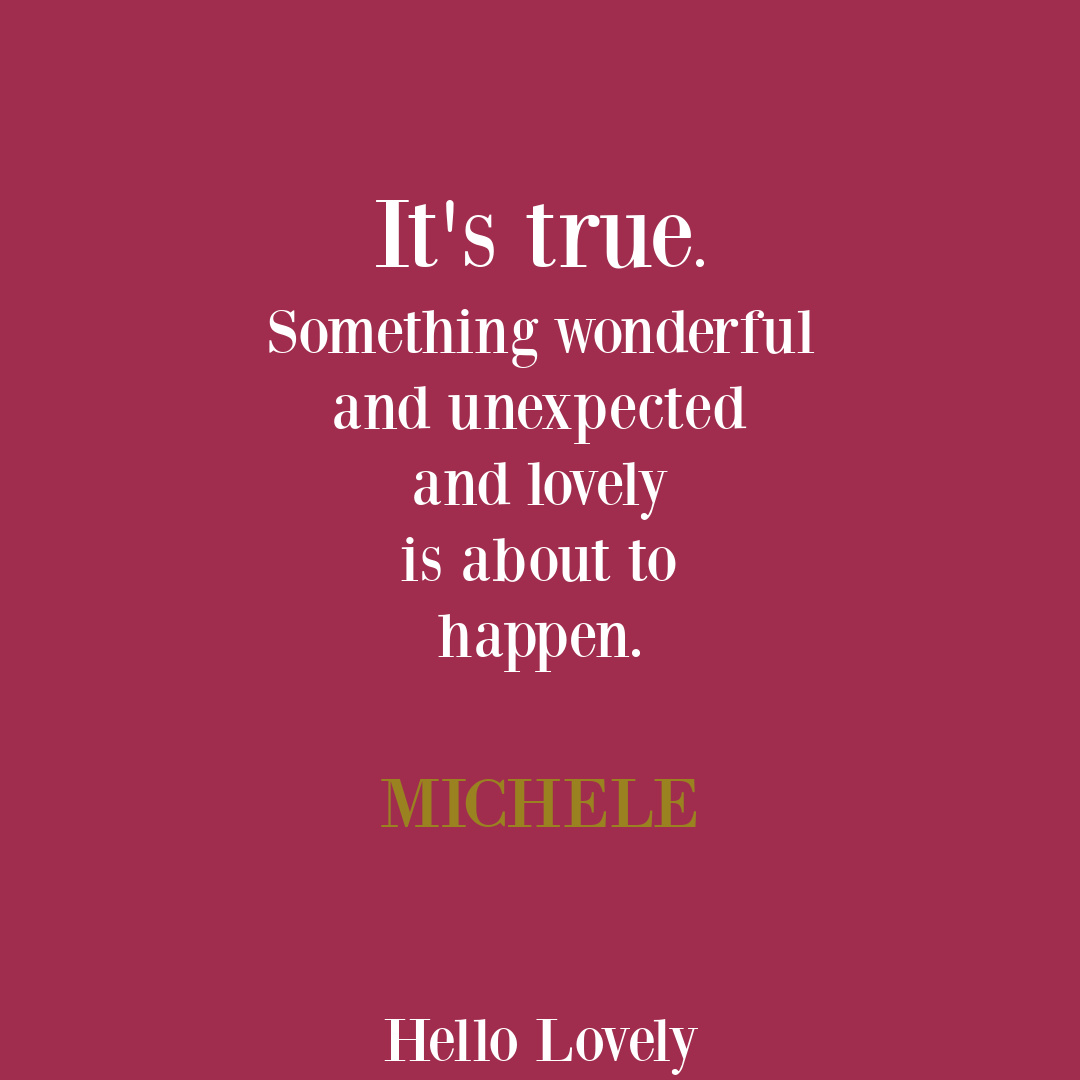 I hope you'll check out her beautiful book and site HERE.
Peace to you right where you are.
-michele
Thanks for shopping RIGHT HERE to keep decor inspiration flowing on Hello Lovely!
Hello Lovely is a participant in the Amazon Services LLC Associates Program, an affiliate advertising program designed to provide a means for sites to earn fees by linking to Amazon.com and affiliated sites.