After sharing glimpses of a trip to Charleston, I couldn't stop daydreaming about the gorgeous "holy city" with its historic homes. Charleston was founded in 1670, and the Battery area has played a significant role in the city's development. Originally built as a defensive seawall, it became a fashionable neighborhood in the late 18th century. Wealthy merchants, plantation owners, and politicians built grand residences near the waterfront to enjoy stunning views and the cool breeze. These beautiful Charleston home exteriors and gardens reflect a few of my favorite listings on the market right now. Do visit the links of listings for more info about their particulars.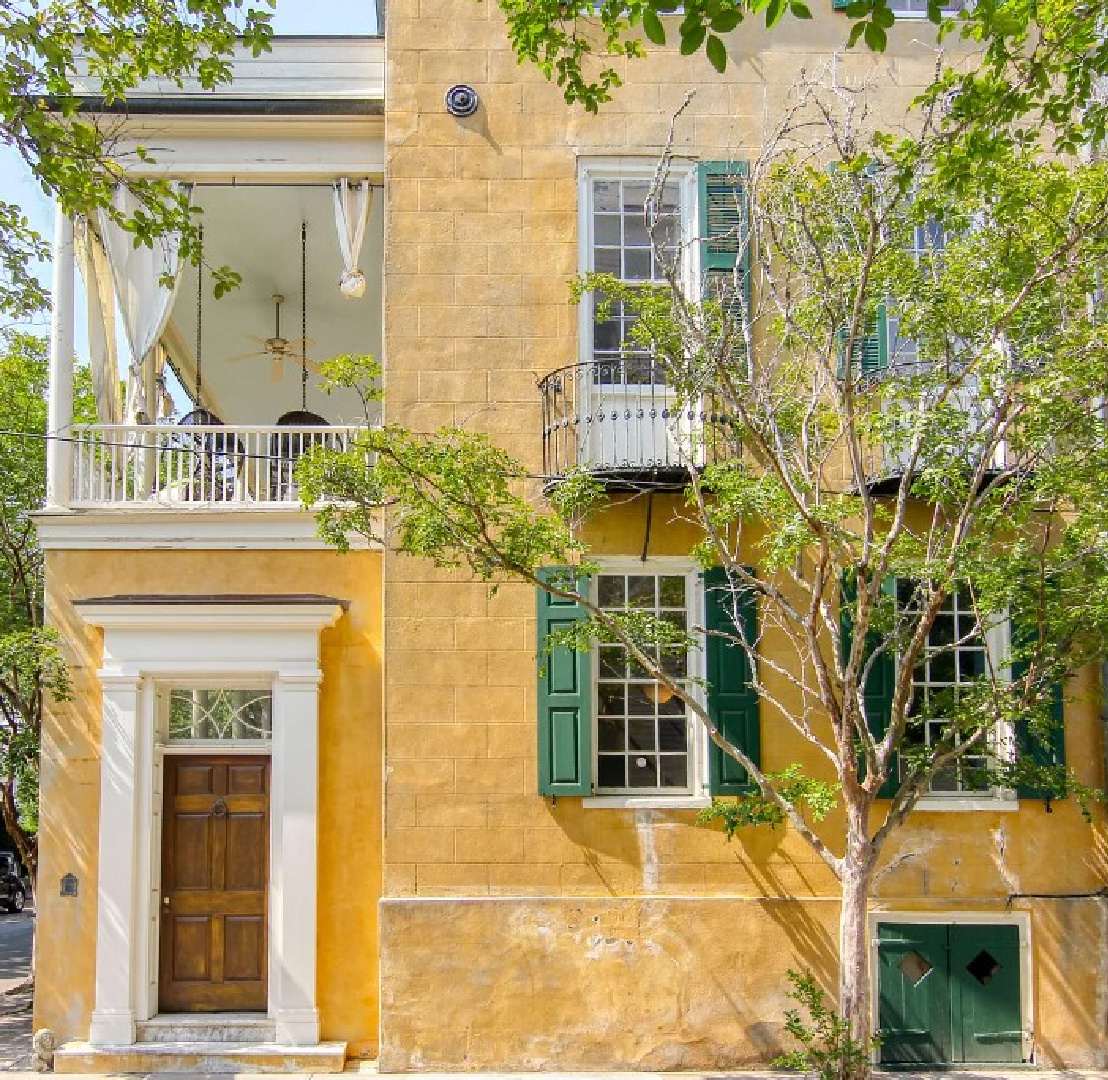 I independently selected products in this post—if you buy from one of my links, I may earn a commission.
Beautiful Charleston Home Exteriors & Gardens
The 4,200 square foot 4-bedroom home was built by George Kincaid in 1777 and restored/redesigned by architect Randolph Martz.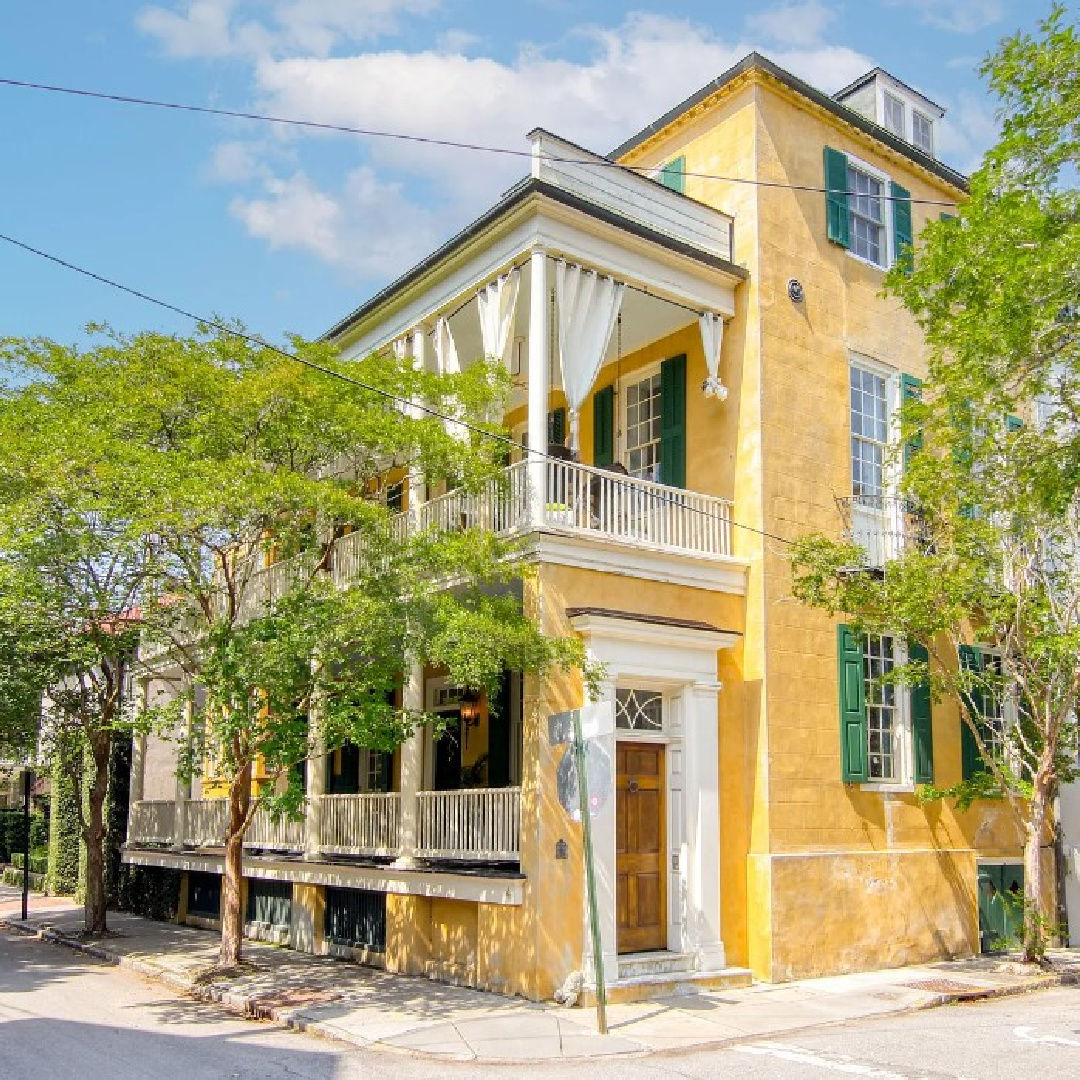 Near the waterfront, the William Stone House (built in 1784) is one of the Battery's 13 fine pastel-colored homes with three bedrooms, four baths, and 4,788 square feet. Charleston homes near the Battery are known for their unique architecture and rich history, as well as beautiful design.
The Battery is a historic landmark located at the southern tip of the Charleston Peninsula, overlooking Charleston Harbor. These houses showcased both the wealth and architectural tastes of their owners.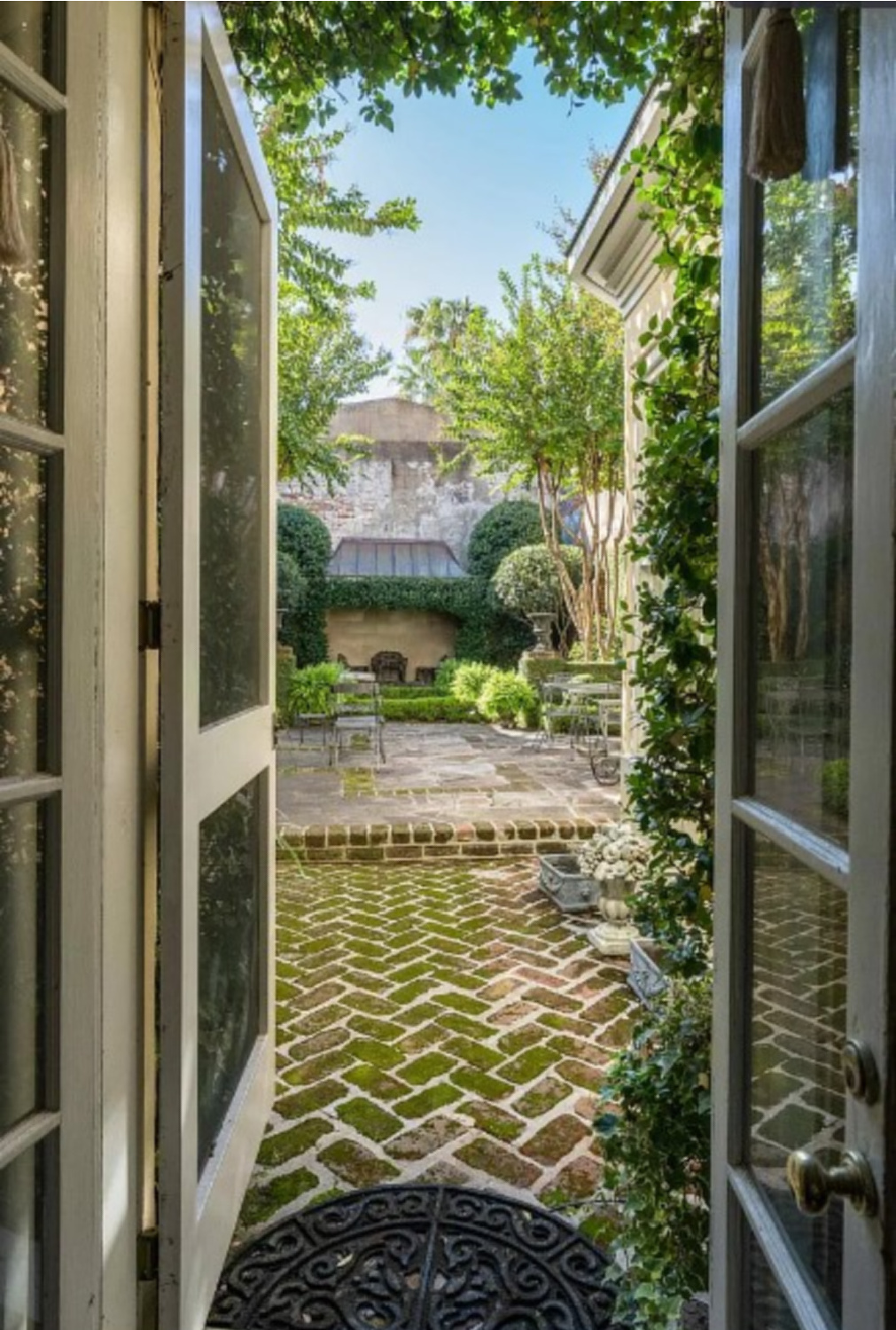 This prominent residential area since the late 18th century is known for stunning waterfront mansions and charming historic houses. As a result, the area became a symbol of opulence and refinement, with magnificent homes lining East Battery Street and Murray Boulevard.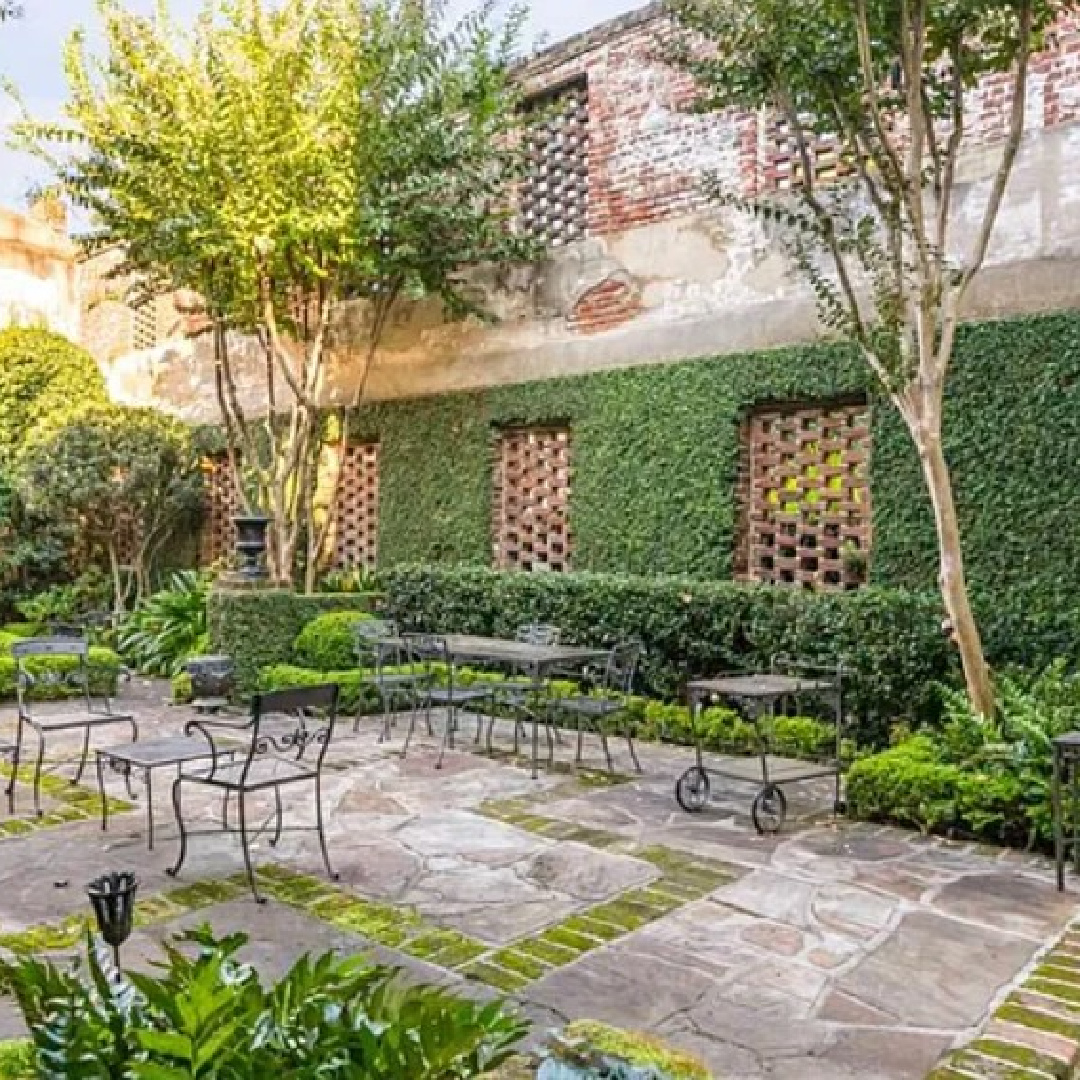 Charleston home design near the Battery is characterized by attention to detail, graceful proportions, and also integration with the natural surroundings.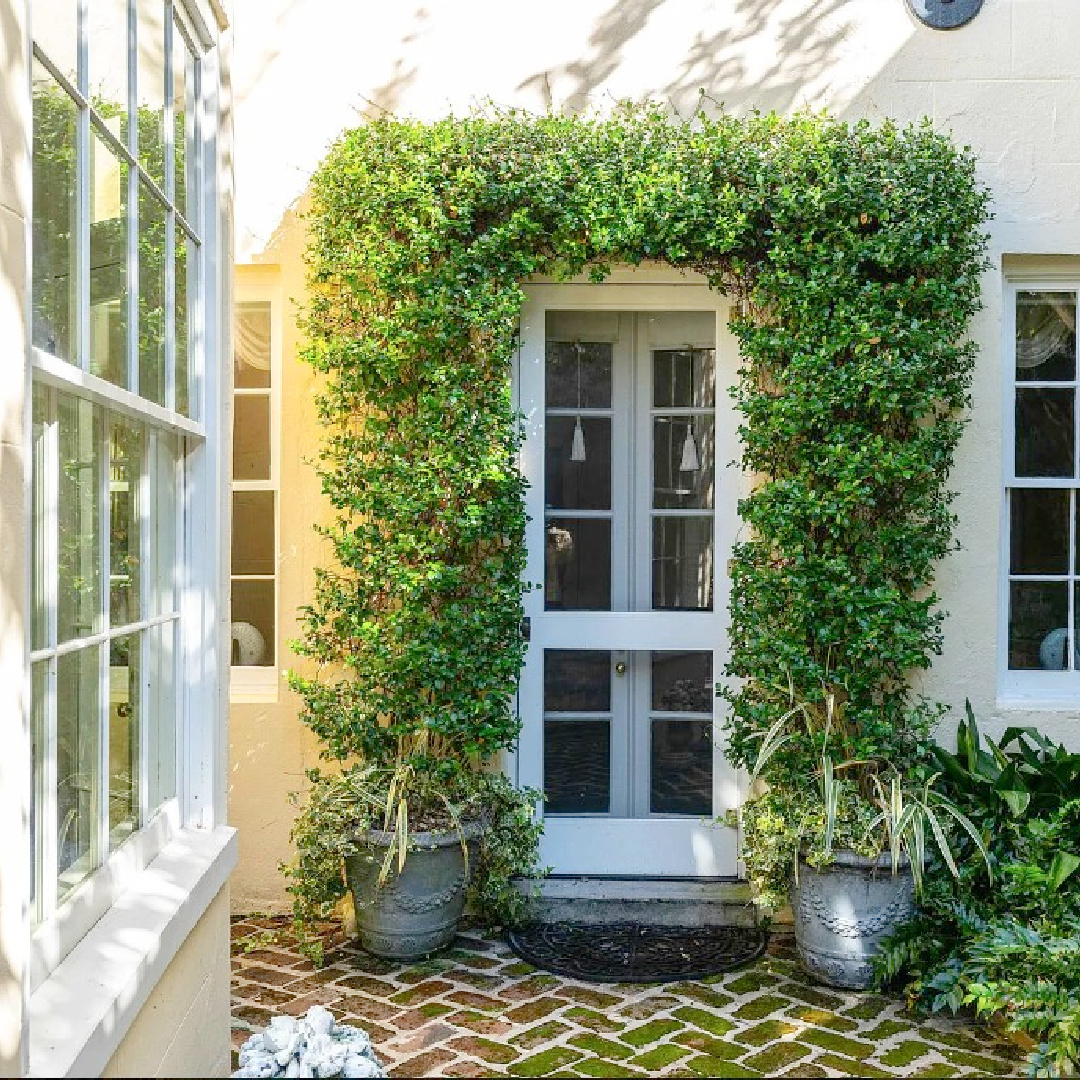 The garden seen here was designed in 1939 by Loutrel Briggs. Oh, the magic within these private spaces! In the gardens of historic Charleston homes, you'll spy lush greenery, vibrant blooms, and carefully curated landscapes. They often feature a variety of plants that thrive in the region's climate and contribute to the beauty and charm of the outdoor spaces too.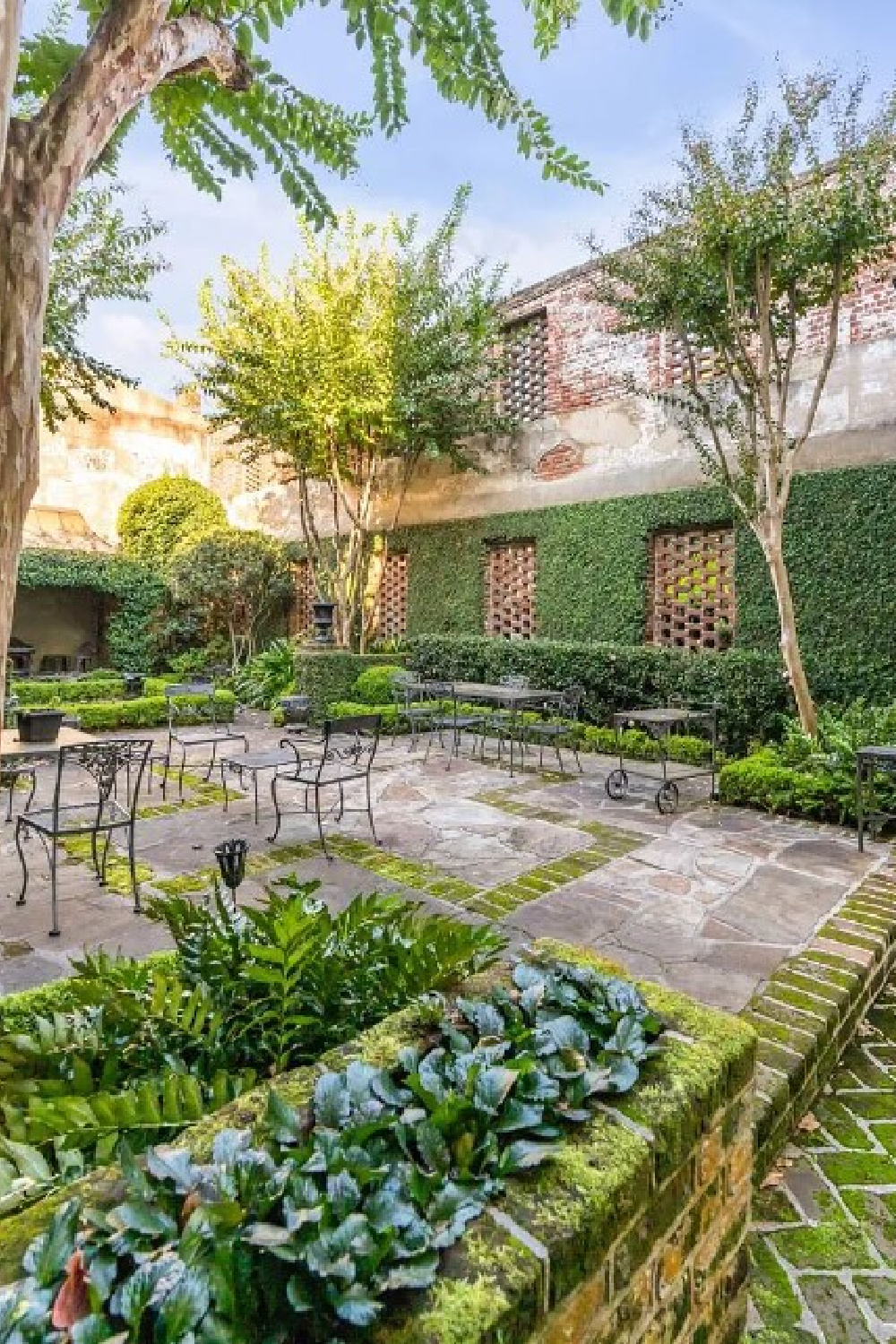 The walls you see here in the garden are the ruins of a historic warehouse.
What Plants Thrive in This Climate?
In addition to the Palmetto tree, Palmetto roses (Sabal palmetto) are also a charming addition to Charleston gardens. Unique clusters of small, round fruits resemble roses and are often used in floral arrangements or as decorative accents.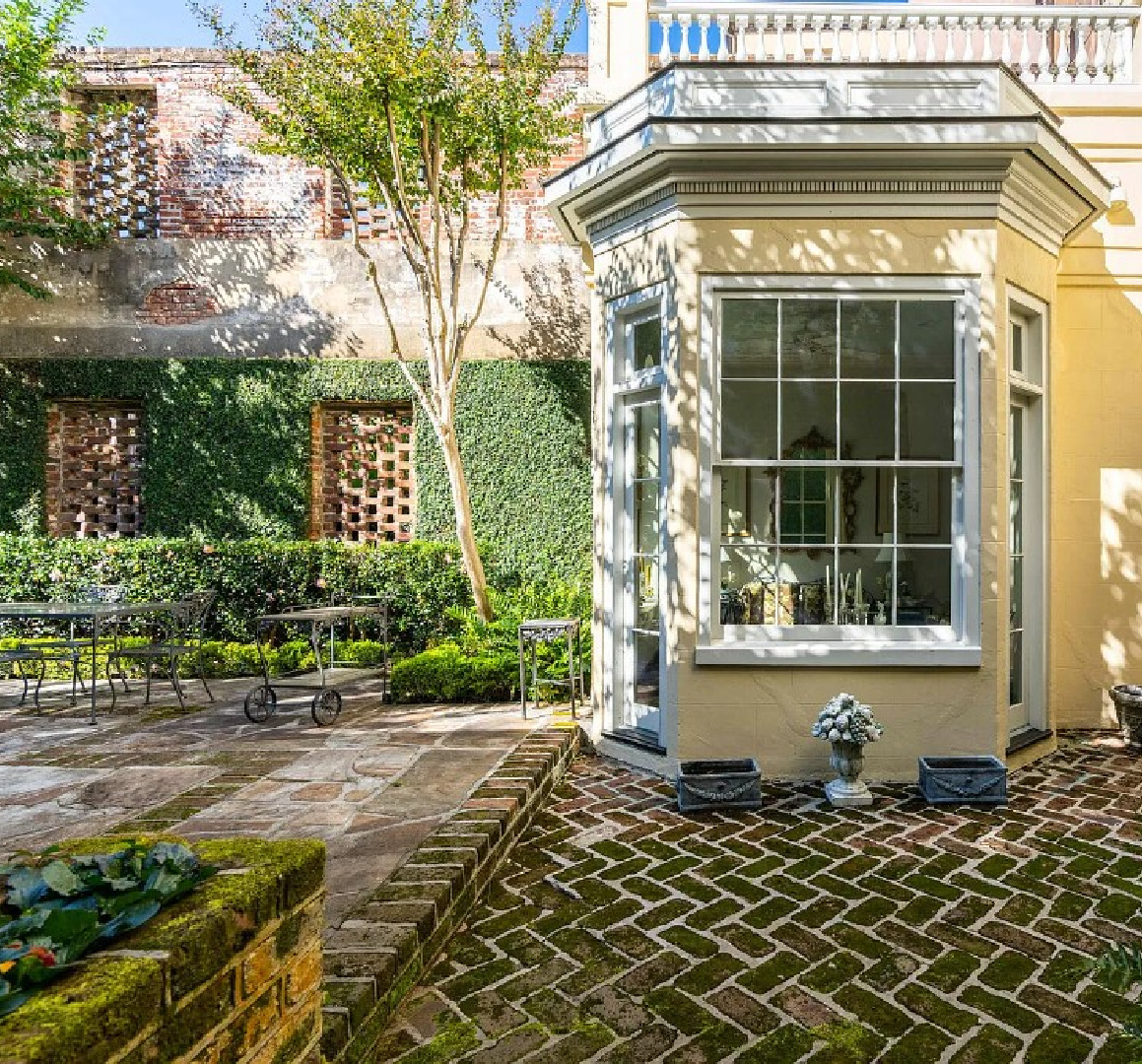 Crepe myrtles (Lagerstroemia) are deciduous trees or shrubs that offer vibrant blooms in shades of pink, red, lavender, and white during the summer months. Frequently found in Charleston gardens, they add color as well as a striking vertical element to the landscape.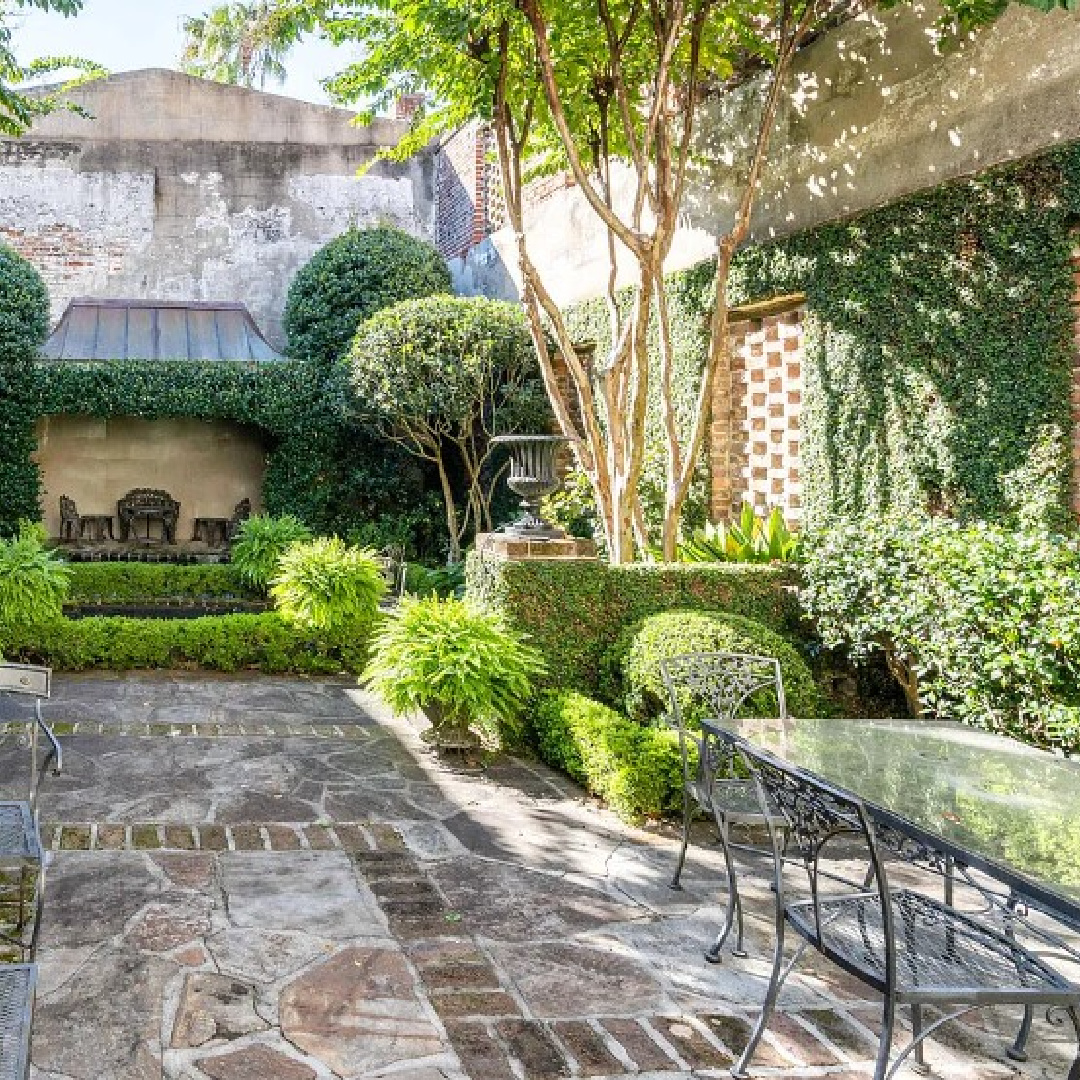 Boxwoods (Buxus) are common hedges, borders, and topiaries in Charleston gardens. These evergreen shrubs are known for their dense foliage and also their ability to be shaped into various geometric forms.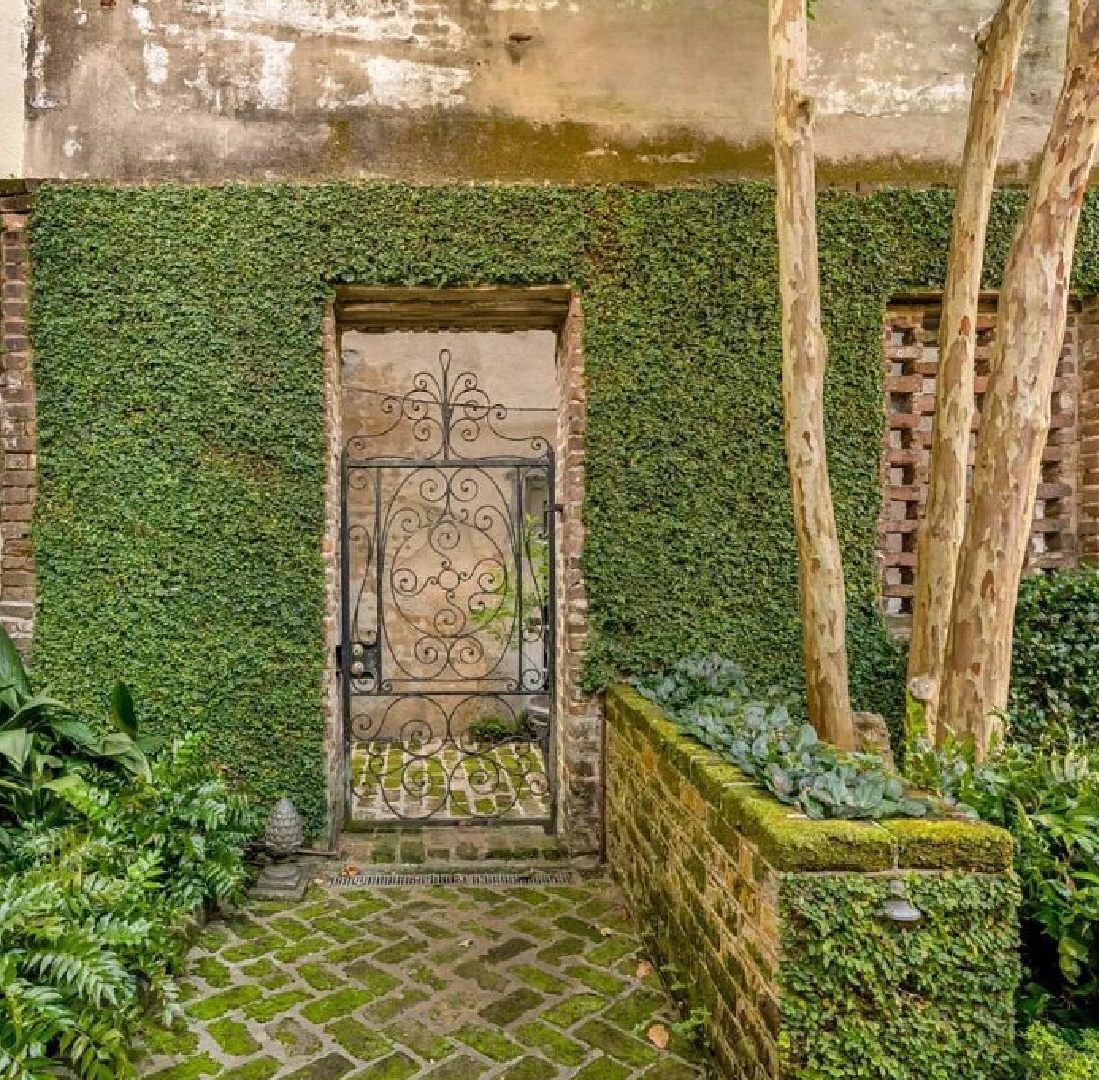 Boxwoods add structure, elegance, and a touch of formality to the garden design.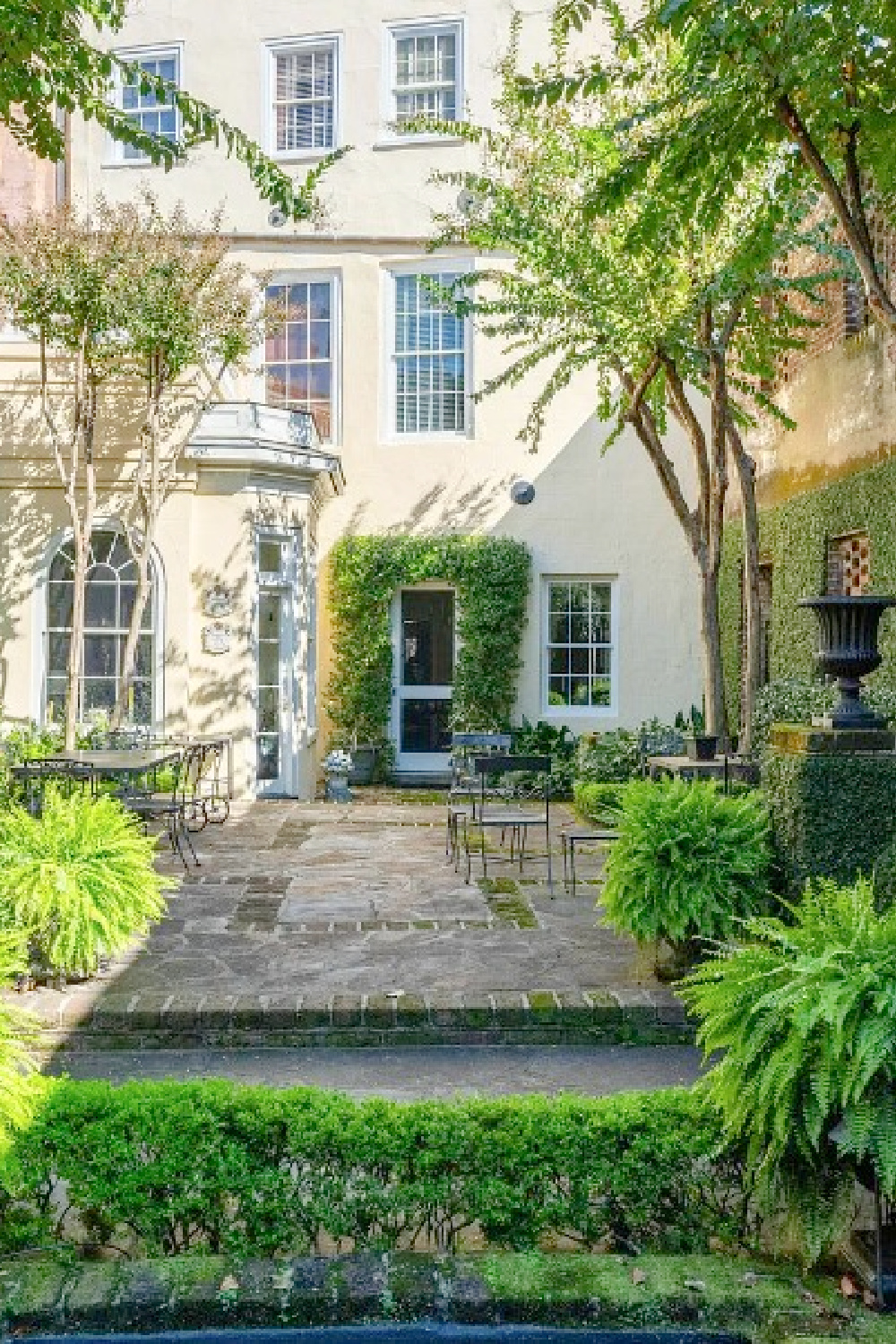 Which Architectural Styles Are Prominent in Charleston?
Georgian, Federal, and Greek Revival architectural styles reflect the different periods of Charleston's history and contribute to the city's distinctive charm.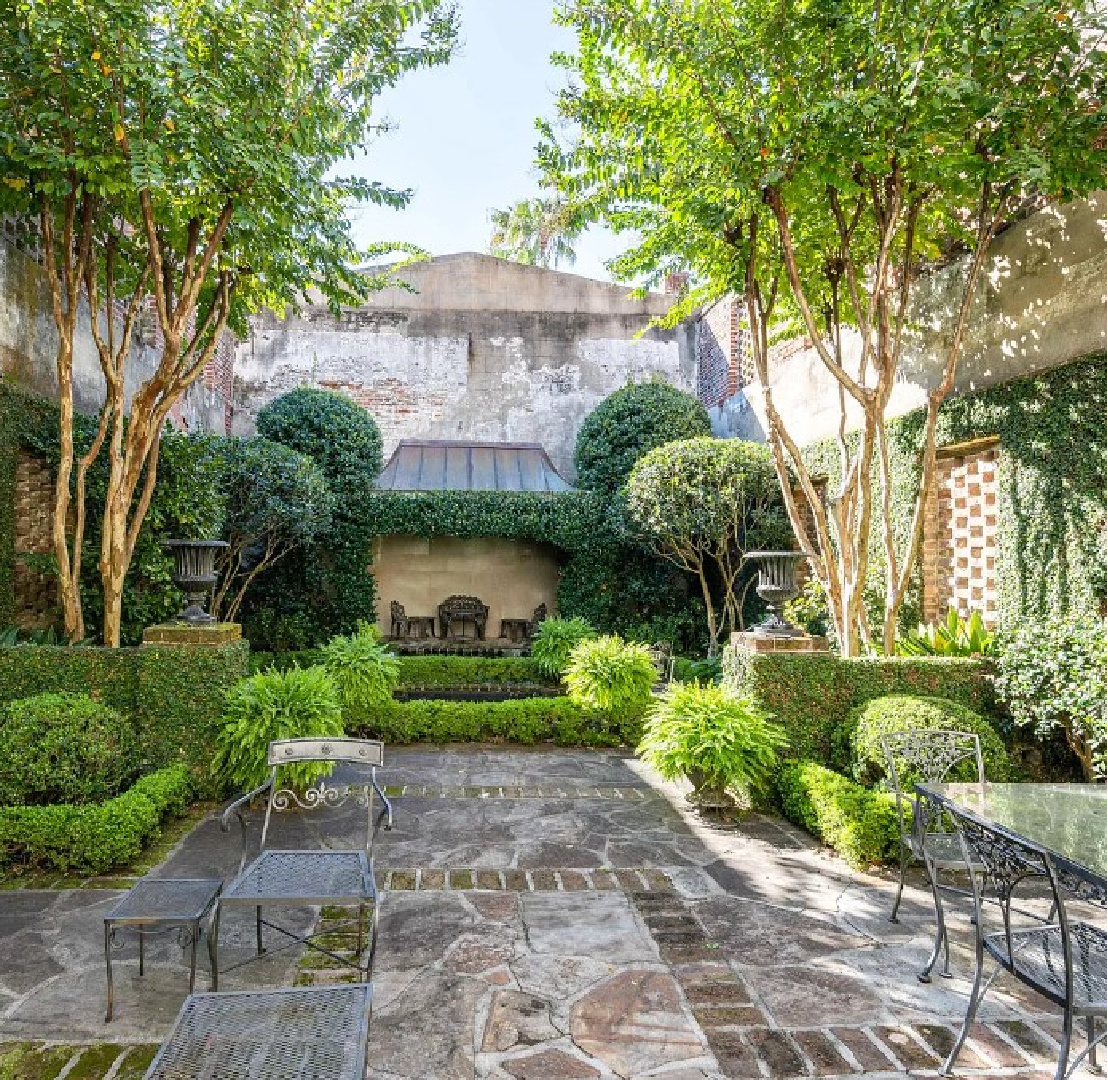 Georgian Style
Many of the earlier homes near the Battery were built in the Georgian style, prevalent during the colonial period. These homes are characterized by symmetrical design, simple yet elegant facades, and also a formal layout. Frequently they feature brick exteriors, double-tiered piazzas (covered porches), and large windows.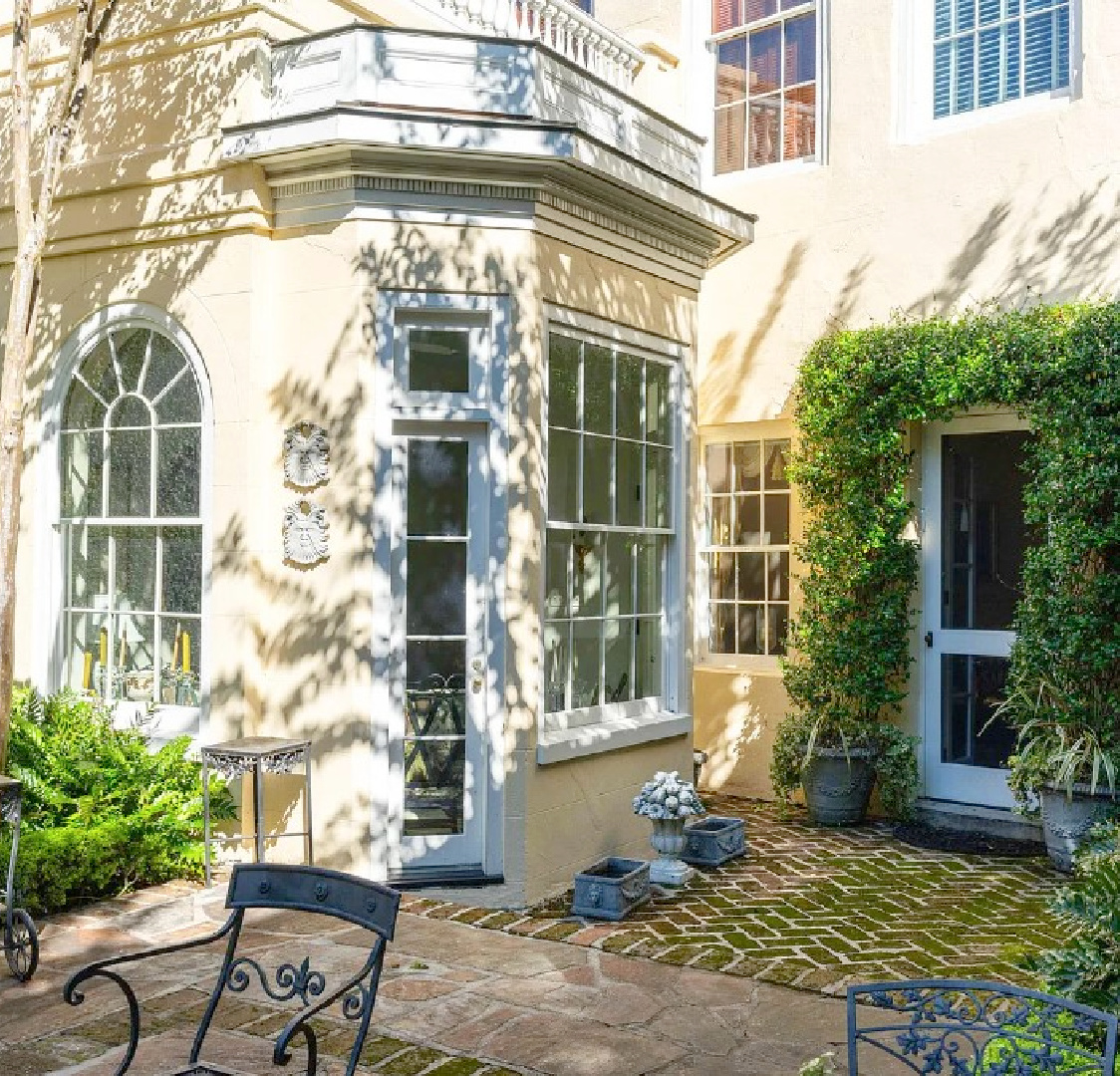 Federal Style
As Charleston grew and prospered in the early 19th century, the Federal style became popular. Federal style homes exhibit a more refined and delicate appearance. They have elegant proportions, decorative details such as fanlights and elliptical windows, and ornamental ironwork.
The use of stucco and pastel-colored paints also became common during this period.
Here's an example of Federal-style architecture from c.1800 located in the heart of South of Broad.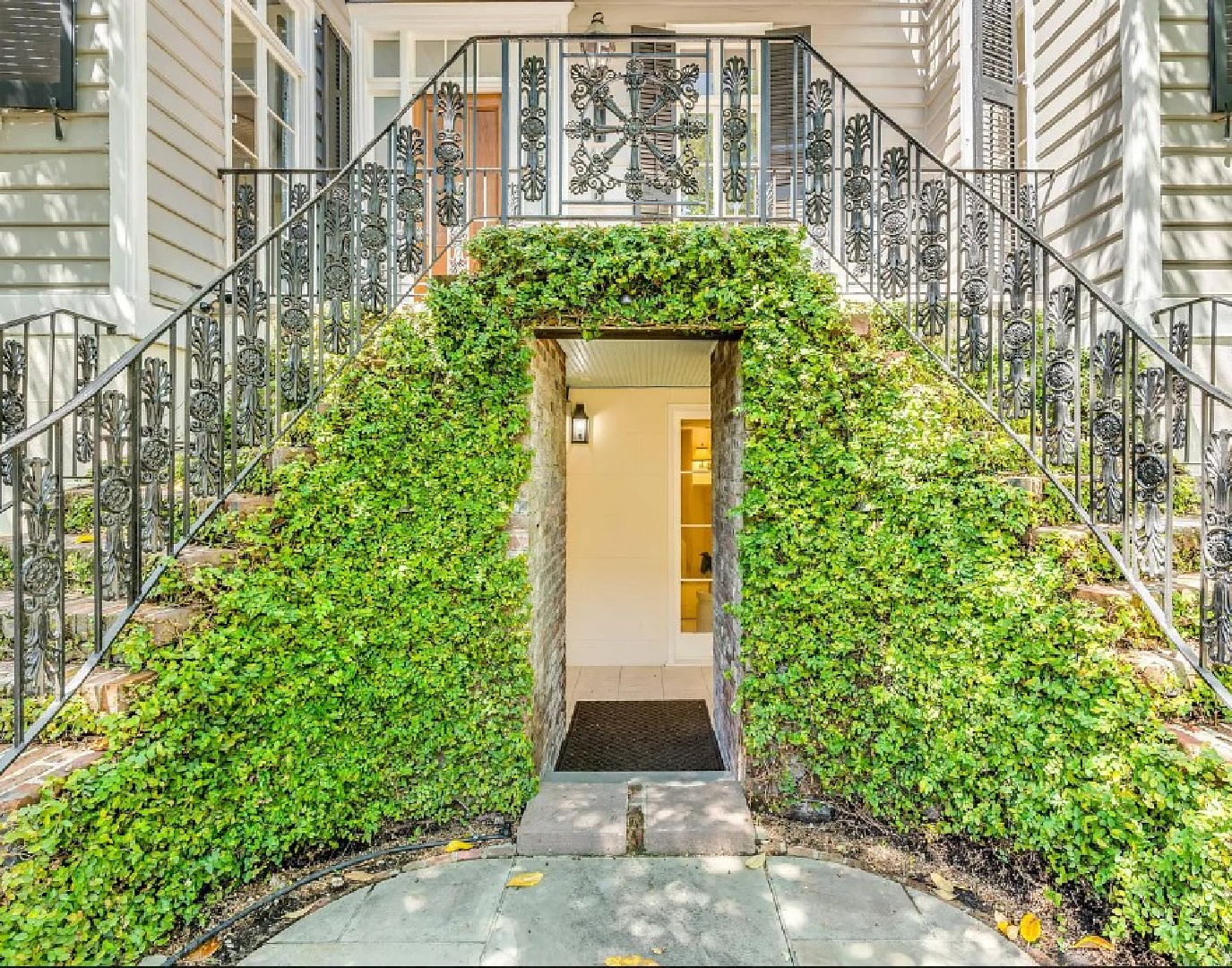 This home has all the character and charm of a historic Charleston home, including original heart of pine flooring, beautiful crown molding, grand fire places, multiple porches, and high ceilings.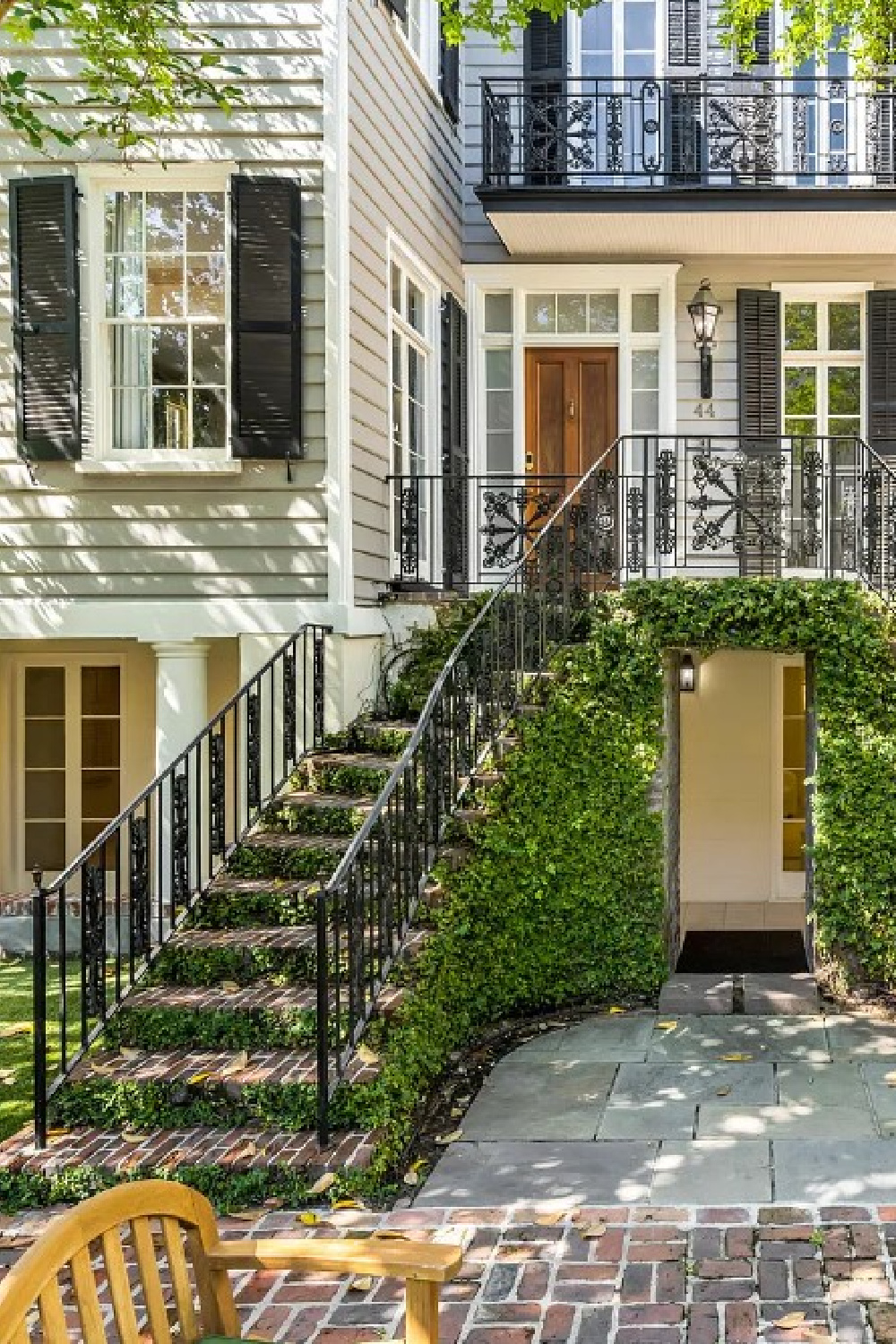 Aren't the garden gates you see around Charleston charming?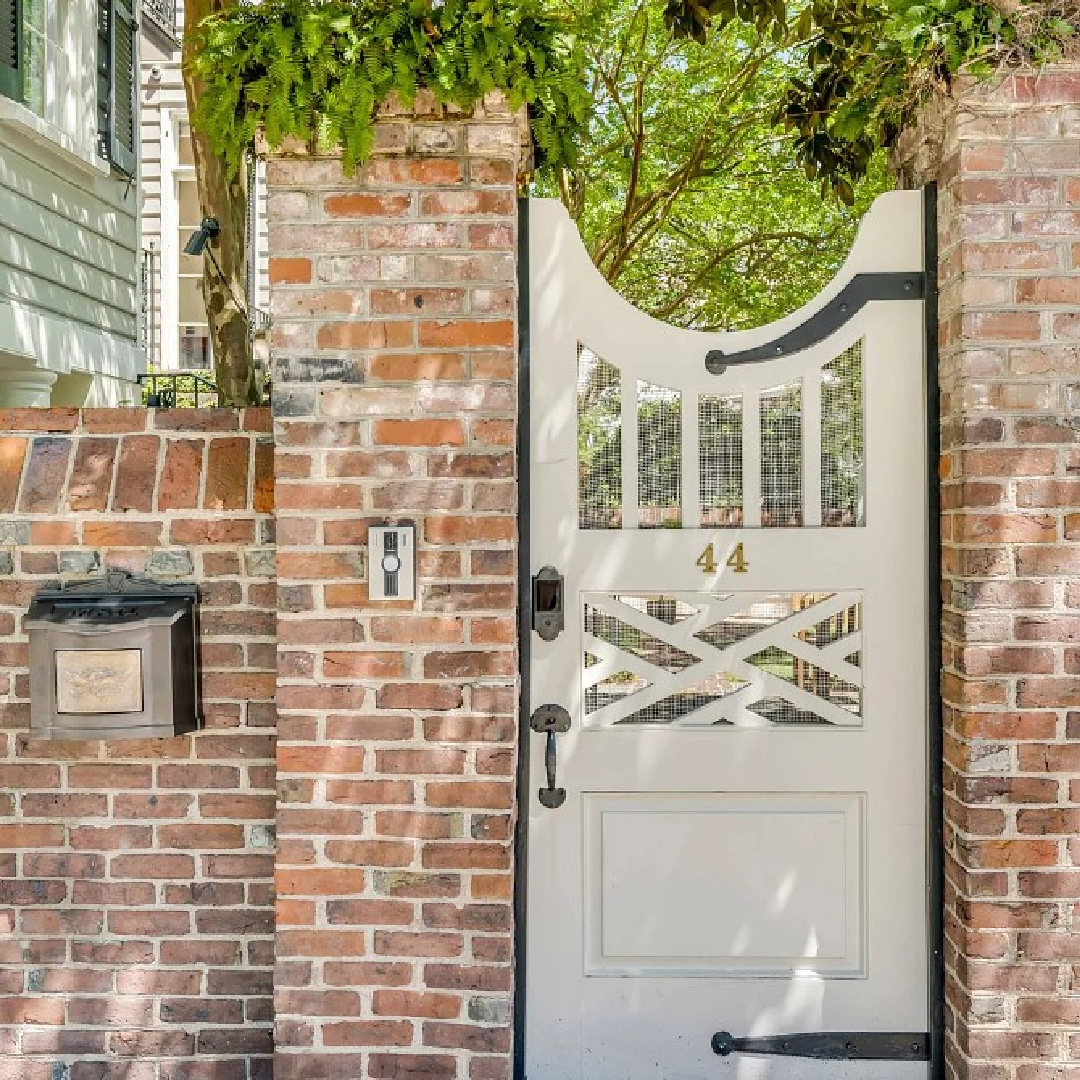 These homes often have spacious rooms, high ceilings, and also large windows to maximize natural light and ventilation.
The interiors feature intricate woodwork, ornate plaster moldings, and elegant staircases.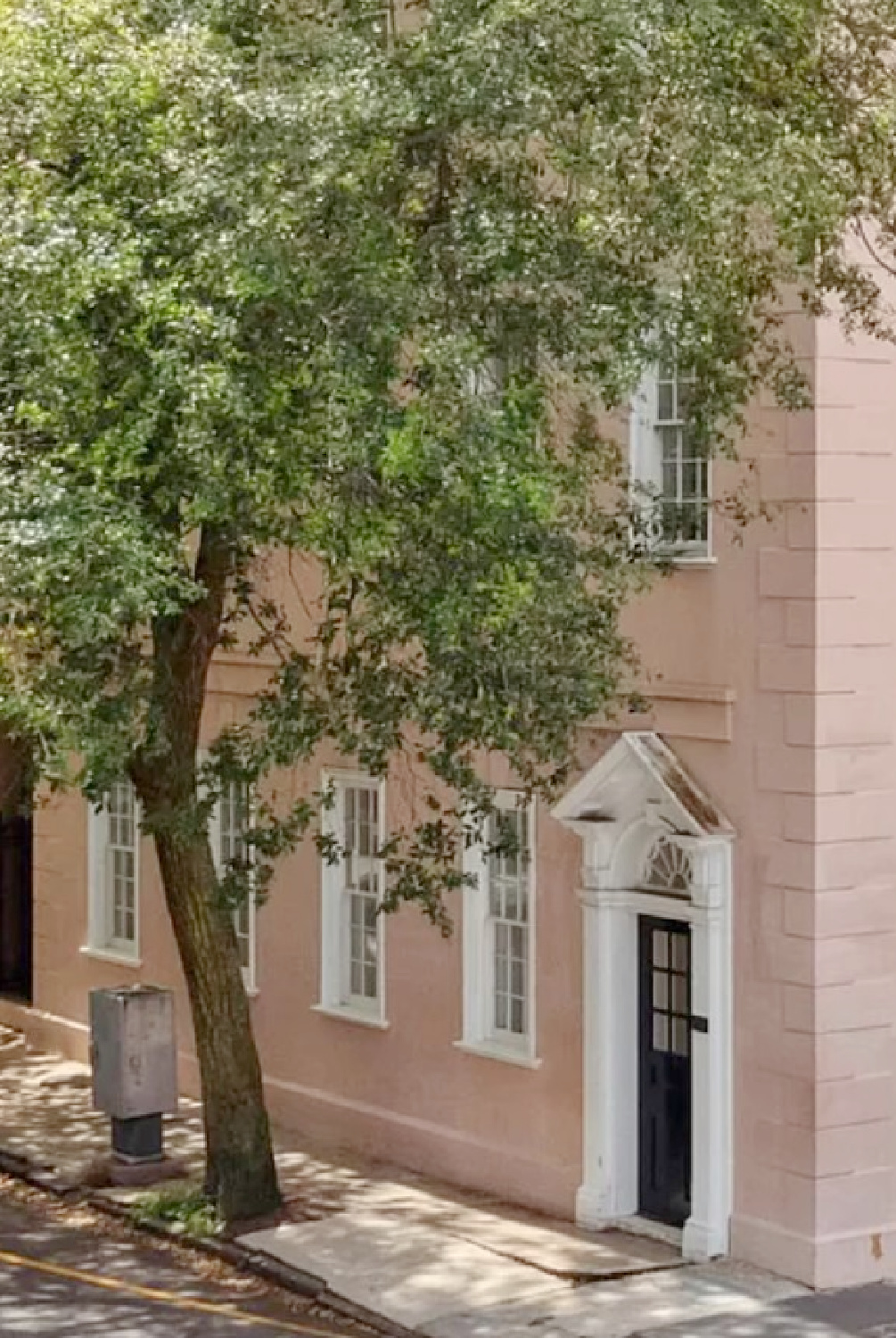 This stunning pastel pink brings to mind Farrow & Ball's Pink Ground.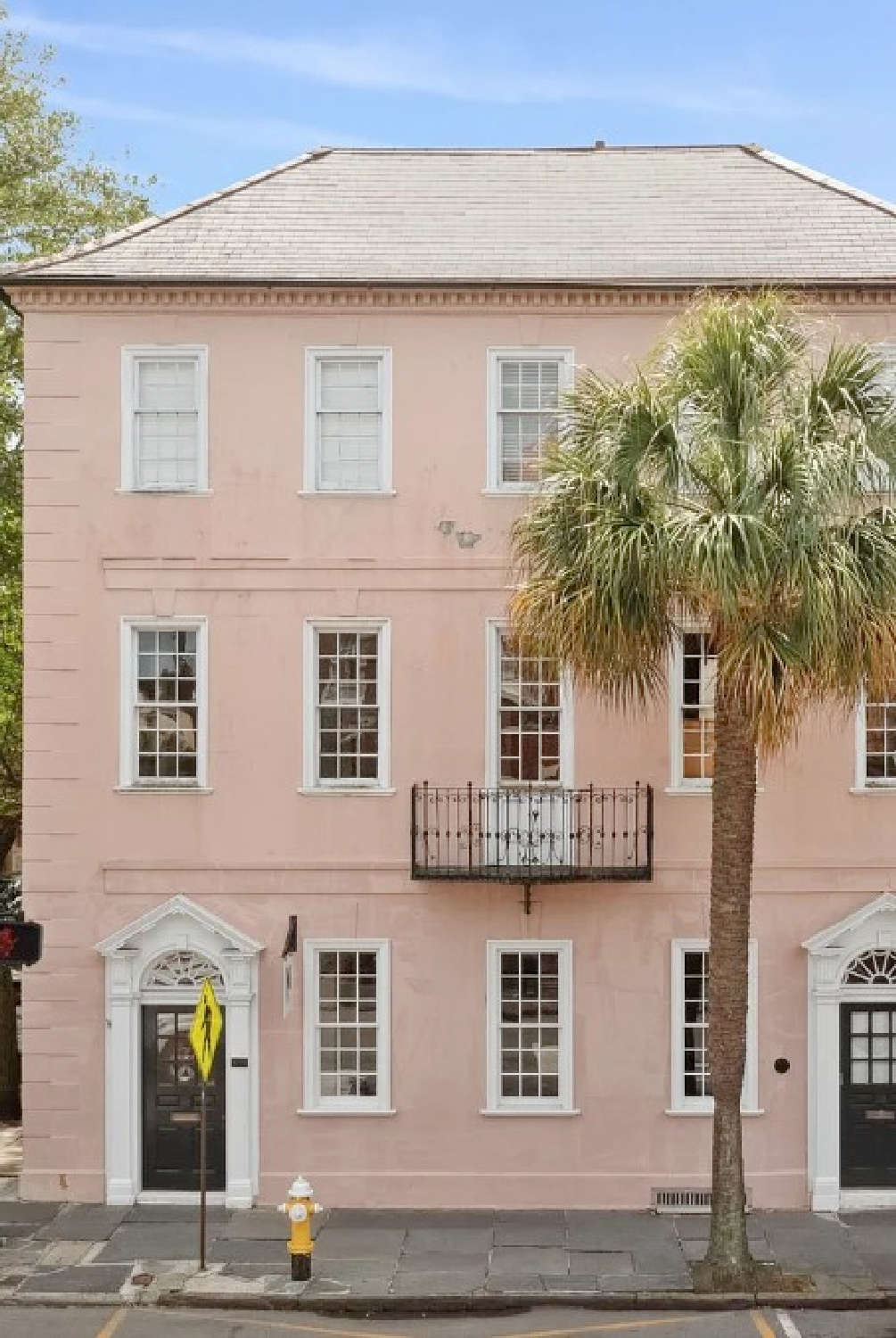 Greek Revival Style
In the mid-19th century, the Greek Revival style gained prominence in Charleston. Inspired by ancient Greek architecture, these homes feature grand porticos with imposing columns, pediments, and symmetrical facades. They often have tall, narrow windows with decorative trim and elaborate cornices. Greek Revival homes are characterized by their grandeur and also a sense of classical beauty.
Known as one of the most photographed homes in the city, this three bedroom, four bath home was built around 1718.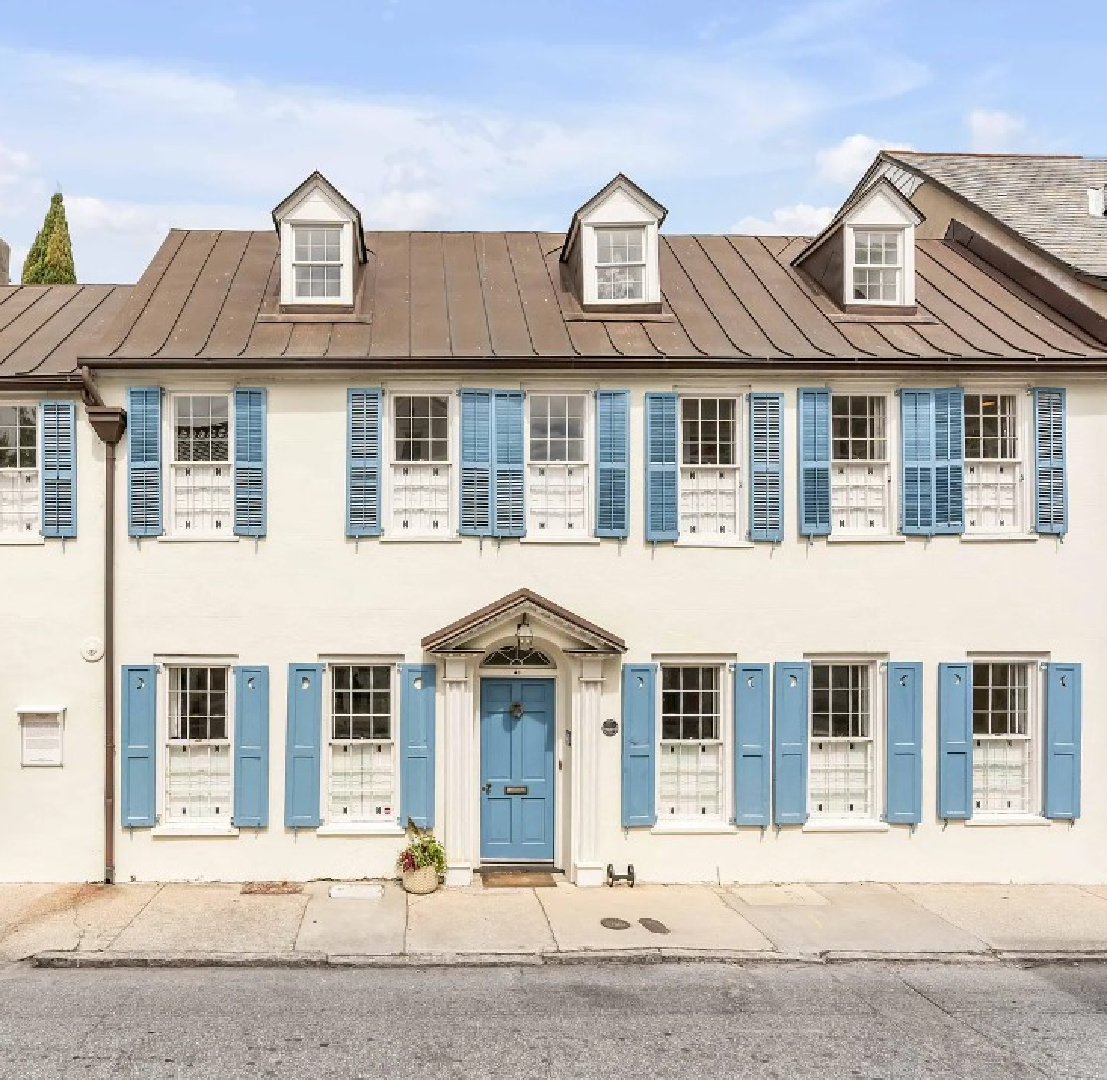 Featured twice in Southern Living and also in the movie The Patriot (2000), it sits in an ideal South of Broad location, walkable to many of the Peninsula's award winning restaurants, galleries, shops, and historic monuments.
Here's a peek at the private back garden off the kitchen: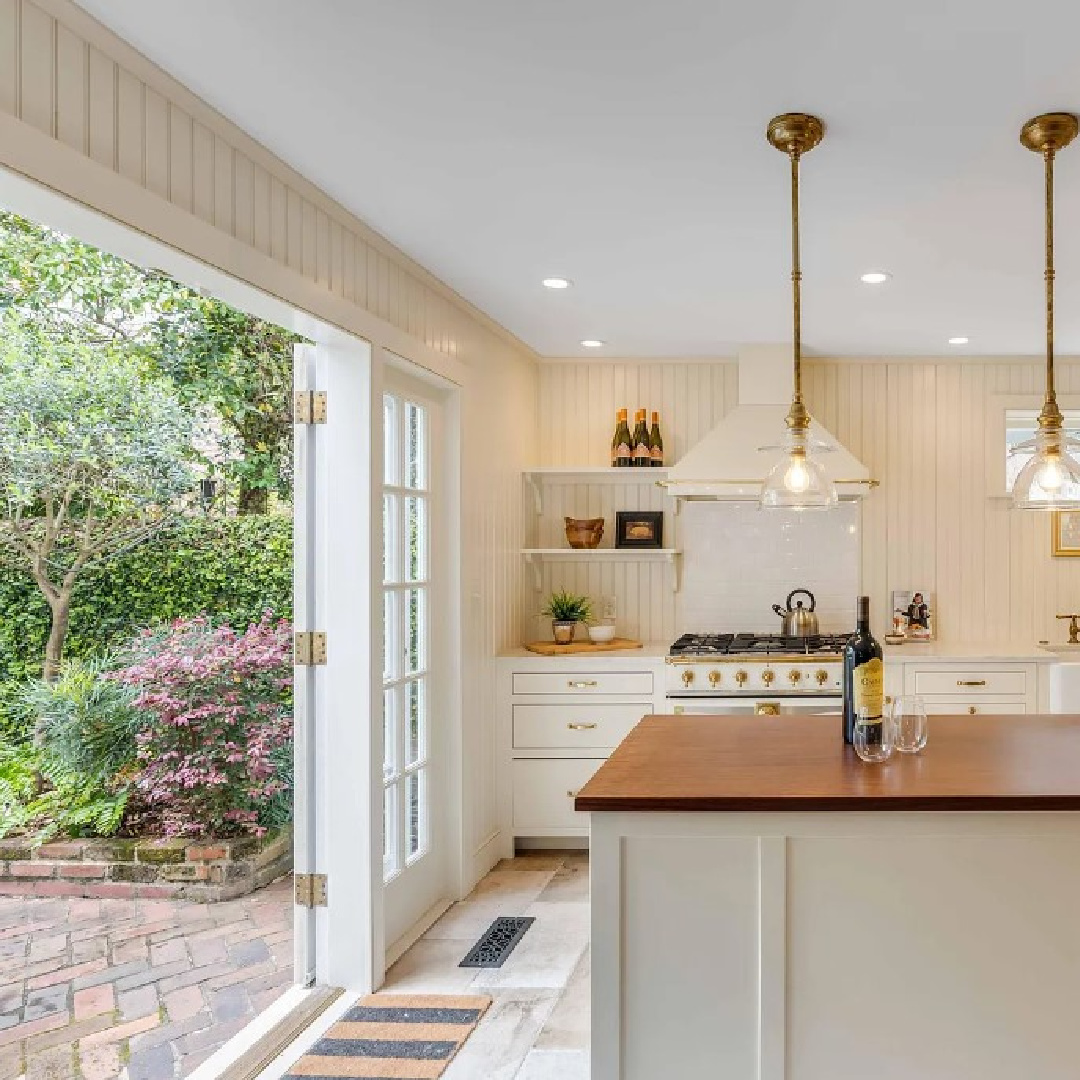 Strict regulations govern the preservation and renovation of such homes to ensure they retain their architectural integrity.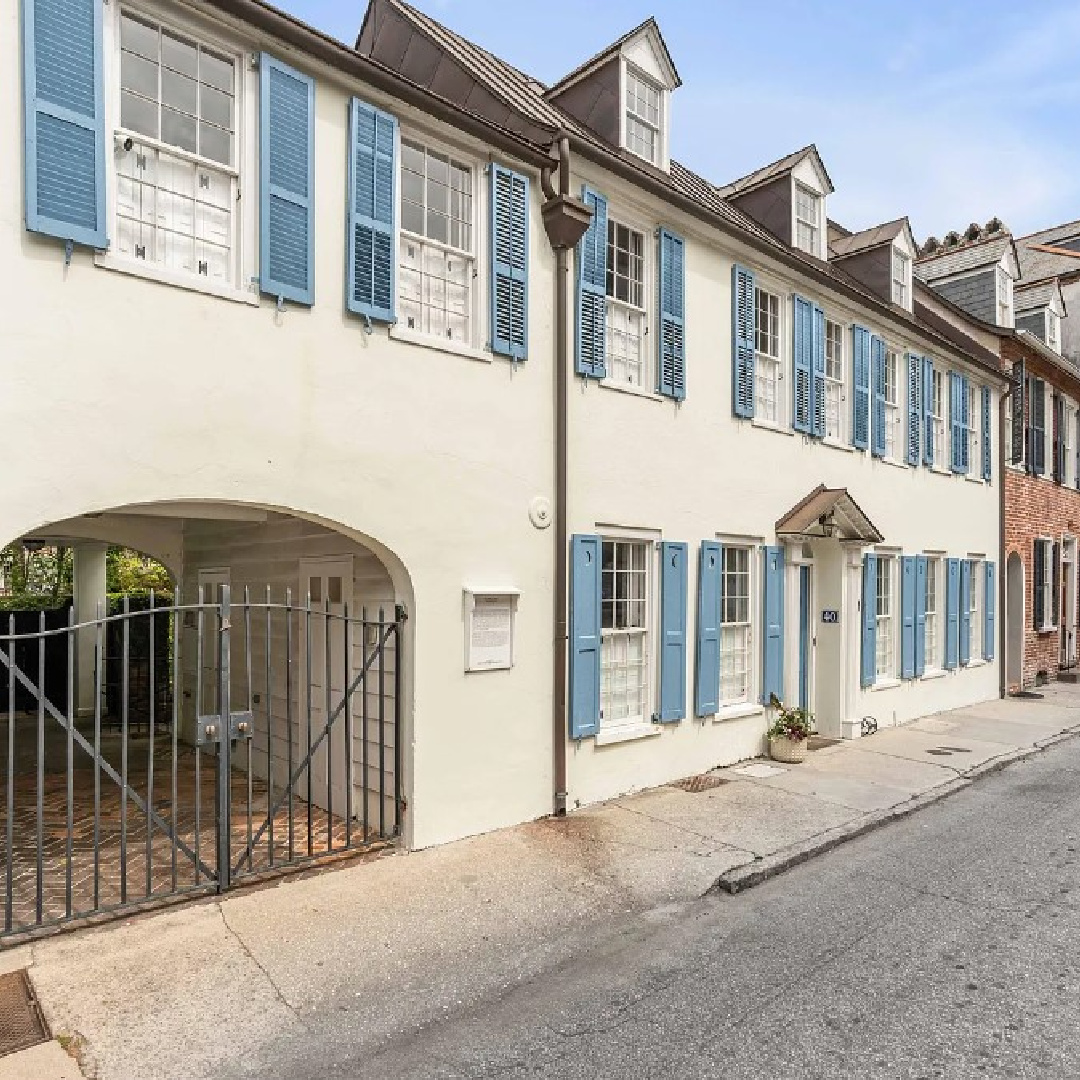 No expense was spared on renovations here as The Washington Post noted the current owners spent 7-figures.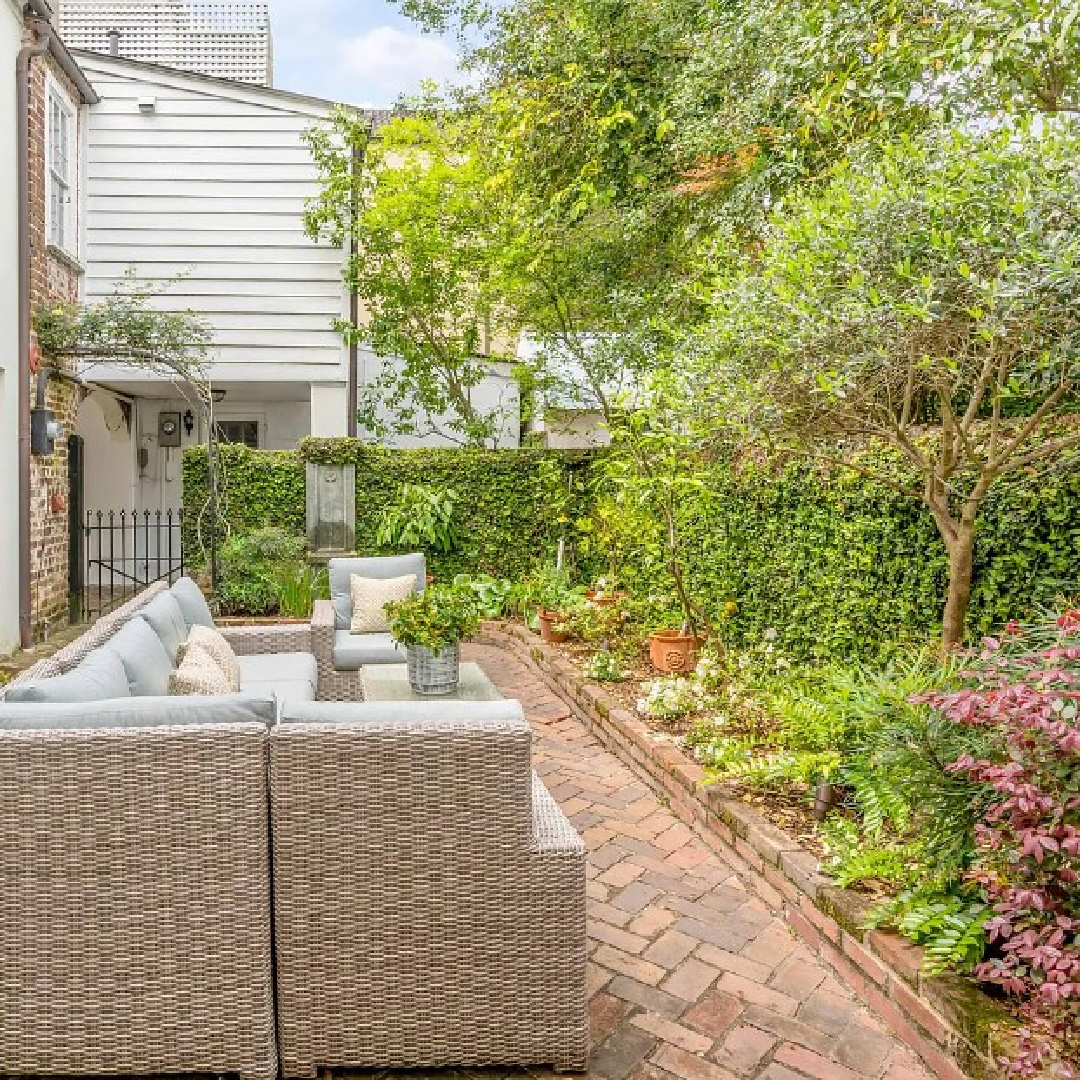 I am in love with this home's kitchen designed by Torrance Mitchell Designs!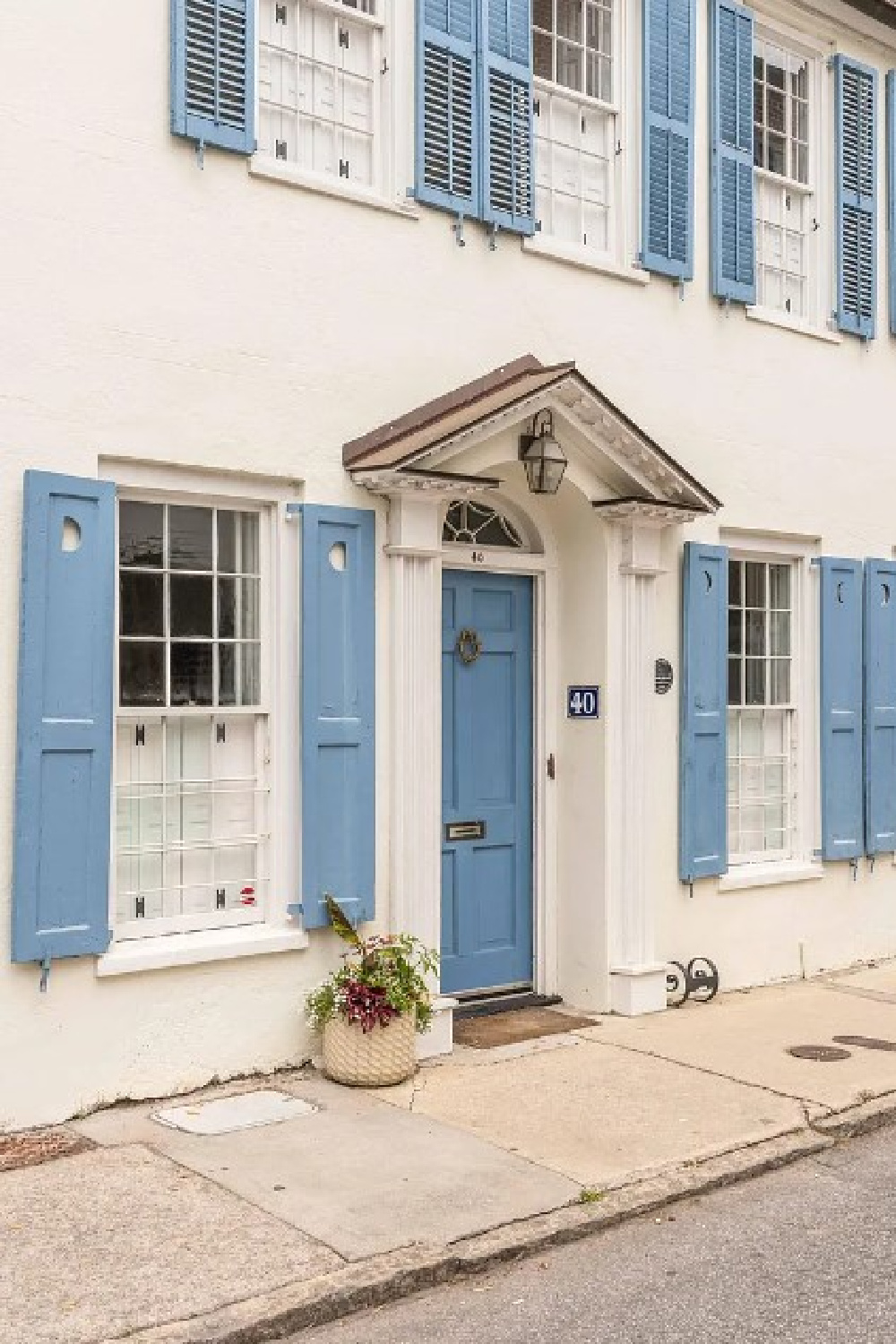 The Thomas Ball House is a beautiful Charleston single with cedar siding, 54′ double piazzas, garden, gorgeous moulding, and original floors.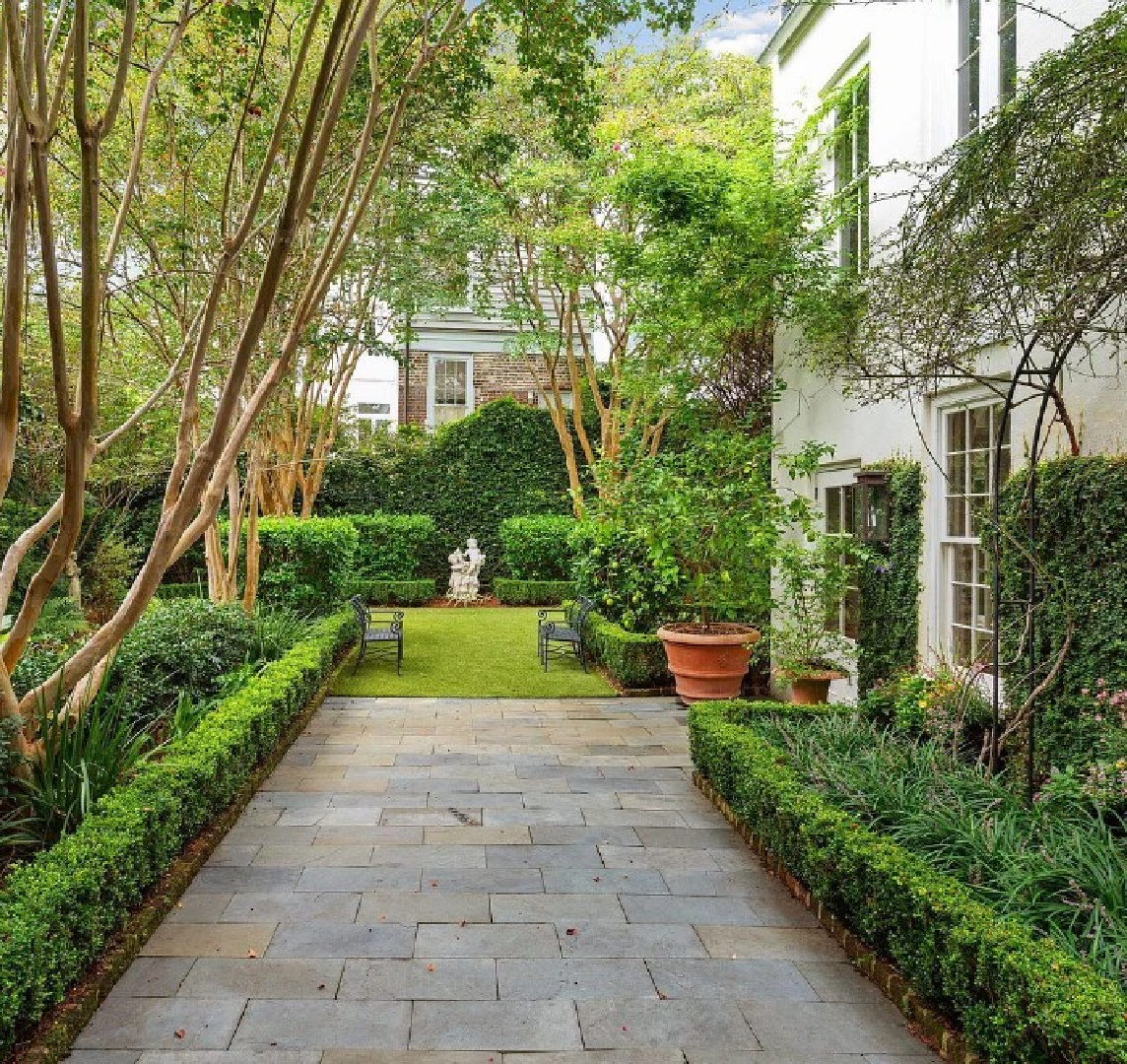 Homes here were designed to take advantage of the waterfront location and panoramic views. Many houses have piazzas or balconies facing the harbor to allow residents to enjoy cool ocean breezes and watch ships.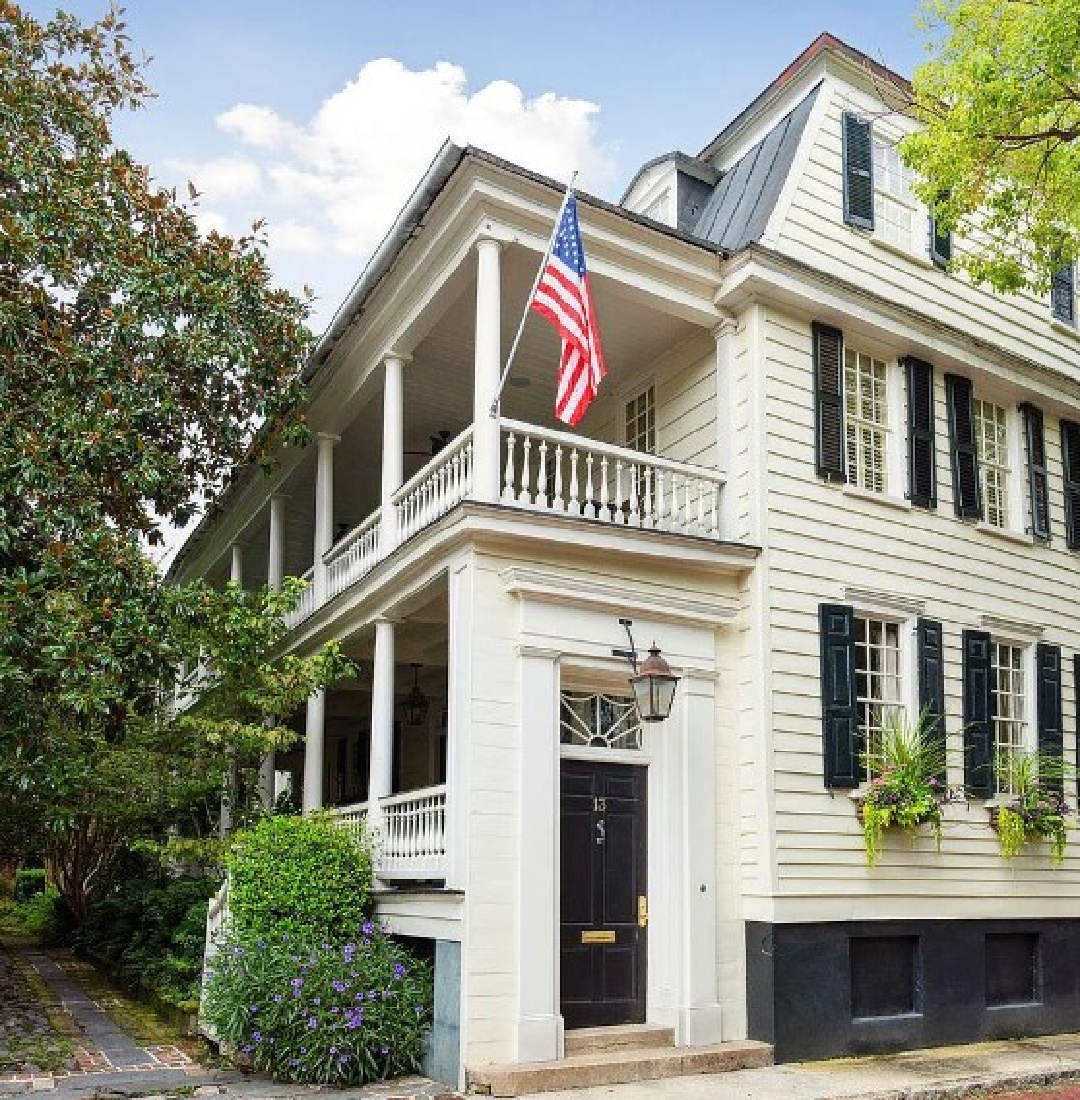 The gardens and courtyards surrounding the homes are meticulously landscaped, often with lush greenery, fountains, and charming pathways.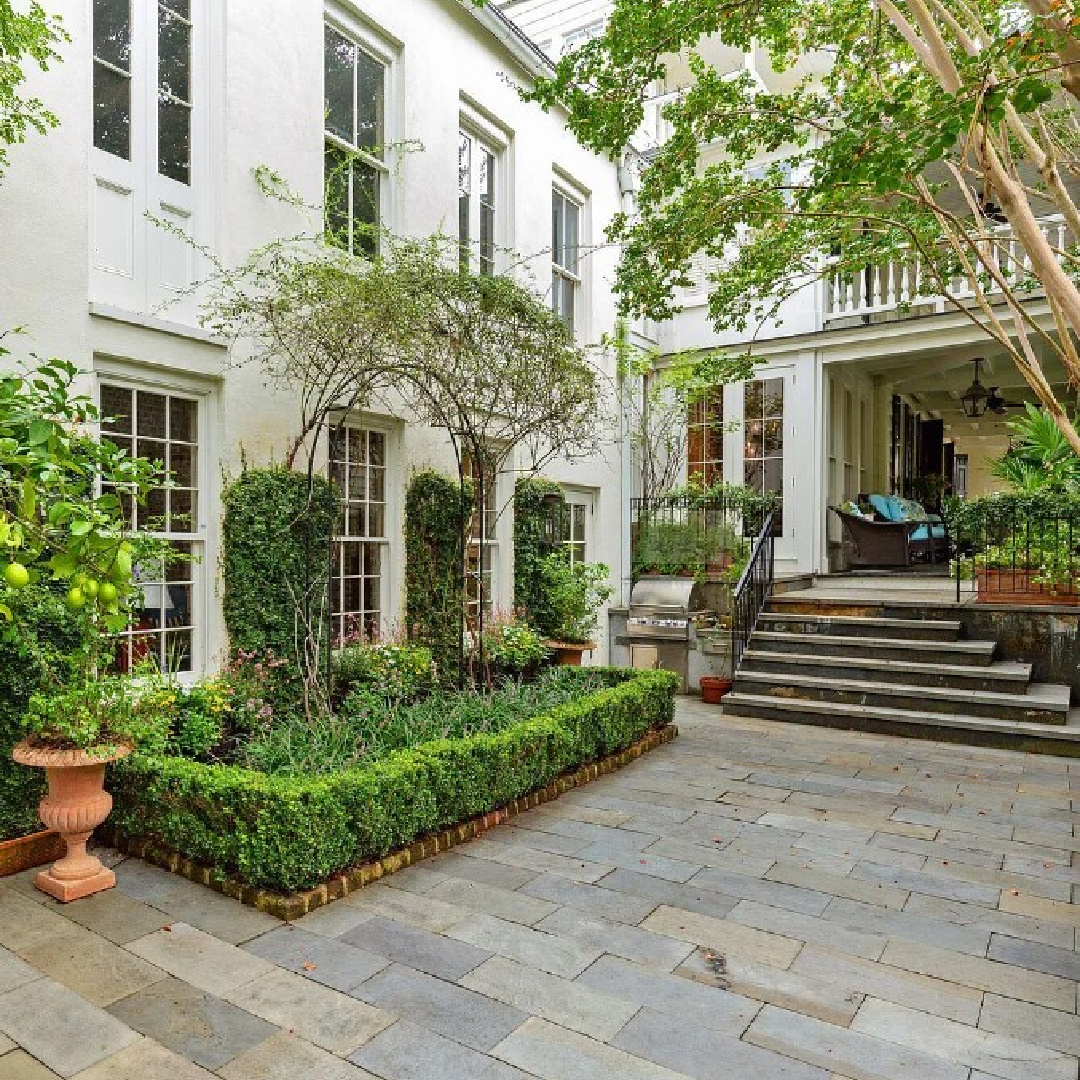 What Would You Plant in Your Charleston Garden?
Commonly found plants in these historic gardens?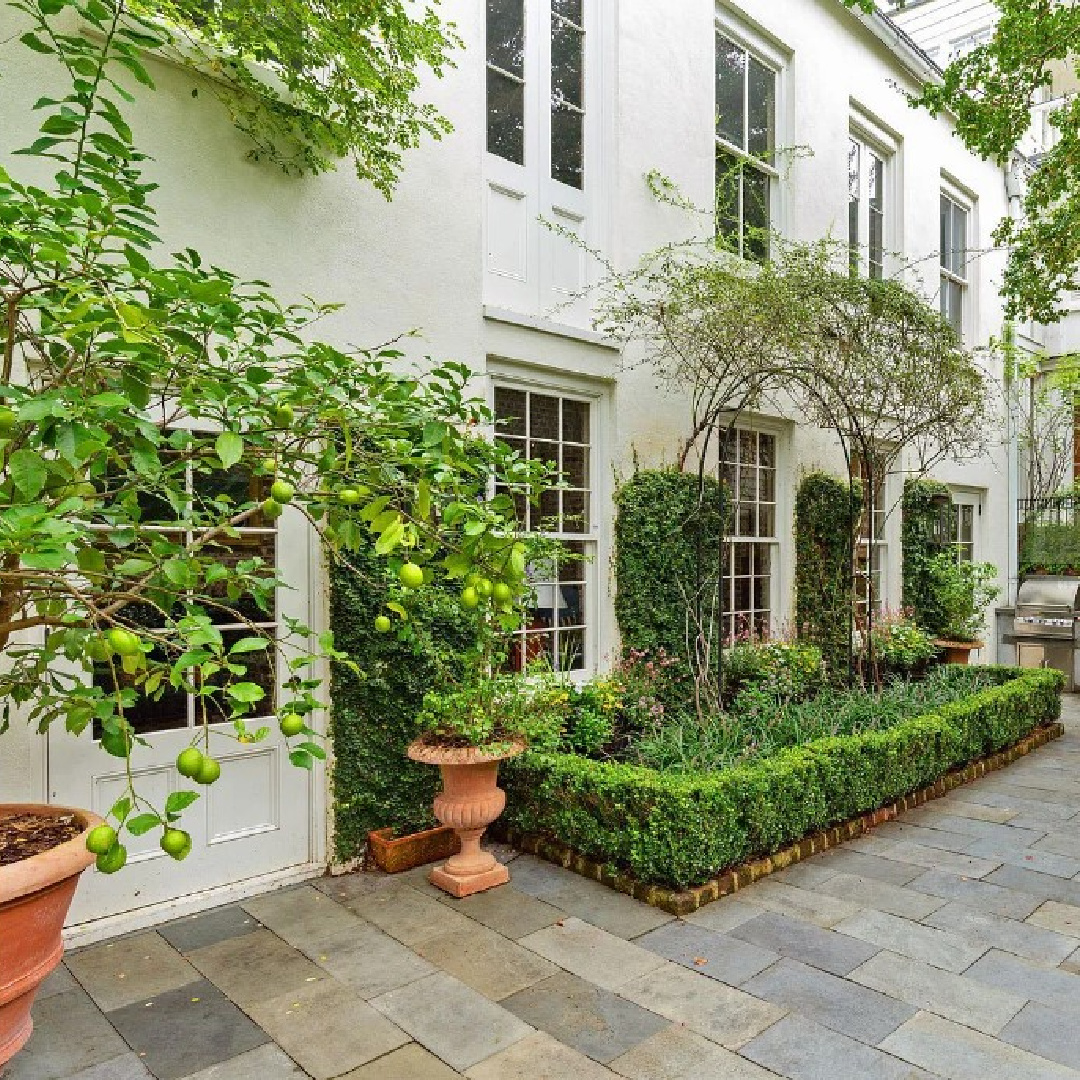 Magnolia Grandiflora
The magnificent magnolia tree is an iconic symbol of the South and is frequently seen in Charleston gardens. Known for its large, glossy evergreen leaves and fragrant, white flowers, the Magnolia grandiflora adds a touch of elegance and southern charm to the landscape.
Psst. Next time I visit Charleston, I want to tour Magnolia Plantation and Gardens.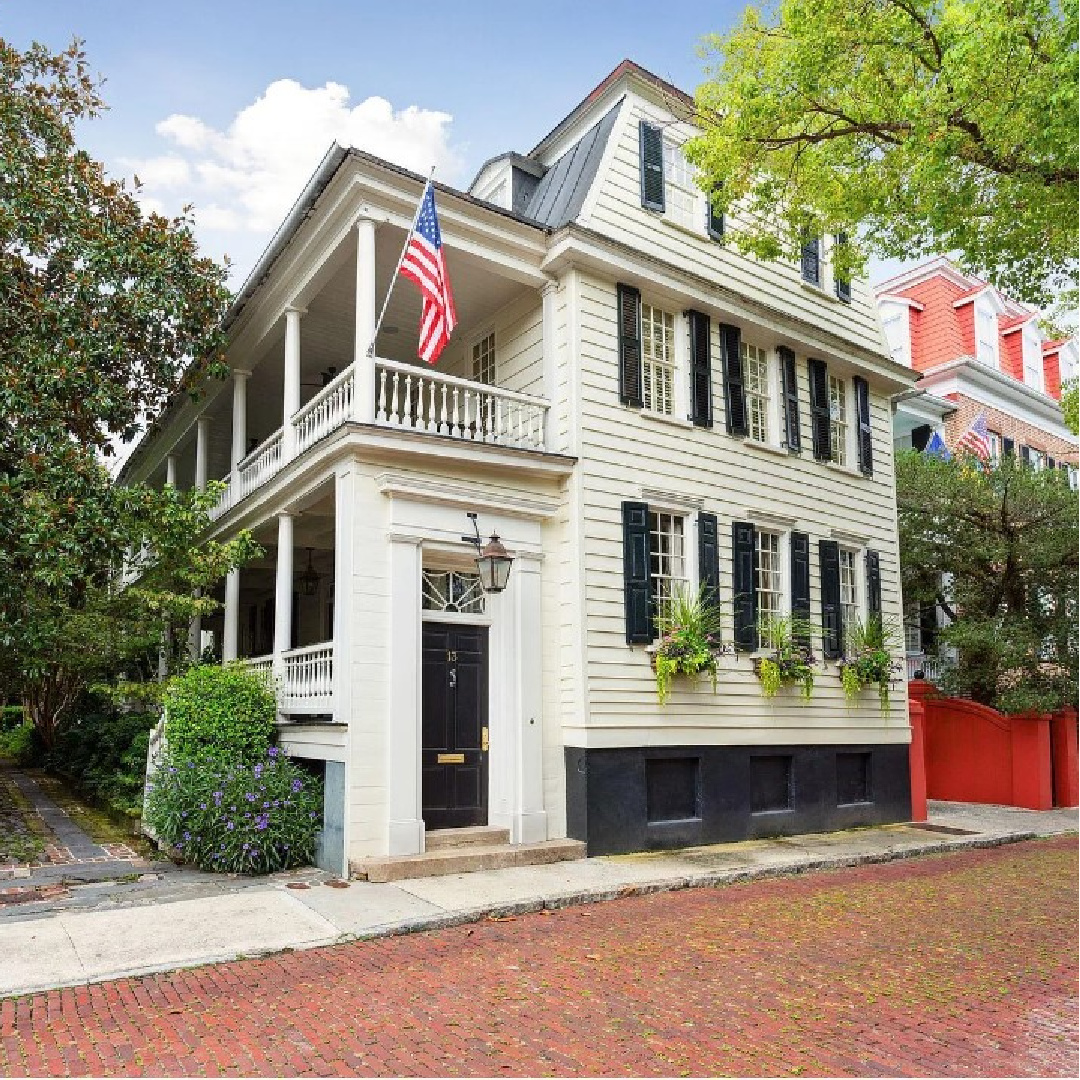 Azaleas
Azaleas are popular flowering shrubs that add vibrant bursts of color to Charleston gardens. These plants produce abundant clusters of blossoms in shades of pink, red, purple, and white. Azaleas thrive in the acidic soil and provide a beautiful display during the spring months.
Camellias
Camellias are another beloved flowering plant found in Charleston gardens. These evergreen shrubs or small trees produce exquisite blooms in shades of pink, red, and white. With their glossy foliage and elegant flowers, camellias add a touch of grace and beauty to the garden, often blooming in the winter months.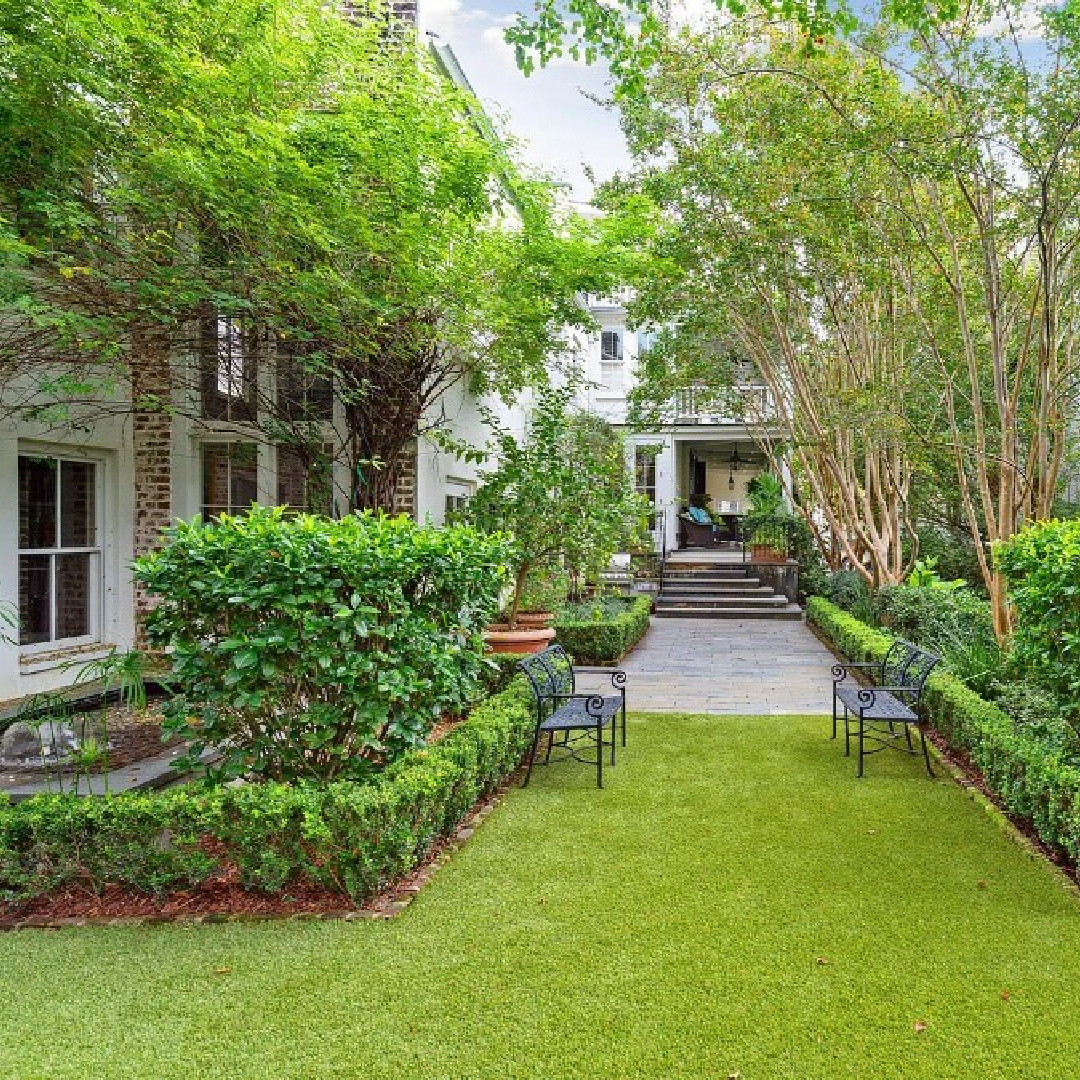 Palmetto Trees
The Palmetto tree (Sabal palmetto) is the state tree of South Carolina and is commonly seen in Charleston's historic gardens. With its fan-shaped fronds and distinctive silhouette, the Palmetto tree provides a sense of local identity and serves as a focal point in the landscape.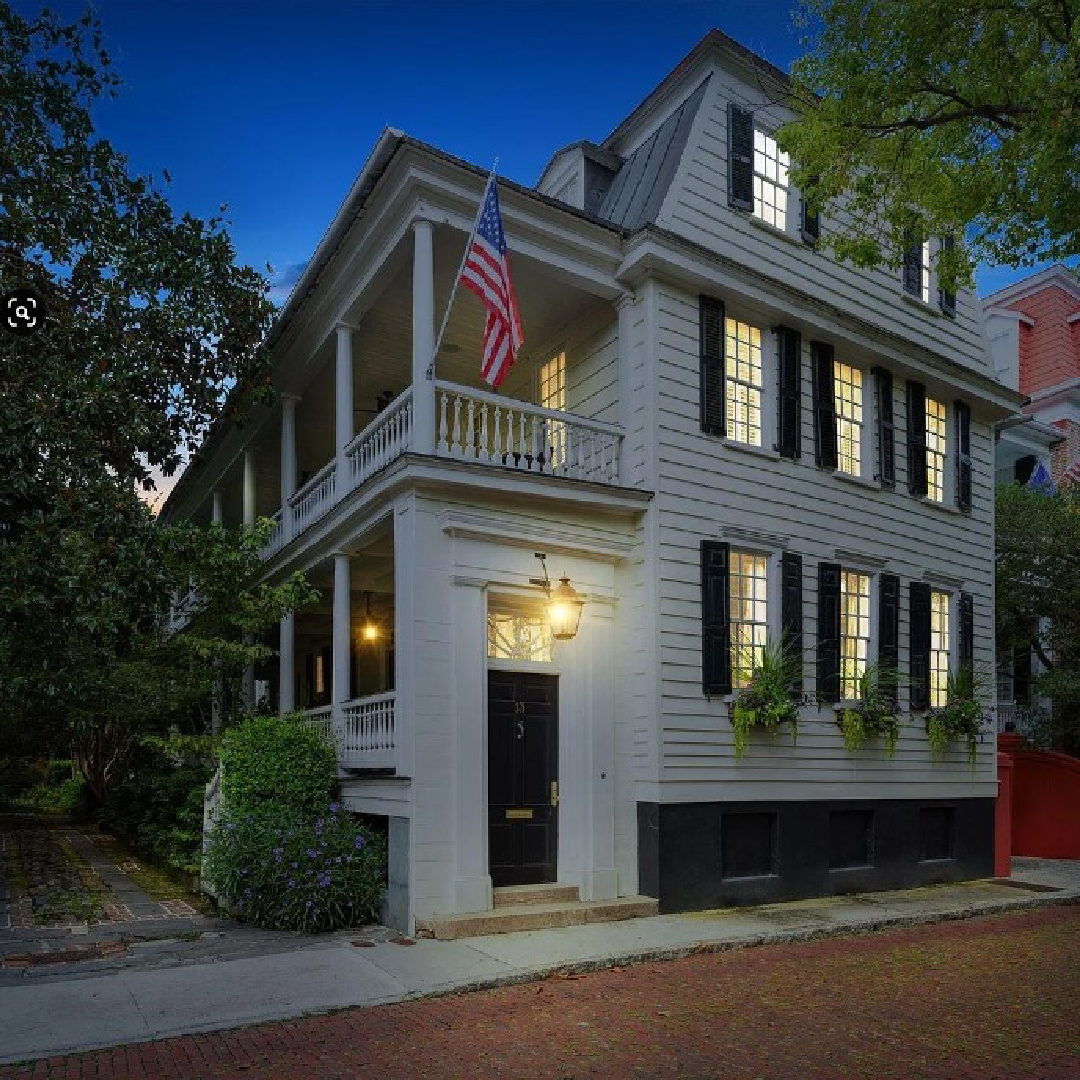 Confederate Jasmine
Confederate jasmine (Trachelospermum jasminoides) is a fragrant vine often used in Charleston gardens. With its small white flowers and sweet aroma, it adds beauty and a delightful scent to the garden. Confederate jasmine is often trained to climb trellises, walls, or fences, providing a lovely backdrop to outdoor spaces.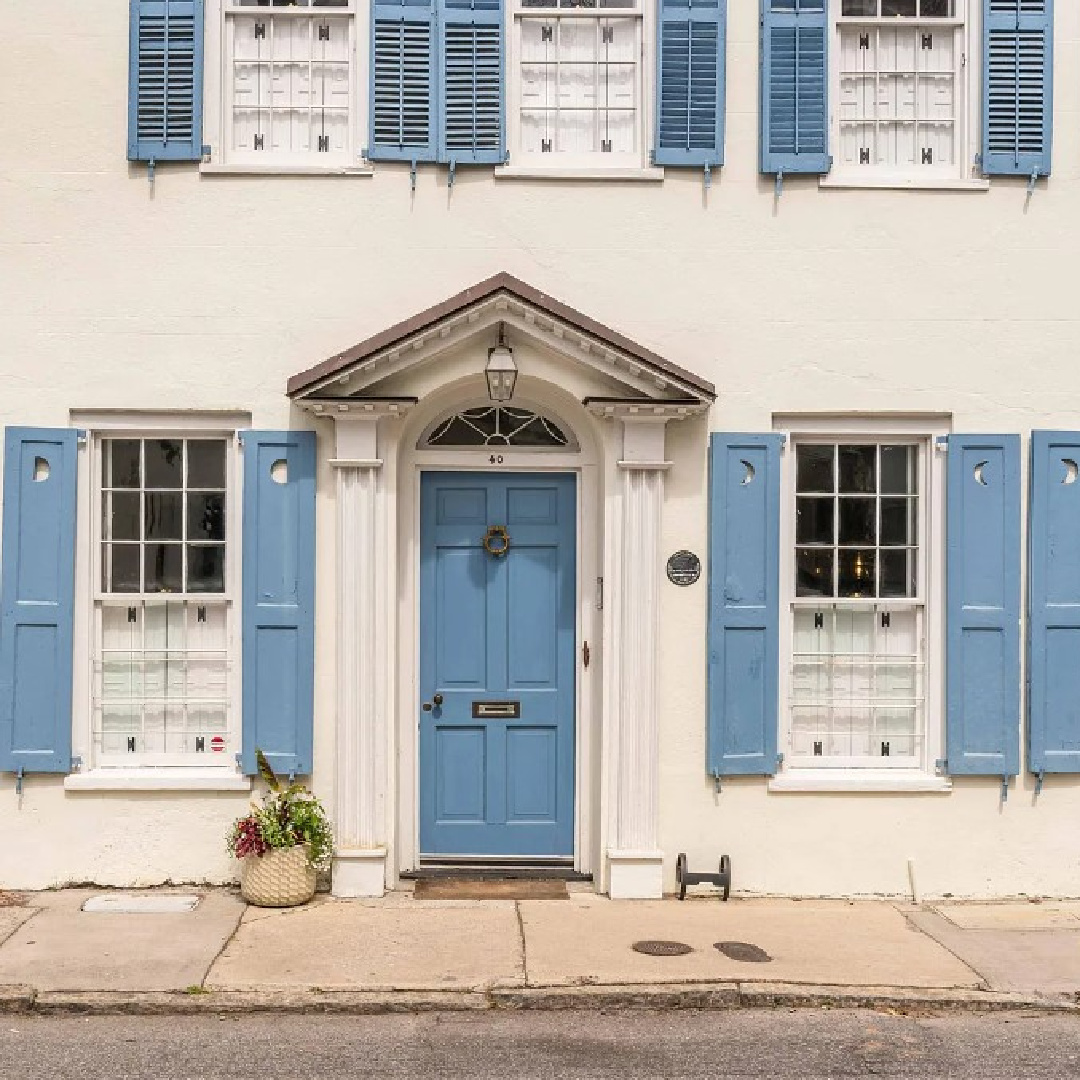 We will have to explore Charleston interiors soon since I'm dying to go inside each and every one of these amazing historic homes!
Peace to you right where you are.
-michele
Shop for items you already intended to buy on Amazon RIGHT HERE, and also find home decor here to keep decor inspiration flowing on Hello Lovely!
Hello Lovely is a participant in the Amazon Services LLC Associates Program, an affiliate advertising program designed to provide a means for sites to earn fees by linking to Amazon.com and affiliated sites.