The snow has been gently falling for days, and the slippery roads are not safe for travel. Just the right weekend weather to curl up in quiet with books, candlelight, and something delicious in a mug. Flooding my consciousness this moment design-wise? All things timeless design as the bath in our bedroom suite undergoes DIY transformation. No, the dust has not cleared! Yes, the surprises keep coming! I shared an update HERE. We'll get there. We always do. While the major decisions are out of the way, artful and soulful touches still ahead will usher in the mood we hope to create. Timeless bathroom inspiration for a tranquil mood is a collection of beautiful designs to inspire our scheming and dreaming.
Timeless Bathroom Inspiration for a Tranquil Mood
In the mood for a chat since it's just you and me? Perfect.
Exploring & Defining Timeless Tranquil Baths
What makes it timeless, and how do the finishes and details contribute to a calm feel in a room which must meet a variety of needs daily?
For me, a timeless design incorporates plenty of classic and traditional elements that do not necessarily reflect what is in vogue this moment.
We can't truly embrace timeless style without considering history, old things, and traditional forms and architecture.
Yet there is still plenty of freedom to freshen the traditional and elevate Old World.
Color Palettes & Calm Bath Design
In terms of invoking a tranquil mood, the color story can certainly affect energies and emotions. Contrast can also be powerful. For example, in this bath by Brooklyn Decker below, black and white create high contrast and interest. Is it tranquil? That is a subjective matter.
Elements of Texture in a Bath
Texture also contributes to tranquility. While the highly textured rustic wood ceiling brings an organic layer to the design, It's not likely I personally will feel calm in a space with darkness above me.
If this collection of timeless and tranquil baths proves anything, it's how these qualities can be interpreted with rich variety and idiosyncratic charm.
That's the spice of life! The variety of hard and soft textures in this bath above would delight me. Seeing the sweet bird art would make me so happy everyday while someone else might find it too whimsical or bold.
Bathroom Layouts & Mood
A bath's layout can also strongly influence its mood, calmness, and how the space makes you feel.
When things are awkward or clunky in a space, it can make you want to quickly exit. We're struggling with a bit of that clunk factor in our own bath under renovation.
Too many angles, niches, and soffits can feel imbalanced, busy, fussy, and even chaotic.
So a balance to the space truly helps even before a single fixture or finish is selected.
Common Denominators in Calm Bathroom Designs
I love how the baths represented here have such disparate identities and points of view. Some are prim and proper while others are more relaxed.
What they seem to share though is an airy elegance that doesn't feel attached to a single moment in time or concerned about what is fashionable.
The plaster work on the walls (above) in this Marie Flanigan space bring to mind classic design from another era yet it also feels organic, alive, and poetic.
Finishing Details for a Timeless Bath
Details such as the entrance to the shower can be critical when you're after timelessness or tranquility. Imagine if there were hinges and a spa-like glass door above…would that be a wrong choice? Not necessarily. Yet there's a softness and an opportunity for quiet calm when a fabric curtain is introduced.
Wallpaper and wall finishes are also a way to bring a peaceful mood and softness to a very utilitarian hardworking bathroom space.
In my own homemaking adventures, I have found what isn't there strongly contributes to tranquility.
Sometimes it's about subtracting the extraneous and elevating the essentials. It is curious though. A bath like the one above gives me all the feels. The rich natural marble with its bold veining connects my mind and energies with nature along with the wood shelf and warm wood floors.
Yet if we consider a timeless tranquil bath such as this next one, it is the suggestion of blossoms and tree branches which feel calming rather than actual branches formed into wood planks, yes?
It's just so interesting that as humans we have these varying tolerances and affinities for abstraction, real, and "real enough" when it comes to our shelters and living with nature.
The blue hydrangea rendered in the lovely wallpaper above imparts a cheerful, optimistic and peaceful mood. However, someone else may feel more calmed by the simplicity of a single live hydrangea arrangement.
Understated & Subtle Underpinnings
I have noticed that the designers I most admire tend to ensure a space has every shape represented in a space. Bathrooms need not be neglected in terms of such thoughtfulness!
Rooms just feel more "right" when there are curves and spheres along with rectangles, squares, and triangular forms.
If you don't readily notice the array of varied shapes in a space…all the better!
A mix of shapes and forms can feel understated and subtle, yet the overall effect is powerful.
Tranquility Beyond White Bathrooms
Must everything be shades of white to feel timeless and tranquil? Plenty of examples prove otherwise.
Timeless and tranquil are also not limited to smooth, pristine, or sleek textures. Earthy muddy tones and rustic chalky finishes can also become ingredients for a retreat-like space to linger.
What romance!
Bathroom Lighting
By now, I'm sure you have noticed the importance of lighting when you're after serenity.
There's a romantic elegance that emerges when beautiful wall sconces and thoughtful lighting are a part of a design plan.
Bathrooms often lack natural light, and yet even this can be exploited for cozy factor.
I find that after all these years, I am ever learning to appreciate and work with light as I address interior design.
How to capture its glory?
How to compensate for its lack?
And don't we need a whole post devoted to bathroom mirrors?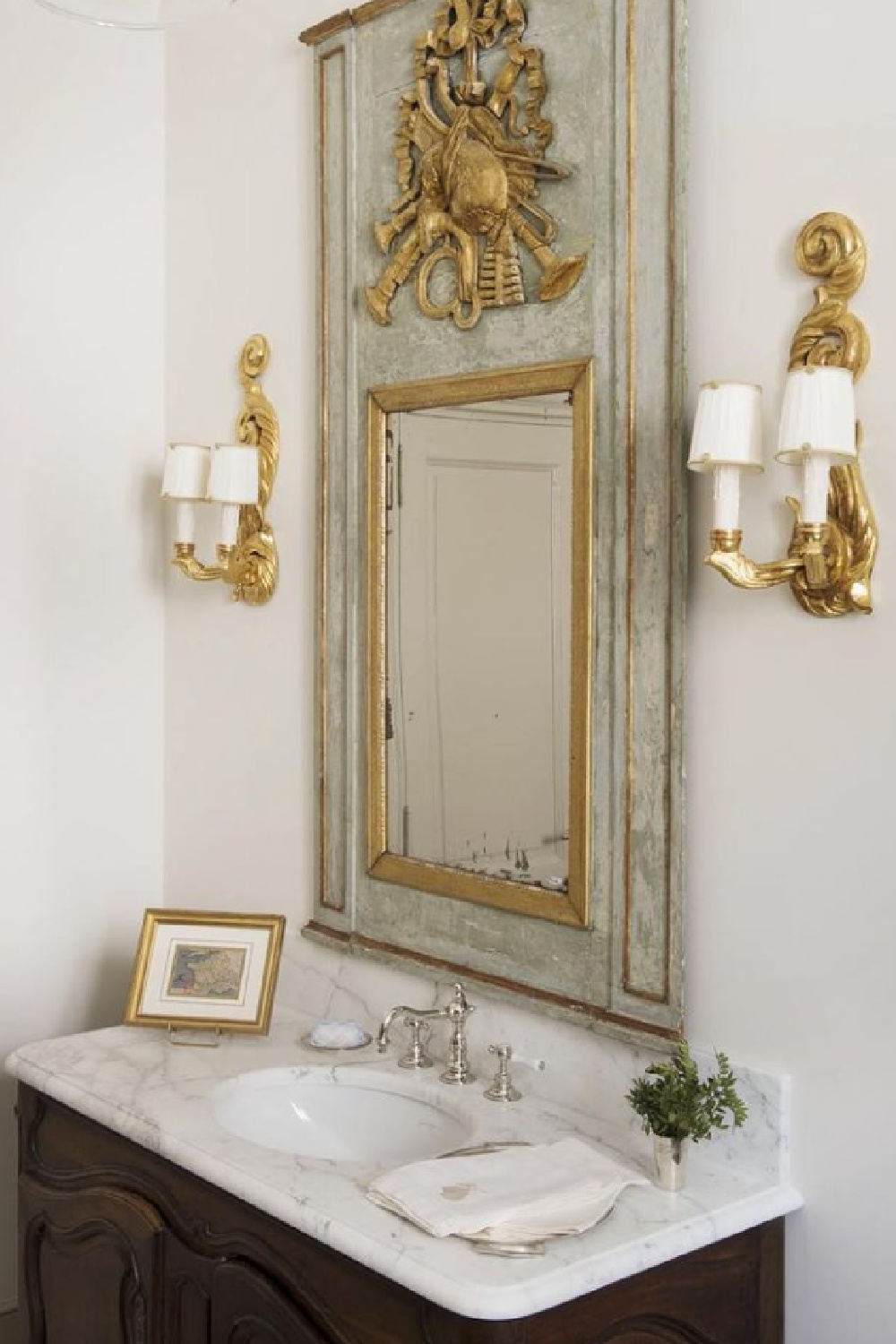 Who among us doesn't: rely on one, start the day gazing in one, assess the damage and consider the effects of time that mirror reflects?
I hope you found inspiration here to fuel your own pursuits and design adventures!
I independently selected products in this post—if you buy from one of my links, I may earn a commission.
Peace to you right where you are.
-michele
Shop for items you already intended to buy on Amazon RIGHT HERE, and also find home decor here to keep decor inspiration flowing on Hello Lovely!
Hello Lovely is a participant in the Amazon Services LLC Associates Program, an affiliate advertising program designed to provide a means for sites to earn fees by linking to Amazon.com and affiliated sites.