To say we have a love affair with white interiors around here is not news, and it turns out our affection for white house exteriors is…through the roof! Let's explore Exterior White Colors to Try if You're Painting Your Home with an eye turned toward clean, pristine, freshened, lovely whites designers favor. Are you thinking of painting your house white? Love collecting curb appeal inspo? Need ideas for paint colors?
Exterior White Colors to Sample for Painting Your Home
Where we don't know the exact white paint color, educated guesses are provided – it's helpful to start with a handful of samples anyway since a variety of factors dictate how the color will read.
BM Chantilly Lace
Whether you're considering painting your home's exterior white, building a new home, or renovating an existing one, I hope these inspiring white houses help your design journey.
Sherwin-Williams Shoji White
Here's Shoji White on board and batten…
and here it is on brick:
and traditional siding:
Charcoal Grey Trim
For years now, lots of folks are loving strong contrast for their exterior colors.
Sherwin-Williams Snowbound
Isn't this a lovely natural combination of colors?
Light Grey Shutters With SW Original White Brick
I'm such a fan of low contrast and subtle accent colors.
Idea for Choosing a White Paint for Brick
While I don't know the exact paint color for the exterior below, it offers us a clue as a place to start. Find a piece of white siding (existing or new) that appeals to you and bring paint swatches home to find the closest white match.
Denver Brick Tudor Home Painted White
Black against a white backdrop can be jarring so it is helpful to see how to use it in a more understated way:
Right?
Same White Paint on House Exterior Different Times of Day
My best guess for achieving this shade of white for a house exterior is to try Sherwin-Williams Alabaster. Notice how different the white house looks with the time of day!
I mentioned to you recently that I thought Alabaster would be perfect in the entry of our new house, and because of the sunlight, it read much too yellow.
That is why it is so critical to sample and take your time. Don't feverishly choose your whites while standing under fluorescent lighting in a showroom or warehouse!
Tiny White South Carolina Cottage
I thought this was simple and beautiful with black porch swings and all the symmetry.
See this Tiny Cottage's Before & After
And isn't this a modern yet sweet placement of house numbers above the door?
Go Inside This Eclectic White Brick Tudor!
China White Paint on Brick House
Let's face it, small and simple can pack a huge punch.
Light Grey With White
If you're looking for a light atmospheric grey with warmth, you might like Sherwin-Williams Repose Gray. Here it is on a traditional exterior:
And how gorgeous is it on cedar shake?
The entry in our new home is also Repose Gray, and I just may keep it even though the only grey walls I have ever lived with were BM Classic Gray (which is actually a greyed-white).
SW Nuance on a Shed
I love the name of this paint color, and seeing the window boxes just makes me wanna build a shed and cover it with blooms!
Young House Love's SW Moderne White Painted Brick Colonial
I love how classic and gentle the following color combination is:
…and of course I'm going to admire a paint color with a name like Tranquility!
See the Before/After of This Painted Brick Home
Would you, could you, paint your brick house white? No plans to paint my own red brick house white, but I do love the look!
Maybe the idea of painting anything else is just an exhausting one. We don't need any extra projects 'round here with this long list!
*I need an energy boost about now, and these are a healthier way to get it:
White Brick Exterior With Charming Green-Grey Front Door
Another white and gray-green combination! Apparently, it is a well-loved look.
House Design With White Brick & Rustic Wood Accents
A stained wood door against white painted brick…what do you think?
It certainly is a less formal look and popular with country and farmhouse design lovers.
Modern Farmhouse White Exterior With Blue Gray Trim & Door
If you're looking for a great light blue paint color for a door, be sure to look at the gray swatches first. They often read blue when natural sunlight hits them.
The color above reminds me of BM Boothbay Gray which I used on the shutters and front porch of the tiny house we renovated. I still don't have an official reveal for that project since our son moved in before its completion.
I'm a fan of the wood tone of the porch ceiling with all of the white (above). And look at the beautiful curb appeal of this:
Not sure the exact blue-gray on these French doors below; however, SW Uncertain Gray is a smart choice to emulate this look:
Look at how these black gooseneck sconces from Rejuvenation pop against white siding!
Benjamin Moore Balboa Mist
Not sure what the color of this stucco exterior is, but Balboa Mist may give you this effect:
Board & Batten Modern Farmhouse
Hahahaha.
Black & White in Virginia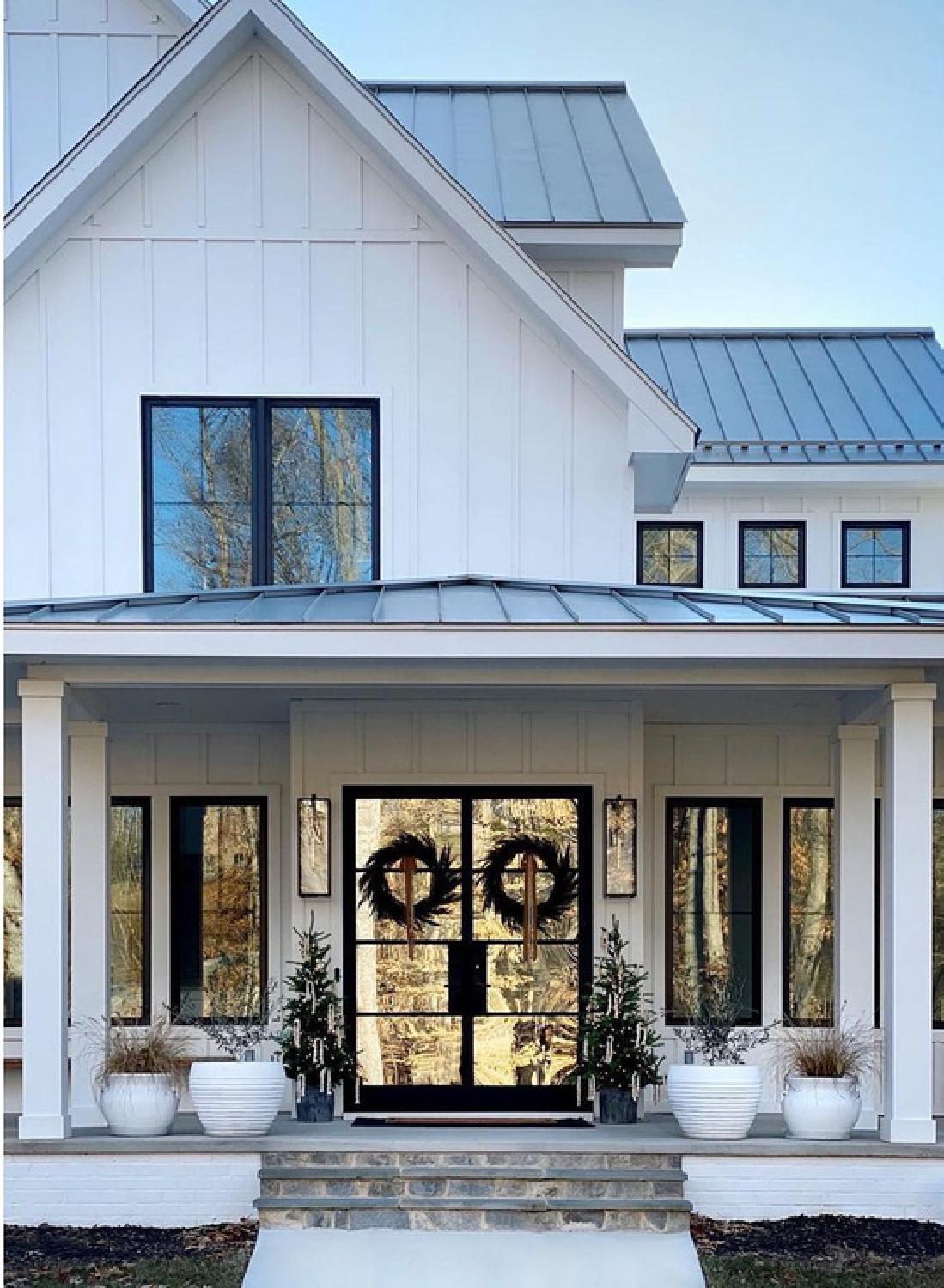 Psst. I'm so tired of the modern ways we communicate now. There's so much potential misunderstanding and manipulation when you can't hear tone of voice!
Garden House With Black Metal Roof
Paint colors to get this two-tone look? Try Farrow & Ball All White and Farrow & Ball Railings for the door.
Bear in mind though that F&B Railings can read navy in some lighting conditions.
What is it with Dutch doors!?!
Low Country Board & Batten White Cottage
Outdoor Shower With White Stucco & Arches
Just a little fantasy thrown in for no good reason…
Benjamin Moore Simply White on House Exterior
Hope these images and color ideas help you choose a few to try. Easiest way to see if a color is right? Order samples with Samplize and have them delivered straight to your door.
And just in case you care to indulge in some cozy things for yourself or your home:
The paint color (No Filter) above is one I used for two of the bathrooms here at the Georgian. I love the ease of ordering paint from CLARE and how it is delivered right to the door considering winter weather and gas prices!
I independently selected products in this post—if you buy from one of my links, I may earn a commission.
Peace to you right where you are.
-michele
Shop for items you already intended to buy on Amazon RIGHT HERE, and also find home decor here to keep decor inspiration flowing on Hello Lovely!
Hello Lovely is a participant in the Amazon Services LLC Associates Program, an affiliate advertising program designed to provide a means for sites to earn fees by linking to Amazon.com and affiliated sites.