One of my favorite parts of summer is how things naturally slow down. Where I live, the pace slows and moods lift, making just about all trips away from home more pleasant. Is there a way to capture this more easygoing summer spirit and exhibit it all year long? And what about infusing our interiors with that flavor? Certain cultures and places seem to have it down to an art, and today we'll turn our attention to the French countryside. How to Nurture French Country Artful Living? Let's look at clues and cues from sources like this one:
Elegant Artful Living in the French Style
La Vie Est Belle is a beautiful book by Henrietta Heald (photos here are ©Ryland Peters & Small) I shared years ago. It's full of inspiration for living with elegant simplicity.
It's such a lovely book in which to escape when you have a slow morning or afternoon to sip, read, and just BE.
Because too much rushing, doing, and achieving takes a toll.
I think it's why I look to so many European country interiors, artists, and sensibilities because there is so much less fuss involved.
Sort of like my ginger/orange/mint tea. No fussy recipe required.
I sliced ginger root, bruised mint leaves, and squeezed a little citrus before filling the mug with hot water. Just the right drink for devouring LA VIE EST BELLE.
Inside you'll find that each chapter delights with interiors, recipes, markets, architecture, and French culture.
Of course my favorite aspect of this book are the French farmhouse renovations and transformations.
French Country Color Palettes
The third chapter of LA VIE EST BELLE highlights Poitou-Charentes and Aquitaine. We're treated to an exploration of charming color palettes as well as a discussion of natural light across various regions of France.
The courtyard with beautiful French green shutters (above) exemplifies the use of quiet and misty blue-greens and blue-greys used so artfully by the French to calm and soothe.
Even a simple thin striped dishtowel in your own kitchen can be suggestive of French style if you too admire the look.
Transforming a French Farmhouse
In a French farmhouse on a rocky ledge between Mougins and Grasse, a 1950's home looks two hundred years older thanks to its innovative owners (the Schouten family).
Just look at the home's beautiful arched entrance!
Henrietta Heald writes,
"The original exterior walls, dating from the 1950s, were made thicker and faced in local stone to give them a rugged appearance. Reclaimed shutters, painted soft sage green, open to reveal a gently arched doorway."
Oh, my! Do you love the interesting cabinetry details? Isn't it encouraging that renovations can be so successful that they would fool anyone!?!
An Inspiring Restored Chateau
One of my favorite chateau tours in the book ushers us into the rustic elegance of Chateau Gignac, a home in the Luberon restored by the Jouberts.
In the double-height entrance hall of this restored home (below), is a very sparely furnished space. With only a French settee and an antique console table, the focus remains on the cobblestone floor, a sculptural staircase, and the rich rugged textures of rustic stone.
There's a masterful mix of greys in an upper hall of the chateau that you may find impossibly tranquil.
Grey and white marble tiled flooring, various shades of grey on the walls, and creamy plaster mouldings work magic in their harmony.
It is worth taking a moment to study the composition which could have easily gone wrong if the owners had disturbed it too much or infused sweetness rather than an artful layering of textures and timeless warmth.
Country French Garden Inspiration
Regarding this charming sanctuary of a peaceful garden spot at a home in a hamlet south of the Seine valley, author Henrietta Heald writes:
"Secluded corners designed for relaxing are a feature of the garden. Here the decorative approach is simplicity itself; a small circular metal table, geraniums in a Versailles planter and wire birdcages adorning the walls."
When the author turns her attention to the island Île de Ré, off the West Coast of France, I thought immediately of Vivi et Margot's Charlotte Reiss, who introduced me to the magic of the place.
Charlotte's French farmhouse kitchen (below) near Bordeaux is a study in elegant artful French living!
While a trip to France to score antiques and authentic finds is ideal, fortunately sources such as Vivi et Margot exist for French homewares and French inspired finds to discover online.
Sometimes you can even score surprisingly lovely French country finds in unexpected places (such as my very own Amazon storefront RIGHT HERE).
I independently selected products in this post—if you buy from one of my links, I may earn a commission.
Resources to Decorate and Furnish Interiors With French Style
I have a mad crush on this bench and wonder if I may find a place for it at the new house:
I can imagine planning a breakfast nook or casual dining room around these cute Louis style chairs:
Here's a counter stool that could infuse elegance into any number of kitchens!
It could even be pretty in a bathroom, yes? It is getting harder to find beautiful antique farm tables so readymade examples are a good consolation:
This curvy piece could be stunning in the right foyer, dressing area or bedroom:
More interior designers have incorporated this mirror into their schemes than I can say:
I'm in the market for a coffee table since I think the size of my rustic one is too hefty at the new house. This one would provide a better scale:
Paint Color Ideas for Pale Country French Palettes
How I Create Artful French Style at Home
If you read this blog, by now you probably know my style is relaxed and highly intuitive. I don't have time for a bunch of design rules. I find a mix of high, low, castoffs, vintage, antiques and new can play nice together when the color story is pale and neutral.
These Louis style dining chairs work well in a variety of settings. In our former dining room, they worked with the slope arm slipcovered chairs, and they look just as natural and classic at the new house.
If I were in the market for a new farm table, here's a contender:
This one is simple and relatively inexpensive:
While I still love my French country counter stools, I'm not sure they will work in the new kitchen since I may need stools to tuck under the island.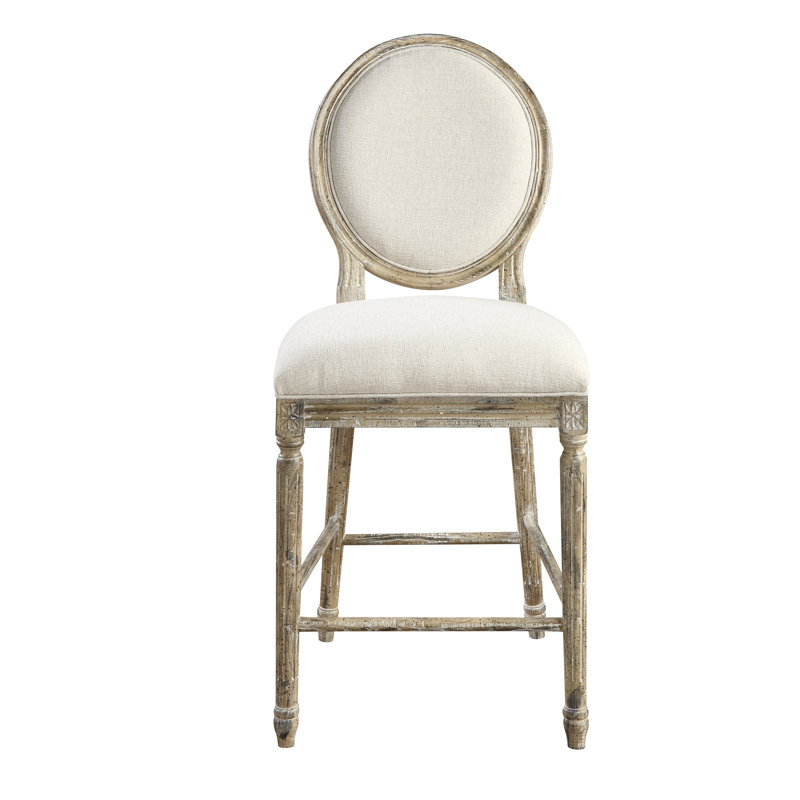 Thanks for entertaining these inspiring glimpses of artful French living and reflections about achieving elegance at home.
p.s.
Also in this wonderful book? The French artist Claire Basler's South of France home. Familiar with her work?
The artist truly knows her way around elegant artful French living!
I independently selected products in this post—if you buy from one of my links, I may earn a commission.
Peace to you right where you are.
-michele
Thanks for shopping RIGHT HERE to keep decor inspiration flowing on Hello Lovely!
Hello Lovely is a participant in the Amazon Services LLC Associates Program, an affiliate advertising program designed to provide a means for sites to earn fees by linking to Amazon.com and affiliated sites.