Whimsical Holiday Decor Inspiration, Ideas & Christmas Decorating Finds is my trick for any halloweenies and my treat for everyone who appreciates a bit of playfully pleasing joyfulness. As a bonus, this loveliness is beamed via a contented, always in costume, Merry Sugarplum Fairy on the Prairie with a wicked sweet tooth. As a bonus bonus treat, it is sealed with a wink and snowy white wonder as well as wishes for the whimsiest whims to forge a path directly to you.
On this chilly night in Northern Illinois, it seems fitting to gaze in the direction of holiday cheer and Christmas decor. Whimsical decor in particular, feels perfectly natural given that autumn's first snowfall debuted this morning. Those colorful oak and maple leaves still clinging to branches are now dressed in delicate white sweaters.
The thing is, for all we know, flip flops may be appropriate footwear for tomorrow's meterological mystery. It is truly a strange pocket of the universe where all four seasons will sometimes compete over the course of a single day.
Whimsical Holiday Decor Inspiration, Ideas & Christmas Decorating Finds!
I don't think whimsical decor must necessarily include bold color or kitsch so I love how Dreamy Whites imagines a French pot, a wee tree, and pie.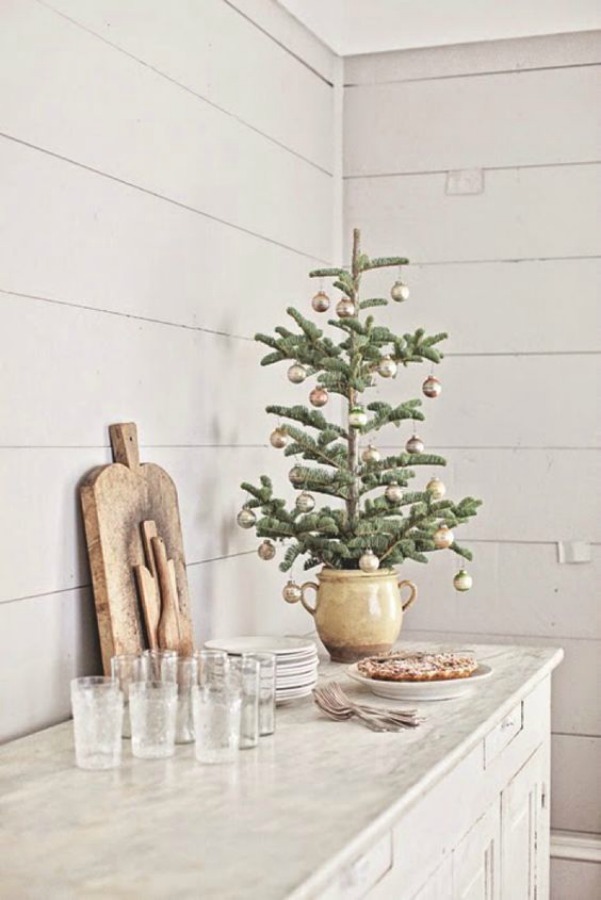 Not that there's anything wrong with bold color for whimsy! (If you happen to have a Norway Spruce in the yard as I do…these droopy branches below in simple glass jars may bring a broad smile to your lovely face.)
Whimsical Christmas Tree Ideas
Oh, the multitude of ideas for whimsical Christmas trees around the internet! Who can resist a pom pom tree created from handmade or storebought pom poms. (NO ONE HAS TO KNOW!)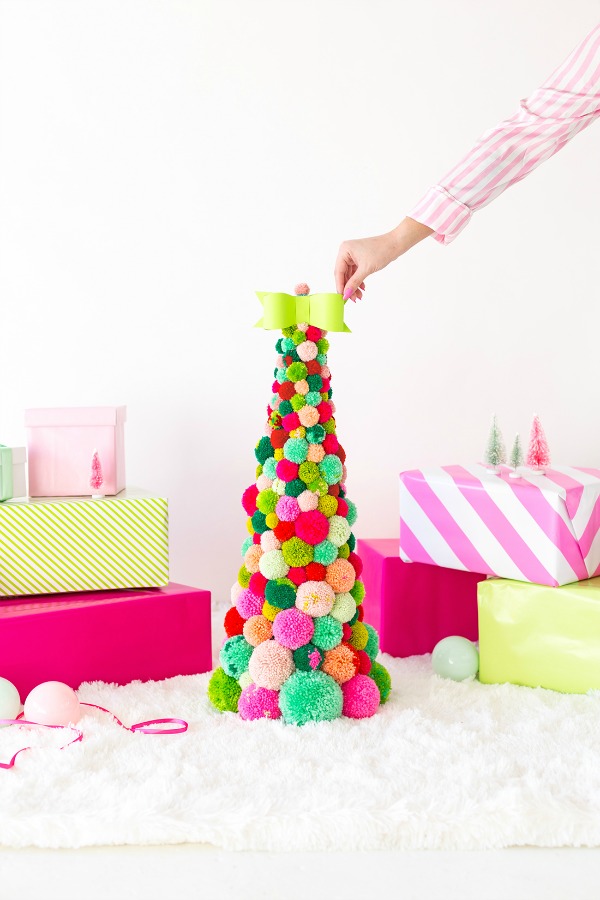 BTW, this 70's crafty flower child has always had a thing for pom poms so See a crafty story here with more DIY!
Peppermint Stripes Whimsical Tablescape
A peppermint candy cane themed tablescape has just the right balance of whimsy, and I bet many of you could run with this theme in mind for your Christmas table!
Darling Gingerbread Gift Boxes
This is a DIY from Awwsam I'll definitely be trying this year since every one of my gingerbread houses in the history of my DIYs has been condemned. Lord have mercy, it would be a gift if these gifts were a saving grace.
Scandinavian Christmas Decor Whimsy
It can be the little things. Good Housekeeping demonstrates how simple Scandi straw ornaments can freshen ordinary garland strewn on a staircase. I grew up with these ornaments on our tree every year so they also deliver a nostalgic squeeze directly to my heart.
And look no further than the Swedish dala horse for the sweetest Nordic nod to whimsical holiday decorating.
French Country + Whimsy Wonder
I like whimsy decor best when it feels non-contrived and effortless. Shabbyfufu's fresh greenery paired with an enamel pitcher and rustic box captures such ease.
It's simple, wabi sabi, slow living, Christmas zhushing von zhushing at its farmhouse finest.
One Image, 100 Whimsical Moments
Sometimes just one corner of a holiday decorated space will spoil you with lovely whimsical holiday splendid-awesomeness. Go ahead and expand the image on your screen to see what I mean, and I bet you'll experience a few merry aha's. (Who is sprinting to the thrift store for easy to find brass candlesticks, and who agrees a fun-sized fresh Christmas tree is delightful?)
Serenity, Simplicity and Stripes
While you might expect to see a plain ol' burlap skirt or a French linen sheet draped round this tree's base, what a sweet sight to spy stripes!
Come to think of it, why do we settle for one tree skirt per season when the tree skirt fashion possibilities are endless and easy peasy to change!?!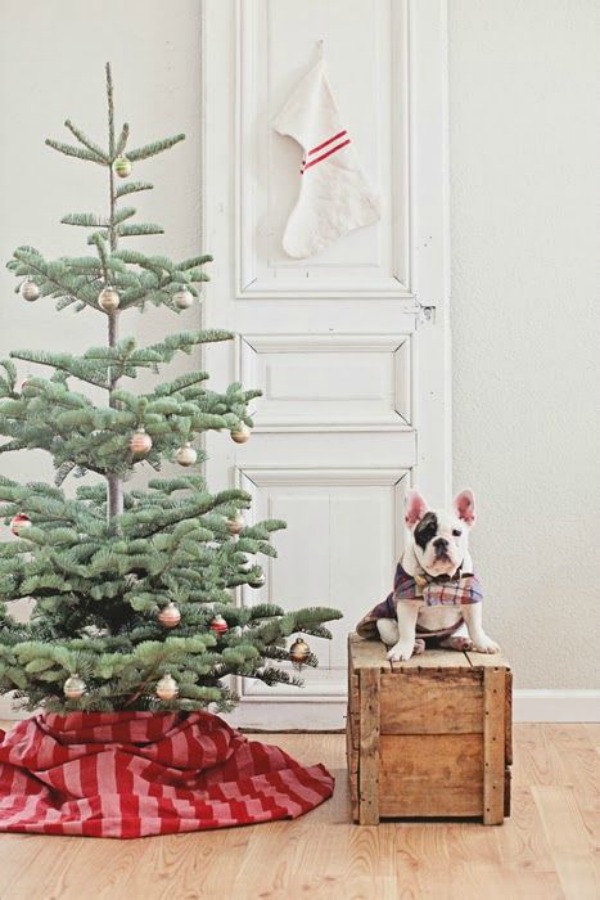 When Whimsical Christmas Decor Finds Are Also Quite Functional
I'm in love with Rifle Paper Co's Nutcracker holiday designs, and I bet the color palette will appeal to you too since it is such a freshened, cheerful Christmas rainbow.
I independently selected products in this post—if you buy from one of my links, I may earn a commission.
When is a Whimsical Gnome Cushion Functional Decor?
Can a decorative throw pillow embellished with playful pom poms ever be deemed functional? Will the first internet global discussion forum on the topic commence here?
*shakes Magic8ball… "Cannot Predict Now"*
But seriously. If said pillow evokes a smile from you and others in the nest, I would argue the answer is OUI (or at least a wee oui…hahahahaha).
Lovely & Whimsical Christmas Decor Finds
Do a little Christmas box opening way ahead of schedule by clickety clicking ON THE TITLE OF THE ITEM within these boxes below…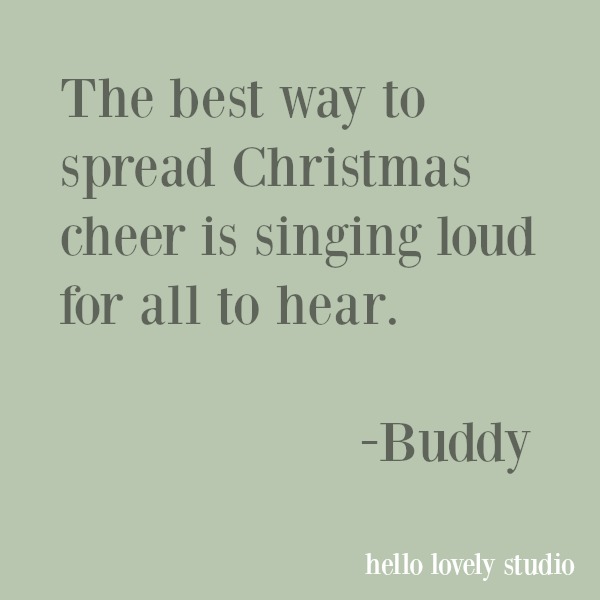 In Case You Are Still With Me…Let's Giggle With Gosling
Thanks so much for being fun as well as fabulous!
Peace to you right where you are.
-michele
Shopping for items you already intended to buy on Amazon RIGHT HERE (not just items mentioned in posts) or home decor keeps decor inspiration flowing on Hello Lovely!
Hello Lovely is a participant in the Amazon Services LLC Associates Program, an affiliate advertising program designed to provide a means for sites to earn fees by linking to Amazon.com and affiliated sites.