There are few things I enjoy more than an adventure on the open road, and since the South is calling…it's time to road trip with my beloved! 23 Smart Things to Pack for a Road Trip This Summer is a fun look at what you may want to throw into your bag or the trunk. Are you the chill type who casually packs and thinks "I can always buy what I forget to bring?" Or are you an uber organized packer who covers all the bases and has an outfit to suit every weather possibility?
I'm a light packer and one of those "I can make do with whatever I bring" types who doesn't overthink it or become perfectionistic. I hope this list helps us both!
23 Smart Things to Pack for a Road Trip This Summer
I independently selected products in this post—if you buy from one of my links, I may earn a commission.
1. Hand Sanitizer
2. Small Pillow
Here's the one I bring – and love that it is handmade and just the right size.
3. Travel Mug
4. Good Travel Pants
5. Sandals You Can Wear With Lots of Stuff
6. First Aid Kit
7. Fanny Pack
8. Pain Reliever
Great price for this quantity!
9. Snack Organizer/Cooler
10. Sunscreen
11. Organic Candies
12. Argan Oil for Your Hair
13. Turkish Beach Towel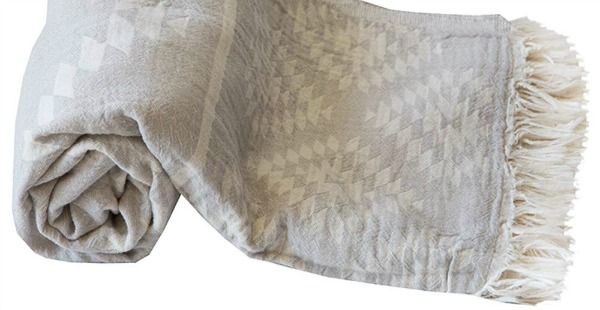 14. Travel Size Hair Products
15. Phone Charger
16. Organic Fruit Chews
17. Yummiest Lip Balm
18. Extra Undies
19. Swiss Army Knife
20. Inexpensive Sunglasses
21. Good Quality Sunglasses
22. Refillable Water Bottle
23. Place to Stash the Trash
Make sure you see this recent fashion over 50 post with casual, cute, and comfy finds.
Road Trip Drama
Have a favorite 'road trip' film? I enjoyed the characters and the imperfect love between them in LITTLE MISS SUNSHINE. There was a dramatic moment that happened on the road…(some strong language at the end)
and who could forget:
or this:
I used to go see live comedy downtown Chicago in the '80s where Bonnie Hunt (actress in clip above) got her start – she was brilliant, sassy, and hilarious!
Happy trails!
Peace to you right where you are.
-michele
Shopping for items you already intended to buy on Amazon RIGHT HERE (not just items mentioned in posts) keeps decor inspiration flowing on Hello Lovely!
Hello Lovely is a participant in the Amazon Services LLC Associates Program, an affiliate advertising program designed to provide a means for sites to earn fees by linking to Amazon.com and affiliated sites.
Click HERE to discover lovely cost conscious furniture and home decor!