Rustic Elegant French Farmhouse Dining Ideas is a collection of inspiring photos of Country French dining rooms, French inspired decorating ideas, and tips for getting the look. Since I stumbled upon this story about hosting a French Farmhouse dinner party, I have been pondering the ingredients and keeping an eye open for resources.
Rustic Elegant French Farmhouse Dining Ideas
Rustic Elegant French Farmhouse Dining Idea No. 1: Rustic Harvest Table
If there is one piece of dining furniture that sets the tone for farmhouse style, it would have to be the dining table. With so many options in every price range now, and with the accessibility to fine makers who will create them from reclaimed wood, the perfect harvest table for you is within reach. Find some suggestions further down in this post.
It's hard to say no to a gem of a shelter magazine showing up in your mailbox monthly when a whole year costs less than 15 bucks!
Rustic Elegant French Farmhouse Dining Idea No. 2: Elegant Lighting
The French are masters at creating a romantic mood, and French country inspired sconces and chandeliers can do wonders in an otherwise ho-hum space. Of course, a limestone fireplace, plaster walls, rustic wood ceiling beams, and a pastoral setting won't hurt either…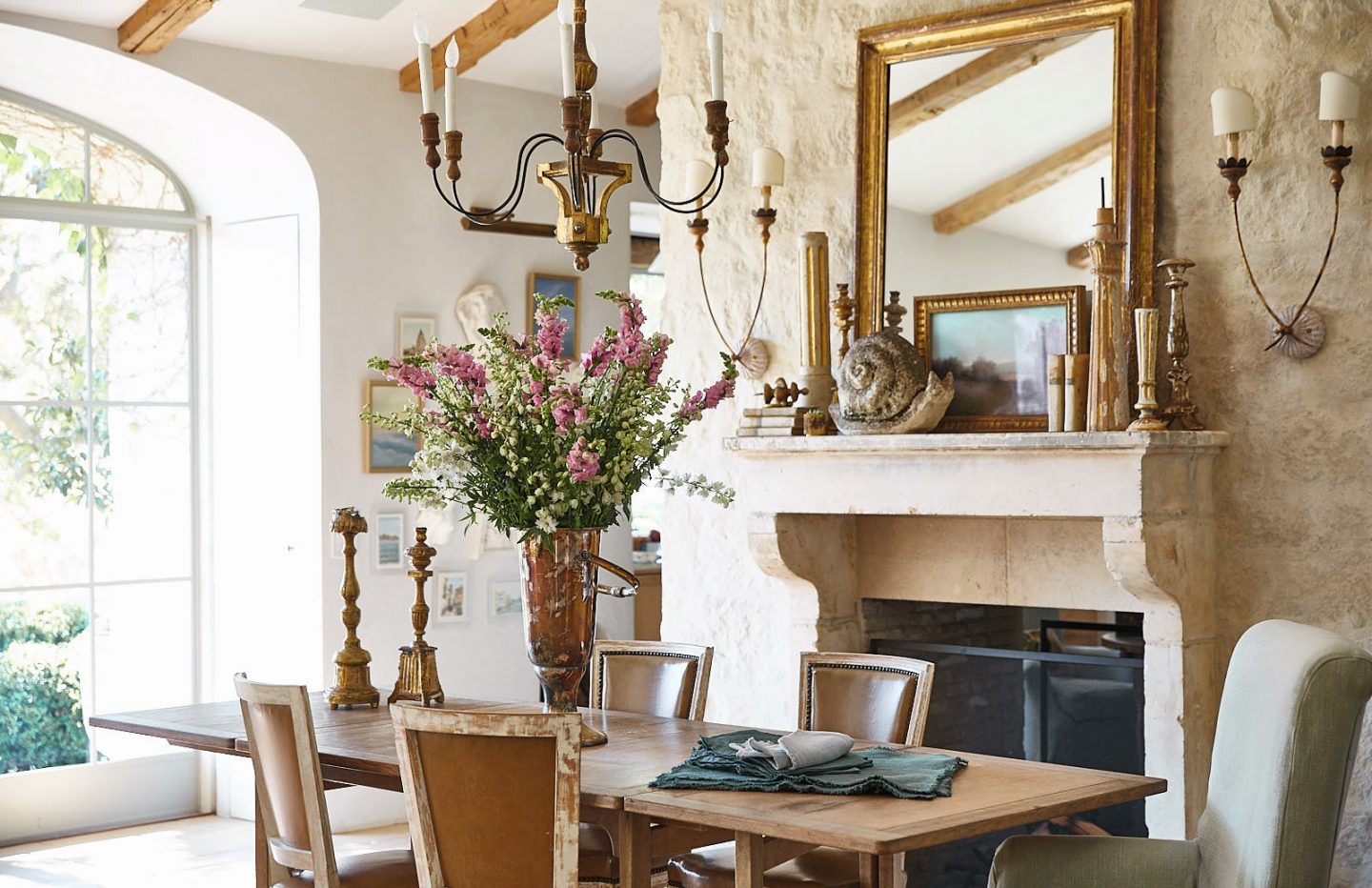 Rustic Elegant French Farmhouse Dining Idea No. 3: Liberal Doses of White
The pale color story French country and French farmhouse interiors often follow is part of what makes the decor style irresistible to me. Additionally, white ironstone, white painted everything, soft neutral wall colors, faded textiles, plaster–white can unify disparate objects and impart calm in a magical way.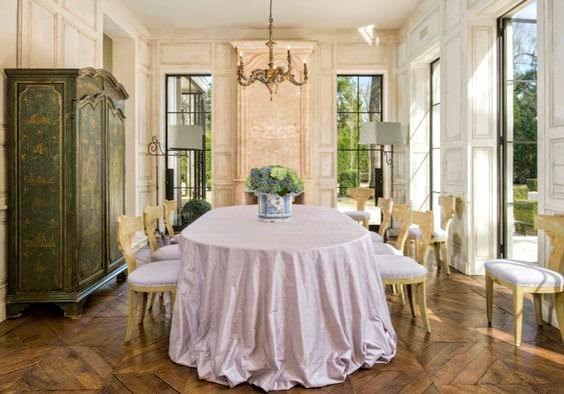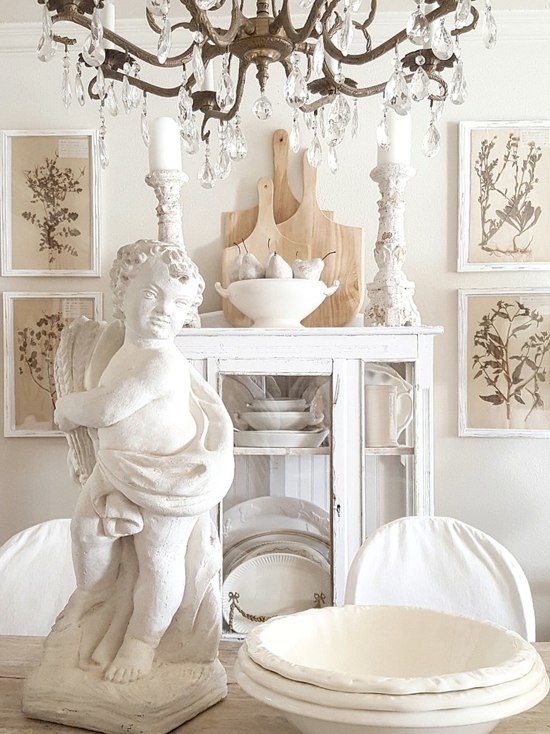 Rustic Elegant French Farmhouse Dining Idea No. 4: Green Accents
You have probably noticed a particular shade of green painted on the shutters of a great number of French farmhouse exteriors, and it's a wonderful hue to bring inside as well.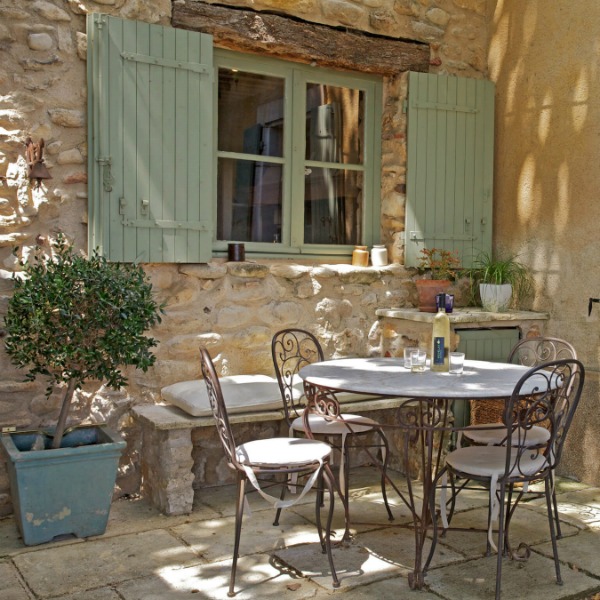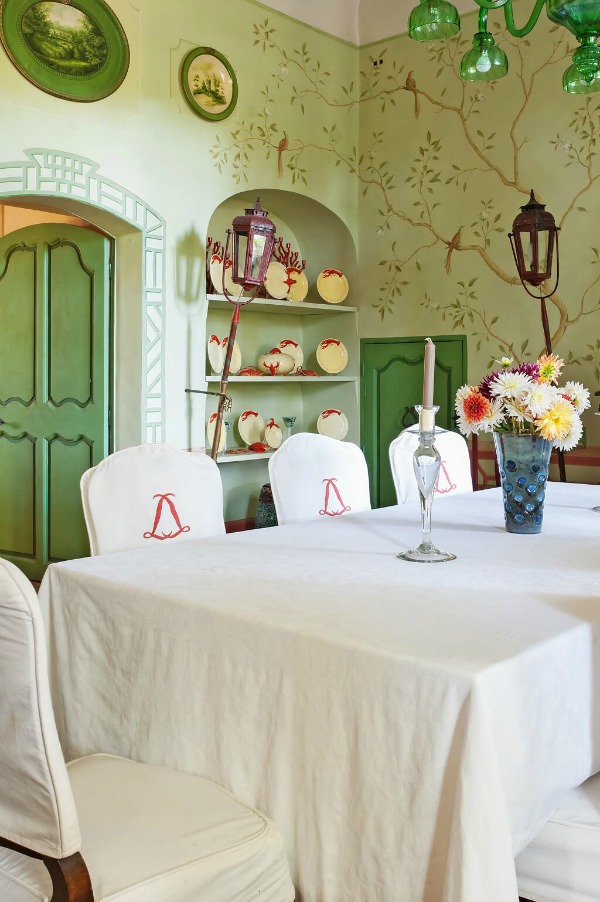 Rustic Elegant French Farmhouse Dining Idea No. 5: Mix With Modern
When a space is collected and layered, the old will very often elevate the new and vice versa. Antiques in an older home may look right at home, but if everything within a home hails from the same era, the mood can grow dull. Look to the work of exceptional designers who have learned the art of mixing modern and antique. Then look closer at those rooms you can't stop staring at…creating soul in a space requires thoughtful curation.
Whether you possess a magnificent shell of a room to work with (as in the jaw dropping kitchen above with impeccable architectural interest) or a more humble setting (the kitchen below is worlds more humble and an example of a rather popular classic white kitchen), modern elements in a dining space add both freshness and character.
Rustic Elegant French Farmhouse Dining Idea No. 6: Decorate With Plates
What a sensational way to showcase a collection, introduce your favorite colors, and additionally, display art in a sculptural and geometrically pleasing way.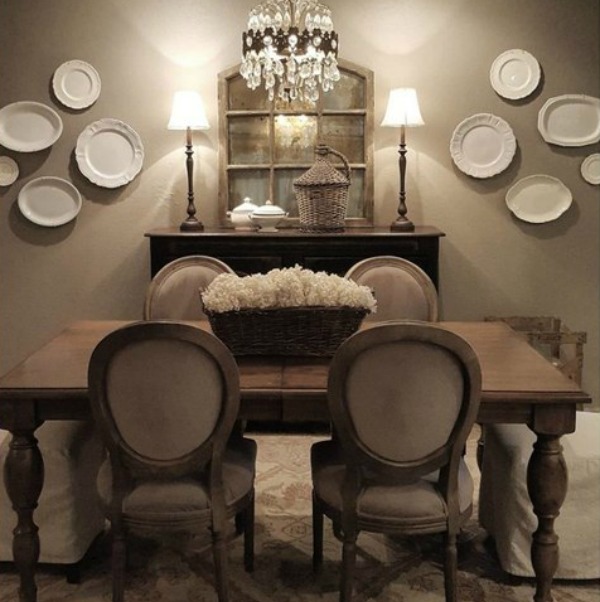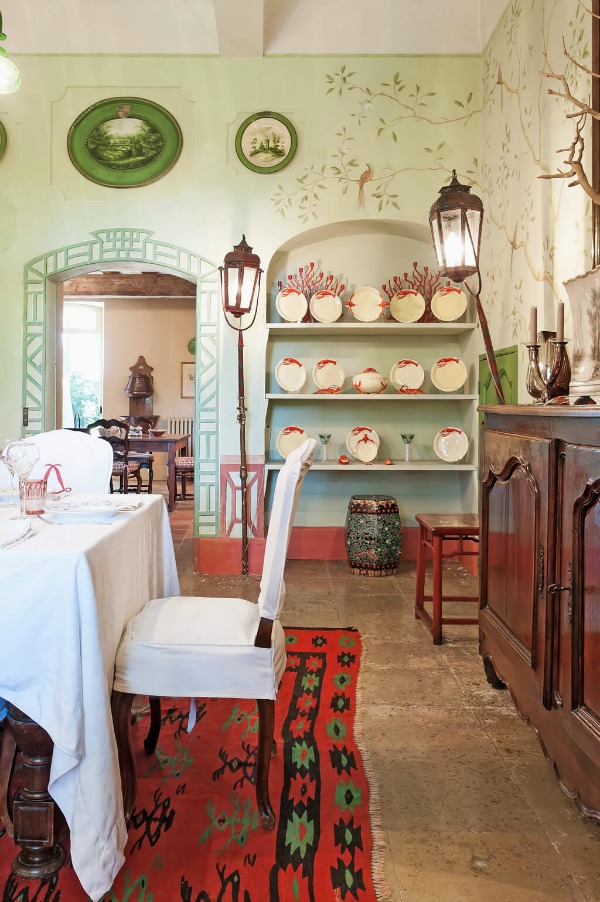 Rustic Elegant French Farmhouse Dining Idea No. 7: Unfussy
My own preference for dining spaces is dictated by a deep need I have for unfussy, uncluttered, and serenity-infused spaces that feel airy and slightly mysterious.
In the breakfast dining area of our prior home, the beautiful forest outside the windows was impossible to miss and wonderful to enjoy — I tried to simply add function to the space and quiet color which would not detract.
In our current small dining area off the kitchen, the mood is also unfussy, and I often display simple branches from the yard in clear glass containers like this. When entertaining, I cover the table with little clear votive candles.
French Nordic Dining Room Style
It doesn't get much more unfussy than a simple vintage grain sack from Germany used as a table runner with an old galvanized bucket of dried hydrangea from the yard.
In the French country dining room of our Arizona vacation getaway (I had yet to add a very much needed rug for beneath the table!), I dressed the table equally as simple.
After refinishing a fussy dining room set, I layered on a simple linen panel with unfinished fraying edges and fresh hydrangea.
Treasures Found for a Dining Space
My giant linen backed mood board (which in the image below is bare because we were just getting settled!) has a crazy provenance: it waited patiently in a dumpster in a Home Depot parking lot.
I found the chandelier locally, and here is a lookalike:
Cost Conscious Farmhouse Dining Room Accents
Did you know you can find affordable farmhouse accents at Target?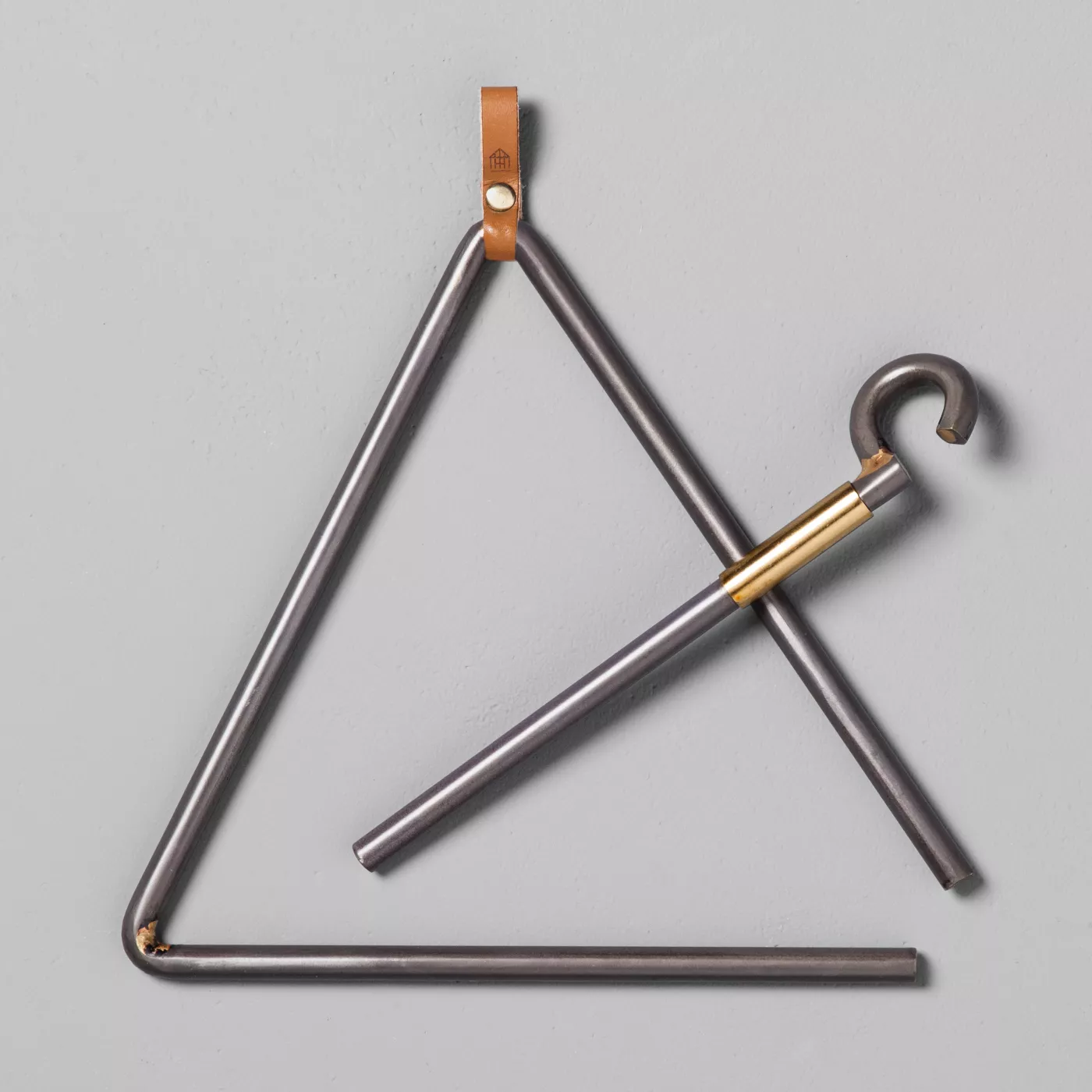 This bundle of country inspiration is destined to have you and your wallet smiling all year! 29 issues of goodness for about $21 (Country Living, Martha Stewart Living, and BHG!).
Rustic Farmhouse Dining Room Accents to Invest In
If you have yet to discover Farmhouse Pottery (a Vermont based studio run by a charming couple!), you are in for a treat.
French Farmhouse Dining Table Lovely Finds
Rustic French Farmhouse Dinner Idea
I independently selected products in this post—if you buy from one of my links, I may earn a commission.
Peace to you right where you are.
-michele
Shop for items you already intended to buy on Amazon RIGHT HERE (not just items in posts) or for home decor here keeps decor inspiration flowing on Hello Lovely!
Hello Lovely is a participant in the Amazon Services LLC Associates Program, an affiliate advertising program designed to provide a means for sites to earn fees by linking to Amazon.com and affiliated sites.