Whether you're a history buff, architectural design fan, or admirer of beautiful chapels and cathedrals, there just may be something lovely and unexpected to discover within Rebuilding, Renovation & Restoration of Old Chapel.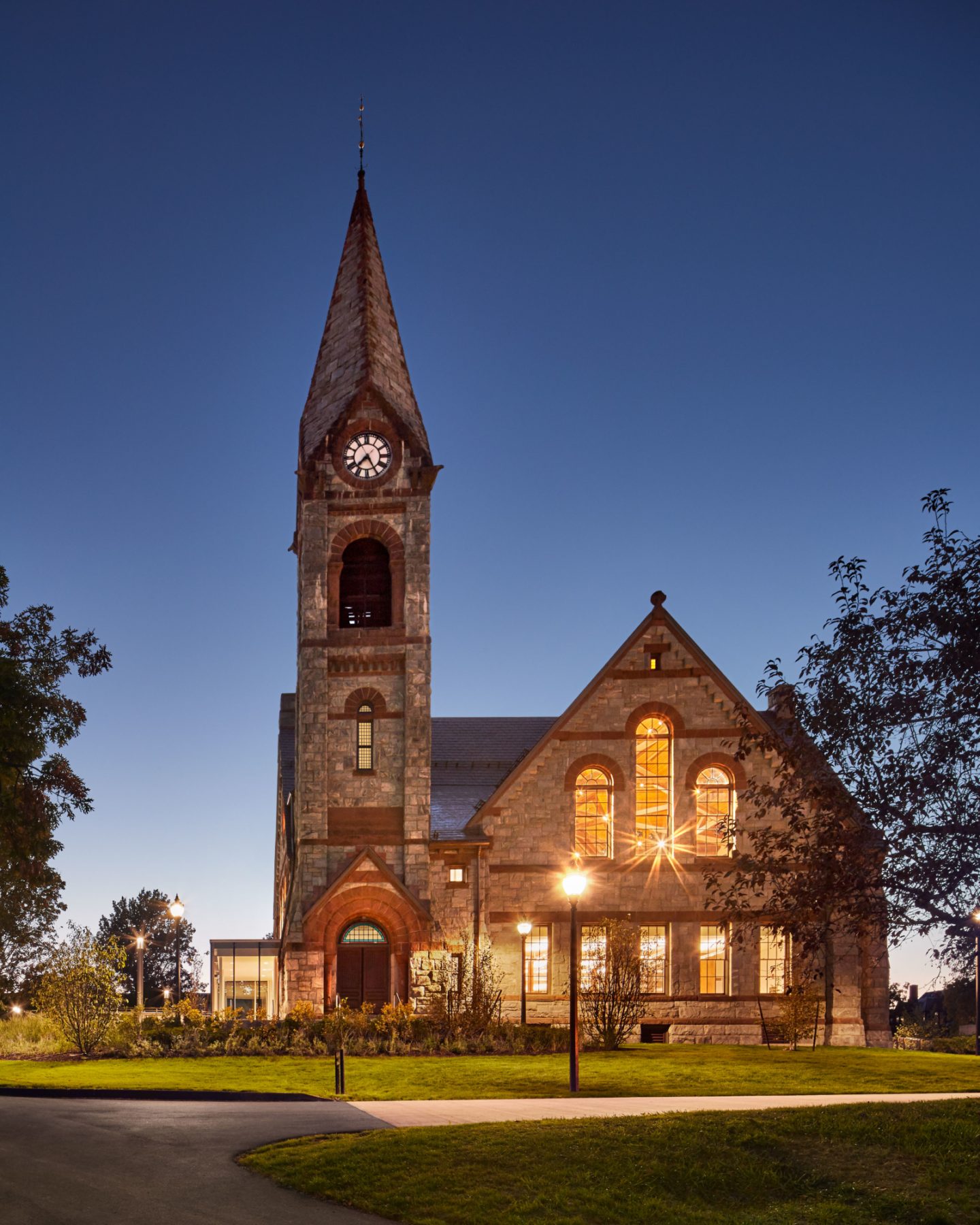 Photos, courtesy of Finegold Alexander Architects, Inc.
Rebuilding, Renovation & Restoration of Old Chapel
This holy week was shaken by events in Paris, and it is likely we will never forget what we were doing and where we were when we heard Notre Dame was burning.
The fire at the cathedral earlier this week ignited discussions about the restoration of buildings, inspired donations to rebuild historical places we feel are worth preserving, and even sparked reflections about how the tragedy mirrors the struggles of the church.
Critical Restoration Questions
Architect and design critic Edwin Heathcote poses important questions related to architectural restoration in light of the historic event. He asks: WHERE DO YOU START and WHAT EXACTLY DO YOU REBUILD?
In a piece for the Financial Times, Heathcote notes: "We are enchanted, in a digital age, by the iconography, the building as a depiction of a moral order and a medieval cosmos, but also by the sheer authenticity of ancient buildings."
Old Chapel UMASS Amherst: Renovation & Restoration
So today we will depart from our usual interior design focus, venture to a not-so-ancient restoration project in Amherst, Massachusetts, and consider the value of rebuilding a gem on a college campus.
Expense of the renovation? $21 million.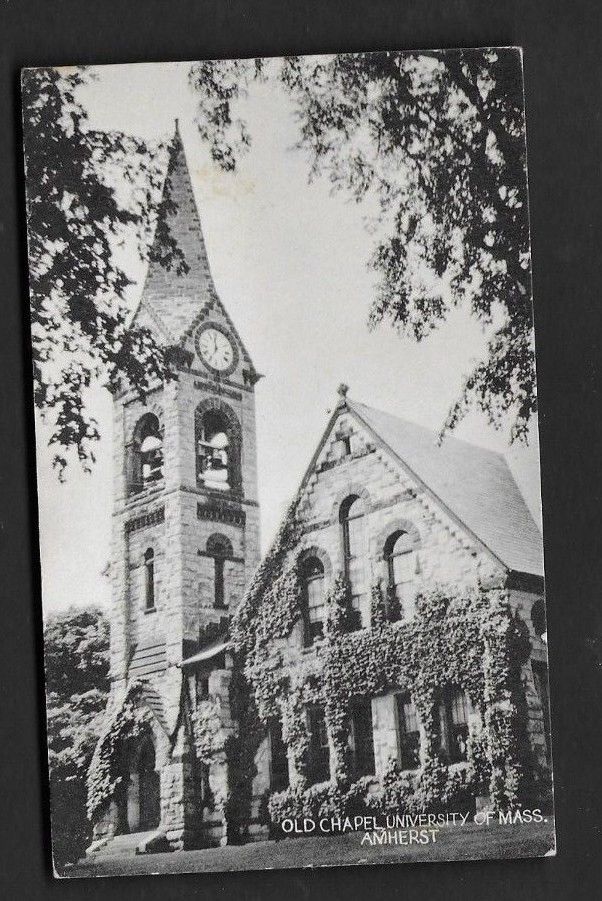 Old Chapel's History
Old Chapel at UMass (built in 1884) was designed by Worcester, Massachusetts architect, Stephen C. Earle. The chapel started out as a library and assembly hall before becoming a classroom building and eventually the home of the university's marching band. This beautiful and beloved landmark stood vacant for 20 years before its beautiful restoration and complete renovation (Finegold Alexander Architects, Inc), completed in 2017. The iconic architectural building is now a thriving center for activities, lectures, and events.
Design Style of Old Chapel at UMASS
Richardsonian Romanesque Revival style (1880-1900) refers to architect Henry Hobson Richardson's interpretation of ancient Romanesque buildings. This article characterizes the ecelecticism of Richardsonian Romanesque architecture as stressing "intricacy, unusual and sculpted shapes, and individuality."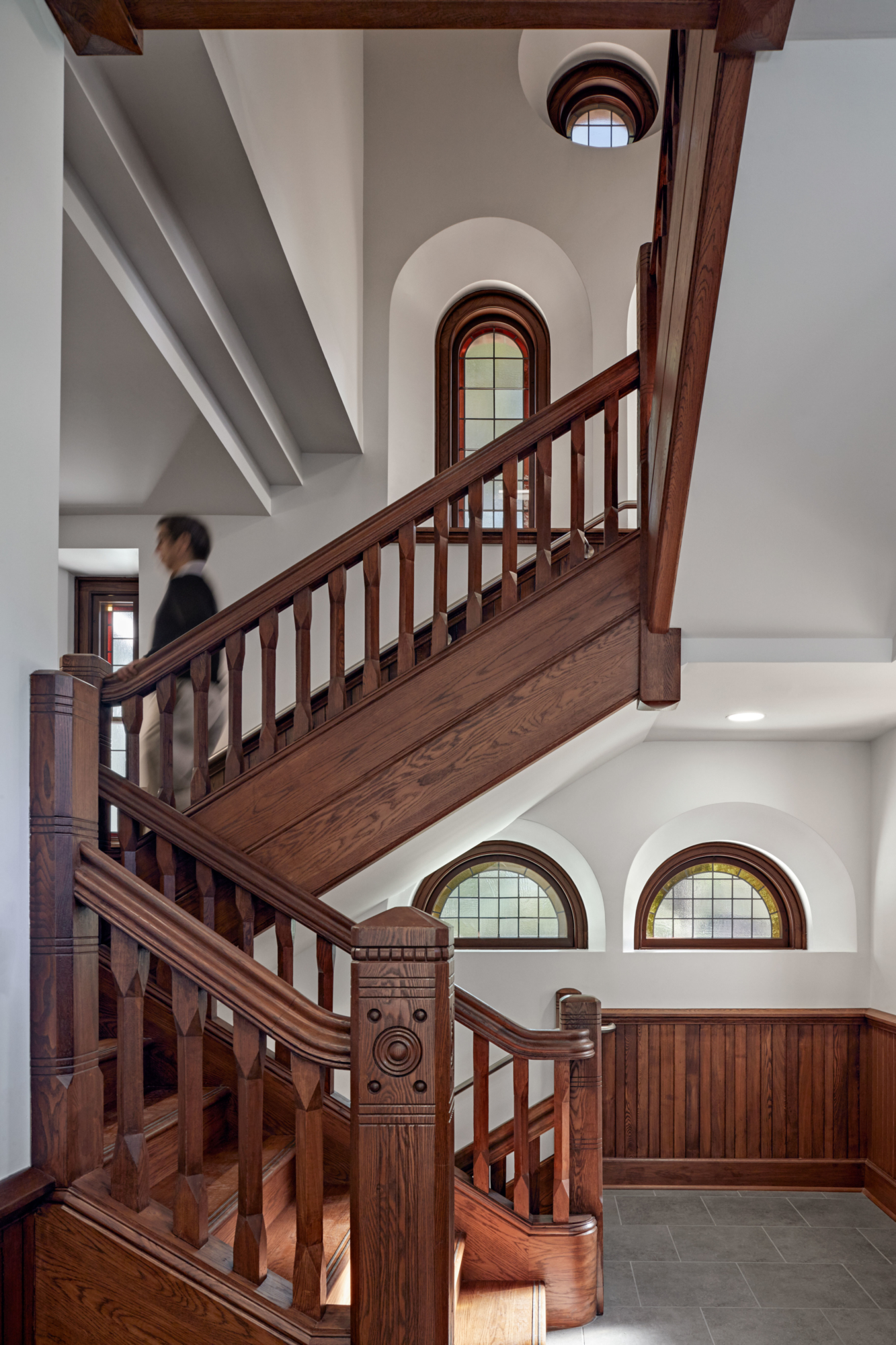 Just for Fun
What was happening around 1885? The Statue of Liberty arrived in New York Harbor and Grover Cleveland became the 22nd president. Dr. Pepper was served for the very first time and Good Housekeeping magazine went on sale. Sarah E. Goode became the first African American woman to apply for and receive a patent for the hideaway bed and a cholera outbreak occurred in Spain. The first skyscraper was completed (The Home Insurance building in Chicago) and the English translation of Don Quixote (by John Ormsby) was published. (1885 also happens to be the year Doc and Marty return to the Old West in Back to the Future, Part III!)
Old Chapel Accolades
An award-winning, beloved Old Chapel. In 2015, Old Chapel was placed on the National Register of Historic Places, the first campus building to be so honored. In 2017, Old Chapel was honored with the Victorian Society in America Preservation Award.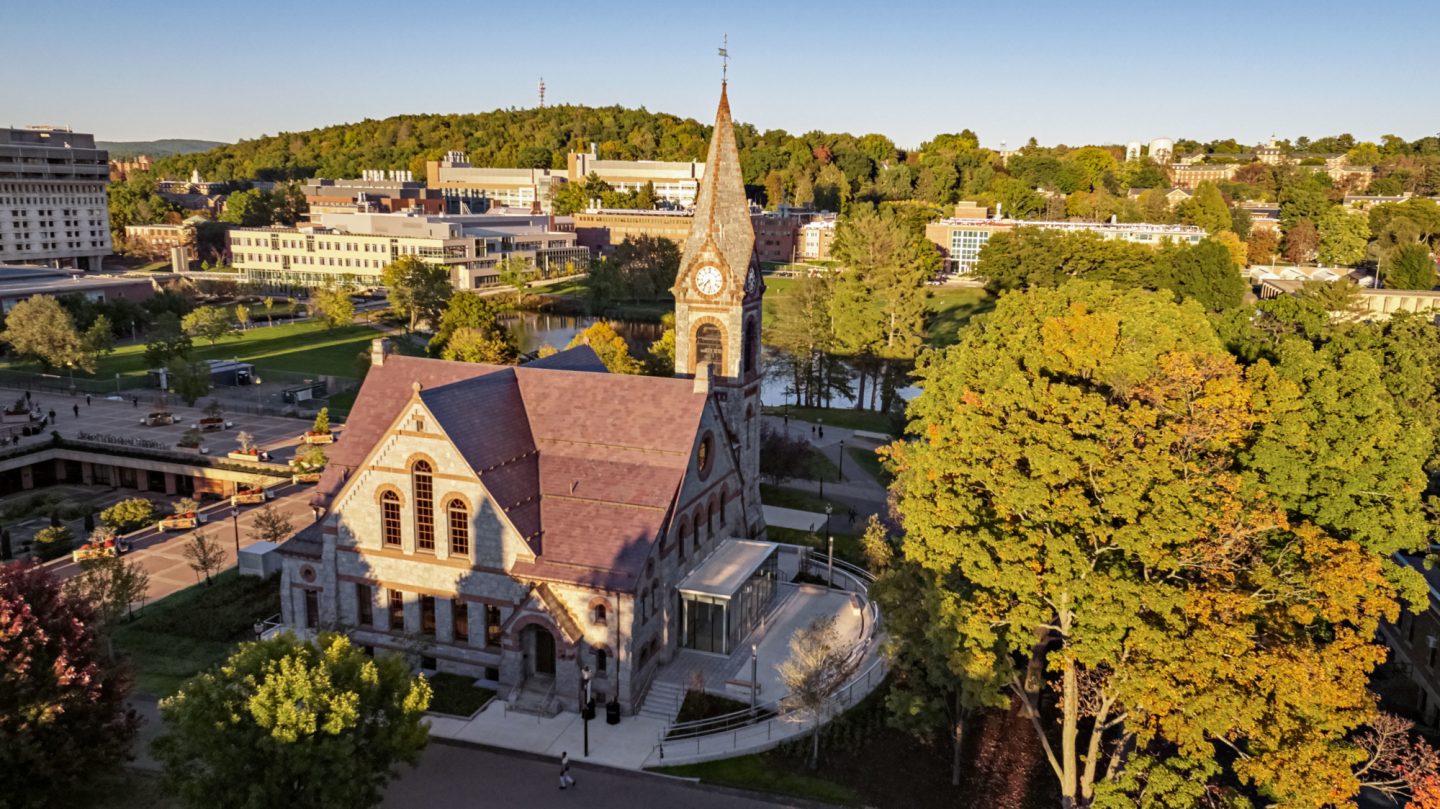 New Entry Constructed
In the image below, you can see the new entry constructed during the renovation.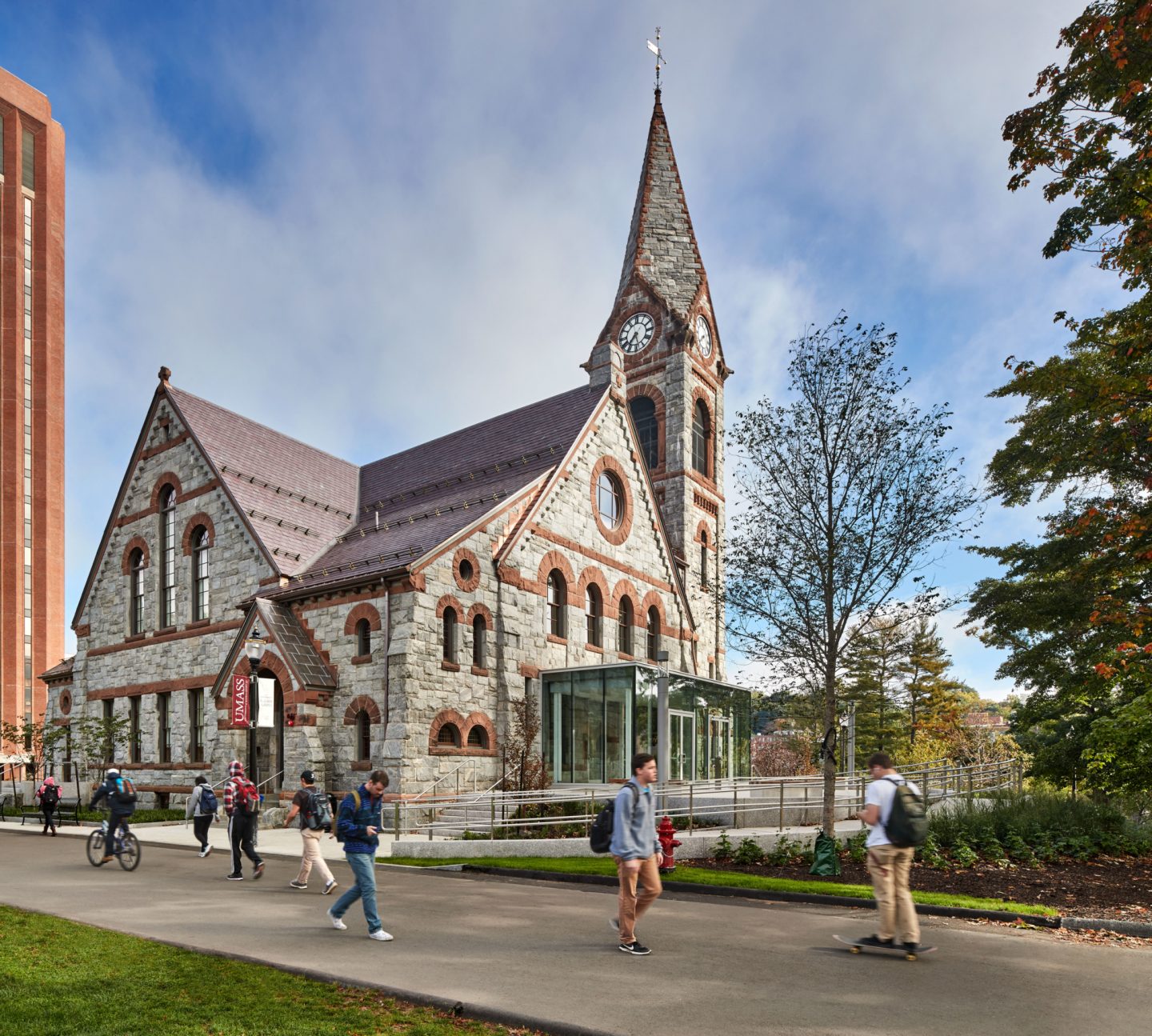 Old Chapel's Melodic Past
The beauty of a chapel filled with music: Below you'll see an orchestra in Old Chapel years before its renovation. The iconic building also had a famous band era: in the 1960's through the 1990's when Old Chapel was home to the UMASS marching band.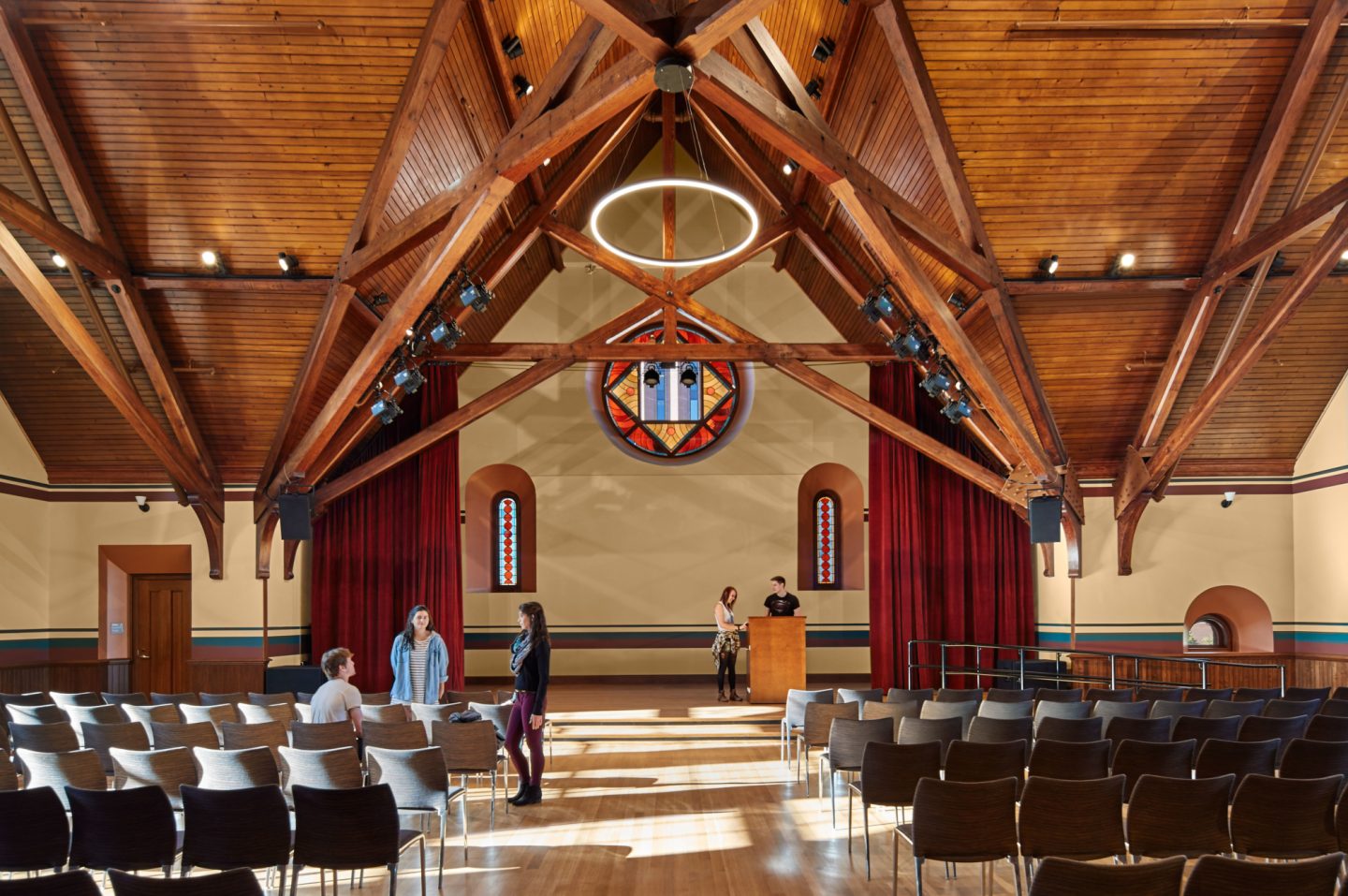 Harmonious Architectural Design Features Inside & Out Old Chapel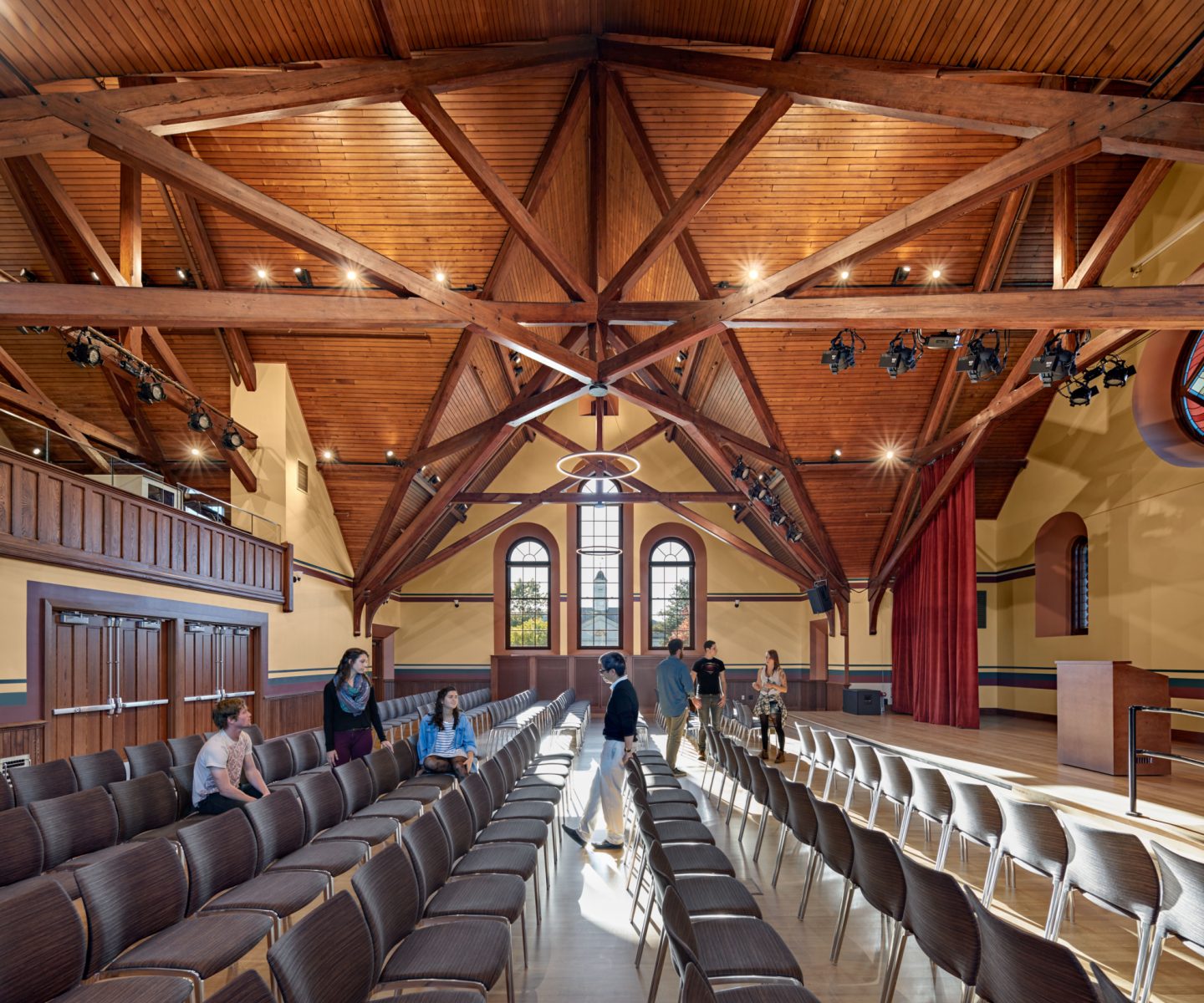 Before & After Old Chapel's Renovation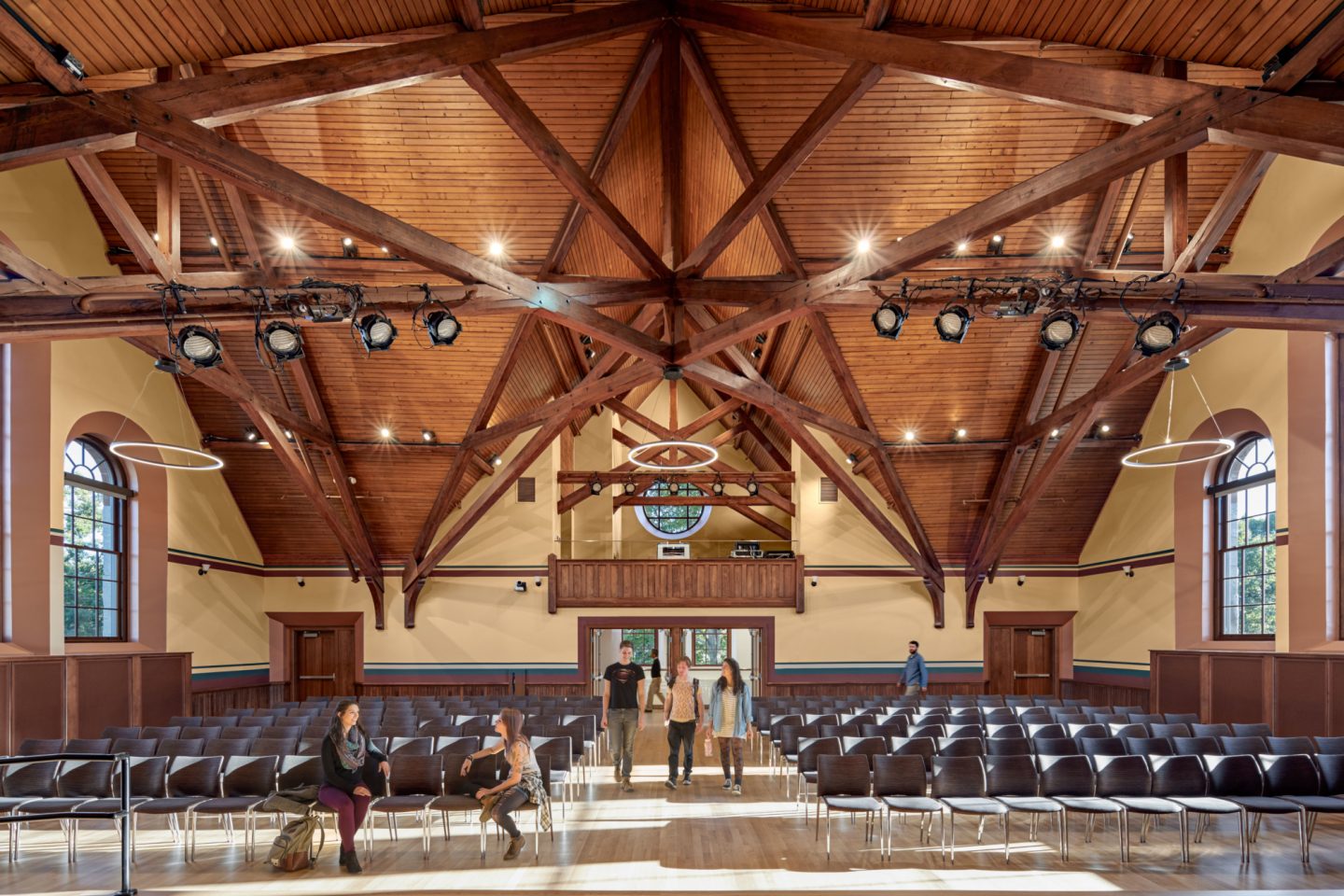 Working With Light
The beauty of working architecturally with light: 99% of regularly occupied areas have access to exterior views and natural daylight!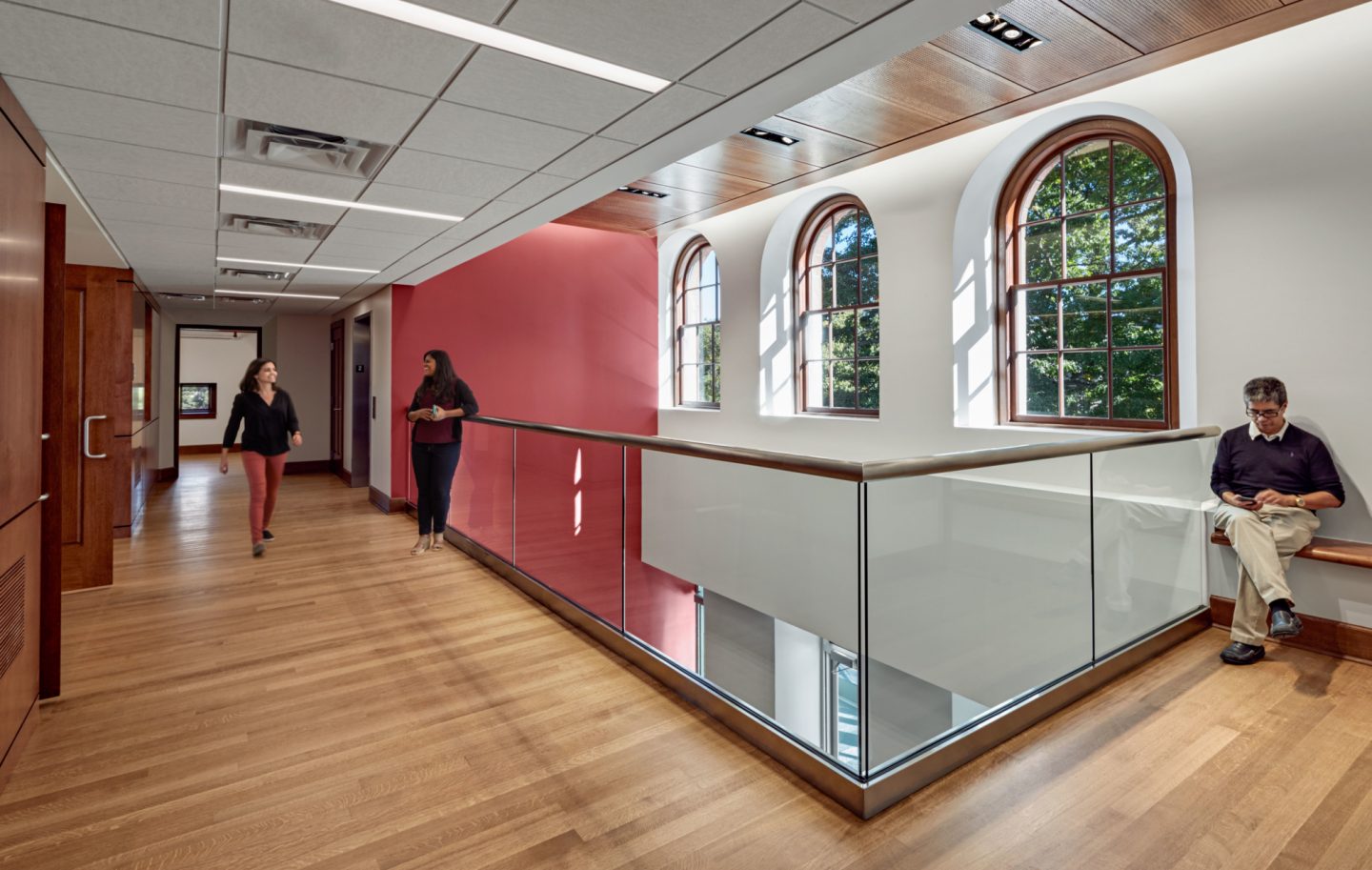 Old Chapel's Famous Bell
The beauty of university nostalgia and history: at the base of the bell tower, each graduating class would carve their year into the stones rising skyward. Learn more about the history here: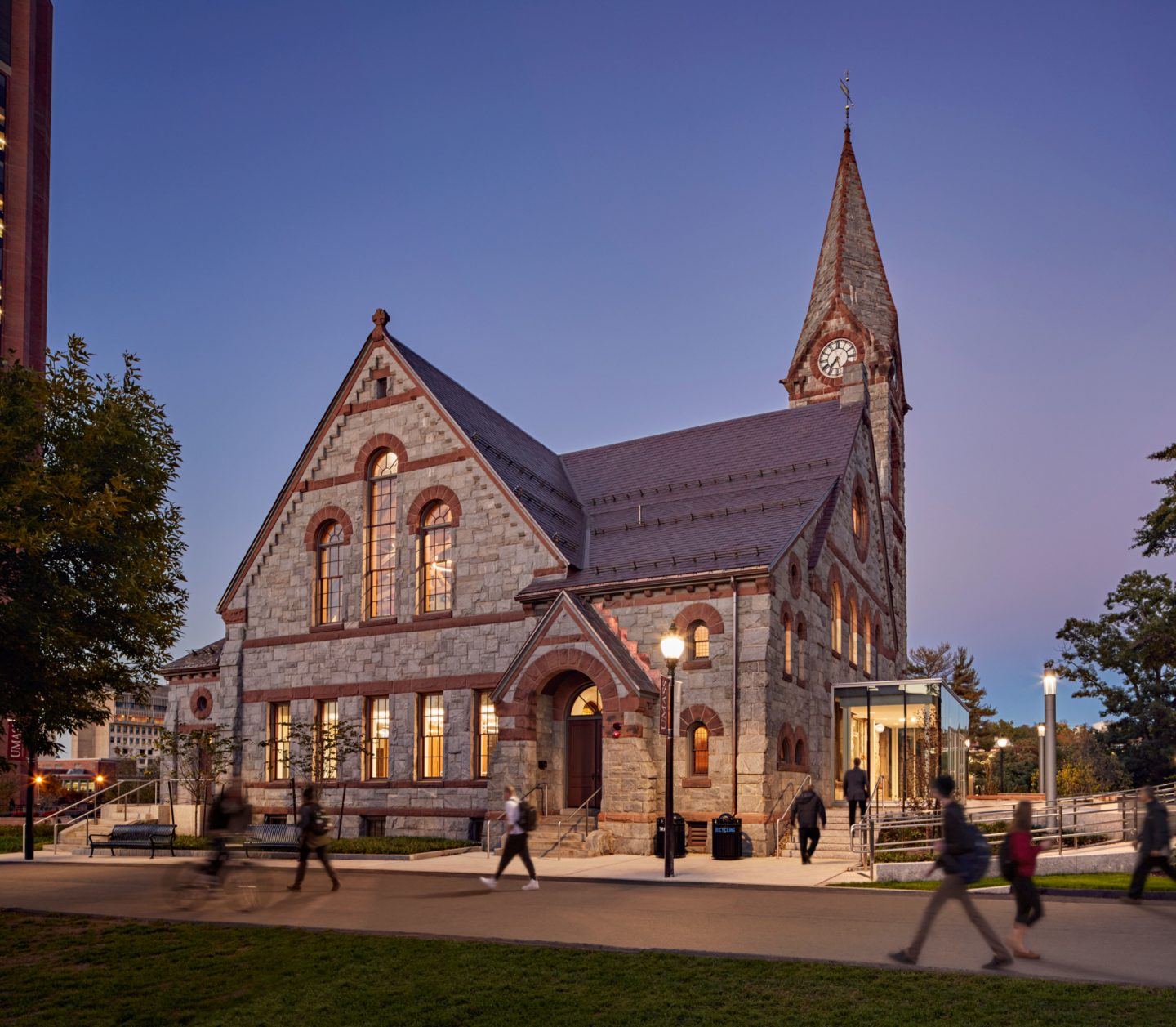 Answering the Question: What to Rebuild?
The beauty of repurposing in action: 83% of existing structural elements were reused.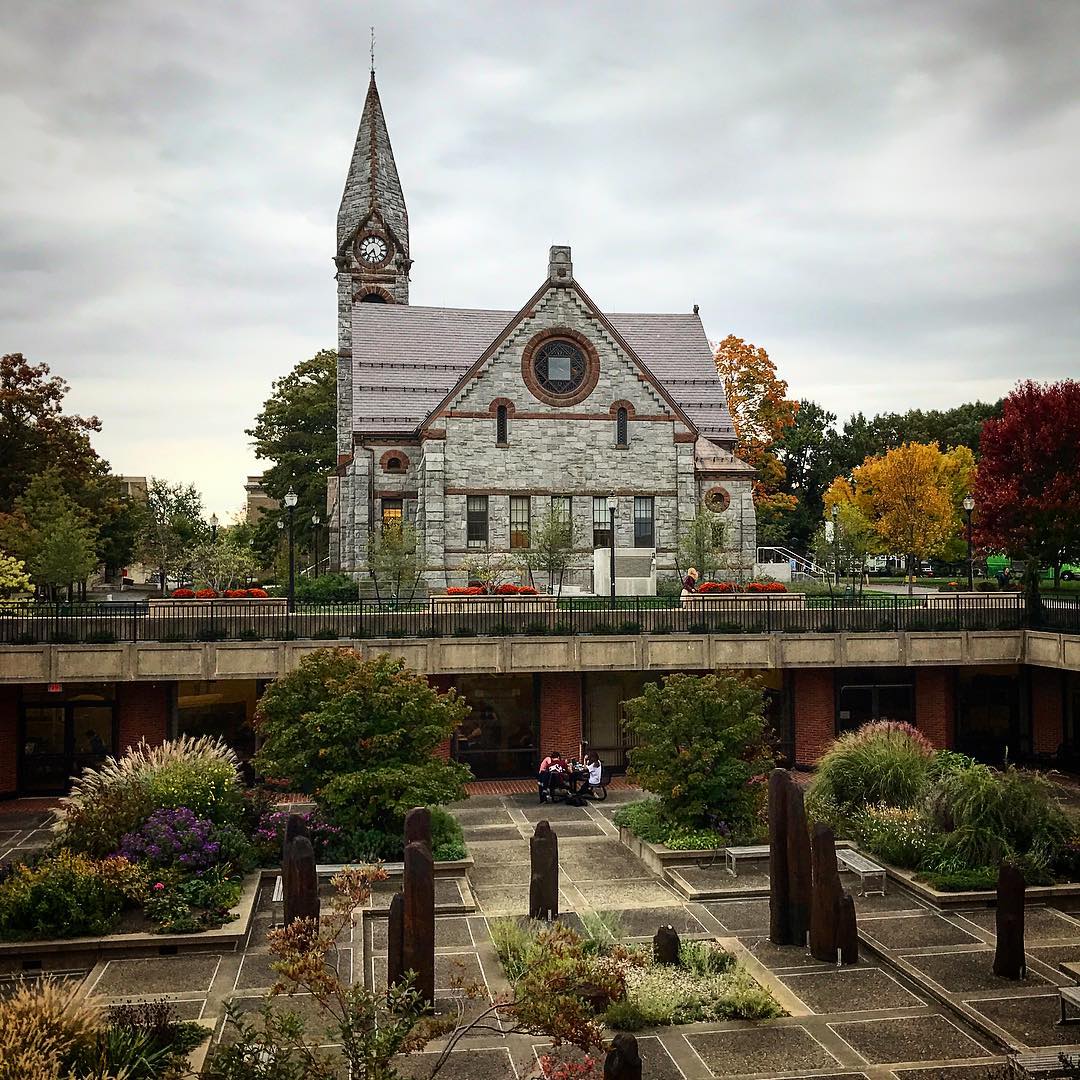 Lovely Examples of Richardsonian Romanesque Style
Stephen C. Earle's Slater Memorial
A memorial to his father, William Albert Slater commissioned architect Stephen C. Earle to create Slater Memorial at the Norwich Free Academy. Its style is considered Richardsonian Romanesque or Romanesque Revival.
Marshall Field's in Chicago
H. H. Richardson designed Chicago's Marshall Field's Wholesale Store in 1885 to resemble an Italian Romanesque palazzo. The store was closed in 1930 with the opening of Chicago's Merchandise Mart, and it was torn down shortly after.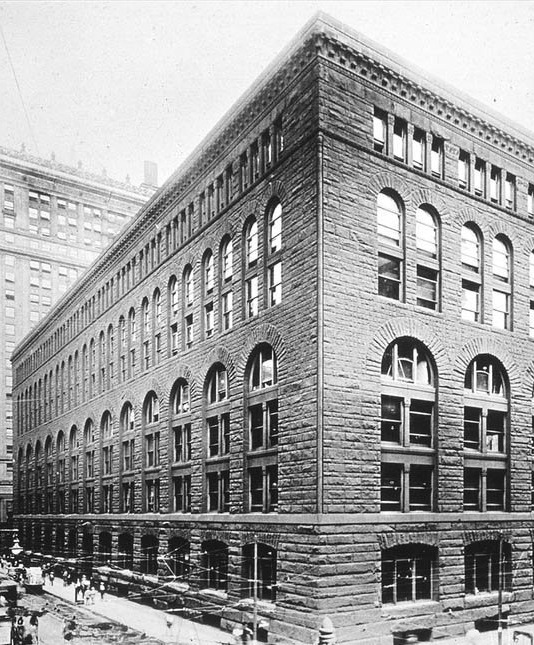 Boston's Trinity Church
Boston's Trinity Church is considered the birthplace of Richardsonian Romanesque style and was constructed in 1872-1877. Its rough stone, massive tower, and arches inspired many more public buildings constructed across the country.
Preservation & the Future
How we respond now as a culture to critical questions about what to rebuild in our digital age and the whys of restoration, surely shapes the future.
It's worth taking a moment to ponder what we deem sacred and our part in preserving it.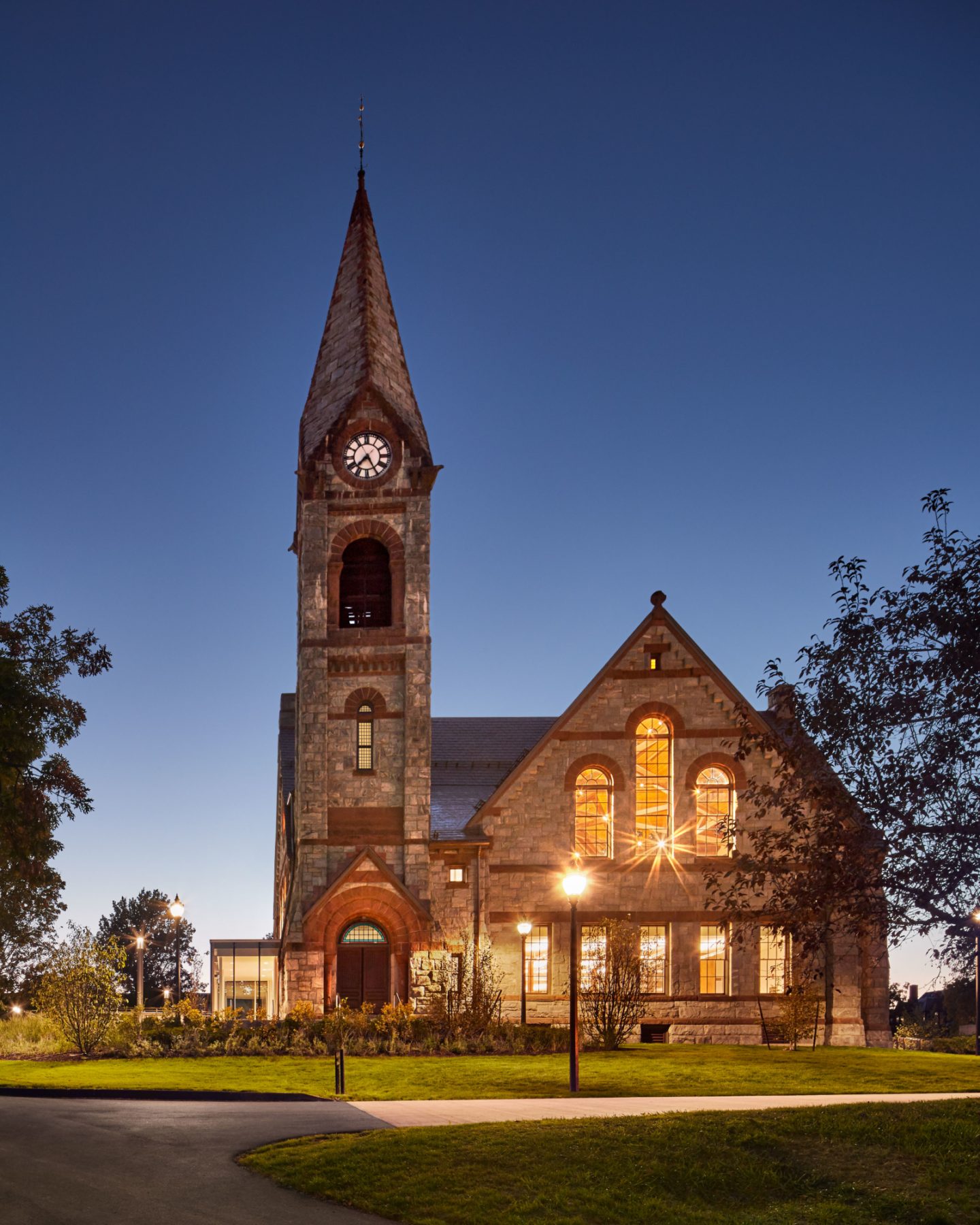 Have a favorite church, chapel, or cathedral with magnificent architecture you favor?
I independently selected products in this post—if you buy from one of my links, I may earn a commission.
Peace to you right where you are.
-michele
Shop for items you already intended to buy on Amazon RIGHT HERE, and also find home decor here to keep decor inspiration flowing on Hello Lovely!
Hello Lovely is a participant in the Amazon Services LLC Associates Program, an affiliate advertising program designed to provide a means for sites to earn fees by linking to Amazon.com and affiliated sites.