This post contains affiliate links which I hope you will use since they won't cost you a penny extra yet may earn this blog a small commission.
Our Chicagoland fixer upper came with all sorts of blessings and curses when we took possession of its very neglected, sad state. Some of the fixtures and finishes were so bad, there was zero chance of reviving or restoring them. Light switches, dimmer switches, outlets and wall plates throughout the home were broken or well past their prime. The blessing? Beautiful options from The adorne Collection by Legrand for replacement! Adorne graciously offered me the products you'll see here (this is a sponsored post) in exchange for my honest opinion which I am happily sharing with you in case you have a case of the ugly light switch covers too!
I know what you're thinking."C'mon, Michele, you're being overly critical and theatrical…why make a fuss?"
Oh, kids. In some cases, the switches weren't even THERE!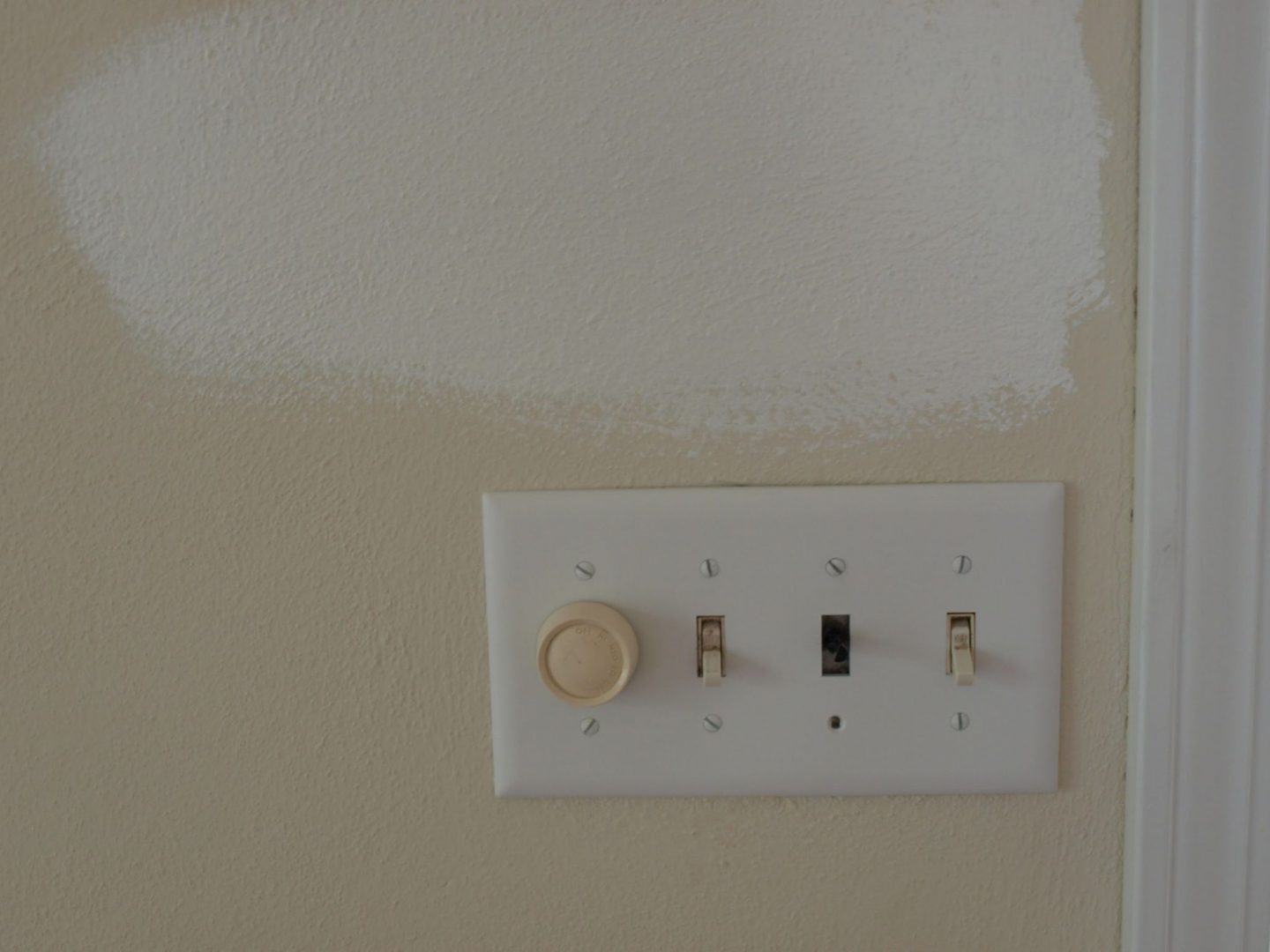 It was enough that light switches were missing or an eyesore, but many of our wall outlets (like the one below) are so used up and stretched out, plugs won't stay in the outlets…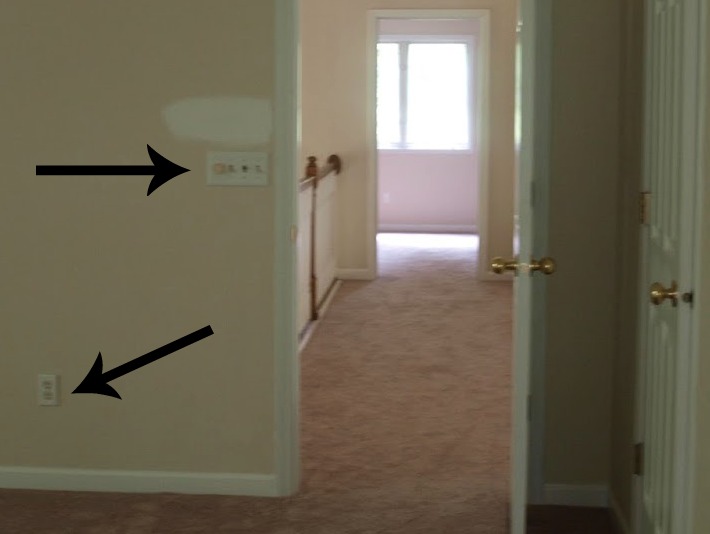 Things improved dramatically in a few of our rooms thanks to beautiful, new, simple, and modern adorne Collection light switches, dimmers, outlets, USB outlets, and wall plates. After Legrand invited us to choose some products in exchange for my honest opinion, I visited the site and fell in love with The adorne Collection's sofTap switches and dimmers. They require the softest tap and reflect a gorgeously modern aesthetic to update and enhance the renovated interiors here we have worked so very hard to love back to life.
Legrand's site makes it easy to choose the configuration of your switches and outlets by guiding you room by room. I simply grabbed some post-it notes to quickly diagram the configurations I needed for each room.
Master Bedroom Upgrades!
Let's take a peek at the master bedroom, where I chose a luxurious Mirror White wall plate.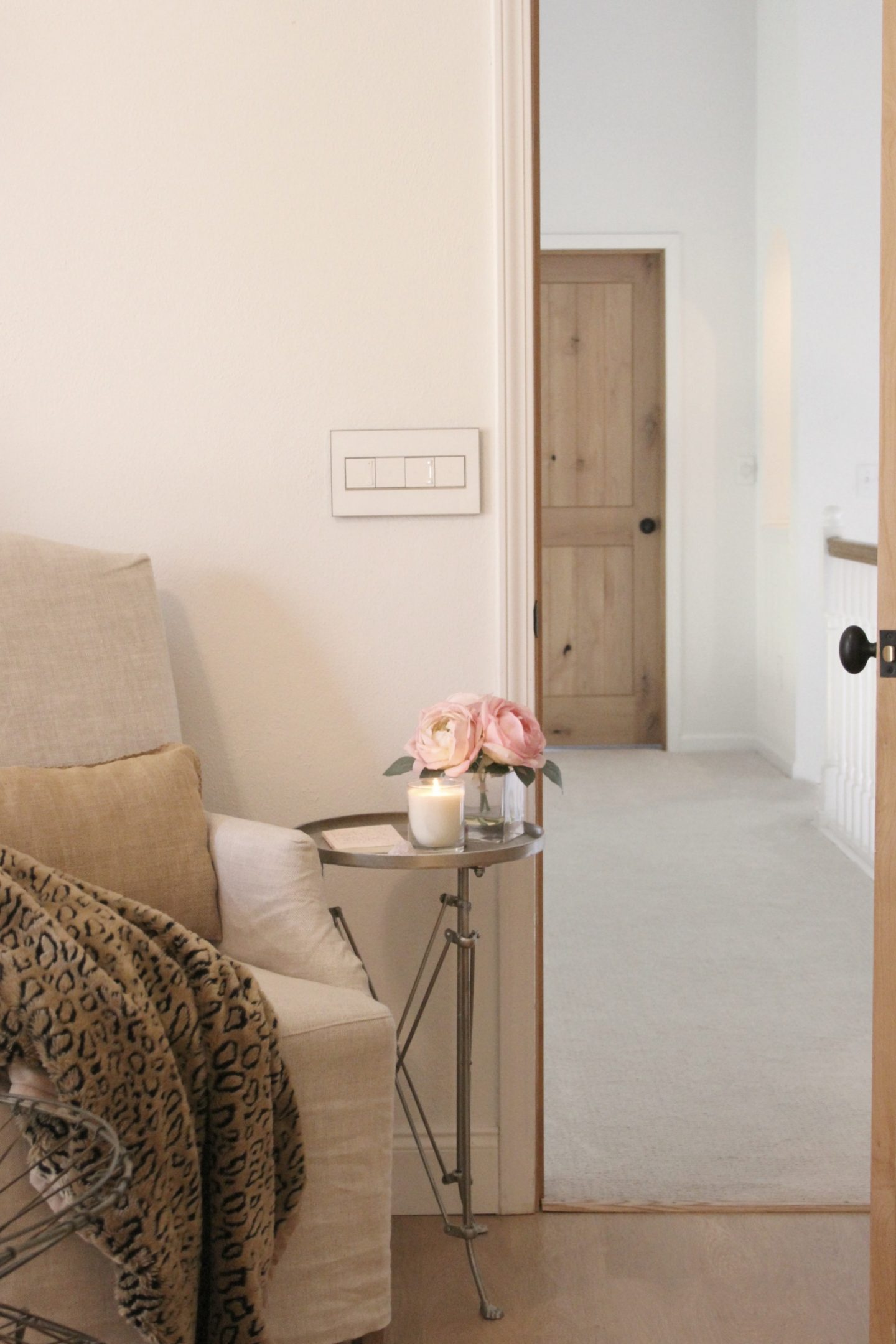 My husband and I are over the moon about the design and function of these beauties! He installed the switches and outlets just the other night, and LOOK MOM! No more ugly screws or filthy switches. It took about two hours to install the 4 lights and dimmers, standard outlets, USB outlets, and all the wall plates in the bedroom.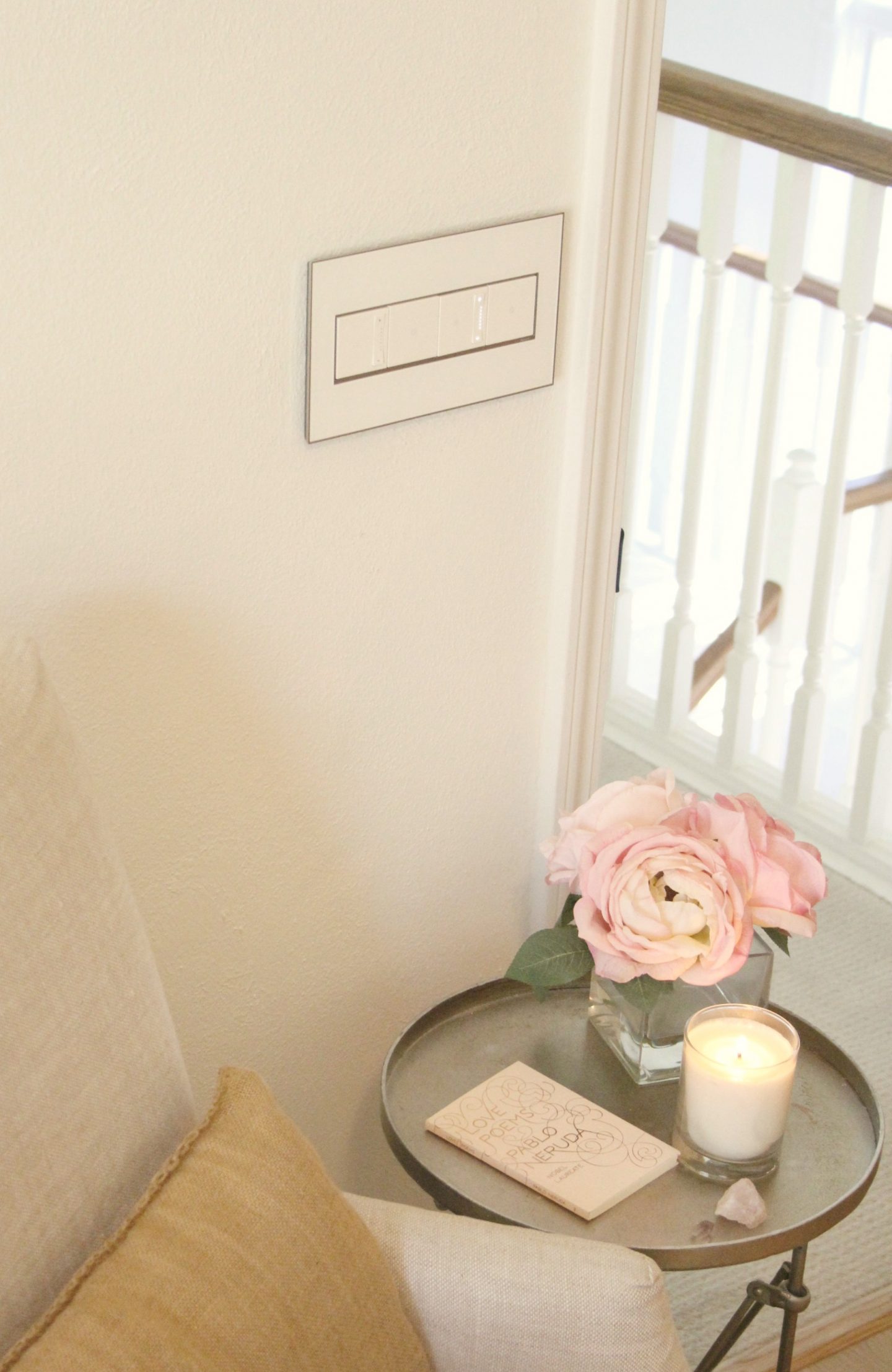 The option to configure USB outlets with standard outlets is a sweet one, and the outlet between our closets below is one where my husband often charges his phone. Let's see the transformation…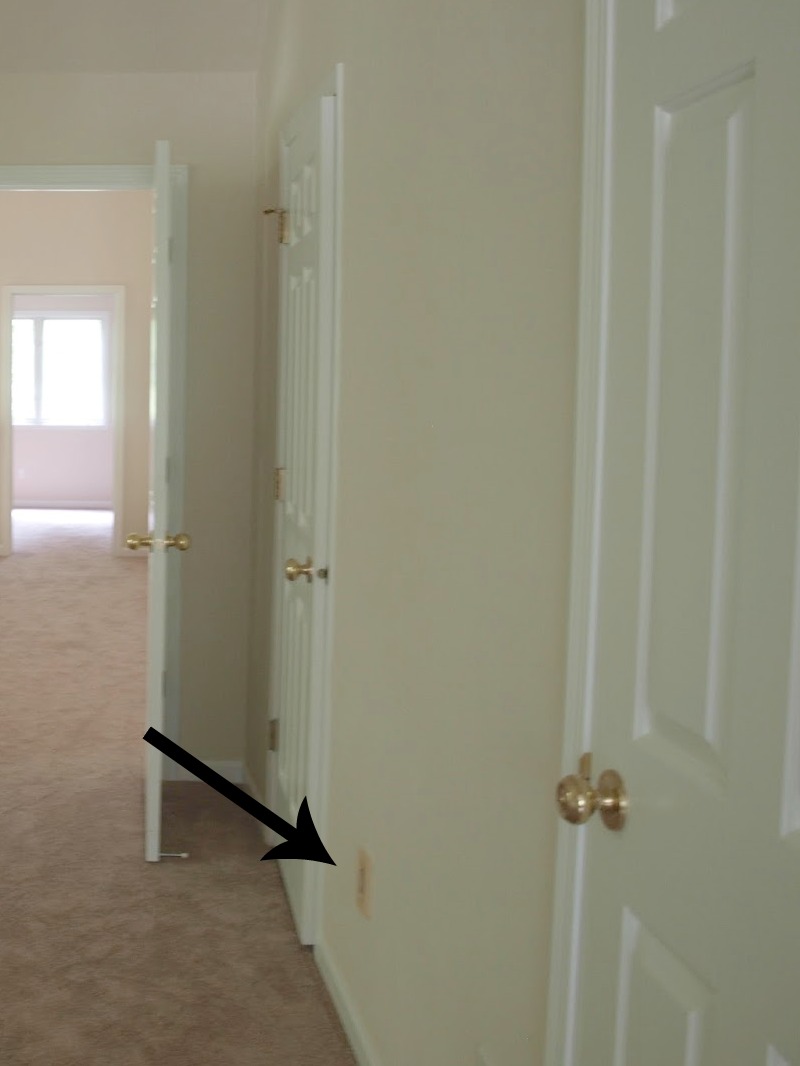 I perched a standard adorne outlet on the stool here (below) so you could see up close how different and modern they are compared to traditional outlets. With adorne, you can configure each plate as you wish. In this case, I combined a standard outlet with a USB outlet and a 1-Gang+ wall plate in Powder White.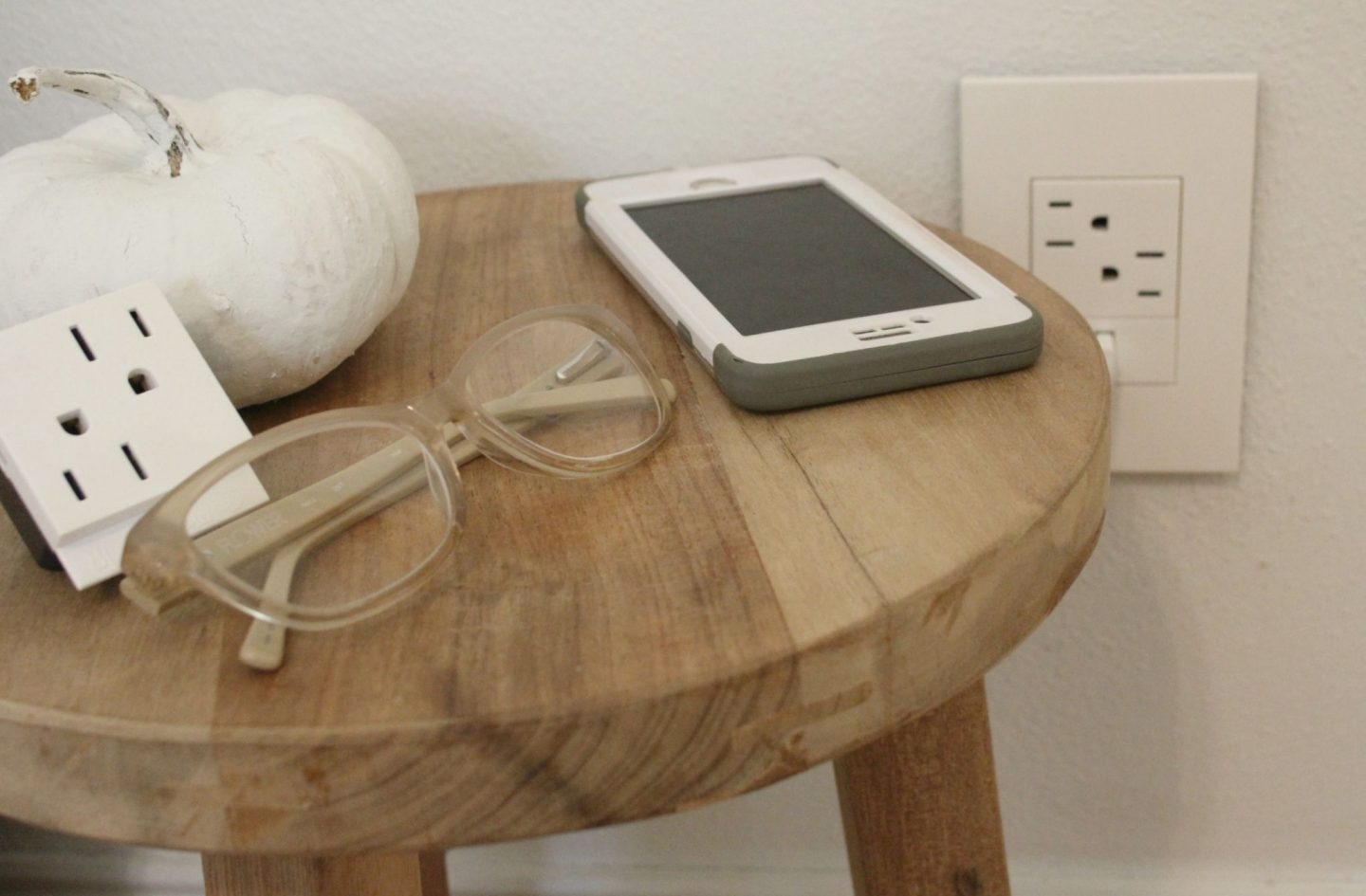 Living Room Upgrades!
It was important to us to upgrade switches, dimmers, outlets, and wall plates in the living room since it's such a public space and needs to be pretty. The wall below is visible from the front door, living room, hallway, and dining room so we're talking major exposure and need for improvement.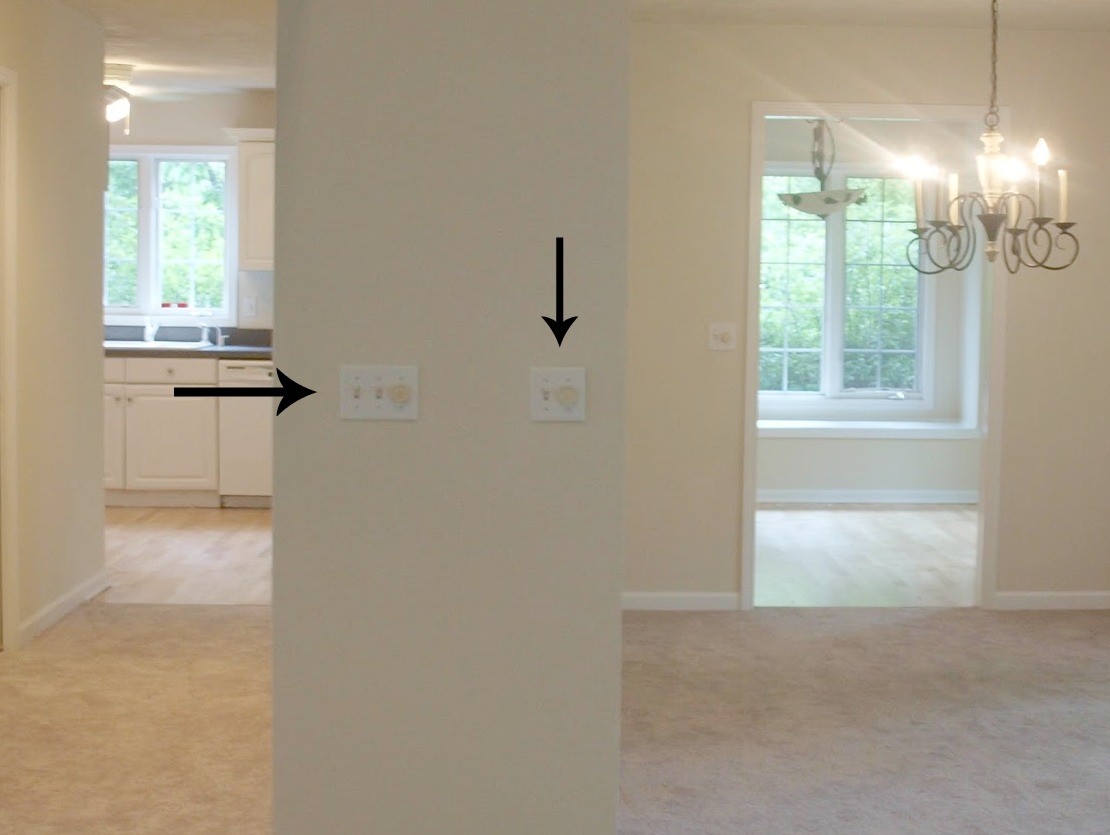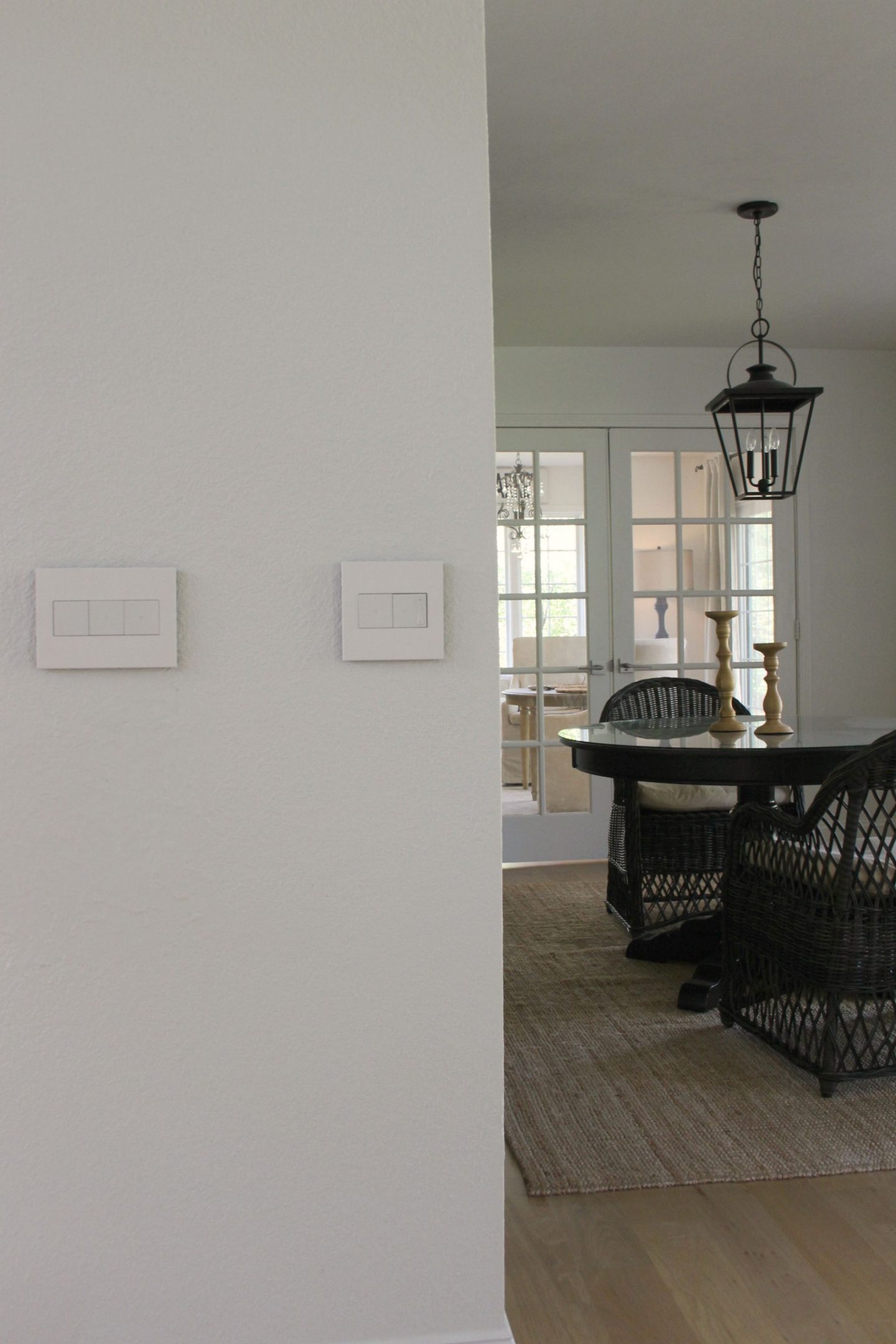 Here is a close-up of the beautiful dimmer.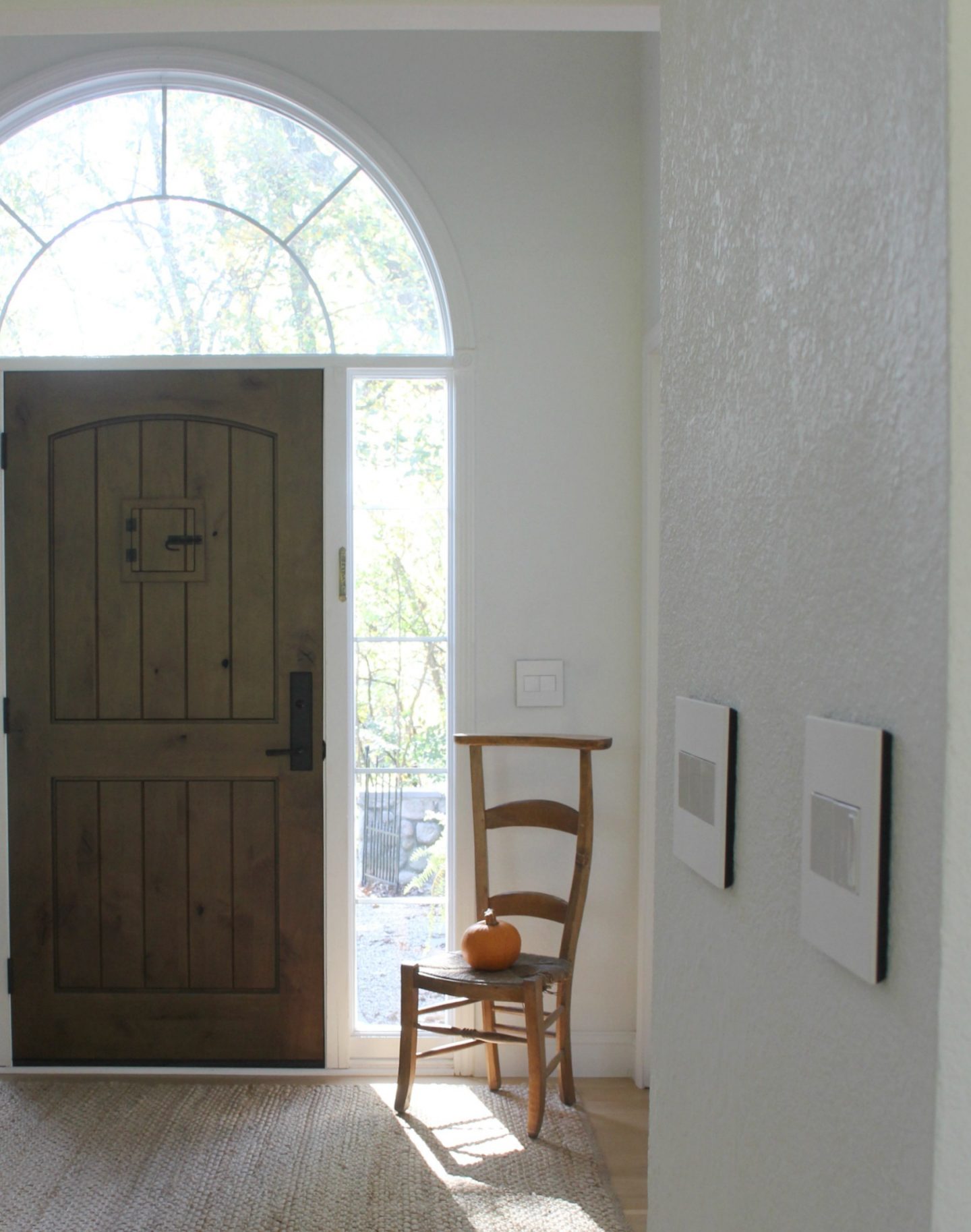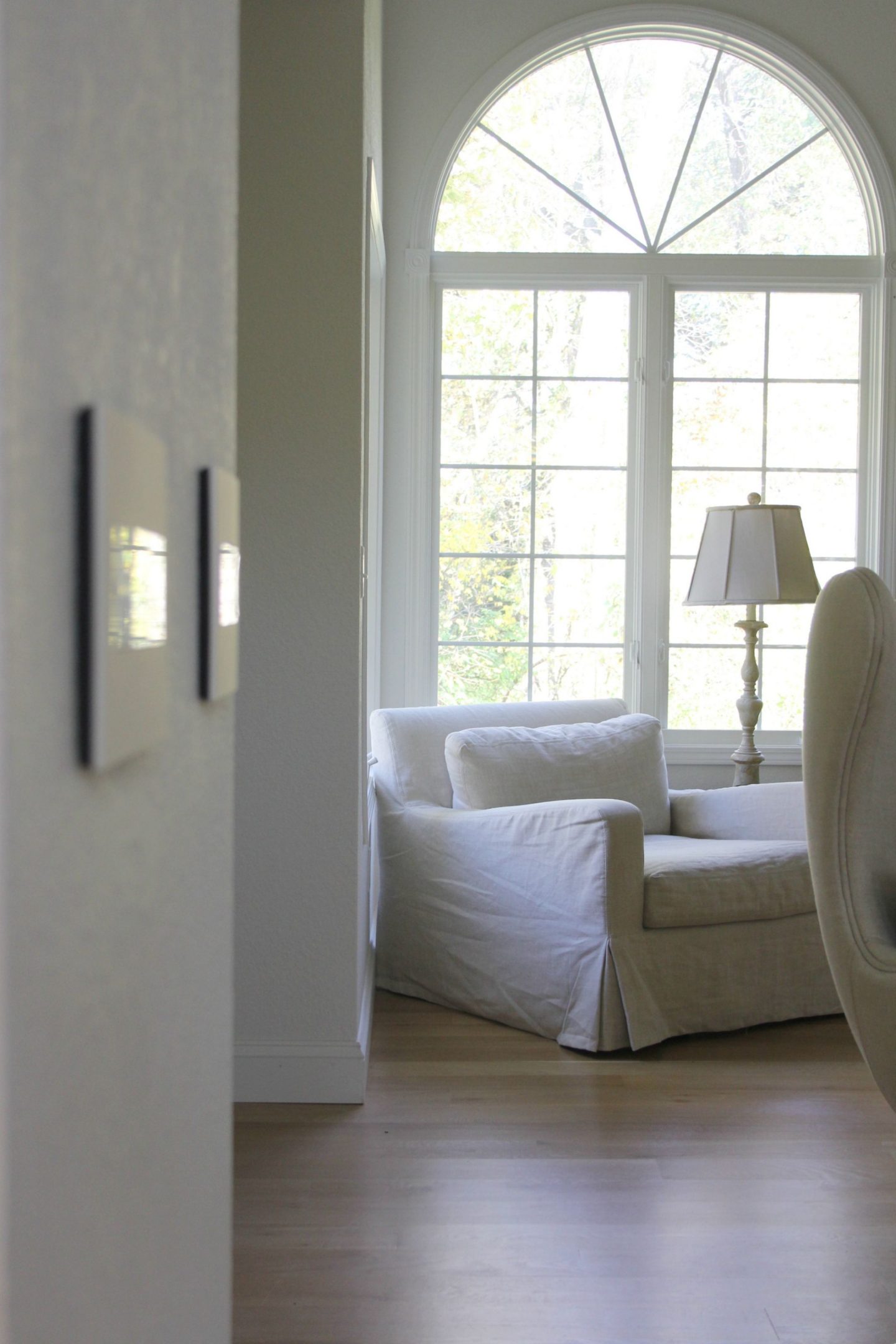 An added bonus of finally moving forward with all these light switch upgrades was that we discovered crazy switches that were obsolete and simply adding ugliness to the wall. So you'll note below that we eliminated one of those crazy switches-to-nowhere near the front door, repaired the hole in the wall it left behind, and now have just one beautiful adorne wall plate with a duet of sofTap lovely.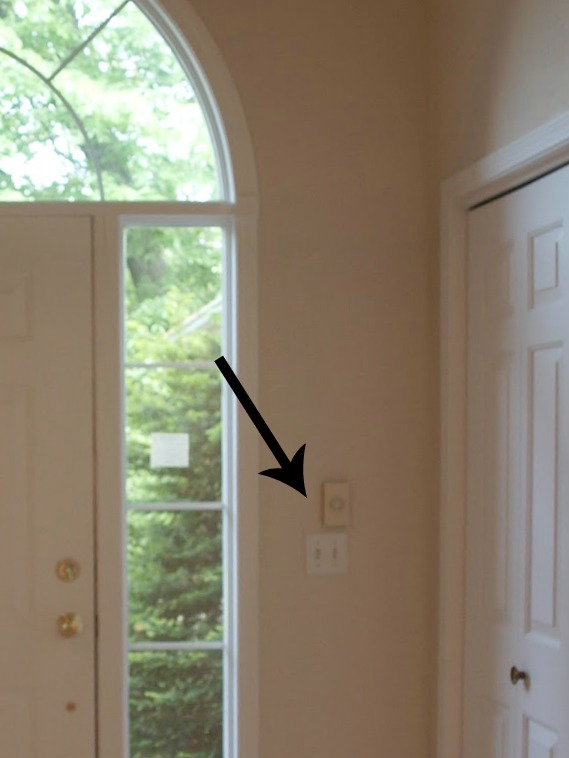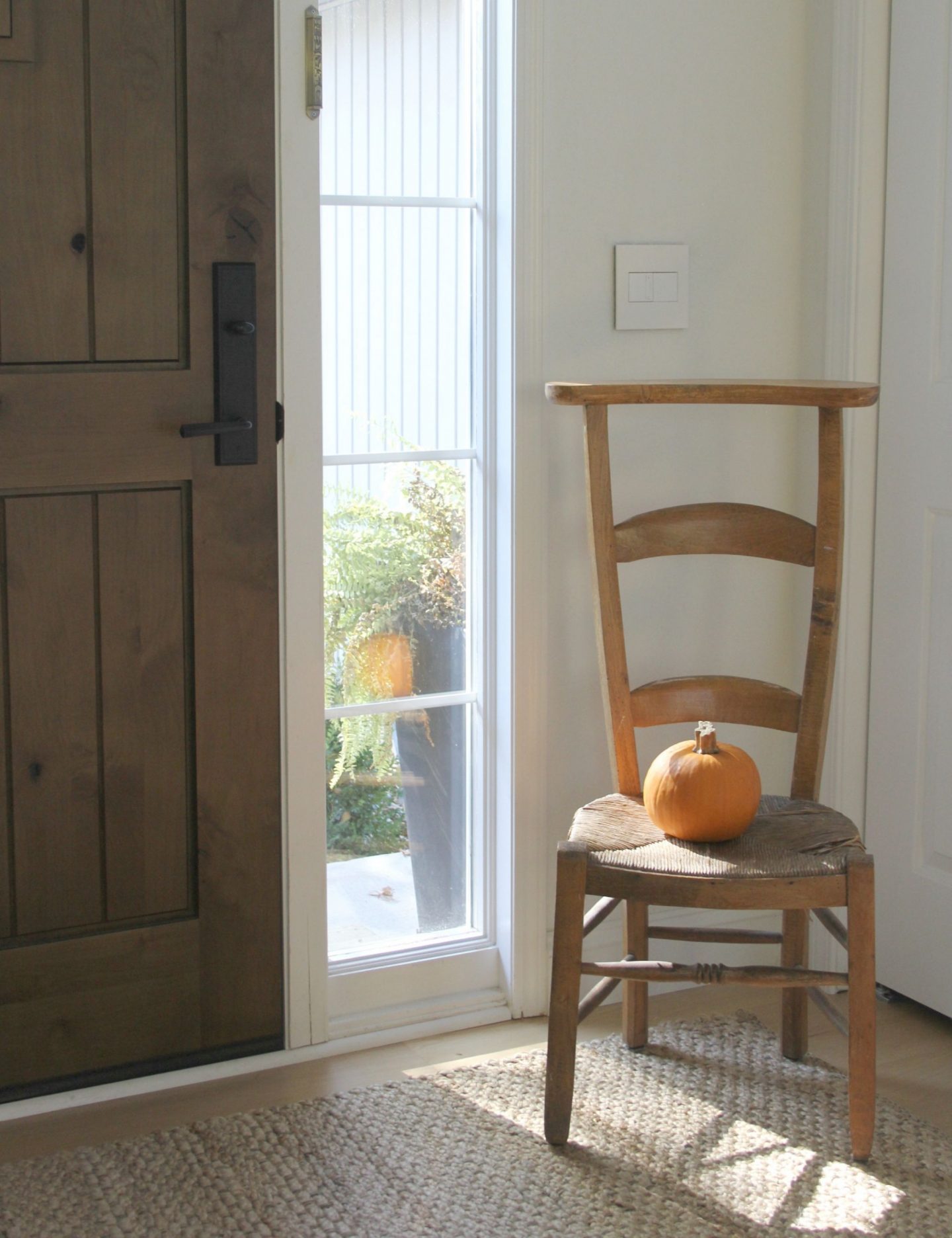 We are delighted with these products from Legrand's adorne Collection and look forward to upgrading more areas of our home!
Let me know if you have any questions about these upgrades from adorne!
I independently selected products in this post—if you buy from one of my links, I may earn a commission.
Peace to you right where you are.
-michele
Shop for items you already intended to buy on Amazon RIGHT HERE, and also find home decor here to keep decor inspiration flowing on Hello Lovely!
Hello Lovely is a participant in the Amazon Services LLC Associates Program, an affiliate advertising program designed to provide a means for sites to earn fees by linking to Amazon.com and affiliated sites.