This anniversary issue of Milieu features one of my favorite hometown designers: Michael Del Piero.
If you subscribe to Milieu magazine, edited by
designer Pam Pierce, then you know this
fall's issue is exceptionally lovely.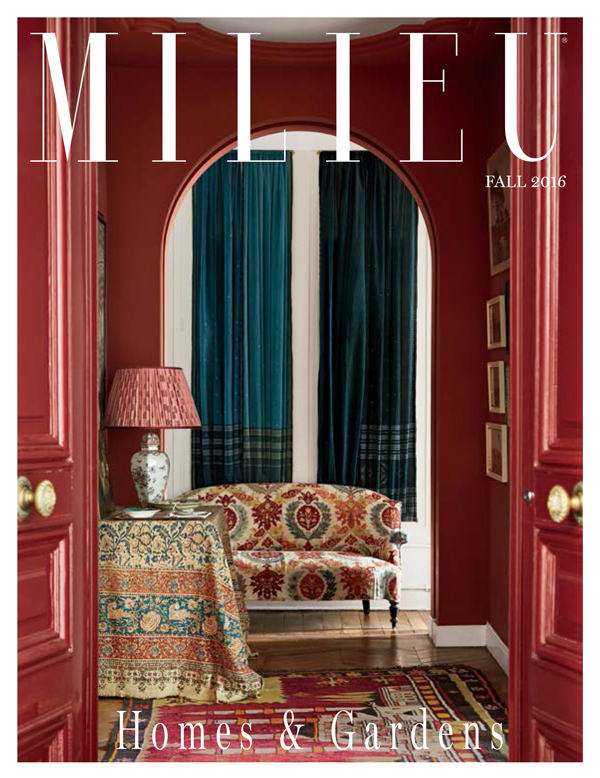 I can't believe it has been 3 years since this
lovely magazine Milieu launched.
Remember that unforgettable first issue!?!
Isn't this client's collection of Chinese mortars glorious?
Hello Lovely has been keeping up with
Del Piero's work for many years
and is crazy about her signature color
palette and way with Belgian minimal style.
Find more of the Chicago designer's projects here.
One of my favorite rooms by Del Piero was
the garden room she did for the
Lake Forest Showhouse in 2015.
How genius is this giant living masterpiece hovering above the table in lieu of a chandelier?
How does she manage to make a space feel
otherworldly (and supernatural if you ask me)
while at the same time natural and intimate?
The abstract plaster work panels are like
nothing I have seen (ancient yet alien)
and inspire me
to try my own hand at something
equally paradoxical.
So sculptural, and it feels as though the table is
rooted and growing from the floor.
In Del Piero's own home,
that soothing putty Paris grey
is so restful as a backdrop
for her incredible art collection
and travel finds.
That Fortuny drape covered table kills me!!!!
I'm just dying with the simplicity and peace here.
And one more Del Piero designed room from
the Hamptons Showhouse:
The artful chandelier makes me smile,
reminding me of a bad hair day which
somehow just works.
I hope you are well as summer turns to autumn.
After a few weeks in the desert, I am back home
and back to work getting organized in my studio.
I hope to be creating in there very soon
and will share what lovely may come.
The reveal for the fixer upper is bound to be close!
Peace to you right where you are.
michele