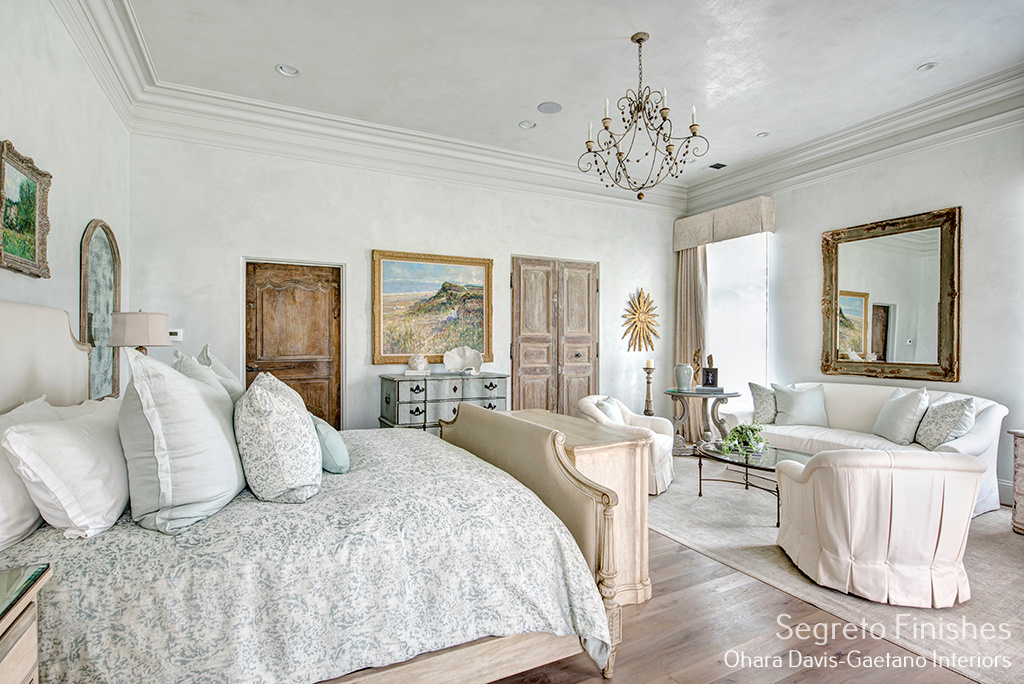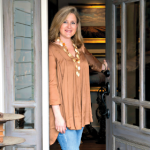 I am tickled pink to welcome Leslie Sinclair of Segreto Finishes to the blog today…if you are an admirer of European-inspired design or a lover of beautiful decorative wall finishes, you may be acquainted with Leslie's lovely work, her amazing books, and her award-winning blog. What you may not know is that we have been online pals for years, and she is one of my favorite Texans on the planet! Just the kindest and most gracious class act…so let's get to know Segreto, be inspired, and snag expert advice for choosing the right paint colors and finishes!
Hi Hello Lovely friends. I am so excited today to share a bit of what I do with you today! My name is Leslie Sinclair and I own a decorative painting and plastering company in Houston. With a staff of over 40 we are so blessed to be a part of so many beautiful homes and collaborate with top designers, architects and builders. Although we provide many finishes on walls, floors ceilings, beams and cabinetry, finding the right color palette is where most finish designs begin.
How to Choose the Best Paint Colors and Finishes
Choosing the right paint colors and finishes can be an overwhelming decision. There are thousands of colors available, each with different tones and intensities, and the perfect combination of paints is so critical to the overall success of the design. Here are five helpful tips on selecting colors for your own home.
Step 1
Look through magazines and books to determine your own personal design style. As you flip through the pages, pay attention to different color combinations of floors, walls, trims and ceilings. Notice whether the pictures you like have bold contrast or a lack thereof. In my Segreto book trilogy of coffee table design books, clients have shared that the images are a wealth of inspiration in picking finishes in their own homes.
Some rooms may have distinct colors that set apart the walls, trim and ceiling……….
………………….. while others may have similar tones and each surface blends effortlessly into the next. Which look do you prefer? Do your favorite rooms have strong colors on the walls or in the fabrics, art and accessories instead?
Step 2
Think about which elements in your home are permanent. Your counters, backsplash, flooring, rugs or fabrics can serve as great starting points to dictate your palette. In an existing home, the perfect paint color can highlight tones you love in a countertop or rug and downplay less desirable hues in these elements so that they will work in the new design scheme.
Step 3
Make a list of your home's best and worst architectural features. The proper paint combinations and finishes will not only enhance the aspects in your home that you love but also disguise your least favorite attributes. For instance, by using the same color as the walls on elements like fur downs, smaller trim pieces, spaces with too many angles, and doors, you can make these unwanted details disappear.
To emphasize the elements that enhance the room's design such as furniture-like built-ins, interesting ceiling details, elaborate crown moldings or paneling, choose a contrasting color, sheen or specialty finish.
Rather than painting smaller rooms a light color, give them a warm and cozy feel with rich, deep tones and……..
……….. let your big rooms expand with lighter hues.
Step 4
Look through your closet! One of the best ways to determine which colors and styles make you feel the most comfortable is to study your own wardrobe. In what colors do you think you look the best? What are you wearing when you feel the most beautiful? Do you tend to incorporate pop colors in jewelry and accessories or do you layer different textures in the same color? Are strong colors worn on a daily basis or just occasionally? You can apply these same principles to your paint selections.
Step 5
Pick up a color wheel from two of your favorite paint stores. Lighting has a powerful effect on color so it is important to always choose the final paints in the space. Armed with your answers and insights from the steps above, you are now ready to select!
Starting with the main parts of the home, pick a color that blends in and uses the tones of all the surfaces. The background color of fabrics, tiles or counters is generally a safe color direction. Depending on how much contrast you like, the trim and ceiling hues can come from the same color strip, just lighter or darker than the wall color. Special cabinetry, interesting ceilings and adjoining rooms are ideal for coordinating or pop colors.
By establishing a particular mood, well-chosen paint colors and finishes form a beautiful backdrop for fabrics, art, furniture and accessories. Through these five steps, you can develop a palette that showcases your home's architecture, flatters your own color tones and gives your surroundings an ambiance that makes a house feel like your home.
Thank you Michele and all you lovely readers! I hope you will come visit me at Segreto Secrets where you can follow me weekly as I create finishes for warm clients and their beautiful homes!!
*****Thank YOU, Leslie for sharing your expert advice and decorating this blog with your lovely work!
Peace to you right where you are.
-michele
I'm a participant in the Amazon Services LLC Associates Program, an affiliate advertising program designed to provide a means for me to earn fees by linking to Amazon.com and affiliated sites. An easy way to support HELLO LOVELY? Start RIGHT HERE to SHOP for items on Amazon (anything at all – not just products mentioned in the post!) you already intended to buy…it won't cost a
penny extra yet may earn this blog a few pennies when my link is the first you click!
You'll also find a wealth of friendly priced furniture and decor for your home HERE.