Happy Dance of 2013:
(Repetitive 1980s grooves
from the Molly Ringwald School of Dance
to celebrate a blog anniversary and improved
health after a host of traumatic surgeries
to prevent breast cancer.)
Take a tour of my abstract paintings and collages.
This disclosure policy is valid from January 2010
Hello Lovely is a personal blog written and edited by me
and accepts forms of cash advertising, sponsorship, paid
insertions or other forms of compensation.
This blog abides by word of mouth marketing standards,
honoring honesty of relationship, opinion and identity.
The compensation received may influence the advertising
content, topics or posts made in this blog.
That content, advertising space or post will be clearly
identified as paid or sponsored content.
The owner(s) of this blog is compensated to provide opinion
on products, services, websites and various other topics.
Even though the owner(s) of this blog receives compensation
for our posts or advertisements, we always give our honest
opinions, findings, beliefs, or experiences on those topics or
products. The views and opinions expressed on this blog are
purely the bloggers' own. Any product claim, statistic, quote
or other representation about a product or service should be
verified with the manufacturer, provider or party in question.
This blog at times uses affiliate links (no extra cost to you if
you buy something, and I will earn a little compensation).
If there are images on this site for which you own the copyright and you wish removed, please contact me, and they will be promptly removed. Thanks.
old media kit info: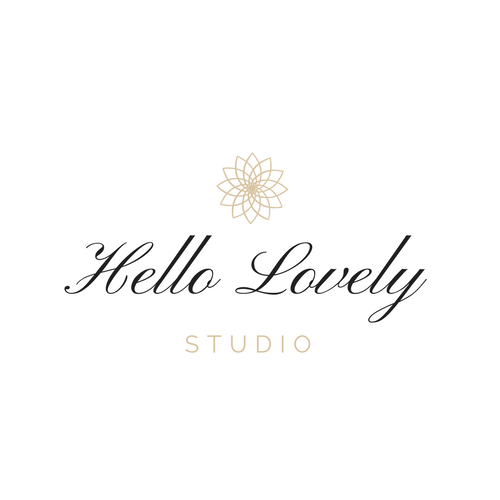 Site Description
Hello Lovely Studio is an inspiration blog with interior design projects, decorating ideas, beautiful home tours and lifestyle stories to help readers make more peace with their homes. More than a blog, here is a pocket of sanctuary on the web to learn and discover both literal and figurative "peaceful interiors." Be educated by brilliant design and lovely finds, then apply the lessons for more beautiful living.
160k monthly blog views/10+ million monthly Pinterest viewers
Hello Lovely Studio made the shortlist of Best Written Blog nominees for Amara's Interior Blog Awards 2018 (and attended the event in London).
Thousands of subscribers receive daily posts.
Audience: 94% are design-savvy women in the USA
seeking inspiration for home, renovation, and lifestyle. Most are aged 45-65.
Readers are fans of decorating ideas with passion for home, European inspired decor, timeless and tranquil interior design, and French farmhouse style.
current reno in progress: a neglected cottage
Hello Lovely happily partners with brands to tell stories about lovely finds for a peaceful home.
Author
I'm Michele, creator of Hello Lovely.
I live with my husband in a Chicagoland fixer
upper we are renovating entirely ourselves.
It is dusty here.
Our sons (one in college, one in law school) recently
returned to the formerly empty nest…wait, what? Oui.
It is never dull here.
I sometimes write professionally for magazines (hundreds of pieces
published in print), and creativity is my jam
whether it's a painting, an essay, or a new recipe.
I'm also a songwriter. True!
Hello Lovely is an ongoing love letter
to my readership who, like me,
long to make more peace with their homes.
Skills
Writing.
My voice is distinctive, engaging, and conversational.
I love lighthearted banter and lyrical
commentary and rarely take myself overly seriously
(that's half the battle right there).
Photography.
I have always been good.
I'm not techie,
though I know how to edit.
As an artist, I work with natural light to
capture an elusive, warm ethereal mood.
Styling.
It's fun and best when it appears
non-contrived, effortless,
and a bit imperfect.
My style is a mix of
European sensibility,
wabi sabi romance,
and typically
a fair measure of
dreamy
WHITE.
Press
My writing and work at has been featured in
Family Circle
Country Home magazine
Apartment Therapy
Miss Mustard Seed
Desire to Inspire
Cabbages and Roses
Royal Design Studio
The Enchanted Home
Tone on Tone
Segreto Finishes
Arch Candy
Design Indulgence
Classic Casual Home
Swoonworthy
Design Chic
Rough Luxe Lifestyle
Pretty Pink Tulips
Decor de Provence
Splendid Willow
Homebunch
Modern Country Style
Chic Mom Magazine
Gwen Moss
Pretty Petals
Petite Haus
Good Life of Design
Pinecones & Acorns
Follow the Yellow Brick Home
Shoestring Elegance
An Artful Mom
Eclectic Red Barn
…and 100+ parenting magazines across North America.
Features
*Decor Inspiration
*French Country Style
*Our Renovations
*Design Ideas
*Before & After
*Home Tours
*Lovely Finds
Statistics
Monthly Page Views
160K

Monthly Reach
185k
Pinterest Viewers Monthly
10+ million
fashion over 50 – questions
What's your daily uniform?
What shoes do you wear with it?
How does your uniform and wardrobe reflect your lifestyle?
What colors who up in your closet?
How would you describe your design style?
How does where you live impact your wardrobe?
Do values, ethics, or faith affect your choices?
To bling or not to bling?
How do you wear your hair with your daily uniform?
Is there a celebrity, designer, or stylish friend who inspires you ?
Talk to me about makeup, skincare, and injectables.
Favorite healthy foods and exercise?
Favorite shops?
Favorite glasses/frames?
Any mantra, lifestyle tips, or wisdom to thrive in midlife?