Nordic Christmas & Citrus Garland Inspiration reflects the sort of Swedish holiday vibes I grew up. My parents made our holiday home feel like a Scandinavian wonderland for as long as I can remember. Dala horses, pomanders, candles on the tree, straw ornaments, Carl Larsson artwork, and stacks of Swedish pancakes.
Nordic Christmas & Citrus Garlands
The fragrance of citrus and orange strikes me as the scent of pure love maybe because at Christmastime, oranges played a starring role in the decor. I still love the scent in combination with cloves.
Have you ever dried orange slices to make a garland?
Perhaps you'll be inspired after seeing the citrus glory ahead!
Pin this post for future reference if it's much too early!
And don't forget apples!
Sweet Nordic & European Country Holiday Mood
White Nordic Christmas Spare Simplicity
The older I get, seeing any pet's nose against the pane pulls on my heartstrings. Oh the lovely!
The ethereal vibes Tracie creates always take my breath away.
This next rustic Nordic Christmas moment brings to mind a cabin in the north woods, a mountain lodge, a forest hideaway with fires to warm stockinged feet.
Lord have mercy, don't we all try to make it the hap hap happiest? Sometimes we even succeed.
Swedish Goat With Vintage Ribbon on My Porch
Still not at all known for my holiday decor (ahem…it's hard for a stylist who appreciates restraint), I did take the time to wrap vintage embroidered Swedish ribbon 'round a goat.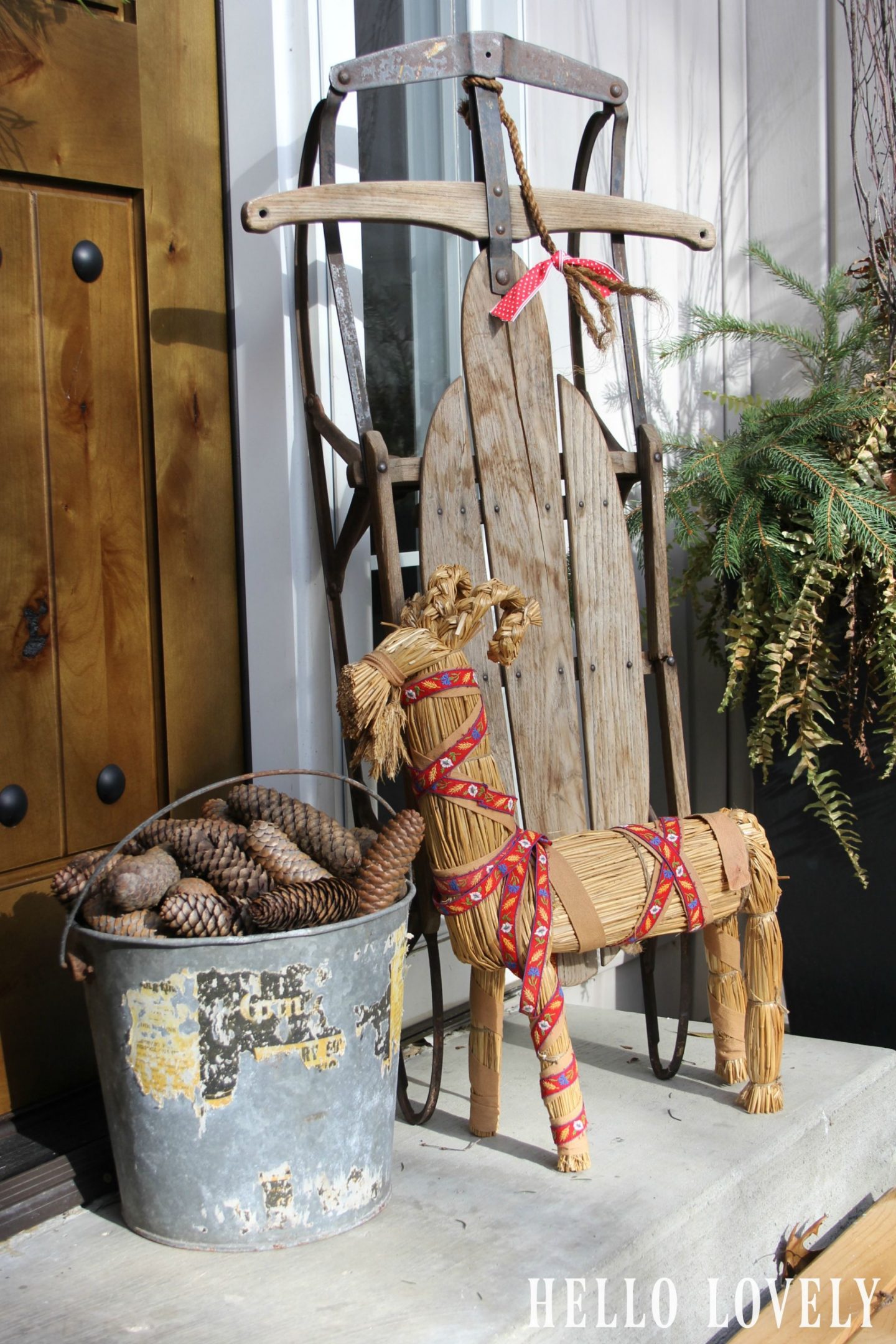 Citrus Peel Appealing Messages
CONFESSION: I did try my hand at cutting letters from citrus peel last year, and obviously I need more practice and no photos were snapped, ChristmasCats.
Turns out, I am better at singing my Christmas cheer than crafting it.
Still…this area could definitely use a citrus peel garland!
Citrus + Magnolia + Greenery
Does it get more classy than this Christmas door wreath?
We should never shy away from a holiday DIY just because we think the result will be less than perfect or pinworthy. After all, getting out of your head to create beauty for an hour or two is good medicine.
Pom pom garland? Check. Fresh greenery? Boom. Citrus garland and bells? Mantel bliss ahead.
My Childhood Christmas in a Bowl!
Sometimes just one image will stop you in your tracks and even serve as a time machine taking you back to a simpler age.
Dried Citrus Garland
Here's my favorite tutorial for making a beautiful dried citrus garland:
Cinnamon and Valencia Orange
I independently selected products in this post—if you buy from one of my links, I may earn a commission.
Have you ever tried making a candle with stuff in it like cinnamon sticks? How did it turn out?
Skip the DIY and Happily Buy
I am guessing my critters outside with have a heyday if I began to tuck fruit into my wreath!
Clever Christmas Cookie Idea
Who is rushing out to the thrift store or their basement to find a heavy vintage etched patterned tumbler?
Don't underestimate Swedish pepparkakor cookies (a tin of them makes such a lovely gift!). Whip up some buttercream and decorate them. No one has to know you didn't bake them yourself. 🙂
Whimsical Swedish Gnomes & Tomte
Bet you have been seeing plenty of these around town in recent years…
Scandi Style Christmas Wreath
I bought this pre-lit wreath below, and if you're looking for a larger piece to make a statement but with relative simplicity for which the Scandinavians are adept, this is it. It also comes in a smaller version for $20…not too shabby for a prelit Scandi wreath.
Swedish Holiday Kitchen
This next moment makes me wanna grab my shaker of powdered sugar (yes, chef, I do have one in the pantry) and get shake-a-lakin.
I keep forgetting about Hanna Andersson. I mean, how many years did her beautifully unique catalog arrive in my mail?
Swedish Red on a Farmhouse
A red farmhouse in the snow…sigh!
Simple Scandi Christmas Tree Ornaments
If all you do this year is throw these stars on the tree with some twinkling white lights, I bet it will be lovely.
This totally reminds me of a piece that would be in a Scandi interior or the North Pole:
Nordic White Holiday Simplicity
One image, so much inspiration!
Handpainted Swedish Designs
We kids grew up with dala horses so they feel part of our family culture.
Must remember to try putting a little tree in an old crock or earthenware…it's such a winning combo.
And so is a tree glowing with candlelight!
Minimal & Natural Scandi Christmas Tree
Swedish Clogs & Bold Boho Scandi Style
Did you ever think clogs would be fashionable again?
While these next pom wreaths may no longer be available, maybe they will inspire you to get busy with a 1970s feeling crafty DIY.
French Nordic Christmas Inspo
Wondrous Wooden Scandi Snowflakes
Scented Candles With a Favorite Swedish Spice
Next to orange, cardamom is one of my favorite scents and TRULY brings back my childhood, the 70s and my Swedish friends and family.
Swedish Lucia Saffron Buns
Treat yourself to the most darling tutorial and recipe from Green Kitchen Stories!
Budget Friendly Decor Buys
Looks like a couple of these finds went up to $25 (pillows and ornament storage) since last year, but most are the same price…
Feelin Christmasy? Don't miss this COUNTRY FRENCH themed ditty also.
I independently selected products in this post—if you buy from one of my links, I may earn a commission.
Peace to you right where you are.
-michele
Thanks for shopping RIGHT HERE to keep decor inspiration flowing on Hello Lovely!
Hello Lovely is a participant in the Amazon Services LLC Associates Program, an affiliate advertising program designed to provide a means for sites to earn fees by linking to Amazon.com and affiliated sites.