When we toured our home for the first time, we tried to see past interior design choices and finishes to keep our focus on location, light, and livability. Those sorts of things can't be changed, but so much else can! Our primary bath's sea of brown tiles covering walls and floors immediately felt oppressive, and the 90s Jacuzzi with surround and steps were neither safe nor soothing for this wobbly woman of the manor. While we knew it would be a long, laborious remodel, I probably underestimated the time commitment and constraints! Here are plans and glimpses of the messy middle of our DIY modern vintage primary bath remodel at the Georgian.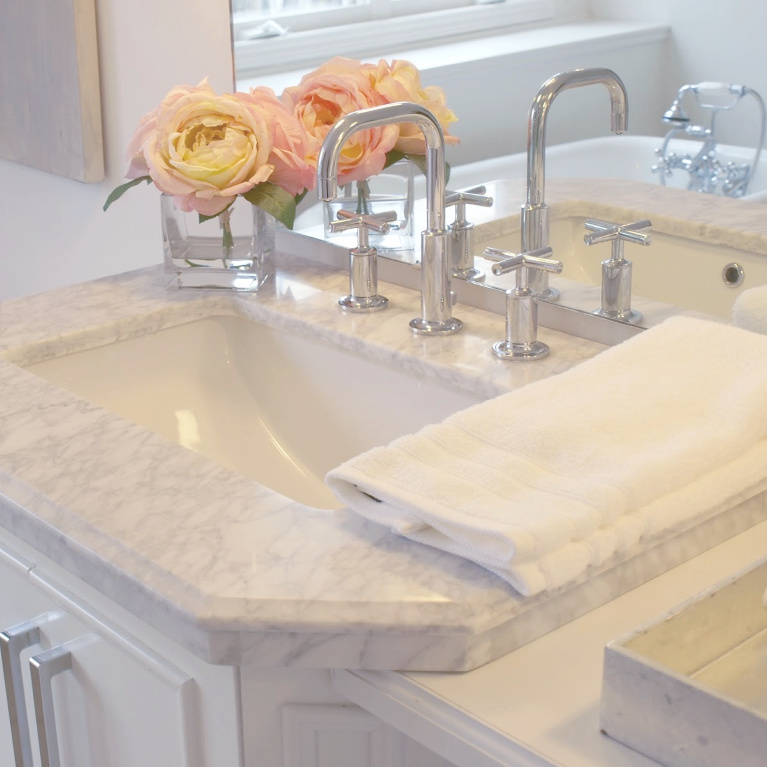 Planning Our DIY Modern Vintage Primary Bath Remodel
Decide on a Style Direction
You would think this would be the easy and imaginative part, but for this very traditional elegant home, it is a more complex one. Since I'm all for listening to a home's architecture, this bath was crying out to be more timeless and less "clunky, angular, 90s style."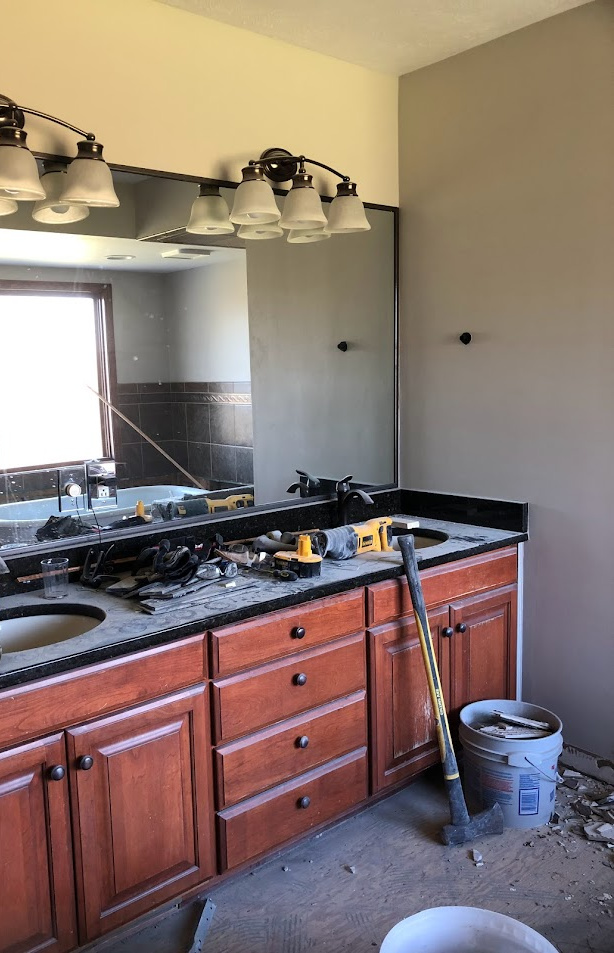 We love classic 1920s bathrooms, but we wanted the bath to function for modern life. Modern vintage style, serenity, and cloud-like living (white and bright!) are guiding the style direction.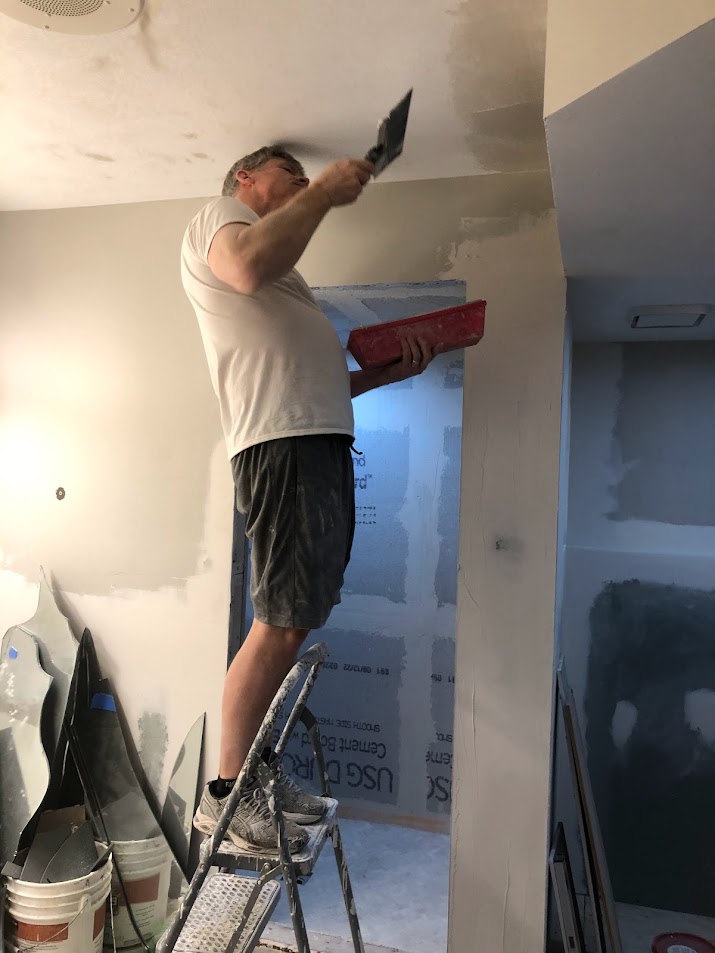 Here's what we're thinking: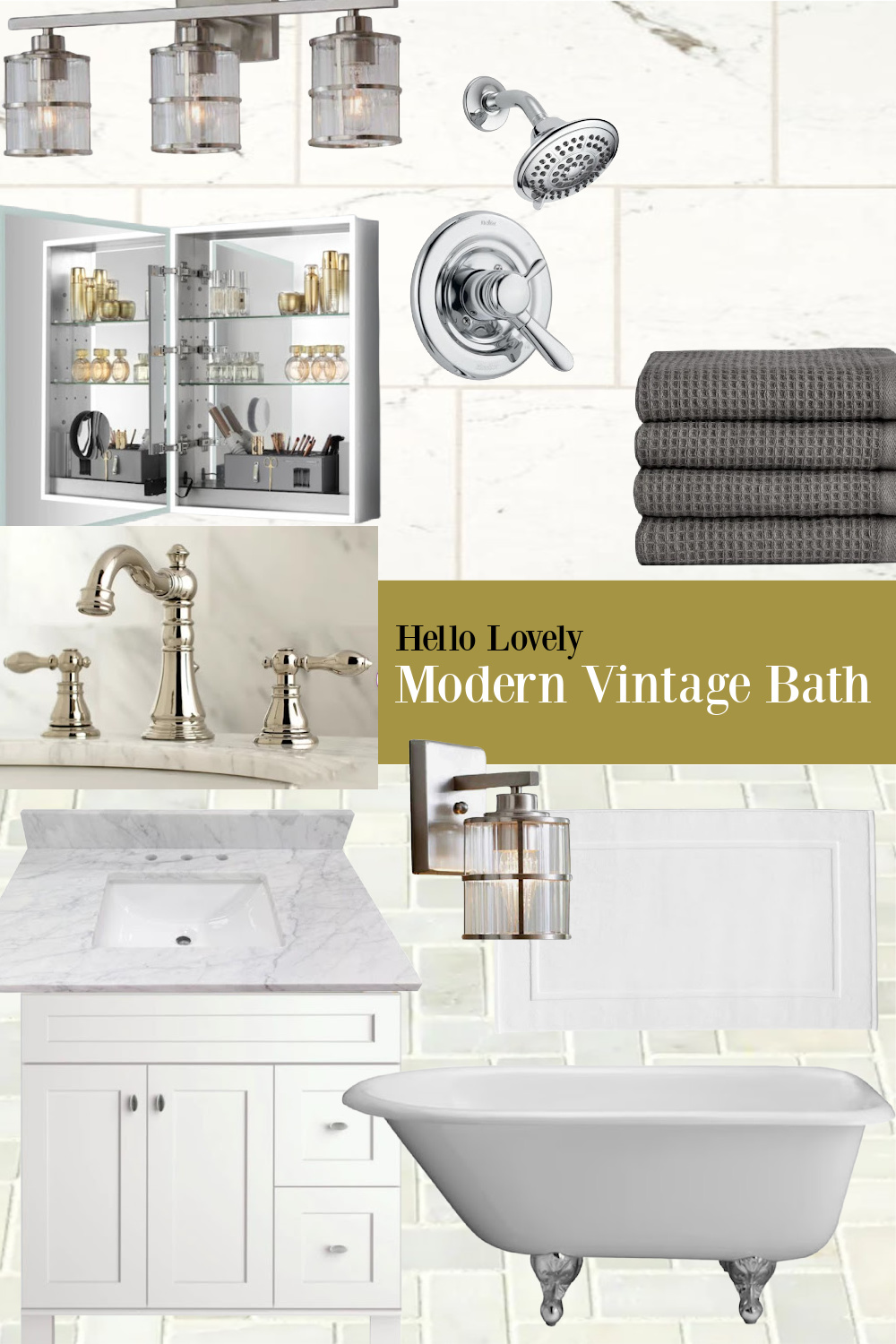 Address What Doesn't Function for Our Lifestyle
The biggest problems are the shower and tub areas. A built-in bench in a spacious shower is swell except when it is built UNDER the shower head and not across from it. If backbends are your thing, have at it.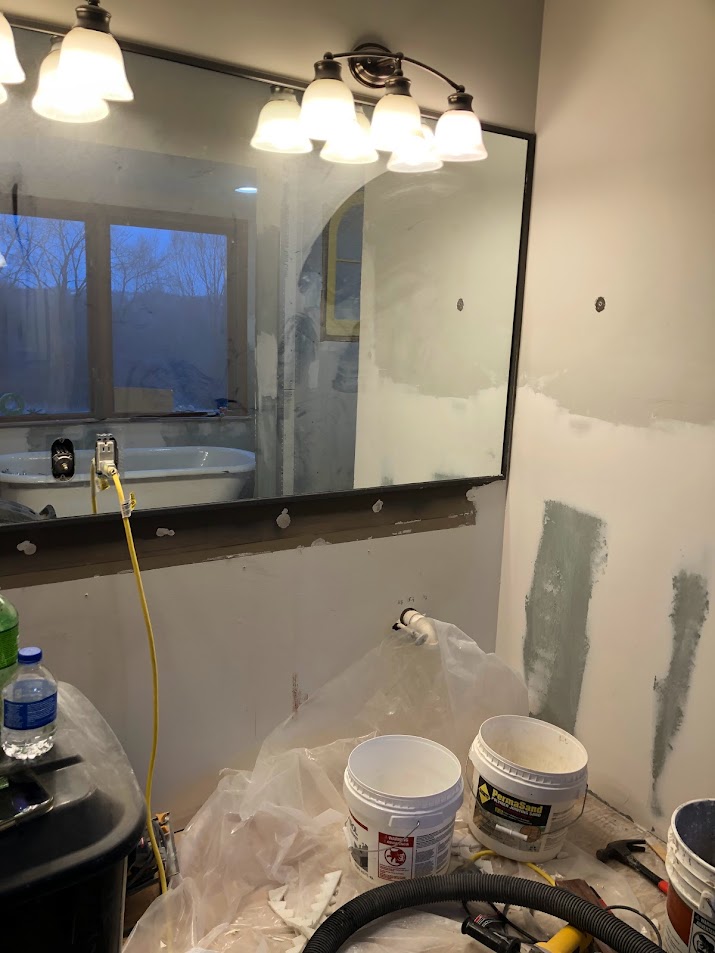 The glass half wall is something we also don't love since we hate being slaves to hard water spots. There are creative ways of bringing natural light into a shower without all the glass. The vanity is very low and not something we want to get used to!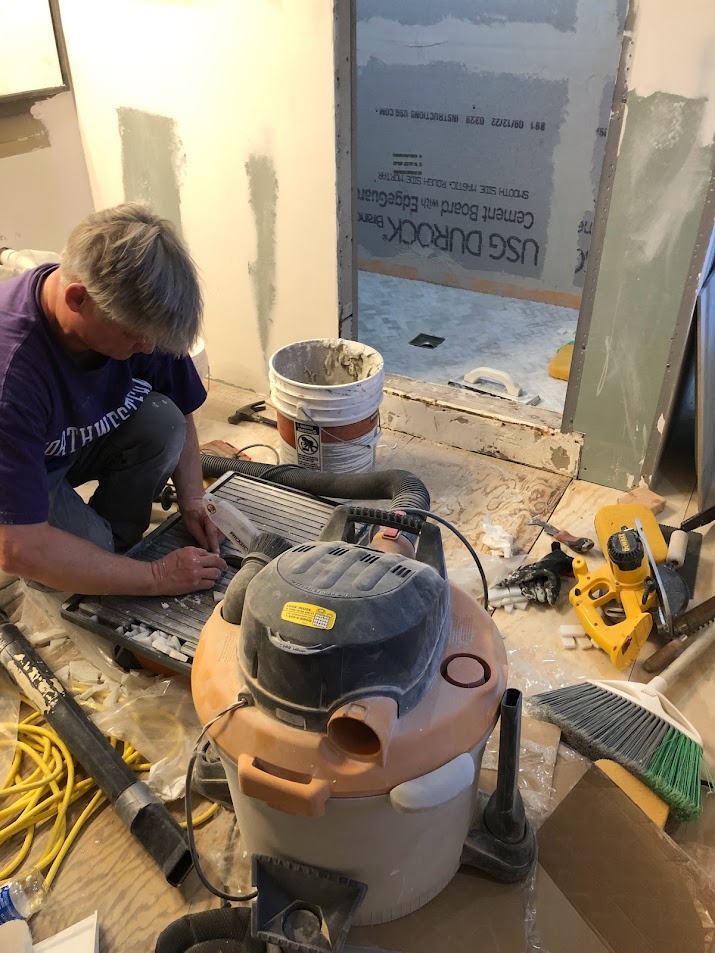 Determine What Stays and What Goes
We are good with the location of the W.C., vanities, and shower, so the floorplan will basically remain the same. We won't touch the huge window overlooking our beautiful property. While we don't like the soffit with its sharp angles and recessed lighting above the tub area, it will stay.
An awkward angular shelf niche on one side of the vanity is just asking for clutter and dust, so buh-bye. We'll add storage to make up for it.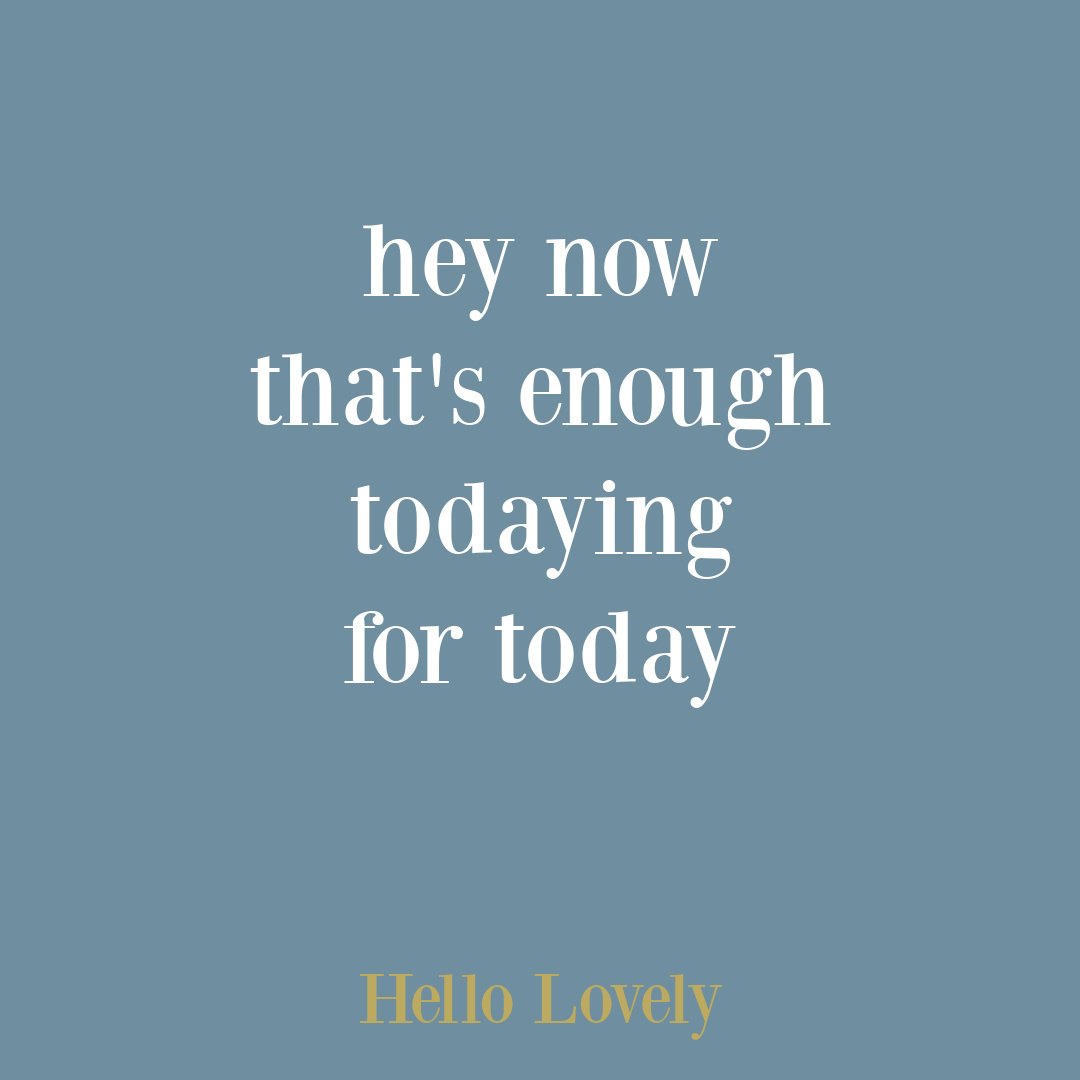 Obviously the deep, dark brown covering the shower has to go along with the jetted tub and platform.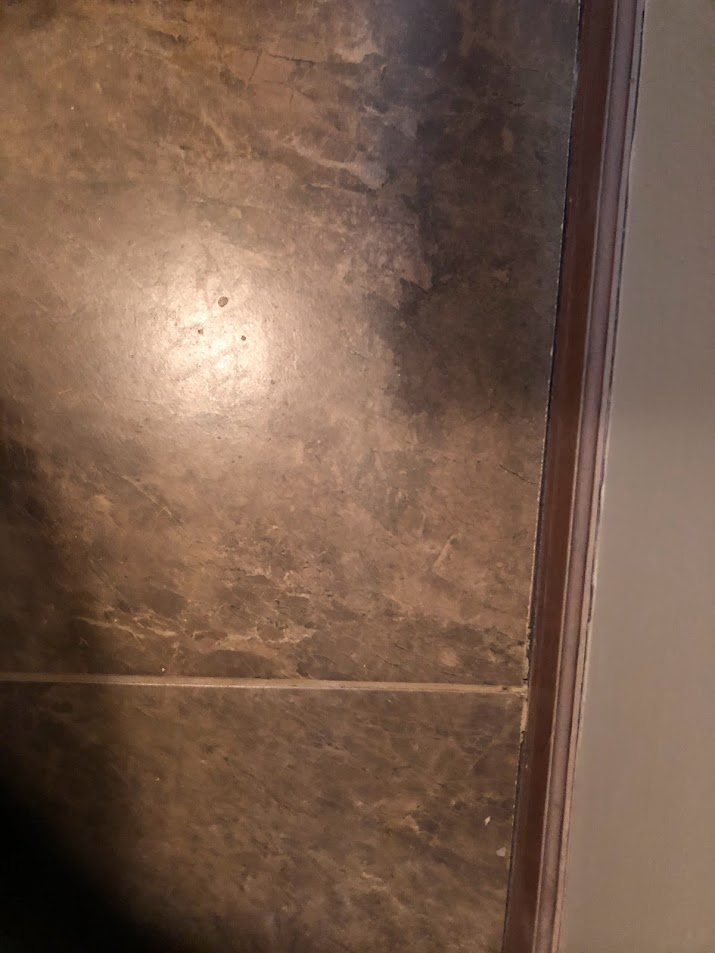 Plumbing for the new tub will be moved. The existing custom vanity while spacious, was worn out and so well-used that the finish had worn off the front of the stained doors.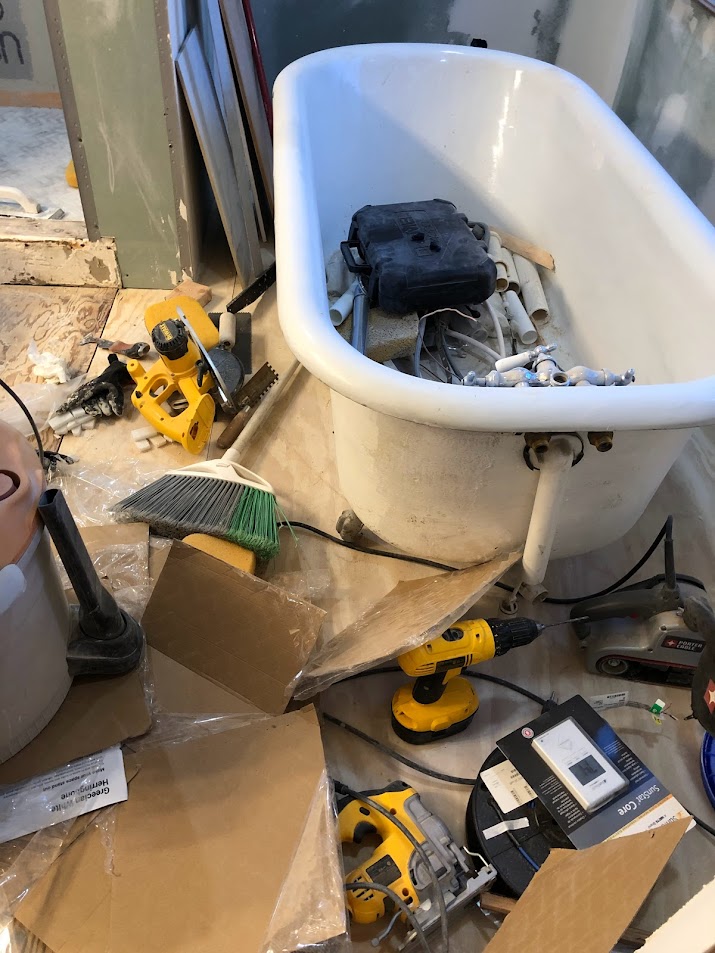 Bronze fixtures, hardware, sheet mirror, vanity lights, and brown granite will go too. I despise textured ceilings so if possible, the one in here will disappear to underscore a feeling of calm.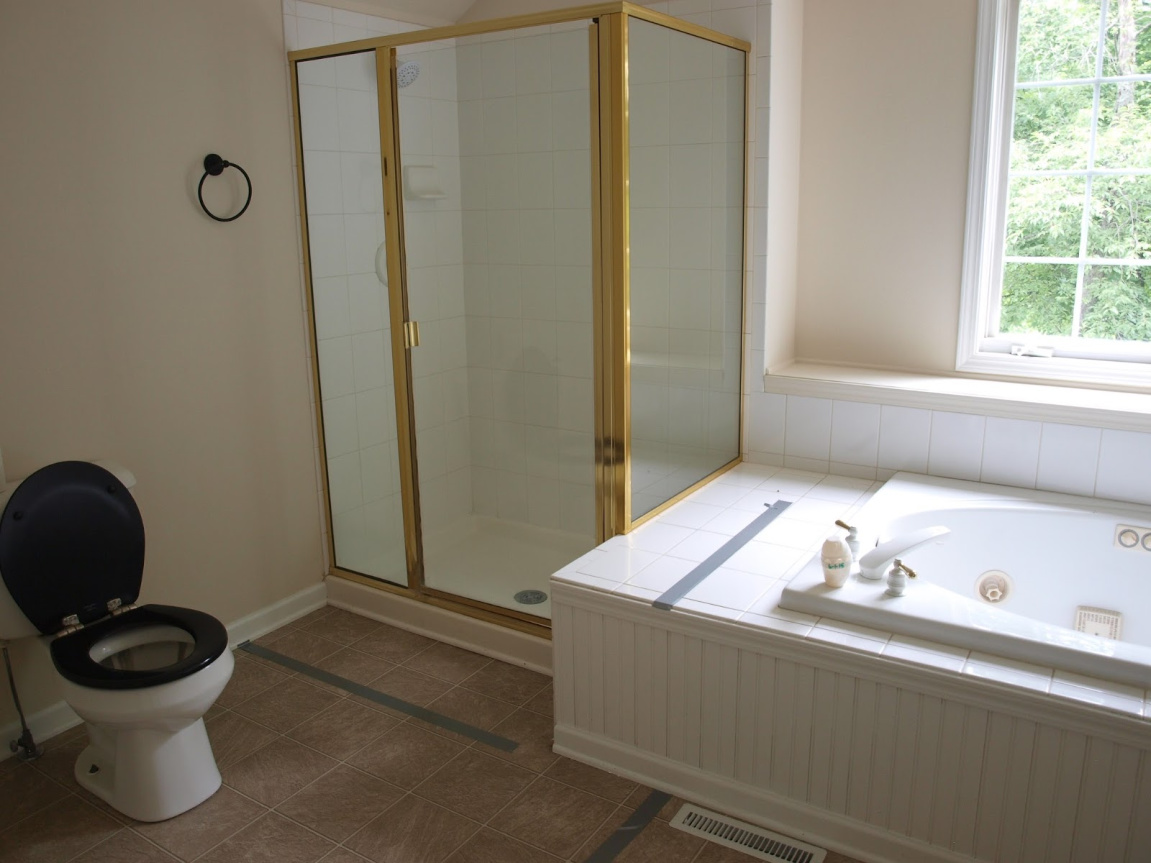 Floorplan Issues
Because of the fussy varied ceiling heights in the bath (soffits will do that), we're keeping the shower the same size. Demolishing the tub's platform will free up floor space to accommodate more storage or possibly a makeup vanity.
We did the same thing to our former 90s bath we renovated where there was a huge platform in front of the window (above) before we demo'd it and added a vintage tub. So much better and so much more calm!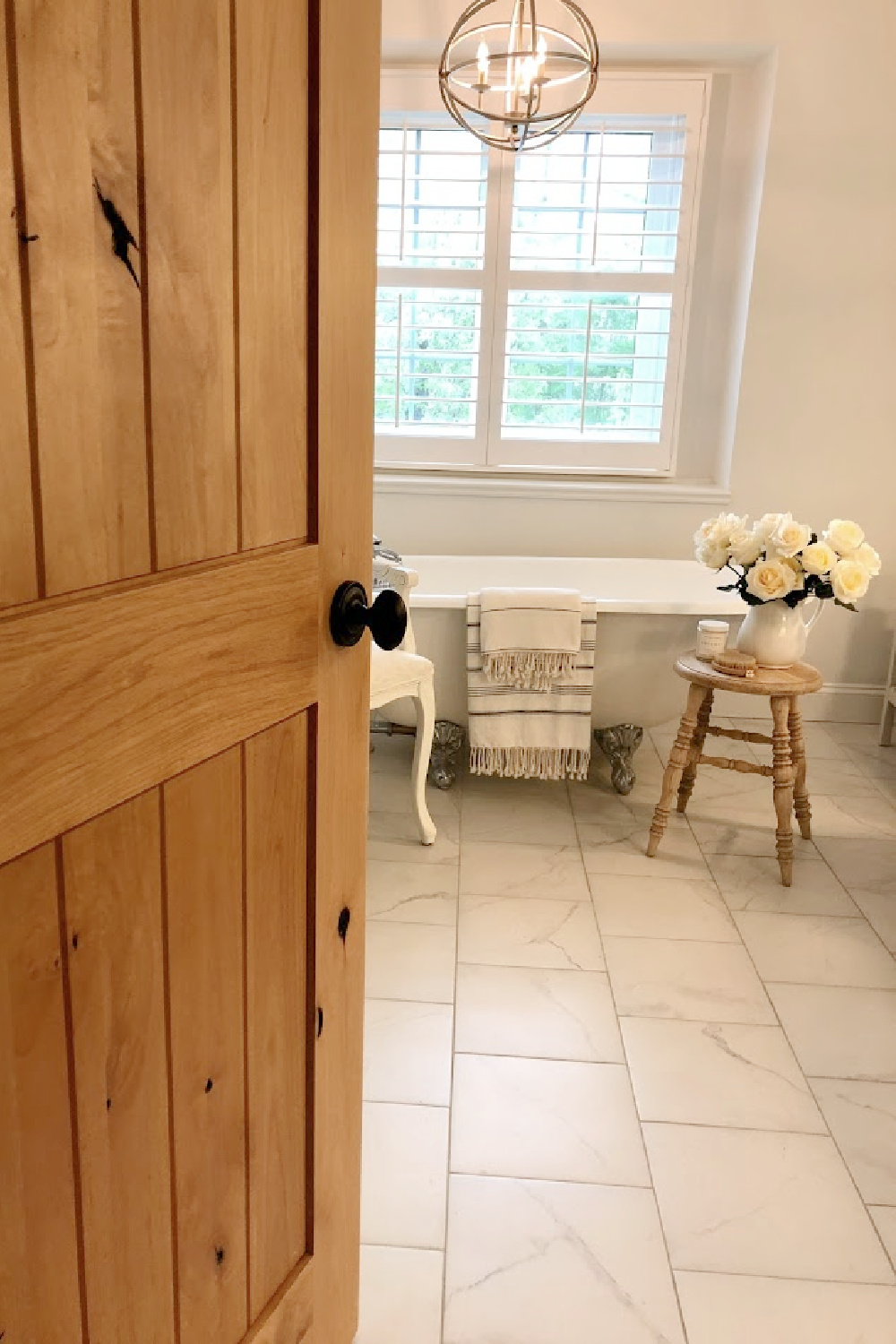 Discuss Plumbing & Electrical Changes
Leaving the shower plumbing alone is a huge help timewise, and we'll move the bathtub plumbing since the tub will be tucked into more of a niche for coziness.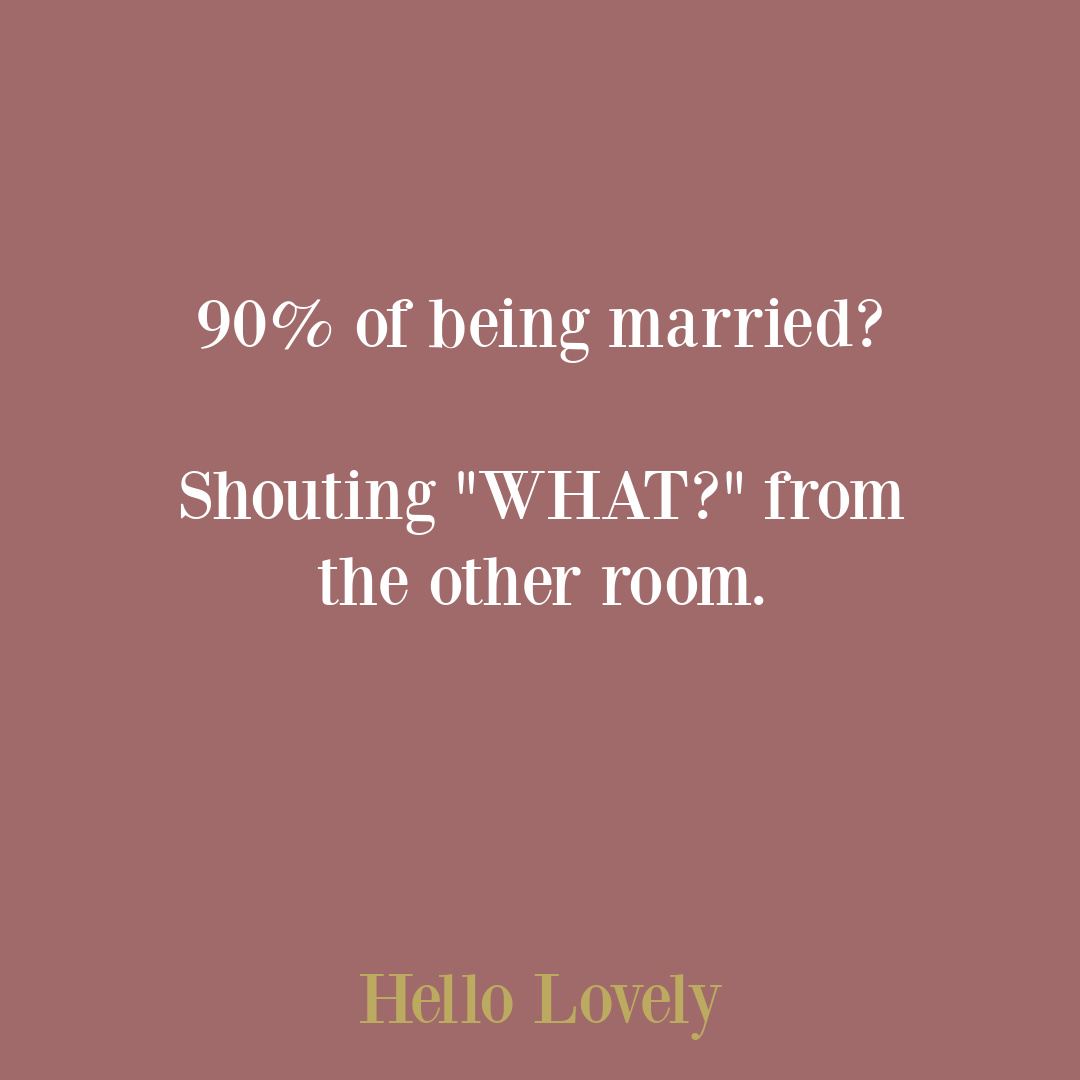 Plumbing will probably have to move for the new vanities but will remain on the same wall. There's an electrical outlet and wiring for a television high on the wall across from the Jacuzzi that will be moved lower on the wall.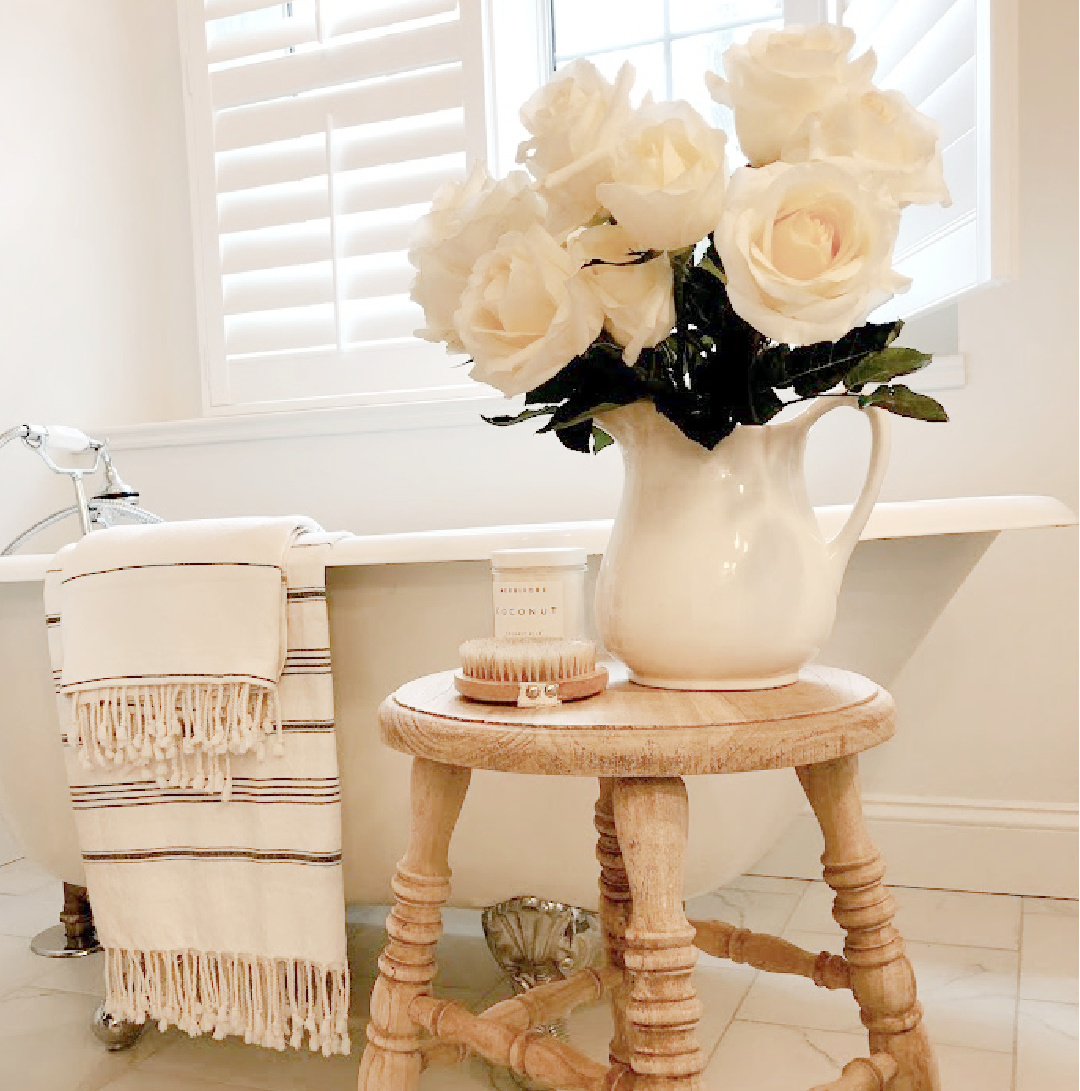 Electrical will be moved for lighting above and between vanities, and if we install fancy schmancy LED medicine cabinets, they will also require electrical. Finally, a huge amenity we plan to add is radiant heated flooring–it qualifies as part of the "modern" in modern vintage.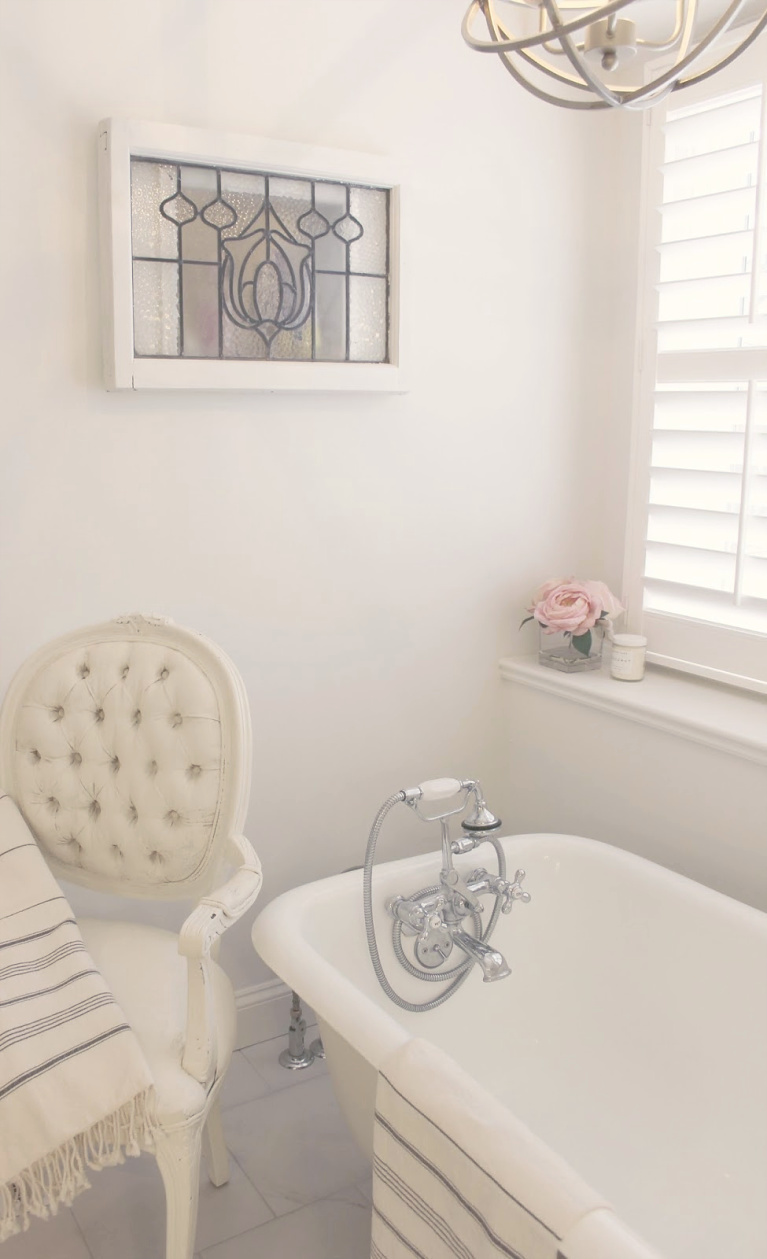 Budget Matters
Even if we splurge on every finish for this bath, the return on investment is promising based on neighborhood property values and the value to our daily lives. We'll choose wisely and install quality materials that feel classic.
Demolish Existing Bath
They make it look like a party on all of those renovation shows on television, and you never see schlepping buckets and buckets of heavy tile from a second floor bath down the stairs to a pile in the garage.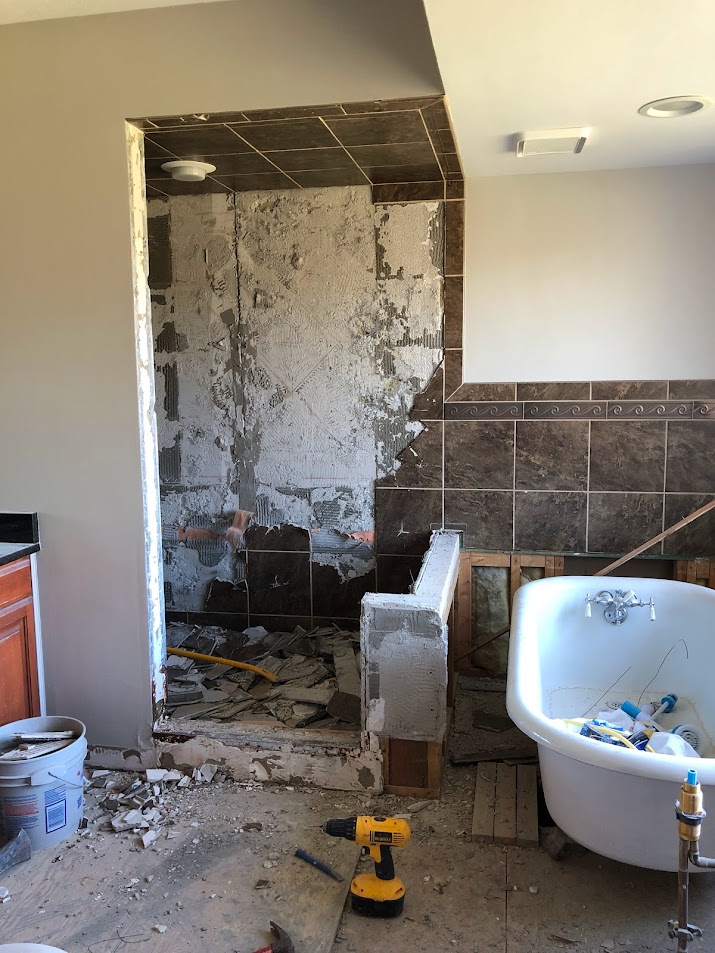 The muscle aches and shoulder pain from swinging a sledgehammer are rarely mentioned. You don't see clouds of dust that linger for weeks. As you dismantle it all, you sort of vow to get the design right at all costs so it won't have to be demolished for a very long time.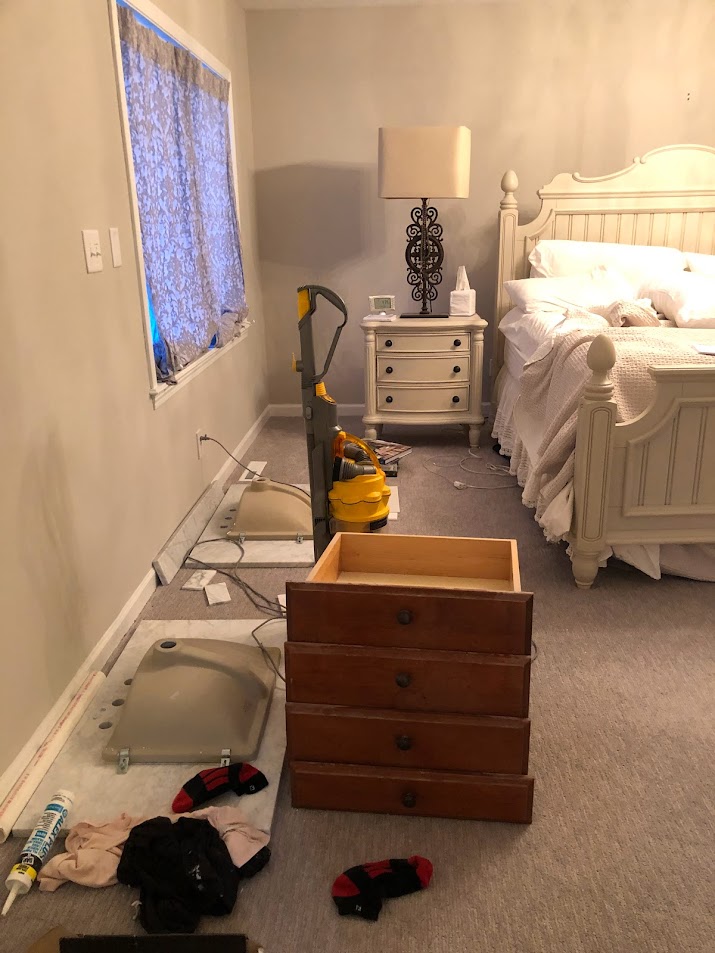 Inspiration Baths With a Mood We Hope to Evoke
I love the serene color palette in here, the plant near the window, and way it feels like a living space. This is a different approach than say making a bath feel like a spa.
Ideally, this is the sort of lighting I prefer in the vanity area. However, I don't think we have enough room for four sconce lights and two mirrors. I am toying with adding vanity lights above the mirrors and a sconce in between medicine cabinets.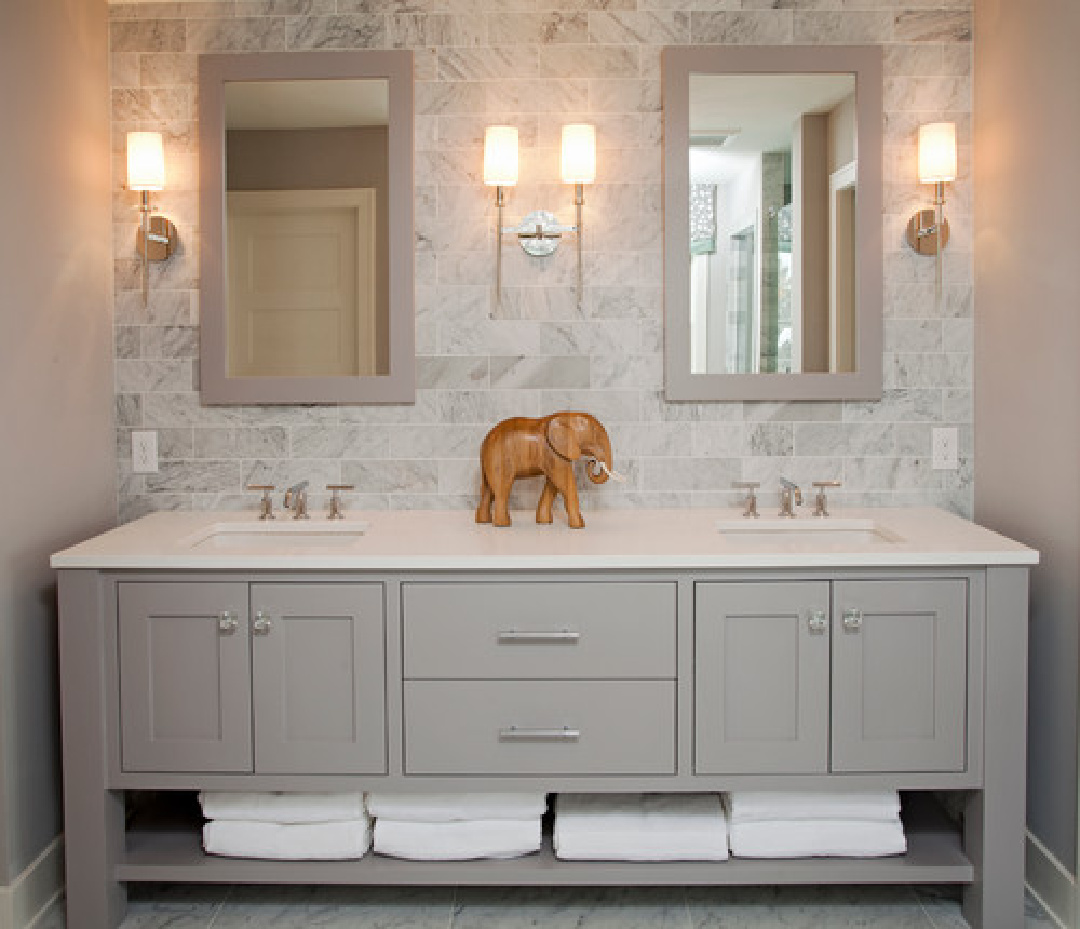 Here's another traditional bath that feels like living space to me. Love the drapes which you don't often see in baths, and they add softness.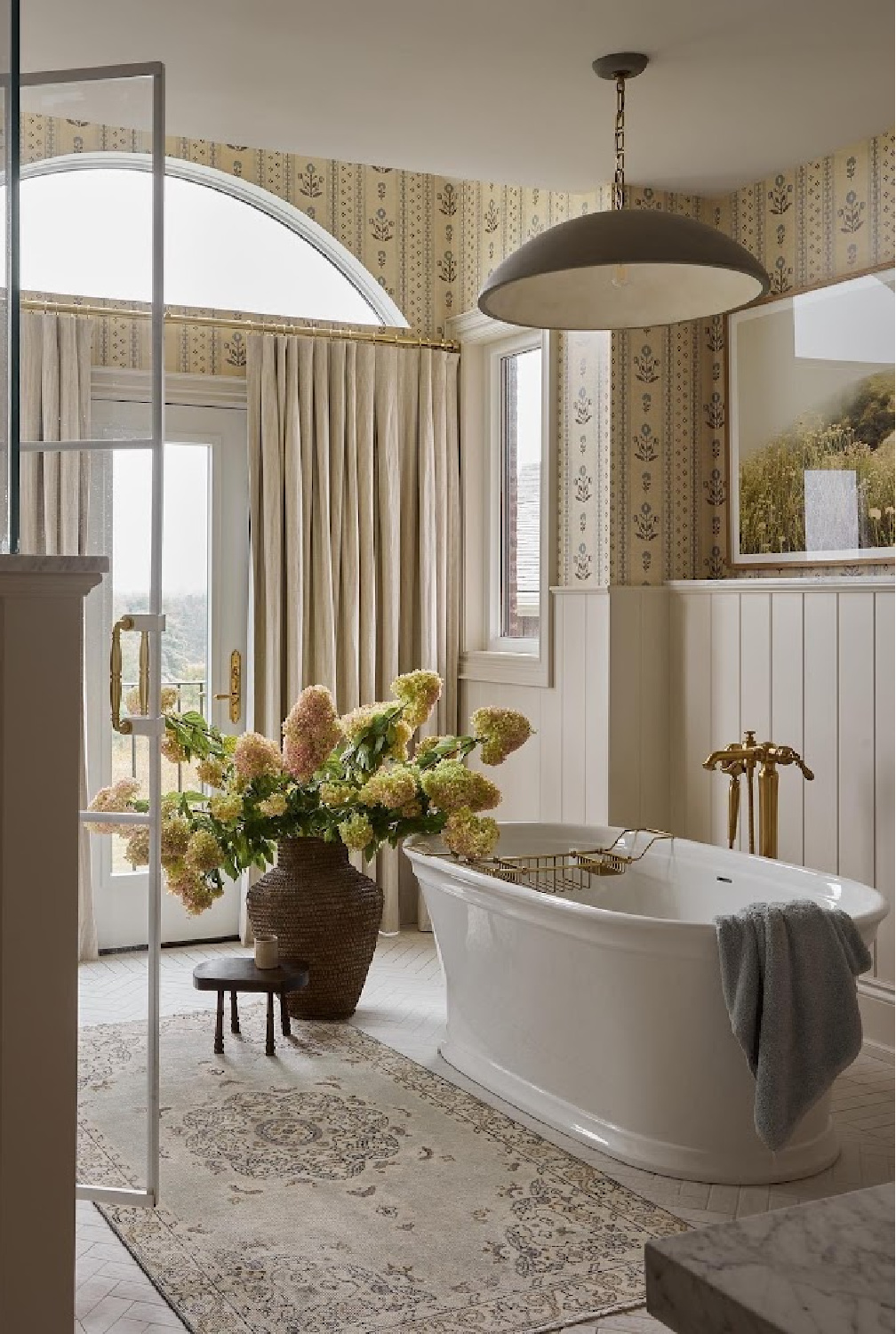 This reeded vanity really caught my eye. Is it traditional? Modern? I love those things where distinctions are blurred.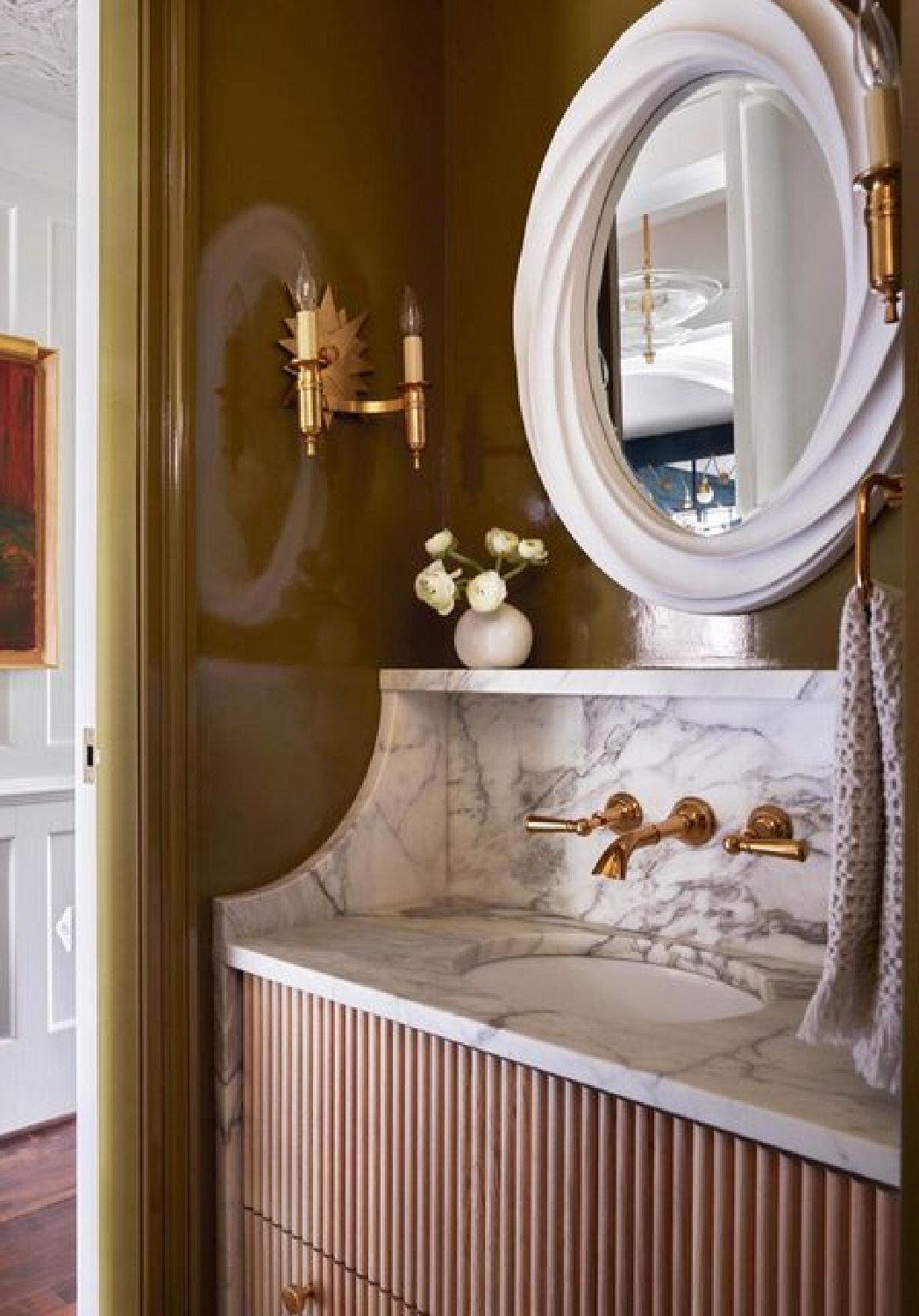 Distressed lanterns in a bath? Yes, please! Don't think I'll have room for them though. The pairing of white marble with the fluted or reeded vanity detail is such a lovely contrast. Also loving the size of what looks to be a mirrored medicine cabinet.
This is maybe my dream bath, and while ours won't resemble it, it captures the timeless and understated mood I'm after. Psst. I put the exact mini gilded Darlana lanterns over our kitchen island.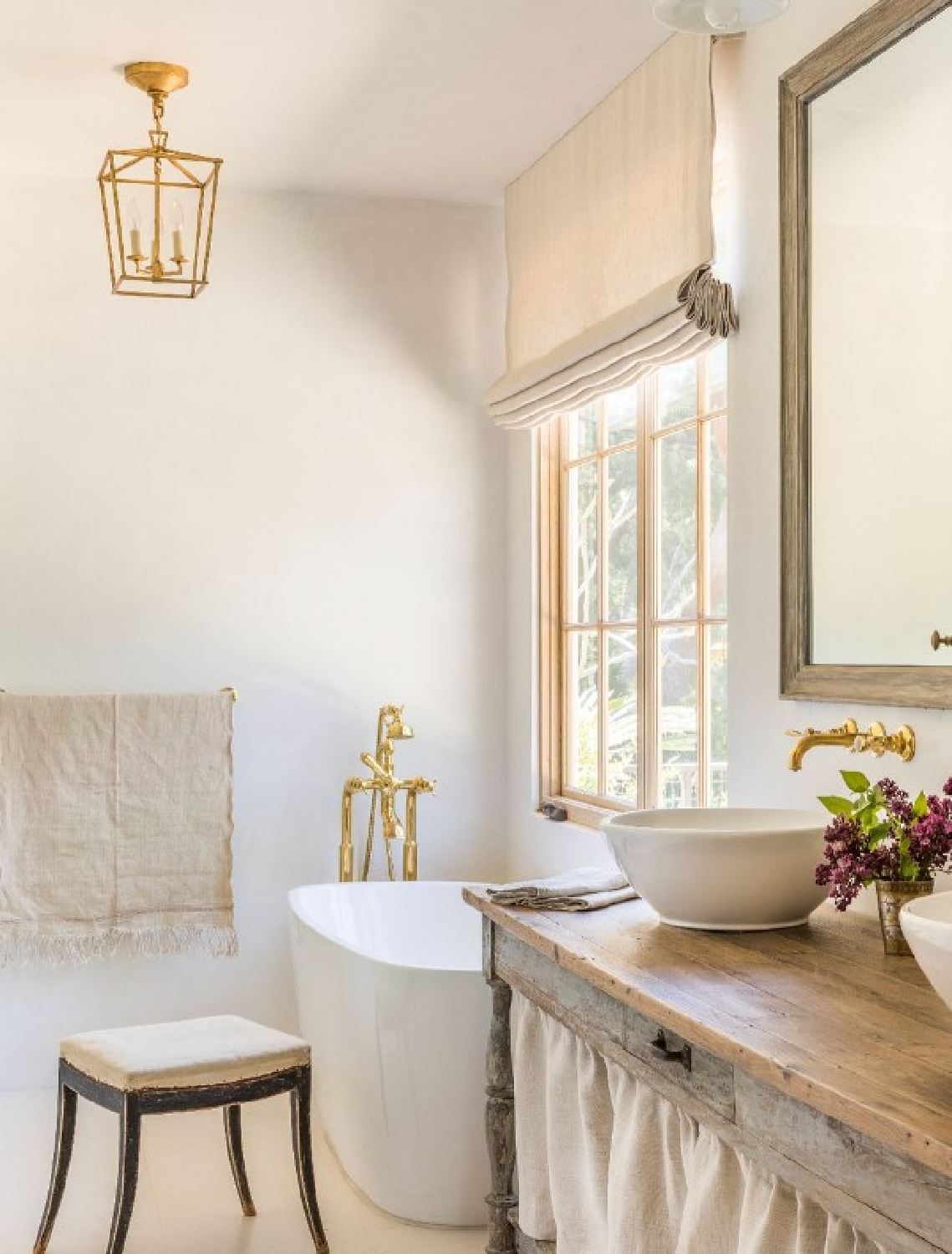 Fixtures & Finishes
What makes choosing finishes a bit easier is our experience since this isn't our first bath remodel. We loved the herringbone marble shower floor we chose for our former bath so we'll let that choice guide other decisions.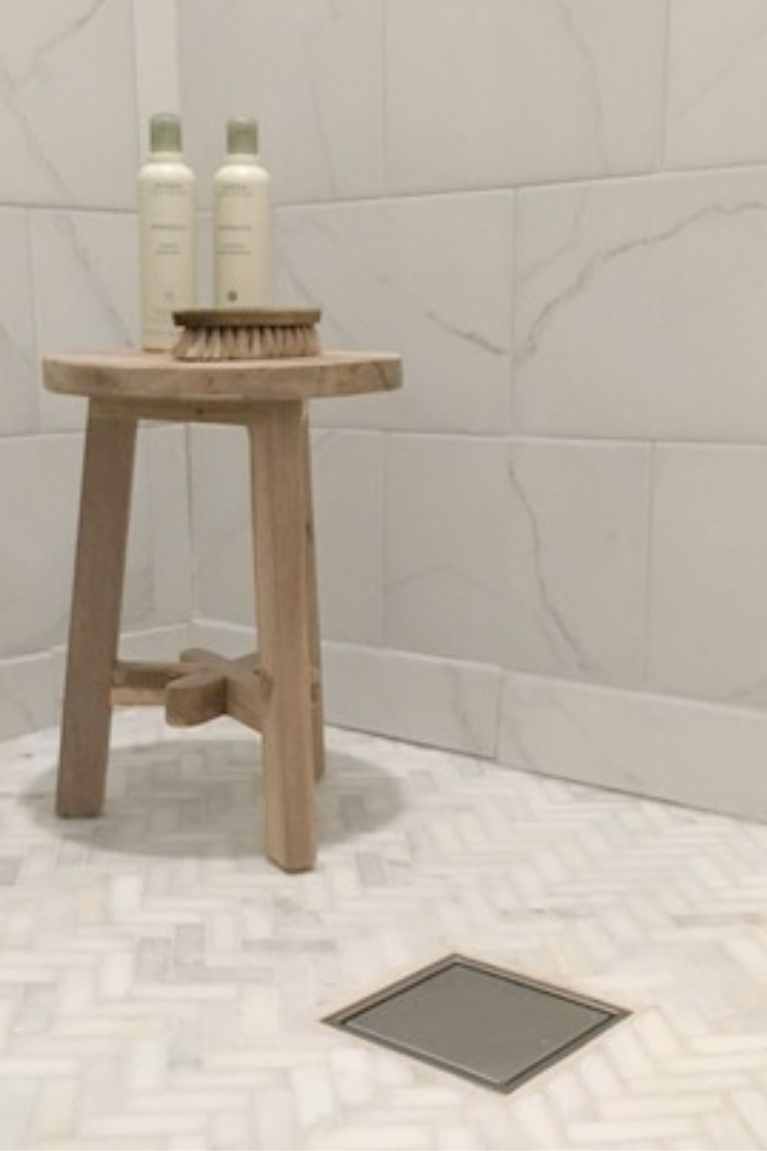 After bringing home a dozen possible options for shower wall tiles, there's a standout that feels modern yet vintage. We may continue the herringbone marble on the floor in the rest of the bath as well. Marble mosaics feel very 1920s and like home to us. A cast iron clawfoot tub will provide vintage charm along with an antique arched window from a 1920s home we'll incorporate.
Two 36″ Shaker-style vanity cabinets topped with carrera marble will replace the single low vanity. Modern oversized mirrored medicine cabinets will replace the sheet mirror, and a lantern-style wall sconce will be wired in the space between them.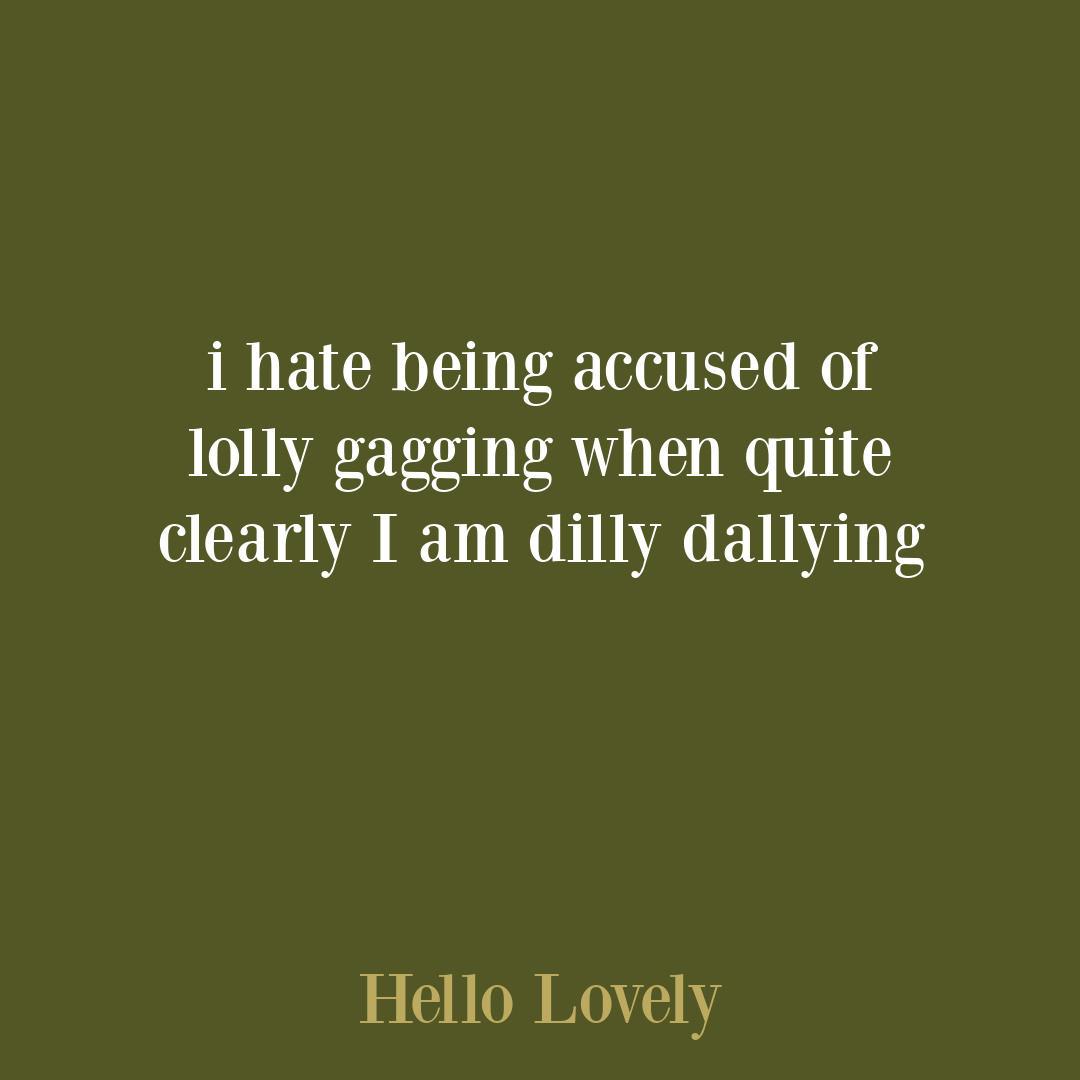 The bathroom faucets and lighting will be a mix of silvery tones with classic style. Not sure if we'll incorporate a tower, shelves, or a makeup vanity table in newfound space near the tub.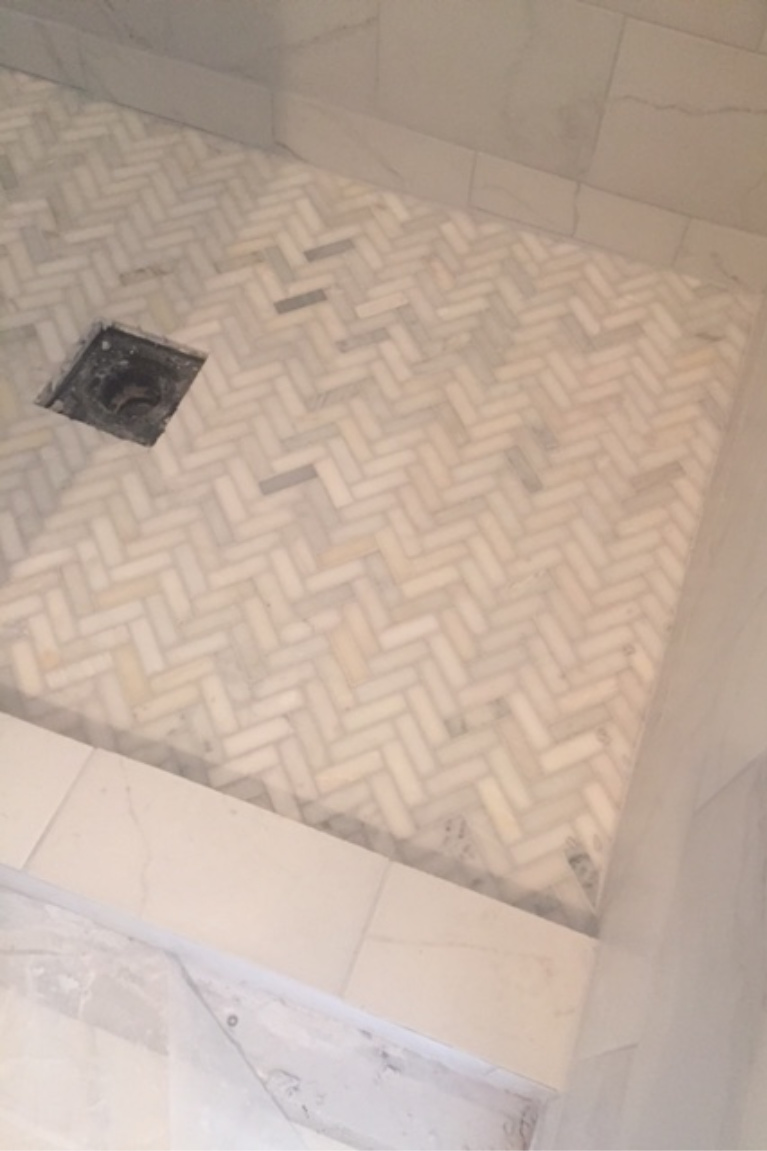 Surprises Along the Way
They just spring up all the time. When you demo a tub's platform, the subfloor beneath is at a different level than the adjacent floor. (A subfloor must be level before you tile!) There are plumbing pipes in between studs where you intended to recess medicine cabinets. A tile you fell in love with months ago is being discontinued and in short supply. A shower valve you tile around that appears to be universal won't accommodate the new shower fixture.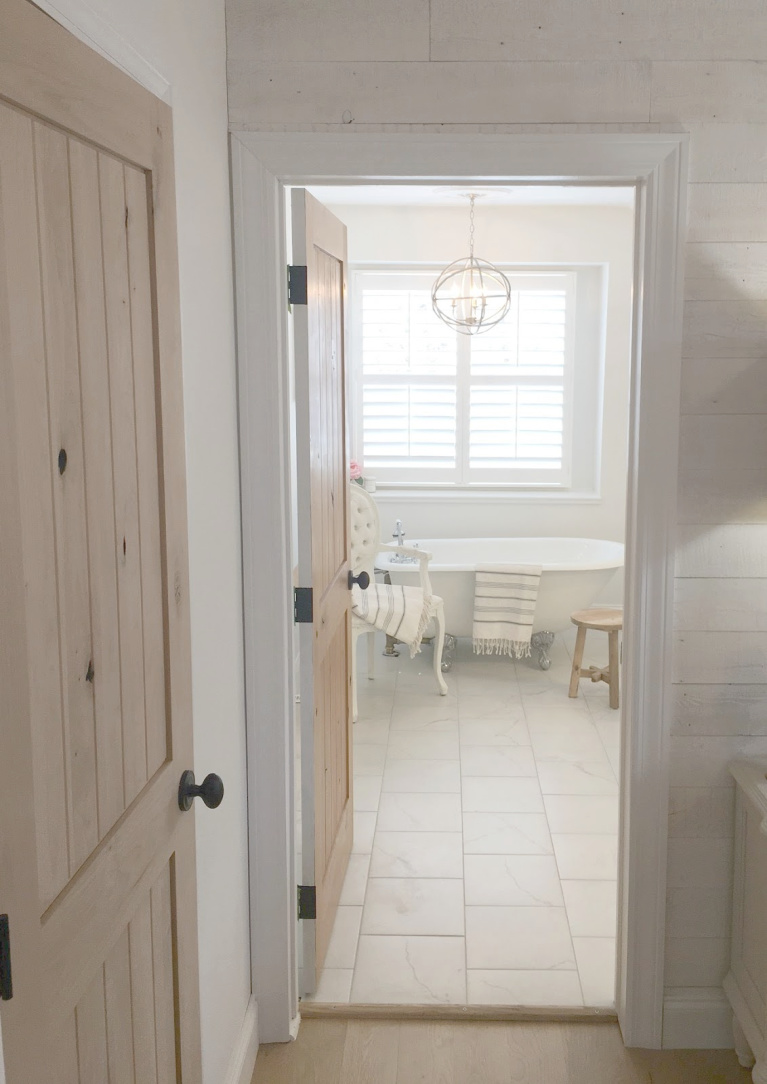 Surprises are all part of the process so we have learned to (1) not become overly attached to a certain idea (2) prioritize function over aesthetics and (3) have a willingness to pivot. When I feel especially discouraged by a change that has to happen, I remember that it's an opportunity to detach and look to the truly important parts of life.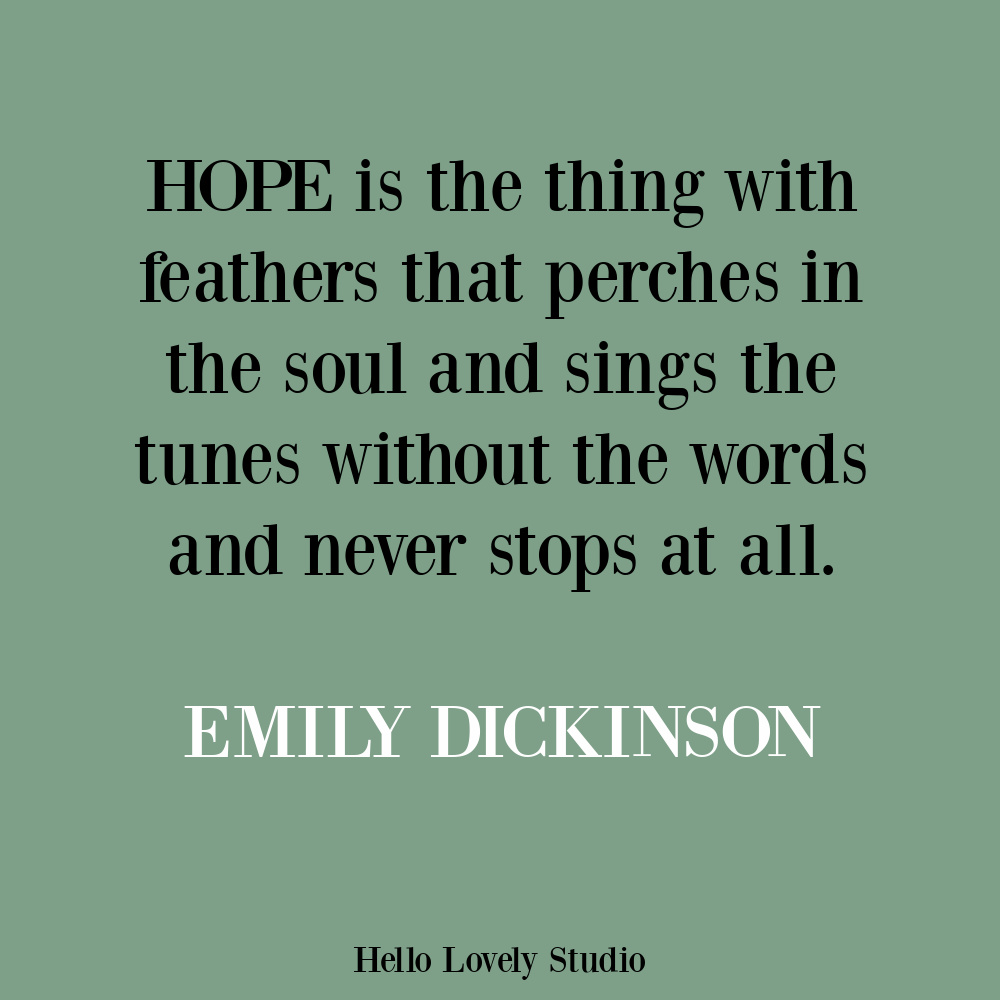 Even timeless bath designs someday pass away as all things do. But things in the soul. Now those are everlasting. 🙂
I also shared ideas for finishes for this bath in THIS as well as details from a classic bath in our former home HERE.
I independently selected products in this post—if you buy from one of my links, I may earn a commission.
Peace to you right where you are.
-michele
Shop for items you already intended to buy on Amazon RIGHT HERE, and also find home decor here to keep decor inspiration flowing on Hello Lovely!
Hello Lovely is a participant in the Amazon Services LLC Associates Program, an affiliate advertising program designed to provide a means for sites to earn fees by linking to Amazon.com and affiliated sites.