Why in the world would anyone need two dozen paint names for ideas for the best blue for kitchen cabinets? I mean, isn't navy blue just a dark blue and periwinkle blue a little purple?Turns out, even when you decide a blue kitchen design is for you, there are a wide range of blues with undertones and qualities you'll want to carefully consider. How to get the right blue? Sample at least three before deciding on your fav. I hope 22 Blue Paint Colors for Kitchen Cabinets equips you with savvy ideas for a place to begin!
Brilliant Ideas for Blue Kitchen Cabinets
Bear in mind that in most cases, the designer hasn't revealed the exact blue color. Very often, the hue is a custom blue or a bespoke finish from the cabinet maker. Instead, what you'll find are paint suggestions along with inspirational photos that approximate the color.
1. BM Kensington Blue 840
Isn't this a stunning navy? If you admire the blue kitchen above, you very well may like this hue.
2. Behr December Eve for Cabinetry
Here's a navy with a different quality than no. 1. It's cool and muddier. It's not the exact color of these gorgeous cupboards from deVOL below, but in the same family.
3. Farrow & Ball St. Giles Blue 280
What if you're after a bold and vivid blue that lifts your spirits every time you walk into the kitchen?
No idea what this actual turquoise shade of blue is on kitchen cabinetry above, but it feels coastal and resort-like. Reminds me of St. Giles!
Can you even get over the wallpaper!?!
4. Behr Sky Light
If you love those cheerful summery blues but don't want to make as bold a statement, a breezy easy sky hue may fit the bill.
You can always try a sample (tap image below) of Behr Sky Light to see how the color would look in your kitchen with its unique exposure and lighting.
Another fun way to use sky is on the ceiling:
If you sample a sky blue and find it is a bit too saturated or strong, keep in mind you can always ask for a sample mixed at a reduced saturation (like 50%) for a more subdued version of the color.
5. Farrow & Ball Hague Blue 30
This is a popular deep teal color among designers, and it's easy to see why.
Rich and luxurious, this color is amazing on built-ins in a home office too.
In this case, we know the cabinetry above and below is indeed Hague Blue!
When you love a classic, denim-like blue that isn't a dark navy yet is clearly not a bright Wedgewood, this blue may work:
It's one of those mid-range blues that could be amazing with gold-toned hardware.
In my experience, finding the perfect blue involves looking in the grey section. Here's a color you truly need to sample to understand how it feels blue:
It could definitely present like this:
or even this:
Blue-grey tones feel timeless and play nicely with grey-veining in marble and quartz.
8. SW Dark Night 6237
If your dream kitchen cabinets are dark and moody, this color may be worth a closer look.
Sherwin-Williams Dark Night (tap swatch below) feels earthy and dramatic.
9. Farrow & Ball Down Pipe
Here's a moody grey to consider which could actually present as a slate blue depending on your lighting and context.
For midnight blue fans, SW Anchors Aweigh sounds very coastal and feels sophisticated and chic.
We have to have at least one indigo color in the gallery, right?
While I don't know the exact blue of the cabinetry above, this suggestion may be a good place to start:
When you like your blue to have some green and gray in it and be atmospheric to the extent it is difficult to pin down the color, then you might like Navy Seawall.
Is it teal? Is it charcoal-grey-blue? How does sunlight affect the undertones?
Have fun exploring blue colors and make it an adventure.
The happy blue checkered tile backsplash and cabinets in this kitchen feel French and very timeless.
This blue feels more grown up than a sky blue you might spot in a child's nursery. Yet it isn't chambray.
Bold blue cabinets in a kitchen look amazing with whimsical tile, yes?
It probably goes without saying that it is a better idea to find a tile you adore and then choose a blue kitchen cabinet idea after that!
Soft, quiet, contemplative blues and blue-greys are just the prettiest for kitchens!
But which blue? Here's a blue kitchen cabinet idea for a calm blue:
For lovers of purple, this next kitchen inspired two things: a blue paint color…
and also the idea for two-tone cabinet colors. In some cases, it can be more elegant to use a bold color like this blue on base cabinets along with white upper cabinets.
17. Farrow & Ball Light Blue
While Light Blue is described as silvery and can look that way in a lot of photography we see online, it reads more like a green in my own home.
The amount of natural light your kitchen receives will definitely come into play.
Easiest way to see if a paint color will work? Order samples with Samplize and have them delivered straight to your door.
Here's a color similar to F&B's Light Blue if you want to sample something alongside it.
I thought this navy blue kitchen was gorgeous with its contrasting wood stained island:
I know there are plenty of navy blue paint colors in this lineup, but by now you can probably see that they are not all he same! This one is slightly teal, slightly grey, and very sophisticated.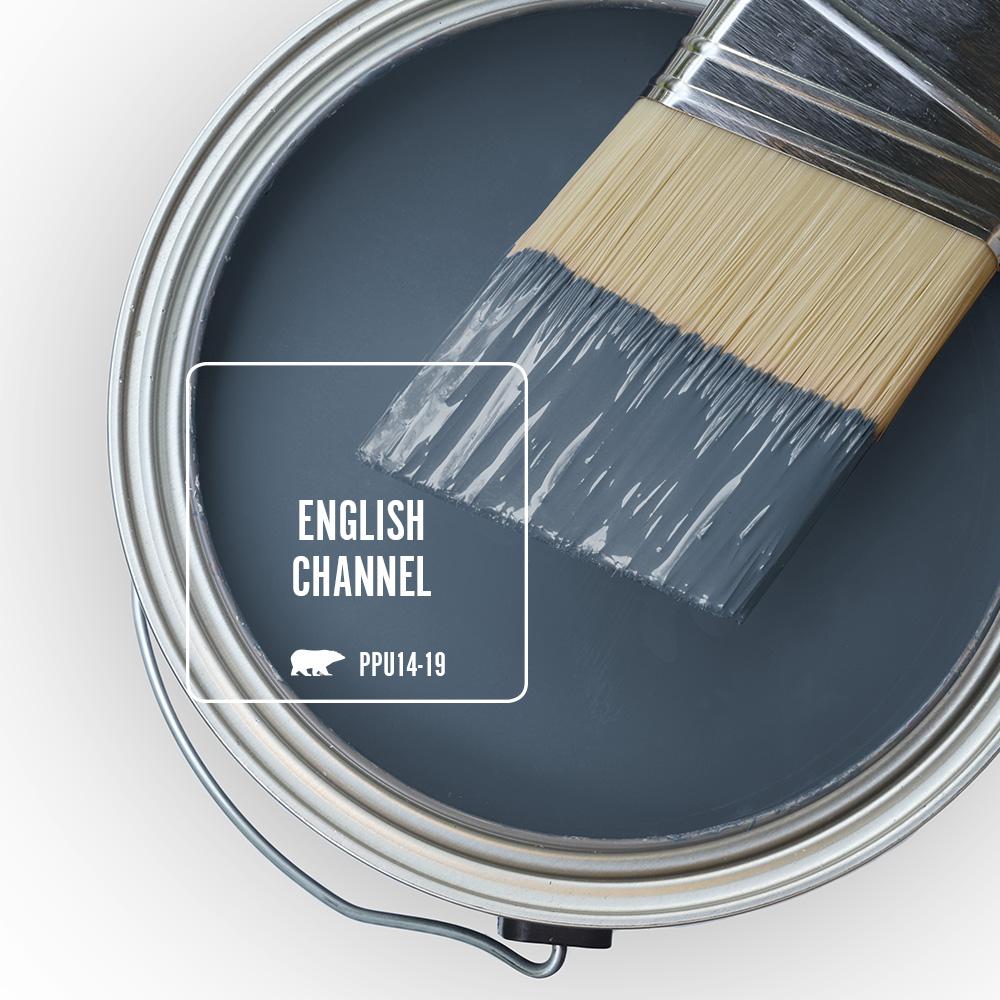 Similar to Hague Blue (scroll up to see it) yet less moody, Superior Blue would be gorgeous in a mid-century kitchen and possibly a hit with fans of Grandmillennial style.
It feels traditional yet modern somehow.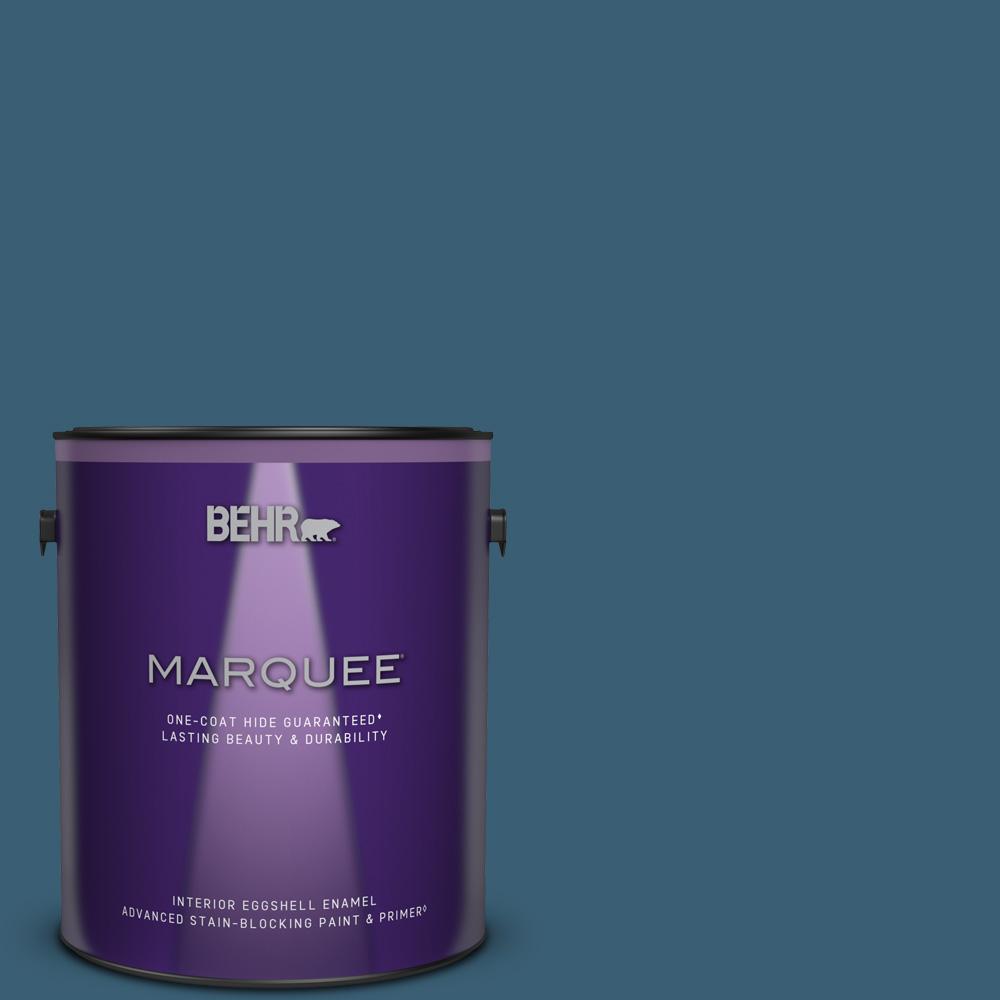 I'll say it again. Don't be put off or seduced by a color's name. This one has "blue" in the name, but the photo or swatch may read grey.
I find it gorgeous no matter what it's called, and it may be just right if you love cool greys with hints of blue.
Even if your style is not French, here's a beautiful blue for cabinets that may wow you.
While we don't know what blue is on the kitchen island above, it reminds me of French Colony:
Thanks for entertaining this photo gallery of gorgeous blue kitchens and paint color ideas! Hope you found a few contenders, and go HERE for even more paint color ideas!
I independently selected products in this post—if you buy from one of my links, I may earn a commission.
Peace to you right where you are.
-michele
Thanks for shopping RIGHT HERE to keep decor inspiration flowing on Hello Lovely!
Hello Lovely is a participant in the Amazon Services LLC Associates Program, an affiliate advertising program designed to provide a means for sites to earn fees by linking to Amazon.com and affiliated sites.