Whether you are humming Santa Claus is Comin to Town while a batch of homemade Christmas cookies bake in the oven or you are struggling to muster the strength just to take a shower, I honor you. Times remain uncertain, and you have done oh so many hard things in 2020. Finding New Depths of Hope No Matter What the Holidays Hold picks up where reflections from a few Decembers ago left off. Writing about mystical matters is a challenge, but I hope in this imperfect attempt, you'll somehow be reminded of your utter belovedness.
Finding New Depths of Hope No Matter What the Holidays Hold
Today was filled with beauty as my husband and I spent it with our best friends. We reflected on the highs and lows of the year, expressed awe at how much anguish and healing happened. It has been a doozy.
Here's the thing. Whether your days are colored with wellth, illness, addiction, recovery, grief, joy, divorce, success, failure, or betrayal, I stand with you. I honor your journey.
I'm just like you. Struggling too. Muddling through. And seeking transformation to become new.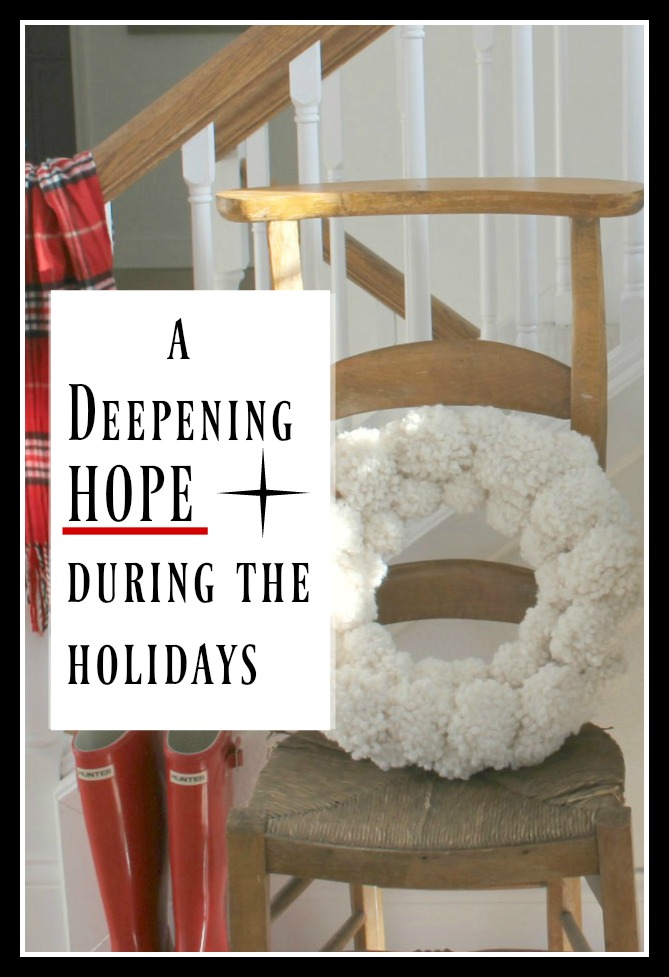 The holidays pose a challenge to feel peaceful for plenty of folks. Even if you focus on the holiness of the birth of Christ with an open heart and are grateful for His teachings and your blessings, the consequences of 2020 may still overwhelm.
How do we recover our bearings and calm? I find I must slow down enough to notice how the reason for the season–the Christmas story–is also my story, right where I am.
It's a story of incarnation and transformation.
(These before/afters prove our home's story is also about transformation!)
As I slowly grow, what I sense is a deeper level of Christmas hope and peace within the mystery.
Peace which meets me just as I am in the dark lowly stable of my depravity. In the dark night of my circumstances, new hope rises as I consider how the Light of the world sees me during this holy season.
That Light somehow deems me a worthy home for royalty.
Oh what transforming light beams from THE RADIANT GLANCE OF MERCY.
It's always beaming, and when life's complexity distracts me from the radiance, then I must seek the grace to find it again.
Unlike 21st century DIY whole-house renovation, the mysterious mechanics of interior transformation and whole-making are beyond me.
I only know I sense a trustworthy energy feeding me from a lighter realm and somehow holding everything in the cosmos together.
Let's face it. Most days, the eyes of my heart are closed, and where I remain in my head and ego, I cannot see the everlasting. Thank God each new day is a chance to awaken and transform. To become still enough to surrender thoughts, judgment, and mental chatter in an emptying of self.
The soul opens, and deeper sight suddenly becomes possible.
I express this not with certainty, but in pure wonder:
a heart can become Bethlehem where something new may be born.
Heartfulness is a word I love; I learned it along the wisdom path from teachers Cynthia Bourgeault and Matthew Wright.
Cultivating heartfulness is one of the most meaningful pursuits I know and involves aligning with qualities like sweetness and gentleness.
It blossoms with faith, trust, and spiritual practices such as meditation, silence, solitude, and daily rhythms.
A sacred rhythm in my own daily life has helped me cultivate heartfulness for decades, and it's as simple as…
Sweeping the floor prayerfully. Whether it's your floor or someone else's, to be alone in the room with a broom is all that is required.
I allow the rhythm and tender sway of dust and crumb to have its way, and as I work in stillness, the task transcends simply sweeping.
Indeed I am preparing room in my heart for heaven and nature to sing. Tears often arrive, and I allow them to cleanse what requires cleansing.
Let Every Heart Prepare Him Room
How to honor the deeper, divine fullness of CHRISTMAS? Ilia Delio helps me find the vocabulary and heartspace…listen to her wisdom here:
I share this vulnerable territory with a tender heart
prone to feeling residual pain as an empath during the holidays,
But heart pain can be transformed!
Rather than numbing, repressing, or transmitting pain (hurt, anger, betrayal, sadness, disappointment, shame…),
I long to surrender it.
I long to place it near the manger,
alongside Frankincense and Myrrh,
under the Christmas blessing of faith and truth.
I long to meet and reflect
that Radiant Glance of Mercy
shining like a Star in the East,
awakening my soul to beauty and
reminding me of who I am (love) and to whom I belong (Love).
It's as if I must keep relearning the depth, intimacy, and sublime privilege of greeting the divine with a soulful
HELLO, LOVELY.
**********
You're so lovely. This community has upheld me and my family through a devastating year, and I'm forever grateful.
With 6 days til Christmas, I will be praying for each of you, asking for strength, comfort, and supernatural resilience to cover you and bless your soul. I'm with you.
Sending hope and…
peace to you right where you are.
-michele
Shop for items you already intended to buy on Amazon RIGHT HERE (not just items in posts), and also find home decor here to keep decor inspiration flowing on Hello Lovely!
Hello Lovely is a participant in the Amazon Services LLC Associates Program, an affiliate advertising program designed to provide a means for sites to earn fees by linking to Amazon.com and affiliated sites.