Today's Summery Timeless Classic Interior Design Inspiration will inspire and celebrate what is possible when dreams for beautiful shelter and retreat are thoughtfully and poetically sculpted into reality. Is it traditional? Yes, but it's also FRESH and oh so classic. Plenty of fresh white shiplap and wainscot are in store as well as natural woven textures and pops of delicious color.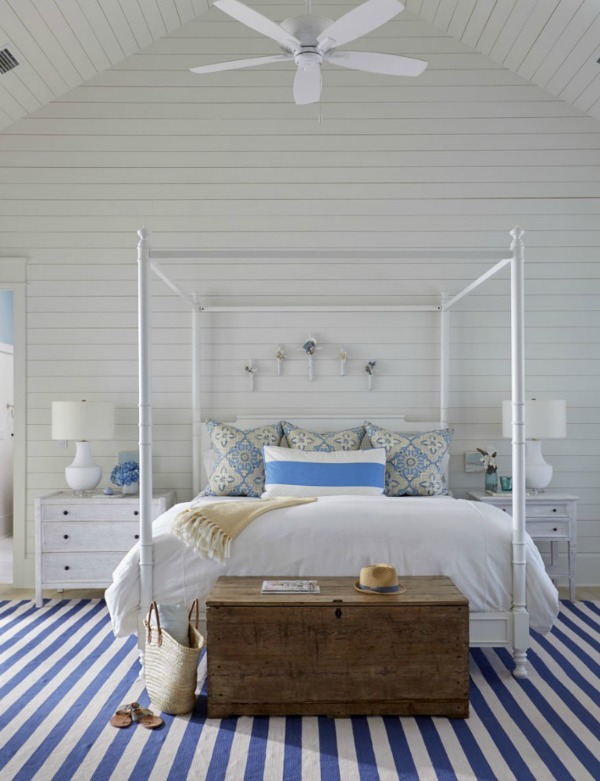 Summery Timeless Classic Interior Design Inspiration
Classic Coastal Bedrooms from Geoff Chick
The Santa Rosa, Florida based architectural design firm Geoff Chick & Associates is well known for accolades earned for exceptional classic architecture.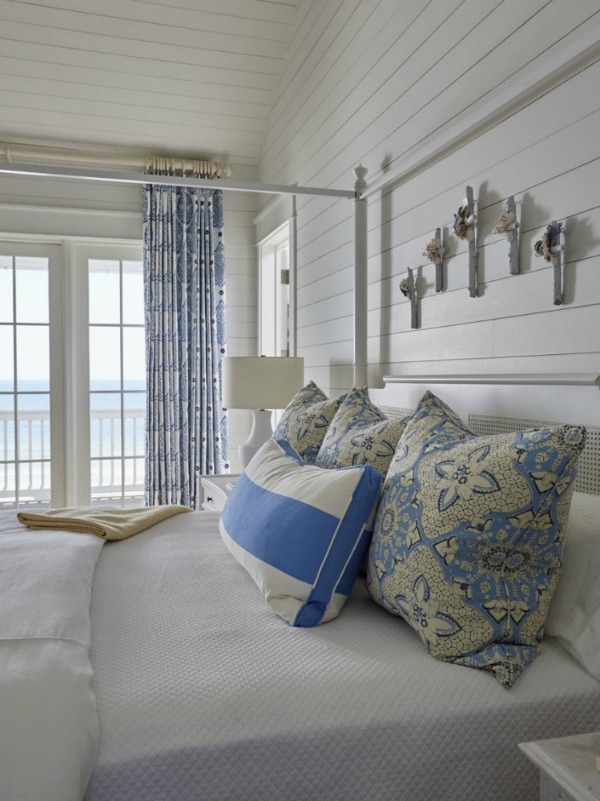 Timeless coastal bedroom design details and exquisite architecture within these fresh traditional coastal homes are grand and glorious for sure.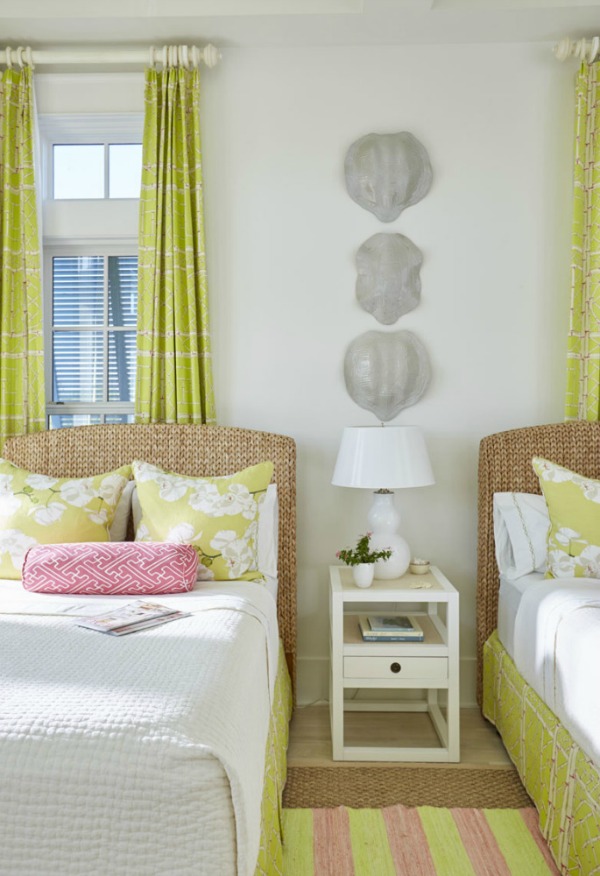 Bold Color, Brilliant Pattern Mixing & Woven Texture in a Coastal Bedroom
Additionally, Chick's focus and body of work seem to remain humbly centered in the realm of dream fulfillment; in listening to the desires of discerning clients who bring high hopes with their wish lists.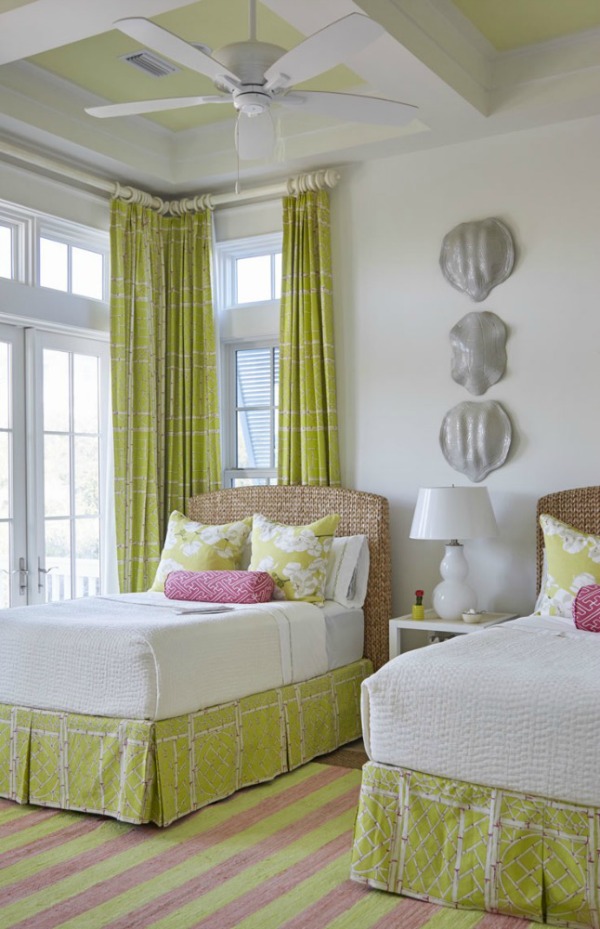 Enjoy the beauty of fantasy coastal bedrooms steeped in timeless tranquility and soak up inspiring interior design elements to apply to our own chambers, however far they may live from the beach!
Shiplap in a Blue & White Beachy Bedroom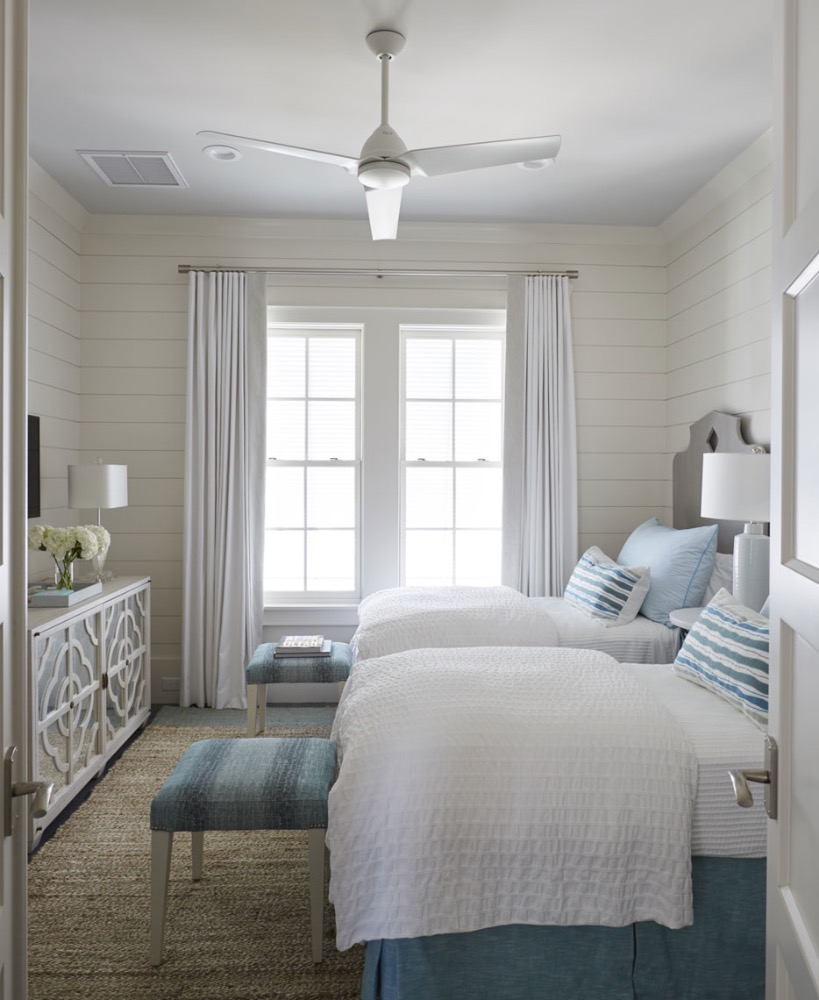 Bunk Room With the Feel of Exposed Porch Roof Framing
Tranquil grey walls and coastal style wall sconces complement this dreamy dormitory bunk room that would tempt anyone to move back into the dorm!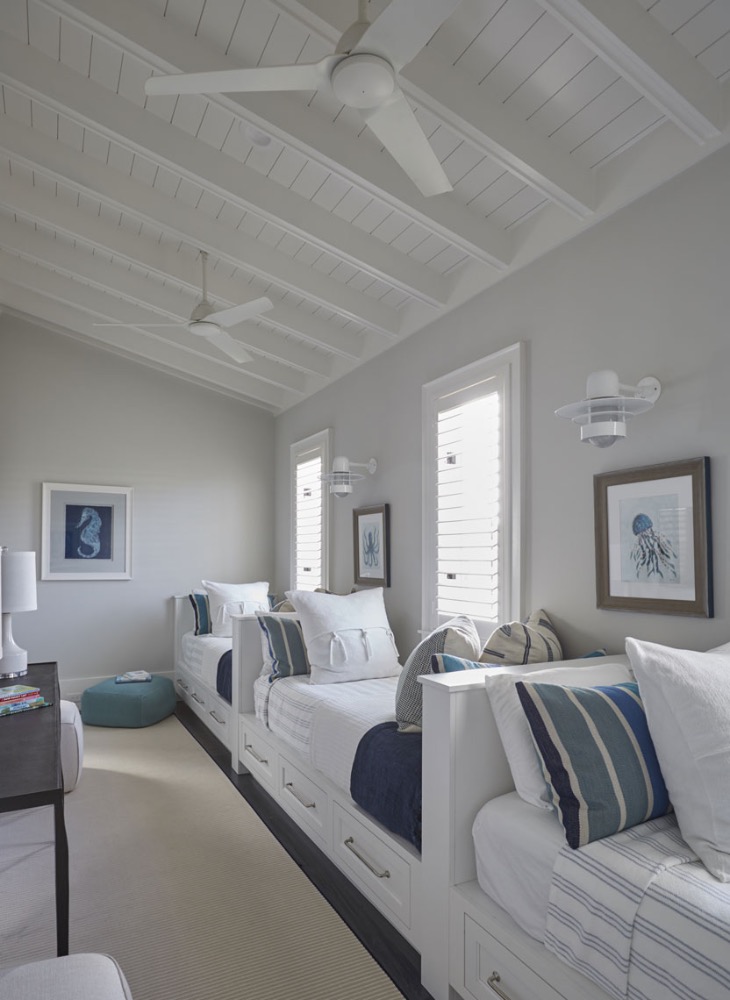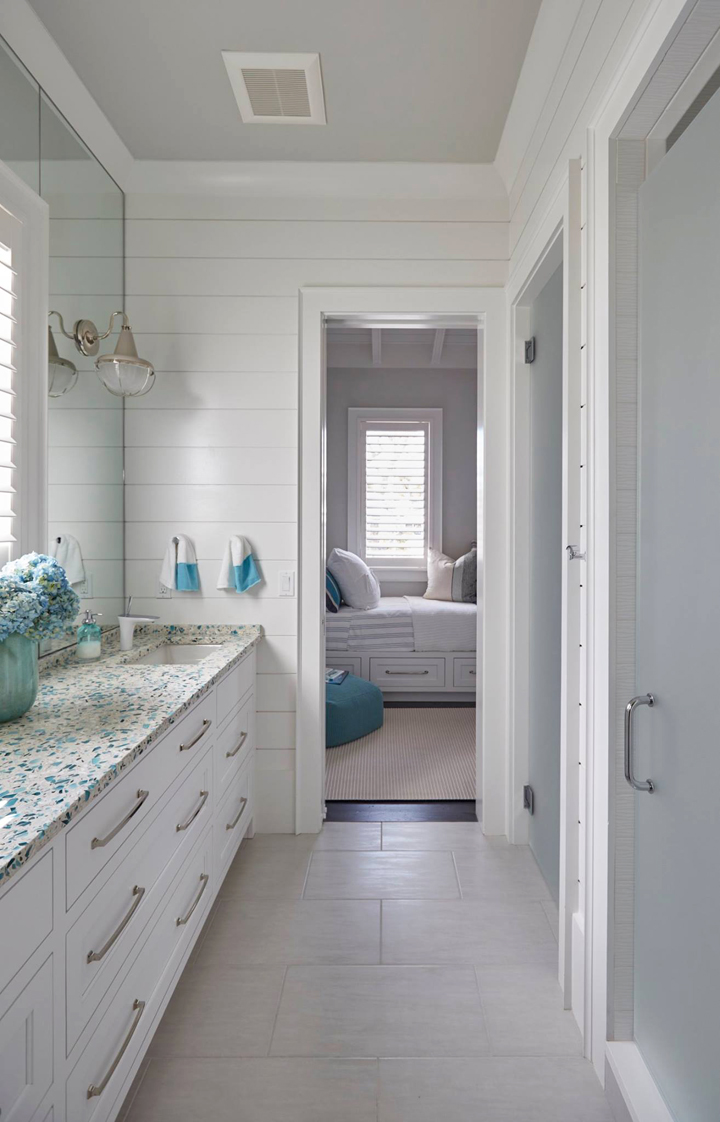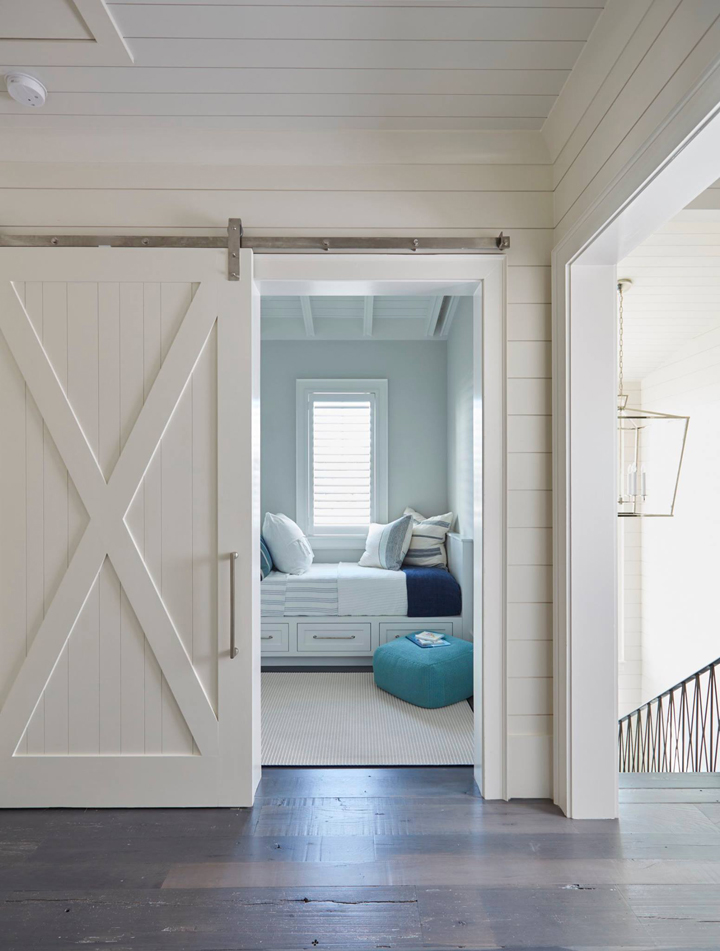 Lofty Ceiling, Paneled Walls & Serenity in a Master Bedroom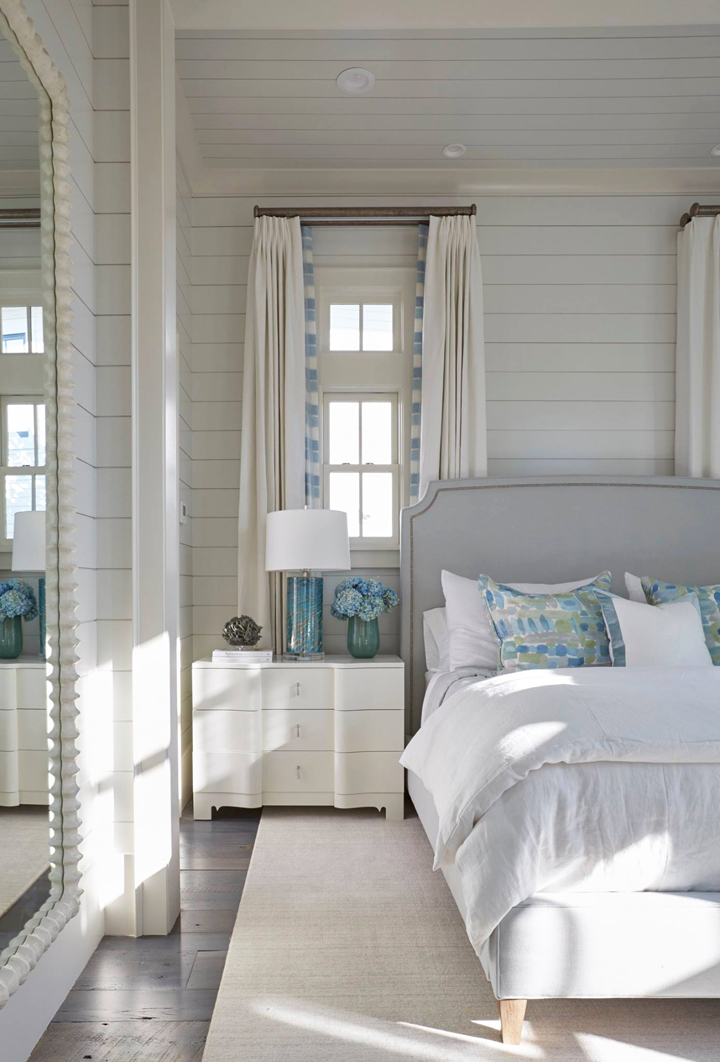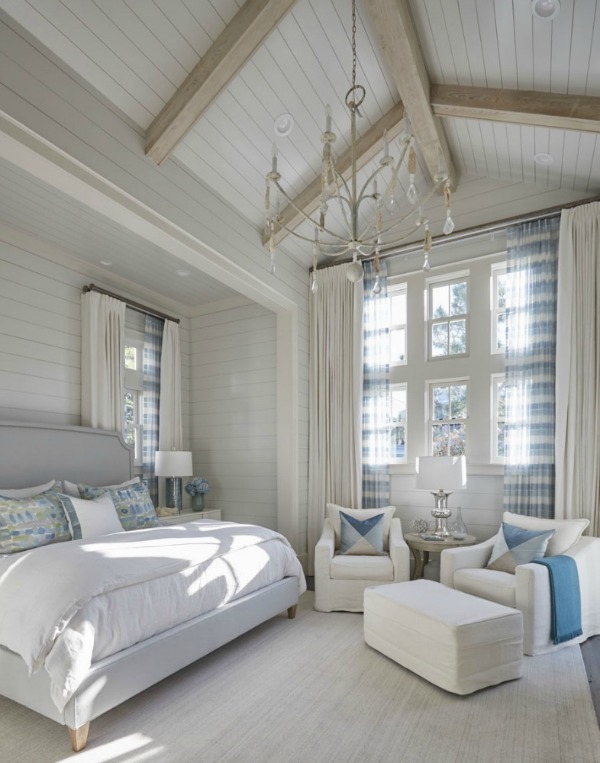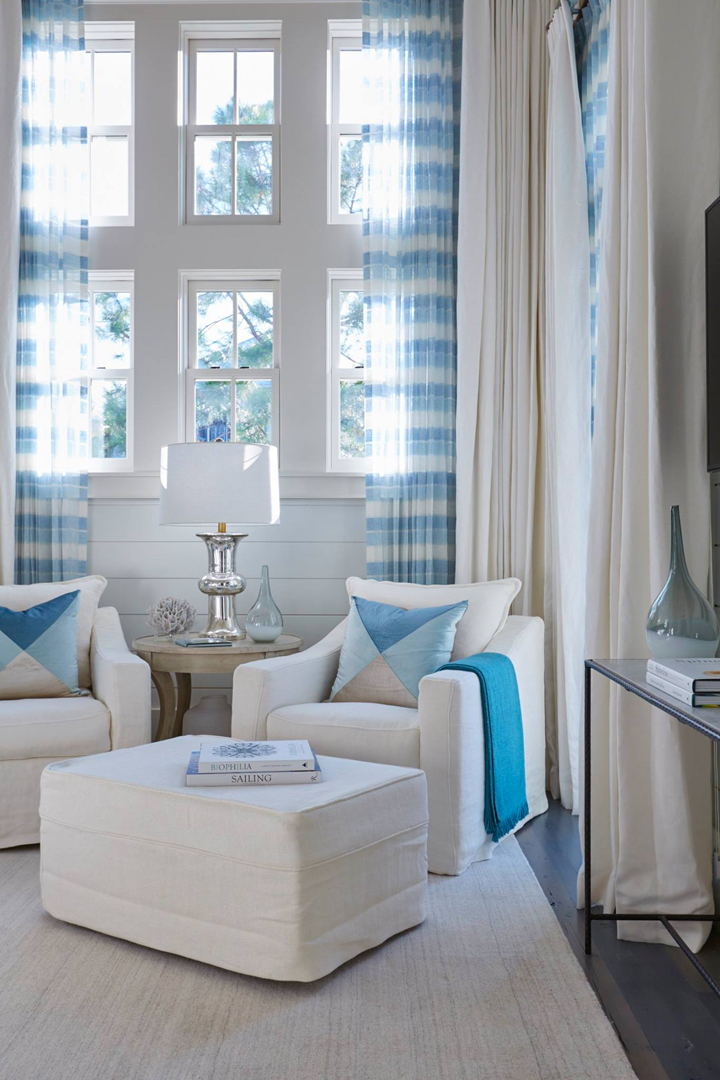 Dreamy Guest Suite With Abundant Natural Light
The architectural designer says the sliding barn door in the guest bedroom suite above a garage (image below) gives "a diagonal view through the square space to make it feel much larger than it is."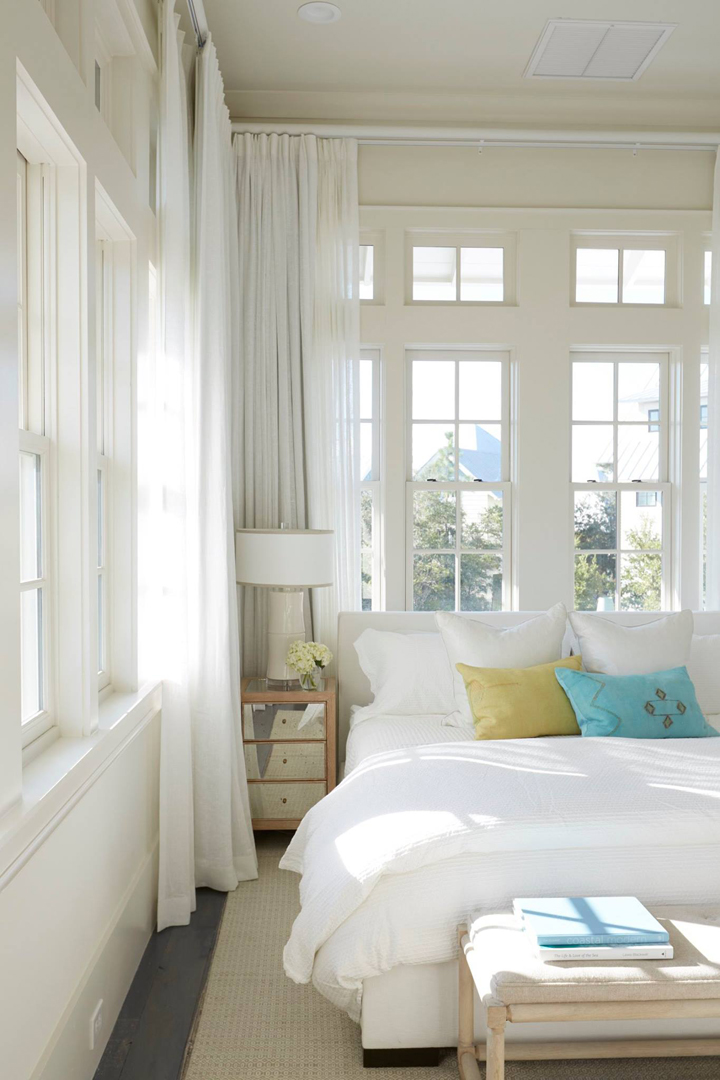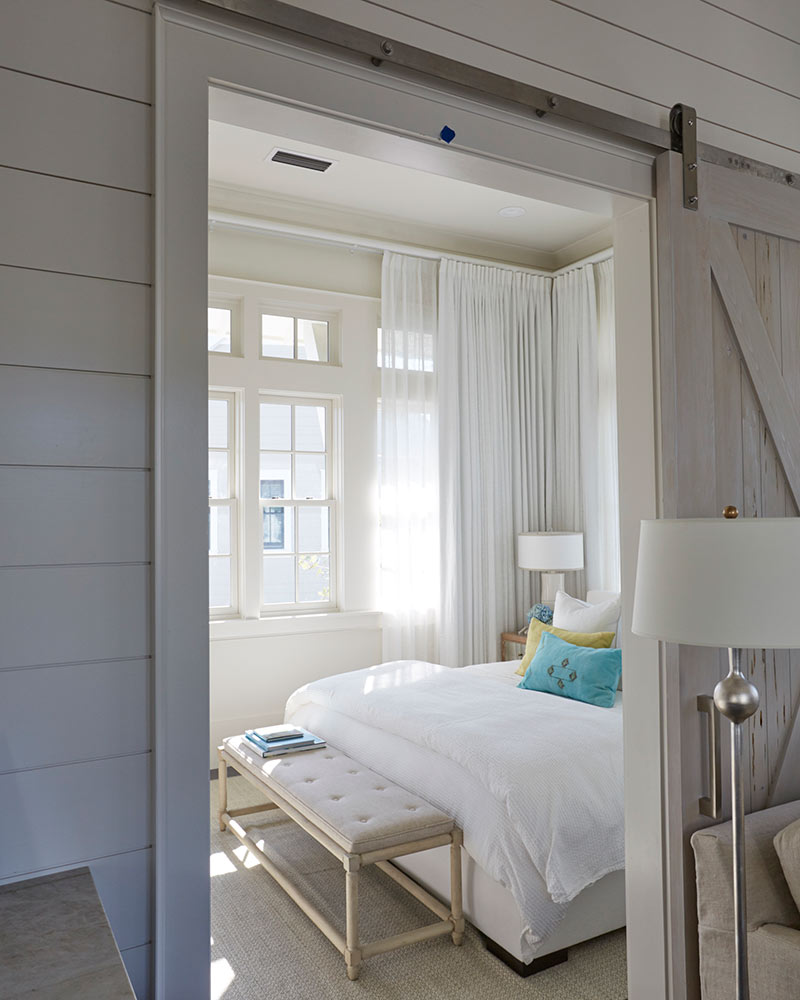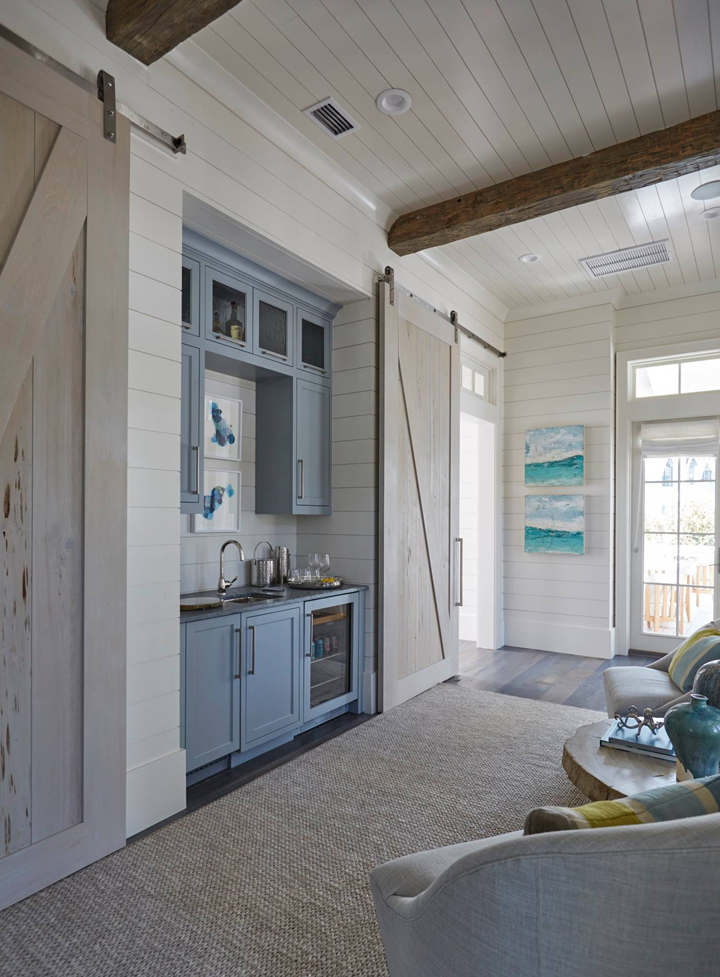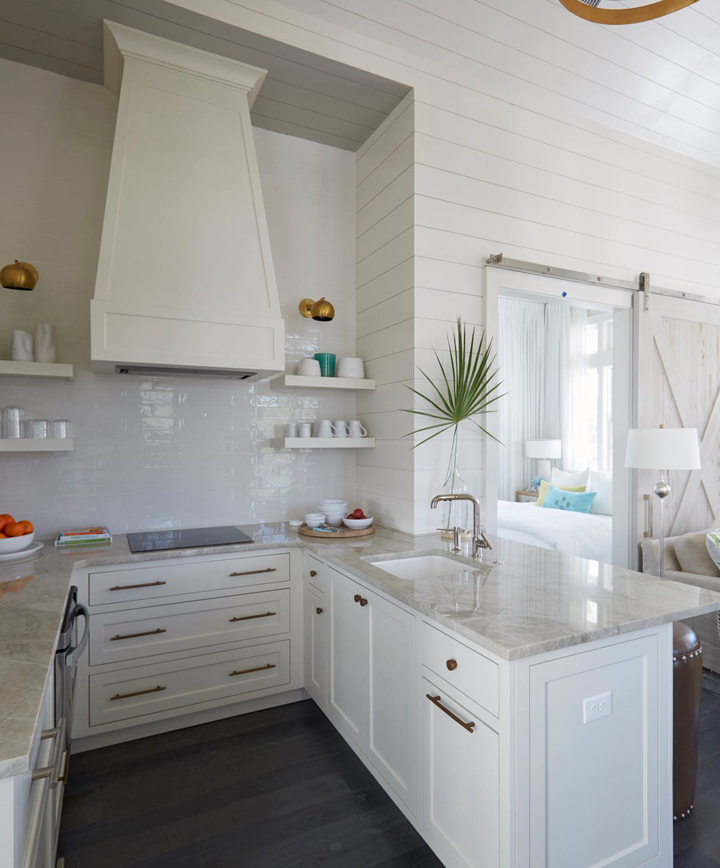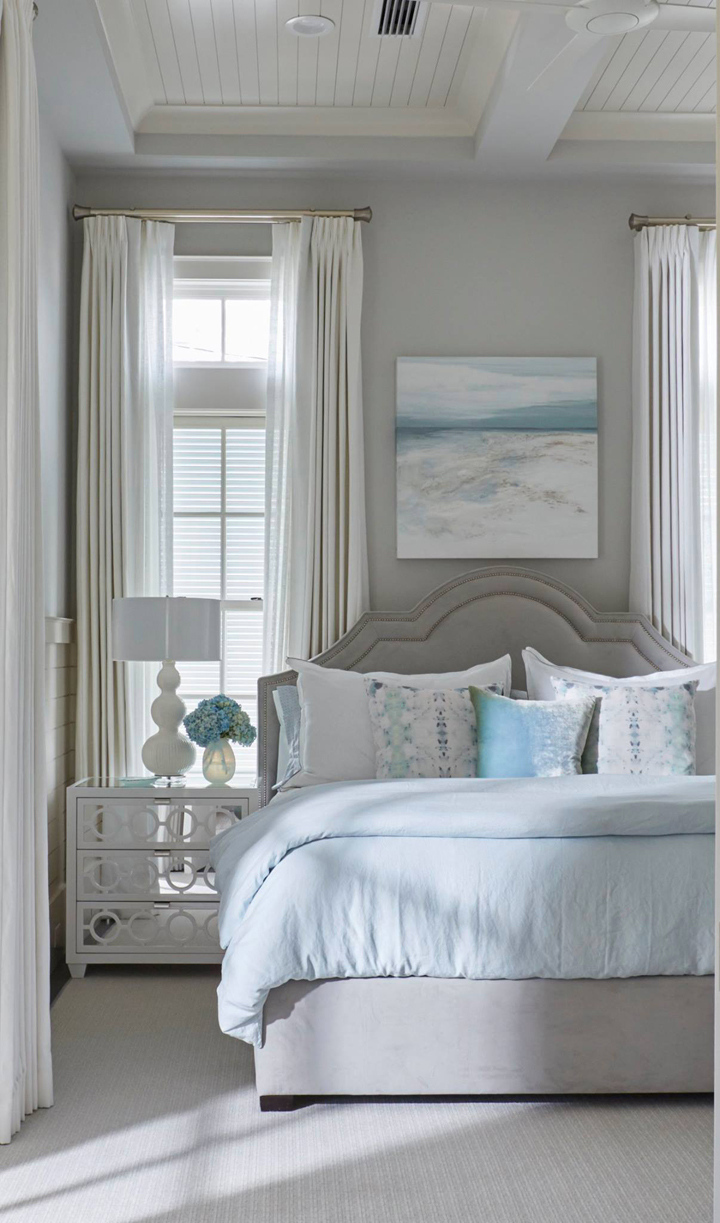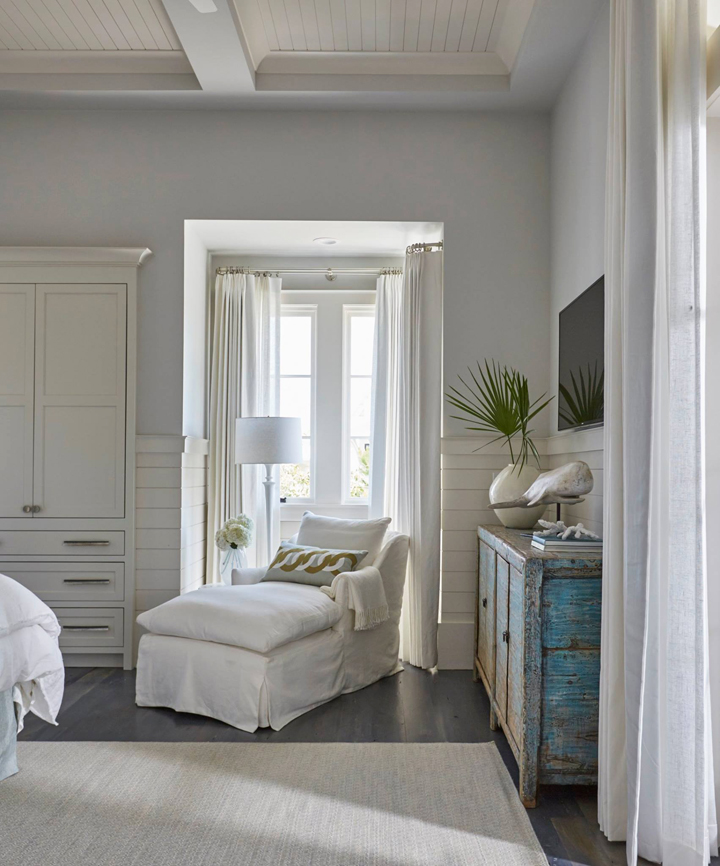 Seaside Bunk Room With Vaulted Ceiling & Classic Coastal Style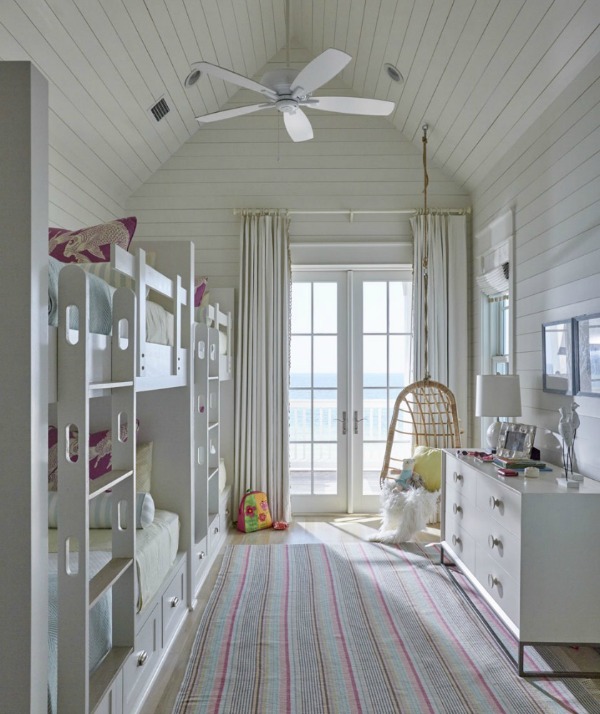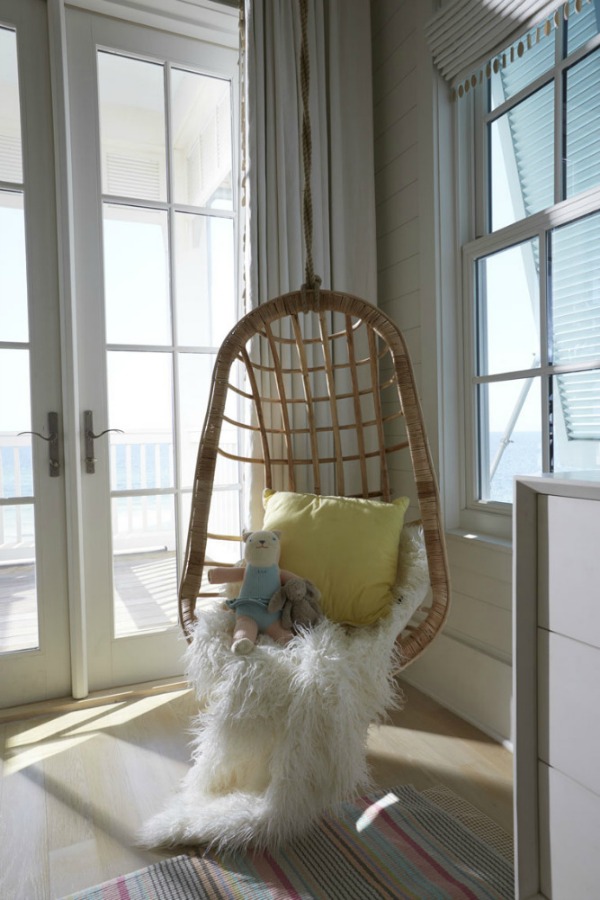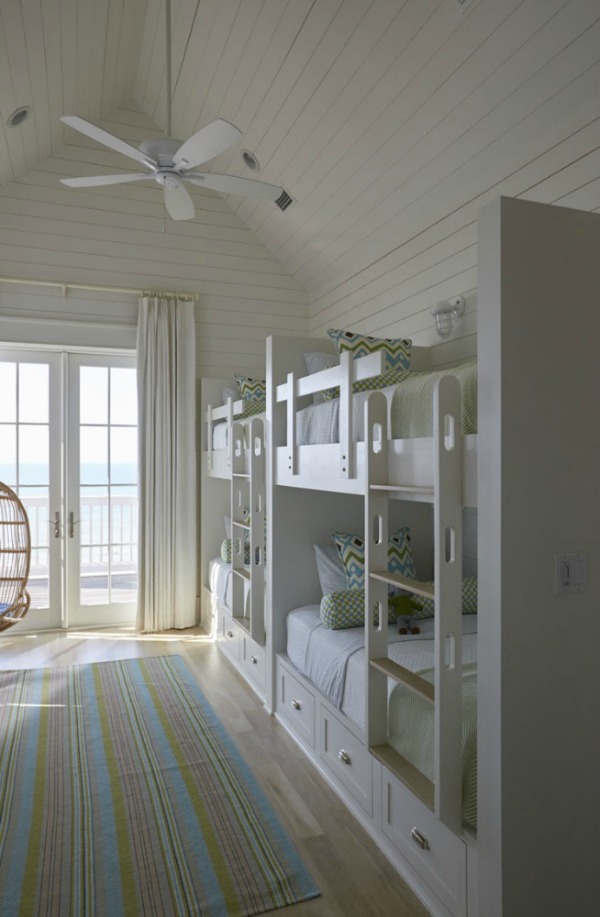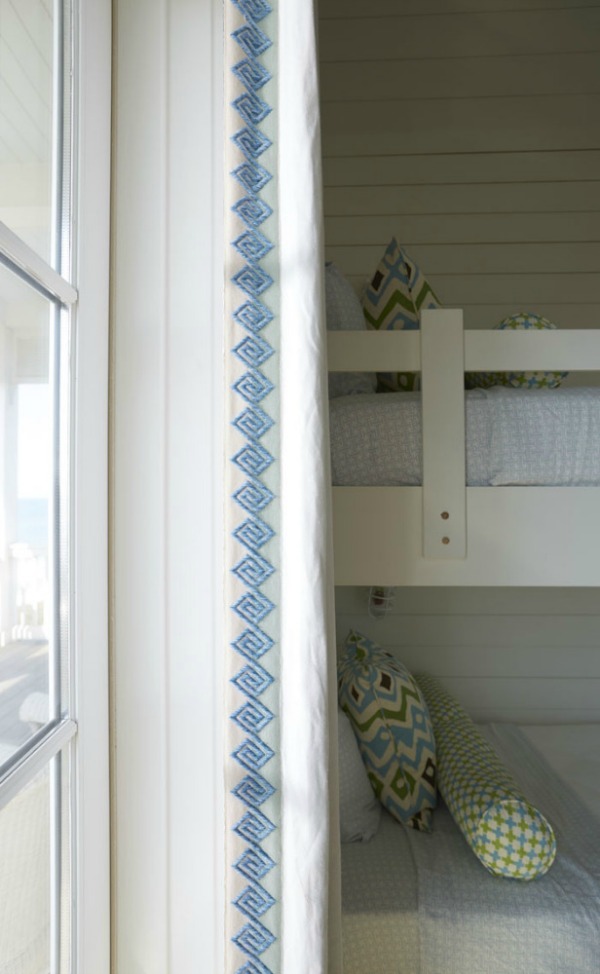 Pale Beachy Palette & Timeless Furnishings in Coastal Bedroom Retreats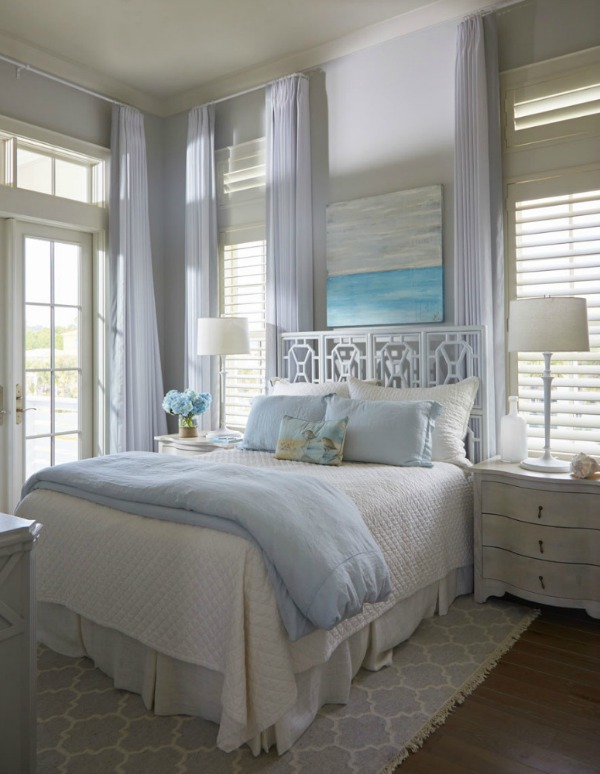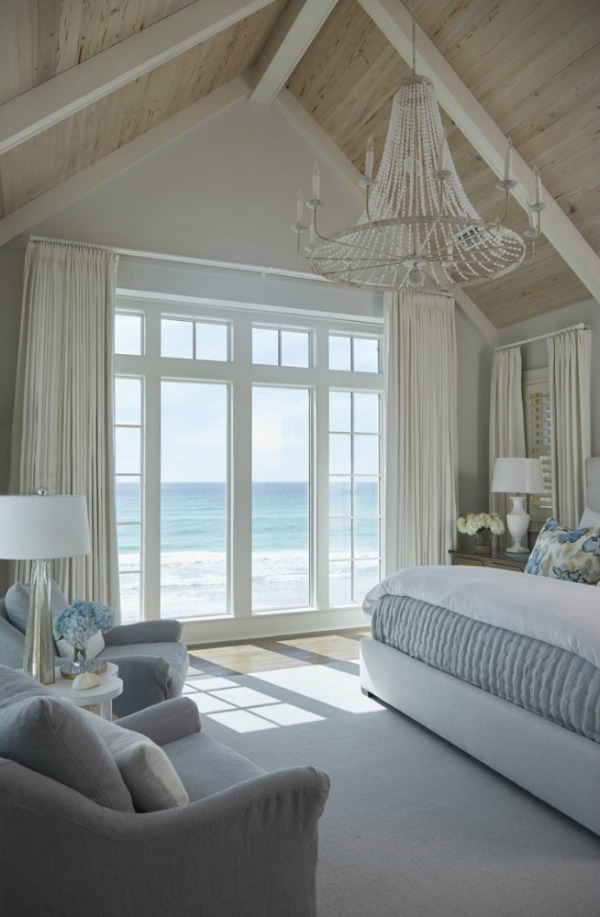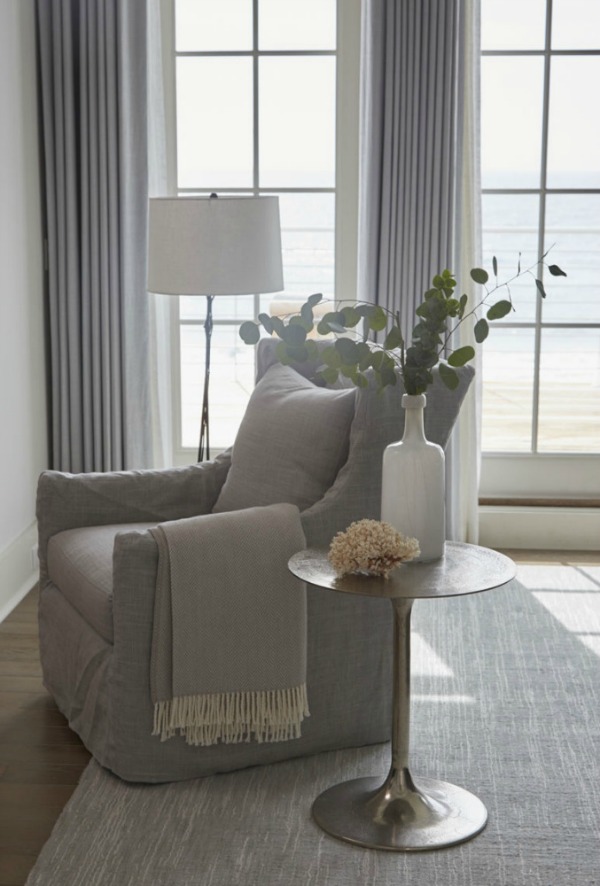 Waking to a View in a Magical Space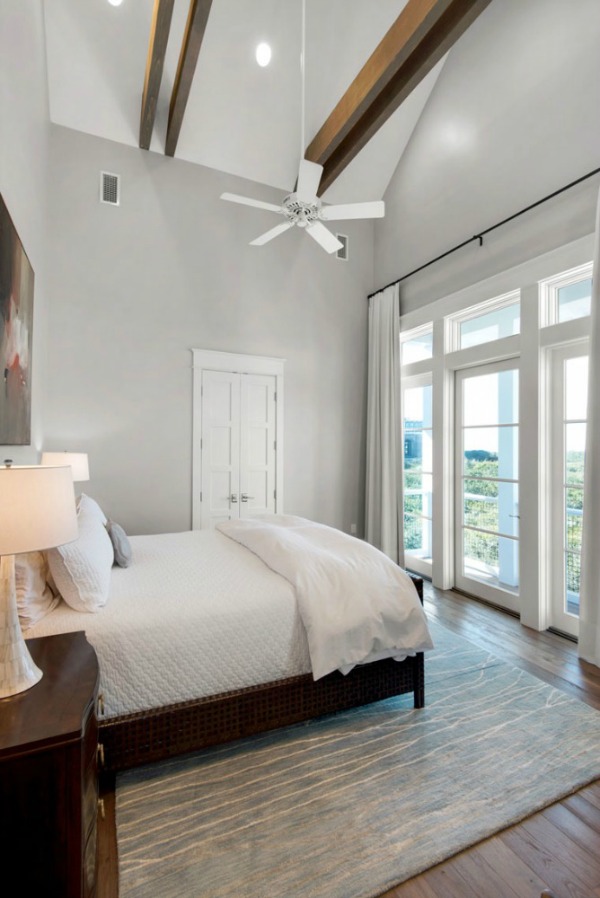 Delicious Color & Natural Materials in a Timeless Coastal Bedroom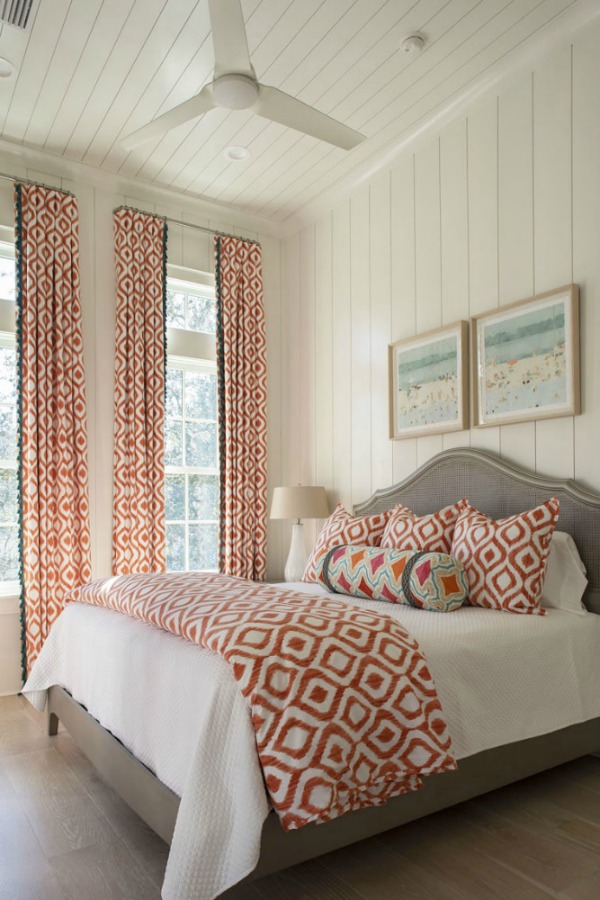 Pale Blue Ceiling & A Cocoon of Sumptuous Softness
I so appreciate the timelessness guiding the design and also execution of the bedrooms within these forever homes. Such thoughtful imagination and design yields virtual living works of artful architecture welcoming modern sensibilities in a fluid way.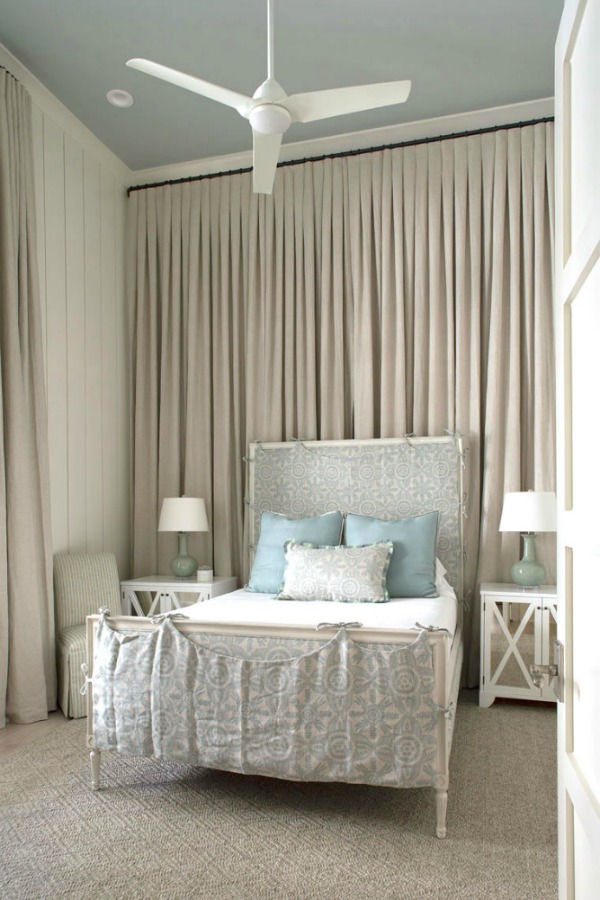 Rustic Elegance With Wood Floor & Celing
I'm also stirred by the breadth of natural materials adding sensuality and richness to the construction and decor. These are rooms singing in harmony with environment and alive with the grandeur of the sea.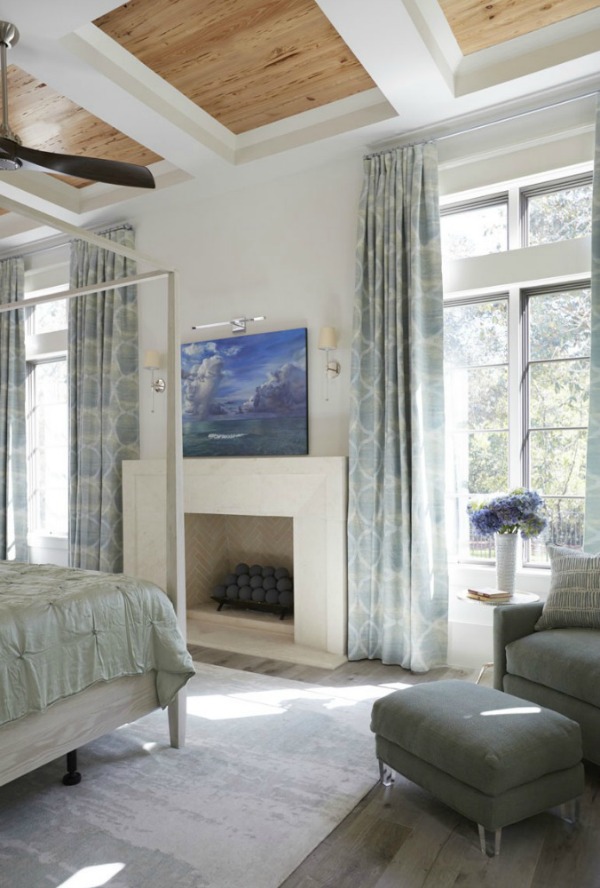 The architect's reverence for welcoming abundant natural light is a revelation. The gift of sunlight streaming through panes of glass elevates everyday living, and isn't that the whole point? Geoff Chick talks about working with light in this glimpse: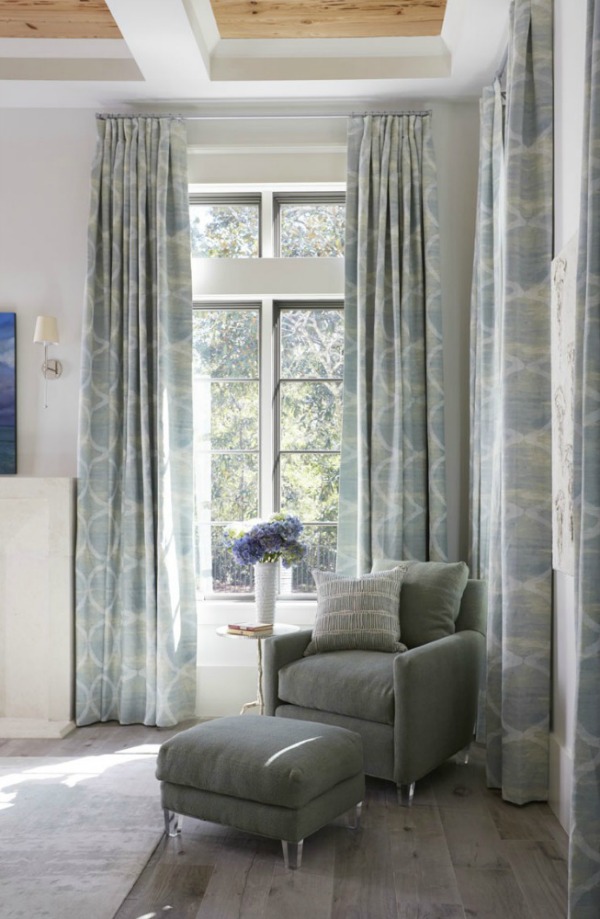 Beautiful Greens & Blues in Coastal Bedrooms
It's easy to admire the intelligence and surprise of interconnected living spaces and drama of lofty ceiling heights.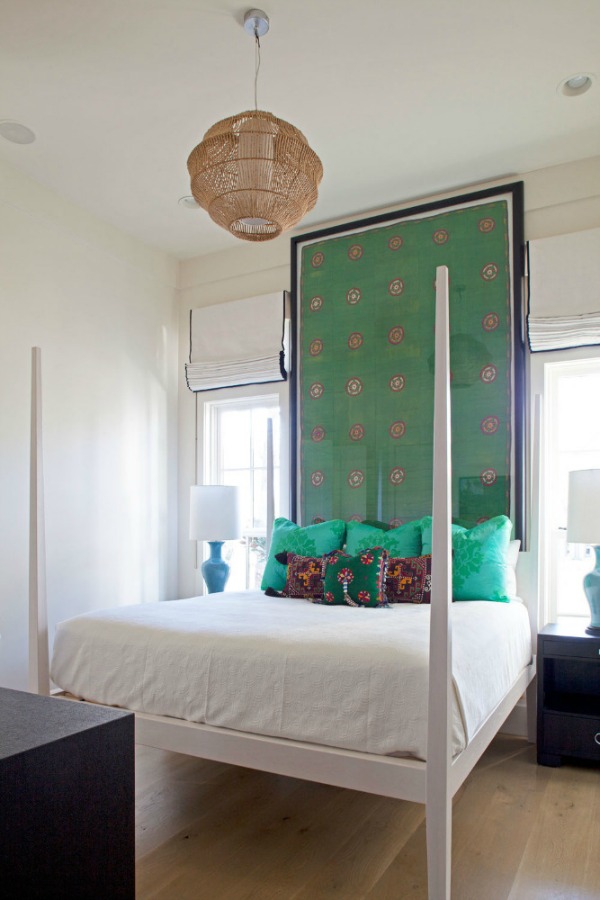 It's pleasingly unexpected when the exterior recalls an earlier era while the design inside clearly reveals how we desire to live today.
Soft Blue Bedroom Accents & Sophisticated Simplicity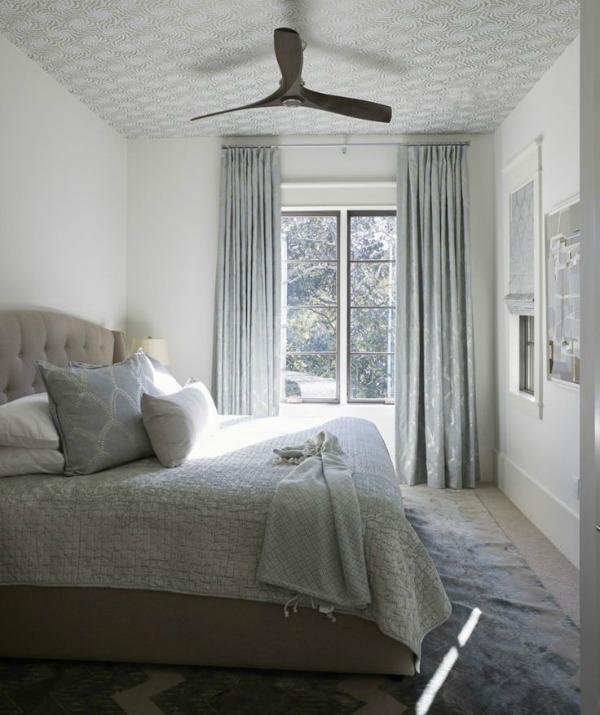 Lovely Coastal Home Exterior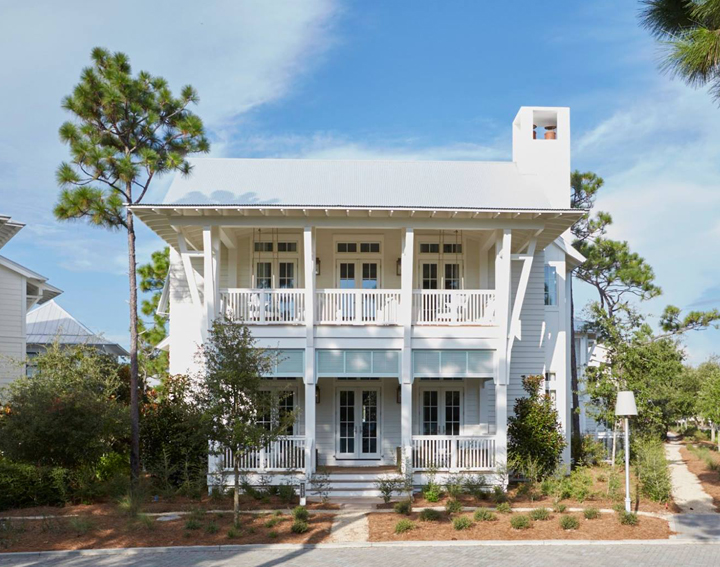 In a round-up of stunning pool designs here , a few are by Geoff Chick…so you may want to view the inspiration there as well.
Timeless Traditional Style With Pale Tones
The Fox Group just keeps creating more beautiful designs inside the homes of lucky clients they help with new builds as well as remodels. These feel fresh, summery, classic and luxurious!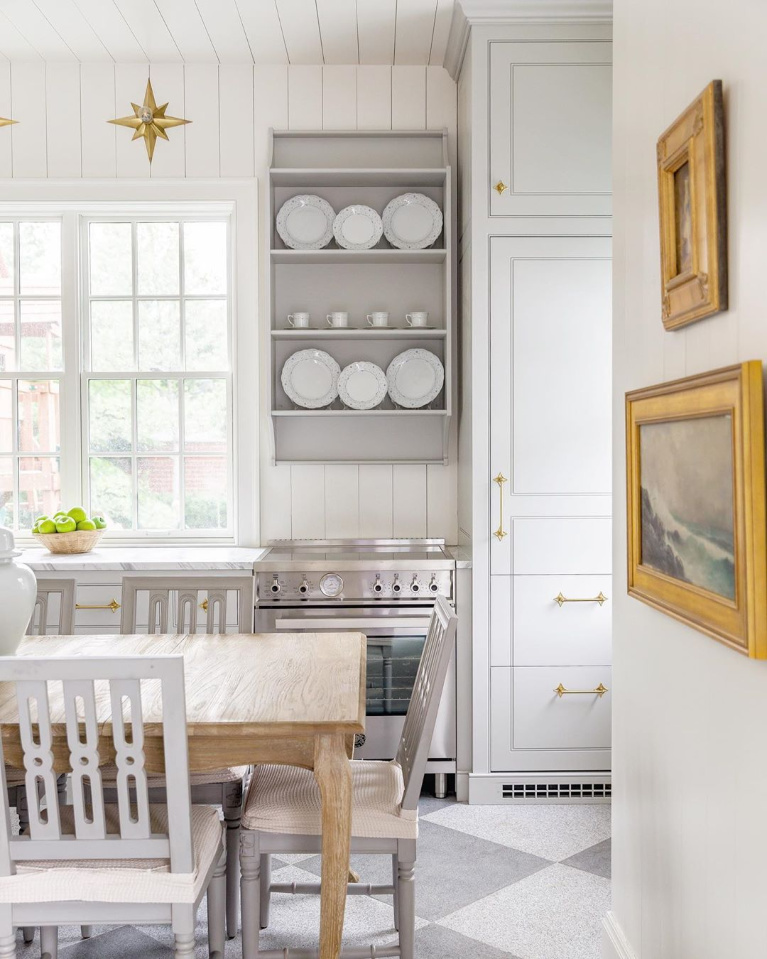 Cara Fox announced some time ago they are opening their own furniture and decor shop: The Fox Shop! So if you live anywhere near it in Utah, head over!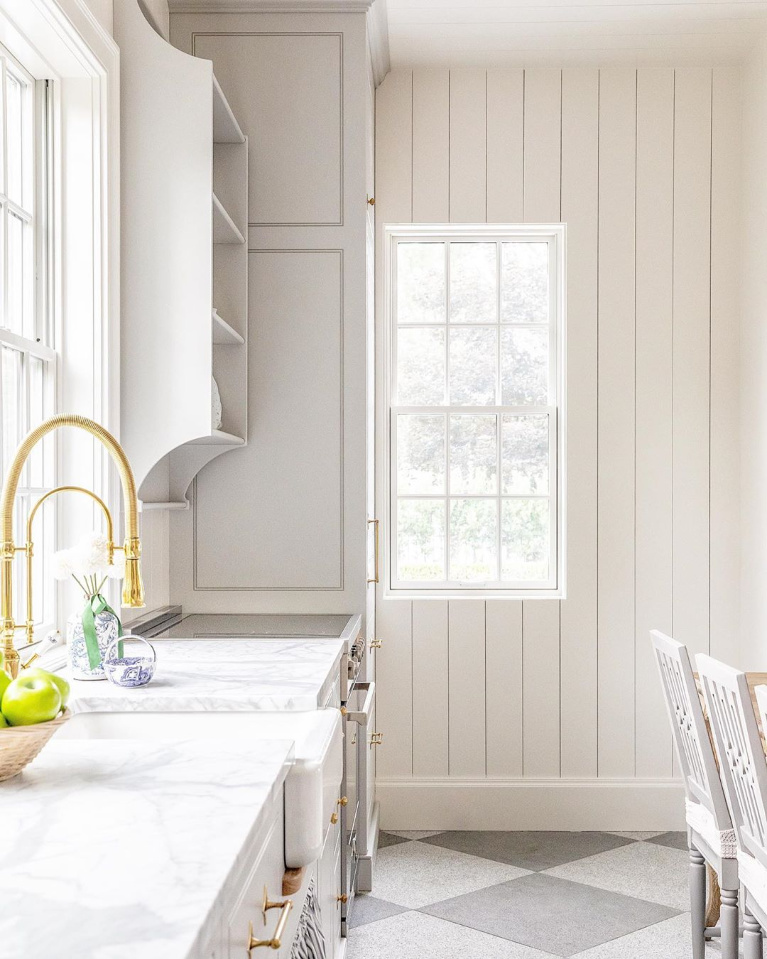 While these interior designs may not be in coastal homes, the tones and flavor are reminiscent of the sea.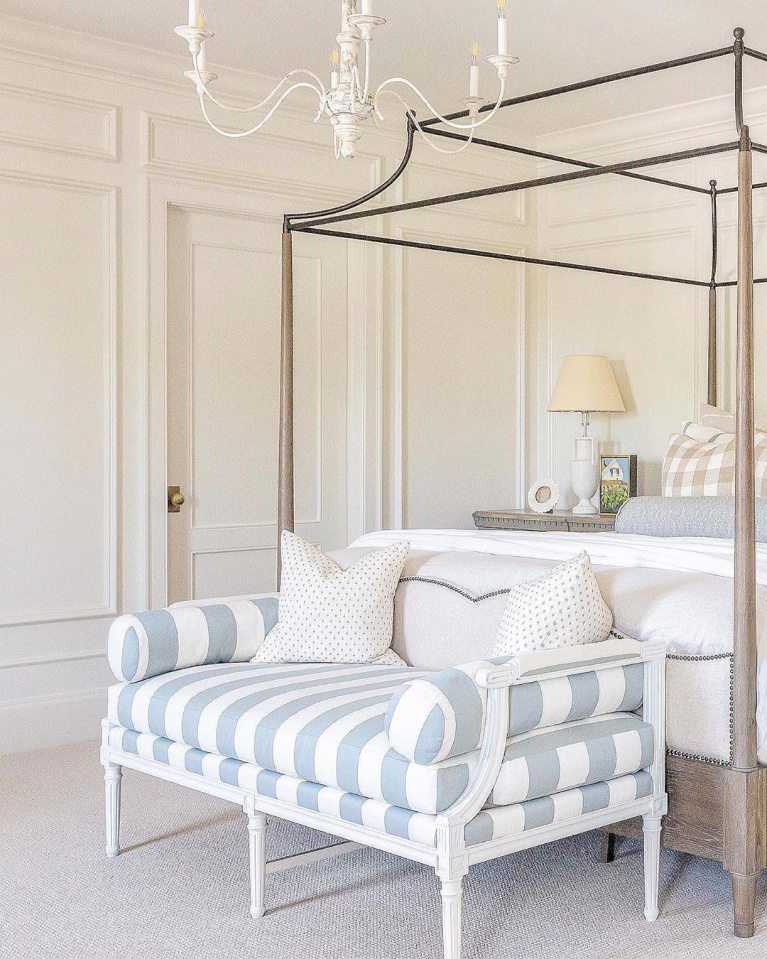 Because even if we can't have our own lake house or oceanside beach house, we can certainly introduce aquatic tones and beachy pastels.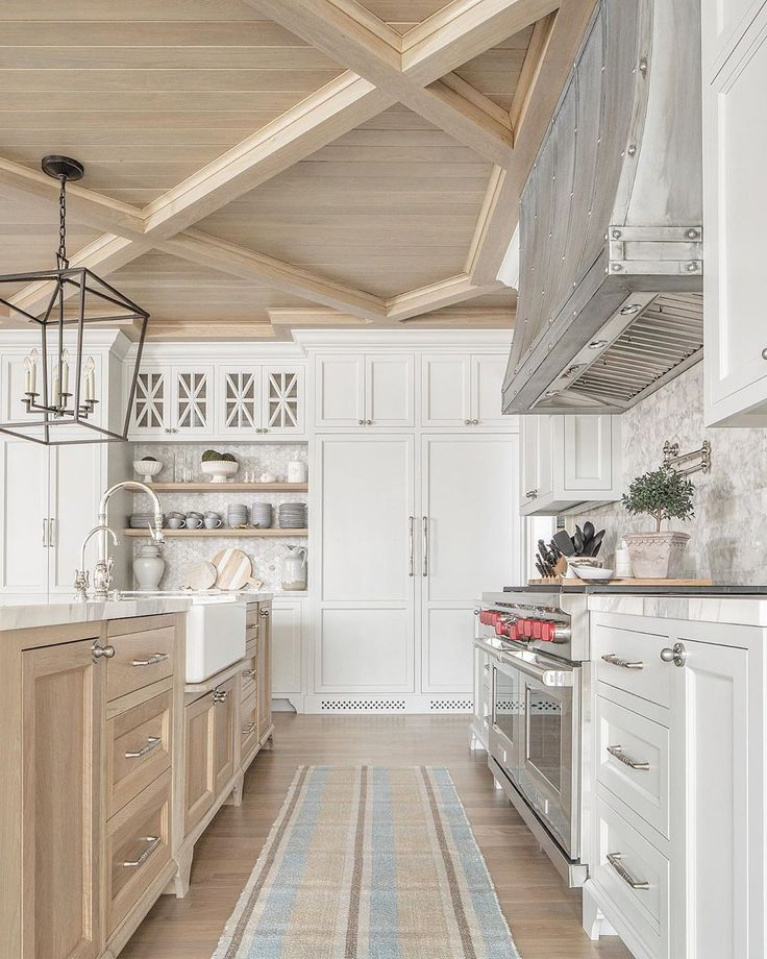 So much thoughtful architecture and finish work in these spaces by The Fox Group…and is anyone else getting the itch to paint something white?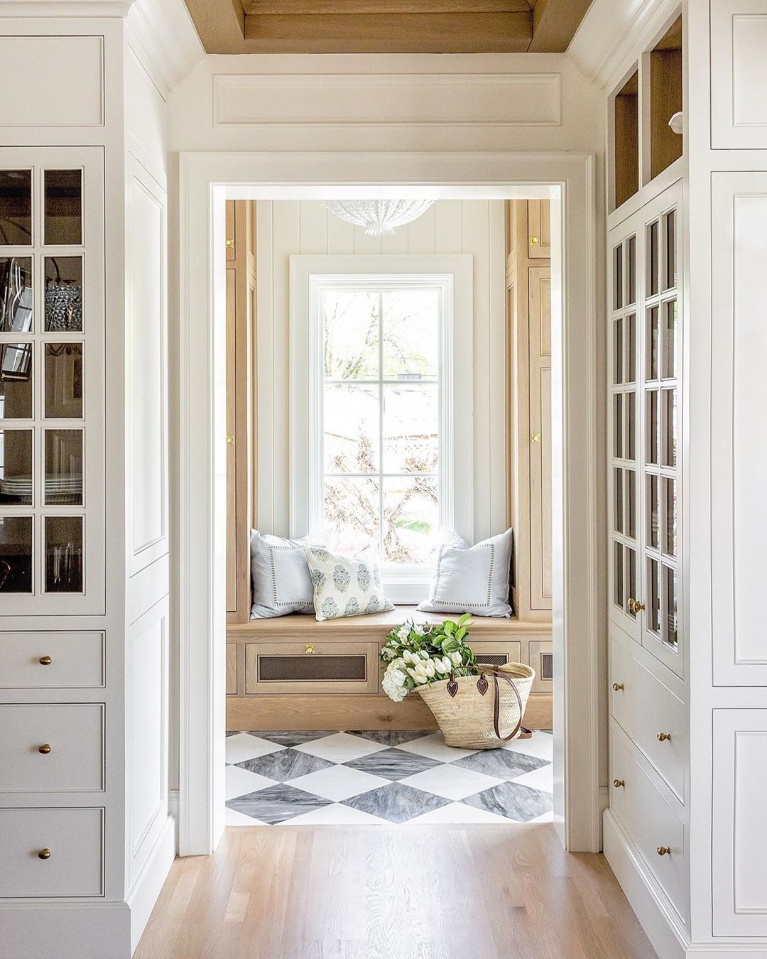 Blue and White are Best Friends
They just are. And so very timeless and fresh in traditional style interiors.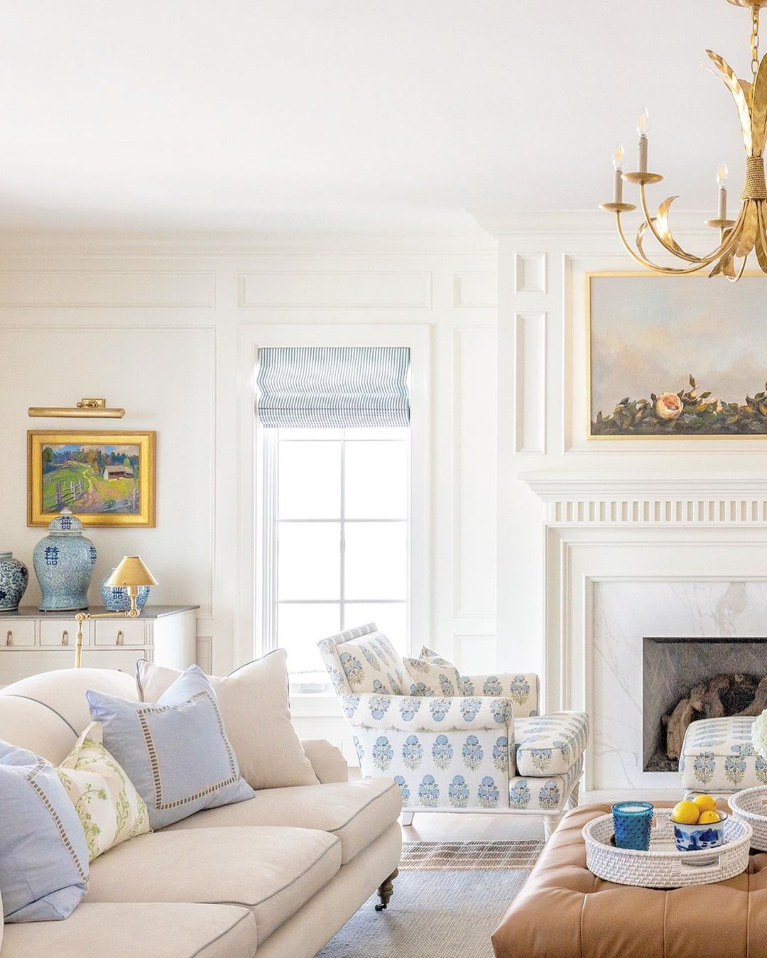 Cara Fox says it is not the kitchen which is the heart of their home, but the keeping room! It's easy to see why when you gaze the space below: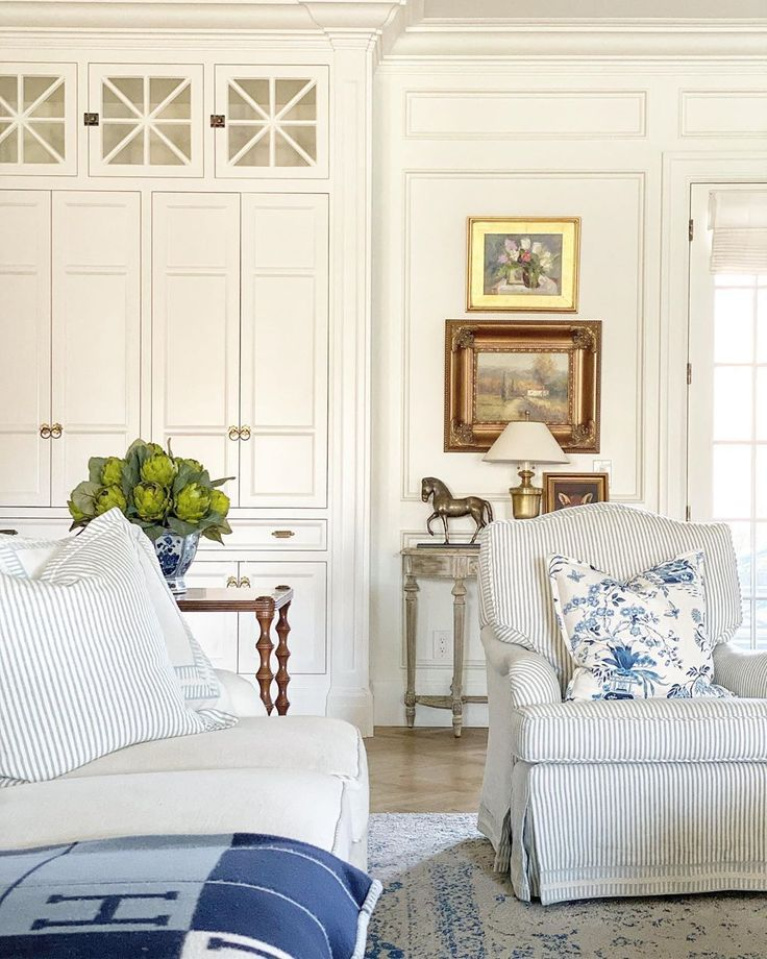 Take a quick tour of one of this firm's recent projects:
Pretty Summer Classics for Home
Here's an idea for an inexpensive, beachy decor accent for any summery vignette, dresser, or tabletop: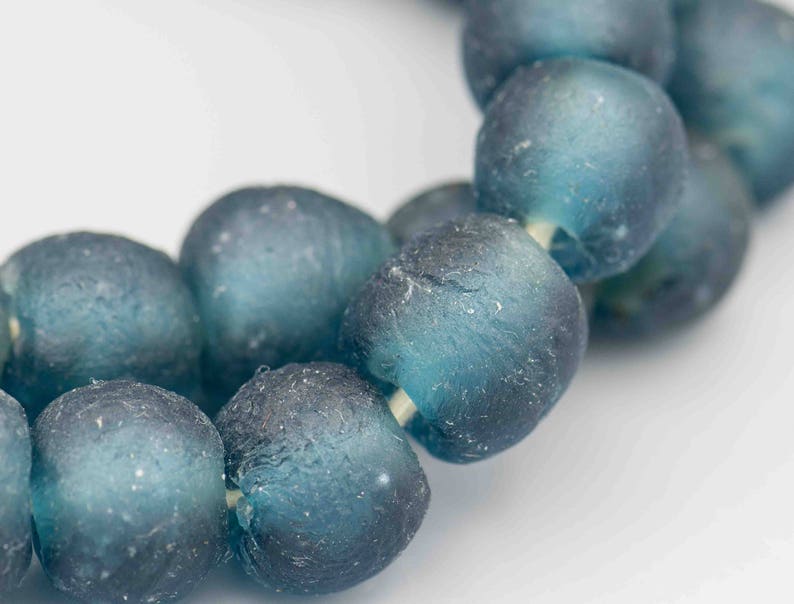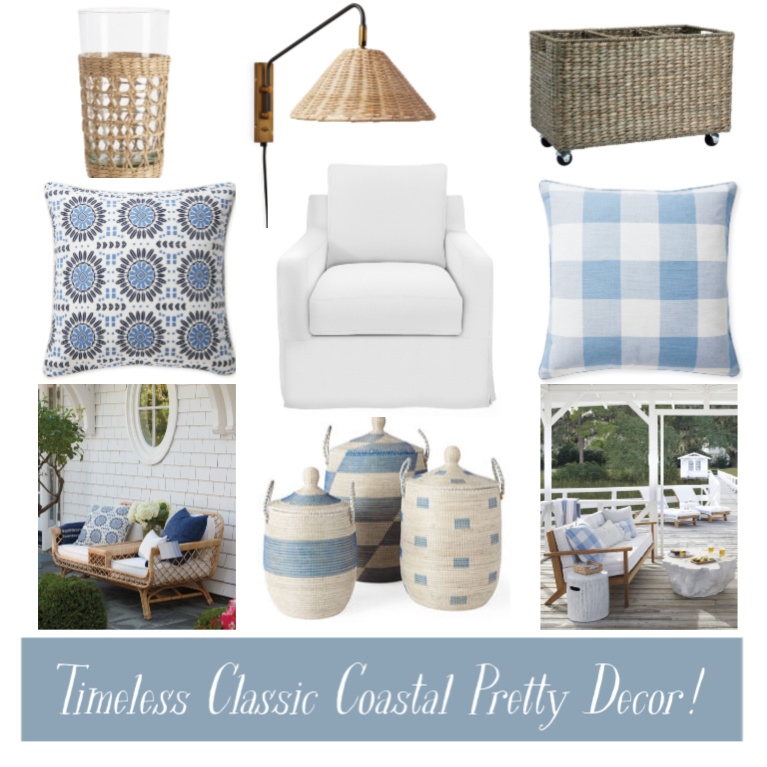 Coastal Home Tour
Also, don't miss the coastal design and decor inspiration HERE.
I independently selected products in this post—if you buy from one of my links, I may earn a commission.
Peace to you right where you are.
-michele
Shop for items you already intended to buy on Amazon RIGHT HERE (not just items in posts) or for home decor here keeps decor inspiration flowing on Hello Lovely!
Hello Lovely is a participant in the Amazon Services LLC Associates Program, an affiliate advertising program designed to provide a means for sites to earn fees by linking to Amazon.com and affiliated sites.