Rustic French Inspired Living Room Finds for Home follows up the furniture and decor inspiration glimpsed in a recent story HERE. You'll find decor, paint, furniture, and shopping resources at friendly prices to score online so you don't even have to pull on your boots (if your weather is like mine).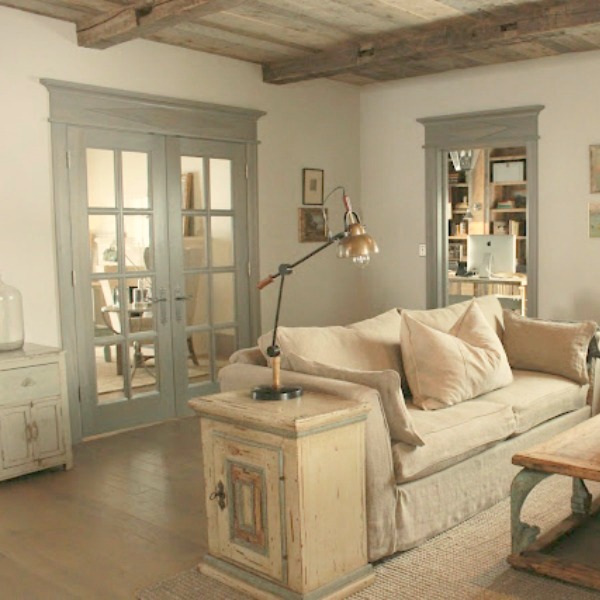 Rustic French Inspired Living Room Finds for Home
Even though I don't yet have the coveted French farmhouse I dream of (or a chateau-sized budget!), I can still capture the spirit. So if rustic elegance, tone on tone, faded color, and European sensibilities appeal to you…read on.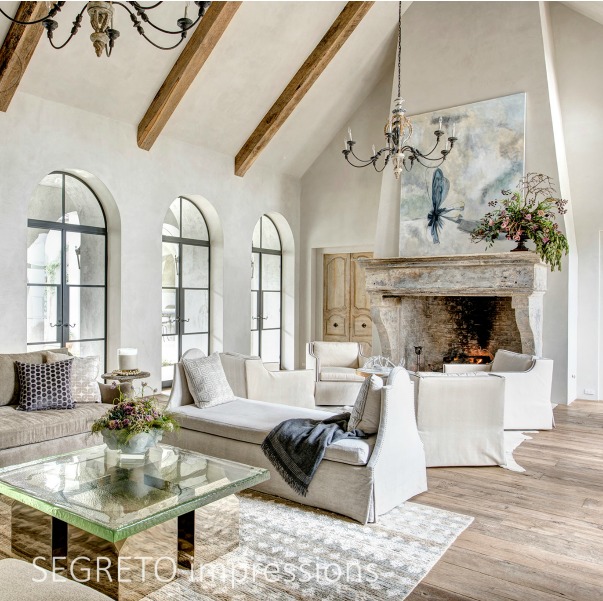 Bonus: French Lesson
Oh, and just for fun…let's throw in a French lesson for kicks… je vous en prie!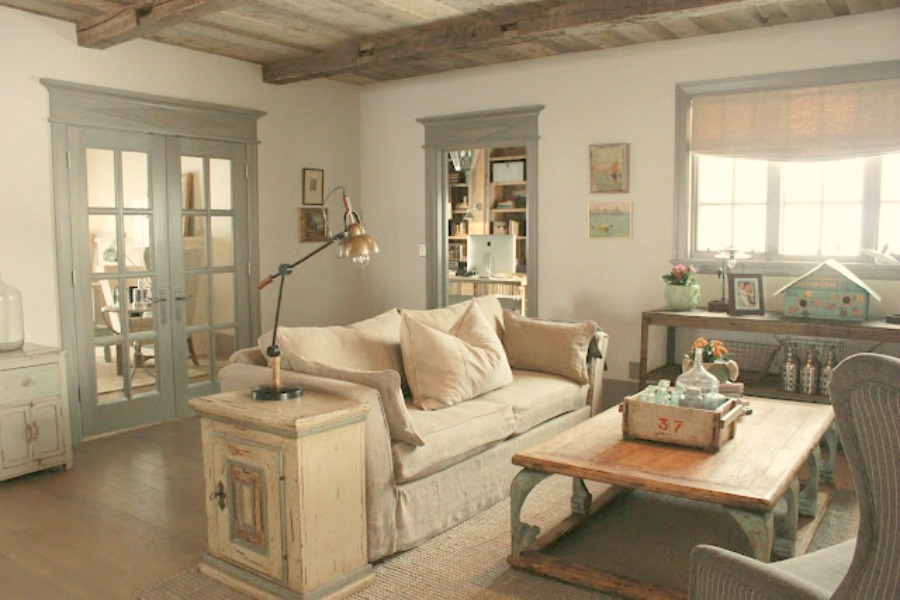 This post contains affiliate links which I hope you will use since they won't cost you a penny extra yet may earn this blog a small commission.
But first…
Real Estate in Southwest France
Ever dreamed of moving to France? We previously toured Taste of France's luxurious vacation rental in Carcassonne ('the other South of France') HERE, and for a sense of the cost and potential in Southwest France, see this:
French Grey Paint Color Possibility
Farrow & Ball's Pavilion Gray is a very French sort of grey which closely resembles the custom grey paint hue the Giannettis used on trims at Patina Farm (see glimpses RIGHT HERE).
As far as I am aware, you still cannot have your local paint store whip up this color from F&B, yet you can snag a sample pot from Anthro with the links above.
Need more pretty paint colors? Visit my BEST PAINT COLORS board on Pinterest and pin away, please!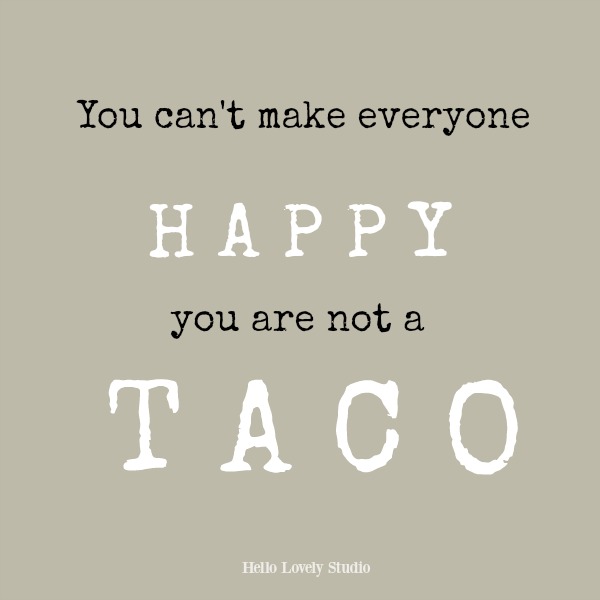 No. 1: Sofa…Le canapé
SEE THIS POST FOR SOFA IDEAS.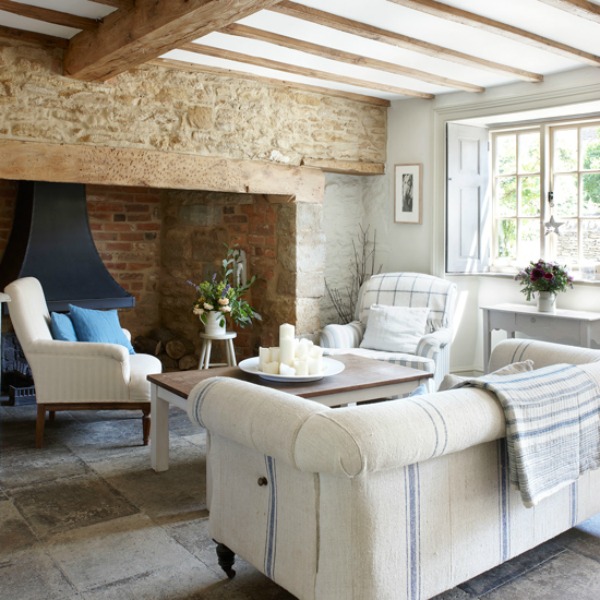 No. 2: Lamp…La Lampe
This first lamp possibility may not look like much from the stock photo, but in person…t's a beauty!
No. 3: Accent Chair…la chaise d'appoint
No. 4: Pillow Cover…La taie D'oreiller
No. 5: Chandelier…Le Lustre
SEE THIS CHANDELIER STORY WITH IDEAS TO SAVE OR SPLURGE.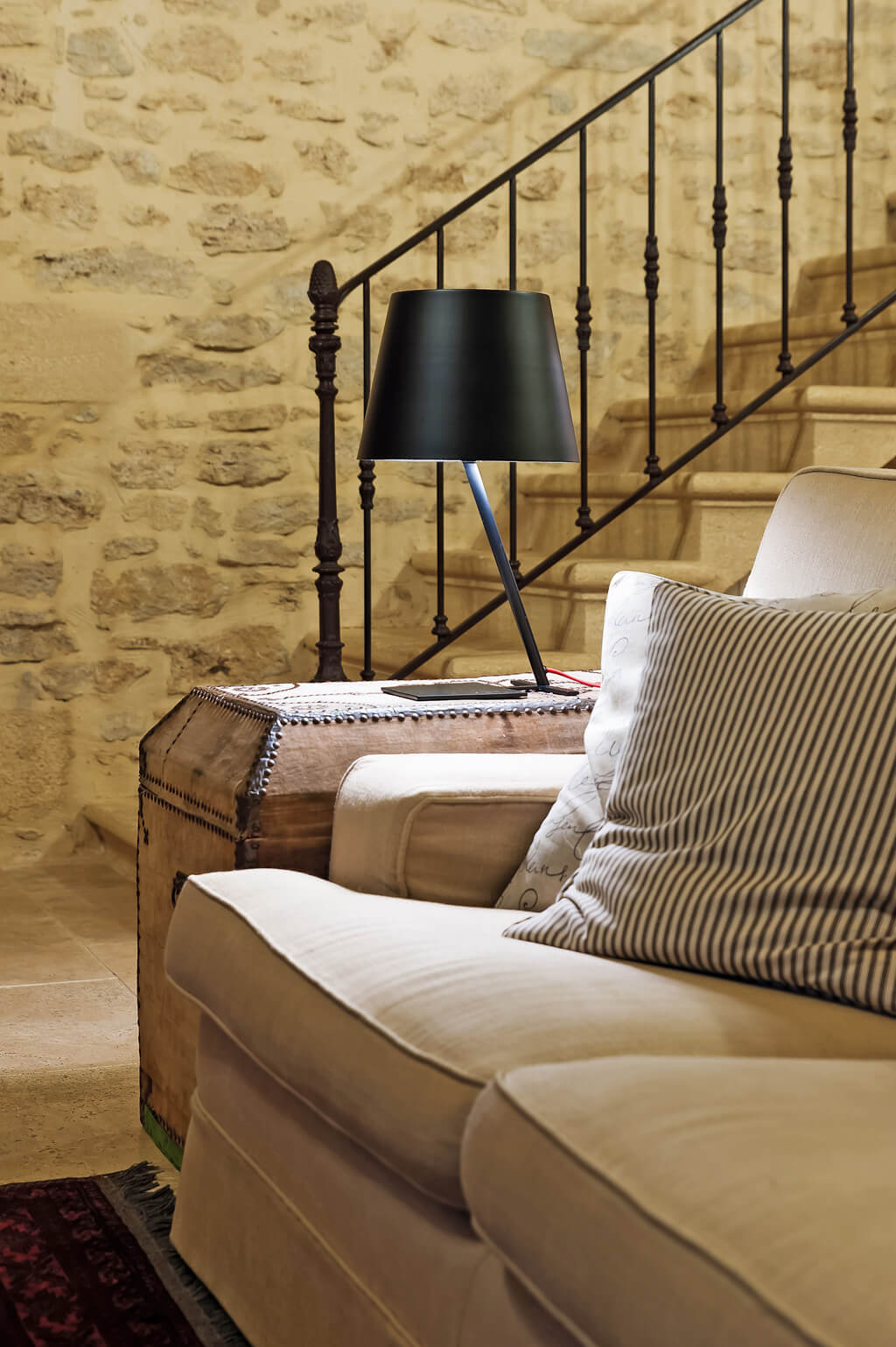 No. 6: Wicker Trunk…Le Coffre En Osier
No. 7: Settee…Le Canapé
No. 8: Cremone Bolt…La Crémone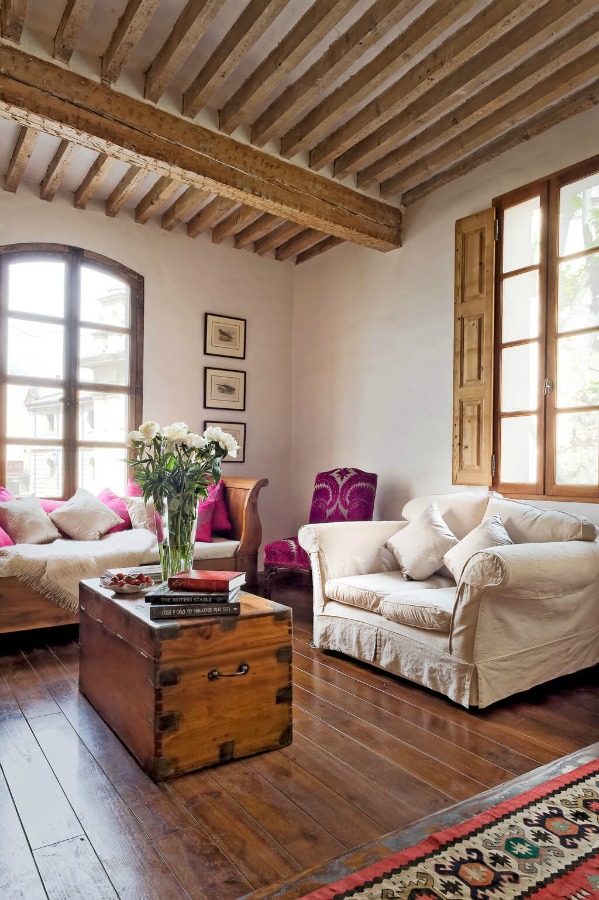 No. 9: Console Table…La console
No. 10: Stripe Chair…La Chaise à Rayures
Do you ever see a photo of a chair like this and wonder 'but is it really attractive in person?' Well, here's a perfect example of a piece that exceeds itself in person! I just saw this chair in a beautiful Arizona home I visited, and it looks far more expensive than the price tag.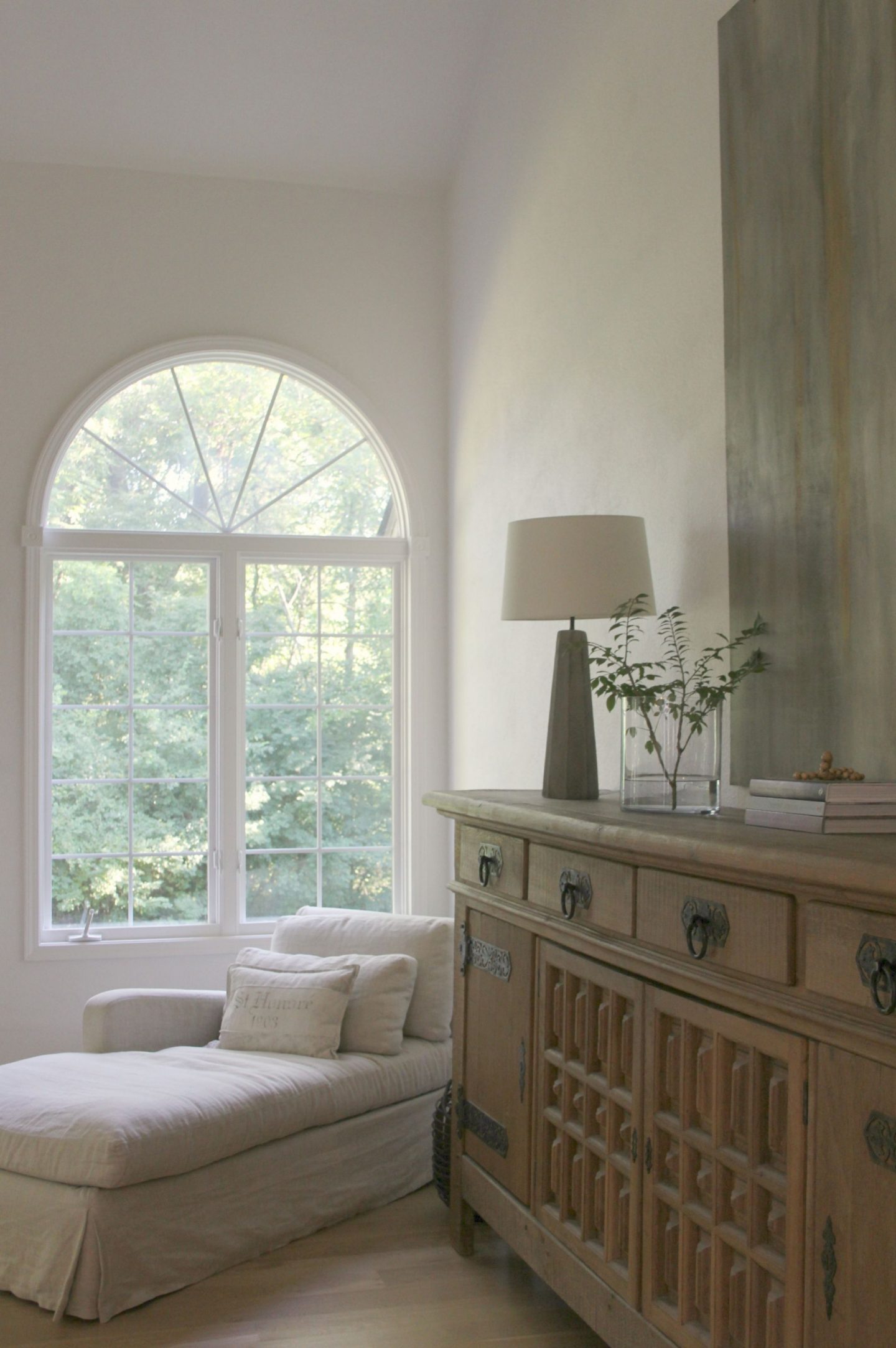 No. 11: Fireplace Mantel…Le Manteau de la Cheminée
No. 12: Seagrass Basket…Le Panier d'Herbiers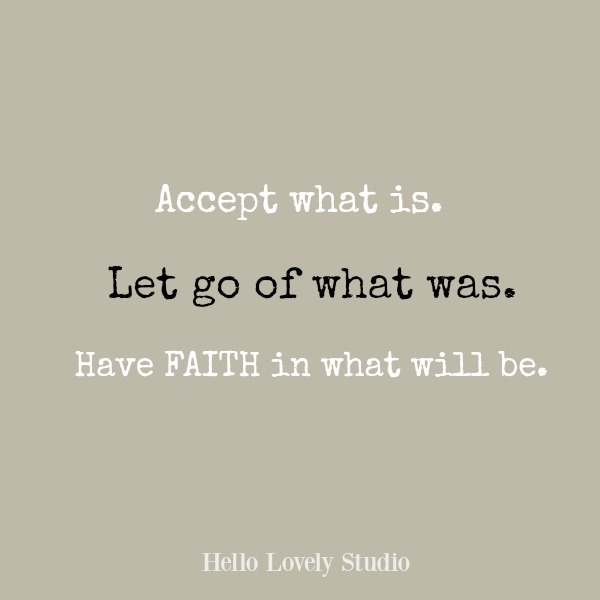 No. 13: Chalk Paint…La Peinture à La Craie
No. 14: Farm Style Coffee Table…La Table de Ferme
No. 15: Olive Tree Topiary…La Topiaire de L'olivier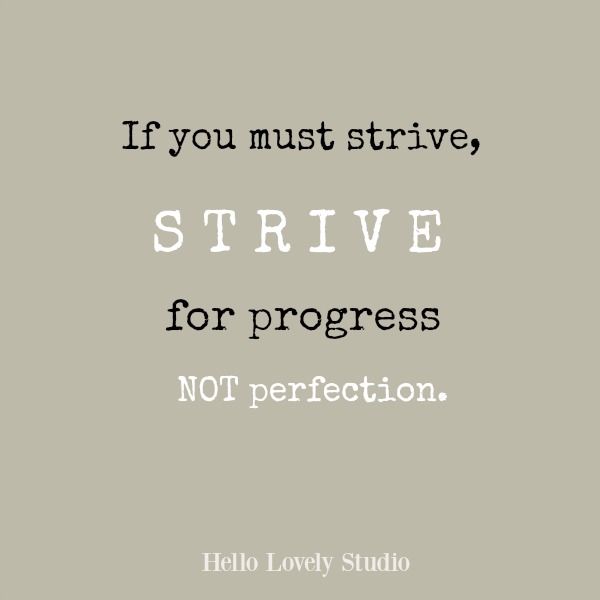 No. 16: Wood Candle Holder…Le Bougeoir en Bois
No. 17: Confit Pot…Le Pot Confit
No. 18: Crystal Chandelier…Le lustre en cristal
No. 19: Dough Bowl…Le Bol de Pâte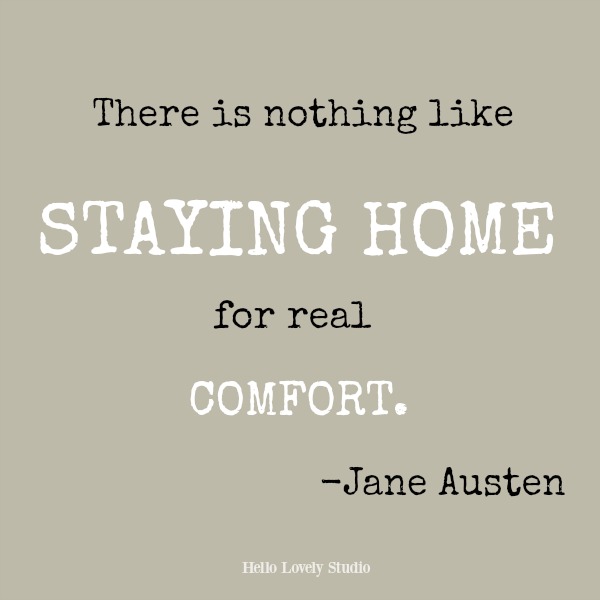 No. 20: Rustic Candle Holder…Le Chandelier Rustique
No. 21: Jute Rug…Le Tapis de Jute
No. 22: Door Stop…La Porte Arrêt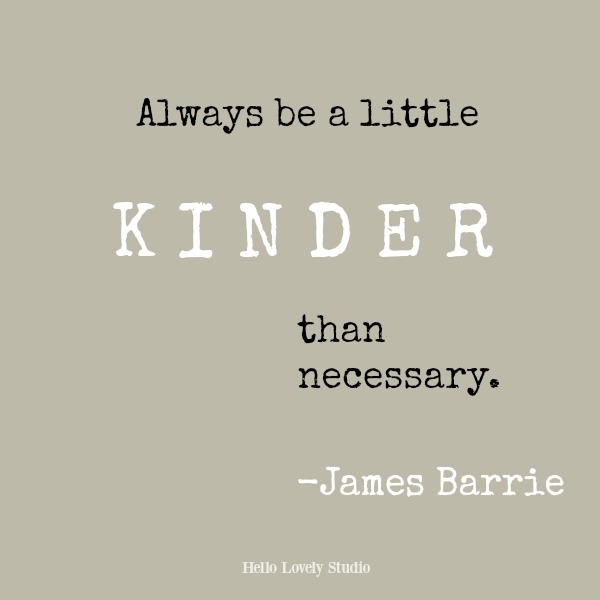 No. 23: Milagro Heart…Le coeur de milagro
I love mine – it's a sweet piece to use for Christmas decor, to give as a gift (tuck a sweet message or photo inside), or for decor all year round.
No. 24: Club Chair…Le Fauteuil Club
No. 25: Curio Cabinet…Le Cabinet de Curiosité
No. 26: Gold Leaf Mirror…Le Miroir Feuille D'or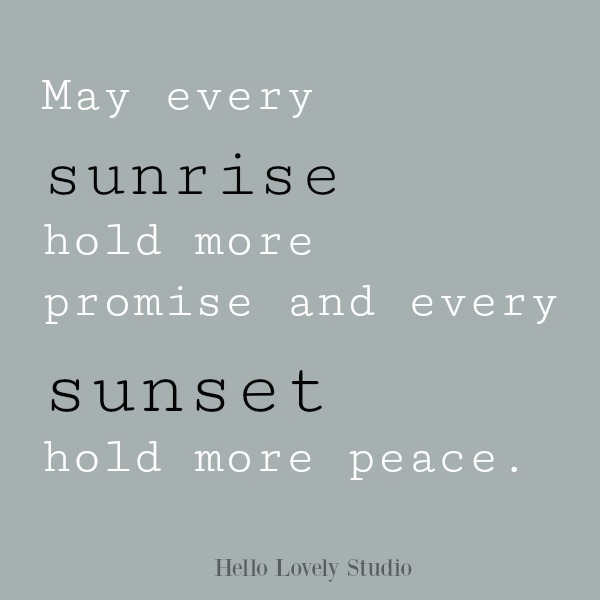 No. 27: Terra Cotta Jug…La Cruche en Terre Cuite
No. 28: Striped Bench…Le banc rayé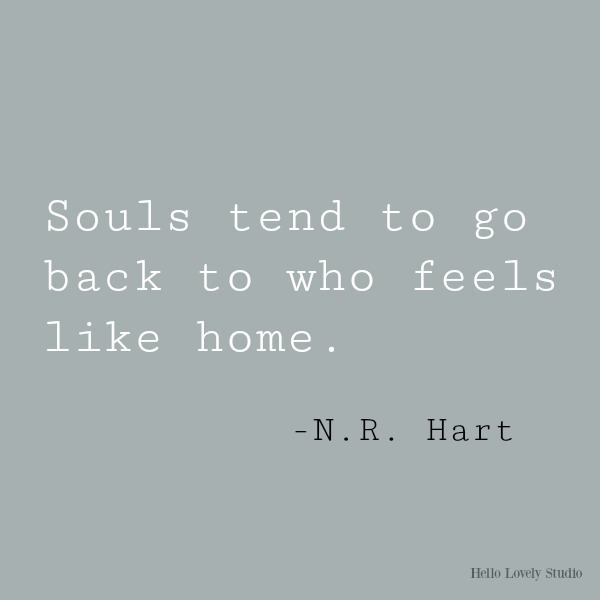 No. 29: Distressed Vase…Le Vase en Détresse
No. 30: Vintage Style Chandelier…Le Lustre de Style Vintage
No. 31: Crackled Vase…Le Vase Craquelé
Daily Transformation Inspiration
My gratitude and thoughts this day turn to our four-legged furry friends who offer us so much unconditional love and point us to the divine. Do you have a sweet kitty or pup in whose eyes you find the presence of God?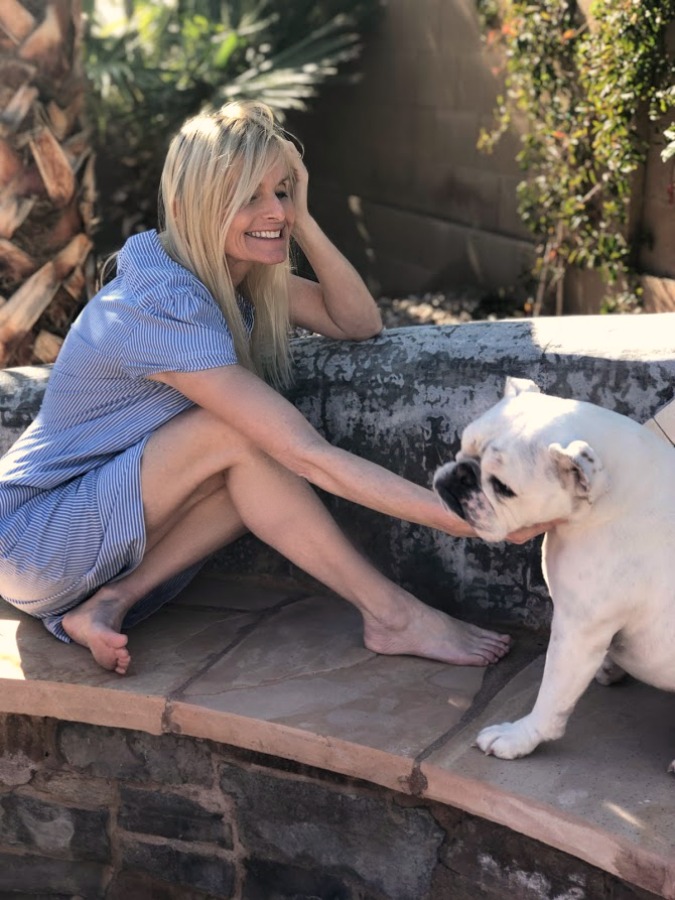 TAP TO PIN THIS POST FOR FUTURE REFERENCE & SHOPPING HELP!
Peace to you right where you are.
-michele
Shopping for items you already intended to buy on Amazon RIGHT HERE (not just items mentioned in posts) or home decor keeps decor inspiration flowing on Hello Lovely!
Hello Lovely is a participant in the Amazon Services LLC Associates Program, an affiliate advertising program designed to provide a means for sites to earn fees by linking to Amazon.com and affiliated sites.