6 Amazing Rustic Country French Interior Design Elements & Inspiration With Grey-Green + French Crowns is bound to make you woozy if (1) you admire European inspired interior design, (2) French country sensibilities butter your biscuit, and (3) you love French crowns or a color palette with grey-green.
Source: Decor de Provence and Country French Magazine Styling: Bonnie Broten
6 Amazing Rustic Country French Interior Design Elements & Inspiration With Grey-Greens!
Blogger and designer Desiree of Decor de Provence lives in one of my favorite Provence inspired homes which is full of rich character and Old World style yet is actually a new build.
It Only Looks Old
This exquisite custom Gustavian French home in Utah is enchanting on the outside and unique on the inside since it has been thoughtfully imagined with antiques from Europe and reclaimed materials for authenticity.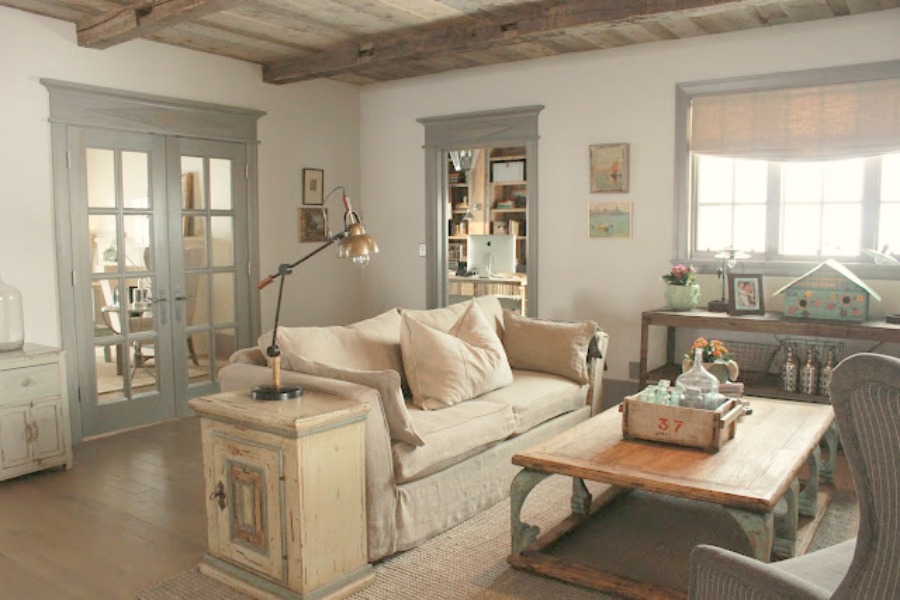 Rustic French Country Interiors
The color palette is especially unique, and I wish I could give you the name of the stain used on the trim throughout the home, but it was a custom formula. We can still make some educated guesses though!
French Kitchen With Soothing Greens
I do love a charming French kitchen, and this one is bound to inspire you with its rugged reclaimed wood ceiling and soothing, serene mood.
The styling in the photos is lovely since it doesn't look contrived or over thought, and the amazing Bonnie Broten was at the helm.
I independently selected products below—if you buy from one of my links, I may earn a commission.
Country French Design Element No. 1: Green Paint on a Weathered Vintage Lantern
While it could take some serious shopping across the pond, on eBay, at Chateau Domingue, or OKL to find a vintage lantern with just the right amount of distress, with a little effort you may be able to age a new one.
To introduce a green accent to a kitchen, here's a handsome industrial option:
French Country Design Element No. 2: Greenish Grey Stain for Trim & Doors
Even though it is a significant commitment, just look at the effect when you opt for a serene and quiet tone for stained wood work. I would love to try this someday!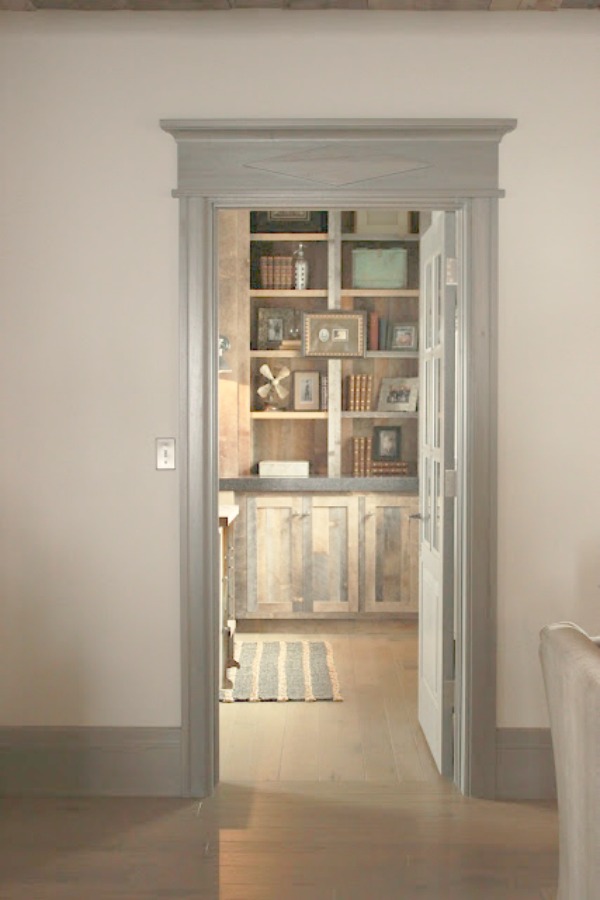 You could also experiment with a wash – thinning a color like Farrow & Ball's Pavilion Gray with water.
If you haven't shopped for stain in some time, you may be surprised to find more options for colors and customization now. It might be fun to experiment with a weathered gray color and green or aqua (clearly 'fun' only applies for DIY types and design freaks like us!) .
Country French Design Element No. 3: Pretty Green Tile Backsplash
I spotted these beautiful green ceramic tiles which are available in various sizes, and there's even an aqua option which may appeal if you like more blue in your green than grey. It is of course wise to order a sample since the actual color can vary with photography and how it presents on your particular digital screen.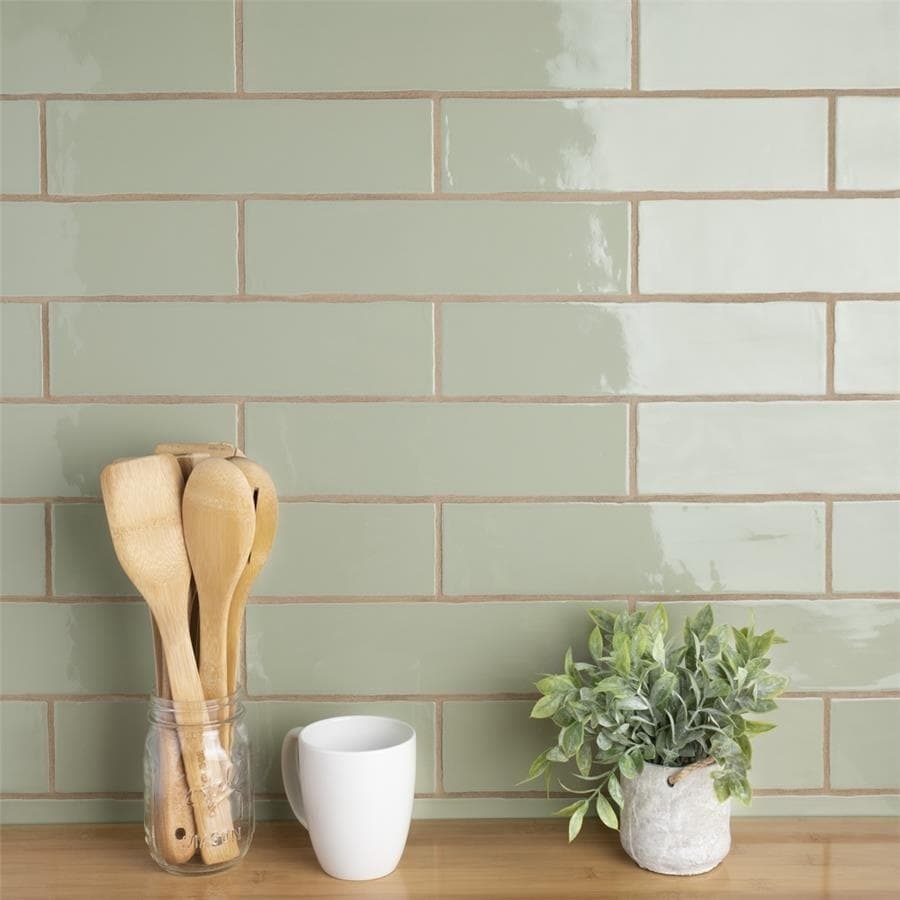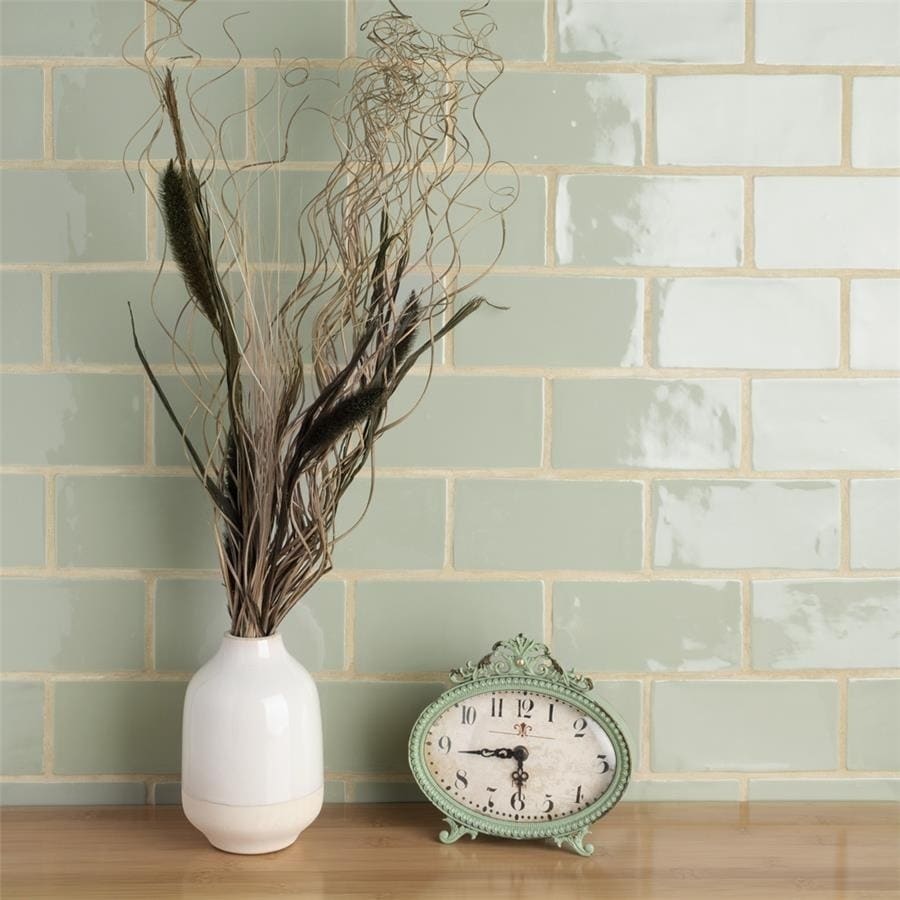 Country French Design Element No. 4: Green Glass Bottles & Accessories
This set of glass bottles has a nice variety of green tones and if it looks familiar, maybe you're an HGTV fan of the Property Brothers…they are the very same bottles in Drew's own California kitchen.
Country French Design Element No. 5: Light Green Painted Chairs, Benches, and Chests
I have painted my share of vintage wicker pieces over the years, and it truly isn't that scary if you know without a doubt you're painting the piece. If you happen to be on the fence about just leaving it alone, that's another story!
Remember that if you have an object that is the perfect shade of green, you can always bring it with you to the paint counter to get a custom color match.
French Country Design Element No. 6: Vintage Style Green Kitchen Tools
Even though SMEG is an Italian brand (founded by Vittorio Bertazzoni from Guastalla, a town near Reggio Emilia in northern Italy), I think it looks great in Country French, French Nordice, European Country, and classic kitchens!
French Crown Inspiration
I'm kind of obsessed with the idea of these sweet petite handmade French crowns which transform a plain ol' cake (even a round non-homemade one from the bakery!) into something royally lovely. They could be incorporated into a centerpiece and would be darling for any prince, princess, or queen themed party.
For more inspiring ideas for green paint colors, see THIS.
Peace to you right where you are.
-michele
Shopping for items you already intended to buy on Amazon RIGHT HERE (not just items mentioned in posts) keeps decor inspiration flowing on Hello Lovely!
Hello Lovely is a participant in the Amazon Services LLC Associates Program, an affiliate advertising program designed to provide a means for sites to earn fees by linking to Amazon.com and affiliated sites.
Click HERE to discover lovely cost conscious furniture and home decor!