How are you, friends? It was a busy day for me, and I'm in a mood for random so I hope you won't mind Random Smiles & Lovely Finds!
Smiles from Pets
I ran into the cutest Scotties in tartan sweaters today so I have to share more canine cuties with you.
Random Smiles & Lovely Finds
Fun Customized Socks!
Would you, could you, put your pet's face or your partner's face on socks?
Custom Socks from DivvyUp…Aren't they darling!?!
Pretty Vignettes
So many pretty spaces shared lately! Dig into my archives to catch up if you missed 'em.
Feel Good Favorite Christmas Movies
When I recently polled you friends on Facebook HERE, there were a few standouts (if you have yet to respond on the thread…do leave your favorite movie or a GIF!)
See clips from the first seven favorite movies I previously shared HERE.
8. POLAR EXPRESS
9. MIRACLE ON 34TH STREET
10. HOME ALONE
11. The Bishop's Wife
12. The Santa Clause
Whimsical Quote & Doormat!
I saw this quote on a notebook today while shopping: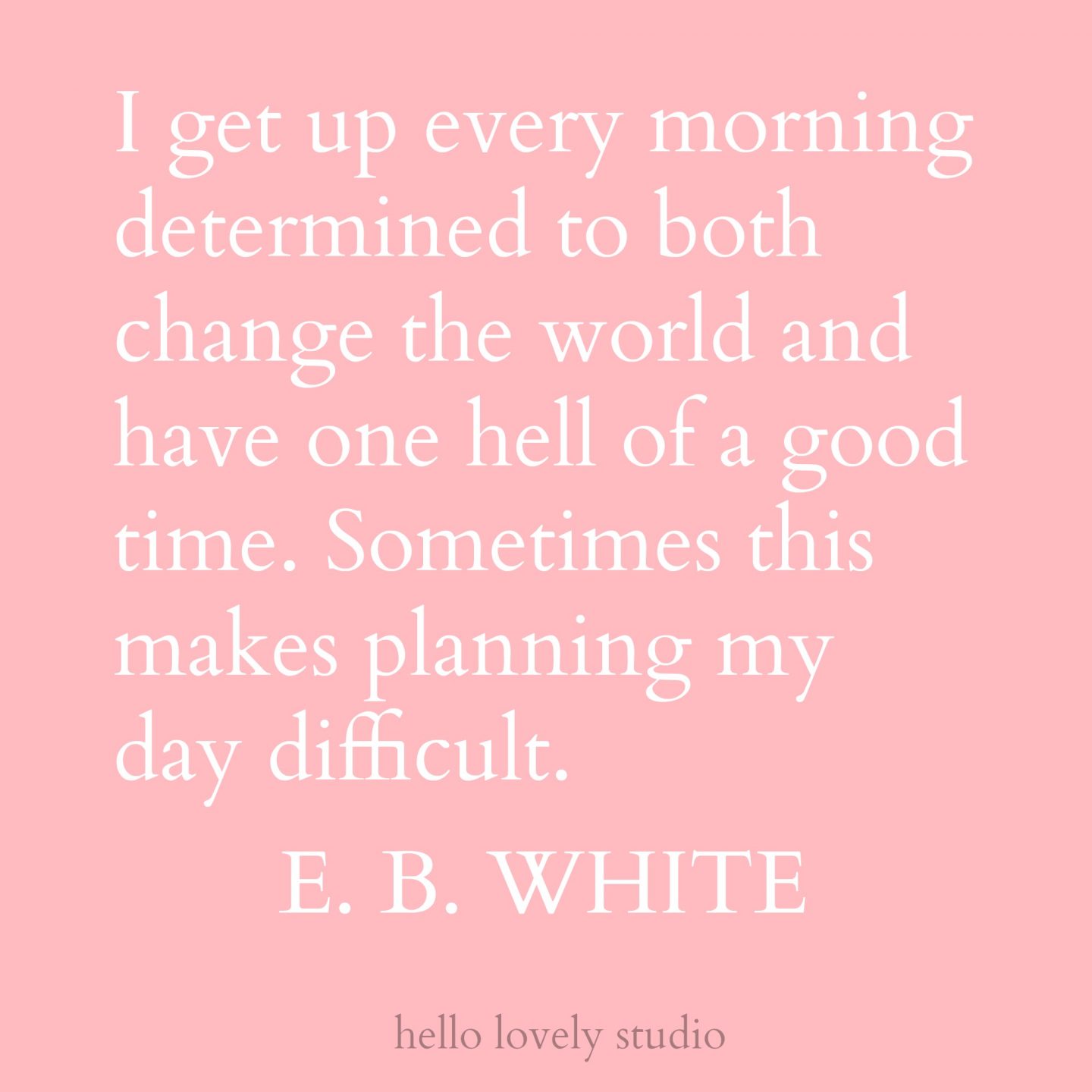 Ha!
HGTV's Flip or Flop Atlanta is on as I type these words, and I just spotted a welcome mat like the one below at a fabulous flip they did (and they painted the front door a lovely pale pink like this one I snapped in London).
Isn't this fun as a housewarming gift or for your own front door?
Make Winter Skin Smile
If you have the kind of skin that glows without babying it, lucky you! The skin on my 50something face has seen better days! While it may look acceptable after makeup application, I saw the dermatologist this week for a couple of issues including rosacea. It has been years since my rosacea has flared like this, and there are so many possible triggers that it's hard to sort out the culprit. Stress? Not enough sleep? GI issues? Temperature changes and cold weather are triggers as well, and as a result, I got to thinking about the importance of soothing the skin we're in a little extra in winter.
We all know skin is an organ which needs more hydration in winter so it is important to moisturize day and night and drink plenty of water. Here are some excellent goodies to keep skin hydrated:
For the Face
High quality, friendly priced alternative:
Mid-priced at the salon (and what I use):
My mom swears by this one (I like it too for a splurge), and she has minimal lines and wrinkles:
Expurtise Eye Serum is a healthy smart way to address delicate skin around your eyes. It's also one of those delicious products that smells yummy enough to eat.
More Skin Care Products in My Arsenal
Exfoliating is important when you want to glow. Here are some skin care finds I use everyday which work well for my sensitive skin.
I keep Aveda Botanical Kinetics Radiant Skin Refiner in the shower and use a tiny amount to exfoliate my face. Since I use a retinol product (you'll find it below), exfoliating removes dry flaky skin to reveal the glow underneath.
To Stimulate New Skin Cells & Treat Discoloration
While I cannot use it right now since my rosacea is flaring, SkinCeuticals makes the formulation of Retinol 1.0 I have used for years. THIS PRODUCT HAS DONE EVERYTHING IT PROMISES FOR MY SKIN, and I can't say enough about how powerfully it does the job. The tricky thing about using a retinol product is giving your skin time to get used to it. Temporary irritation (feels like windburn), some pinky redness, and excessive dryness can happen. And you have to be cautious about sun exposure for good reason! The fresh skin this product uncovers is tender and baby-like!
When You Want to Wear Turtlenecks Everyday
This is a cool newish wand created by beloved Hollywood makeup artist Spencer Barnes (think Julianne Hough, Meghan Markle…). If you have a crepey neck like mine, here's a fun way to address it. Did I just use the word 'fun' in a sentence with 'crepey neck?' 🙂 The product delivery (a roller ball on top works in the product on chin, jawline, and neck) is sort of genius, and one pump delivers an optimal amount of yum.
For the Body
This is such a spa-like creme with a natural, complex fragrance that calms me. I keep it in my nightstand and massage it into my hands and feet at bedtime.
Supplements for Skin
Do you take vitamins especially for hair, skin, and nails? I started making these a daily ritual after my surgical menopause when my hair thinned big time.
It wasn't until my diagnosis with BRCA2 genetic mutation almost 6 years ago that I became more mindful about reading product labels. I never really thought about what I was massaging into my skin and how it could influence this anti-cancer journey.
As far as makeup, I have always loved it! I was an adolescent with problem skin so I appreciated having options to improve the look of my complexion.
My Makeup
Omg, what would I do without this foundation right now with my problem skin flaring as it is!?! I can go leave the house with more confidence since this stuff covers the red, bumpy areas I need to conceal. Bonus? Moisture, full coverage and SPF from one product!
Dark under-eye circles get a velvety smooth kiss and lightened with this beautiful coverage.
So luxurious and the prettiest colors…
A gorgeous mineral based bronzer:
These palettes are so fun and last forever. See the dark brown? I wet a liner brush and use it to line my eyes.
The best mascara I have tried:
A trusty eyeliner with staying power:
Believe!
Thanks for playing along, friends!
When I spied a few of the slashed prices on a few beautiful Cottage, Farmhouse & Coastal Style Furniture pieces online, they were too enticing not to share. I have gathered a collection of awesomely priced furniture finds I thought you design savvy bargain shoppers might particularly whistle at. The furniture and decor pieces fall under the category of traditional design style while they also reflect a casual, unfussy, neutral mood.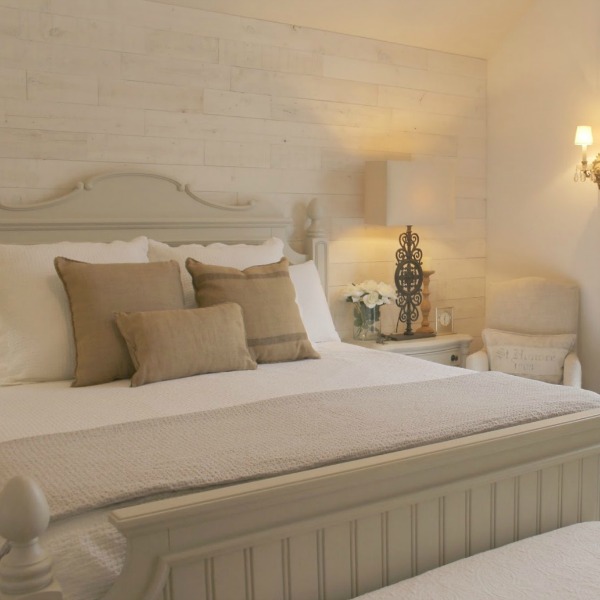 This post contains affiliate links which I hope you will use since they won't cost you a penny extra yet may earn this blog a small commission.
Cottage, Farmhouse & Coastal Style Furniture
Should you not be in the market for any of these traditional pieces, join me at the finish line for something special…a different flavor of CLASSIC… very special musical artist whom I idolized as a young girl talks about no longer performing.
One of My Favorite White Slipcovered Sofas of All Time!
For starters, I noticed one of my favorite sofas (a white slipcovered beauty) went on sale. FYI, this particular sofa goes out of stock regularly.
This Fairchild sofa is the very same one designer Sarah Richardson chose for her rustic media room in her family's own home in Ontario.
The sofa easily works with rustic decor as well as with more elegant pieces in a French country style space:
Is This the Wood Side Table You've Been Searching For?
I love the traditional coastal vibe of this sculptural pedestal side table made of solid teak which at only 24″ in diameter will work in small spaces and blend with any number of traditional styles! Teak is so pricey, and if you're lucky enough to snag this baby when it's on sale…VICTORY BARGAIN DANCE TIME!
The table comes in additional finishes as well like grey.
Entry, Mud Room, or Anywhere Storage That Only Looks Custom
If you have ever sought a bid for custom built-ins from a carpenter, then you know how expensive any sort of storage unit for books, backpacks, or display can be. Here's a ready-made option that adds architectural interest and character even as it helps to stow everyday essentials.
A Smart Wall Sconce for Under $40
It's so interesting to me that frequently I am searching for a fixture which has simple clean lines and a straightforward design, and it's nowhere to be found in a sea of overly ornate or complicated designs. Here's an exception.
Here you can see the sconce inverted for a different look: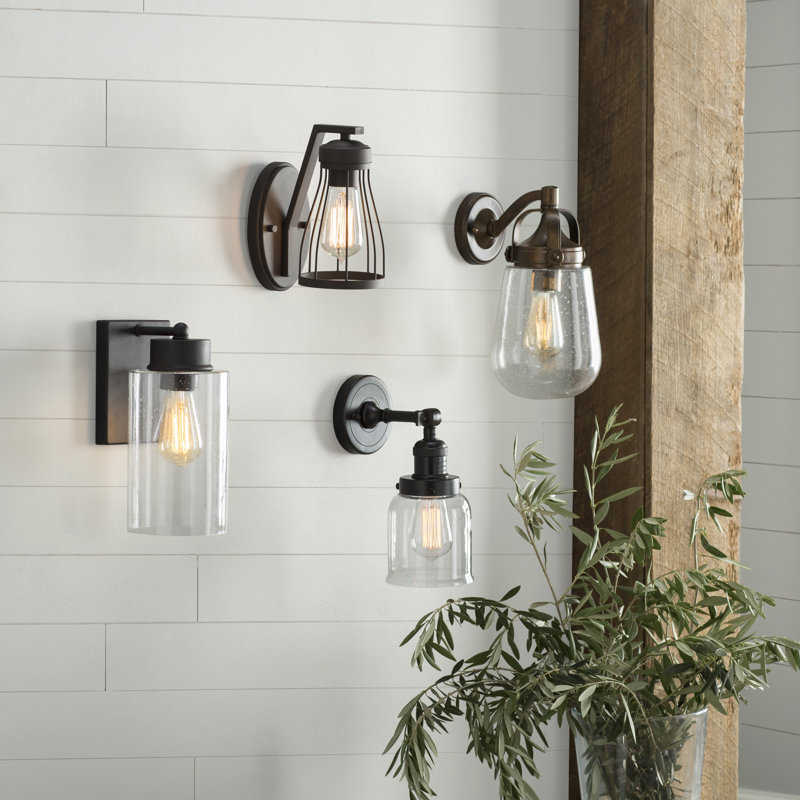 The sconce's style is versatile enough to go in any number of spaces like an entry:
Bedroom Furniture Ideas to Inspire
I thought the lines on this upholstered panel bed were graceful and pretty enough to work in a number of bedrooms whether its French country, Belgian, or French Nordic style that rocks your world.
A timeless quilt like this won't ever fall from favor!
Distressed Washed Oak Finish!
Thank goodness we are beginning to see more of the more natural, scrubbed raw wood look that works so well with more rustically inclined designs and spaces. Here's an unfussy console table with an attractive metal base that could work in any number of spaces since it is airy and less than 14″ deep.
Spring Color for a Bedroom, Anyone?
I love aqua, and I this bedding with its muted tones, struck me as feeling very French farmhouse and cottage lovely.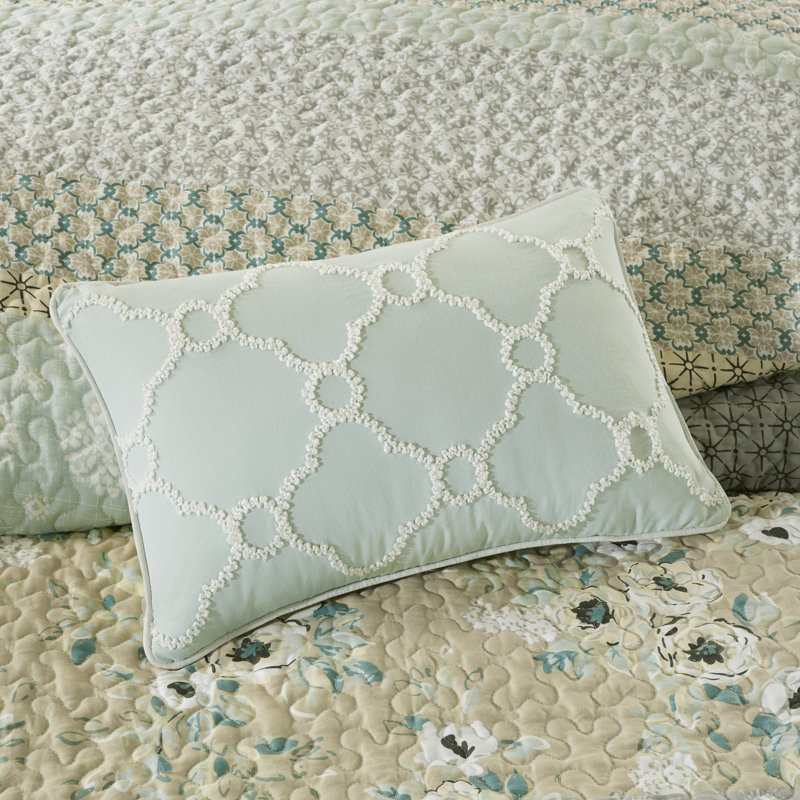 Casual Cottage Style Stripes
This chair brought back memories for me! We owned a French country settee for years which was upholstered in what appears to be this exact fabric! And those little cottage style feet! The very same ones on my old settee.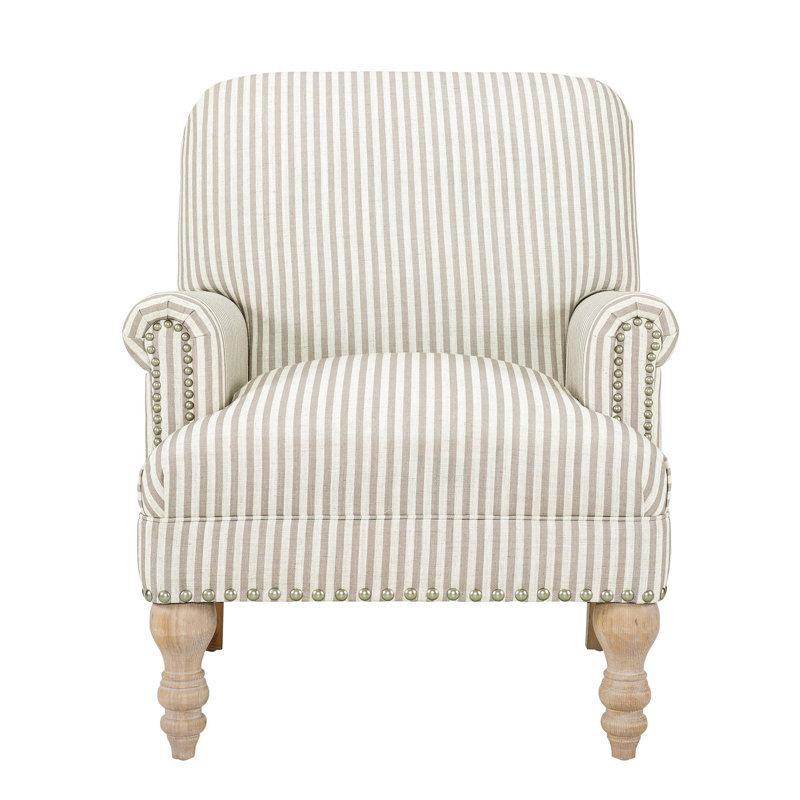 Cottage, Farmhouse & Coastal Style Furniture: For the Bedroom
A few more pretty bedroom furniture and bedding finds with friendly prices.
Great Coastal and Traditional Lighting Fixture Finds Too!
There are too many plain and ugly dome type flush mount ceiling lights across this country, and a little update may do wonders!
Cottage, Farmhouse & Coastal Style Furniture: Nightstand Ideas
This particular nightstand comes in some interesting painted finishes should you be feeling saucy.
Here's the champagne option…
And this shade of grey is rather neutral and versatile.
A happy blue could be a cheery pop of color and it need not match the color of existing pieces!
Would you, could you, consider a pretty in pink option?
Cottage, Farmhouse & Coastal Style Furniture: Modern Farmhouse Dining Tables & Sideboard
Here's a dining table with dimensions which are destined to work in a variety of homes. The extension feature is lovely for holidays.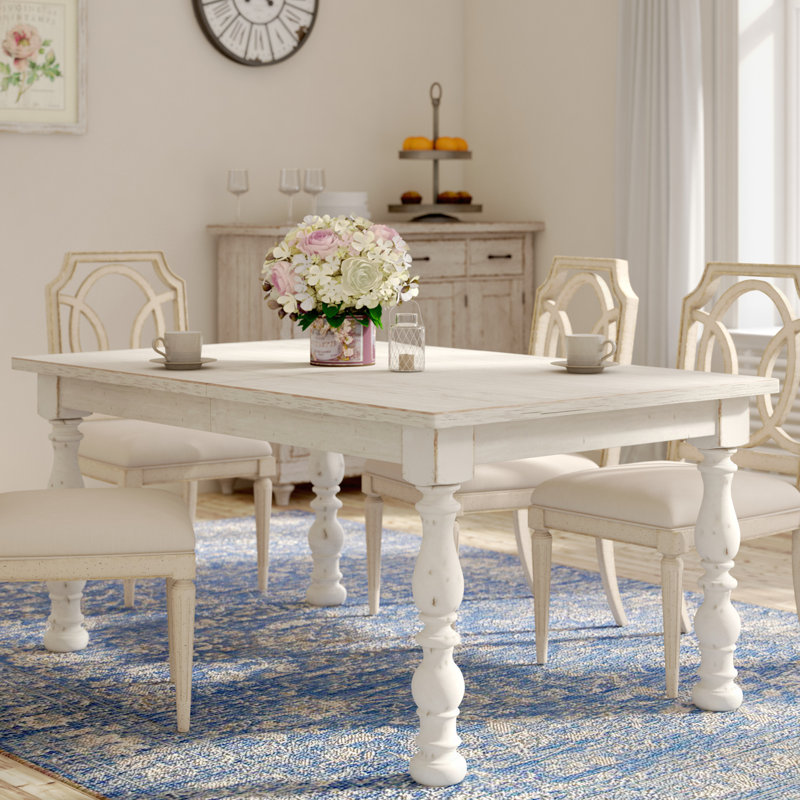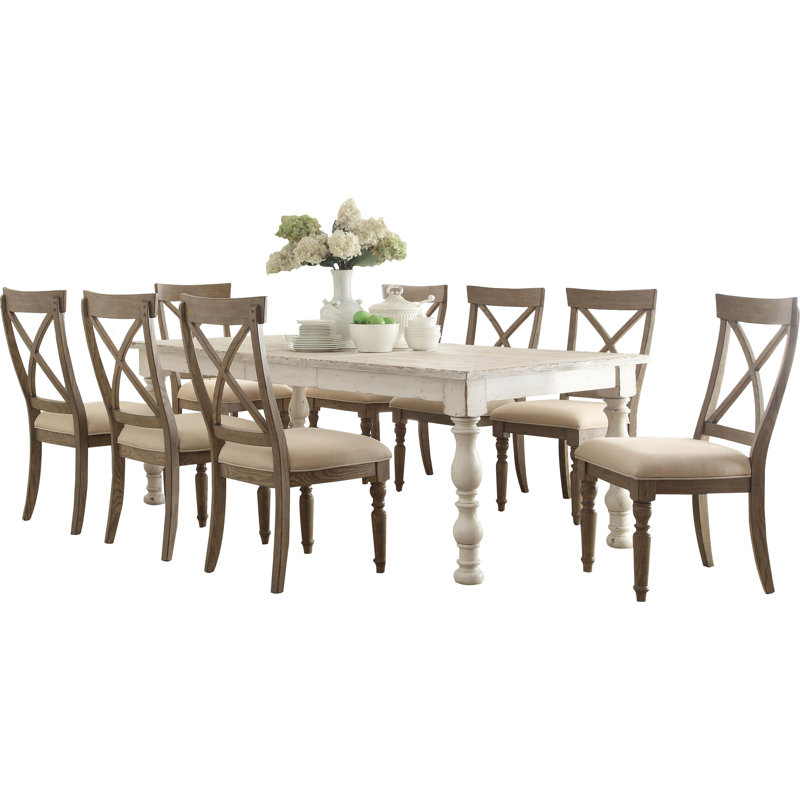 Classic & Traditional Light Fixture Options
Armchairs in Neutral Hues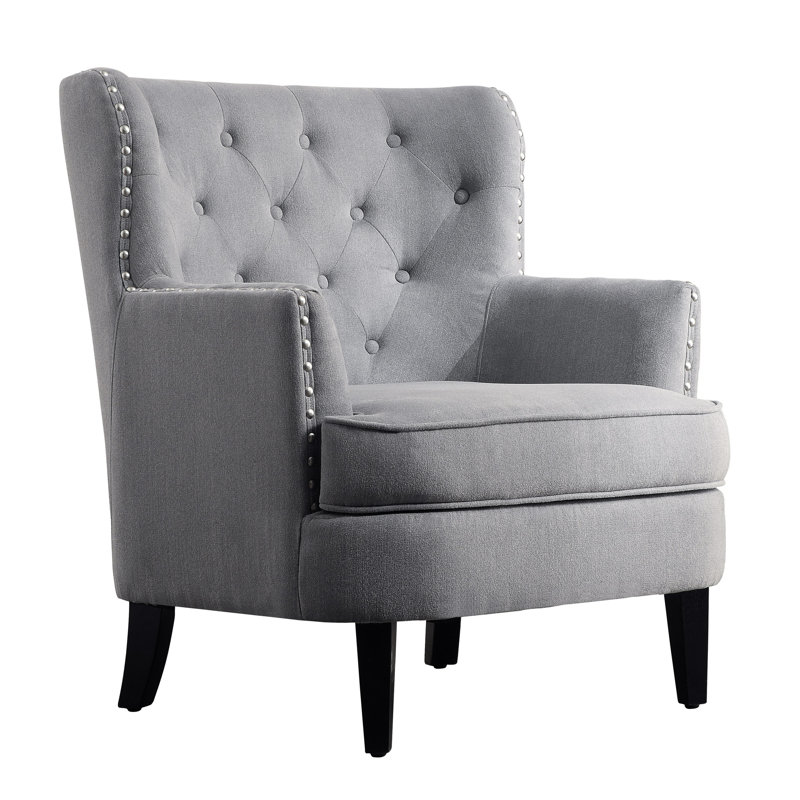 Traditional Sofa: Chic, Tufted, and Velvet
Now Here's a Sectional I Can Live With!
An Interview With Linda Rondstadt, an artist living with Parkinson's Disease…
I just love her honesty and the thoughts shared about why she never married! Ha! I'm holding Linda in my heart right now and whispering a prayer. Should you also have a moment, let's lift her up.
If you're a fan of her music, join me in listening/watching this powerful performance:
That song takes me back!
I independently selected products in this post—if you buy from one of my links, I may earn a commission.
Peace to you right where you are.
-michele
Shopping for items you already intended to buy on Amazon RIGHT HERE (not just items mentioned in posts) or home decor keeps decor inspiration flowing on Hello Lovely!
Hello Lovely is a participant in the Amazon Services LLC Associates Program, an affiliate advertising program designed to provide a means for sites to earn fees by linking to Amazon.com and affiliated sites.