There is something so romantic, cozy, welcoming, and charming about French country style which mixes rusticity with elegance in comforting ways. Today, we'll explore a variety of French Country Furniture Finds and discover sources for furniture, decor, vintage, and the unexpected.
I hope you will be pleased with so many friendly-priced items along with a few splurges.
A trip to France to discover the most authentic finds would be ideal to grace your interiors, but in the mean time, the internet shrinks the marketplace and can make many of your wish list items a reality.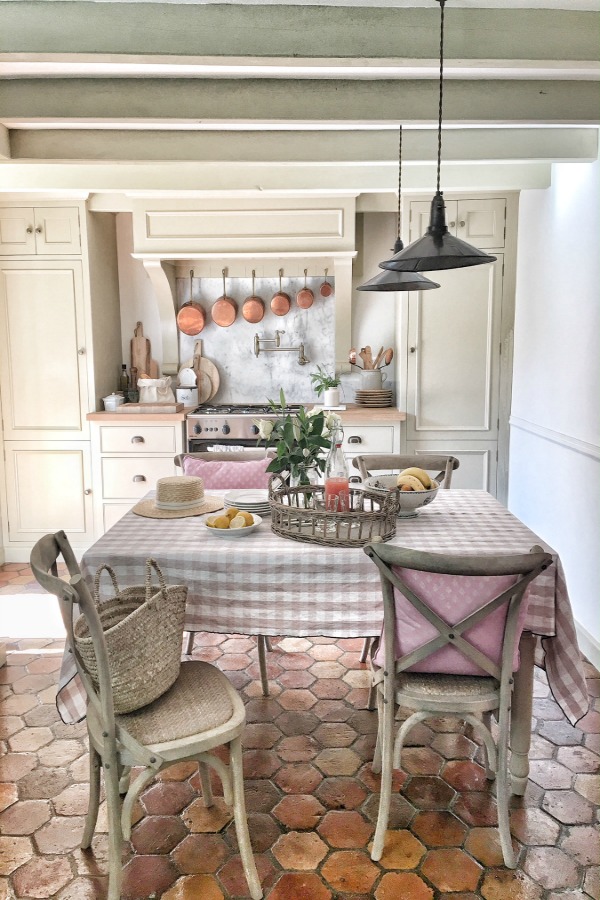 After a parade of lovely French country design elements and home decor, I'll be sharing some personal reflections. I am so appreciative of the outpouring of support I am receiving in the throes of my illness.
French Country Furniture Finds
Find some of my favorite friendly priced French country inspired bedroom furniture RIGHT HERE
Discover living room pieces with a French inspired look RIGHT HERE.
Beautiful French country kitchen and dining room finds are RIGHT HERE.
Friendly Priced French Country Cabinets
Friendly Priced French Country Dining Pieces
Friendly Priced French Country Chairs
French Country Ottoman
Bohemian Distressed Area Rug
French Country Bedroom Decor
French Country Living Room Decor
French Country Accent Chair
French Country Stencil
French Country Dining Pieces
French Country Bench
French Country Bedroom Ideas
French Country Kitchen Decor
Personal Reflections
I'm still in pain everyday, and the waiting is hard. Thanks so much for all the prayers and encouragement. Even if mine turns out to be a serious condition, I am anxious to know to begin treatment and find relief. I'm ready to make peace with it and allow reality to teach me what I need to learn. I used to think of personal hardships as holy fire burning out of me all that is unlike my Creator. I'm a 4 on the enneagram for those of you who relate to that wisdom (and I bet my # comes as no surprise). Being drawn to metaphors about fire comes naturally to me. For years, I often self-deprecated excessively in blog posts. But I have journeyed toward joy in recent years on my spiritual formation walk. I began to love myself more as God loves. Now I tend to imagine entering the cool flow of Love to be hidden with its life and healing. I don't need cure to find healing. In fact, it is my desire to BECOME healing. To become a sweet fragrance. To become an instrument of peace and a light shimmering in the darkness. No matter what your faith or religion, I know you get it.
I feel so much compassion and honor for you friends who live with chronic illnesses, heartache, and debilitating pain. The irritability seems inevitable, and the tears too. I am thinking of all of you fighting battles, invisible and otherwise. I join you in your suffering and the pain and want to remind you all shall be well.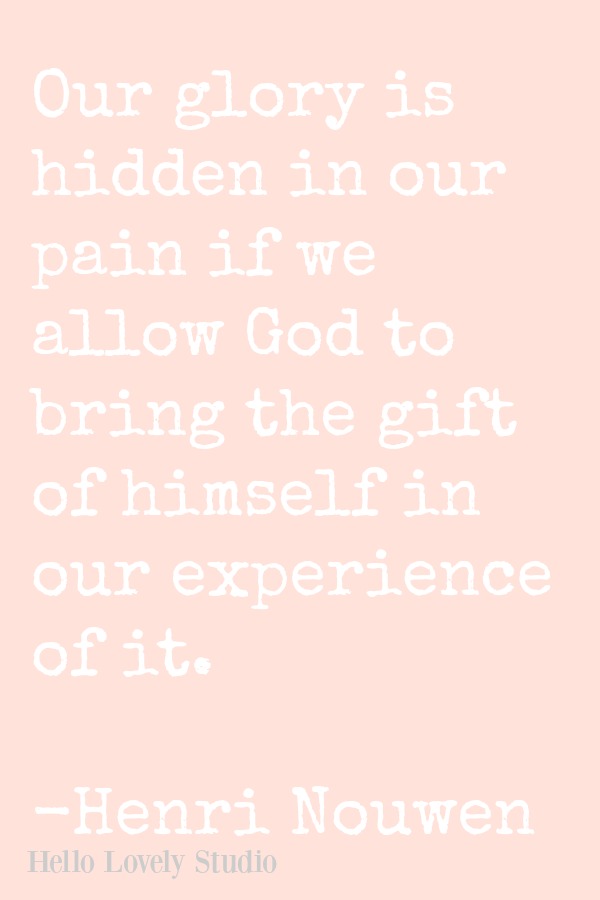 I independently selected products in this post—if you buy from one of my links, I may earn a commission.
Peace to you right where you are.
-michele
Shopping for items you already intended to buy on Amazon RIGHT HERE (not just items mentioned in posts) or home decor keeps decor inspiration flowing on Hello Lovely!
Hello Lovely is a participant in the Amazon Services LLC Associates Program, an affiliate advertising program designed to provide a means for sites to earn fees by linking to Amazon.com and affiliated sites.