How have you been sleeping? Staying asleep has been an issue for me these days, and since I have been trying to allow reality to simply be reality, I thought this was as good a time as ever to consider Awesome Ideas for the Best Night's Sleep.
While I haven't studied the science of sleep since undergrad, there are plenty of ways to be more intentional about improving its quality. Of course, the discussion MUST begin with bedroom decor inspiration–a peaceful sleeping space is always a good start to any plan for more peaceful slumbers.
7 Awesome Ideas for the Best Night's Sleep!
Sleep Tip No. 1: Make Your Bedroom Environment Relaxing
Don't just take my word about how peaceful design elements create a relaxing bedroom environment!
See #9 in this great sleep article.
Sleep Tip No. 2: Trust Advice from the Pros
These healthy sleep tips may make a big difference.
Sleep Tip No. 3: Resist That Late Night Craving
You don't want to hear this one, but it's truly a big deal. My dreams are crazy scary if I eat dinner too late or give in to my sweet tooth after 10 p.m.
Sleep Tip No. 4: Linen & Cotton
Can't decide between linen sheets or cotton? Here's a blend which may be just right in any season, and more pretty options are RIGHT HERE.
Sleep Tip No. 5: Soothing Moisture & Aromatherapy
A few years ago when I required physical therapy and weekly massage of my lower back and hip for complications of scoliosis, my therapist introduced me to these incredible professional grade products. I have used them for years to soothe my own muscles and skin and for reflexology treatments I give to loved ones. The fragrance of this Stress Management oil blend relaxes me immediately – I think it's the scent of orange coming through the blend that is especially powerful for me.
In fact, the fragrance of orange blossoms seems to be the olfactory equivalent of LOVE to my senses. I won't soon forget the smell of the orange trees at the Arizona Biltmore Hotel a few Februaries ago…love-scented air is just the BEST.
Stress Management Essential Oils Blend details:
This powerful aromatic blend contains Organic Orange (to uplift and energize), Lavender (to balance and calm) and Sandalwood (to de-stress).
Essential oils in this blend:
Orange, Lavandin, Cedarwood Himalayan, Lemon, Clove, Ylang Ylang, Lanvender, Roman Chamomile, Rose Absolute and Sandalwood
The blend can be incorporated with oil or cream during massage and is ideal for diffusion.
Need a diffuser for your nightstand to gently mist the stress away?
Moisture Rich Cream details:
Natural oils including Grapeseed and Borage glide without being greasy. Boswellia Serrata and Chamomile help calm and soothe. Fragrance-free and ideal for dry skin and for use on the face and hands. Non-comedogenic, no nut oils and water dispersible.
Sleep Tip No. 6: Hello, Lovely Sweet Dreamy Pillow…Sleepgram
I was thrilled to review pillows offered from Sleepgram since my pillows needed to retire (ha!).
How does it enhance sleep? It's truly something different. I have been struggling with sleep these days as I battle through a GI illness and am so grateful to have this versatile pillow upon which to lay my head and also to utilize as a body pillow. If you have tummy or back trouble, maybe you understand too that sometimes a pillow tucked between or beneath the knees can relieve pressure and ease pain.
This one's a no-brainer. No matter what type of sleeper you are (back, side, stomach), here's an allergen-free pillow with a 100% cotton cover which offers 3 different ways to enjoy it. I had never seen anything like this innovative design. Oh, and it certainly feels like down! But the fill is actually long and thin microfiber!
What do you mean it's unique? A plush and soft outer cover conceals two inner pillows you can mix-and-match; hence, three possible combinations: soft, medium, or medium-firm. Arrange and re-arrange the inner pillows until you find your ideal comfort level!
What I admire most about the lovely design? The high quality, zippered cotton cover gets thrown into the wash – keeping my skin as clean and clear as possible with all those hours of contact with it.
What you see below is the cover, the soft insert, and the medium insert. I like a medium-firm pillow so I use both inserts inside.
I think of Sleepgram's smart cover design as a cozy cocoon that both keeps away the dust mites and offers my noggin more options.
Psst…Sleep Easier With a Sleepgram Pillow Knowing You're Also Helping…Through partnerships with organizations domestically like The Salvation Army, purchases support charitable organizations that keep families together and support those who cannot support themselves.
Sleep Tip No. 7: Prayer & Pretty Thoughts
I saw a funny meme the other day which read something like, "Now I lay me down to sleep, I pray the Lord my soul to keep. If I should die before I wake…COOL. That's not a bad way to go." I guess it is all perspective.
Prayer is such a lovely way to enter dreamland.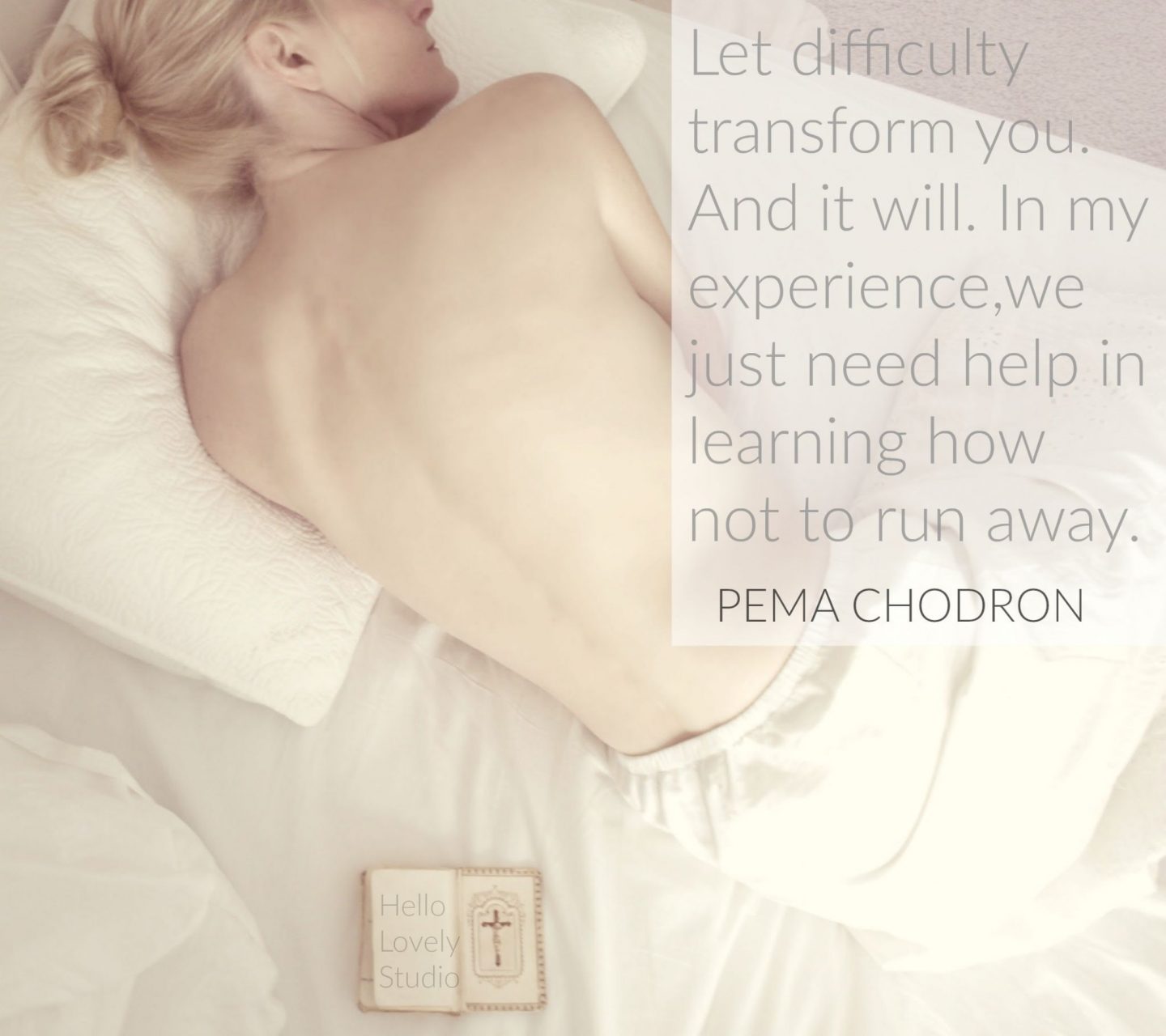 Hello Lovely Studio – Pema Chodron quote.
AS IF you needed another vulnerable photo of me taking a pretend nap.
Oy. No, no, no.
But a deep thought from Pema? Yes, yes, yes.
Sort of off topic, but…
Does your bed ever look like this (see below) with a zillion gorgeous decorative pillows during the day or when you have company? Because sometimes it can take me serious time to clear the decks, and I wonder if I have lost my marbles. It's a harmless pillowy nesting thing or terribly neurotic ritual or both, I guess. I may need to write a psychological exposé on the practice.
YOUR TURN…I love collecting wise tips for snagging a better night's sleep…do share your secrets!
Also.
How many pillows sit upon the bed in your chambers at this moment?
In the mood for more French country decor? For friendly priced options, see this recent post with amazing French country finds…HERE.
I independently selected products in this post—if you buy from one of my links, I may earn a commission.
Peace to you right where you are.
-michele
Shopping for items you already intended to buy on Amazon RIGHT HERE (not just items mentioned in posts) or home decor keeps decor inspiration flowing on Hello Lovely!
Hello Lovely is a participant in the Amazon Services LLC Associates Program, an affiliate advertising program designed to provide a means for sites to earn fees by linking to Amazon.com and affiliated sites.