I became intentional and more disciplined about daily skin care about 7 years ago. I don't know if that is when I started to see some scary things reflected in the mirror or it had something to do with so many more photos being snapped left and right! Skin Care Routine & Healthy Makeup Essentials shares what works well over this over 50 product lovin' mama.
When I was diagnosed with BRCA2 genetic mutation in 2013, it suddenly became more important to me to read labels to understand what I was massaging into my skin on my anti-cancer journey. As far as makeup, I have always loved it as an artistic expression – the 80's were so fun for glamming it up, and I continue to enjoy how it adds a layer of creativity and drama to my daily days.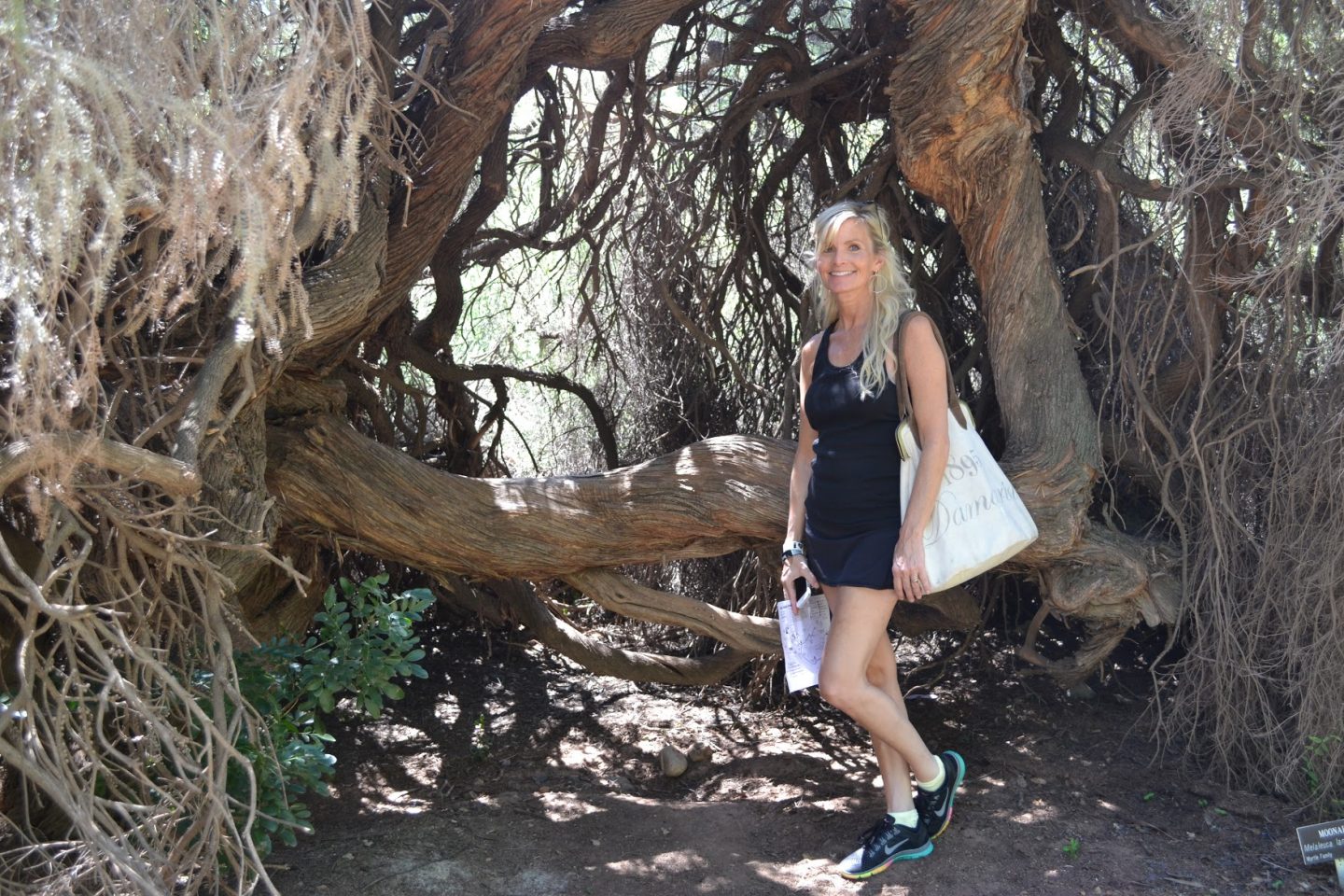 I think I have admitted this to you before, but those late night infomercials which feature makeovers of everyday women on TV? They relax me, and I can't turn away from them! It must be the whole transformation/before and after thing that sucks me in.
If you are the type who is plain OVER vanity and products to enhance your appearance, I honor you. If you love to play with color and beauty secrets, I honor you. There is never one way to age or improve in healthy ways – and it's all those different nuances that keep things dynamic and interesting.
A New to Me Lifestyle Vlogger
I found Dominique Sachse's content while browsing online for over 50 beauty – she is such a wonderful teacher and has an engaging conversational style you may love too (the video below is one of my favorites for makeup ideas).
Dominique's top makeup tips for a more youthful look includes these smart points:
1. Use a light dewy foundation (i.e. tinted moisturizer or sheer coverage).
2. Apply concealer to cover darkness under eyes, along with eyelid primer.
3. Use highlighter on cheekbones to lift and bronzer to recess.
4. Light dusting of powder.
5. Fill in brows.
6. Matte, natural eye shadows.
7. Tightline upper lid only and mascara upper lid only (watch video to understand "tightlining"…it was new to me).
8. Light blush application on cheekbones, not the apples.
9. Always line lips to keep lipstick in.
10. Lighter shades of lipstick to match liner.
My Favorite Products for Healthy, Glowing Skin
Here are the skin care finds that I use everyday and work well for my sensitive skin.
I keep Aveda Botanical Kinetics Radiant Skin Refiner in the shower and use a tiny amount to exfoliate my face. Since I use a retinol product (you'll find it below), exfoliating removes dry flaky skin to reveal the glow underneath.
Here is the product I use to hydrate my skin day and night:
If you want to treat yourself to a more splurge-tastic moisturizer, Chanel's Beauty Creme is something special!
SkinCeuticals makes this formulation of Retinol 1.0 that I have used for years, and I can't say enough about how many benefits I see. The tone is more even, the texture is smoother, and lines are diminished. The tricky thing about using such a powerful product is taking it easy so your skin can get used to it. If I overdo it, I will notice temporary irritation, some pinky redness, and excessive dryness. I must also be careful with sun exposure…but that is for a very good reason! The fresh skin this product eventually leads to is more tender and baby-like!
The skin on my neck is quite damaged from sun exposure so now I extend more kindness to it. That means getting away from the negative self-talk about it (our skin has served us so well!) and treating it to luscious skin care.
Not sure if you have seen this product created by beloved Hollywood makeup artist Spencer Barnes (think Julianne Hough, Meghan Markle…), but I was excited to see something formulated for over 50 necks! The product has a fun roller ball on top to work in the product on chin, jawline, and neck. One pump delivers the optimal amount of product, and the application is more pleasant than you might imagine.
I have been using the sculpting wand for a couple of weeks, morning and night and especially appreciate the immediate improvement in my skin's texture. I have never had much luck hydrating this area so the instant smoothing and softening effects are oh so welcome.
Keep the formulations for over 50 skin rolling, Spencer! I'm looking forward to the longer term positive effects as I continue to roll on the lovely and baby the skin on my neck.
This is such a spa-like creme with a natural, complex fragrance that calms me. I keep it in my nightstand and massage it into my hands and feet at bedtime.
Do you take vitamins especially for hair, skin, and nails? I started making these a daily ritual after my surgical menopause when my hair began to thin.
Makeup I Love & Use Daily
So velvety smooth and a beautiful coverage for darkness under my eyes.
This is a newer find, and I was so surprised to get moisture, full coverage and SPF from one product!
So luxurious and the prettiest colors…
The exact bronzer I have used for a decade is Revlon Color Stay Mineral Finishing Powder (Sunkiss) HERE, and what I love is it is three shades swirled together rather than just one. But since it is hard to find now, here is a comparable one I like:
Have you tried these tarte palettes? They last forever and are so fabulous.
Have a tried and true favorite mascara? This one's my favorite high-end product, and the one following is a low cost runner up.
This has been my go-to eyeliner for years!
I use these inexpensive wipes to remove makeup at night.
Thanks for playing along! I'd love to hear about your favorite products and secrets.
Peace to you right where you are.
-michele
This post contains affiliate links which I hope you will use since they won't cost you a penny extra yet may earn this blog a small commission.
Support Hello Lovely by shopping Amazon RIGHT HERE for anything (not just products mentioned here) to keep the inspiration flowing!
I'm a participant in the Amazon Services LLC Associates Program, an affiliate advertising program designed to provide a means for me to earn fees by linking to Amazon.com and affiliated sites.
Click HERE to find cost conscious furniture and decor for your home too!