So much incredibly lovely design radiating from Houston! I discovered Houston-based designer Jillian O'Neill's sophisticated lovely work almost a decade ago when I encountered it in person within a striking foyer at Dream Home Chicago. Onward with Modern Classic Interior Design Inspiration!
Inspired by fashion and art, Jillian O'Neill's design work is often described as unique, elegant, and modern yet timeless. While she has been creating furniture for her private clients for more than a decade, more recently the pieces became available to all. Beautifully crafted unique pieces echoing her overall design aesthetic are her signature, and O'Neill also offers the furniture (which can be customized) for purchase here.
Jillian O'Neill Collective
O'Neill launched Jillian O'Neill Collective with design team members Melissa Campbell, Jane Thorburn, and Kelly Barnett. Firstly, what is so impressive to me personally about the high end design team making spaces lovely in and around Houston, Chicago, and London, is how they project a rare humility and a grounded sensibility anchored firmly in the firm's culture. Note the guiding principle the brand embraces, full of warmth and sincerity:
"Our favorite days are spent creating the story of your home and your life, one room at a time. How do you want to spend your mornings? Where do you want to create a retreat for quiet time? How do you envision coming together with family and friends? What is your passion..Is it cooking, is it reading, is it music? These details weave into the story of your life. We are honored to help you tell it."
A Refreshing Focus
Secondly, you cannot miss the integrity and sense of practicality at the heart of what the Collective does. It is indeed refreshing to see them strive to demystify the interior design process. After all, when it is a client's personal energy and authentic story which energizes the design and streamlines the focus? Well, give me a camp of creatives like that any day who are crafting interiors with a collaborative, gracious spirit over a firm singly creating complex dream world environments reflective mainly of the designers' fantasies.
Thirdly, it is apparent these designers are truly enjoying the process!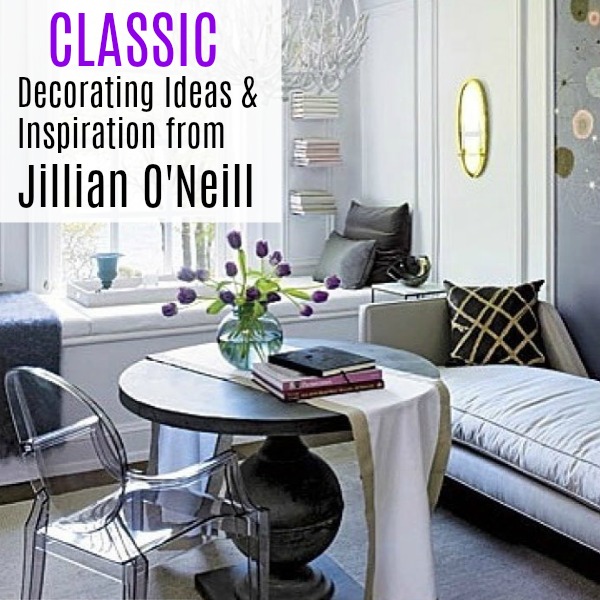 Modern Classic Interior Design Inspiration: Jillian O'Neill
Finally, let's be inspired by the beautiful work and be on the lookout for exceptional interiors by Jillian O'Neill Collective.
Photography: Susan Soriano, Kallima Photography, and Jillian O'Neill
Simple Chic Elegance
Modern Classic Interior Design Inspiration: Jillian O'Neill
Lovely Contrast
Timeless Yet Modern
Classic Bathroom
High Drama in Chicago Dream Home
Jillian O'Neill Signature Style
Jillian O'Neill Designed Furniture
My Favorite Piece in the Collection
Jillian O'Neill told Dering Hall: "This chair came from the desire for a chair with a sleek profile, but one that would work well within both modern and traditional spaces.​ ​I found that I was regularly drawing and designing certain "ideal" pieces, staples I was consistently searching for. The chair's final iteration came after more than a year of sketching, which is the longest I've ever worked on a piece. After I drew the metal arm running underneath the chair, I knew it was ready for production. That really finalized my initial vision."
Caden Chair
Artwork
The beautiful framed watercolor art by Kelly Barnett offered by Jillian O'Neill Collective may also capture your imagination. With evocative titles from her "Formations" series such as "Living Water" and "I Am," I am sure you are not surprised such meditative work brought this blogger both pause and pleasure.
Do visit Jillian O'Neill Collective to stay up to the minute on their beautiful work!
To see more work from Francine Turk, see this. If you missed the tour of classic, bespoke kitchens by Britain's ARTICHOKE, see this.
Peace to you right where you are.
-michele
This post contains affiliate links which I hope you will use since they won't cost you a penny extra yet may earn this blog a small commission.
Support Hello Lovely by shopping Amazon RIGHT HERE for anything (not just products mentioned here) to keep the inspiration flowing!
I'm a participant in the Amazon Services LLC Associates Program, an affiliate advertising program designed to provide a means for me to earn fees by linking to Amazon.com and affiliated sites.
Click HERE to find cost conscious furniture and decor for your home too!