We're taking a fantasy tour of 3 Chic Apartments in Chicago by the design team at Chicago-based Inspired Interiors.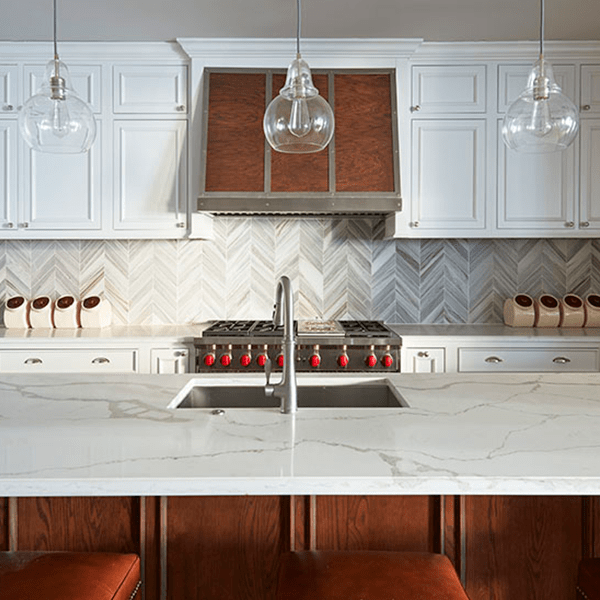 INSPIRED INTERIORS Caught My Attention
This Chicago-based design firm is headed by interior designer Emily Mackie, and I first spotted a beautiful room by them on Dering Hall's Instagram a couple of days ago. Then, when I clicked over to their portfolio, before viewing a single image, I read this engagingly conversational mission statement:
"The team at Inspired Interiors is guided by your unique personality to help invent the ideal surroundings for one-and-only you. Are you the marrying kind with an eye for the traditional? Or perhaps more of an urban cowboy (or cowgirl) with a roguish sense of style? We get to know your past, present and future so we can help create the home of your dreams."

YOUR Milieu Not Theirs
You have to admire that sort of passion from a team of designers who right out of the gate aspire to maintain the design's focus squarely on YOUR milieu and not theirs. One gets the sense straight away the design journey to create your beautiful environment will be an enjoyable collaboration as opposed to an opportunity to stamp a curated, signature look on yet another residence.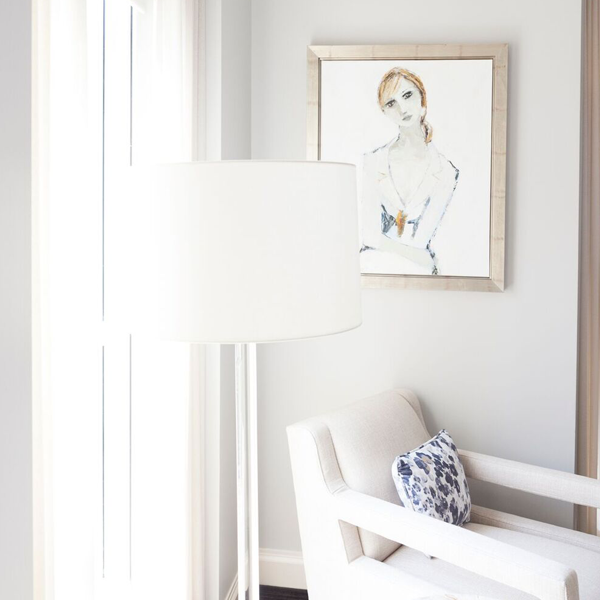 A Sweet Surprise
Here's what else captured my attention. The first interior design project by Inspired Design attracting my eye? A room with white decor in a Waldorf Astoria Chicago condo with gorgeous art on the wall (above). I recognized both the hotel and the artist's work immediately. Which artist? The brilliant, Holly Irwin. That sealed it, and I wanted to see more. Combining Holly Irwin art with the most beautiful hotel/residences of which I have been a guest? Well, hello, LOVELY.
Interior Fantasies Ahead
Let's take a trip to fantasyland today as we peruse design from Inspired Interiors.
(Not to be confused with Fantasy Island…remember that drama which aired on Saturday nights after The Love Boat?) Guest stars over the years included Michelle Pffeifer, Lynn Redgrave, Annette Funicello, Peggy Flemming, Sonny Bono, Cybil Shepherd, and Toni Tenille (of The Captain & Tenille!).
Wait! Do you need a refresher? Yes, I believe you owe it to yourself. This clip is a blast from the past recalling Fantasy Island guest stars in 1978, kittycats! Ha!
1978. Jaws, Grease, Saturday Night Fever. Oh, my lord, the 70's! The political incorrectness, sequined tube tops, roller disco, truly baaaaad fashion, shag carpet and hairstyles, and cabbage patch dolls! When you view old youTubes from the era…was everyone intoxicated or stoned like ALL the time?
What WERE We Thinking?
My adolescent superficial self recalls viewing Leif Garrett disco dance in impossible spandex on his TV special with Brooke Shields, Flip Wilson in drag, and Marie Osmond vying (with me) for his affections.
What? You are wondering what all the fuss about Leif was about? I mean.
He was made for dancing.
Dancing Queen
You're welcome, Leif fans! In 1978-1980, I was a middle school dancing queen who also believed she was made for dancing Ah Ah Ah All night long. A group of us students indeed were recruited to film a disco dance video (the young ladies wore leotards with long polyester skirts, the guys wore shirts with half of the buttons unbuttoned) to promote our school–I kid you not. If you like, I can teach you a rad disco move from that choreography called "the pretzel." We also recorded a soundtrack for the video…going into the recording studio to dub over the Beegees "How Deep is Your Love" in 3-part harmony with lyrics about our school. The truth is out. Boo. I probably peaked around the time of that video in the late 1970s.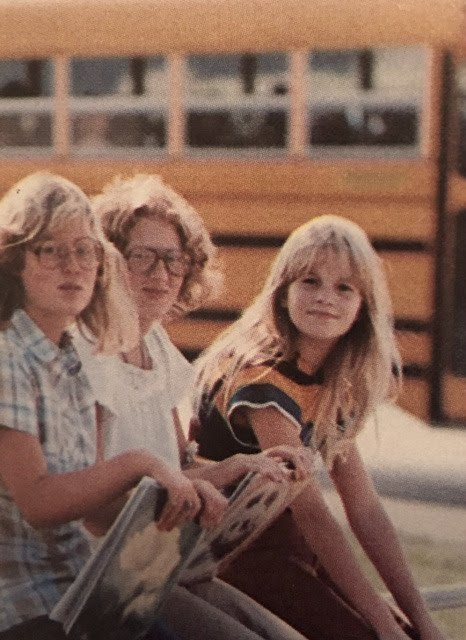 Where was I? That went off on a dizzying tangent for which I refuse to apologize.
Because everyone needs a 1970's pop song stuck in their noggin for the day's duration. 🙂
3 Chic Apartments in Chicago by Inspired Interiors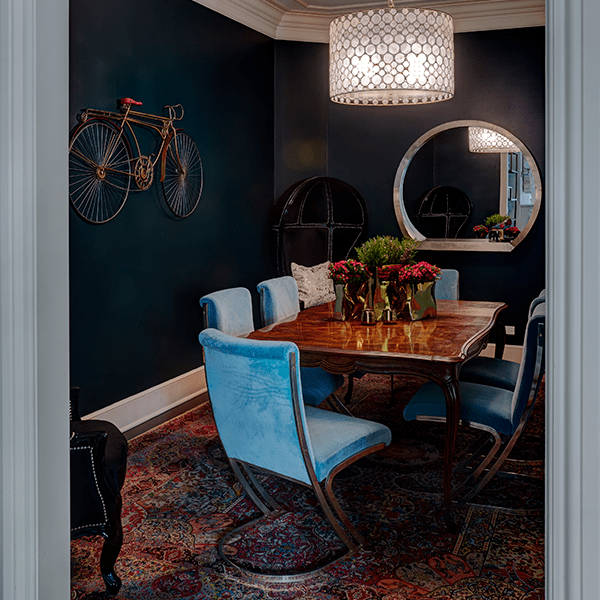 Here are three Chicago apartments, each with its own personality and point of view. You can probably guess my favorite, and I would love to hear yours. (Maybe your pick will be the one which comes with its own drive-in movie. Wait. What? I told you it would be fantasyland.)
Chic Apartments in Chicago: Waldorf Astoria Chicago Condo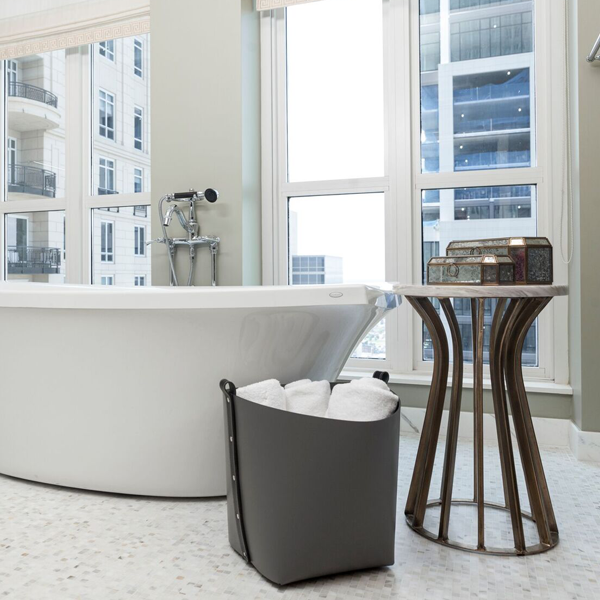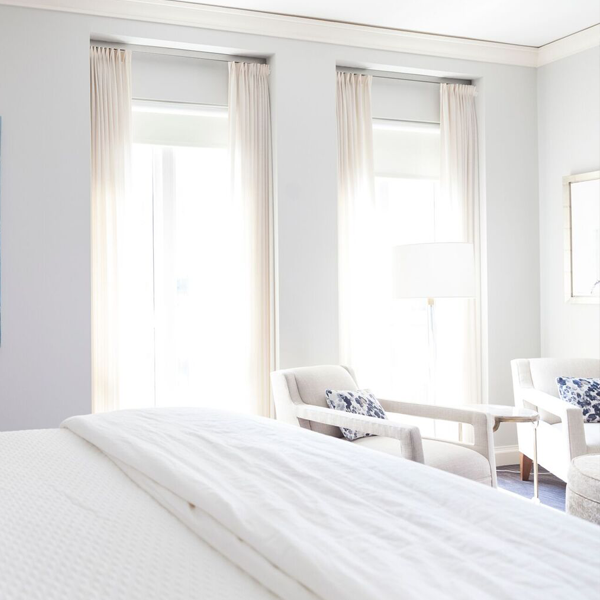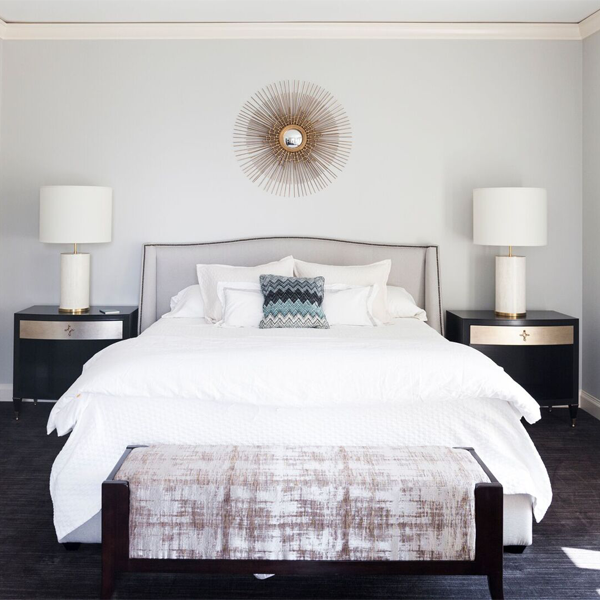 Chic Apartments in Chicago: Handsome Chicago Apartment with Rooftop
It is impossible to overlook the dramatic art collection in this home! The homeowner clearly admires Mid-century modern design, industrial style, and rich color. The kitchen island's stunning and unique embellishment? Salvaged letterpress pieces! You'll note the interiors throughout this Chicago apartment are enhanced with vintage treasures as well as "art from a world renowned graffiti artist or with furniture like the repurposed Porsche chair or the dining room table that once served as the threshold into the first Barnes and Noble in New York City." (Inspired Interiors)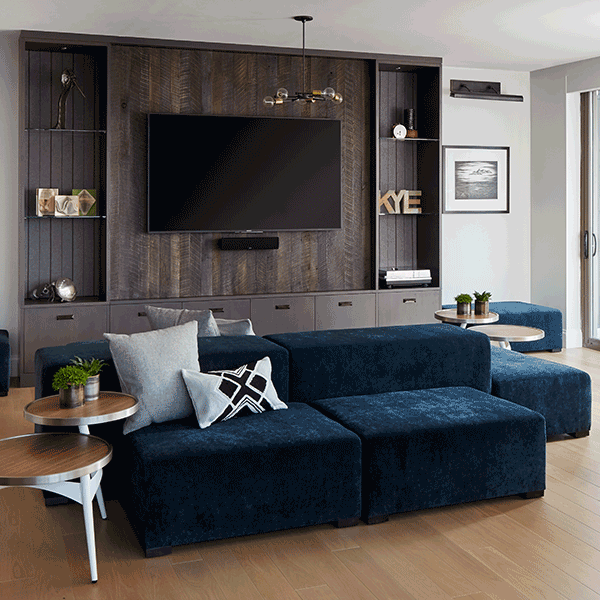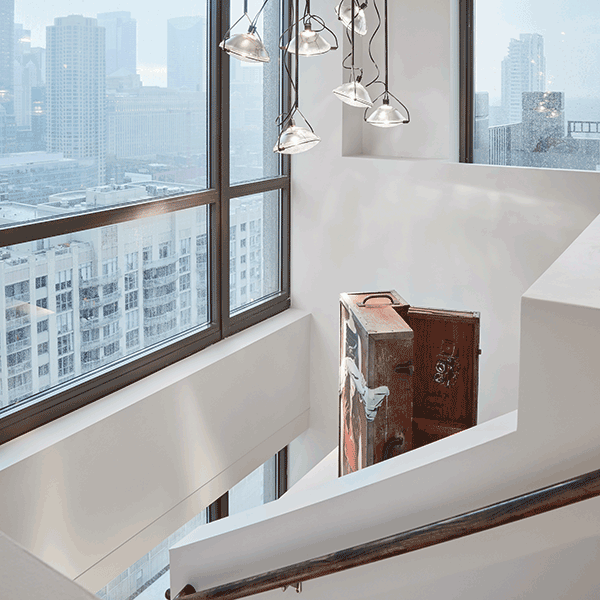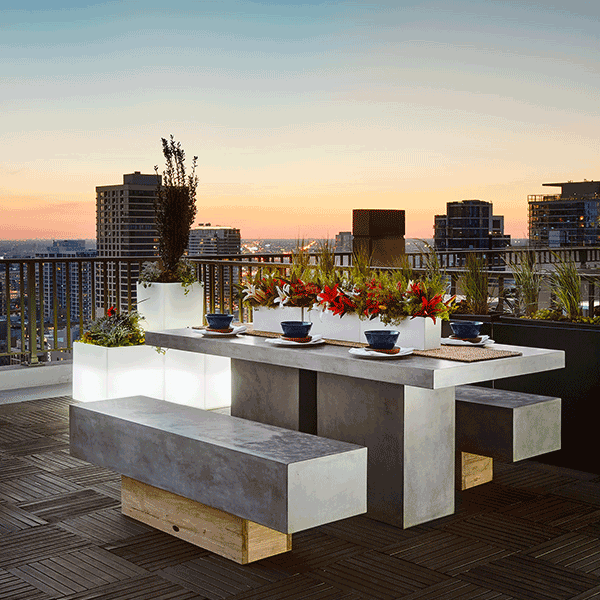 Chic Apartments in Chicago: Chicago Bachelor Penthouse With Drive-In
Here is the description from Inspired Interiors about this fantasy project: "What happened when Magellan Development engaged Inspired Interiors to design the ultimate bachelor pad at the Sky 360 Residences in Vista Tower? A breathtaking luxury Chicago penthouse showcasing a drive-in movie area, a custom-designed waterfall/fireplace/champagne fountain and one-of-a-kind constellation lighting.
The Vista Tower skyscraper penthouses offer 360 degree views of downtown, the Chicago River and Lake Michigan. This magnificent backdrop serves as a canvas for open, modern spaces ideal for relaxing, working and entertaining. The master suite features a fitness room specially designed for meditation and suspension yoga. Work areas include a boardroom with seating for eight, home office and a touch-screen TV center for video calls.
For the ultimate host, we designed a second kitchen with hibachi grill next to a larger gathering area, a personal DJ booth, and virtual reality room. Whatever this bachelor is up to, he'll surely kick back and enjoy the views both inside and out."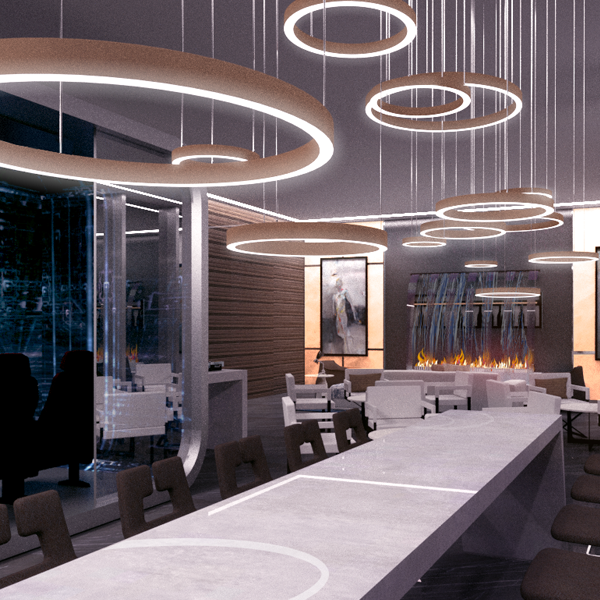 Thanks for playing along and do visit INSPIRED INTERIORS for design help.
no products
If urban chic floats your boat, visit THIS. If something far from urban chic is your vibe, see THIS.
Peace to you right where you are.
-michele
This post contains affiliate links which I hope you will use since they won't cost you a penny extra yet may earn this blog a small commission.
Support Hello Lovely by shopping Amazon RIGHT HERE for anything (not just products mentioned here) to keep the inspiration flowing!
I'm a participant in the Amazon Services LLC Associates Program, an affiliate advertising program designed to provide a means for me to earn fees by linking to Amazon.com and affiliated sites.
Click HERE to find cost conscious furniture and decor for your home too!