It's a question I am asked all the time by friends and family members. "Don't you get tired of looking at decor and all those rooms!?!" Um. Nope. It's my golf. My happy place. Somehow I always find something unexpected, something new, or something soul stirring in the beauty.
In fact, wired for words though I am, I'll take a cookbook or a design book any given day over the latest fiction bestseller. I know you get it! So it was pure pleasure collecting pretty pictures for these Romantic European Farmhouse Bedroom Decor Ideas. In this photo gallery of lovely, you'll find French country, French farmhouse, classic, European country, modern farmhouse, and cottage style represented.
Romantic European Farmhouse Bedroom Decor Ideas
My Bedroom
We'll start with my own humble bedroom. Not because it is anywhere near as blogworthy or pinworthy as the rest of the designs! Rather, because it demonstrates you can truly get this romantic look with some smart swaps.
In our master bedroom, first, we first painted the walls a bright white: Benjamin Moore WHITE.
Second, we tore out the carpet and installed wide plank white oak flooring, left natural.
Third, I gave our old bedroom furniture a fresh look with a light grey wash: Benjamin Moore REVERE PEWTER and water.
Fourthly, we swapped out hollow core doors for new knotty alder solid doors from Pacific Entries. You can buy them at Home Depot here and Houzz here (note the pretty bedroom marketing them…ha!)
Lastly, we covered an ugly lumpy wall from floor to ceiling with reclaimed pine (Stikwood's HAMPTONS). You can read here about how we installed this on the wall ourselves in just 3 hours…no kidding!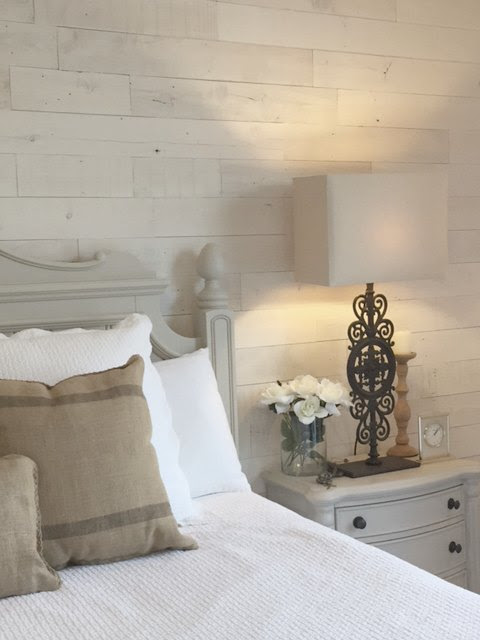 If you're looking for a quick way to add some age (though it's new!) and romance to your bedroom, how about this piece?
Romantic Bench
Phoebe Howard Bedroom
Vintage Style Romance
Old World Romance
Romantic Rustic Bedroom Decor
French Country Romantic Bedroom Decor
Here is how the beautiful Dauphine bed looks in Petite Haus's new bedroom:
Romantic Classic Decor
Coastal Romantic Bedroom
Here is the exact poster bed the designer used:
Classic Bedroom by Pamela Pierce
Pretty Bedroom Decorating to Inspire
Need the exact Aidan Gray chandelier?
Who can stop at just one beautifully romantic bedroom with magnificent wall finishes by Segreto!?!
Not romantic in a conventional sense, but oh the romance of a beautiful bunk room.
Find more beautifully romantic bedrooms right here!
Does your own bedroom fall into the category of "romantic?" Why or why not?
Peace to you right where you are.
~michele