Clearly I am a huge fan of the European inspired design happening over the last 20 years or so in Houston. My favorite designer, Pamela Pierce is based there. My favorite custom wall finisher, Leslie of Segreto Finishes also calls Houston home. And and the list just continues to stretch longer.
Jane Moore is another designer whose work has often appeared in Veranda (do you need a subscription…it's a must read!) and in books I'll reference below. Photography is by the fabulous PETER VITALE.
Today's photo gallery of European Country Interior Design by Jane Moore is going to thrill lovers of French country, rustic farmhouse, Swedish country, Gustavian style, and Old World interiors. We'll start with Jane Moore's lovely townhouse which I learned of years ago from another Houston fav, Cote de Texas. Then, we'll look at my favorite Swedish country project before arriving at decorating tips Jane Moore shared with Veranda.
Affiliate links follow and won't cost you extra yet may earn me a small commission.
European Country Interior Design by Jane Moore
Townhouse Kitchen
How much of a dream would it be to have this next charming dining area tucked into a corner of your kitchen!?!
Dining Room
Jane Moore Family Room
European Country Style Bedroom
Belgian Inspired Garden
Here is Jane Moore's garden in her prior home:
 A Wonderful Swedish Inspired Home by Jane Moore
This beautiful home which appeared in Veranda's March 2008 issue belongs to Jane's daughter Shannon, married to Leslie Newsom's son, Andrew. The Newsoms' brand may also be familiar to you…Wisteria. You may recognize the interiors from this beautiful book: Swedish Country Interiors.
A Swedish Living Room
Swedish Sun Room

Rustically elegant Swedish antiques and brick floor in a sun room by Jane Moore. Veranda, March 2008.
Beautiful Swedish Antiques
Swedish Dining Room
Kitchen
Classic Bathroom
Bedrooms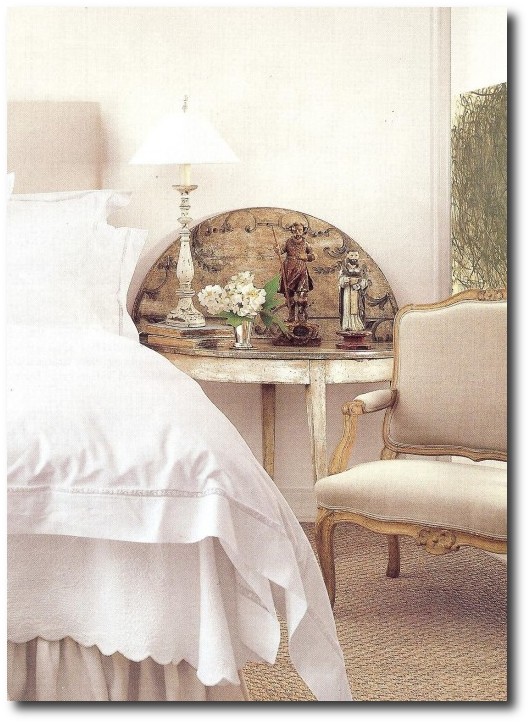 Care to see more of this house and similar beautiful ones spotlighted in Veranda?
Jane Moore's Former Home
In Jane Moore's former Georgian style home, the decor was English Country.
Breakfast Room
Hallway
European Country Interior Design by Jane Moore
5 Decorating Tips from Jane Moore.
As you evolve, so should your surroundings.
In each stage of life, we have different needs. Many of us want to keep holding on to things from each stage. We feel that if we hold on to what's safe, we don't have to deal with what's changing.
It's hard for a lot of people to get rid of what was given to them or what they bought with their own money in their earlier stages of life. But as we grow and mature, our likes and dislikes change, and that's okay! Don't hold onto what doesn't fit anymore.
Play favorites.
We all love a lot of different things and different looks. Decide what you love the very most, where you feel the most comfortable, what's the most peaceful to you. Once you've done that, carefully edit out what doesn't enhance that look or feeling. I started my career doing almost all English, but as I grew to love the Provençal and Swedish aesthetics, I let go of those English things, even though I still loved them. The same goes for people with a lot of bright, colorful pieces who want to transition to something serene and neutral. With each object, ask: 'Is this going to fit in?'
Live in your moment—not anyone else's.
Many of us have things we don't necessarily love, but we live with them because they have sentimental value: heirlooms, gifts, things we didn't know how to say 'no' to. What I tell my clients is this: Be in the moment as it is right now. 'It's your moment. Let's do what makes you happy, what makes you have a good feeling when you're home.' Those before us—grandmothers, mothers, friends—had their time to enjoy what they loved, but that doesn't necessarily mean we have to love it, too.
Only buy the items you daydream about owning.
Only buy the items you daydream about owning.
Avoid buying what I call "fillers."Instead, buy only what you absolutely love, what you simply cannot live without. For example, I have this 18th-century hand-carved angel on my mantle—it wasn't anything I was looking for, but when I saw it, it just touched me. I didn't buy it immediately, though. I thought about it for 24 hours, and I still just had to have it. At the time, I was trying to rationalize purchasing it, thinking 'Oh, someday my daughter will love it, or my granddaughter will love it,' Then I thought, 'No. I love it, and if they choose not to have it in their homes someday, that's all right.'
Let your home satisfy what your outside environment leaves you craving.
One of the most important rules of decorating is to let your environment help you make decisions about your home. For example, I have always lived in Houston, where it is very hot and humid. As a result, I always pick cool colors that come from nature—soft blues, greens, grays—because when I come in out of the heat, I want to be refreshed. Wherever I am, I look outside and bring that in.
AREN'T THESE EXCEPTIONALLY WISE TIPS FROM A SEASONED PROFESSIONAL!?!
Here is a brand new book from Veranda sure to please if you loved these interiors!
Peace to you right where you are.
~michele