Here on planet Michele, we are feelin' beachy today so I thought…LET'S GET RANDOM. We just toured a sophisticated fantasy property yesterday (that 14,000 s.f. London mansion!) so now we'll hop on our longboards, do a 360, and see a slightly smaller Brooklyn apartment.
The design is by Mallory Fletchall, and its beachy Boho Chic Pretty in Pink Apartment moments make for laid back lovely.
Speaking of Pretty in Pink, if you are a child/teen of the '80s, you probably have a reaction to that romantic comedy along with Sixteen Candles and Breakfast Club. Perhaps those films bring you back to your angsty high school sweet self.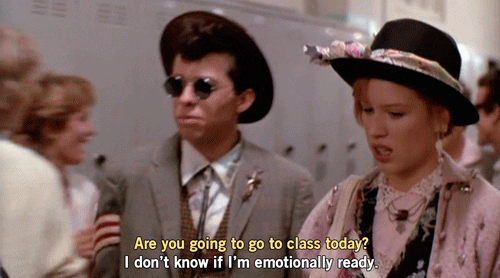 Ha! Who were YOU in high school? I was the brainy singer/actress in Minnesota who mostly felt like an odd outsider and believed she was way too mature for boys her age. (Yet she somehow proceeded to marry the wilder and younger boy from high school!) Adolescence was truly all smoke and mirrors. Smoke? Remember when James Spader's hair was as cool as the other side of the pillow?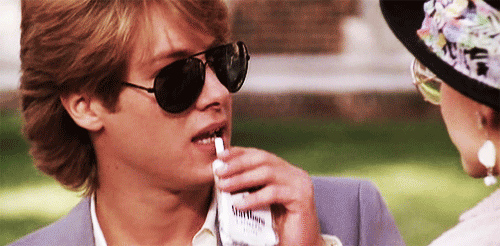 Onward to the apartment!
I love the sweetness of these floral garlands in this apartment's bedroom. Over the weekend, I made a few tissue paper poufy flowers for a party I hosted, and if you care to learn to make pretty paper ones, here's a great video.
Affiliate links follow and won't cost you extra yet may earn me a small commission.
About that party. I ordered wine from Martha Stewart, and this gorgeous sparkling ROSÉ from Italy was my favorite. For only 12 bucks, your guests will enjoy the tickly bubbles:
But even more popular with guests was the peach sangria I made with a few bottles of this (also from Martha). Find the recipe in this recent post.
I also served homemade PINK French macarons. Wanna see em? Go here. I'll share the details on the blog later.
I told you this would be random! Ready to see that boho apartment?
Source: Apartment Therapy
INTERIOR DESIGN STYLE? California cool meets MCM.
INTERIOR DESIGNER: Mallory Fletchall is the owner and curator of  the shop The Reserve, a vintage textiles and accessories shop, with a focus on ethically sourced handwoven rugs, poufs and pillows.
INTERIOR DESIGN IDEAS THE PROJECT INSPIRES? Laid back, organic, beachy, tribal chic fun.
Boho Chic Pretty in Pink Apartment
Bedroom
Living Room
What's more your style? This?
This?
This?
or this? (I may need one of these!)
This candle is from Lily Ashwell (yep, Rachel's daughter) and the one they burn in the LA shop.
Pretty things.
Since we're feelin' beachy, I love to geek out on makeup, and here's a tutorial for a beachy bronze look. Sometimes it's nice to try a new look when the season changes. Do you find makeup tutorials as relaxing as I do? Some nights when menopause mama can't sleep, I will watch them to get out of my head and relax.
What is hilarious about "natural look" tutorials is how many products and steps are involved to look "flawless" and "natural!!" Ha! So many layers of insanity. I think it's the artist in me that loves the application. And there are days I feel fortunate to have a modicum of control over the face I present to the world. But the best part about makeup tutorials? The before and after. Who can resist a great transformation!?!
Here's the concealer I use since circles under the eyes are not so pretty in pink…
Pretty in Pink? We all just want to belong and feel less like an outsider, oui?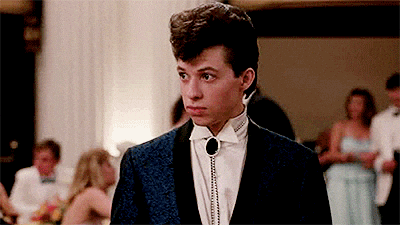 Peace to you right where you are.
~michele
p.s.
MORE INSPIRING EXAMPLES OF BOHO?