While I love to spotlight lovely interior design inspiration and timeless and tranquil home decor on Hello Lovely, I think my favorite posts to share are the personal stories from my kitchen and DIY home renovation projects. Today, I'm here to remind you of a super easy appetizer idea which works like magic during the holidays, New Year's, or any given Tuesday.
My current obsession continues to be easy cheese, charcuterie, and graze boards for simple casual entertaining with next to no stress.
No matter what you call these platters of glory (cheese boards, cheese platters, charcuterie boards, or graze boards), it's all delicious-speak to me! What could be easier than assembling your favorite cheeses, nibbles, and nuts and then serving them casually with wine, cocktails, or alcohol-free punch? Punch? Omg, I need to share my favorite punch for entertaining. It's one we have been making in my family of origin for almost 50 years! Stay tuned for that easy yum how-to.
This post contains affiliate links and I will be compensated if you make a purchase after clicking on my links.
Easy Entertaining Food Idea
I assembled the cheese boards you see here for my son's 26th birthday dinner, and you'll find a shopping list at the end of the post. The boards are easy to find online, and here's a lovely one made of olive wood:
I couldn't resist snapping a still life, and you see I didn't even bother with a fancy floral arrangement. This is a branch from the burning bush just outside the front door.
How to Assemble a Beautiful Cheese Board
1. PLATTER MATTERS. Select a beautiful board or three.
Shop for new wood or marble boards or trays with a smooth surface.
2. CHOOSE THE CHEESE. Decide on a few different varieties of cheese, charcuterie, fruits, nuts, crackers, etc.
In terms of cheese, there are honestly no rules you must abide by beyond simply choosing what you love. If a stinky cheese gives you a headache, do not consider it! I love fruit-studded cheeses, and it doesn't hurt that they add a great variety of color. As for charcuterie, I love the ease of pre-sliced coppa, proscuitto, and salami.
3. SLICE THE LOVELY. Slice some of the strawberries, pears, charcuterie, and cheese.
If there's any secret at all, it's this: leave some of the fruit and cheese whole, and also slice some of it. A few strawberry, fig and pear slices will add interest and beauty to the board. Slice the charcuterie thinly (if it didn't pre-sliced) and dice some of the cheese into bite-size chunks. Simply style apples and pears on the table around the board for color and added beauty. Prepare the grapes: with kitchen shears, cut the stems for small individual bunches.
4. JOYFULLY ASSEMBLE! Artfully arrange ingredients on the board.
Begin with the largest items (cheese, meats, crackers) and then fill in, paying attention to what pleases your eye as far as color. Have fun with it!
Serving wine with this delish? I like to leave choosing wines to Martha Stewart Wine Co…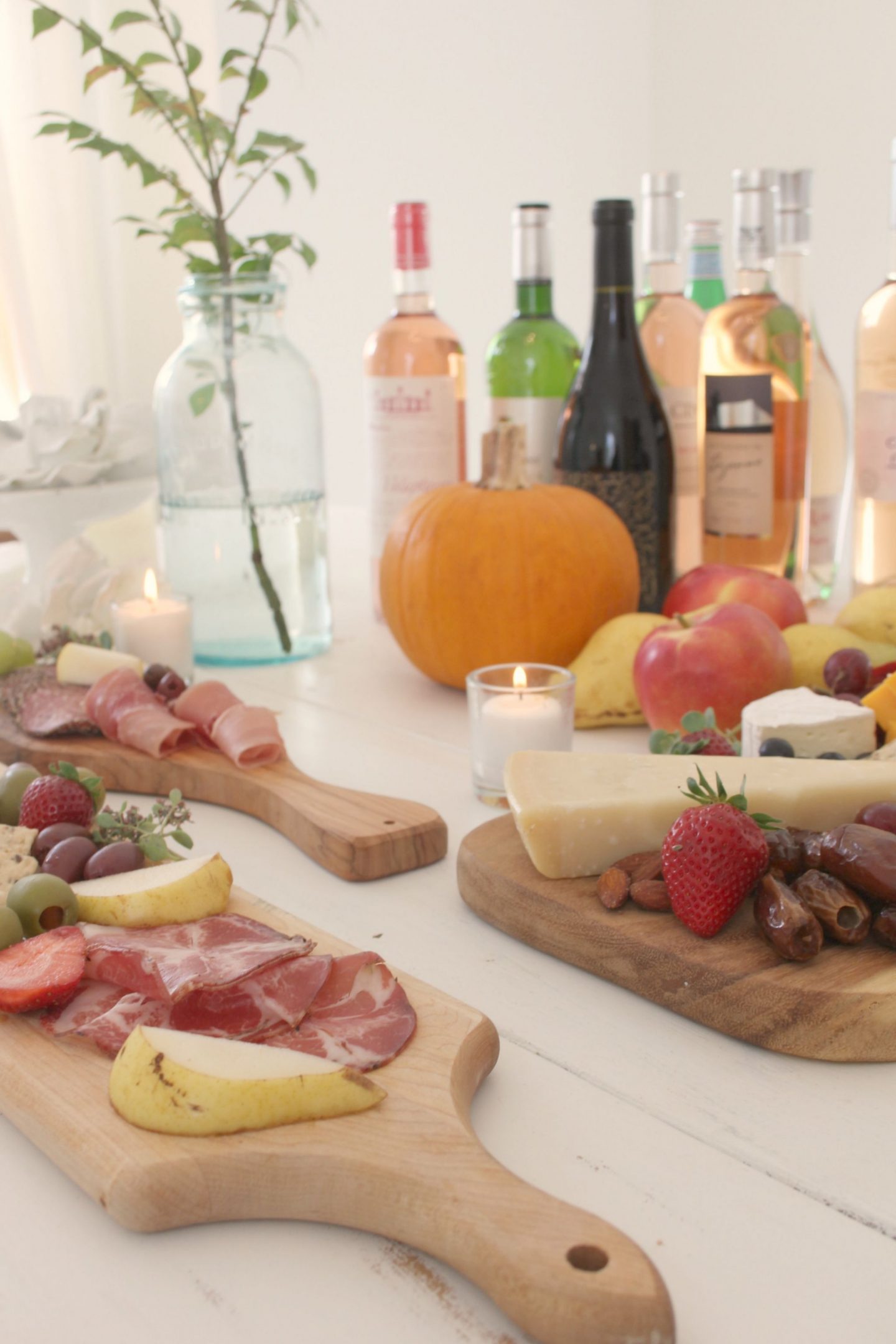 Don't you love an easy way to feed guests!?!
*******
* Shopping List *
Wine – Martha Stewart French Rose
Triple creme brie, cow's milk
Longhorn Colby – cow's milk
Chèvre – goat milk
Canadian Cheddar – cow's milk
Parmigiano Reggiano – unpasteurized cow's milk
Wensleydale with Cranberries – cow's milk
Peppered Salami, Salami, Coppa, Proscuitto
Kalamata olives, green olives, red and green grapes,
dried cranberries, pears, strawberries, blueberries, figs
Roasted peanuts, Smoked almonds
Assorted gluten-free crackers
Peace to you right where you are.
-michele
This post contains affiliate links which I hope you will use since they won't cost you a penny extra yet may earn this blog a small commission.
Support Hello Lovely by shopping Amazon RIGHT HERE for anything (not just products mentioned here) to keep the inspiration flowing!
I'm a participant in the Amazon Services LLC Associates Program, an affiliate advertising program designed to provide a means for me to earn fees by linking to Amazon.com and affiliated sites.
Click HERE to find cost conscious furniture and decor for your home too!