Today, with a moment to daydream about
French lovely actually experienced
(daydream + dejavu + woozy),
I invite you to join me on a
daydreamavoo rendezvous
to Paris.
*
A few months ago, my
senses were overcome with
all things Paris lovely
including
ART, art, ART
EVERYWHERE.
(My favorites breathe outside of the Louvre btw.)
The bronze sculptures inside and out
of the Park Hyatt Paris Vendome,
for example, wooed me and
play a starring role
in this daydreamavoo of ours.
They were magnificently created
by this talented French visual artist:
Roseline Granet.
Born in 1936,
she studied design and painting
in New York in 1954
and then sculpture in Paris.
With sculptor Jacques Delahaye,
she founded the Clementi foundry
in Meudon, near Auguste Rodin's studio.
Shall we daydream about the yummy foundry another day?
Cool.
Isn't this dream-a-woozy peek
at the
fresh infancy of one of her
sculpted beauties both
inspiring and enchanting?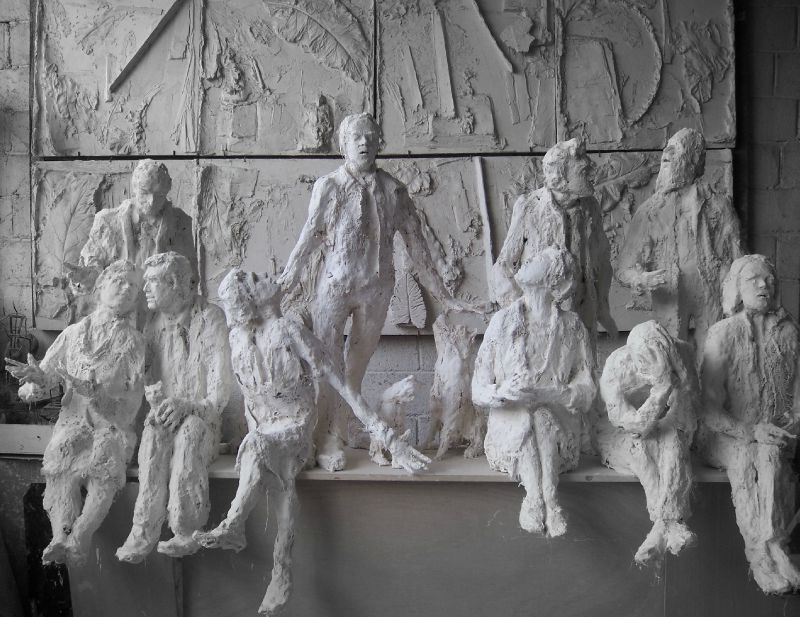 Examples of Granet's human figures in movement.
This shot was taken in my half
of the Park Hyatt's dreamworthy
spacious bathroom (lit with the
most amazing natural light).
Functional art!
I loved sharing space with Granet's
mesmerizing forms who are
floating, stretching, and soaring
throughout this palace hotel.
For more pics of our suite, visit my post here.

a fabulous wine, oui. more bout that later.

In this shot alone, you may spy
FOUR lovely, weightless works.
Again with the woozy artful hardware!
Care for a peek outside?
Ahhhhhhhh.
Sans screens.
Sans noise.
An inner sanctum of Paris lovely.

My husband's half of the bathroom. Notice the door's lever to the WC.


I cannot wait to return to this amazing hotel,
and the first thing I will do is deeply inhale
their signature scent by Blaise Mautin.
Should you have the chance to see,
smell, snooze, spa, or sip at the
Park Hyatt Paris Vendome,
you will not be disappointed.

my photo – inside le spa

This is the part of the rendezvous when we
slip into a lush terry robe and drift downstairs
to the hotel's spa for sauna, steam, and quiet.
I have a sneaky suspicion another
daydreamavoo rendezvous awaits us…oui?
Peace to you right where you are.

  (function(i,s,o,g,r,a,m){i['GoogleAnalyticsObject']=r;i[r]=i[r]||function(){
  (i[r].q=i[r].q||[]).push(arguments)},i[r].l=1*new Date();a=s.createElement(o),
  m=s.getElementsByTagName(o)[0];a.async=1;a.src=g;m.parentNode.insertBefore(a,m)
  })(window,document,'script','https://www.google-analytics.com/analytics.js','ga');
  ga('create', 'UA-38606349-1', 'auto');
  ga('send', 'pageview');