Oh Lulu, you fill up my senses
like nobody's business!
What is not to love?
*Vibrantly bold deliciousness*
Buy her book right here:
Lulu

*Magical combinations of color and fantasy*
*Collages that entice and invite to breathe in
beauty of journeys and travel which left a mark*
*Textiles singing with joy,
with whimsy and childlike wonder*
I so honor your painter's eye.
Your exuberant imagination.
Your gift for creating lovely.
Lulu responded to a few favorite
hellolovelyesque questions:
Why is it so important to honor creativity?
"FOR ME, CREATIVITY IS LIKE MEDITATION.
I HAVE TO DO A LITTLE BIT OF IT EACH DAY TO FEEL
COMPLETE AND FULFILLED."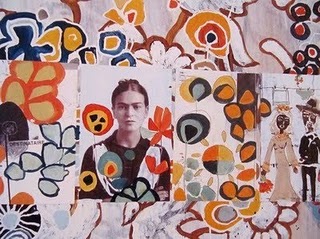 What three things are inspiring you lately?
"I AM ALWAYS INSPIRED BY MY JOURNEYS
AND THE NATURE OF EACH LOCATION I VISIT.
I AM IN ITALY RIGHT NOW, ON THE WATER,
SURROUNDED BY FLOWERS AND NATURE…
NEED I SAY MORE?"


* * *
Hop over to One King's Lane
for a sale of everything LULU
today!
One more thing, sunshine.
ARE YOU CREATING SOMETHING BEAUTIFUL
IN YOUR LIFE WITH YOUR PASSION & TALENTS?
What is stopping you?
We cannot afford to wait for a moment of truth
or the perfect idea…begin today, okay?
Peace to you right where you are.
p.s.
I snagged a Lulu original at the sale
this morning and will share it with you later!
Hello Lovely at times partners
with companies I love and think may interest you.