What is the Best Makeup Concealer for Dark Circles?
July 10, 2016
It is no secret makeup has come a long way, baby.
No longer can it simply conceal, enhance, or
help us achieve 'a more glamorous look' (oy!),
now we demand its
ingredients improve
our complexions.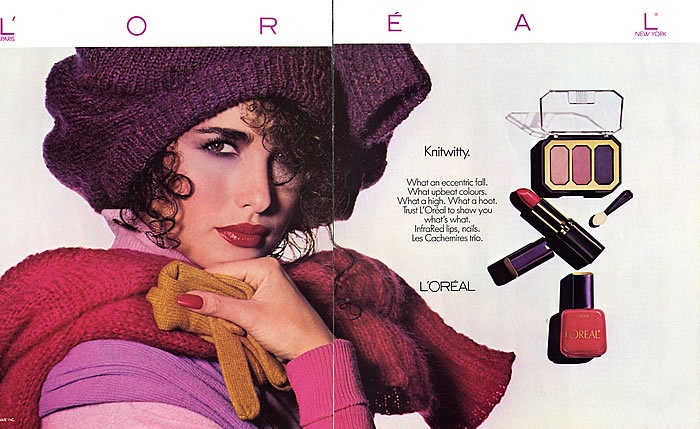 oh the 1980s and the wearing of sweaters on the head!
So I have been on a quest to discover the best
healthy makeup which functions as good skincare.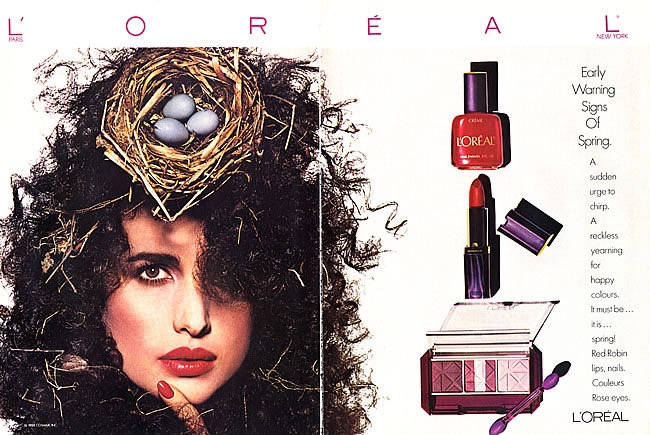 a sudden urge to chirp? (i am a huge Andi Macdowell fan!)
Today I'm talkin' concealer, which is maybe
the most important goodie in my makeup bag.
Why?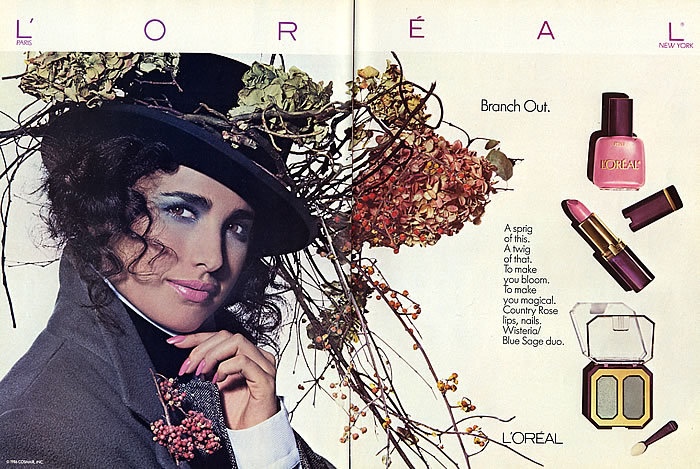 anyone recall rocking the 'bruised' look in the '80s?
I have a preference for the fresh, well-rested,
natural human look
as opposed to masked raccoon.
By the way,, have you seen the way some women
are color-correcting before applying concealer?
Check out this video for further understanding,
and I plan to give this hack a whirl.
me wearing only lip color
After test driving about a dozen products,
here are my winning concealers,
successfully performing the feat of
de-raccooning my eyes.
(Remember: When choosing a shade of concealer,
opt for a shade lighter than your foundation.)
1. Perricone MD's No Concealer Concealer.
I love that Perricone MD takes a holistic approach,
combining an anti-inflammatory
diet with
nutritional supplements and advanced skincare.
Here is their healthy concealer which hydrates
and provides sun protection
in addition to
correcting discoloration.
What It Is
No Concealer Concealer is a versatile, multi-tasking eye concealer, eye primer, highlighter and blemish coverage in one. Crease-proof and hydrating, this unique formula does not settle into imperfections, aging one's appearance, but rather smooth the contours of the eyes while fading away dark circles and correcting skin undertones.
What It Does
Makeup infused skincare with SPF 35.

Reduces the appearance of imperfections, dark circles and discoloration.

Crease-proof and non-drying formula smoothes and brightens.
I have relied on Boiing for years because it does not settle
into fine lines and the formula does not irritate my skin.
What it is:
An industrial-strength concealer.
What it does:
This award-winning concealer camouflages dark circles, shadows, and discoloration without creasing or fading. An added bonus? This formula is now available in a full range of shades from light to deep so gals of all skintones can be imperfection-free.
3. Bobbi Brown Creamy Concealer
I love Bobbi Brown's whole line, and this concealer
has the benefit of being long-wearing.
What It Does
A yellow-based concealer that instantly camouflages dark circles. Bobbi's long-wearing Creamy Concealer gives you quick, just-right coverage. The new and improved formula is richer and creamier, so it goes on easy, blends smoothly and stays put. Plus it's infused with skin conditioners to protect the delicate under-eye area.
Ideally, I would not even require industrial strength coverage
for dark circles, so on my quest for a
healthy formulated
darkness un-doer, I found this
Correct Eye Cream
which I reviewed and am loving right now.
kissy face goes way back, guys.
Do you have a favorite concealer or makeup
that has been a gamechanger? I'm all ears!
Peace to you right where you are.
Posts on Hello Lovely may contain affiliate links.