Kara Mann {for Goop in Chicago}
June 18, 2015
Next week I'll finally get to spend some time
in the home we're buying to gain a
clearer sense of a design/style direction.
Feeling all kinds of nerves about
so many decisions to make
and stretching the tight budget
above: Ward Bennett chairs-Modern Drama; Atelier Jouvence fireplace; AGA stove; Jayson Home Drapers table
stairs at new house
For example, the house has an open stringer staircase
you typically see in modern design
paired with cheap looking traditional balusters.
I'm trying to think of it as 'beachy.'
I could easily blow the whole budget
just re-doing those stairs!
*insert G.W. Bush accent* NAH GUN DO IT.
LAY ON THE DESIGN ADVICE, S'IL VOUS PLAIT.
Tanya Aguiñiga wall hanging; shearling lounge chair and Paul Evans stool from Wright Now
Back to pleasantville!
While busy/insane with the move, Gwyneth Paltrow
came to town for a Goop pop-up shop thing at
and the mix was thrillingly interesting
with its minimalistic sophistication
A simple monochromatic shelf installation
like the above
could be applied in all sorts of spaces.
Kallista tub; floral wallpaper by Ellie Cashman
Isn't the bold floral a gorgeous surprise?
ILOT ILOV Berlin knitted hanging lamps and Rick Owens stag T stool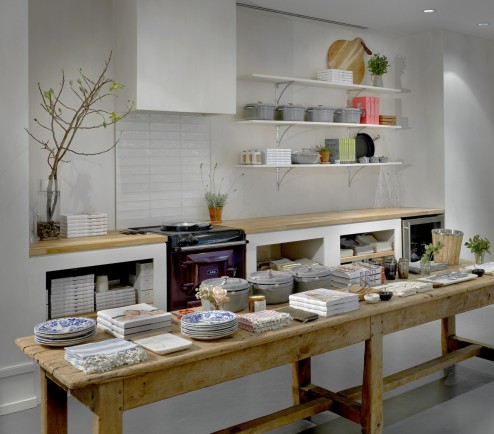 There is something so fresh about combining urban
rustic elements with organic ones to achieve a
very modern airy feel, and even though this is a
styled space for GOOP, I am seeing this
Scandi-flavored mix reflected all over
the place in current kitchen design.
Good gracious, I love the tone of this table!
Heritage Bicycles
kara mann and gwyneth paltrow
Gwynie and Goop have flown the coop, but
if you find yourself in the Windy City,
Peace to you right where you are.