druzy delish
September 13, 2012
Must share more druzy cuz I'm
still druzywoozy.
If you have hung out here for awhile,
you may recall the passion for
The "bezel set in gold vermeil white druzy"
earrings above are one of my recent
finds from designer Robin Aronson's
Time Out Collection.
Robin calls them elegantly simple, and I agree wholeheartedly.
I have paired them with everything under the sun.
When I peeked at the rest of her collection,
I discovered more of her simplelovely aesthetic.

And like the natural druzies, the pieces
have an organic, natural vibe that
truly works for everyday accessorizing.

token of love earrings, $25
Following a long stint at Neiman Marcus
(Beverly Hills), Robin began designing
and crafting these gems, selecting
the finest materials she can source.

Wouldn't those sassy green quartz earrings
make an incredible statement this fall?

Definitely hop over to Robin's!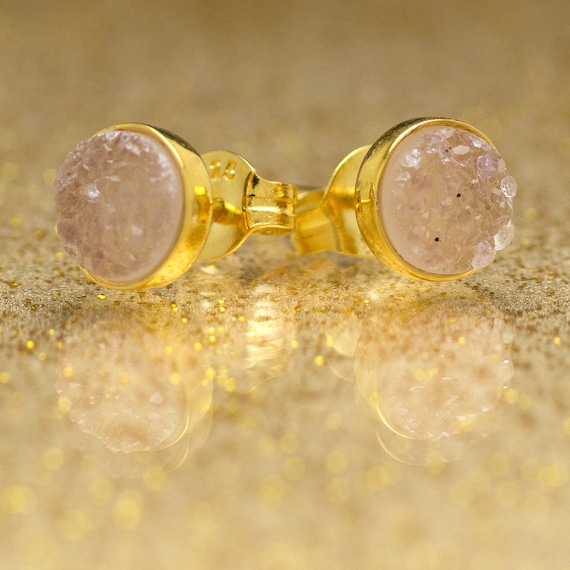 pale pink druzy studs
The first pair of stud earrings I have
Relax. I haven't shouted 'oh snap' in a decade.
Kristine Lily
creates these lovelies of which I snap.
They are crafted with quality (24K gold),
and the druzy hue is an ultra-sophisticated
Remember Carrie Bradshaw's naked dress?
This the druzy floozy equivalent for your lobes.
Oh snap AGAIN!
In her shop, you will find an array of
fine pieces with romantic-feminine-beachy flair.
purple studs
Who can resist royally druzyriffic
rounds
in multiple colorways!?!
And aren't these deep purple mambajambas particularly divine?

Kristine's Shop
If the bauble bin is already chock full of druzy,
then do consider making 2012...
*cue the sleigh bells, sista*
a
v e r y d r u z y h o l i d a y
for your gal pals, mamas, sistas,
and assorted
pierced peeps.
YES?
Peace to you right where you are.